Originally known as "Poor Mans Pudding" in 11th or 12th Century England, Bread Pudding in today's world has evolved into a decadent dessert served at the finest restaurants across the world. Known as Om Ali in Egypt, Eish es Serny in the Middle East and Shahi Tukra in Pakistan and India, there are 3 basic ingredients that all these versions have in common; bread, some form of custard and a sweetener. After that, the sky is the limit and you can create a new variation of the basic pudding with whatever you may have lying around the house.
From raisins to chocolate chips to fruit and nuts, most things have been tried over the past 10 or so centuries. One of the most famous cookbooks called "Bread Pudding Bliss" by Paula Little has about 1,000 recipes of bread pudding. Bread Pudding, whether it's savory or Sweet is a great way to use leftovers to create a wonderful meal or dessert. Most of us have milk, eggs, butter and sugar lying around at home and that's all that's really needed to create an impromptu dessert.
The one golden rule that must be followed is to use stale bread as fresh bread will get soggy and you'll have a mushy pudding on your hands. You can buy bread a day or so ahead of making your bread pudding to make sure it's a little dry and stale or you can pop leftover stale bread in your freezer to pull out when you're craving a bread pudding. You can also bake your bread in the oven for 10-15 minutes on medium heat to artificially create stale bread if neither of the other two options are possible.
Whether you choose to use French Bread, Challah or Plain and simple leftover store bought bread and however you choose to cook your pudding; in the oven, crockpot, stove pot or the newly popular instant pot, the key element besides stale bread are the correct balance of solids to liquids to achieve the desired consistency of the pudding. I personally like a dense pudding with a crispy top layer so usually choose a dense bread and a thick custard. If you prefer a mushier texture, you may want to go for a softer bread with a more liquidy custard.
Similarly, in addition to the various add ins you can personalize your bread pudding with the topping you choose to serve it with. The repertoire ranges from cream based sauces to boozy sauces, from fruit sauces to chocolates and caramels and even a dollop of plain vanilla ice cream. Living in the Southern State of Mississippi and being an hour away from New Orleans, I have tried some amazing bread puddings as they are a very popular dessert in this region.
I've experimented with a few recipes over the years but decided to present my Pecan Bread Pudding with a Praline Sauce today as a homage to Thanksgiving. While I love Pecan Pie, I thought it would add a touch of variety to change things up a little and do this bread pudding instead this year. It contains many of the ingredients of a pecan pie with a few additions and I hope you'll try it and enjoy it. Be sure to read the Notes at the bottom if you're new to bread puddings as they may help you get the perfect texture.
INGREDIENTS FOR THE PUDDING: (SERVES 6 PEOPLE)
10 OZ Bread (About 6 cups)
1.5 Cups Milk
1 Cup Heavy Whipping Cream
3 Eggs
½ Cup Granulated White Sugar
¾ Cups Brown Sugar
¼ Cup Butter
½ Teaspoon Vanilla
¼ Teaspoon Salt
¼ Teaspoon Cinnamon
¼ Teaspoon Nutmeg
½ Cup Toasted Pecans
¼ Cup Toasted Coconut
DIRECTIONS FOR THE PUDDING:
1. Take your stale bread and cut it into 1 inch cubes, the crust included. The more uniform the pieces, the better the resulting pudding.
2. Prepare your custard mixture by mixing together all of the ingredients except the pecans and coconut.
3. Pour the custard onto the bread and fold the bread in, making sure all the pieces are coated with the custard. Soak the bread in the custard for 1 hour, stirring every 15 minutes.
4. Preheat your oven to 350 degrees and grease your baking dish.
5. Toast the Pecans and Coconut.
6. Pour the bread and custard mixture into the baking dish, layering with the pecans and coconut till evenly distributed.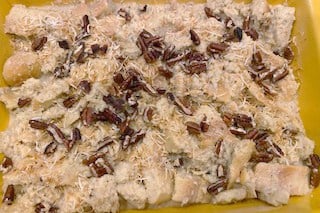 7. Bake from 50-60 minutes till the pudding leaves the sides of the dish and an inserted knife comes out clean.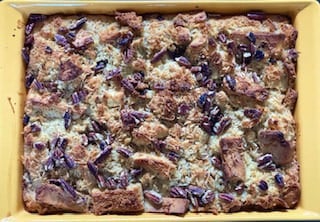 8. Cool for 15-20 minutes before serving with the Praline Sauce.
INGREDIENTS FOR THE PRALINE SAUCE:
⅔ Cup Butter
⅔ Cup Heavy Whipping Cream
1 ½ Cups Brown Sugar
½ Cup Dark Corn Syrup
¼ Teaspoon Almond Extract
¼ Teaspoon Salt
1 Cup Pecans
DIRECTIONS:
1. Add the butter to a saucepan and melt.
2. Add the Heavy Whipping Cream and heat.
3. Add all of the remaining ingredients except the Pecans.
4. Heat till bubbles start forming and then add the Pecans.
5. Cook till the bubbles disappear and the mixture darkens.
6. Serve with the Bread Pudding.
NOTES:
1. Since I like my pudding dense with a crispy top layer I opted for a Ciabatta bread loaf and used it with the crust on. If you like your pudding softer you can go with a Challah or a lighter French Bread and remove the crust.
2. It's best to have the bread at room temperature and the milk slightly warm when you prepare the custard as the bread will absorb it more efficiently this way.
3. Try and cut the bread into uniform pieces as the resulting pudding will absorb have a better consistency this way.
4. If the bread is too dry you may need more liquid so feel free to adjust the quantity given above. The more you make bread puddings the better you will be at gauging the bread to liquid ratio. If your pudding ends up a bit dry don't worry, just add more sauce and it should improve the texture.If it's too soggy, an additional 10 min ute of baking may help dry it out a bit.
5. When mixing in the liquid, try folding versus mixing so the bread doesn't break down too much.
6. The more fat you have the better the taste of the pudding. Using a butter such as Irish Gold and Heavy Whipping Cream is best.
7. Dark Brown Sugar is recommended as opposed to light brown as it has a more intense taste and pairs perfectly with the pecans.
8. After 30 minutes of baking you should check on your pudding at 5-10 minute intervals to prevent it from overcooking. Once the edges are slightly brown and have moved away from the sides of the dish, insert a knife into the center to check that the custard is fully cooked and then remove from the oven. If you wish to use a thermometer 165-170 degrees is the correct temperature.
9. Your pudding can be stored in the fridge for 2-5 days and in the freezer for upto 2-3 months. Reheating instructions are as follows:
A. From fridge:
Preheat your oven to 350 degrees, cover your dish with foil and heat for 15 minutes. Or cover with plastic wrap and heat in the microwave for 5-10 minuets. Once again you can use a thermometer to see if the temperature is 165 degrees and your pudding is heated through.
B. From Freezer:
Thaw your pudding overnight in the fridge and then follow the above instructions to reheat.
10. Leftover Praline Sauce is great on Ice Cream, Waffles and Plain Cake and also freezes very well. It can be thawed and reheated in the microwave or a saucepan.