This Easy Hot and Sour Soup Recipe comes together in no time and is the perfect meal for this chilly weather!
Cooked in the traditional Indo Chinese method, it's both spicy and sour with the secret ingredient being Ketchup! Yes...you heard that right!
Ketchup actually features prominently in Indo Chinese cooking as many recipes, such as this one on tastyden.com, illustrate. Possibly because it balances the spicy chillies and sour vinegar to make this perfect base for so many Pakistani Chinese dishes.
The Easy Hot And Sour Soup Recipe Explained
The Chicken Broth And Chicken
I personally prefer to cook my own broth using my homemade chicken broth recipe as I find the soup tastes more fresh and flavorful this way. By the time the soup is done I have the chicken I need for the soup and some extra to make some bakery style chicken patties or sandwiches.
However, I would hate for you to miss out on this soup just because you don't have the time it requires to make your own broth. So please feel free to use store bought broth and shredded rotisserie chicken, you'll love the soup regardless!
The vegetablemMix
As mentioned in some of my other posts, Indo chinese food typically uses a lot of carrots, cabbage, and green bell peppers. These are vegetables found easily in Pakistan, as opposed to the more traditional broccoli and mushrooms.
The trick is to have everything sliced really thin, with the cabbage and carrots almost shredded. Fortunately, in USA we can easily get a cabbage and carrot coleslaw mix that helps save tons of time.
Although the traditional Pakistani soup doesn't have any purple cabbage in it, I love the color and don't find that it alters the taste in any way.
This soup is chock full of fibre due to all the vegetables and since both cabbage and bell peppers are great for weight loss, this is a great and healthy lunch or dinner option!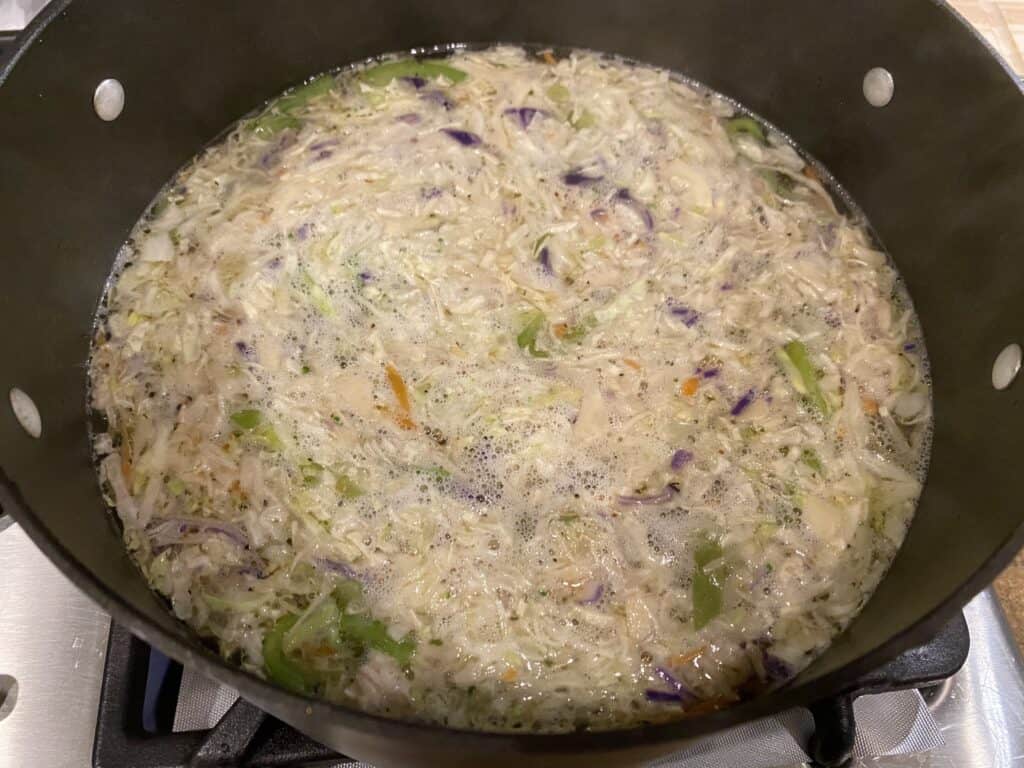 I cook the vegetables for a little bit so they don't taste raw, but keep them a little firm as the slight crunchiness tastes good and is typical of the authentic version of this soup.
The Hot And Sour Sauce
Once the vegetables are ready I prepare the sauce which is the key ingredient in this soup.
The oil is heated up first and this fat helps bind the other ingredients together.
Next I like to add the Ketchup and let it fuse with the oil to make a nice smooth and glossy base for the chili powder.
I add the chili powder next and cook the ingredients together. Adding the chilies to a slightly liquidy base prevents them from burning so it's essential not to add them earlier. I like the chilies to cook a little so they don't taste too powdery so let this mixture simmer for a few minutes.
The last two ingredients to go in are soy sauce and vinegar. The soy sauce is perhaps one of the most vital ingredients in all Chinese cooking and no sauce is really complete without it. Add to that the vinegar that gives this soup it's unique sour taste and you have a perfect sauce!
Bringing The Soup To A Finish
The soup will look a little reddish after you add the sauce in. Once the cornstarch slurry is added it lightens the color and the final result will be a more muted color.
If you like your soup thicker then you may need to add more cornstarch. I would recommend you start with the recommended ¼ cup and add more as needed.
Garnish the soup with some spring onions and serve! Hope you decide to try the recipe and like it. Don't forget to leave a rating and review after !
Easy Hot And Sour Soup Recipe
A delicious and easy hot and sour soup recipe, cooked in the traditional Indo Chinese method. Perfect for this chilly weather!
Print Recipe
Equipment
Knife

Chopping Board

Cooking Pot

ladle

Saucepan

Cooking Spoon
Ingredients
6

cups

chicken broth

(SEE NOTE)

1

cup

shredded chicken

(SEE NOTE)

1

cup

cole slaw mix

(SEE NOTE)

½

green bell pepper

1

tsp

salt

(SEE NOTE)

½

tsp

black pepper

¼

cup

corn starch

¼

cup

water

2

eggs

2

tbsp

oil

4

tbsp

ketchup

2

tsp

red chili powder

4

tbsp

white vinegar

2

tbsp

soy sauce

¼

cup

green onions
Instructions
pour your broth (homemade or store bought) in a cooking pot to heat

add shredded chicken (home cooked or shredded rotisserie chicken)

add the cole slaw mix (I use one with cabbage and carrots)

thinly slice the bell pepper and add it to the pot

add the salt and pepper and adjust to personal taste if necessary

heat the mixture till it's bubbling and then reduce the flame to a medium

in a separate saucepan heat the oil

add the ketchup, red chili powder, soy sauce and vinegar (in that order) to the oil and cook till you have a well blended mixture

add this hot and sour sauce to the soup and cook for 5-10 minutes

make a slurry of the corn flour and water and add to the soup, stirring constantly to thicken

Once the soup has reached the desired consistency beat two eggs and drizzle into the hot soup, stirring gently to make ribbons

garnish with the spring onions and serve
Notes
I prefer to cook and use my own broth (recipe on the blog) and shredded chicken but if you're short on time you can use store bought broth and rotisserie chicken.
Traditional Indo Chinese Hot and Sour soup has shredded cabbage and carrots, I find that the cole slaw mix is much easier than chopping and cutting so use it. feel free to shred your own if you prefer.
If you're using store bought broth it's best to buy the unsalted version and adjust the seasoning accordingly. Similarly if you're cooking your own and it has salt added to it then the 1 tsp may be too much so adjust this amount as needed depending on your base.
THE COOKING TIME GIVEN ABOVE DOES NOT INCLUDE THE TIME IT WOULD TAKE TO MAKE YOUR OWN BROTH.  IF YOU SHOULD CHOSE TO DO SO THEN YOU WILL NEED TO ADD THAT IN AS A FACTOR WHEN PLANNING THIS MEAL.
Nutrition
Serving:
1.5
cups
Calories:
238
kcal
Carbohydrates:
16
g
Protein:
15
g
Fat:
12
g
Saturated Fat:
2
g
Trans Fat:
1
g
Cholesterol:
108
mg
Sodium:
2591
mg
Potassium:
555
mg
Fiber:
1
g
Sugar:
5
g
Vitamin A:
650
IU
Vitamin C:
45
mg
Calcium:
61
mg
Iron:
2
mg