This Best Karahi Chicken Recipe is a quick and easy version of one of Pakistan's favorite street foods. Spicy, with lots of tomatoes and topped with sharp julienned ginger it's finger licking good. You won't want to miss this one!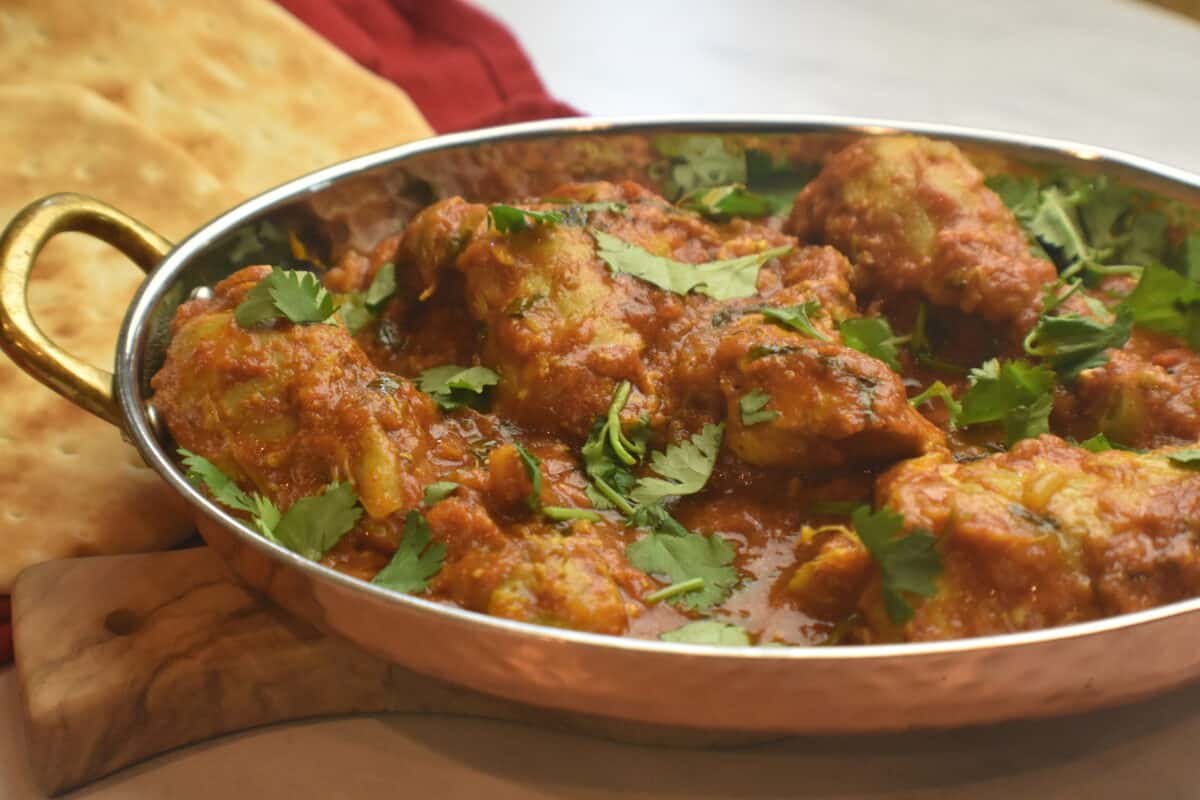 The History
Chicken Karahi is a popular street food that originated in the province of Punjab. Per tasteatlas.com it gets its name from the actual pot it is cooked in. A Karahi or Kadai is a thick semi circular pot traditionally made of iron. It's similar in shape to a Wok, but with steeper sides.
It is commonly used in South Asian Cooking for deep frying things such as pakoras or samosas . It's also used for all Pakistani stir fries such as tawa fry beef keema or beef karahi gosht. Most traditional Pakistani homes have an old favorite one that they cook in.
There are many reasons why using a Karahi is the preferred method of cooking this dish. The shape of the pot allows for an even distribution of heat. This means that less oil is needed and the food cooks quicker and more evenly.
Chicken Karahi takes about 30 minutes to cook and if you're familiar with Pakistani cooking that's a very short time. Also, the traditional Karahi is made of iron and it is believed that when the iron reacts with certain foods it provides many health benefits.
My Story
Karahi chicken is amongst one of my favorite meals to eat and cook! So delicious and easy, it typically takes 30 minutes when cooking it for 4-6 people. I've loved it my entire childhood so it's no surprise that I cook it often as an adult. My kids love it as much as me and their eyes light up when they know this is on the menu!
Many variations of this recipe exist in Pakistan, the most popular one being the Punjabi Style Karahi. In this version, a little bit of Kasuri Methi is added to the spice mix. I personally twist up my recipe a little each time I cook it just for fun but my favorite and BEST version is this easy recipe right here.
If you want to try an easy and authentic Pakistani recipe this one is it!
The Recipe
The Equipment
If you don't have a good Karahi but own a cast iron skillet, that would be a good alternate choice. Of course, most Karahi's today are made of sheet metal and as such, a Wok would also be a good substitute.
With all of that being said, I've cooked an awesome Chicken Karahi in a plain and simple pot many a time with no issues, as the picture below will illustrate. So I wouldn't go to extensive trouble searching for hard to find utensils unless you plan on using them frequently.
The Meat
Although the most most popular version of this entree is made with chicken, it can be made with goat or beef as well. Try this easy beef-karahi-gosht-recipe next! The meat in a karahi is usually cut into small pieces so that it gets cooked through during the stir frying. I source mine from a butcher who cuts it that way for me, but if you happen to have big pieces I would recommend using poultry scissors to size the pieces appropriately.
Fresh Ingredients
The ingredients in Chicken Karahi are few but must all be fresh. The biggest emphasis is on fresh ginger and tomatoes. I personally keep my spice mix simple, which is why this is such an easy recipe. I do add tomato paste for convenience and because I like it's bold flavor. However, fresh tomatoes can be used, as mentioned in the recipe card.
NOTE: As this is a stir fry and not a curry, water is not added. Due to this, some of the ingredients can easily get a burnt taste unless temperature is controlled and timing is strictly adhered to. It's best to have everything chopped and ready to toss in as directed in this recipe. The result will be a beautifully cooked and flavorful Karahi.
Some Recipe Alternatives
There are a few ways to tweak this recipe and personalize it to your particular taste! I myself do that each time I cook this recipe depending on what I'm craving on that particular day and what I'm pairing my karahi with.
The Quickest Method
The process shots above illustrate the quickest and easiest method, using simply tomato paste. The onions help give the gravy some bulk and the paste gives the bold tomato flavor.
However, a lot of time is saved when it comes to chopping the tomatoes and drying the excess water in them. One complaint from some people with this version of the recipe has been that there isn't enough gravy as the paste tends to be very dense. If you're on of those, this version is not for you! read on and try one of my others!
The Authentic Method
The true Street Style version of the Karahi has no onions in it. Just lots of tomatoes and Desi Ghee or Butter as opposed to oil! The juice from the tomatoes and the ghee blend to give you the sauce to dip your Naan in. Delicious but Caloric!
The chicken is first sauteed and set aside while the "masala" is prepared. The ghee is melted and the garlic is added along with lots of tomatoes, crushed ginger and spices and cooked till the water almost evaporates.
The chicken is then added back to this mixture and cooked to completion. Before serving, the Karahi is often topped with a dollop of butter, julienned ginger, green chilies and cilantro.
The Best Method
The best method, in my opinion, after much trial and error, is the one pictured at the start of this post. In this I use the onions and tomato paste, but add some fresh tomatoes to the mix.
This helps bring in that natural tomato juiciness and gives something to dip that naan in without having a lot of extra oil. Since we're still using tomato paste and only some fresh tomatoes, there's less liquid to dry out so the recipe remains time efficient.
Some of these recipe alternatives were tested and provided based on some positive feedback from all of you! Hope you like and try the updated version and please continue to leave those ratings and comments! It helps me give you the recipes you want!
Best Karahi Chicken Recipe
The best chicken karahi recipe and the easiest one you'll ever find! Made with a few simple ingredients this recipe packs a flavorful punch!
Ingredients
2

lbs

chicken

¼

cup

oil

1

onion

SEE NOTES

2

tsp

garlic

6

oz

tomato paste

4

roma tomatoes

2

tsp

salt

1

tsp

red chili powder

½

tsp

turmeric

4

green chillies

2

inch

piece of ginger

½

cup

cilantro
Instructions
Heat the cooking oil and brown the onions in it.

Add and Saute the garlic for 30-45 seconds.

Add the chicken and stir fry till well browned.Cover and simmer for 10-15 minutes in it's own juices.

Uncover, turn the flame on high and add the salt, red chili powder and turmeric. Cook for 3-5 minutes.

Add the tomato paste and the roma tomatoes and stir fry for 2-3 minutes.

Cook uncovered till the water from the tomatoes dries out and the oil separates.

Add the green chillies and ginger and stir fry for 3-5 minutes.

Garnish with cilantro and serve with fresh hot naan.
Notes
Traditionally chicken Karahi doesn't have onions but at my house we like a little something to dip our Naan in so I add some to mine
Chicken releases a lot of water so usually I don't add any extra. If you want, you can keep a small glass on hand and add some as needed if necessary throughout the cooking process.
QUICKEST METHOD - For this method, follow all of the above instructions, but omit the roma tomatoes, substituting ¼ cup water to help blend the tomato paste, onions and spices together.
STREET STYLE METHOD - For this method:

Saute the chicken with the garlic for about 10-15 minutes till it is half cooked and set aside.
Omit the onions and the tomato paste
Double up on the roma tomatoes (4 per pound of chicken)
Prepare your 'masala' by sauteing the tomatoes, spices, whole green chilies and crushed ginger in some oil.
Once the tomatoes have released their water add the semi cooked chicken back to this mix and continue to stir fry till the water evaporates and the chicken is cooked through.
Add ¼ cup of butter and let it melt into the chicken, garnish with cilantro and serve.
Nutrition
Serving:
1
g
Calories:
290
kcal
Carbohydrates:
12
g
Protein:
15
g
Fat:
21
g
Saturated Fat:
4
g
Polyunsaturated Fat:
5
g
Monounsaturated Fat:
10
g
Trans Fat:
1
g
Cholesterol:
54
mg
Sodium:
1159
mg
Potassium:
581
mg
Fiber:
3
g
Sugar:
6
g
Vitamin A:
1068
IU
Vitamin C:
19
mg
Calcium:
32
mg
Iron:
2
mg