This Easy Chicken Tikka Boti Recipe is a quick and delicious Pakistani BBQ recipe that takes under 30 minutes to cook. The marinade comes together in 15 minutes and because the chicken pieces are cut so small, 30 minutes of marination is all that's required.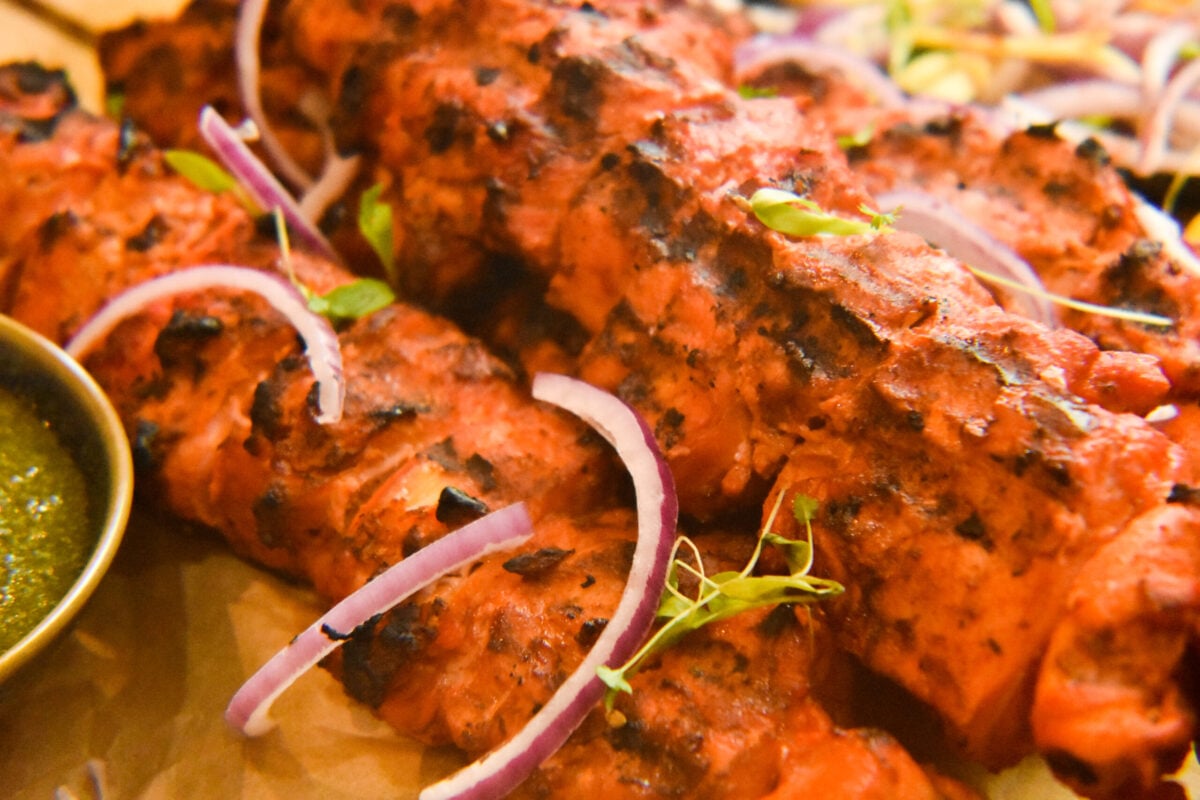 Pakistani cuisine has a large number of grill-friendly recipes such as grilled tandoori lamb chops, Bihari kebab, and hariyali (green) chicken tikka to name a few. This chicken tikka boti is perhaps the easiest and most well-known of all these Pakistani recipes.
Jump to:
Why you'll love this recipe
Easy-to-source ingredients - All of the ingredients, including the spices are easy to source. I can usually find them all at my local grocery store or on Amazon.
Cooks in under 30 minutes - Once marinated and prepped, the chicken is so simple and quick to cook, it's a great recipe to have at your fingertips.
Great meal prep option - I like to marinate and store the chicken in batches in my fridge and freezer as part of my weekly meal prep.
A variety of serving options - The chicken boti tastes great with some naan and green chutney. It also makes great sandwiches, wraps, or rice bowls.
The ingredients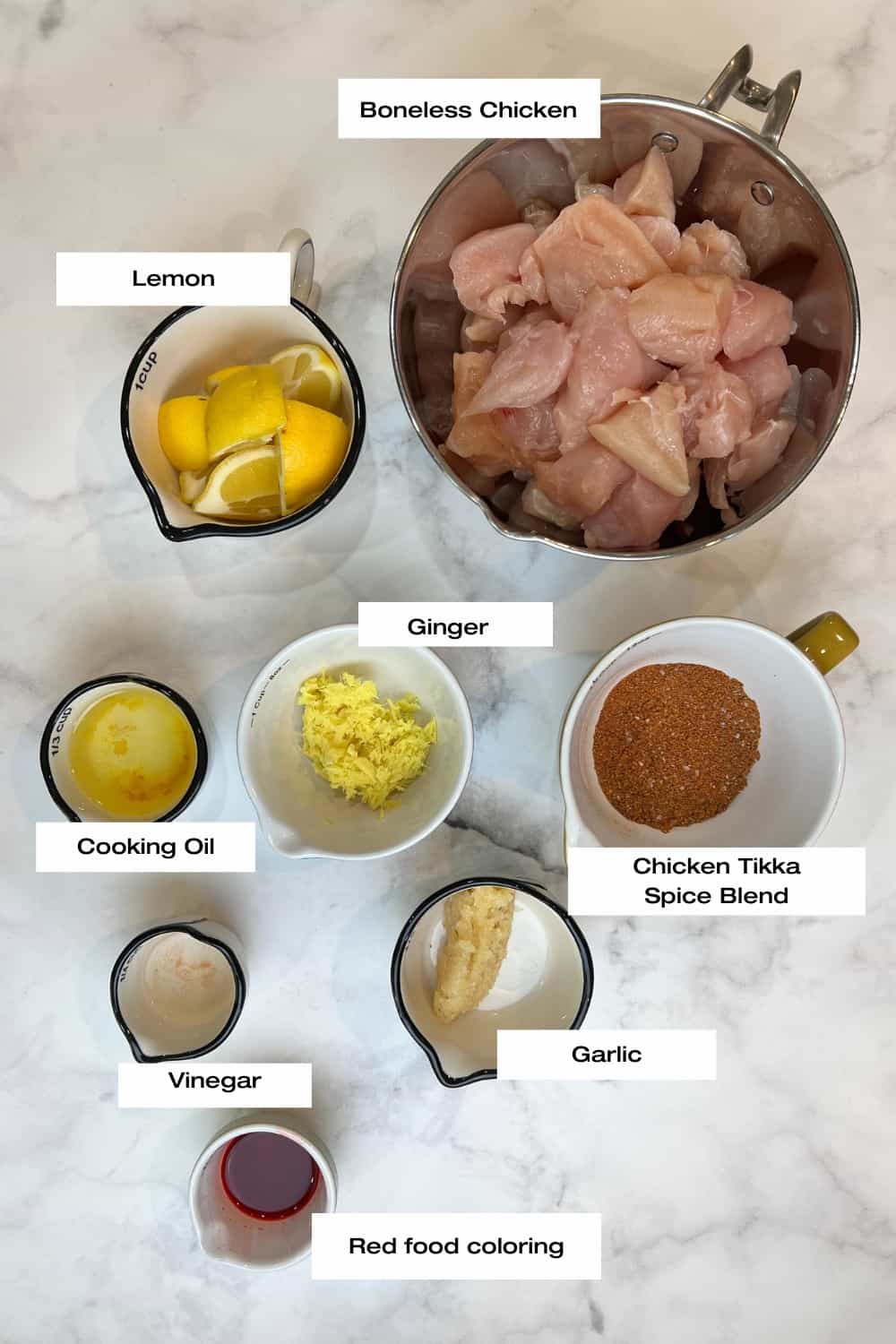 Chicken - I like to use chicken tenderloins cut up in 1.5-inch cubes for this tikka boti recipe.
Ginger - Fresh ginger, crushed using a mortar and pestle will result in the best flavor for this easy chicken tikka boti recipe.
Garlic - I make my own garlic paste for all my recipes. As a shortcut, you can use a garlic press. About 10 garlic cloves will equal 1 tablespoon.
Lemon - Lemon juice adds flavor and helps tenderize the meat through its acidity.
Vinegar - Vinegar also helps as a tenderizer and since its flavor profile is different from the lemon, it adds a depth of flavor to the recipe.
Cooking Oil - Adding an oil that has a high smoke point to the marinade helps keep the chicken juicy and succulent when it's cooked.
Food coloring - This is not necessary but gives a restaurant finish to the chicken boti kabab. If you don't like using food coloring, you can try beet powder instead.
Spice blend - The spices used in the blend are fairly simple and I can usually source them through my local grocery store.
For the complete list of ingredients with measurements plus recipe instructions, please see the recipe card at the bottom of this post.
Substitutions & variations
Turn this into Chicken Malai Boti - Add ½ cup yogurt and ½ cup heavy whipping cream (malai) to your marinade and this becomes a whole different recipe!
Make Chicken Tikka Masala with the leftovers - Make a curry using onions, tomato paste, yogurt, and cream. Add any leftover chicken tikka pieces to this to create a quick and easy chicken tikka masala.
Air fry the chicken boti - Not in the mood to grill or the weather won't permit it? Air fry the chicken boti at 350 degrees Fahrenheit for 10-15 minutes (the time will vary a little according to the air fryer model)
Cook indoors on a grill pan - Don't have an air fryer and want to cook indoors? Use soaked wooden skewers instead of metal skewers to cook the chicken boti in a grill pan on your stovetop.
Step-by-step instructions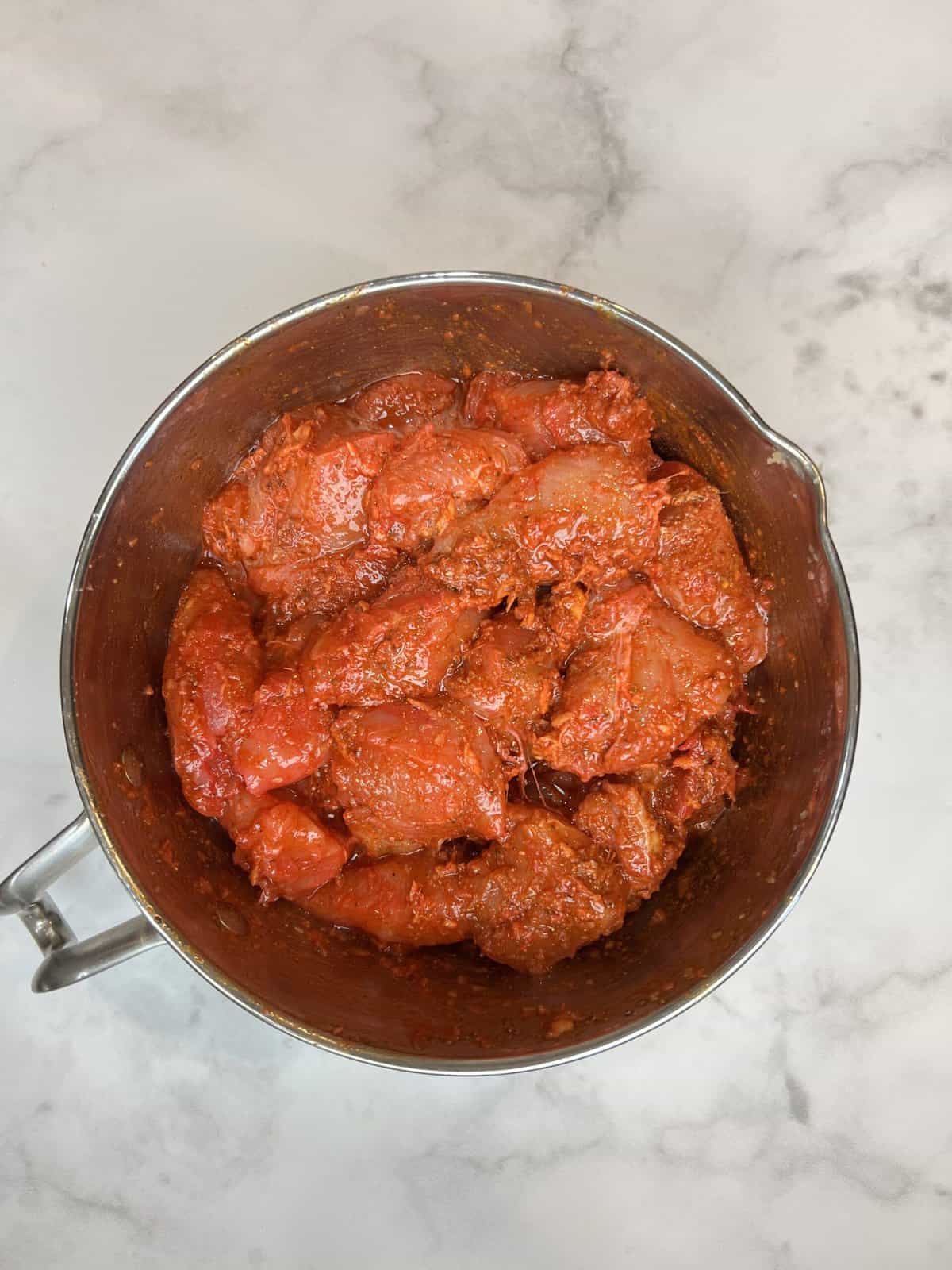 Step 1 - Mix all ingredients and toss the cut-up chicken pieces in the marinade. Marinate for a minimum of 30 minutes in a refrigerator for best results.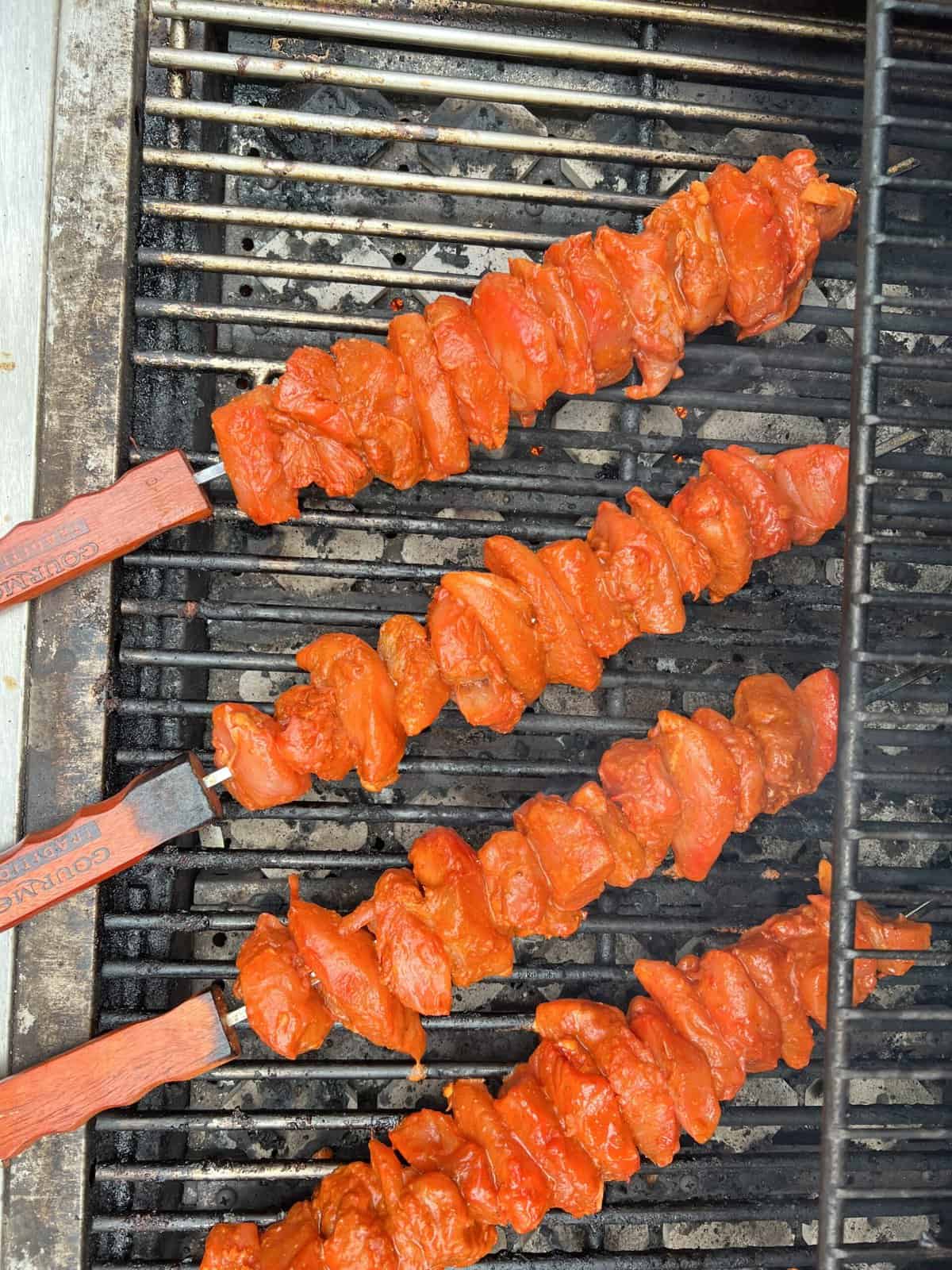 Step 2 - After 30 minutes, thread the chicken on a skewer. Preheat your grill to 500 degrees Fahrenheit and place the skewers on the grill.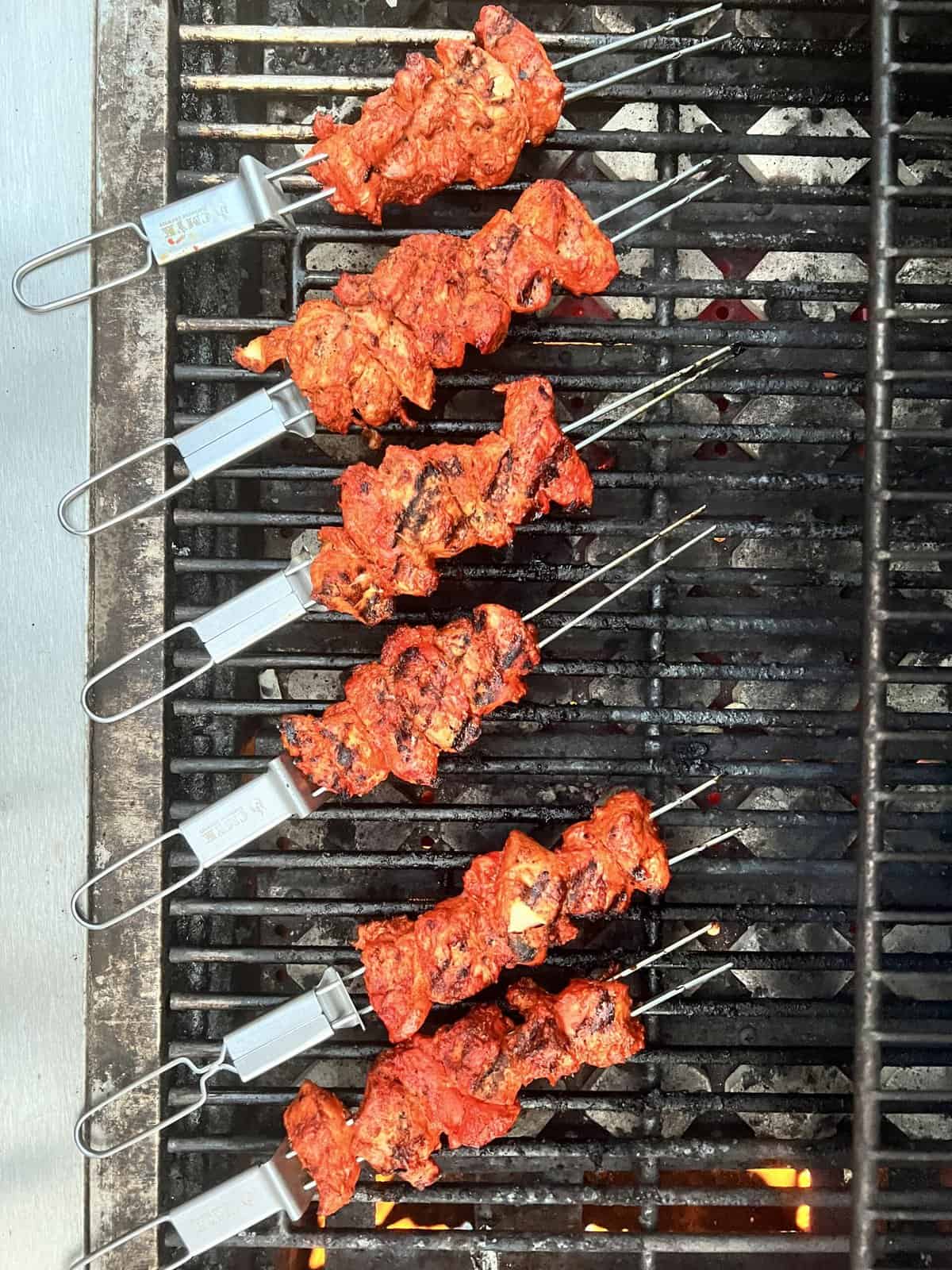 Step 3 - After 5 minutes, flip the skewer to sear the other side. After a 5-minute sear on both sides, reduce the temperature to 350 degrees Fahrenheit, cover, and continue cooking.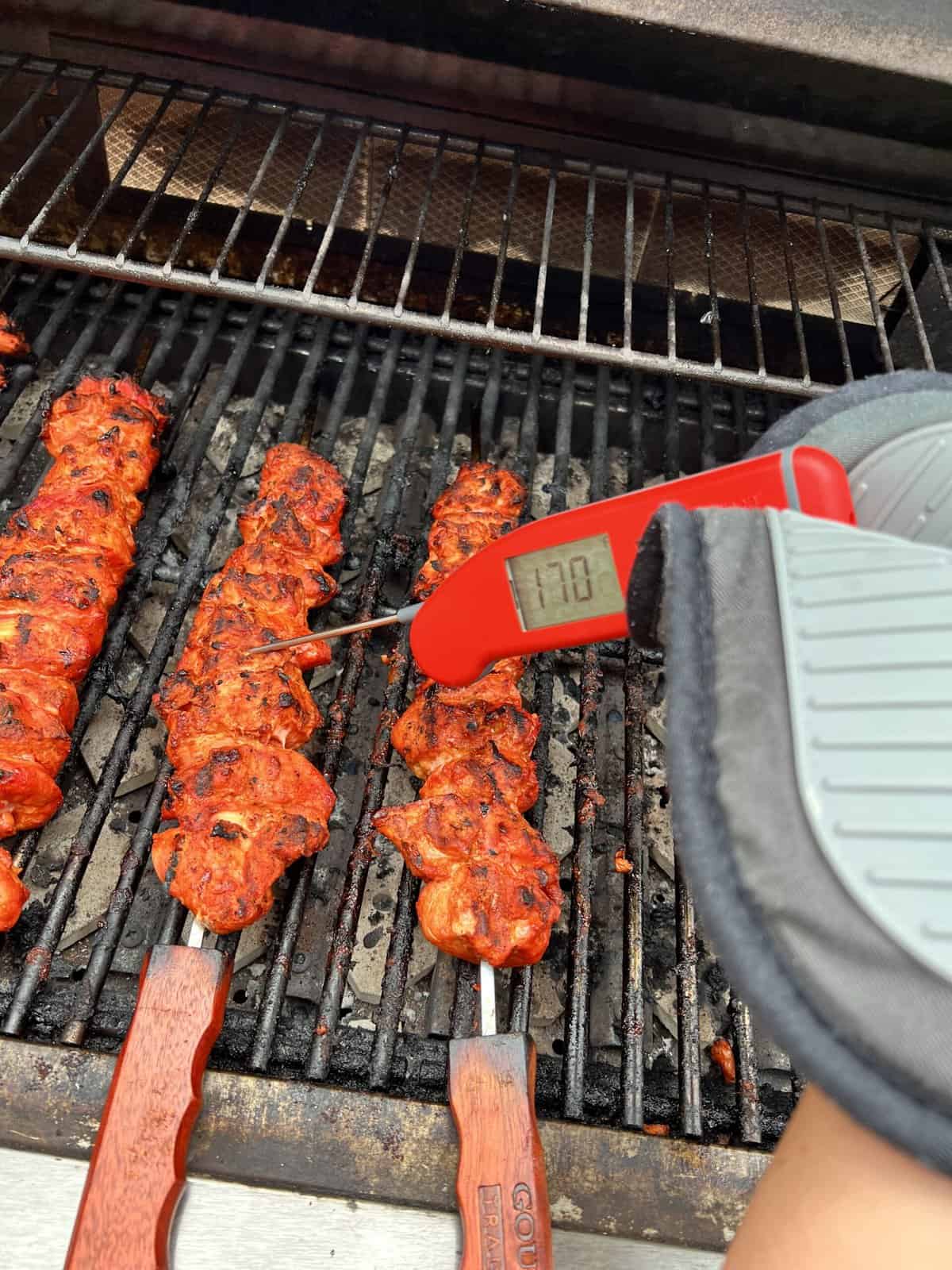 Step 4 - Cook covered at 350 degrees Fahrenheit till the chicken reaches an internal temperature of 165 degrees Fahrenheit. I use my ThermoWorks Thermapen ONE for the best results but feel free to use any thermometer of your choice.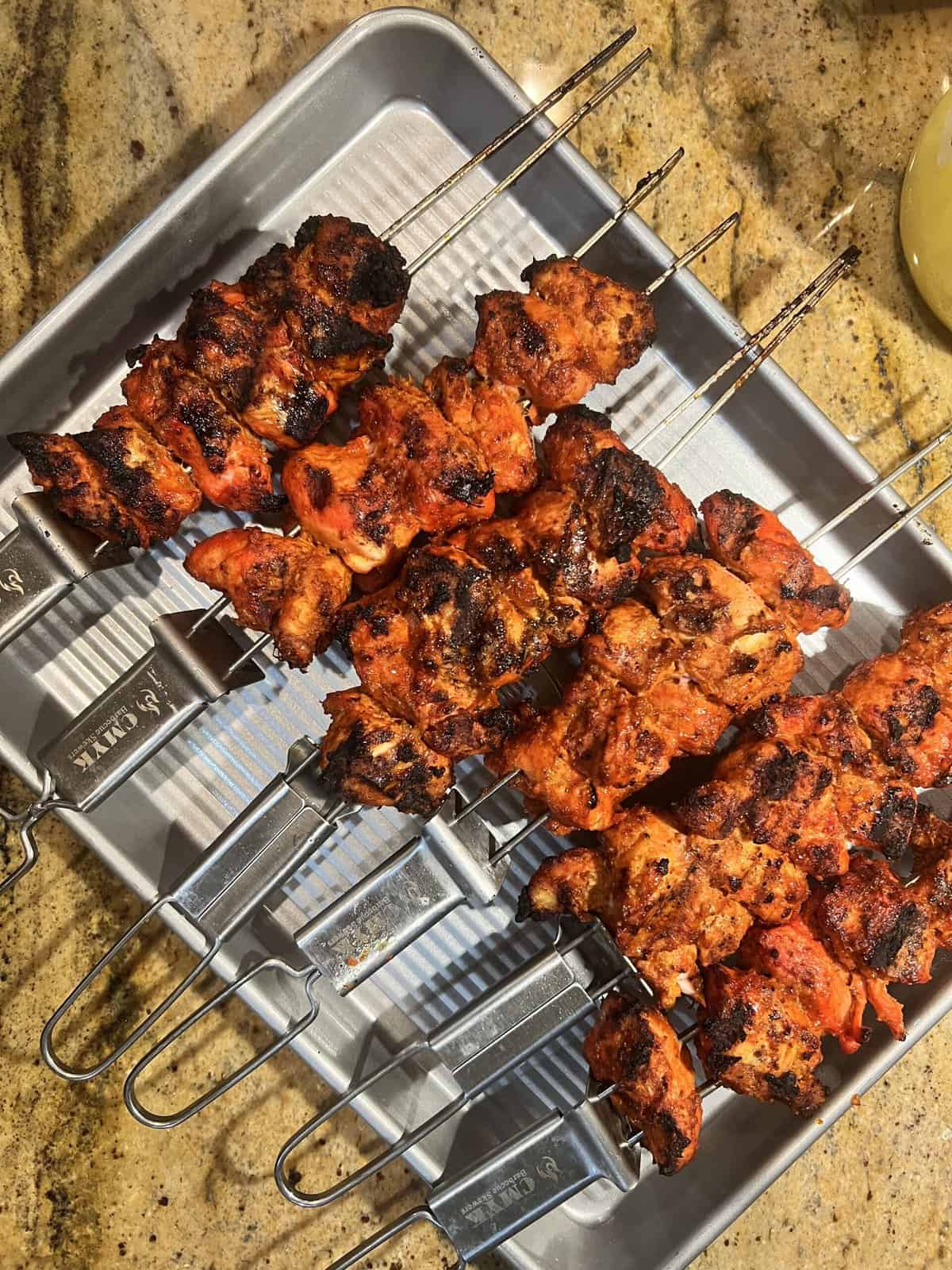 Step 5 - Once the chicken is a nice golden brown and cooked through, serve it directly on the skewers or remove the chicken pieces carefully and serve with some cilantro mint chutney, tamarind dipping sauce, kachumber salad, and Pakistani street-style air fryer corn.
Expert tips
Soak our wooden skewers - If you are going to use bamboo wooden skewers to grill your chicken make sure to soak them in water overnight.
If cooking indoors use a piece of charcoal to smoke the meat - If you're cooking your chicken boti indoors, you can still give it a smoky flavor. Place the cooked chicken boti in a pot along with a small dipping bowl. Place heated and lit coal in the bowl and pour a tablespoon of oil (any type will do) on the hot coal. Cover the pot as soon as the coal starts to smoke and keep it covered for 5 minutes. After 5 minutes, remove the bowl with the coal and cover the pot till it's time to serve the chicken.
Recipe FAQS
What chicken should I use for this recipe?
I like to use chicken tenderloins for most of my boneless chicken recipes. This is a very tender cut of meat and also the fastest to cook. Chicken thighs are my second choice and are more budget-friendly. Chicken breast tends to be a bit dry so is my last choice.
Can I bake the chicken boti?
This is my least favorite method as the chicken doesn't get that charred taste. But if you want to go this route the best way is to bake the chicken on a tray at 400? for 15 minutes and then broil the chicken on high for 2 minutes to get a slight char.
Is this chicken served as an entree or appetizer?
This easy chicken tikka boti recipe can be served as a main or an appetizer. That's the best part about the recipe! It's so versatile.
How can I store my leftovers?
The chicken can be stored in the fridge for up to 4 days. I don't recommend freezing the chicken as reheating it makes it dry. Should you want to try freezing your boti, 3 months is the maximum recommended period.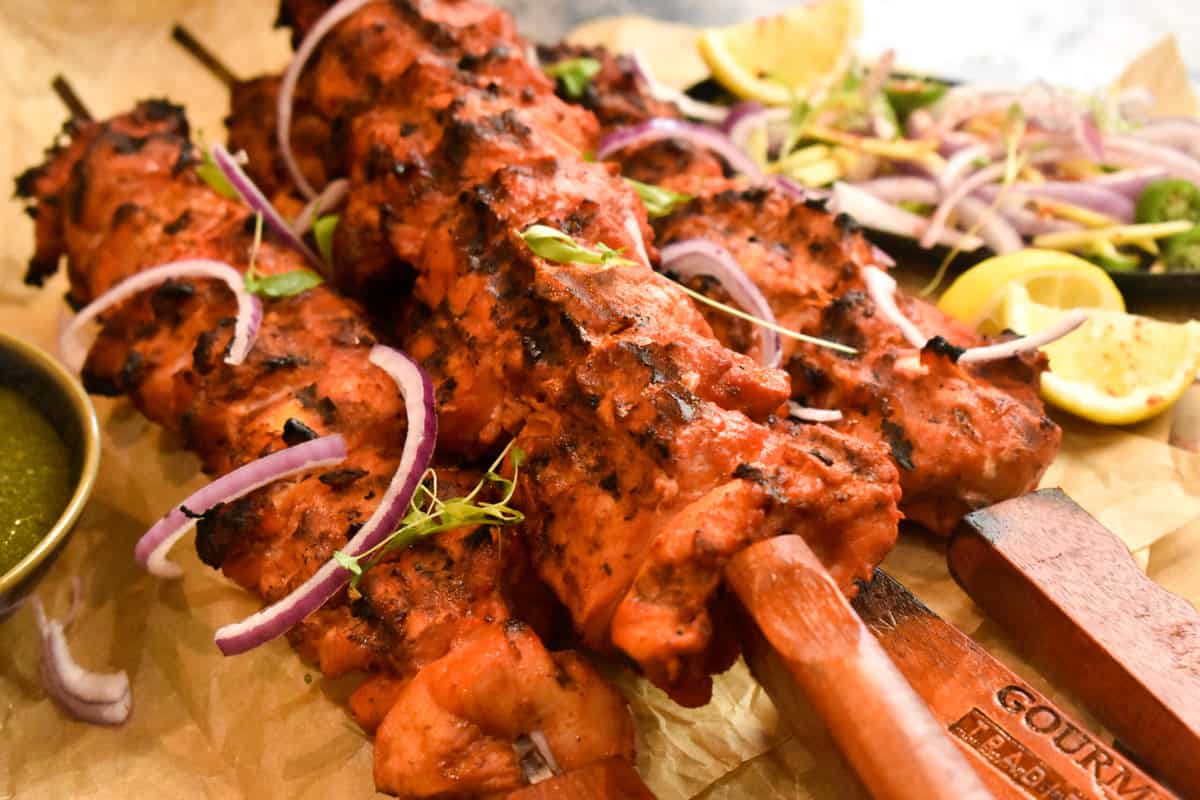 Other recipes you may like
Hope you decide to try this recipe! Please don't forget to leave a rating and comment below! If you take a picture then tag me on Instagram! Thank You!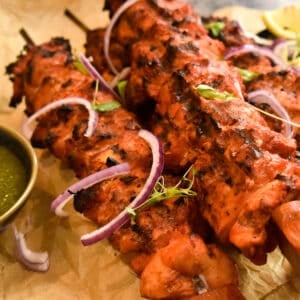 Easy Chicken Tikka Boti Recipe
This easy chicken tikka boti recipe is made with boneless chicken coated in a tangy and spicy marinade, skewered and then grilled till smoky.
Ingredients
2

lb

boneless chicken

(see notes)

1

tbsp

ginger

1

tbsp

garlic

2

tbsp

cooking oil

1

lemon

1

tbsp

vinegar

4

drops

red food coloring

(see notes)
Chicken Tikka Spice Blend
1

tsp

salt

1

tsp

cumin powder

1

tsp

coriander powder

1

tsp

red chili powder

1

tsp

Kashmiri chili powder

1

tsp

amchur powder

¼

tsp

turmeric powder
Instructions
Cut the chicken into 1.5-inch cubes.

Mix all of the ingredients in a bowl and toss to coat the chicken.

Marinate the chicken for a minimum of 30 minutes (see notes)

Once the chicken is ready to cook, thread it on skewers.

Preheat your grill to 500 degrees F.

Place the skewers on the grill and sear for 5 minutes on each side.

Reduce the grill to 350 degrees F, and cook the chicken till it reaches an internal temperature of 165 degrees F.
Notes
The chicken - I usually get chicken tenderloins and cut each one into 2-3 pieces depending on the size. Chicken breast tends to get a little dry. The tenderloins work better. Boneless chicken thighs are good too.
The food coloring - This is purely optional. Restaurants use it to give that beautiful red color to chicken tikka and I like how it makes the chicken look but not using it will not impact the taste.
Marinating the chicken - A minimum of 30 minutes is necessary for the marination but you can also marinate the chicken overnight or marinate it and stick it in the freezer till it's time to use it.
Nutrition
Serving:
1
serving
Calories:
171
kcal
Carbohydrates:
3
g
Protein:
24
g
Fat:
7
g
Saturated Fat:
1
g
Polyunsaturated Fat:
2
g
Monounsaturated Fat:
3
g
Trans Fat:
0.03
g
Cholesterol:
73
mg
Sodium:
431
mg
Potassium:
462
mg
Fiber:
1
g
Sugar:
1
g
Vitamin A:
189
IU
Vitamin C:
9
mg
Calcium:
16
mg
Iron:
1
mg