This Easy Chicken Tikka Sandwich Recipe is a quick and easy lunch or dinner option. The easy marinade comes together in just a few minutes and packs tons of flavor. With the short cooking time, you will have a delicious hot meal ready in just 20 minutes. With tons of serving options and ideas listed below, each time you prepare these sandwiches it will seem like a totally new meal!
The History Of Chicken Tikka
Tikka, Persian for "bits" or "pieces" per wikipedia.org has in recent years become synonymous with chicken. Grilled Chicken Tikka in Pakistan usually refers to large chicken quarters marinated in a blend of lemon, yogurt and spices and grilled over hot coals. Historically this is a Kashmiri version of Chicken Tikka, served with Naan, sliced onions and a chutney.
Chicken Tikka originated during the reign of the Mughals and today it's a popular way of eating chicken in Pakistan, India and Bangladesh. Chicken pieces are marinated, put on skewers and grilled on hot coals. Over time, the recipe has evolved and many prefer to cook chicken tikka masala, a creamy curried version of the tiny chicken pieces.
My Story Of The Chicken Tikka Sandwich
I love Chicken Tikkas, as do most Pakistanis. The Chicken Tikka is a staple at most restaurants and street food vendors in Pakistan and it's one of the first things my kids love to eat on our visits! Delicious and healthy, for years it was my go to lunch at my workplace in Karachi.
SInce I don't have access to the tikkas where I live, I often marinate and grill my own at home. Over the years I've come to use the basic tikka marinade on boneless chicken tenderloins and pan sear, bake, or in recent years, air fry them. I find it a super quick, easy and healthy meal option that my family loves!
My friend Saima requested a recipe for a chicken tikka sandwich and I used my standard marinated tenderloins to put this sandwich together. The family loved it so much I've gone through a couple of batches of marinated and air fried tenderloins already!
The Recipe For The Easy Chicken Tikka Sandwich
The Chicken
I prefer to use chicken breast tenderloins for my chicken tikka but any preferred cut can be used. I use breast meat due to the fact that it's the leanest cut but some people find it too dry and prefer to use thighs.
My supermarket carries antibiotic and hormone free tenderloins that are cut to a perfect size and cook really easily. Due to their smaller size versus chicken breast they cook through to the center quickly and the meat doesn't dry out.
The Marinade
The marinade consists of a few simple ingredients, no exotic spices needed for this one. Unlike traditional chicken tikka I don't use any garam masala in the marinade as the flavor is too strong for a sandwich.
The yogurt and lemon add a nice tanginess and the 5 spices used are enough to give the meat an authentic flavor. The easier the recipe the more likely it is to become a regular menu item and that's the case with this recipe. I marinate a large batch of chicken and cook it for our weekly lunch sandwiches!
The Cooking Method
Pictured below are results based on the Air Fryer method of cooking. I have cooked a larger batch in the oven when short of time but with a slightly different flavor. The air fryer gives the meat direct high heat so it sears on the outside quickly, sealing in the juices. This makes for juicier chicken and a slightly charred outside, similar to what you would get on a grill or coals.
The basket means that drippings fall onto the tray below, keeping the meat dry. To prevent the meat from becoming too dry on the outside I keep the extra marinade on hand and brush some on periodically.
If you don't have an air fryer and choose to cook in the oven then the meat will start watering into your cooking tray. This is a natural process of cooking the meat at a certain temperature and doesn't need to cause any worry.
A trick I use is to bake for about 15 minutes, drain the liquid from my tray and broil on high for 2 minutes on each side to give it a somewhat charred effect. The directions are provided below in detail.
Resting Time
Let the chicken rest for a few minutes with a loose foil tent on it. This allows the meat to finish cooking and allows for all the juices to distribute more evenly, resulting in juicier meat.
Cutting The Meat
After the meat has rested, cut it into small pieces. The meat cuts better when it's slightly warm so I would suggest cutting all of it before storing any unconsumed pieces.
The Dressing
I mostly use a simple combination of mayonnaise and ketchup as my dressing, as pictured below. However, any store bought dressing of your choice will work, as will some of the chutneys from the blog, listed below.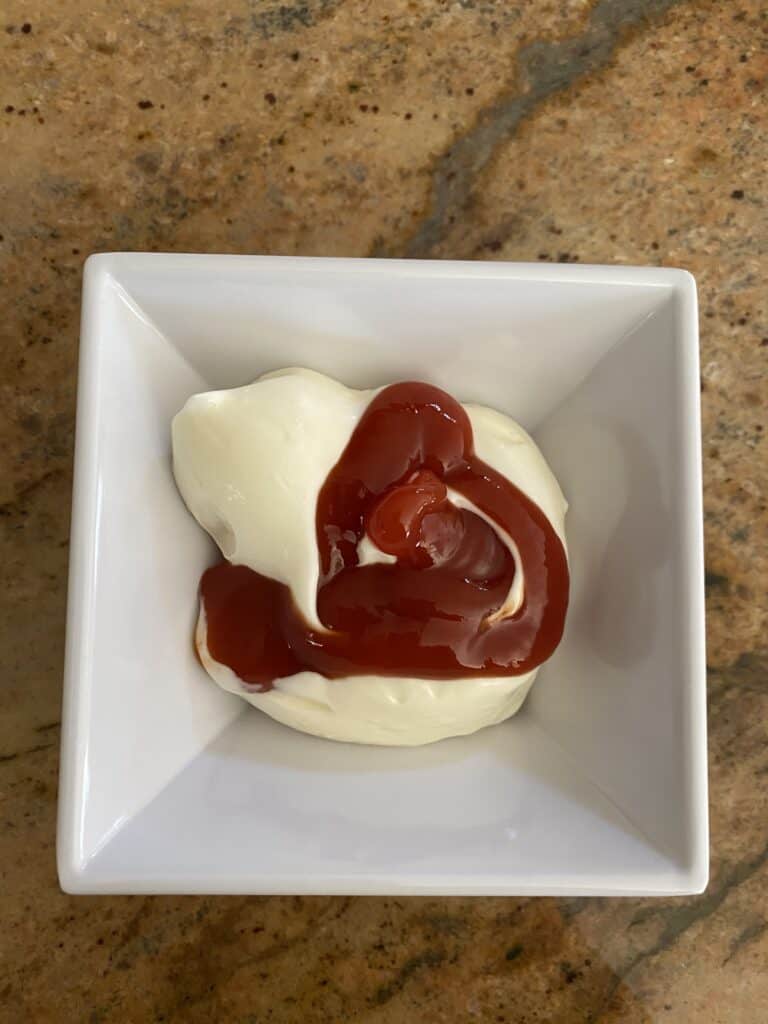 Toppings
My go to veggies for this sandwich are bell peppers, purple onions and carrots. This particular veggie combination reminds me of sandwiches back home but feel free to add your own favorite. The micro greens are a great addition if they're easily available, but aren't necessary.
Assembling The Sandwiches
I like to use a slightly crusty bread for my sandwich, steak rolls or po boy rolls are both good options. The bread texture holds well under the weight of the chicken and doesn't get soggy with the addition of the spread and veggies. I usually put my spread on, add the chicken, some shredded cheese and toast lightly till the cheese melts. Top with the veggies, close, slice and enjoy!
Easy Chicken Tikka Sandwich Recipe
This easy chicken tikka sandwich recipe makes for a delicious and healthy lunch that can be ready in 20 minutes! You can't beat that!
Print Recipe
Ingredients
Chicken Tikka
1

lb

chicken breast tenderloins

1

cup

full fat yogurt

(SEE NOTES)

1

lemon

½

tbsp

minced garlic

1

tbsp

crushed ginger

1

tsp

salt

1

tsp

coriander powder

½

tsp

turmeric powder

½

tsp

cumin powder

2

tsp

red chili powder

(SEE NOTES)

4

drops

red food coloring

(SEE NOTES)
Mayonnaise Dressing
1

cup

mayonnaise

¼

cup

ketchup
Sandwiches
6

steak rolls

(SEE NOTES)

½

green bell pepper

½

red onion

½

cup

shredded carrots

¼

cup

microgreens

(OPTIONAL)

1

cup

shredded mozarella

(SEE NOTES)
Instructions
Chicken Tikka
Mix together the yogurt, lemon, garlic, ginger and all of the spices.

Marinate the chicken in the mixture for a 2 hour minimum (SEE NOTES)

For air frying, preheat your air fryer at 350° for 5 minutes

Air fry the chicken for 20 minutes, turing halfway through (SEE NOTES)

For the oven, preheat the oven to 400°

Bake the chicken for 20 minutes, turning halfway through OR bake for 10 minutes on 1 side, 5 minutes on the other and then drain the liquid that collects in your pan and broil for 5 minutes.

Let the chicken rest for a few minutes whichever method you use to cook it.
Mayonnaise Dressing
Mix the mayonnaise and ketchup to make the dressing
Sandwiches
spread the dressing on both sides on the bread

put cut up pieces of chicken on one side of the bread

add the cheese on top of the chicken and broil in the oven to melt it

remove from the oven and layer with the veggies and enjoy
Notes
NOTES:
I use full fat yogurt as it gives the chicken a creamier taste and tends to coat the meat better. Fat free or low fat yogurt tends to split and water more during the baking, affecting the texture of the chicken. I don't add any extra oil to my chicken, as I find the meat doesn't need it but feel free to add 2 tablespoons to the marinade if you'd like.
I use 2 teaspoons of red chilli powder as I like things a little on the spicier side. feel free to adjust the spices to your personal taste.
The red food coloring is optional. I personally add enough chillies to give my chicken the orangish hue that's typical of chicken tikka. However, if  you're adding less chilies and  want yours to look like what you eat at a restaurant then you may need a few drops of the food coloring. 
My supermarket has what they call steak rolls, which are similar in texture to crusty french bread. These are my favorite but feel free to switch it up.
I like to use mozzarella, but any cheese will do. Provolone or smoked gouda would be good options to consider.
Marinating the chicken for a longer period helps tenderize it. Two hours is a minimum but I often leave mine in the fridge overnight or marinate it and freeze it for when I need it.
If you find that the chicken is drying too much in the air fryer, keep the marinade close by and use it to baste the meat periodically.
Nutrition
Serving:
1
g
Calories:
573
kcal
Carbohydrates:
32
g
Protein:
27
g
Fat:
38
g
Saturated Fat:
9
g
Trans Fat:
1
g
Cholesterol:
84
mg
Sodium:
1206
mg
Potassium:
569
mg
Fiber:
3
g
Sugar:
7
g
Vitamin A:
2291
IU
Vitamin C:
21
mg
Calcium:
212
mg
Iron:
2
mg
Tips And Ideas
The first time I made these sandwiches they finished faster than I could say "sandwich"! Now I marinate a huge batch of chicken and keep it on hand in one of two ways:

I marinate the chicken and freeze it in portions ready to cook. Then I can take a batch out, cook it fresh and assemble the sandwiches.
I marinate and cook the chicken and freeze it in portions. Any time someone wants a sandwich they grab a bag from the freezer, microwave the chicken and put together a sandwich.
I often prep some chicken and pack it for my college age child as it makes an easy and healthy meal option for her when she's too busy to cook.

Wraps also work great instead of the crusty bread if you want something on the lighter side. SImilarly, if you're watching those carbs, make a lettuce wrap or simply use the sliced chicken pieces as a salad topper.
If I serve these sandwiches at lunch they're usually sufficient on their own, unless you have big eaters! For dinner I usually pair them with a soup or salad, try one of the ones listed below if you haven't already!
Fun Idea! Next time you have some friends over for lunch set up a sandwich bar! Make the filling a day ahead of time and serve it with a variety of breads, dressings, cheeses and toppings. Go ahead and add another meat if you'd like for more variety. Everyone can assemble their own sandwiches based on their preferences and it saves you the trouble of making a countless number of sandwiches!
Some Chutneys To Try With Your Chicken Tikka Sandwich
Some Soups To Enjoy With Your Chicken Tikka Sandwich
Some Salads To Pair With Your Chicken Tikka Sandwich