This Easy Pakistani Butter Chicken is a quick and relatively healthier version of the restaurant favorite. Boneless chicken is gently coated in a mildly spiced, creamy tomato sauce. This is a perfect weeknight meal that pairs perfectly with both Naan and Basmati Rice.
The Origins Of Authentic Butter Chicken Recipe
if you've read my post about Tandoori Chicken, you may have heard of Kundan Lal Gujral. The owner of Moti Mahal restaurant in New Delhi in Northern India, he first gained fame with his Tandoori Chicken Recipe.
One night he had to accommodate a large late night party in his restaurant. Caught unawares, he cut up some leftover Tandoori Chicken and cooked it in a gravy of tomato puree, yogurt and heavy cream.
The recipe started to gain fame many years later, with the first "Murgh Makhani" recipe being put in writing around 1974. Once the Gaylord Indian Restaurant in Manhattan, New York added butter chicken masala to their menu, the curry truly reached International fame.
The Recipe
the beauty of butter chicken lies in the subtle balance of tanginess and a velvety texture".

Harnoor Channi-Tiwary

ndtv.com
This is the most apt description of Chicken Makhani that I've read and one that I kept in mind when developing the recipe.
Typically, Pakistani curries are on the spicy side and few are cream based. In fact, butter chicken has become popular in Pakistan only in recent years. Given that, it makes sense that this version would be a little different from the Indian Butter Chicken Recipe.
The key differences are, no sugar or sweetener, no butter and less cream. But don't worry! It still has a velvety smooth texture and is much easier on your digestive system!
While it may not be the restaurant style butter chicken you're used to, you're guaranteed to like this quick, easy and healthier version of the recipe!
Here's how to make this easy creamy chicken curry, with easy to source ingredients!
Ingredients
As you will see below, this is a simple recipe with simple ingredients. I use very few spices, all of which can be sourced at the local grocery store.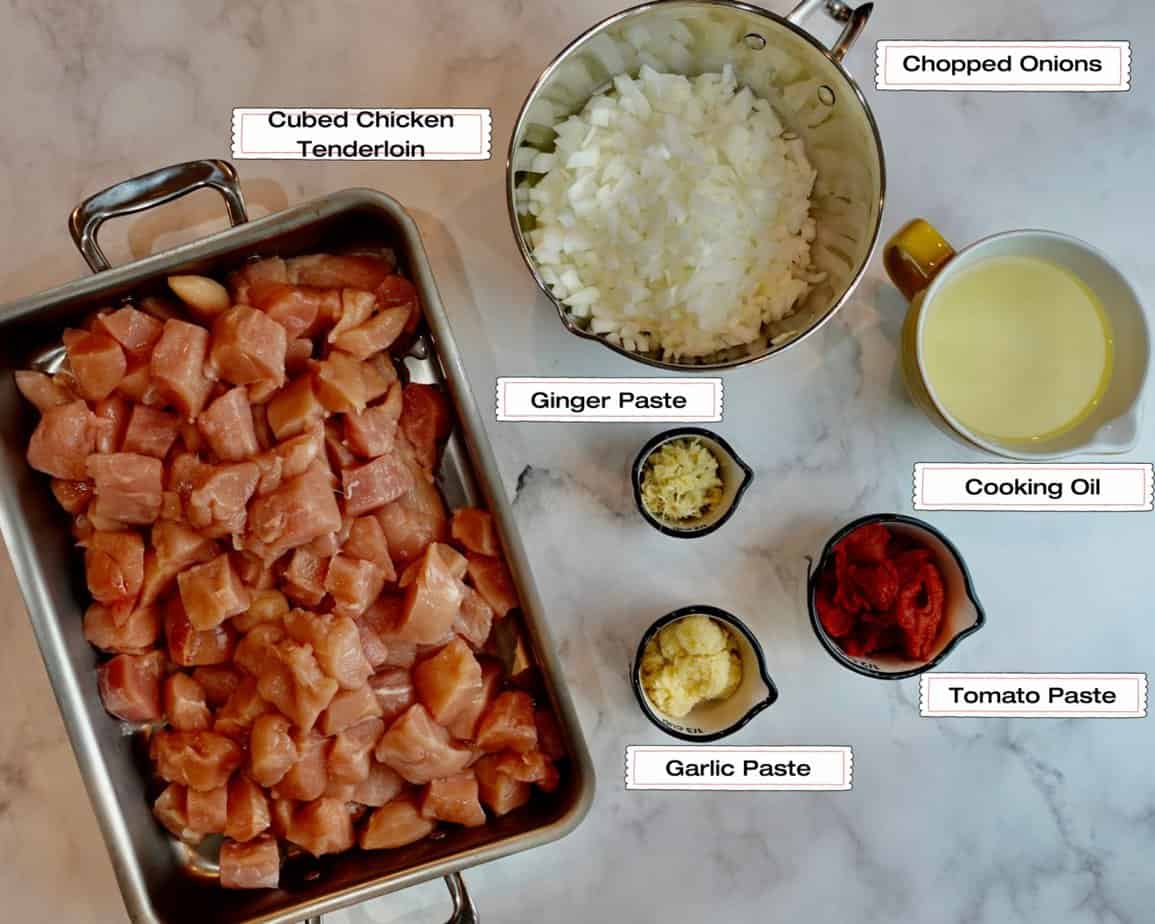 The Chicken
The original butter chicken was made with leftover tandoori chicken. I think that people find it necessary to marinate and prepare the chicken and sauce separately in their attempt to stay authentic to that original recipe.
However, I find that it's much easier to cook everything in one pot, without the two separate steps. Try this Easy Pakistani Butter Chicken recipe and you'll see that it doesn't compromise on the taste!
Butter chicken is always made with boneless chicken pieces. However, there are many different opinions on the type of chicken to use. Some people like boneless chicken thighs while some like to use boneless skinless chicken breasts.
I personally use chicken tenderloins or chicken tenders as some people like to call them. This is the meat from the innermost muscle located near the breastbone. This is the most tender meat on the chicken and results in super juicy chicken pieces. For the recipe, cut the tenderloins into 1 inch cubes.
The Spices
As mentioned, my spice blend is simple and very mild. Some recipes call for kasoori methi (fenugreek leaves) and a cinnamon stick and other complex ingredients. I personally add just salt, red chilli powder, coriander powder, cumin powder and garam masala powder.
I use very little garam masala powder in this recipe Butter Chicken is not supposed to be spicy. If you want to make it even easier on yourself, use a pre packaged tandoori spice blend instead of buying the individual spices.
These are also easily available in a powder or paste form. I would recommend substituting the spices below with 3 tablespoons of a store bought tandoori powder if you're going that route. All the masalas I use are in a fine powder form as keeps the texture of the curry smooth and velvety.
If you want to use a paste, follow the instructions on the package for the amount of chicken below. Since the paste has a liquid base, adjust the water if you need to accordingly, depending on how much you're adding in.
The Easy Pakistani Butter Chicken Sauce
The most significant thing about Butter Chicken is the velvety smooth sauce. Not too thick, not too thin, the perfect shade of orangey red and silky smooth.
This can be achieved very quickly when you add lots of cream and butter but then you get a very heavy dish that can leave you feeling bloated. The best butter chicken, in my opinion, can and should deliver all that without the excess fat.
I manage to achieve a creamy sauce with just a little bit of cream that's a lot easier on the digestive system! Apart from being lighter than many other butter chicken recipes, my recipe also doesn't have any sugar in it.
I don't find it necessary as the cream adds a little natural sweetness to the curry. Any additional sweetener takes away from the taste of the tandoori spice blend.
The Cooking Technique
I've simplified my recipe by eliminating a few steps. I don't make a yogurt marinade and then the grilled chicken separately from the buttery gravy.
The original Indian Butter Chicken Recipe was made with leftover tandoori chicken. Keeping that in mind, most people prepare a tandoori marinade for the chicken and prepare the meat separately from the sauce.
My recipe has all the same components but simplifies the process into one easy step. All you need is one pot and about 40 minutes from start to finish. Less time and less cleanup is a win win in my book!
Prepare The Curry Base
As with any other chicken curry recipe, start by sauteing onions on a high flame till they are a dark golden brown.
Then add the garlic paste and some fresh ginger paste and saute on medium high heat for one minute.
This is the base that helps make a thick and good curry without the use of a lot of cream.
Saute The Chicken
Next, start adding in the cubed chicken and saute till it is no longer translucent. Cook on medium high heat till the chicken starts to release water.
Start Preparing The Sauce
Add in the tomato paste and mix in with the chicken. If needed, add in some water to create a velvety red bath. But make sure not to add too much water or your Pakistani Butter Chicken sauce won't be creamy.
Cook on medium high heat for a few minutes and then add in all the spices. Saute till the tomato sauce starts to thicken.
Next, start adding in the yogurt a little at a time. The yogurt must be at room temperature to prevent it from curdling. After adding in a few tablespoons, wait a few minutes for curry to start bubbling again and then add in more. Continue till all of the yogurt is finished.
Cook on medium heat till the curry thickens and when you feel it's the consistency you want it to be, add in the cream, stir till mixed in properly and turn the stove off.
Garnish with a few tablespoons of the cream and some cilantro and serve with some naan or basmati rice.
NOTE: If you want to make your butter chicken the restaurant way, you can still follow this easy one step recipe and just substitute butter for the oil and add an extra ¼ cup cream. Want the sweeter version? Add in 1 tablespoon of brown sugar.
Other Recipes To Try
If you like this recipe, you may also like:
Please don't forget to leave a rating and comment below! If you take a picture then please tag me on instagram ! Thank You!
Easy Pakistani Butter Chicken
This Easy Pakistani Butter Chicken is cooked in just one pot with a few easy to source ingredients, making it an easy weeknight meal.
Ingredients
½

cup

oil or butter

(SEE NOTES)

2

lbs

boneless chicken

1

onion

2

tsp

garlic paste

2

tsp

ginger paste

2

tbsp

tomato paste

¼

cup

water

2

tsp

salt

2

tsp

red chili powder

1

tsp

cumin powder

1

tsp

coriander powder

½

tsp

garam masala

1

cup

yogurt

(SEE NOTES)

¼

cup

heavy whipping cream

(SEE NOTES)
Instructions
Cut the chicken into cubes, remove any excess fat and set aside.

Heat Cooking Oil (SEE NOTES FOR USING BUTTER)

Chop the onion and sauté well till it's a nice medium-dark brown.

Add minced garlic and ginger and sauté for about 1 minute.

Add the chicken, stir frying till it turns opaque.

Add the tomato paste and ¼ cup of water so the mixture doesn't stick to the bottom of the pan and burn. Saute till the mixture entirely coats the chicken .

Add the salt and all the spices and saute for a few minutes.

Add the yogurt ¼ cup at a time, stir fry till a thick paste forms and no liquid can be seen and then add another ¼ cup and so forth till the entire cupful has been added. (SEE NOTES)

Cover and simmer the gravy for about 15 minutes. This insures that the onions become very soft and melt with the other ingredients. This is important to achieve that velvety texture we talked about earlier.

Uncover, turn flame on high and thicken the gravy if necessary (SEE NOTES)

Stir in the cream and turn the stove off.

Plate the curry and drizzle about 2 Tablespoons of cream and some cilantro as a garnish and serve.
Video
Notes
The Fat - I like to use avocado oil to make by curry as it's healthy and heats well at high temperatures. Butter tastes amazing and gives that authentic restaurant taste you may want to replicate but since there's already cream and full fat yogurt I feel it makes it too heavy. If you want to make it the restaurant way, add in 1 stick butter (½ Cup) instead of the oil.
The Yogurt - The yogurt should be at room temperature to prevent it from curdling. In addition to this,

the entire cup should not be added in all at once as it will curdle due to the temperature difference.
The Cream - If you want a richer creamier curry, you can add bit more cream. I like to keep my curry on the lighter side and find it still has a creamy and silky texture. Once again, make sure the cream is not too cold.
Thickening The Gravy - If the chicken is cooked through and the gravy is still too watery, remove the chicken with a slotted spoon and set it aside to prevent the chicken from overcooking.
Nutrition
Serving:
1
person
Calories:
312
kcal
Carbohydrates:
5
g
Protein:
26
g
Fat:
21
g
Saturated Fat:
4
g
Polyunsaturated Fat:
5
g
Monounsaturated Fat:
11
g
Trans Fat:
0.1
g
Cholesterol:
85
mg
Sodium:
771
mg
Potassium:
557
mg
Fiber:
1
g
Sugar:
3
g
Vitamin A:
386
IU
Vitamin C:
4
mg
Calcium:
61
mg
Iron:
1
mg