A simple and refreshing lunch or side option, this Pear salad with goat cheese & dates is just 10 minutes away from your table.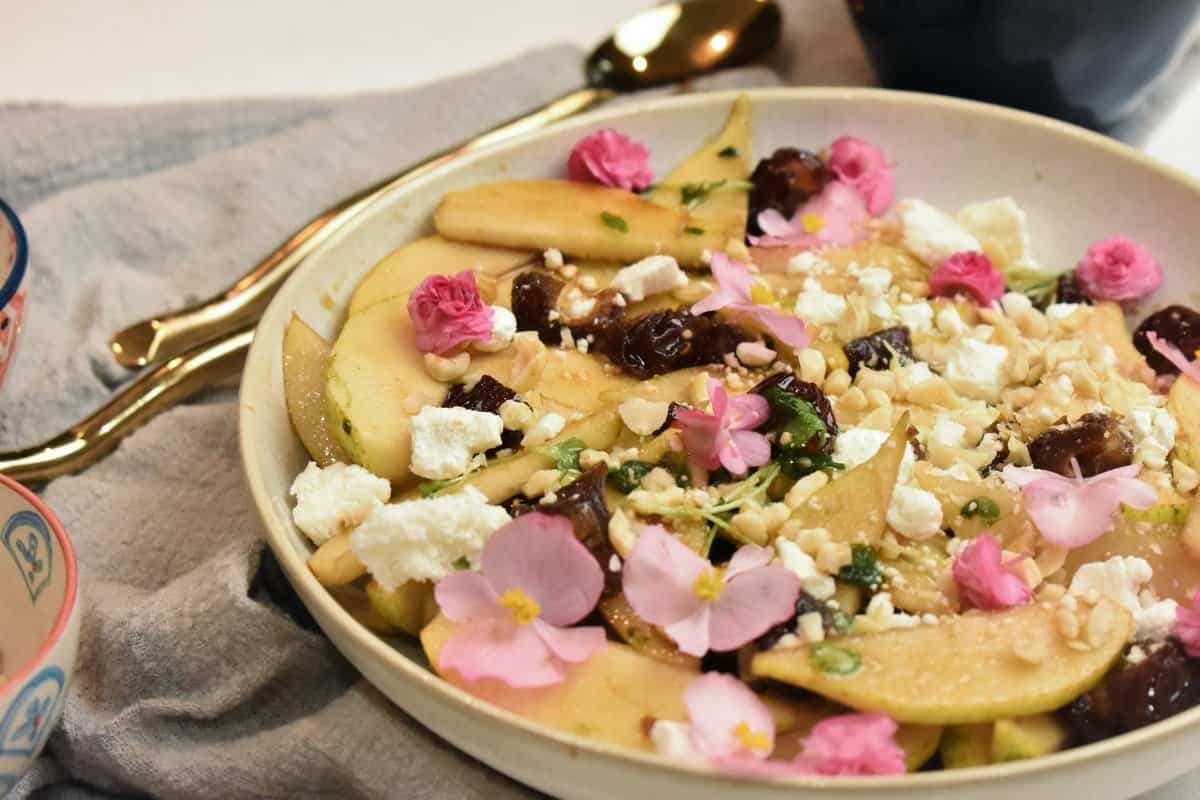 This pear salad tastes delicious with some homemade deli roast beef sandwiches, easy oven baked seekh kebabs, grilled tandoori lamb chops, roast leg of goat and Pakistani chicken steam roast.
Jump to:
Why You'll Love This Recipe
Quick & easy recipe - Just a handful of ingredients and a little chopping gets your refreshing and beautiful pear salad with goat cheese and dates on the table.
Beautiful at your table - This salad is so pretty to look at, it will knock your guests off their feet when you serve it at your next event.
Great side option for the holidays - This is a great side for your Easter lamb or your holiday Turkey.
Delicious & healthy - A salad that's as delicious as it is healthy will make it so much easier to follow those clean eating resolutions.
Ingredient Notes
Pears - You can use Bartlett, Bosch or Anjou pears to make this salad.
Dates - I always use Medjool Dates by Natural Delights for all my cooking. These can be easily sourced at your local grocery store.
Hazelnuts - I use raw, peeled hazelnuts for this recipe and toast them myself. You can get pre roasted nuts if you prefer.
Goat Cheese - I usually get a small container of goat cheese crumbles for the pear salad, but feel free to chop up a large block if you prefer.
Microgreens - I love microgreens for their taste and nutritional value. I source mine directly from a supplier but you can find them at your local Whole Foods or farmers markets.
Edible flowers - These are also often available at a whole foods or local farmers market. While not essential, they look beautiful and also contain lots of nutritional value.
Infused olive oil - I always get my infused oils and vinegars from a locally owned store, Pass Christian Olive Oils and Vinegars. You can usually find these at local stores as well.
Pomegranate molasses - If you've never tried this I highly recommend that you do! Essentially a concentrated pomegranate juice, it adds a ton of flavor to dressings and marinades.
Balsamic Vinegar Glaze - I buy this ready made but you can also cook down regular balsamic vinegar and make your own.
For the complete list of ingredients with measurements plus recipe instructions, please see the recipe card at the bottom of this post.
Substitutes & variations
Here are some ways to switch up the recipe if you're in the mood for a slight change.
Add some leafy greens - You can add more greens as a base for the salad in the form of arugula or baby spinach.
Change the cheese - try the salad with feta, gorgonzola or blue cheese for a change of taste.
Switch up the nuts - Walnuts and pecans also pair well with the combination of pear, goat cheese and dates.
Add a little color without the flowers - Can't source flowers? Try adding some red onions or pomegranate seeds for a pop of color.
Change the dressing - A light store bought vinaigrette of your choice can be used instead of using the oil and vinegar.
The Recipe
This recipe was created at the spur of the moment as a side for my steak-in-air-fryer-oven. Sometimes it's the unplanned recipes that yield the best results!
I had tons of leftover Medjool dates after the end of Ramadan, a handful of hazelnuts in my pantry and some very juicy pears in the fridge. since then, I've enjoyed this salad with my chicken tikka sandwiches and many other mains!
Cut your pears in half and then slice them into thin semi circles, discarding all the seeds and inedible parts.
Slice each date in half to remove the pits and then roughly chop the dates into small pieces.
Preheat a nonstick frying pan and lightly toast the hazelnuts.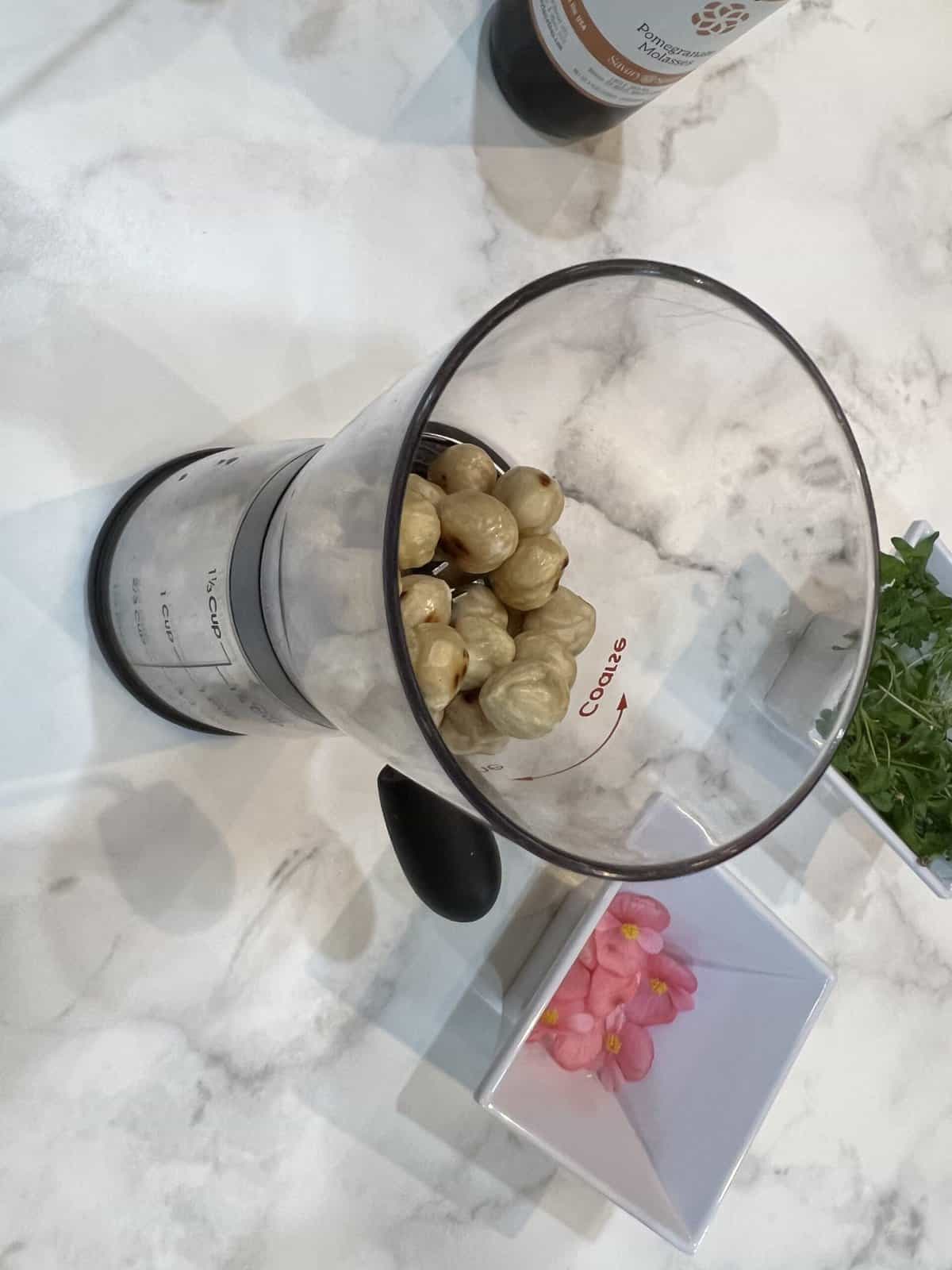 Grind the roasted hazelnuts into rough pieces using a nut chopper.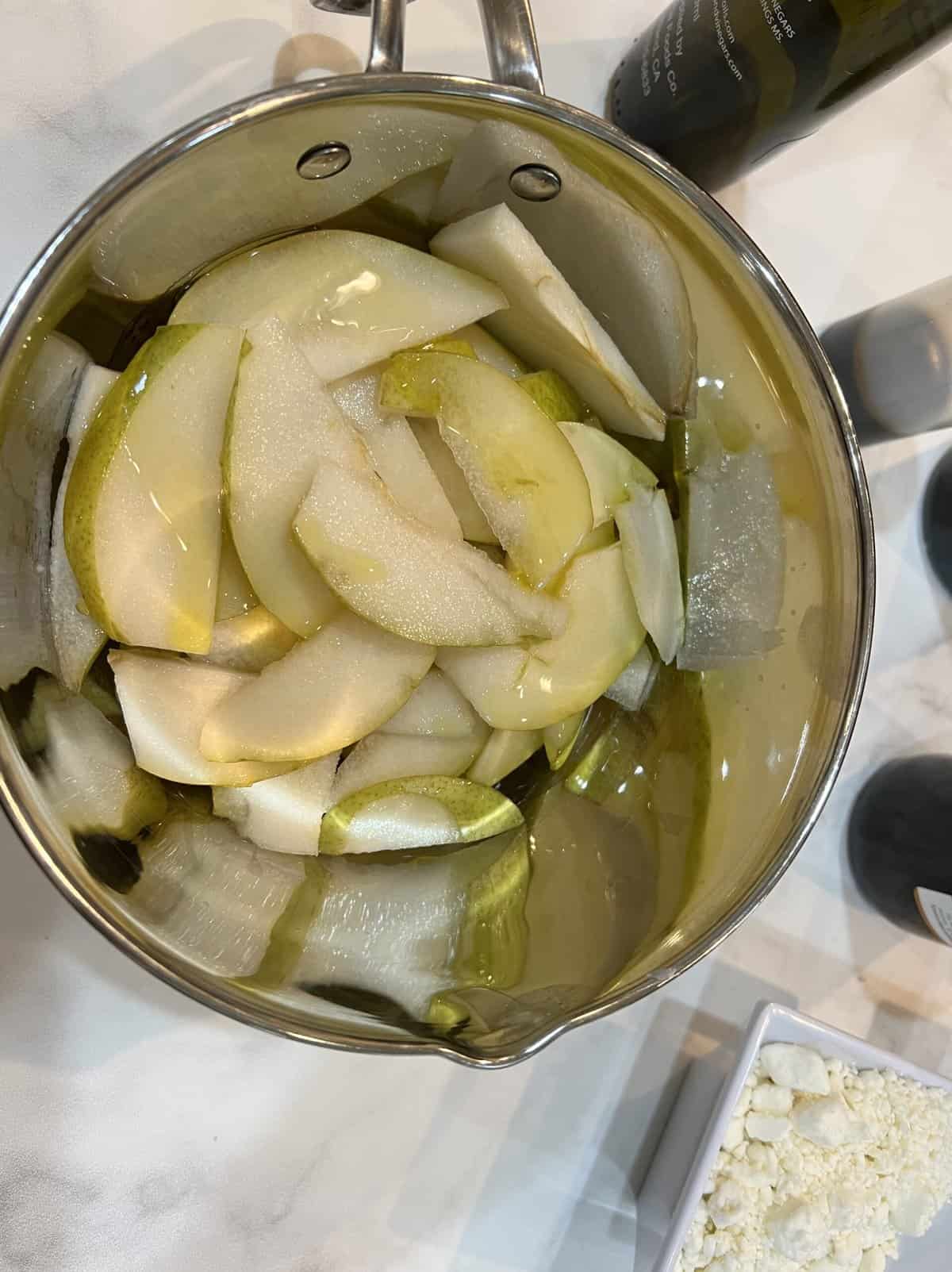 Drizzle the infused olive oil onto the pears and lightly toss.
Add the chopped dates to the pears.
Toss in the chopped nuts and goat cheese crumbles.
Top with the microgreens. I use whatever variety I have on hand.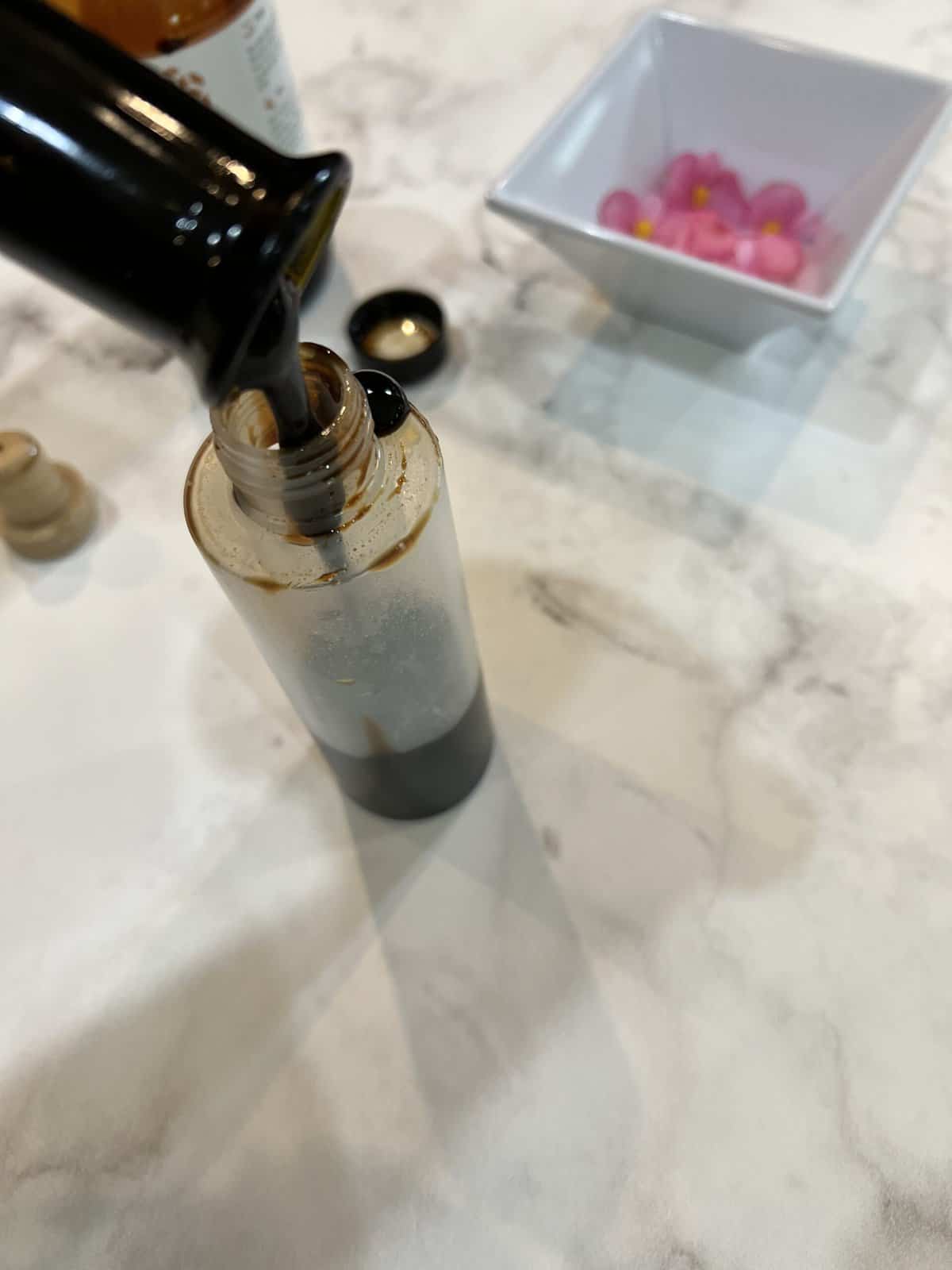 Take a small bottle with a thin nozzle and add the balsamic glaze to it.
Next, add in the pomegranate molasses, shake to mix and then use as a drizzle for your pear salad.
Expert Tips
Pick firm pears - It's best to pick firm, crisp pears for the salad. Soft ones often can't withstand all the tossing and stirring.
Squeeze some lemon - To prevent the pears from browning, squeeze some lemon juice on them as soon as you cut them.
Recipe FAQS
How can I store my leftover Pear salad with goat cheese and dates?
Store any leftovers in an airtight tupperware in the fridge. While the salad will be okay to eat for upto 2-3 days, it is likely to get soggy. It may be better to prep a smaller amount and consume it sooner than later.
Is it okay to leave the skin on the pears for the salad?
I always leave the skin on my fruit as it contains lots of fibre and in this case the green color looks pretty.
Can I cut the pears for my salad ahead of time?
If you want to cut the pears ahead of time make sure you add lots of lemon juice to prevent them from browning.
Can I add some protein to my salad and eat it as an entree?
You can definitely add some chicken or other protein to make this a full meal option rather than a side.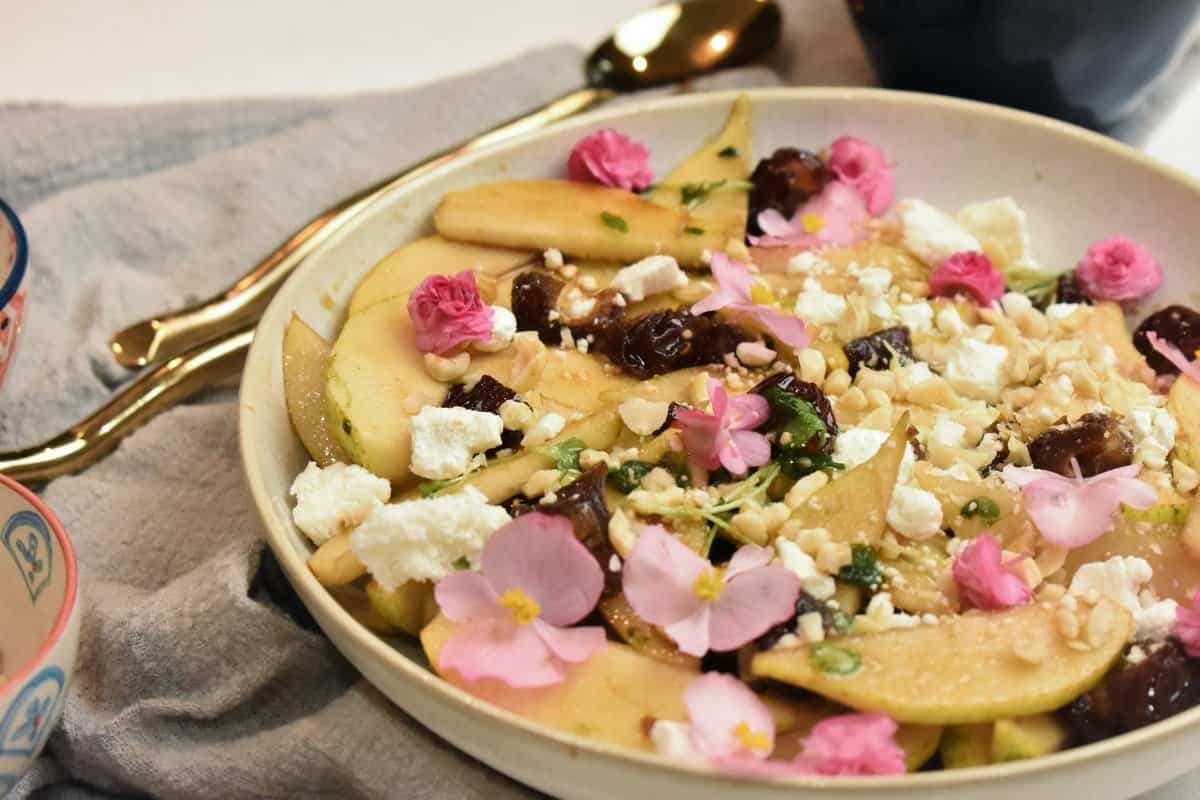 Other Salads You May Enjoy
Hope you decide to try this recipe! Please don't forget to leave a rating and comment below! If you take a picture then tag me on Instagram ! Thank You!
Pear Salad With Goat Cheese & Dates
This pear salad with goat cheese and dates is delicious, healthy and beautiful enough to be a centerpiece at your next big event.
Ingredients
3

pears

(see notes)

8

dates

¼

cup

hazelnuts

(see notes)

¼

cup

goat cheese crumbles

(see notes)

¼

cup

microgreens

2

edible flowers

2

tbsp

chili infused extra virgin olive oil

(see notes)

1

tbsp

balsamic vinegar

1

tbsp

pomegranate molasses
Instructions
Slice the pears into thin semi circle shaped slices.

Pit and chop the dates into small pieces.

Roast and chop the hazelnuts into small pieces.

Toss the pears, dates, nuts, cheese and microgreens with the infused oil.

Plate and drizzle with the pomegranate molasses and balsamic glaze mixture.

Garnish with the flowers and enjoy.
Notes
The pears - I use bartlett pears for my recipe, but anjou and bosch are both good alternatives. The hazelnuts - I buy raw, peeled hazelnuts and roast them myself but you can buy pre roasted nuts if you want to save a step. The goat cheese - I buy a small container of goat cheese crumbles but you can also chop up a block of goat cheese to make your own. The dressing - If you don't have the ingredients listed above or want to save time, just use a good quality store bought vinaigrette.
Nutrition
Serving:
1
g
Calories:
276
kcal
Carbohydrates:
35
g
Protein:
5
g
Fat:
15
g
Saturated Fat:
3
g
Polyunsaturated Fat:
2
g
Monounsaturated Fat:
9
g
Cholesterol:
7
mg
Sodium:
55
mg
Potassium:
309
mg
Fiber:
6
g
Sugar:
25
g
Vitamin A:
206
IU
Vitamin C:
7
mg
Calcium:
48
mg
Iron:
1
mg