Cooking this steak in air fryer oven is going to be a real game changer for you! It definitely was for me!
My family and I are big meat eaters and absolutely love steak. Of course, grilling is hands down the best way to cook it. But here in Mississippi, due to the rain, my steak grilling plans have gone askew many a time.
Fortunately, with the air fryer method of cooking, this is no longer an issue. Making Steak indoors is not only possible, but easy and fool proof. This has made it possible for us to enjoy our favorite meal more often.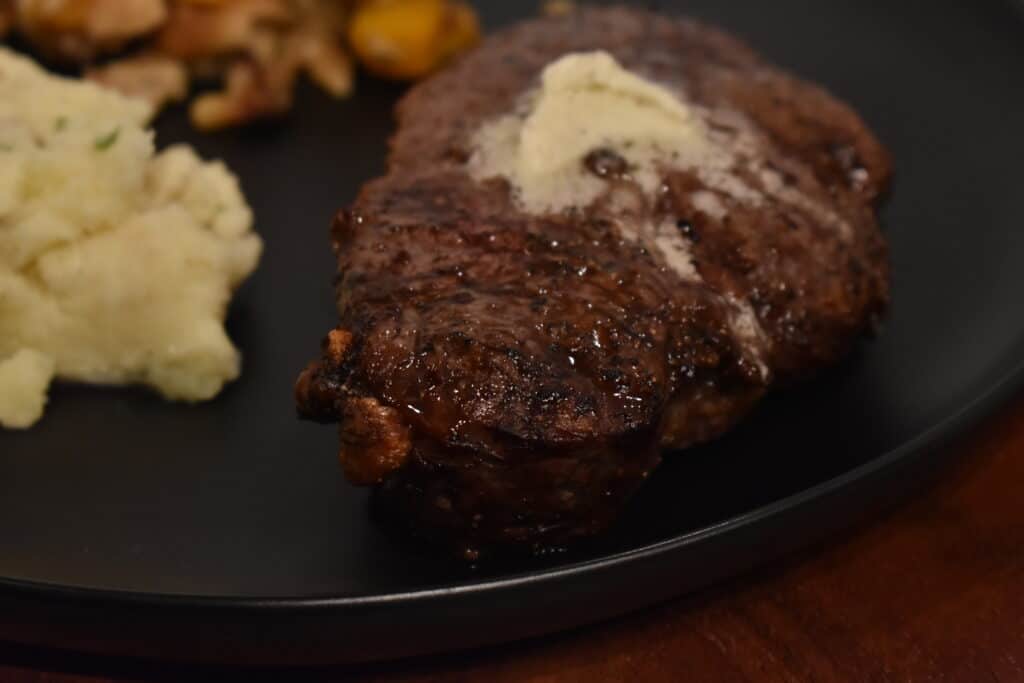 The History Of Steak
Steak has been around for a very long time, but no one truly knows where it originated. Data in statista.com indicates that America leads Globally in steak consumption. However, very little points to the fact that this famed American meal originated here.
One thing we do know for sure is that Steakhouses as we know them today originated in New York City. Known as Beefsteak Banquets in the 19th Century, these early steakhouses served steak, potatoes, creamed spinach and cheesecake at top dollar. Catering primarily to the elite and wealthy there were even some banquets that were strictly for men.
By the mid 19th Century, the more family friendly Chophouses started cropping up. These eateries served a variety of foods other than just steak, such as mutton chops and were more affordable.
This steakhouse concept still thrives to this day, where both moderately priced family friendly ones such as outback.com and the pricier fine dining ones such as ruthschris.com exist side by side.
Types Of Steaks And The Cuts They Come From
Porterhouse and T-bone
The Porterhouse and T-bone come from the short loin of the cattle and have a bone in. The bone effectively divides the steak into a tenderloin and a strip.
Ribeye
The Ribeye comes from the ribs of the animal and can be bone in or out. This cut has a lot of marbling which makes it an unpopular steak option with some people.
New York Strip
This cut is the lean part of the short loin. Since it contains very little fat, it makes for a delicious steak.
Top Sirloin
This steak comes from the back of the short loin and is a very popular cut.
Filet Mignon
This is the leanest, most tender and priciest steak in the mix and is the small tip portion of the tenderloin.
Which Steak Should You Buy At The Supermarket ?
You've probably often wondered what the meat labels at the supermarket mean.
Select: This is usually sale price steak and is of the poorest quality. It will likely be tough no matter how well you prepare it.
Choice: Definitely the preferred cut to buy and most local supermarkets are likely to have it.
Prime: This is a special cut, usually only available at specialty meat stores.
For this steak in air fryer oven a choice cut will work great. Mine was a ribeye without any bone and each steak was about 8 ounces each. The marbling in this cut helped keep the steak moist in the airfryer.
Cooking Your Steak In Air Fryer Oven
Room Temperature
Cooking a steak straight out of the refrigerator is never a good idea. I try to leave mine on the counter for 30 minutes so that it's at room temperature before I cook it.
Preheat The Air Fryer
With the air fryer cooking method a well preheated oven is the key to ensuring that the outside of the meat cooks quickly. This seals in the juices in a manner similar to searing and makes for a more succulent piece of meat.
Baste With Olive Oil
Air frying doesn't allow for the temperature to be adjusted the way pan searing and grilling does. As such, a good coating of olive oil helps the outside of the steak from becoming too dry. I usually keep some olive oil on hand and baste halfway through if I feel it's needed.
Cooking Time and Temperature
The best way to ensure perfect results is to use a meat thermometer. They're not at all expensive and I use one for all my meats. The chart at the bottom of the post is a gauge of timings and temperatures for added reference.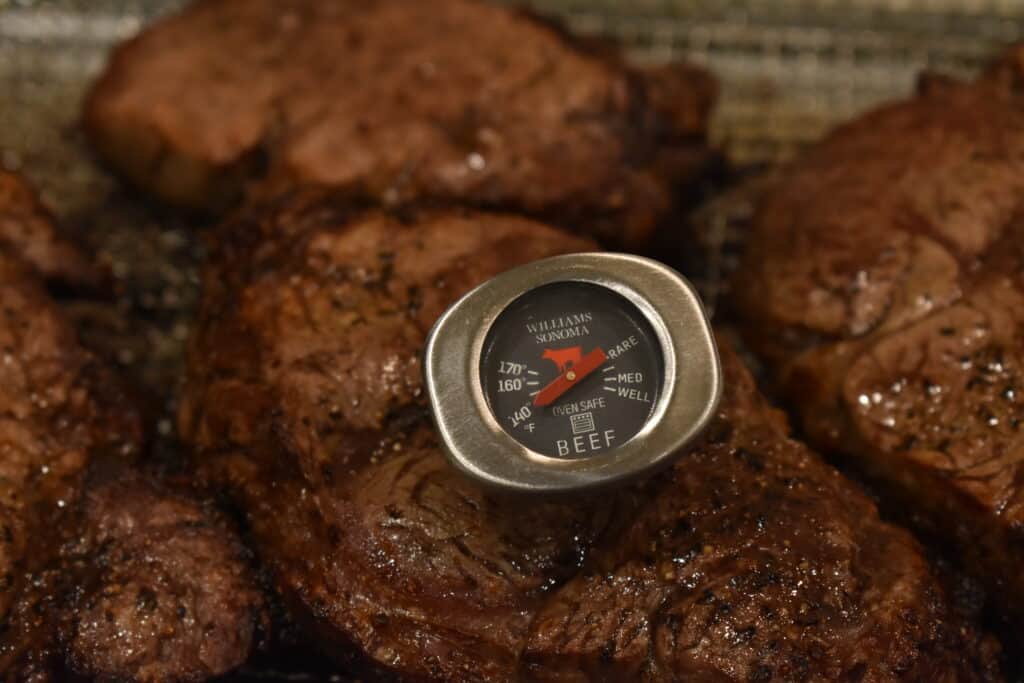 I've given a range of time in the chart below as ovens vary. I personally know that my oven cooks on the quicker side and as such always stick to the lower number in the range. If you're new to air frying, stick to a number that is mid range and go from there.
Resting Time
The ideal time to take a steak out of the oven is when it's about 5 degrees less than the recommended temperature. The meat will continue to cook for a few minutes after this, so if you leave it for too long in the oven, it will end up being tough.
Just place a loosely tented foil over the steaks to keep them warm while they rest.
Butter Topping
A dollop of flavored butter at the time of serving takes your steak to the next level! My favorite is truffle butter or garlic butter, both available in most supermarkets.
The resting is important as it gives the meat fibres time to relax and the juices to redistribute. This makes the steak juicier and more tender.
Steak In Air Fryer Oven
Delicious juicy steak in air fryer oven! Ready in 15 minutes and cooked to perfection. You'll never want to prepare your steak any other way!
Equipment
Air Fryer

Tongs

Meat Thermometer (Optional)
Ingredients
4

ribeye steaks

2

tbsp

olive oil

1

tsp

salt

1

tsp

black pepper

2

tbsp

butter
Instructions
set the air fryer to 400° and preheat for 5 minutes

rub the steaks with the olive oil, salt and pepper on both sides

air fry for 10-15 minutes, turning halfway through to brown on both sides (please refer to the cooking timings and temperature chart in this post)

cover loosely with foil and let sit for 5 minutes before serving

Add a dollop of butter at the time of plating your steak.
Nutrition
Serving:
1
g
Calories:
583
kcal
Carbohydrates:
1
g
Protein:
46
g
Fat:
45
g
Saturated Fat:
19
g
Trans Fat:
1
g
Cholesterol:
153
mg
Sodium:
749
mg
Potassium:
614
mg
Fiber:
1
g
Sugar:
1
g
Vitamin A:
212
IU
Calcium:
20
mg
Iron:
4
mg
The Pros Of Air Frying Steak
If you're not convinced about trying an air fryer for your steaks here are a few pros:
No need to have perfect weather.
Perfect and consistent results every time.
Easy Cleanup.
Time Efficient.
Great idea for Low carb and Keto diets.
Some Side Options From The Blog
STEAK COOKING TIMES FOR AIR FRYER
Rare 6-8 minutes
Medium Rare 8-10 minutes
Medium 10-12 minutes
Medium Well 12-14 minutes
Well Done 14 minutes
MEAT THERMOMETER READINGS
Rare 125
Medium Rare 135
Medium 145
Medium Well 155
Well Done 160