Sweet, Spicy, and Hearty, this low-carb, gluten-free sweet potato and black bean chili is a perfect fall and winter treat. The sweet potatoes, ground meat, and beans perfectly balance the acidity of the tomatoes and spices in this recipe.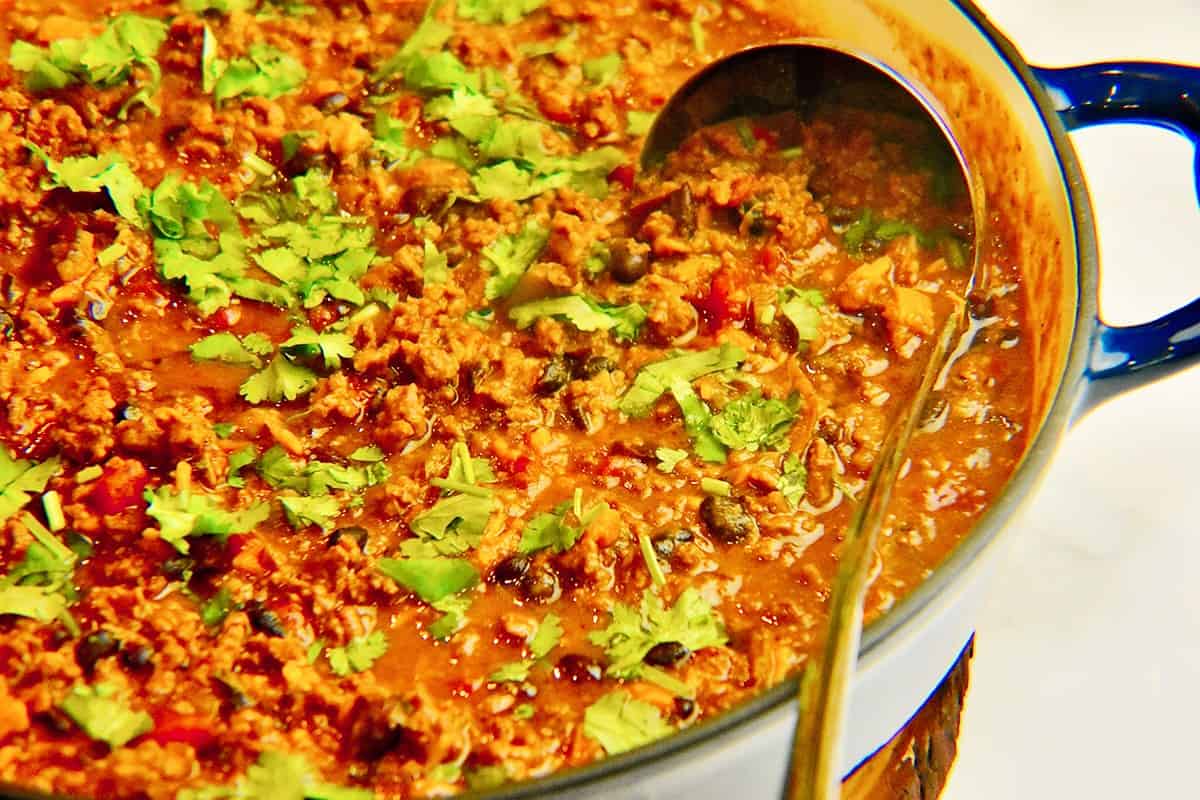 Chili is a winter comfort food that makes you think of cuddling in front of a warm fireplace on a cold winter evening. Although I love and cook both the traditional and vegetarian versions, since living in southern Mississippi, this Chili is a family favorite when paired with some super easy sweet and moist cornbread.
Jump to:
Why you'll love this recipe
Perfect for entertaining - Cook a huge pot of this black bean chili and set up a topping bar next time you have people over. Altogether, it makes for an easy, simple, fun meal everyone will love.
Low-carb - High in protein and fiber, this is the perfect recipe for anyone on a low-carb diet.
Gluten-free - This chili is a great idea for anyone on a gluten-free diet, as it tastes just as delicious without a side of cornbread.
Prep a day ahead - You can prep all the vegetables, spice blend, and toppings a day ahead. Then, all you need to do the day you want to serve your chili is set it on the stove to cook while you take care of other chores.
Ingredient notes
The meat - I use 80% lean ground beef for this chili.
The potatoes - One large diced sweet potato is sufficient for this recipe.
The broth - I used vegetable broth for my chili as that was what I could easily source at the time, but any broth is okay to use.
The spices - The spice powders are all pantry staples that create a perfect earthy, smoky, and spicy blend.
The tomatoes - One can of Rotel tomatoes with green chilies makes for a perfect base for this stew.
The chilies - Optional, depending on how spicy you like your food; they can also be served as a topping to allow everyone to customize the recipe.
Please see the recipe card at the bottom of this post for the complete list of ingredients with measurements plus recipe instructions.
Substitutions & variations
Make it vegetarian or vegan - Eliminate the meat and add more vegetables, such as corn and bell peppers, along with a second variety of beans for a meatless meal.
Try the recipe with pumpkin - Cut up and use 2 cups of diced pumpkin instead of the sweet potato for a refreshing change. Then, use the rest for all your fun fall pumpkin desserts.
Try a variation of spices and herbs - Add other spices and herbs, for example, chipotle, garlic powder, onion powder, dried cilantro, and even some cocoa powder for extra flavor.
Use leaner meat - Ground turkey or chicken work great as substitutes and help reduce the fat content of this sweet potato and black bean chili.
Eliminate the beans - Authentic Texas chili has no beans in it. So, if you're not a fan, omit this ingredient.
Step-by-step instructions
Step 1 - Heat the cooking oil and lightly saute the onions until translucent. Then, add the garlic paste and saute until you can smell the aroma.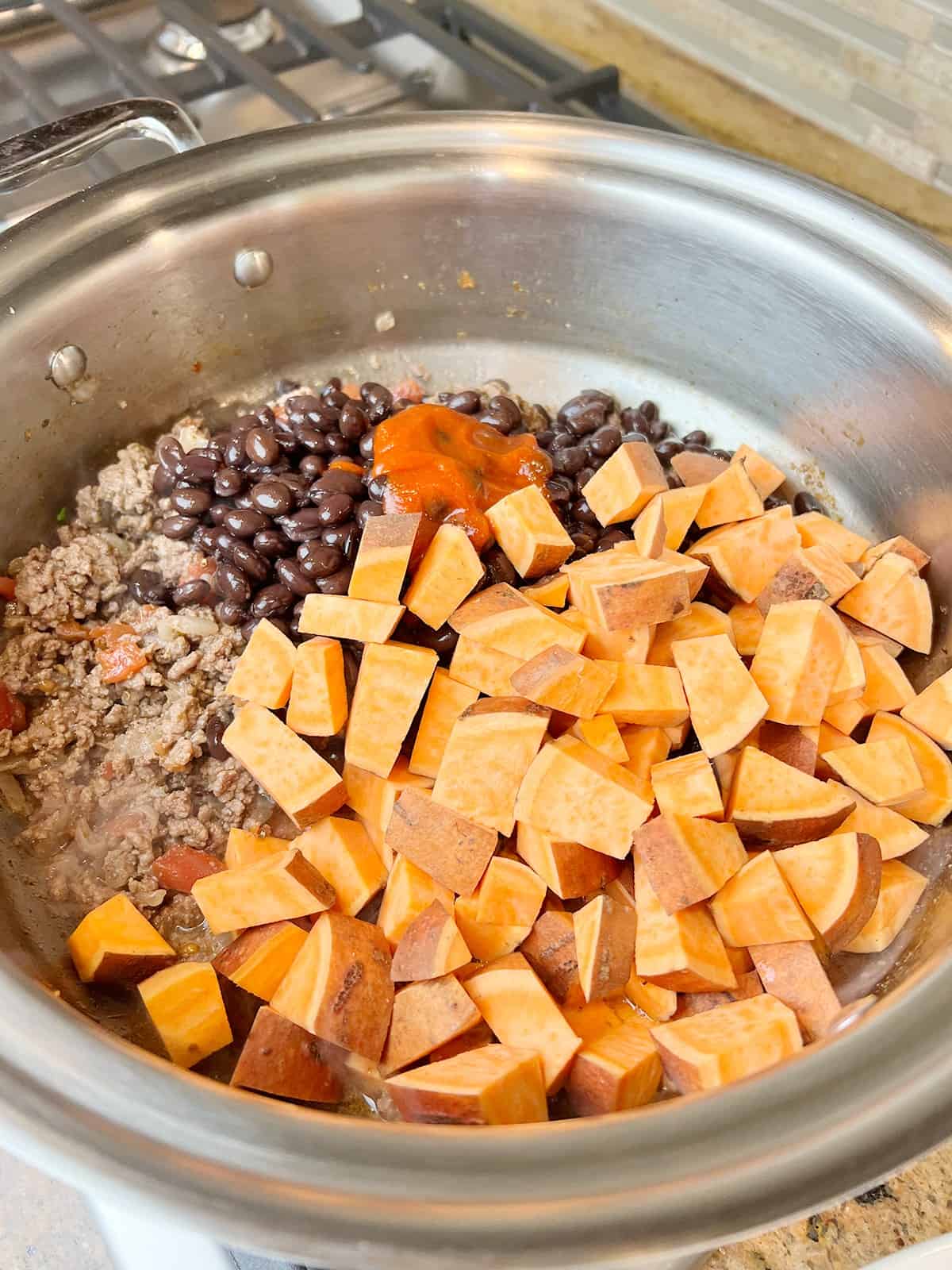 Step 2 - Add the meat and saute until it's no longer pink.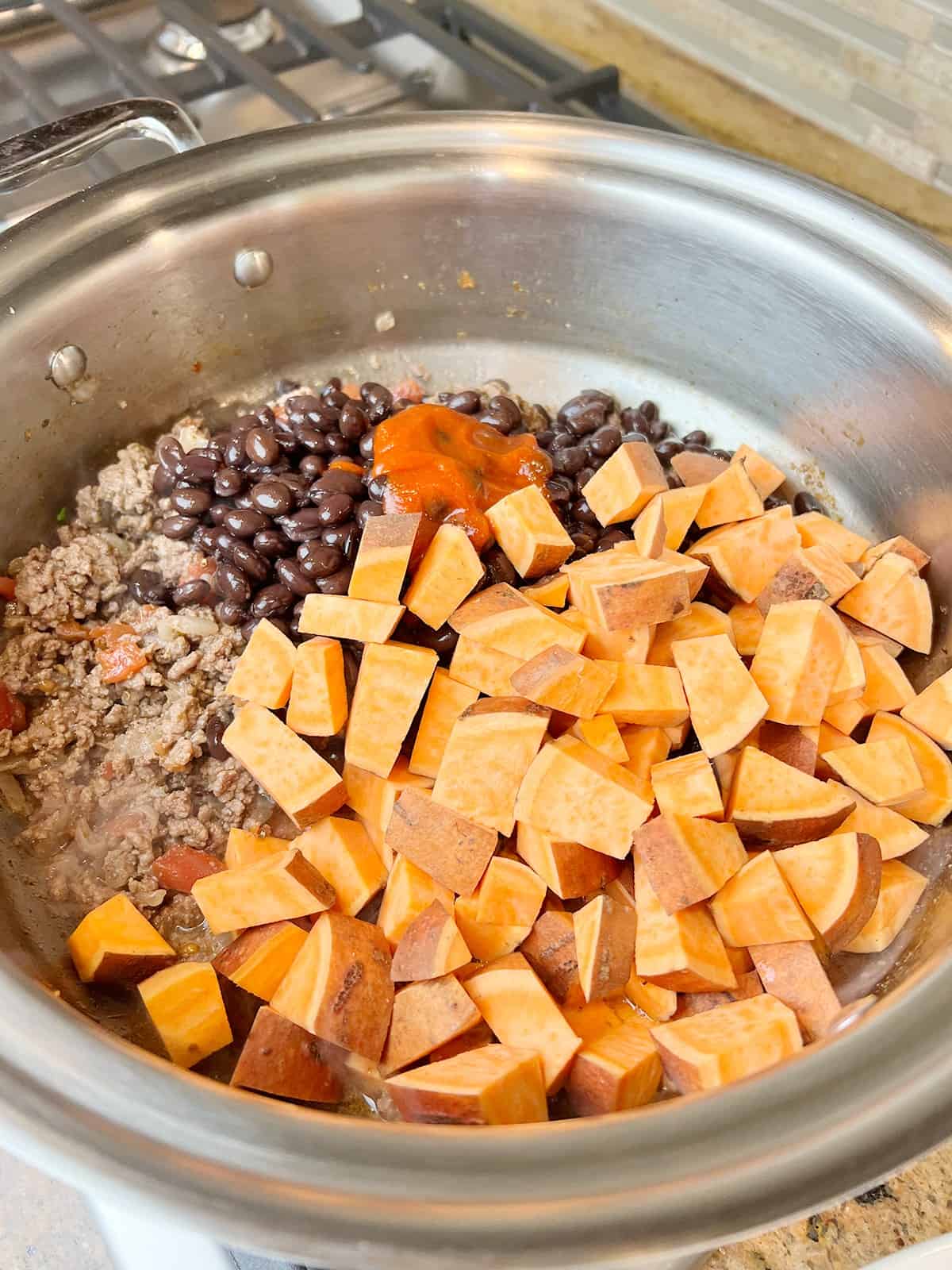 Step 3 - Combine the drained beans, potatoes, and siracha and stir till well-mixed.
Step 4 - Add the tomatoes, broth, spices, and extra chilies (If you opt for them). Once the mixture reaches a boil, cover, reduce the heat to simmer, and cook the chili for 1 hour and forty-five minutes.
Expert Tips
Batch and freeze the chili - This is a very freezer-friendly recipe. Generally, I always batch cook and make enough for at least one more meal.
Save time with canned beans and tomatoes - Using canned beans and tomatoes saves tons of time and doesn't subsequently affect the final taste of this recipe.
Chop all your vegetables evenly - Try and cut your vegetables in a uniform size. Generally, this will ensure they cook more evenly and quickly.
Use a meat chopper - I like to break down my ground beef using a meat chopper. Firstly, it breaks down clumps of meat, and subsequently, this results in quicker and more even cooking along with a better dining experience.
Recipe FAQS
How do I store and reheat my sweet potato chili?
The chili can stay in your fridge for three days and frozen in an airtight container for up to 3 months. Additionally, I like to reheat the chili on low heat in a cooking pot on my stovetop for best results.
What should I pair my chili with?
Some of my favorite pairing options for this sweet potato and black bean chili are cornbread, tortillas, and saltines. Some great topping ideas are sour cream, shredded cheese, jalapenos, avocado, pico de Gallo, and cilantro.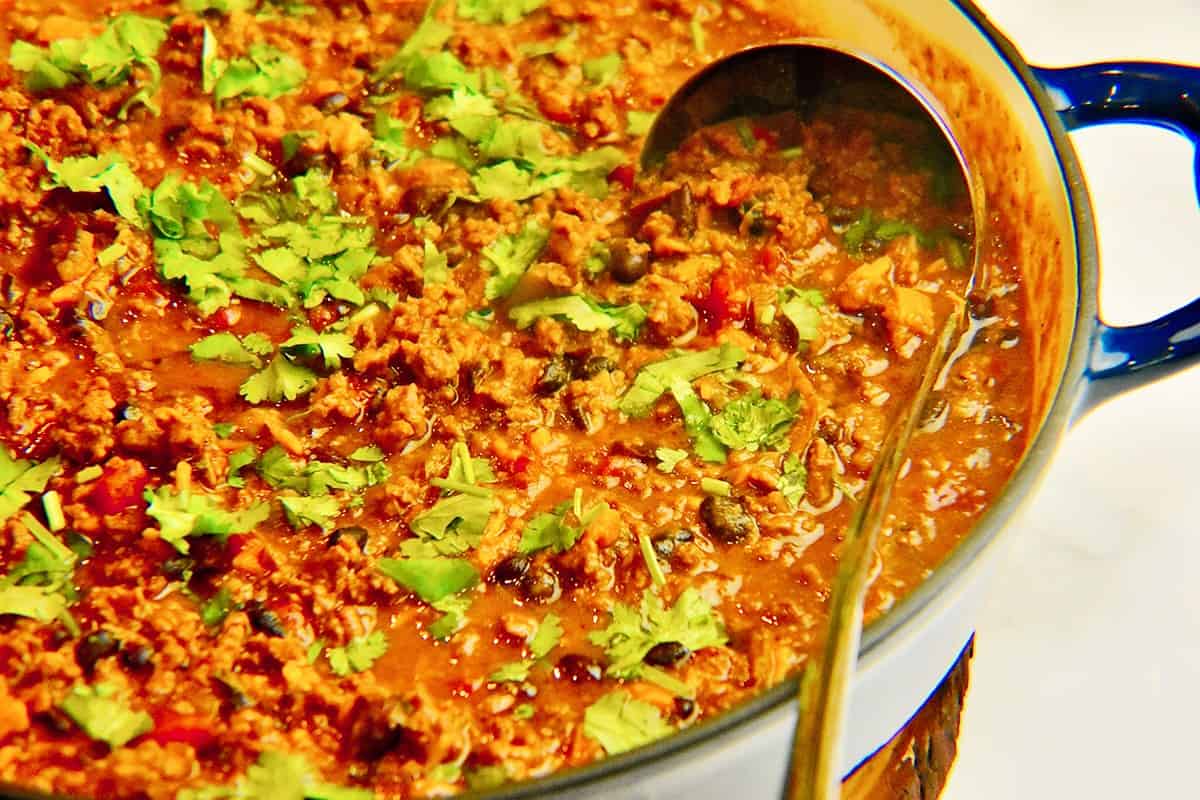 Other recipes you may like
I hope you decide to try this recipe! Please don't forget to leave a rating and comment below! If you take a picture, then tag me on Instagram! Thank You!
Sweet Potato and Black Bean Chili
This hearty sweet potato and black bean chili is packed with protein, fiber, and a blend of delicious spices for a perfect winter meal.
Ingredients
¼

cup

cooking oil

(see notes)

1

chopped onion

1

tsp

garlic paste

2

lbs

extra lean ground beef

(see notes)

1

diced sweet potato

(see notes)

15

oz

can black beans

1

tsp

sriracha

(see notes)

10

oz

can of Rotel tomatoes with green chilies

(see notes)

2

cups

vegetable broth

(see notes)

½

tsp

paprika

½

tsp

chilli powder

½

tsp

cayenne

1

tsp

dried oregano

1

tsp

cumin

1

tsp

salt

2

diced jalapenos

(optional)

¼

cup

chopped cilantro
Instructions
Saute the chopped onion in it until it becomes translucent. (see notes)

Add the garlic and saute for 30 seconds to 1 minute. (see notes)

Add the ground beef and saute till the meat is light brown. Use a meat chopper to break up the meat.

Add the diced sweet potatoes, drained black beans, and sriracha and mix.

Add all the remaining ingredients except the cilantro, and bring to a boil.

cover, and cook on low heat for 1 hour and 45 minutes.

Uncover, continue to cook if there is too much liquid, and then garnish with the cilantro when ready to serve. (see notes)
Notes
Cooking oil - Use a neutral cooking oil like avocado, canola, peanut, or sunflower for best results.
Ground beef - Use 80% lean beef to keep the recipe on the healthier side. The 20% fat is essential for flavor, so I don't recommend going any leaner than this.
Sweet potatoes - I cut my potatoes in large chunks with the skin on. As they cook, they release starch. I slightly mash them with the back of my spoon at the end of the cooking process, and this helps thicken the chili and makes eating the potatoes more manageable.
The sriracha - In addition to its tanginess, sriracha adds a slightly different heat element than the powdered and fresh chilies. These assorted spices combine to create the perfect blend for this chili recipe.
The tomatoes - I find that a can of Rotel tomatoes with added green chilies is the quickest way to add acidity to this recipe. Fresh tomatoes can be used, but the cooking time will increase with this ingredient change.
The broth - I typically use homemade broth in my freezer or store-bought beef broth. However, if neither is accessible, I use vegetable broth as I've done in this recipe.
The jalapenos - An optional add-in for those who like a little extra kick to their food, these can be cooked with all the other ingredients or used as a topping.
The onion - Yellow onions are best due to their neutral taste.
The garlic - I make my garlic paste and freeze it to use, but store-bought works just as well.
Thickening the chili -
I like my Chili light and soupy, but if you want it thicker, you can cook it uncovered for a little while near the end so some of the liquid can dry out, or if you're short of time, you can add a little bit of cornflour to thicken it.
Nutrition
Serving:
1
serving
Calories:
314
kcal
Carbohydrates:
20
g
Protein:
29
g
Fat:
13
g
Saturated Fat:
3
g
Polyunsaturated Fat:
2
g
Monounsaturated Fat:
7
g
Trans Fat:
0.4
g
Cholesterol:
70
mg
Sodium:
884
mg
Potassium:
803
mg
Fiber:
6
g
Sugar:
4
g
Vitamin A:
4390
IU
Vitamin C:
12
mg
Calcium:
62
mg
Iron:
5
mg