Spiced Citrus Ginger Marmalade is a special breakfast treat in my house. I love mine best on whole grain English muffins but there are so many different ways to eat it. A glaze or filling for a cake, part of a marinade for chicken breasts or with warm buttery croissants. This marmalade is a perfect way to extend citrus season beyond winter!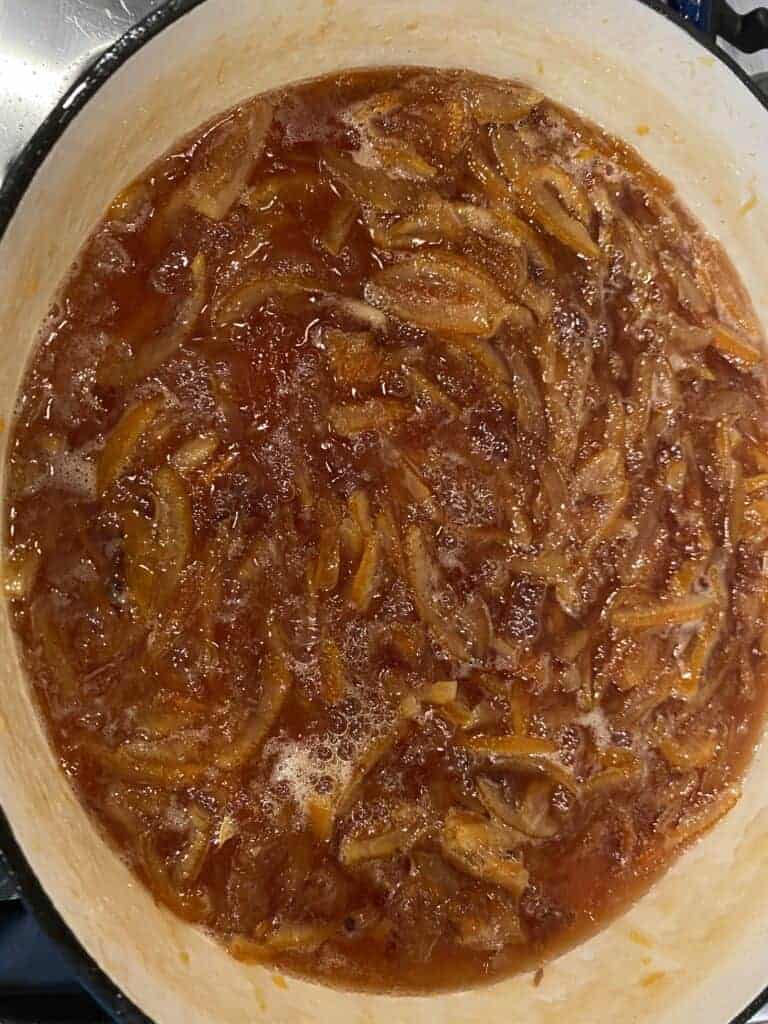 The History Of Marmalade
There are many conflicting stories about the origins of marmalade. However the one constant is that the Portugese called preserved Quince, a fruit preserve, 'marmelo'. Where the original marmalade seems to have been a Greek and Roman treat, 17th century England's interest in it seems to be driven from a surplus of oranges.
The surplus citrus was used to make a jam that helped provide much needed vitamins to people long after the winter season had passed. Today ,the jam's popularity ranges from being featured as Paddington Bear's favorite food to annual competitions throughout the united Kingdom.
My Story
Marmalade was a regular staple in my house growing up. I can't remember a time when we didn't have a jar in the fridge! I've always loved the unique bittersweet taste of this scrumptious jam! My mother made an excellent marmalade at home and as soon as I see beautiful blood red oranges and the delightfully sweet cara cara oranges I'm tempted to make my own.
I recently tried a lemon ginger marmalade and loved the concept. I put all these delightful ideas together to make this spiced citrus ginger marmalade. The blood red oranges give this marmalade the most amazing color. The cara cara oranges are deliciously sweet but needed the additional sourness the lemons bring to the jam. The ginger, cloves and cinnamon help enhance the predominantly citrus notes and make the whole thing perfect!
The Recipe
Sterilizing Your Jars
Sterilizing the jars you plan to use for your preserves is an absolute must if you want your marmalade to have an adequate shelf life. There are a few different ways to do this, the most conventional way being boiling.
However www.thespruceeats.com outlines 3 other alternative methods. The oven, dishwasher and microwave can all be used to insure that your cans are bacteria free before you place your cooked marmalade in them. I would highly recommend the above article if you're interested in canning and preserving.
To summarize:
Boiling: Boil water, place jars in this for 10 minutes. Leave in water till you're ready to fill.
Oven: Preheat your oven to 275 degrees, place the jars in the oven for 20 minutes.
Microwave: Place slightly wet jars in the microwave for 30-45 seconds.
Dishwasher: Run your jars through the dishwasher at the high temperature setting. Leave in the hot dishwasher till it's time to fill.
The Holy Trinity Of Marmalade
The three main things for perfect marmalade are:
Sugar
Pectin
Acid
All three things work together to set the marmalade. The pectin comes from the fruit peel, pith and seeds, the acid comes from the lemons, and the sugar is added to the mix.
This is why we preserve the pith and seeds and place them in a cheese cloth while soaking and cooking the citrus.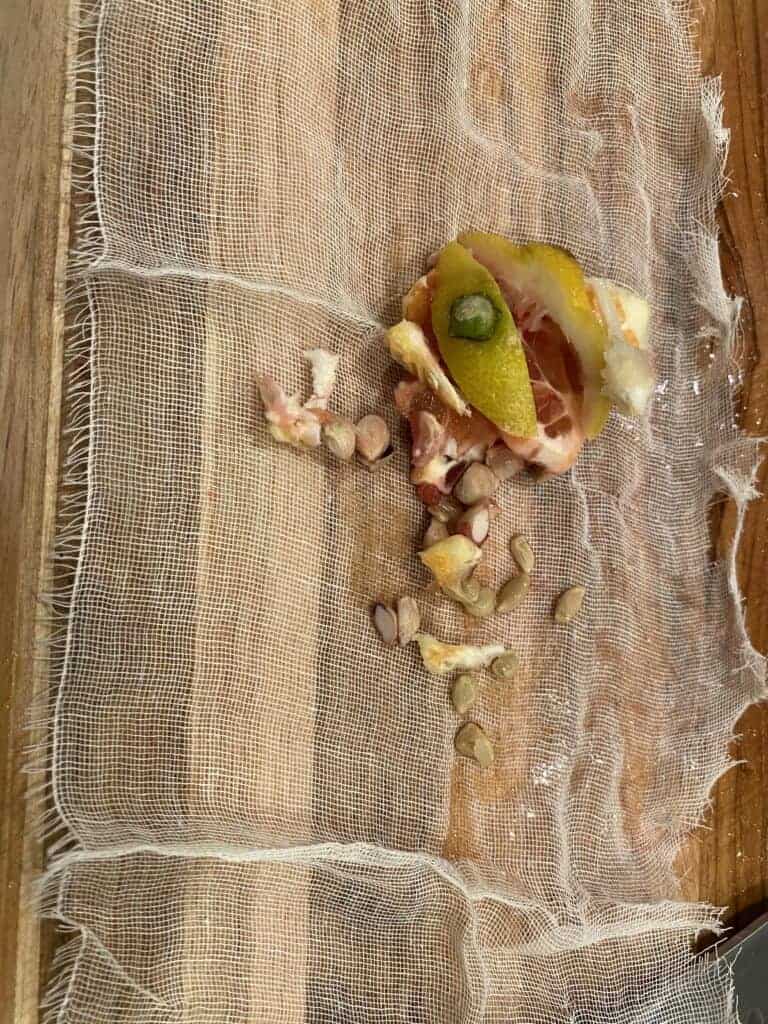 Pectin is a natural fibre in plant cells, mainly in the skin of the fruit. The sugar and acid help bind it into a gel that sets the marmalade.
The Wrinkle Test
If you've made marmalade before you're probably familiar with this test. It helps determine whether or not the marmalade is set. Before you start cooking your marmalade set a plate in the fridge to chill.
Once the marmalade seems to be thickening and coats your spoon, place a teaspoon on the chilled plate and place in the fridge for about five minutes. Take the plate out and run your finger through the middle of the jam. If it wrinkles your jam is done cooking.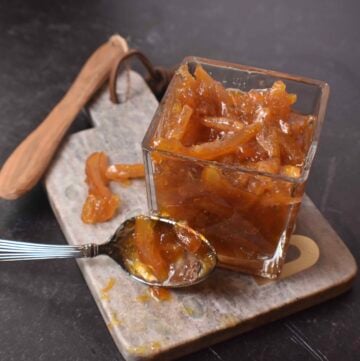 Spiced Citrus Ginger Marmalade
Mixed citrus, ginger and cloves combine to make this sweet and sharp spiced citrus ginger marmalade that's perfect on your morning toast.
Print Recipe
Equipment
Knife

large mixing bowl

cheese cloth

Cooking Pot

Cooking Spoon

sterilized jars
Ingredients
2

pounds

mixed citrus

SEE NOTE

4

cups

sugar

¼

cup

lemon juice

½

inch

piece of ginger

5

whole

cloves

1

inch

piece of cinnamon
Instructions
slice and peel the citrus (don't discard anything)

remove and separate any pith on the fruit and rind

quarter the flesh and set aside

slice the rind really thin (¼ inch or less)

take the cheese cloth and place all the pith and seeds in it and tie it close

soak the fruit, rinds and cheese cloth bag in 5 cups of water and place in fridge for 24 hours

peel and slice the ginger

slightly break down the ginger, cloves and cinnamon using a mortar and pestle and tie up in a piece of cheese cloth

place a small plate in the fridge to chill

take the citrus mixture that has been soaking, add 1 additional cup of water to it, place the bag of ginger and spices, sugar and lemon juice and bring to a boil

reduce heat to medium and cook for approximately 2 hours, stirring occasionally, till the mixture thickens

use the chilled plate to carry out the wrinkle test

once ready place in sterilized jars and store in a cool, dry place SEE NOTE
Notes
NOTES:
For the 2 pounds citrus, use 1 lemon and then equal quantities of the cara cara and blood red oranges.
The marmalade can stay in a cold dry place in a sealed and sterilized jar for upto a year. Once opened, the jar should be refrigerated and used within one month.
Nutrition
Serving:
1
tablespoon
Calories:
49
kcal
Carbohydrates:
13
g
Protein:
1
g
Fat:
1
g
Saturated Fat:
1
g
Trans Fat:
1
g
Sodium:
1
mg
Potassium:
2
mg
Fiber:
1
g
Sugar:
13
g
Vitamin A:
1
IU
Vitamin C:
1
mg
Calcium:
1
mg
Iron:
1
mg
TIPS:
More heat and less humidity helps the marmalade set more easily.
Use a wide pan to cook your marmalade. The liquid evaporates quicker this way and your jam will thicken more quickly.
Don't stir too much. This cools the marmalade and slows down the setting.
Incase your marmalade doesn't seem set, wait 48 hours and if it still hasn't set you can recook it to thicken it more.
I usually don't find it necessary to add any artificial pectin to any of my preserves but incase you have difficulty setting your jam you can buy some at any grocery store and use it.