After much trial and error, I introduce to you the Best Mutton Biryani recipe you're likely to taste. Succulent goat meat is cooked with a homemade spice blend to make a delicious curry. This is layered with the best quality Sella rice and infused with aromatic saffron, kewra, and rose water. This recipe will take you back in time and make you feel as if you're seated at the royal table in the famed Mughal court.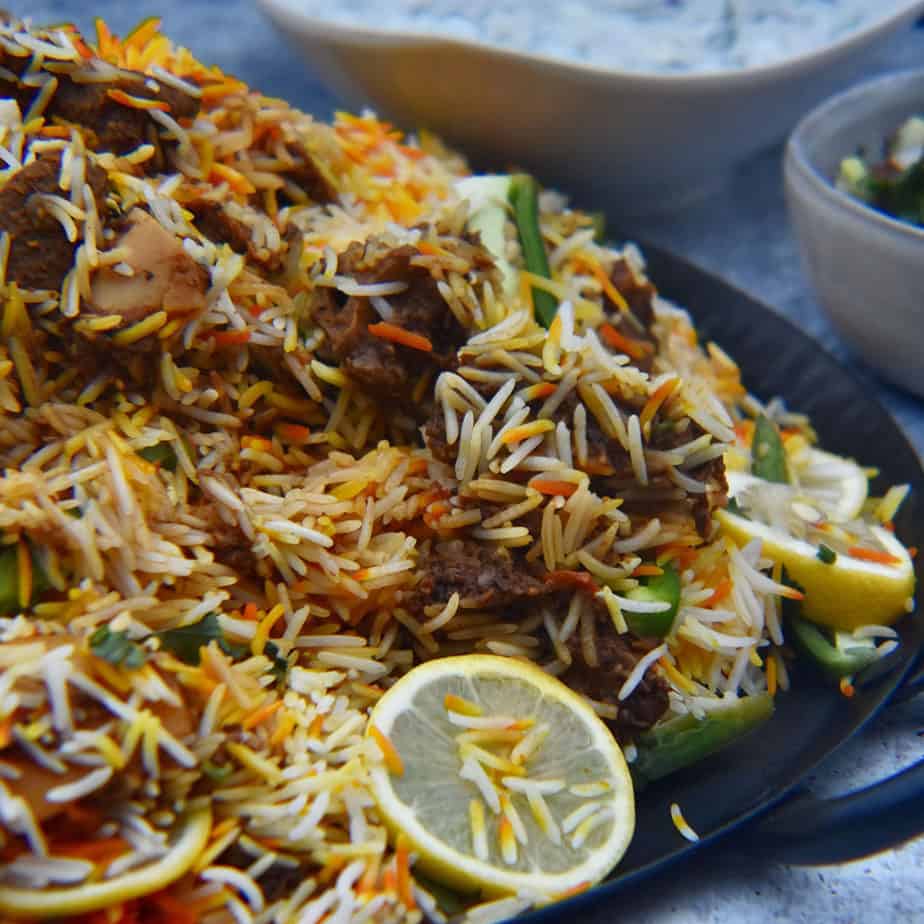 This biryani recipe is an old family one, just like my gosht aloo Bukhara, my Nihari recipe, and my tawa fry beef keema.
History Of Biryani
Biryani is so popular in Pakistan many consider it the country's national food. According to Bisma Tirmizi, Mumtaz Mahal, the wife of emperor Shah Jahan first created the famous rice and meat dish. The rich dish was originally created for the purpose of nourishing army soldiers.
This traditional Mughlai Biryani was rich in spices and also favored a strong use of aromatics, nuts, and dried fruits.
From there, the Nawabs of Awadh took over, and Lucknow's Biryani was born. Slightly milder spices, less aromatics, and lots of potatoes define this version of the famed dish.
Today there are supposedly 30 versions of Biryani, and new ones continue to be created. Take one bite of any of these, and you'll know what all the hype is about.
My Story
My best memory of eating biryani (and there are many) is eating student biryani. I was lucky it was just behind my school in Karachi, giving me easy access.
Cooked in a huge pot in a small street side stall, the biryani was sold in small bags tied with a rubber band. Many would eat it with their hands straight from the bag, a customary practice across Southeast Asia.
The biryani is greasier than what is typically cooked at home, but each bite is pure heaven. I'm not sure why, but the vivid memory that stands out is staying back in school for a play rehearsal and sharing a bag of biryani with one of my best friends, Aasiya.
I can list countless Biryani eating memories here but I know you're dying to learn how this delicious food is created so we'll leave those stories for another day!
The Best Mutton Biryani Recipe
Cooking Biryani is not for the faint of heart. It's a complex dish that requires some serious cooking skills. That's not to say that it's impossible, after all so many people cook it. It just takes a little practice and some perseverance to become a pro at it.
My first attempt was terrible, but looking back, I didn't really have a detailed recipe. Upon researching, as I developed this recipe, I felt that a lengthy and detailed write-up was necessary.
I've tried to tackle the many questions that you're likely to have as a novice chef. If you have any further questions, please post them in the comments below, I'm always here to help. For the more experienced cook, just jump to the recipe and feel free to ignore my ramblings!
I've covered many points that may help you in the Notes section of the recipe card, so be sure to read those. But here are a few more tips that may help.
Tips For Making The Best Mutton Biryani:
Rice to Meat Ratio
Biryani is perfect only when every spoonful has meat and rice in it. To ensure that, the ideal ratio is 1 pound of meat per 1 pound of rice (1 pound of rice is 2 cups). My recipe has this perfect ratio, thus the title Best Mutton Biryani Recipe.
If I chose to add potatoes, I would usually add 1-2 potatoes for this much rice and meat, depending on the size of the potatoes.
Spices in The Rice
Biryani is meant to be a spicy dish and since the korma is cooked separately and layered with plain boiled rice, it's important to infuse that rice with some spices. This is why The Best Mutton Biryani Recipe has a spice pouch added to the rice.
Many people simply toss the spices in but I prefer not to do that as having to pick them out or accidentally biting into them ruins the Biryani experience for me!
Add them however you please but definitely do add them!
Calculating How Much to Cook Per Person
When planning how much to cook I usually estimate about ⅓ cup of rice per person when I have other items on my menu and ½ cup per person if the Biryani is going to be my only entrée. I then calculate how much meat I need based on the meat to rice ratio above.
Of course, a lot depends on everyone's appetites and whether or not you're adding potatoes. Typically, I would cook 1 pound of meat and 2 cups of rice for 6 people. If I add potatoes then It may stretch to feed about 8 people.
Cook the Korma Ahead of Time
Cooking Biryani is complicated partially because there are many components to it. I often cook my Korma a day ahead of time to save some time, especially if I'm cooking for a large number of people.
On the day I plan to serve the Biryani I reheat the meat curry and add the potatoes to cook at that time. While the potatoes are cooking, I prepare the rice and then layer, steam (dum) and serve!
Fixing Undercooked or Overcooked Rice
To this day, despite years of cooking experience, I often over cook or undercook my rice. Worry not, there are easy ways to salvage the rice in either situation.
Undercooked Rice
If your rice is undercooked, add a little extra water (about ½ cup for the quantity in this recipe) when you set the Biryani to steam. This will create more steam than normal and help cook the rice through. Then add 5 extra minutes to the time that you steam the rice.
To prevent the korma at bottom from burning, don't extend the steaming time beyond 5 minutes but leave the pot covered with the foil and the lid on for an extra 10 minutes after you've turned the stove off.
Overcooked Rice
For overcooked rice, lay the rice out in a thin layer in a large foil tray or other container and let the steam evaporate. This helps dry the rice out.
When in doubt about cooking times, remember that it's easier to fix undercooked rice versus overcooked rice.
Adjusting the salt in the Rice
I would always caution you to add less salt and fix your Biryani later versus accidentally adding too much.
However, If you have added excess salt make some raita and kachumber salad and either leave the salt out or halve the quantity. When the Biryani is eaten with the Raita the saltiness will be less prominent.
If you have added too little, mix some salt with a small amount of water and drizzle on the Biryani when you steam it. This should fix it!
Best Mutton Biryani Recipe
Fragrant basmati rice layered with succulent meat cooked in an ancient mughlai spice blend make this the Best Mutton Biryani Recipe!
Ingredients
Biryani Masala Powder
1

tsp

coriander

1

tsp

white cumin

1

tsp

black cumin

1

tsp

fennel

8

piece

green cardamom

4

piece

black cardamom

10

whole

cloves

½

inch

cinnamon stick

10

whole

peppercorn

4

piece

mace

½

piece

nutmeg

4

piece

star anise

10

whole

dry red chillies

4

whole

bay leaf

2

tsp

salt

(adjust to taste)

2

tsp

red chili powder

(adjust to taste)

½

tsp

turmeric
Biryani Korma
½

cup

cooking oil

(SEE NOTES)

2

inch

piece ginger

2

tbsp

garlic paste

2

lbs

goat meat

(SEE NOTES)

2

onions

4

tomatoes

½

cup

yogurt

2

green chilies

½

tsp

salt

½

tsp

red chili powder

¼

cup

aloo bukhara

(dried golden sour prunes)

2

potatoes
Rice
4

cups

sella rice

(SEE NOTES)

2

tbsp

cooking oil

2

tsp

salt

(SEE NOTES)

4

whole

cloves

½

inch

cinnamon stick

1

whole

bay leaf

4

whole

peppercorn

½

tsp

black cumin
Biryani Dum
¼

cup

milk

5

strands

saffron

1

tbsp

kewra water

½

tsp

rose water

(optional)

1

tsp

yellow food coloring

1

lemon

2

green chillies

¼

cup

mint

(optional)

¼

cup

cilantro
Instructions
Biryani Masala Powder
heat a non stick frying pan and dry roast all of the whole spices (SEE NOTES)

grind the roasted spices to a fine powder

mix in the salt, red chili powder and turmeric to the roasted mixture
Biryani Korma
grind half of the garlic, ginger and green chilies and mix with ½ tsp salt and ½ tsp red chili powder

marinate the goat meet with this mixture and set aside in the fridge for 2 hours (SEE NOTES)

once the meat has marinated for 2 hours set it on the counter to come to room temperature while you prep the rest of the ingredients (SEE NOTES)

quarter and steam the tomatoes in ½ cup water, mash and cool to room temperature (SEE NOTES)

beat the yogurt slightly and add to this mixture and set aside

slice the onions very thin

grind the remaining garlic and ginger

slice your chilies or leave them whole depending on their size

soak the aloo bukhara in 1 cup of water to soften it a little bit

peel, slice and quarter the potatoes and soak in water (SEE NOTES)

add the onions and start frying

once the onions are a rich brown color add the ginger and garlic and saute for 3-5 minutes

add the marinated meat in small batches and start frying (SEE NOTES)

once the meat is a nice light brown add the spices and roast for a few minutes, followed by the tomato/yogurt mixture

roast well for 5-10 minutes, add the aloo bukhara with the 1 cup water, cover and cook on medium till the meat is 80% cooked

uncover, add the green chilies, potatoes and 1 cup water, cook on medium till the potatoes are 80% cooked and the oil separates (SEE NOTES)

set the meat aside and start prepping to cook your rice
Rice
soak the rice in about 3 times the water for 4 hours minimum (SEE NOTES)

heat water in a large pot, adding the salt and oil to it (SEE NOTES)

take all the whole spices and tie them up in a piece of cheesecloth to make a small pouch and add to the water

once the water reaches a boil add the rice to it and cook about 10 minutes, till the rice is about 80% cooked (SEE NOTES)
Biryani Dum
soak the saffron in the milk for about 20-30 minutes (SEE NOTES)

chop the cilantro and the mint (if using)

slice lemons into thin slices

slice the green chilies if they are on the larger side, if they are small ones, leave them whole

once the rice is cooked strain it, remove the spice pouch and start the layering

add ½ of the HOT korma as the first layer (SEE NOTES)

add ½ the rice, completely covering the korma

add the remaining korma, distributing evenly over the rice

drizzle the saffron infused milk, kewra water and if using rose water on the rice

lay the lemons, green chilies, cilantro and mint (if using) in an even layer on top

cover with foil, making sure there are no gaps so the steam can stay in

cover your pot and reduce the flame to the lowest setting (SEE NOTES)

after 20 minutes uncover carefully (the steam can burn)

plate in a manner that there is some mixing of the layers (SEE NOTES)
Notes
I use a cut up Raan (goat meat from the hind legs) for this recipe as it's very soft and succulent meat. If you're not a fan of goat meat you can use chicken,veal or beef instead.
The oil may seem like a lot but is essential to good biryani as they help keep the rice grains separate.
Sella rice is ideal for biryani as it adds to the aroma and the grains are long and tend to stay seperate.
The rice must be well salted in order for the flavor of the dish to come through. I tend to prefer a little less salt than most people so please adjust the quantity as needed.
Dry roasting and grinding the spices yourself will make your biryani smell exquisite. Roast each spice separately for best results as different ones have a different burn point. But if you don't have time for this step then I would suggest Shan Bombay Biryani Masala (1 packet for this quantity of meat and rice).
Marinating the meat makes sure that it's well seasoned all the way through.
After 2 hours, take the meat out of the fridge. By the time you're done prepping the rest of the ingredients it will be a at room temperature and cook more evenly.
The consistency of the Korma gravy has to be perfect, not too dry and not too liquidy. Cooking the tomatoes first and mashing them helps reach that consistency more quickly and effectively.
Soaking the potatoes in the water keeps them from browning till you're ready to add them to the curry.
It's best to add the meat in small batches as adding it all at once drops the temperature of the oil and onions and stops it from browning properly.
The potatoes will continue cooking after you turn the stove off and also during the steaming part later. If you overcook them at this point they will break apart.
The soaking time has been given with Sella Rice in mind. If you're using traditional Basmati Rice then don't soak for more than an hour.
A lot of water is needed as the rice expands during the soaking, start with at least 3 times the water and check periodically incase the rice has absorbed too much water and you need to add more.
There needs to be at least 30% more water than rice for it to cook properly and the water needs to be well salted or the rice will taste bland later. The oil is added to help keep the grains separated and is a must.
Everyone has a different stove and cooking utensils so a way to test if the rice is 80% cooked is to take a grain and squeeze it between your thumb and forefinger. If it breaks into exactly two pieces it's ready to be strained.
Soak the saffron in the milk and set aside in the fridge when you start boiling the water for the rice so it has time to release it's flavor and color.
Make sure the korma is hot before you add it as this will help create the steam which is essential at this point.
Turn your flame as low as it will go to prevent the gravy from burning and sticking to the pot.
When you dish the Biryani out spread it in a manner that the colored layers of rice and korma mix a little bit so you get all the flavors in each bite.
Nutrition
Serving:
1
g
Calories:
775
kcal
Carbohydrates:
100
g
Protein:
36
g
Fat:
26
g
Saturated Fat:
4
g
Trans Fat:
1
g
Cholesterol:
73
mg
Sodium:
1563
mg
Potassium:
1074
mg
Fiber:
8
g
Sugar:
6
g
Vitamin A:
826
IU
Vitamin C:
36
mg
Calcium:
144
mg
Iron:
5
mg