Authentic Chinese Chicken & Corn Soup is the quintessential Pakistani comfort food. It was every child's favorite growing up, whether it came from a chinese restaurant or was made at home.
Similar to the egg drop soup many of you might be familiar with, being Pakistani's we've of course managed to spice ours up a little bit.
The History
Indo Chinese food is unlike any Chinese food you're likely to eat elsewhere. Of course China shares a border with India and Pakistan so their influence over South Asian cuisine makes sense.
Chinese immigrants first came to India in the late 18th Century as sugar mill workers. By the 19th Century, they were actively participating in various areas of the Country's trade, mainly in the city of Kolkata.
Where many pursued shoe making and carpentry, the Hakka Chinese opened eateries specifically for Chinese workers. Per Vice.com originally this food was only served in small street food style eateries. But by 1924 the oldest Chinese Restaurant in Kolkata, called Nanking, was host to many famous Bollywood stars.
The likes of Schezwan and Manchurian Sauce were created around this time, for the purpose of pleasing the Indian palate. Spicy, oily and vinegary best describes them.
My Story
Going to eat at a Chinese Restaurant was a much anticipated treat growing up. An outing saved for special occasions such as birthdays, the entire day was spent anticipating the delicious food.
Soups aren't a traditional part of Pakistani cuisine, as mentioned in my post on Mulligatawny Soup. But when dining in a Chinese restaurant the meal couldn't start without Chicken Corn Soup.
A light and velvety soup, with small shreds of chicken, sweet corn kernels and egg ribbons, it's a perfect way to cleanse your palate before the main feast! Served with an assortment of tangy and spicy sauces and some freshly fried fish crackers to dip in the soup, just thinking about it makes my mouth water.
SInce I love and miss it so much I make it often. Unlike the Mulligatawny soup it's very quick and easy to make and my kids love it as much as I do!
The Recipe
Chili sauce and vinegar have a strong presence in the Indo Chinese fusion cuisine as they help spice up authentic chinese dishes. Chicken Corn Soup is delicious on its own but in Pakistan we like to add a kick to it by using some spicy and tangy condiments.
Chilli Infused Vinegar
In the case of Chicken Corn Soup the first thing I do is finely chop some red thai or serrano chillies and soak them in a bowl of white vinegar. This is later served as a condiment to add flavor to the soup.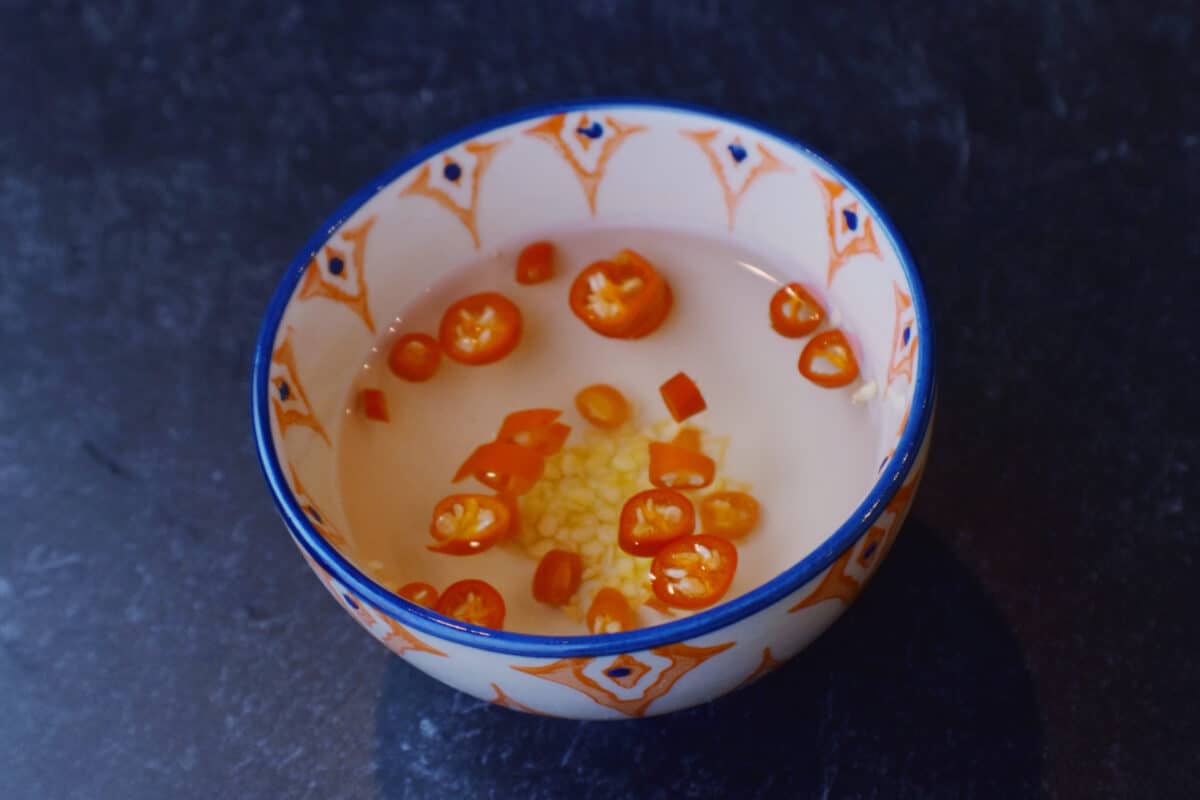 Tabasco
For my red chili sauce I use tabasco but feel free to try something else if that appeals more. I personally don't add soy sauce to my Chicken Corn Soup but it is an option if you're a fan. I prefer to lay all the condiments out and let everyone add what they like to their own bowl of soup.
Fried Spring Roll Wrappers
Now in place of fish crackers which I haven't really seen here in the US I use a trick my friend Amyna taught me years ago. I use store bought Spring roll wrappers, cut them into strips and deep fry them. They make the perfect crunchy topping for the Chicken Corn Soup!
Soup
Now that your condiments are ready it's time to make the soup! For the base I used my Homemade Chicken Broth recipe. Feel free to use store bought broth if you prefer. SInce I didn't have any chicken wings on hand I got a small 1 pound package of wings and thighs and used those for my broth.
Once the broth was cooked I strained it through a fine mesh sieve. Next I shredded the meat, adding it back to the soup and discarding any unused portion. If you're using store bought broth then you can add some shredded rotisserie chicken for the meat.
TIP: Any unused shredded meat from my broth is used to make sandwiches or my Bakery Style Chicken Patties. I try not to waste anything!
I add some frozen corn directly to the pot, simply letting it cook in the time that the soup reaches a boil. Whereas many people like creamed corn I prefer to get the actual kernels in my mouth. Also, this way my picky kids can remove them from their bowl more easily.
The final step is to thicken the Chicken Corn Soup with the cornstarch slurry. For this the soup needs to be really hot and you must whisk constantly to prevent any lumps.
The last step is the addition of the egg. Whereas many people add only the whites I find that the yolk helps to thicken the soup while the white creates the beautiful ribbons. Plus, since I am obsessed with not wasting anything this way I get to use the yolk.
Now onto the actual Recipe! Wait till you see how easy it is! You'll be making it again and again! Hope you decide to try it! Do leave me with a rating and comment so I know how it went!
Authentic Chinese Chicken & Corn Soup
A light Indo Chinese Soup with shredded chicken, sweet corn kernels and swirling ribbons of egg. The quintessential Pakistani comfort food.
Equipment
Knife

Cutting Board

Wok

Cooking Pot

Whisk

Wooden Spoon

Fine Mesh Sieve

measuring cups
Ingredients
Chilli Infused Vinegar
2

Thai

Chillies

SEE NOTE

¼

Cup

DIstilled White Vinegar
Fried Spring Roll Wrappers
½

Package

Spring Roll Wrappers

2

Cups

Cooking Oil
Soup
6

Cups

Chicken Broth

½

Cup

Shredded Chicken

½

Cup

Corn

¼

Cup

Cornstarch

¼

Cup

Water

1

Whole

Egg

1

tsp

Salt

SEE NOTE

½

tsp

Black Pepper

SEE NOTE
Instructions
Chilli Infused Vinegar
Add the vinegar to the chillies, cover and set aside for at least 4 hours before serving
Fried Spring Roll Wrappers
Take the spring roll wrappers and slice into thin strips

Heat the oil in a wok and deep fry the strips

Once a medium brown lay the strips on some paper towel so the excess oil can drain
Soup
Measure the pre made broth into a cooking pot

Add the shredded chicken and frozen corn kernels to the pot

Heat the broth till it comes to a rolling boil

While the broth is heating mix the cornstarch and water to make your slurry

Whisk the egg and have it ready to add to the soup

Once the soup is boiling add the slurry to it and stir constantly to thicken

Once thickened add the whisked egg and stir. The soup will thicken some more and egg ribbons will form. Your soup is now ready.
Nutrition
Serving:
1
cup
Calories:
387
kcal
Carbohydrates:
46
g
Protein:
12
g
Fat:
17
g
Saturated Fat:
2
g
Trans Fat:
1
g
Cholesterol:
19
mg
Sodium:
2209
mg
Potassium:
416
mg
Fiber:
2
g
Sugar:
1
g
Vitamin A:
80
IU
Vitamin C:
26
mg
Calcium:
54
mg
Iron:
3
mg
NOTES:
The cooking time above is based on making the broth from scratch. if you choose to use store bought broth and rotisserie chicken then this soup will take you about 30 minutes to put together.
I love the flavor and bright red color of Thai Chillies but if you don't have any on hand you can use 1 Serrano Chilli instead.
The salt and pepper are approximate amounts. It depends on how salty your broth is. Also, you may need to add a bit more after you add the cornstarch slurry as that tends to make the soup a bit bland again. Of course if you plan to add soy sauce then go easy on the salt.
Canned Corn can also be used if you prefer it or don't have access to the frozen variety. If you want to use creamed corn you can use canned creamed corn or make your own by running the corn through a blender (one or two pulses should be enough).