This light and velvety Chicken Corn Soup Recipe (Pakistani) with shredded chicken, sweet corn kernels, and egg ribbons is ready in 30 minutes.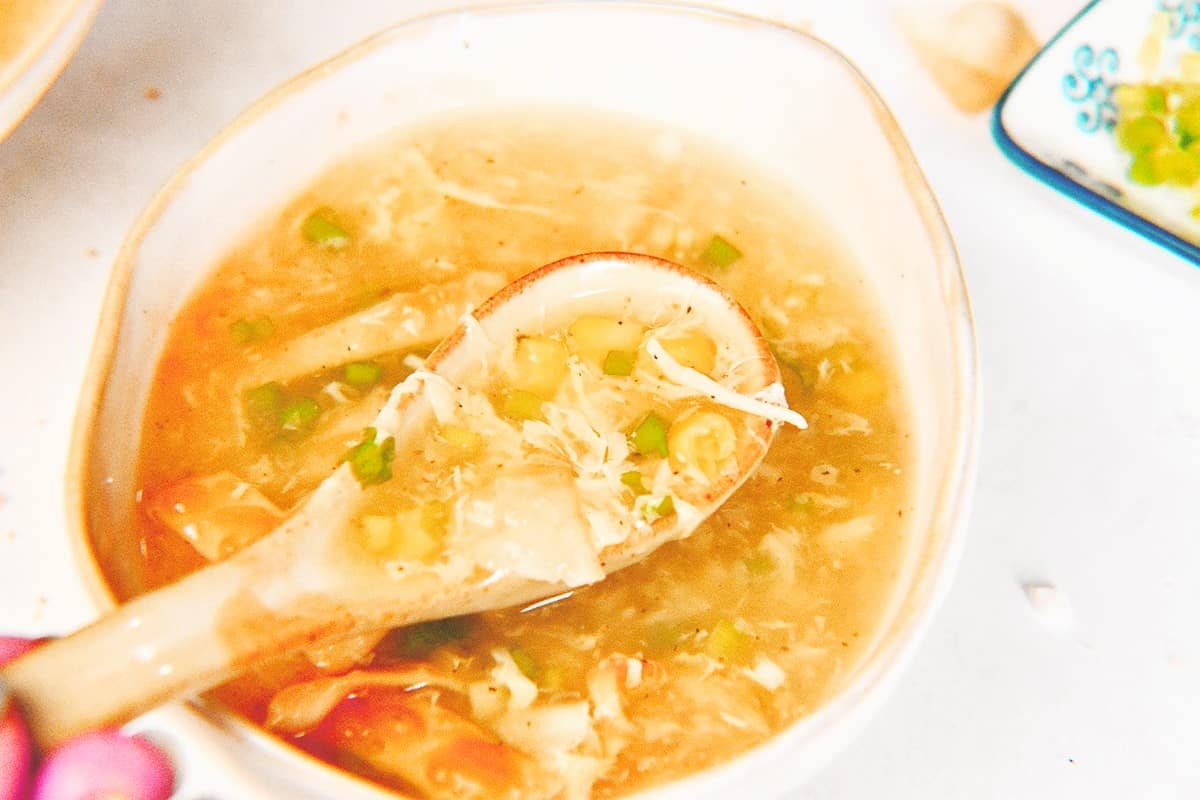 Similar to egg drop soup, this was and still is a favorite. Served with an assortment of tangy and spicy sauces and topped with freshly fried crispy spring roll strips, it hits just the spot on a cold day.
As mentioned in my post on mulligatawny soup, soups aren't a traditional part of Pakistani cuisine. However, there is a strong presence of Indo-Chinese food, and a meal at a Chinese restaurant in Pakistan can't start without hot and sour soup or chicken corn soup.
Jump to:
Why you'll love this recipe
Quick and easy recipe - The best part about this recipe is that it's so easy! A handful of ingredients and 30 minutes is all it takes to have a bowl of fresh hot soup on the table.
A refreshing change on traditional chicken soup - While I love a simple chicken broth or chicken noodle soup, this makes a nice change occasionally.
Customizable recipe - With so many options for add-ins and toppings, this recipe pleases everyone, even in a large group. This makes it the perfect fall and winter recipe when entertaining.
Perfect winter comfort meal - Having a pot full of this simmering on the stove for dinner is the coziest feeling and will bring a smile to everyone's face.
Ingredient notes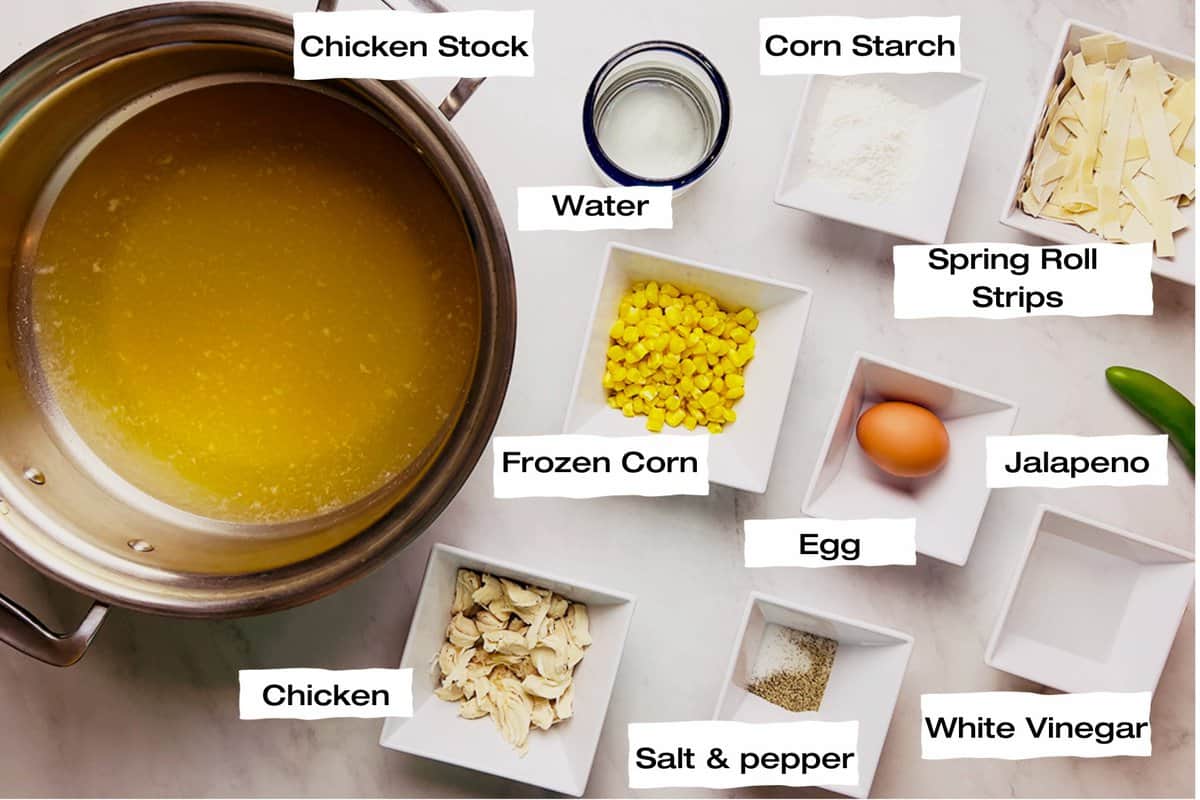 Chicken Stock - I use homemade chicken stock for this recipe, but storebought works just as well.
Chicken - I save some chicken from my stock or poach some separately to shred and use in this soup. If you're in a rush, use rotisserie chicken.
Corn - frozen sweet corn kernels are what I like to use. If you want to use traditional creamed corn, follow the instructions in the notes section of the recipe card.
Cornstarch - This is needed to thicken the soup. Any brand will work, but make sure it's fresh for the best results.
Egg - I use the whole egg because I dislike wasting the yolk. I also find that the yolk helps to thicken the soup.
Spring roll strips - Traditionally, this soup is served with prawn crackers in Pakistani Chinese restaurants. However, spring roll wrappers are easier to source and add the necessary texture and crunch, so I use them instead.
White vinegar - This is used to pickle the chili peppers slightly and adds a delicious tangy flavor to the soup.
Jalapeno - This is the easiest chili pepper to source and relatively less spicy than serranos or Thai chilies. However, change it up and try any chili pepper you like.
Please see the recipe card at the bottom of this post for the complete list of ingredients with measurements plus recipe instructions.
Substitutions & variations
Try prawn crackers - These are traditionally served with this soup in Pakistan. Available on Amazon and in specialty stores, they taste delicious and make a nice change.
Use creamed corn - Use creamed corn for a more traditional taste and texture to your soup.
Make it vegetarian - Use a vegetarian stock and tofu instead of chicken to make a vegetarian version.
Change up the toppings - A garnish of chopped green onions, spicy potato sticks, or a different type of chili paste are both fun options to play around with for variety.
Try a 'dhaba' version - A dhaba is a roadside restaurant, and in Pakistan, they often serve chicken corn soup topped with sliced boiled eggs. Try it sometime! It tastes really good.
Step-by-step instructions
Chili sauce and vinegar have a strong presence in Indo-Chinese fusion cuisine as they help spice up authentic Chinese dishes. Chicken Corn Soup is delicious on its own, but in Pakistan, we like to add a kick to it using spicy and tangy condiments.
Start your prep by chopping the jalapeno and then add it to distilled white vinegar for a minimum of half an hour.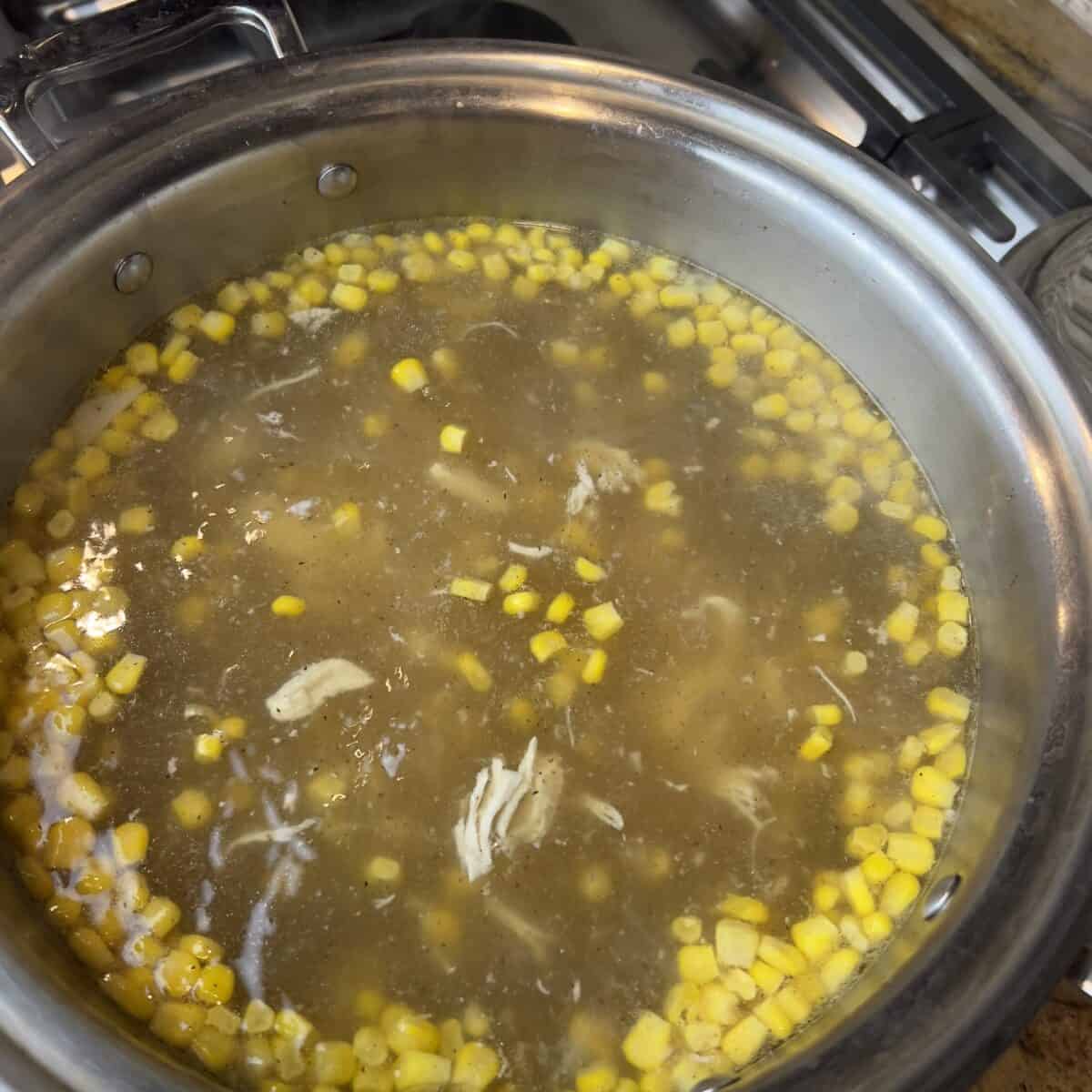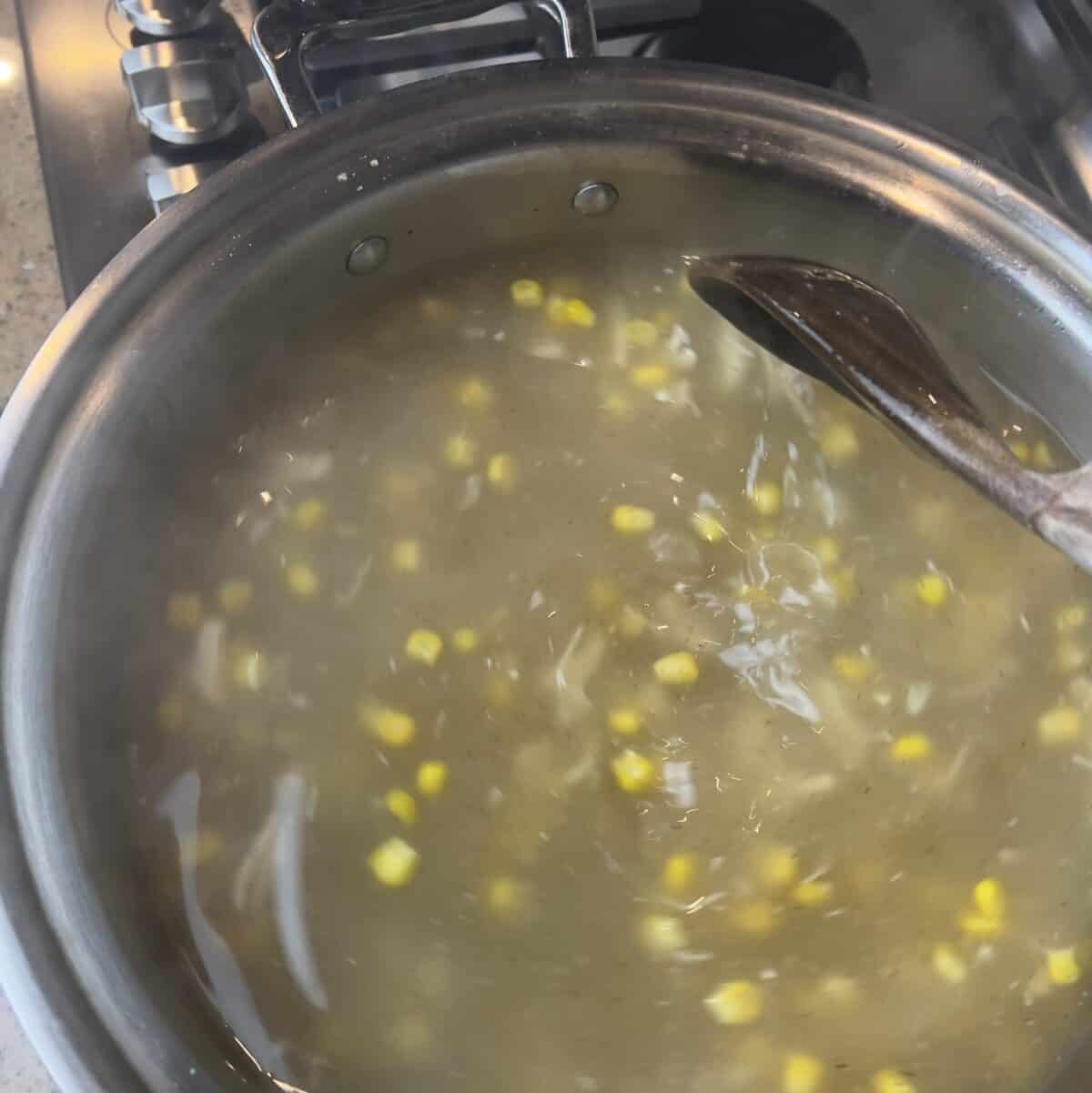 Step 1 - I add the shredded chicken and frozen corn directly to my pot, letting it cook in the time that the soup reaches a boil. Whereas traditional chicken corn soup is prepared with creamed corn, I prefer the frozen kernels.
Step 2 - Prepare a cornstarch slurry with the cornstarch and cold water. Add it to the soup once the soup reaches a boiling point. Whisk constantly till the soup thickens to prevent any lumps.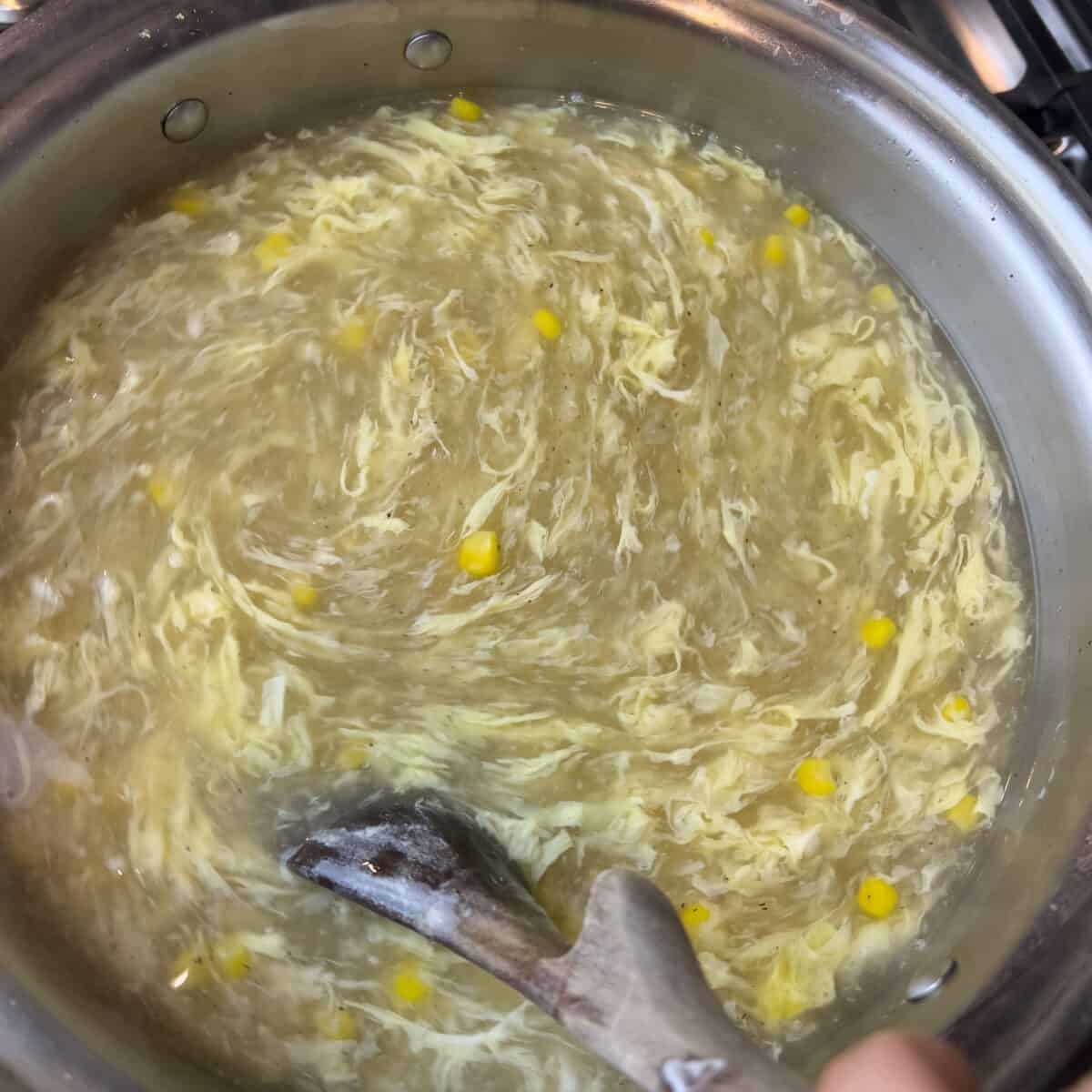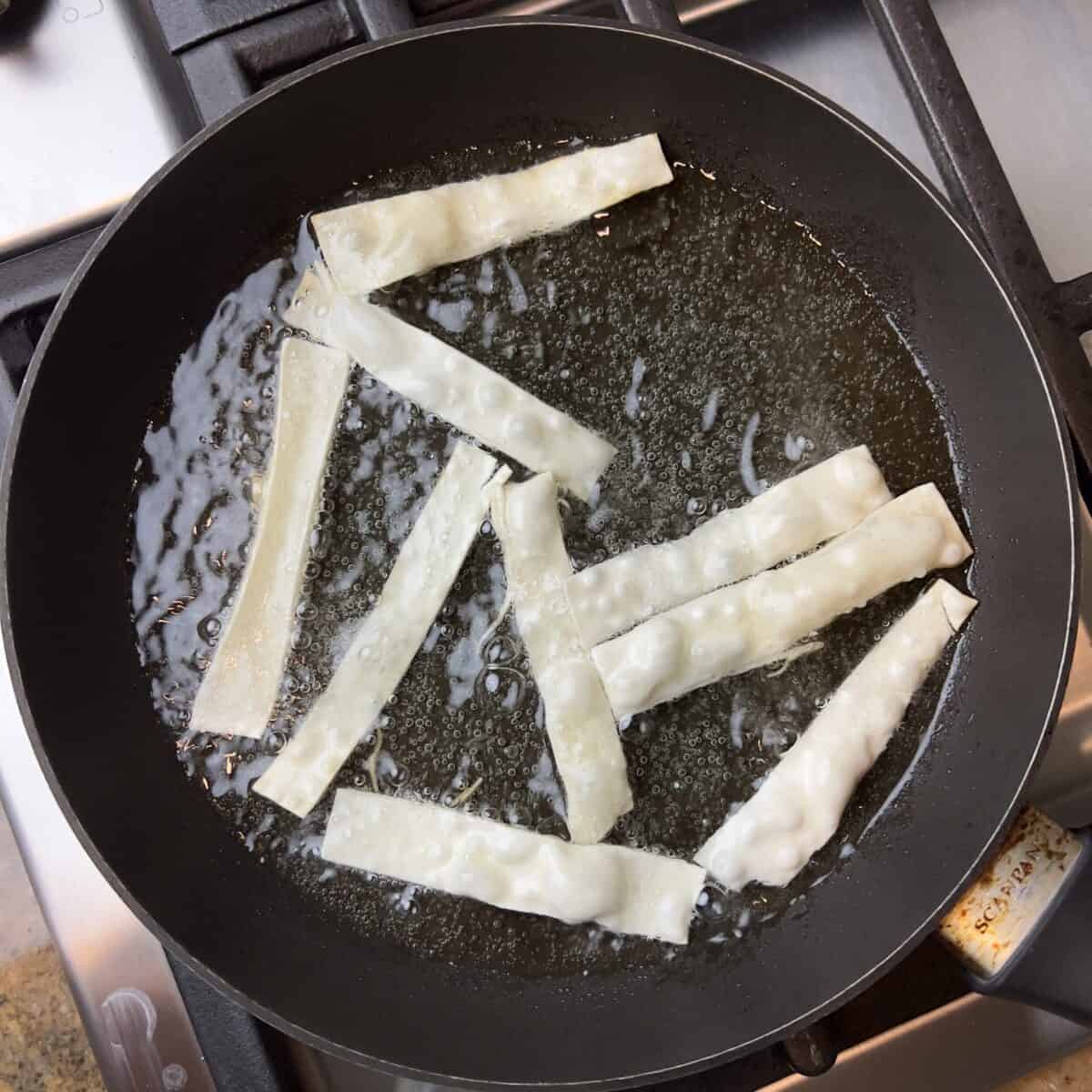 Step 3 - Next, beat the egg and add it to the soup. While many people add only the whites, I hate wasting the yolks. I also find that the yolk helps to thicken the soup, and since I'm not adding creamed corn, this helps create the perfect texture.
Step 4 - I opt for store-bought Spring roll wrappers instead of the more traditional prawn crackers. I cut these into thin strips and then deep fry them. They make the perfect crunchy topping for the Chicken Corn Soup!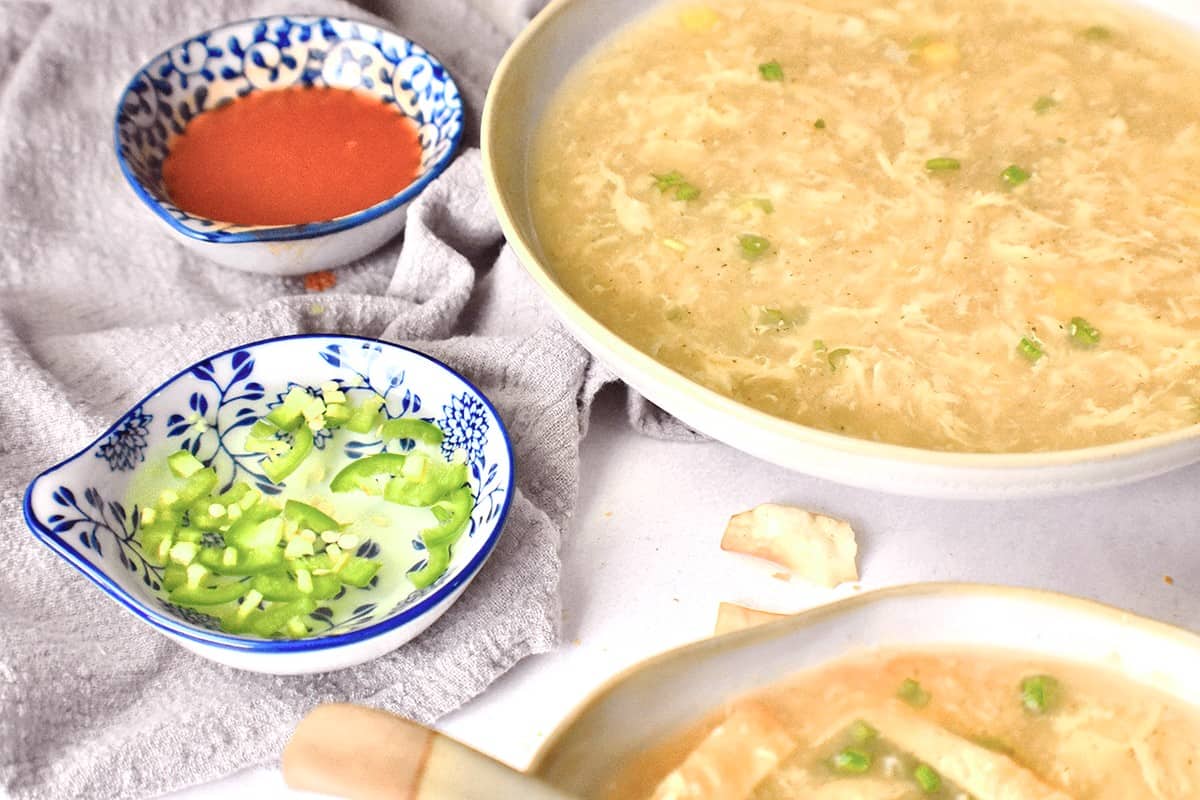 Step 5 - I serve my soup with Tabasco, prepped chili vinegar, and fried spring roll strips. Having the condiments in separate bowls lets everyone customize their own bowl of soup and is my preferred way of serving my chicken corn soup.
Expert Tips
Prep and freeze a batch of stock - I love to batch my cooking as a part of my meal prep routine. Making and having some chicken stock in my freezer is part of this.
Poach chicken tenderloins and freeze - Similarly, although I use all the chicken I use to prepare my stock, I often poach some chicken tenderloins separately. I then shred and freeze them to use in various recipes.
Use up any extra chicken - To avoid food waste, use all the extra shredded chicken to make sandwiches or some bakery-style chicken patties.
Strain the chicken stock - Strain your chicken stock through a fine mesh strainer. This will ensure that your final soup has a smooth and velvety texture.
Dissolve the cornstarch in cold water - To avoid any clumps in the soup, always dissolve cornstarch in cold water and then add it to the hot soup slowly, stirring constantly.
Recipe FAQS
How can I make big ribbons with the egg?
If you want larger, more prominent egg ribbons, beat the egg well and pour it in a thin stream in a circular motion into the hot soup. Don't stir vigorously, giving the egg time to cook before breaking it into large pieces.
Is there a way to make this vegan?
Yes, this soup can be made with a vegan egg substitute. Get the detailed recipe here on nomss.com.
How do I store and reheat the soup?
Store the soup in the fridge for 2-3 days and reheat it on the stovetop for best results. I don't recommend freezing the soup. It tends to taste watery when defrosted and reheated. I usually keep some stock, chicken, and corn in my freezer and assemble everything when I want the soup.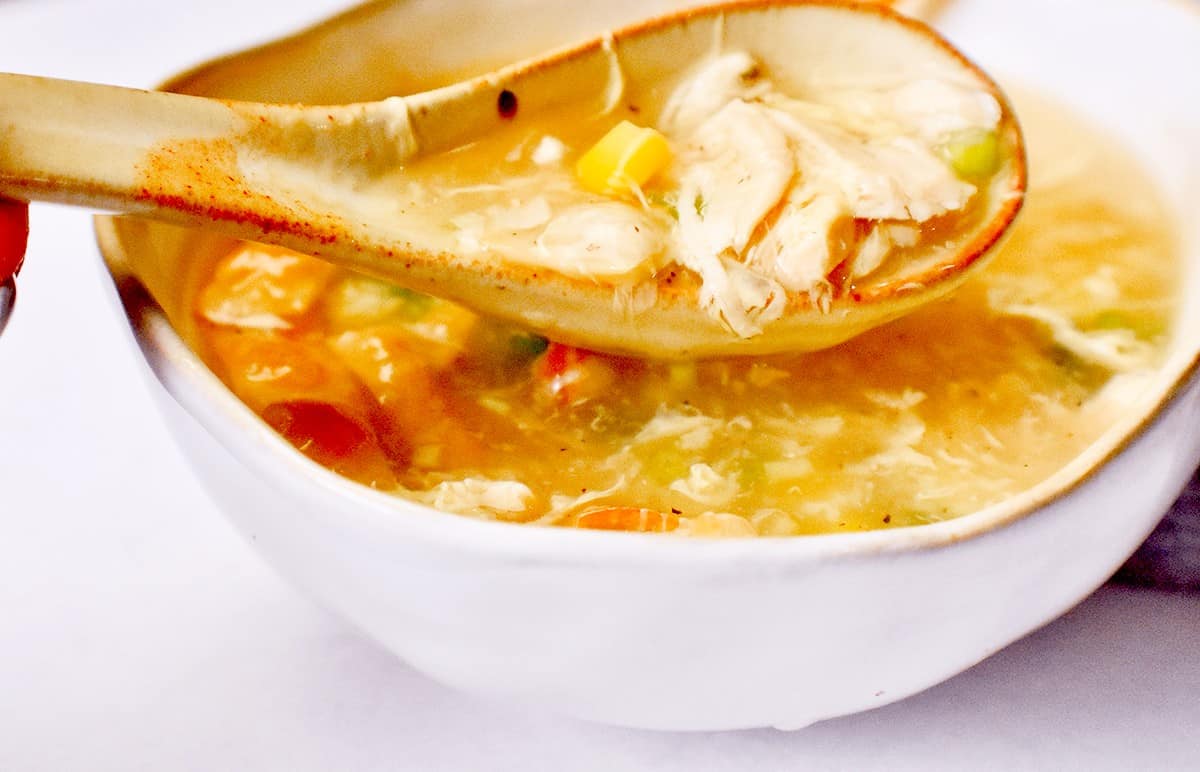 Other recipes you may like
I hope you decide to try this recipe! Please don't forget to leave a rating and comment below! If you take a picture, then tag me on Instagram! Thank You!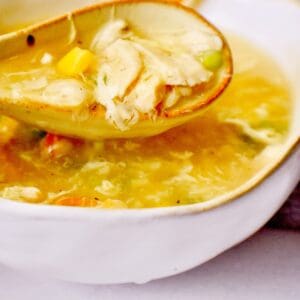 Chicken Corn Soup Recipe (Pakistani)
This chicken corn soup recipe (Pakistani) is an Indo-Chinese version with shredded chicken, sweet corn, and swirling ribbons of egg.
Ingredients
Chilli Infused Vinegar
1

jalapeno

(see notes)

¼

cup

dIstilled white vinegar
Fried Spring Roll Wrappers
¼

package

spring roll wrappers

2

cups

cooking oil
Soup
6

cups

chicken broth

½

cup

shredded chicken

½

cup

corn

¼

cup

cornstarch

¼

cup

water

1

whole

egg

1

tsp

salt

(see notes)

½

tsp

black pepper

(see notes)
Instructions
Chilli Infused Vinegar
Finely chop the chillies.

Add the vinegar to the chillies, cover and set aside for at least 30 minutes before serving. (see notes)
Fried Spring Roll Wrappers
Take the spring roll wrappers and slice into thin strips

Heat the oil in a wok and deep fry the strips

Once a medium brown lay the strips on some paper towel so the excess oil can drain
Soup
Measure the pre made broth into a cooking pot

Add the shredded chicken and frozen corn kernels to the pot

Heat the broth till it comes to a rolling boil

While the broth is heating mix the cornstarch and water to make your slurry

Whisk the egg and have it ready to add to the soup

Once the soup is boiling add the slurry to it and stir constantly to thicken

Once thickened add the whisked egg and stir. The soup will thicken some more and egg ribbons will form. Your soup is now ready.
Notes
Jalapenos - These are relatively mild and easy to source, but if you want more kick, use Serranos. If you can handle the heat, use Thai chilies; they add flavor and a beautiful pop of color. To save time, you can prepare this mixture a day ahead.
Salt and pepper - These are approximate amounts, depending on how salty your broth is. Once you add the cornstarch slurry, and depending on whether or not you're adding soy sauce to the soup, you'll need to adjust the seasoning to taste.
Cooking time - This soup will take even less time, about 15 minutes, to assemble if you use store-bought broth and rotisserie chicken.
Canned Corn - If you want to use creamed corn, you can use canned or make your own by running the corn through a blender (one or two pulses should be enough). About ½ a cup will be sufficient. This will make the soup thick, and depending on what consistency you like, you may need to adjust the amount of cornstarch you use.
Nutrition
Serving:
1
cup
Calories:
207
kcal
Carbohydrates:
20
g
Protein:
7
g
Fat:
11
g
Saturated Fat:
1
g
Polyunsaturated Fat:
3
g
Monounsaturated Fat:
6
g
Trans Fat:
0.04
g
Cholesterol:
16
mg
Sodium:
1377
mg
Potassium:
121
mg
Fiber:
1
g
Sugar:
2
g
Vitamin A:
73
IU
Vitamin C:
3
mg
Calcium:
22
mg
Iron:
1
mg