With a 20-minute prep and a 10-minute cooking time, this Tandoori Grilled Lamb Chops Recipe will become your new favorite! Not a fan of lamb? Let this recipe change your mind!
The bold flavors of the tandoori spice blend remove the gamey smell of the lamb chops. The end result is succulent, juicy grilled meat you won't be able to stop eating.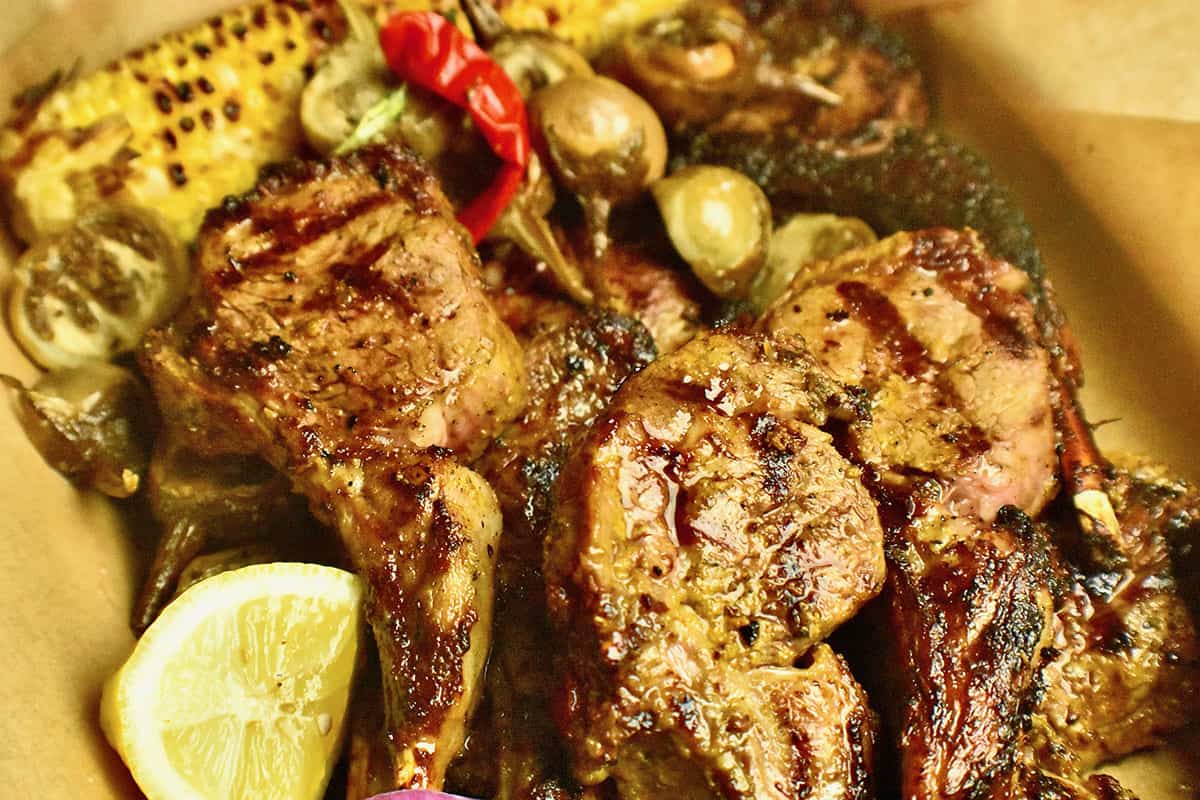 Per Priscilla Martel, lamb has historically been part of all religious celebrations and feasts for centuries, such as Easter, Passover, and Ramadan. Roasted on a spit over an open fire, seared, roasted, and slow-cooked in clay ovens, many recipe variations exist.
Both grilled lamb and goat meat feature prominently in Pakistani cuisine and are used interchangeably for many recipes. some favorites are Roast leg of goat, Mutton or lamb karahi gosht, and Aloo gosht (Pakistani meat & potato curry).
Jump to:
Why you'll love this recipe
Unique recipe - This grilled recipe makes a refreshing change from the usual chicken tikka boti, bihari kabab, and hariyali green chicken tikka, not to mention burgers and steaks.
No gamey smell or taste - The bold tandoori spice blend removes any gamey smell in this delicious recipe.
Easy recipe - This surprisingly easy recipe and simple ingredients make it possible for you to enjoy tandoori grilled lamb more frequently.
Great for entertaining - This easy dinner recipe makes for a restaurant-style meal with minimum effort, making it a great choice for a special occasion or when you're entertaining.
Ingredient notes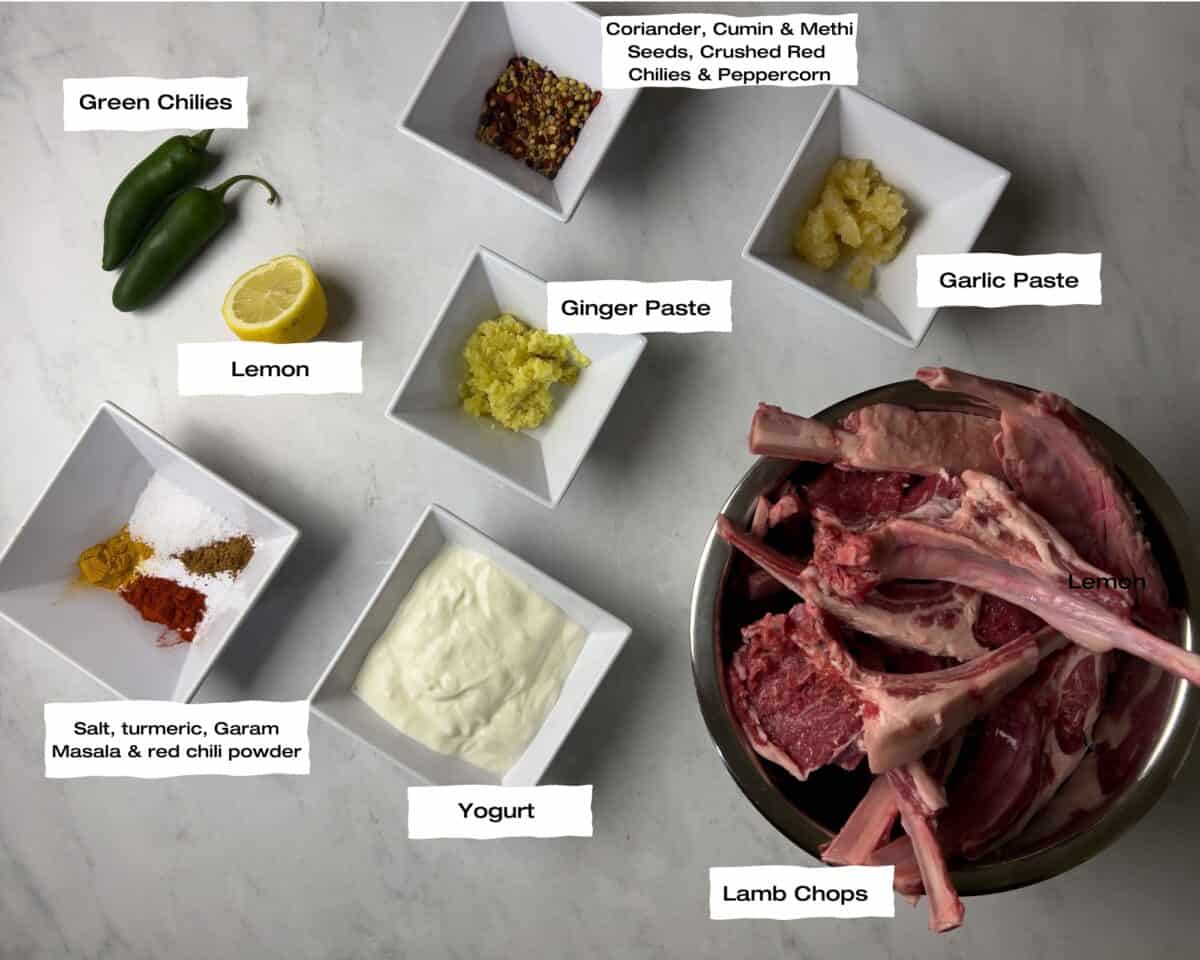 Lamb rib chops - I like to use New Zealand lamb for its mild taste and juicy flavor. Australian and American Lamb are good alternatives if you can't source the New Zealand lamb chops and are easily available at most grocery stores.
The garlic & ginger paste - I use a homemade garlic and ginger paste. When crushed fresh, these ingredients have a more potent aroma and help counter the smell of the grilled meat.
The yogurt - Yogurt is always part of a tandoori marinade and helps tenderize any meat.
The lemon - Lemon juice adds flavor and works well as a tenderizer. Combined with yogurt, the tandoori grilled lamb chops melt in your mouth.
Green Chilies - I use serrano chilies, but jalapenos work well for a less spicy tandoori spice blend.
The spice blend - The spice blend is freshly prepared with some whole and some powdered spices. This helps maximize taste and aroma and, eliminate any offensive odor and makes this the perfect recipe.
Please see the recipe card at the bottom of this post for the complete list of ingredients with measurements plus recipe instructions.
Substitutions & variations
Use a store-bought spice blend - To simplify the recipe further, use three tablespoons of a store-bought tandoori spice blend. There are multiple brands available at South Asian stores, on amazon.com, and even some available at supermarkets.
Try this recipe with lamb loin chops - Lamb loins make a great option for this recipe. They look like miniature t-bone steaks, are often easier to source, and have the same flavor of lamb that the grilled lamb chops have.
Try a dairy-free version - Use a coconut or almond yogurt if you can't tolerate dairy products, or omit the yogurt altogether and use a combination of 1 lemon and two tablespoons of white vinegar as your tenderizer.
Step-by-step instructions
Cutting the chops
Step 1 - Place a cutting board on a firm, non-skid surface, and grab a sharp knife. I like to leave the fat on my lamb chops. It melts as the meat cooks on the grill, so you don't need to use any additional oil. If you prefer to trim them, feel free to do so.
Step 2 - To start cutting the meat, flip it over so that you can see exactly where to cut.
Step 3 - I cut at the base of the chops first to separate the bones. This makes it easier to see and feel where to make the final cut on the long rib bone. The trick is finding that spot between each lambchop where the knife can slide through. If you meet any resistance, move a fraction till you find that sweet spot.
Step 4 - If you are uncomfortable cutting the chops yourself, the butcher at your supermarket should be able to help you.

Marinating the chops
Step 5 - Dry roast all the whole spices in a nonstick frying pan. This allows them to bloom, resulting in bolder flavor. Coarsely grind them in a mortar and pestle or small spice grinder next.
Step 6 - Mix all of the ingredients in a food processor or blender and blend them to prepare the flavorful marinade.
Step 7 - Pour the marinade into a large roasting pan or Tupperware. Check the salt and spice level and adjust as needed.
Step 8 - Make sure to work the marinade well into the chops, cover, and marinate. A minimum of 4 hours and a maximum of 12 hours in the fridge is perfect for this lamb chop recipe.
Grilling the chops
Step 9 - Preheat the grill to 500 degrees Fahrenheit before you start grilling the Lamb Chops. I don't use any oil for my meat, relying instead on the fat. As this melts on the grill, it creates enough lubrication to prevent the meat from sticking to the grates.
Step 10 - Give the meat a good sear on each side for about 2 minutes and then reduce to medium-high heat if necessary. The lamb chops need only 3-5 minutes on each side as there's very little meat on each one.
Step 11 - Make sure to check the chops using a meat thermometer. They must be cooked to a minimum of 145 degrees Fahrenheit internal temperature for safety reasons. I like my lamb chops at 155 degrees, which means they will be at about 160 degrees after they rest for 3 minutes.
Step 12 - For best results, remove the grilled meat onto a tray and then test its internal temperature by placing the thermometer in the thickest part of the meat. This ensures a more accurate reading, as there's no heat from the grill. Tent with foil and rest for 3 minutes before plating them in a serving platter. Garnish with red onions and fresh herbs, and serve with your favorite side dishes. A few of my favorites are Greek salad, cucumber salad, and sweet potatoes.
Expert Tips
Marinate and freeze - The best method to make this recipe is to buy the meat, marinate it, and freeze it in a resealable plastic bag. Defrost the chops the night before you want to grill them, and you're good to go!
Room temperature before grilling - For best results, remove the lamb chops from the refrigerator 30 minutes before you are ready to grill them. This helps the meat cook quickly and more evenly.
Cook to a safe temperature - The lamb chops must be cooked to a minimum of 145 degrees Fahrenheit for safety reasons. I always use my instant-read thermometer from Thermoworks. For more details on cooking temperatures, refer to this food safety chart.
Rest before serving - Always rest the meat for a few minutes after grilling it. This allows the juices to redistribute and settle, making the meat more succulent. If the meat is cut immediately, these juices run out, making the meat taste dry.
Make sure to use a rich marinade - Lamb meat is delicious with a unique flavor but can have a slightly gamey smell depending on where it's been sourced, the age of the animal it came from, and how much fat it has on it. A rich marinade with lots of garlic, like this tandoori spice blend, brings out the best in the meat.
Cook on high heat - Lamb chops that are cut individually cook very quickly. For best results, cook them on high heat. This will ensure a nice char on the outside and juicy meat on the inside.
Recipe FAQS
Can I make these without an outdoor grill?
Although a grill is the best way to cook these lamb chops, they can be cooked on a grill pan or a cast iron skillet on your stovetop with perfect results. Preheat the pan well and brush it with a cooking oil that has a high heat index. Cook the lamb chops for 2-3 minutes on each side. After about 5 minutes, start checking them with your thermometer and cook until they are ready per your preference.
Are there any extra steps to get rid of the gamey smell?
If you want to take an extra step to eliminate the gamey smell, soak the lamb chops in a solution that is 1 part vinegar and three parts water. For 1 pound of meat, mix ½ a cup of vinegar and 1.5 cups of water for 30 minutes. Then rinse the lamb chops and marinate as per this recipe.
How do I store my lamb chops?
The lamb chops can be stored in an airtight container in the fridge for 2-4 days or frozen for up to 6 weeks. Reheat in the microwave straight from the fridge for 1 minute. If frozen, defrost in the fridge overnight before heating.
Other recipes you may like
I hope you decide to try this recipe! Please don't forget to leave a rating and comment below! If you take a picture, then tag me on Instagram! Thank You!
Tandoori Grilled Lamb Chops Recipe
For this tandoori grilled lamb chops recipe, a frenched rack of lambs is coated in a finger-licking homemade tandoori spice blend.
Ingredients
Tandoori Masala
2

tsp

coriander seeds

1

tsp

cumin seeds

½

tsp

whole black peppercorn

¼

tsp

methi seeds

1

tsp

red chili powder

1

tsp

crushed red chilies

½

tsp

turmeric powder

2

tsp

salt

¼

tsp

garam masala powder
Lamb Chops
8

lamb rib chops

(see notes)

2

tbsp

ginger paste

2

tbsp

garlic paste

1

lemon

1

cup

plain yogurt

2

green chilies

Tandoori Masala
Instructions
Tandoori Masala
Dry roast the whole spices in a nonstick pan for 30-60 seconds until you can smell a nutty aroma, taking care not to burn them.

Grind these spices and mix them with the powdered spices.(see notes)
Lamb Chops
Cut a rack of lamb chops into eight separate chops.(see notes)

Add all of your ingredients to a food processor and blend to make the marinade.

Rub this marinade on the lamb chops, ensuring each one is generously coated on all sides.

Marinate in the fridge for a minimum of 4 hours.(see notes)
Notes
Tandoori Masala - I like to make and store my tandoori masala and then use it as needed. A homemade blend can last in an airtight jar for up to six months when stored in a cool, dry place. Before using, lightly toast the spices in a dry, non-stick pan to help bloom them. If you prefer, however, there are many ready-made tandoori spice blends you can use instead.
Cutting the Lamb chops - I usually source a trimmed rack of lamb from my local supermarket or the butcher and then separate it into individual chops using a sharp cleaver. You can also ask the butcher to do this if you need help with how. I don't trim all the fat on the chops, letting it melt on the grill instead. This makes the chops juicy and tender without using any cooking oil.
Marinating the lamb chops - A minimum of 4 hours is necessary for the marinade to work on the lamb chops and make them tender and flavorful. I usually marinate mine the night before I plan to cook them. I sometimes marinate and freeze a large batch for up to 3 months. Defrost as needed and cook per the instructions above.
Using a meat thermometer - Always cook your lamb chops to a minimum of 145? for safety. For more details refer to this food safety chart.
Nutrition
Serving:
1
person
Calories:
459
kcal
Carbohydrates:
11
g
Protein:
48
g
Fat:
23
g
Saturated Fat:
9
g
Polyunsaturated Fat:
2
g
Monounsaturated Fat:
9
g
Cholesterol:
157
mg
Sodium:
1443
mg
Potassium:
810
mg
Fiber:
3
g
Sugar:
4
g
Vitamin A:
237
IU
Vitamin C:
22
mg
Calcium:
139
mg
Iron:
5
mg