These Grilled Tandoori Lamb Chops are so tender they will absolutely melt in your mouth! The juicy, succulent lamb meat and the explosion of flavors in the marinade is guaranteed to leave you in a food coma! The recipe for the marinade is fairly simple and the best part is that these can be prepped ahead of time. I often buy, marinate and freeze the chops ahead of the date I plan to barbecue. On the day of the event, I just defrost and throw them on the grill! Easy Peasy!
Disclosure: Bear in mind that some of the links in this post are affiliate links and if you go through them to make a purchase I will earn a commission. Keep in mind that I link these companies and their products because of their quality and not because of the commission I receive from your purchases. The decision is yours, and whether or not you decide to buy something is completely up to you.
The History of Lamb
Based on cafemeetingplace.com, lamb has historically been part of all religious celebrations and feasts, such as Easter, Passover and Ramadan, for centuries. Roasted on a spit over an open fire, seared, roasted and slow cooked in clay ovens, many recipe variations exist.
Sheep seem to have been amongst the earliest of animals used as livestock. Abraham, Moses, the Prophet Mohammed and many other religious figures are all known to have been shepherds.
This is perhaps why sheep were readily available for slaughter at the time of a celebration. Since the primary use of the animals was for the milk and wool, the time for slaughter came only when they were of an older age.
The older the animal, the gamier the taste, which is perhaps why acidic seasonings were liberally used as seasoning. Although the lamb we eat today is from a much younger animal, the South Asian palate is still accustomed to the spicy and acidic marinade.
My Story
Lamb chops or mutton chops are another childhood favorite! At home my mother would usually use an egg, flour and bread crumb coating and then pan fry the chops.
For the grilled tandoori style ones we would usually go out to eat. Our family's favorite restaurant was Bar-B-Q Tonight and the chops were always on the table that evening! I still go there on my visits to Pakistan and my kids love it as much as I do.
However, since there are no outdoor Pakistani bbq restaurants near me I've created one in my own backyard. The true credit for introducing me to the art of grilling lamb chops goes to some dear friends. Obaid and Fariha are the ultimate foodies and cooks. The first time I ever ate grilled lamb chops here in Mississippi was at their house.
My youngest daughter, about 4 at the time, was an absolute carnivore. She would always beg to go to their house for lamb chops and they never failed to accommodated. However, there came a point when I decided I needed to grab the baton and learn how to make them myself. We now grill them all the time and I'm sure once you get the hang of the recipe so will you!
The Recipe
The Rack Of Lamb
Cut the lamb rack into individual pieces, if it isn't already cut. I buy my lamb from Sams Club and it's sourced from New Zealand. New Zealand lamb is known to be from a young animal that's grass fed. This particular lamb has a mild taste and is budget friendly so I highly recommend it for this recipe.
Most supermarkets now a days carry it as New Zealand lamb exports are very high so you shouldn't have trouble finding it. If you have a butcher you rely on then you may actually get them to clean and cut the rack into individual pieces for you.

Of course you may prefer Aussie or American Lamb, both of which are also of good quality. However, since American lamb is partly grass fed and partly grain fed it has a stronger taste and is not to everyone's liking. Aussie lamb is fairly similar in taste to the New Zealand variety as it is also purely grass fed but the animal is usually older in age so may not be as tender.
The Tandoori Lamb Chop Marinade
The marinade is fairly simple to put together and I usually put all my ingredients together in my food processor to blend them. I have given the recipe for my own blend of karahi masala that I make and use in my marinade below.
However, if you want to use a simpler method you can use this premade karahi masala mix from amazon.com or from your nearest South Asian supermarket.
As always you may need to adjust the salt and chillies a little bit. These are moderately spicy from a Pakistani perspective so if you like things on the spicier side add a little extra red chilli powder or green chilies to your marinade.
I also tend to use less salt in my food as a personal preference so you may need to adjust the quantity to your personal taste.
Make sure to work the marinade well into the chops and marinate overnight. As mentioned above, at times I buy the meat, marinate and freeze it. The day we plan to BBQ it I defrost it in the fridge the night before and then just throw it on the grill.
This is a great way to plan ahead for when you have guests. I often do this with a large batch and then my husband grills on the day we're entertaining while I prep the sides and dessert.
The Grilling
Preheat the grill to 400 degrees F before you start grilling the Lamb Chops. If you want to add some olive oil or melted butter to grease the grill grates before you add the lamb chops you may. I don't feel the need to as lamb has a lot of fat on it even after you trim it. As this melts on the grill it creates enough lubrication to prevent the meat from sticking.
I would recommend turning the chops after about 2-3 minutes. As they're cut thin they don't take too long to cook and you don't want them burnt on the outside. You may need to reduce the heat after you get that first sear on the meat or move it to the slightly cooler side of the grill.
The best internal temperature for cooking lamb chops is 145 degrees or more if you like them well done. For this particular type of lamb chop this is what I recommend. I use and highly recommend the Thermapen from thermoworks.com. It has a sensor that allows you to get a really accurate reading on your meat, depending on where exactly you insert it. However, feel free to use whatever thermometer you have and are comfortable with using.
Once the lamb chops are cooked serve them with your favorite sides. Some of my favorites from the blog are: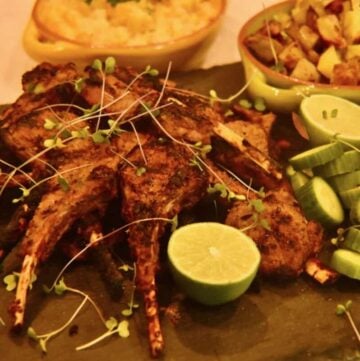 Grilled Tandoori Lamb Chops
Juicy, succulent New Zealand rack of lamb is cut into individual chops, marinated in a spicy tandoori masala and grilled to perfection!
Ingredients
Karahi Masala (SEE NOTES)
½

tbsp

coriander seeds

¼

tbsp

cumin seeds

¼

tbsp

red chili powder

¼

tbsp

crushed red chilies

¼

tsp

turmeric powder

½

tsp

salt

¼

tsp

whole black peppercorn

¼

tsp

garam masala powder

¼

tsp

methi seeds
Lamb Chops
2

racks

2

tbsp

karahi masala

(SEE NOTES)

2

tbsp

ginger paste

2

tbsp

garlic paste

½

lemon

1

cup

plain yogurt

2

green chilies

½

tbsp

black pepper

½

tbsp

crushed red chilies

½

tbsp

salt

½

tbsp

dhania powder

½

tbsp

red chili powder

½

tsp

turmeric powder
Instructions
Karahi Masala
If you're making your own blend per this recipe, dry roast the whole spices in a nonstick pan for 30-60 seconds (just till you can smell a nutty aroma). Be careful not to burn them.

Grind all the spices and mix with the powdered spices.

This should make close to the 2 tablespoons you will need for this recipe.
Lamb Chops
I buy my lamb rack from Sams Club and they're usually trimmed but I do need to seperate the chops. I have a sharp cleaver I use for this. You can usually feel and find the space between the bones and slice through easily. If you have a good butcher you rely on then you can get them to cut and clean the chops for you. I leave a little bit of fat on the chops, as this usually melts on the grill and gives the meat great moisture and flavor.

If you don't want to bother with making the karahi masala yourself feel free to use a store bought blend you like. For those not familiar with Pakistani spices I've provided an amazon link above for my preferred brand.

All the ingredients go in a food processor and are blended to make a paste.

Rub the marinade on the lamb chops, making sure each one is generously coated.

Marinate in the fridge overnight.

Preheat the grill to 400° and sear the chops. Cook on each side for 2-3 minutes and check the internal temperature with a thermometer. The chops are done at 145 degrees.
Notes
Karahi Masala - Using a store bought blend is easier and I've often reverted to it myself so if you want to simplify the recipe feel free to eliminate that step. I find it easy to grind and make my own blends so always offer it as an alternative for those interested.
Nutrition
Serving:
1
g
Calories:
1012
kcal
Carbohydrates:
13
g
Protein:
40
g
Fat:
88
g
Saturated Fat:
39
g
Polyunsaturated Fat:
7
g
Monounsaturated Fat:
36
g
Cholesterol:
197
mg
Sodium:
1437
mg
Potassium:
719
mg
Fiber:
3
g
Sugar:
5
g
Vitamin A:
554
IU
Vitamin C:
18
mg
Calcium:
173
mg
Iron:
5
mg