Mutton or Lamb Karahi Gosht is one of the most popular recipes in Pakistani cuisine. Red meat, preferably bone-in is cooked in a wok-like pan called a "karahi", with lots of fresh tomatoes.
A popular street food, the red meat in Karahi Gosht is cooked till it's falling off the bone. Once the meat is completely coated with the spicy tomato gravy it is finished off with lots of fresh ginger and coriander (cilantro) leaves.
This recipe was inspired by my beef karahi gosht and my chicken karahi recipes on this site, and pairs well with this dhaba style mash daal . As you can see, Karahi Gosht, which literally means meat cooked in a Karahi, is very popular and can be cooked with many different types of meat.
Jump to:
Ingredients
Although traditional karahi is made with bone in mutton pieces or bone-in lamb, I cooked this recipe with boneless lamb pieces.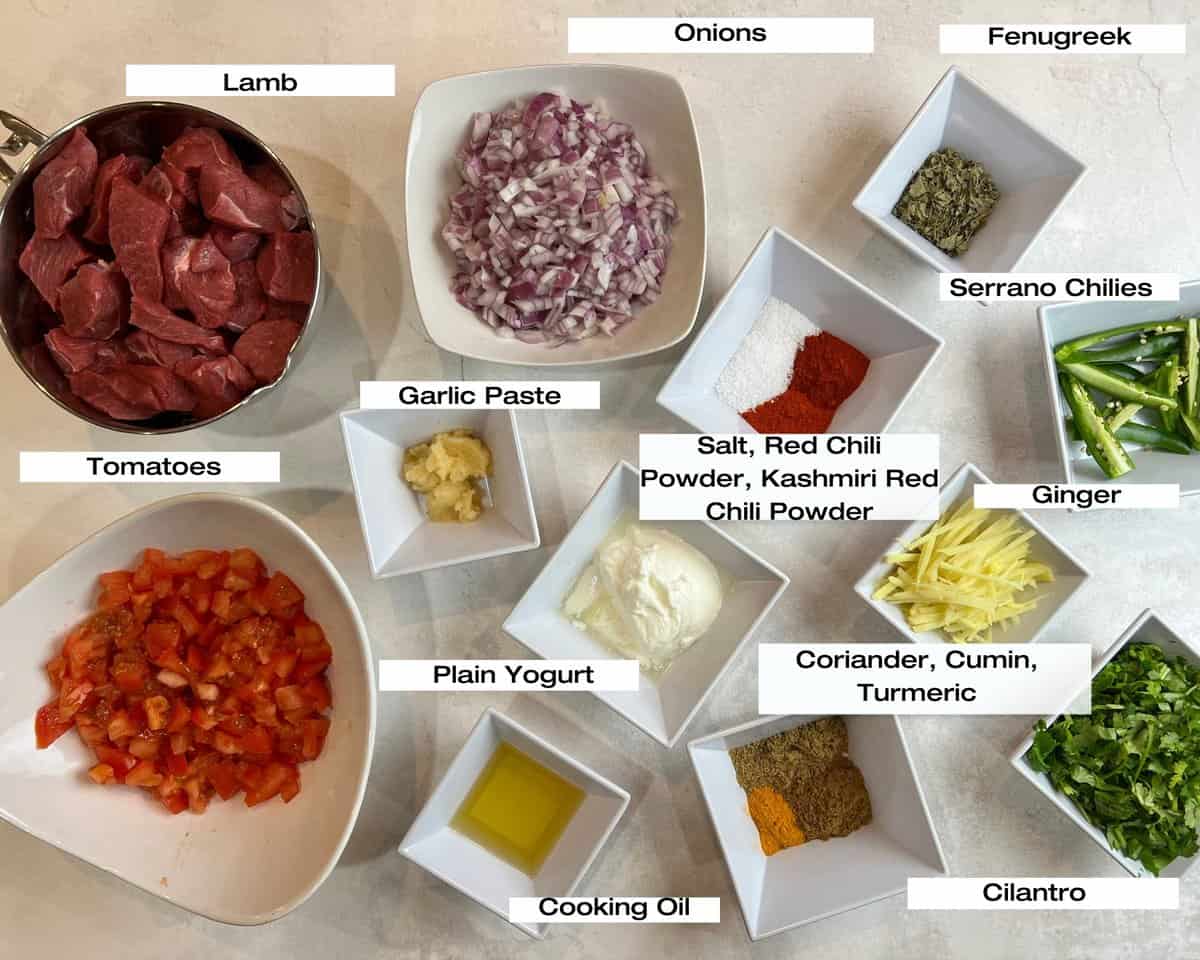 Lamb - My kids like boneless meat so I get a boneless lamb leg from Sam's Club and cut it into small pieces to use in curries. The meat is lean, juicy and extremely tender.
Cooking Oil - Use any high heat cooking oil such as avocado, canola or sunflower.
Plain Yogurt - Don't use Greek yogurt in your cooking! It will curdle and spoil your curry. Plain cows milk full fat yogurt is preferred if you want a creamy curry.
Produce
Onions - I usually like to use yellow onions. if, as in this case, I can't source them, my second option are red onions.
Tomatoes - Roma tomatoes are best suited for making curries.
Garlic Paste - I batch make make my own and freeze it but premade store bought one is also an option.
Cilantro - Try and buy cilantro with small, thin stems as this usually smells and tastes better.
Ginger - Buy big juicy ginger with a thin skin. This will be juicier, with a better aroma and will also be easier to julienne.
Green Chilies - I like using Serrano peppers but you can use jalapenos if you prefer your curry a little less spicy.
Spices
Salt - I use plain Kosher salt.
Red Chili Powder - I try and use National or Shan Masalas from my local Asian store or through Amazon. These are both Pakistani brands and I like the authentic taste they give my recipes.
Kashmiri Red Chili Powder - In the event that National or Shan aren't available, I opt for the Indian brands; Laxmi, Deep, Rani or Swad. These are also available at all South Asian stores or on Amazon.
Coriander Powder - Many spices can also be found in local supermarkets now, so feel free to check your nearest store.
Cumin Powder - There are many reputable online stores for spices such as Diaspora Co., Spicewalla and Burlap & Barrel.
Turmeric Powder - Some lesser known online spice stores I love are Savory Spice, The Spice House and Curio Spice Co.
Dried Fenugreek Leaves - Last but not least Kalustyan's in NYC is one of the oldest specialty stores that deals in South Asian spices and ingredients and they also ship!
See my recipe card below for a complete list of the ingredients with measurements.
Substitutions
Although the ingredients in this recipe are fairly simple and you should be able to find most of them, here are some substitutions you may be interested in.
The Onion - I usually use yellow onions for my curries, but if the store is out of yellow onions then I opt for the red ones as I find other varieties too sweet.
Roma Tomatoes - These are my favorite tomatoes for curries as they are very juicy and melt easily to make a perfectly smooth curry. If these are not available then I try and find the juiciest variety available. Just try and avoid very firm varieties like Beefsteak tomatoes.
Fenugreek Leaves - These add delicious flavor to the Karahi but you may find you don't have them. Although they are usually available on Amazon sometimes you may need an easy substitute on the spot. Some easy to source ones are; fresh celery leaves, watercress leaves, powdered fenugreek or yellow mustard seeds. The yellow mustard seeds must be dry roasted and the ratio is 1 tsp mustard seeds per tbsp of fenugreek leaves.
Kashmiri Chili Powder - Kashmiri Chilli Powder is very easy to recreate. Just mix 3 parts Paprika and 1 part Cayenne to make whatever quantity of the powder you need.
Serrano Chilies - Serrano Chillies are the most common ones used in Pakistani cooking. However, they can be a little bit spicy. One way around this is to deseed them and only use the green part. The other way is to use jalapenos, which are milder in taste.
Instructions
The Onions
The traditional recipe for mutton karahi or lamb karahi doesn't call for onions. The curry is made purely from tomatoes and lots of them. With the help of 1 or more medium onions, depending on how much mutton curry you're making, you can get the same results more quickly and affordably. Since tomatoes have a high water content, adding more would add to the cooking time and the cost. The onions add the necessary bulk, take less time to cook down and are cheaper than tomatoes!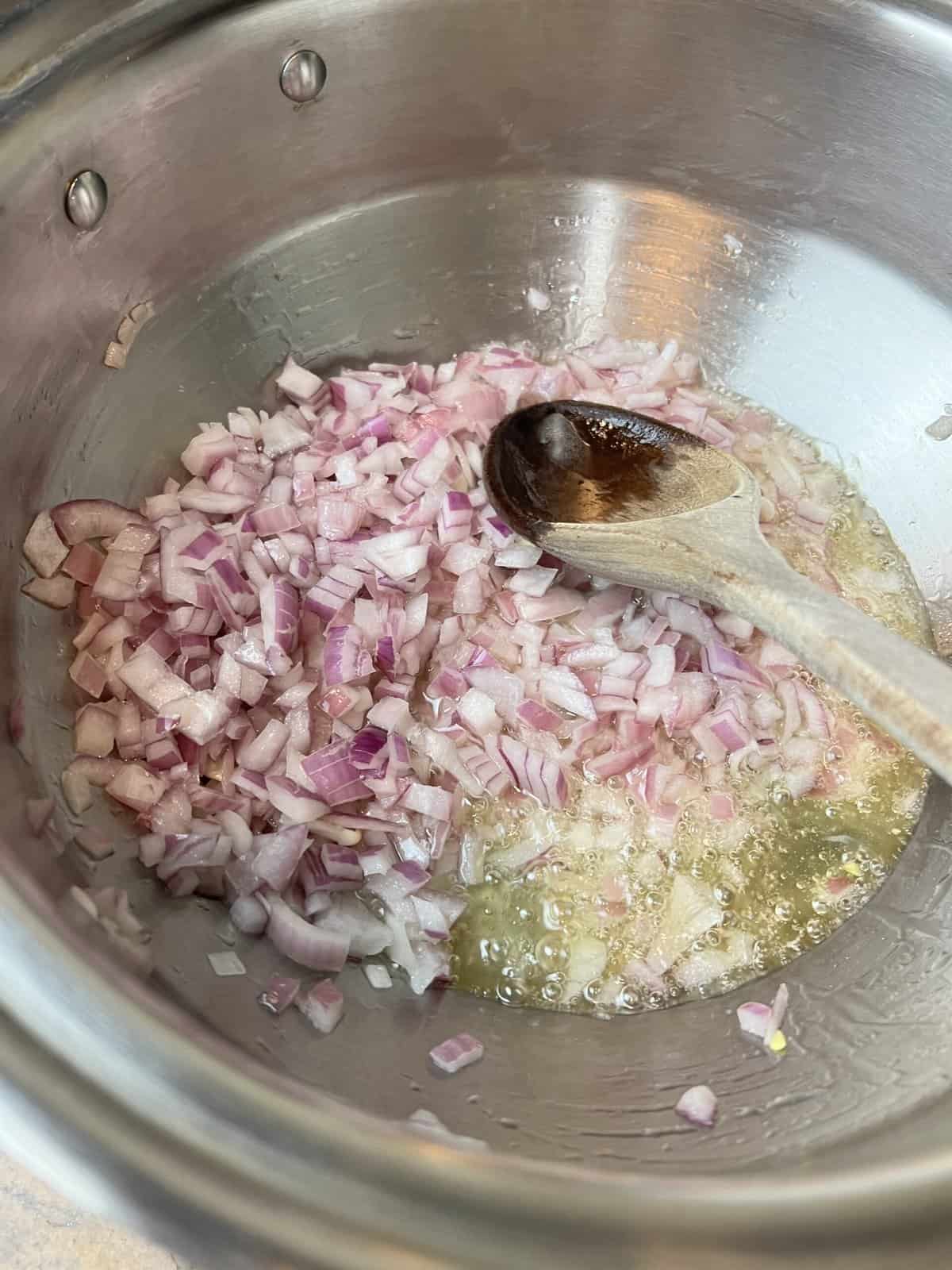 Heat the cooking oil well before adding the onions so they start to cook immediately.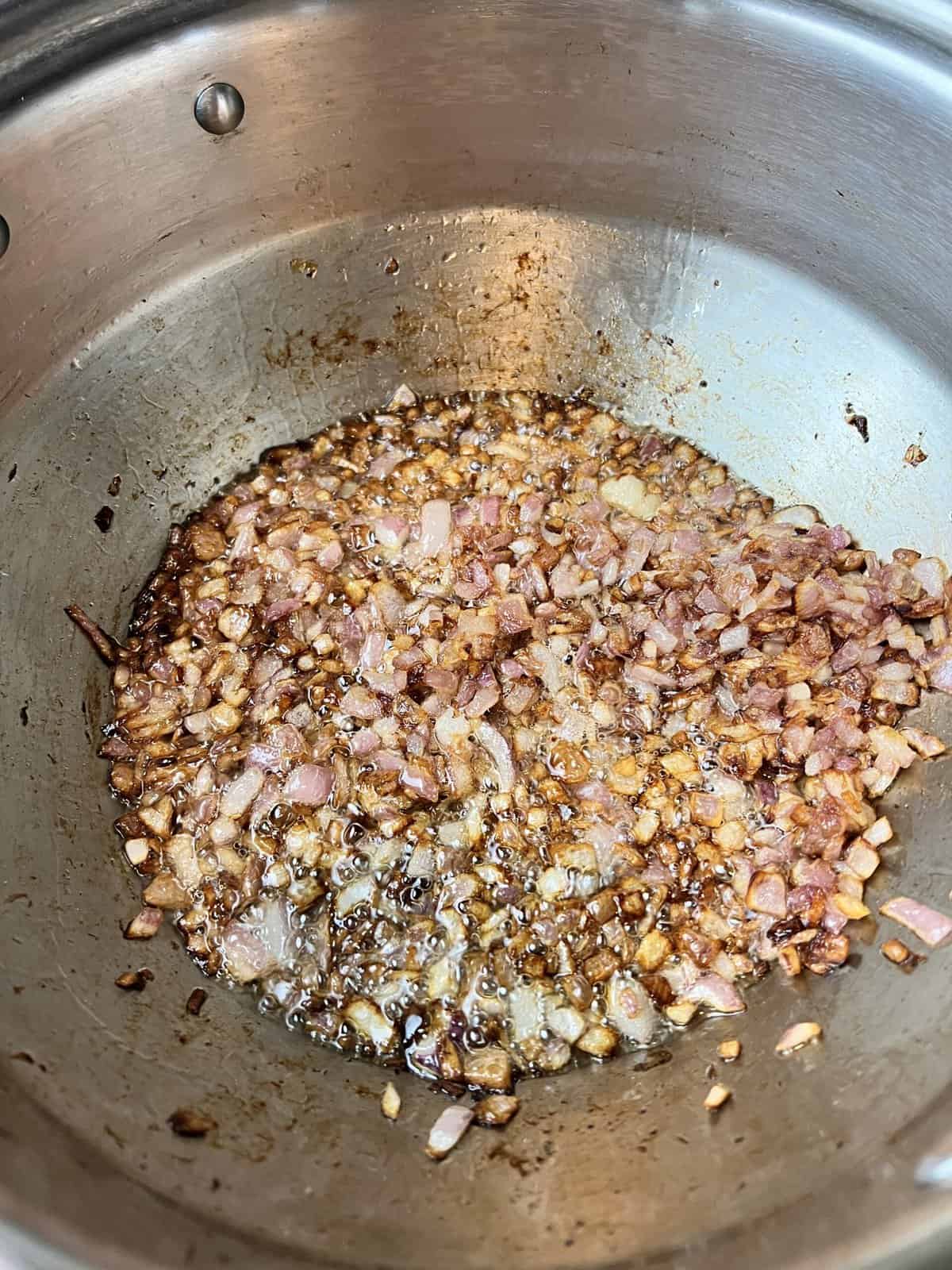 Cook them on a high flame till they are a nice medium brown. Add the garlic paste and saute the mixture a little bit more.
The Lamb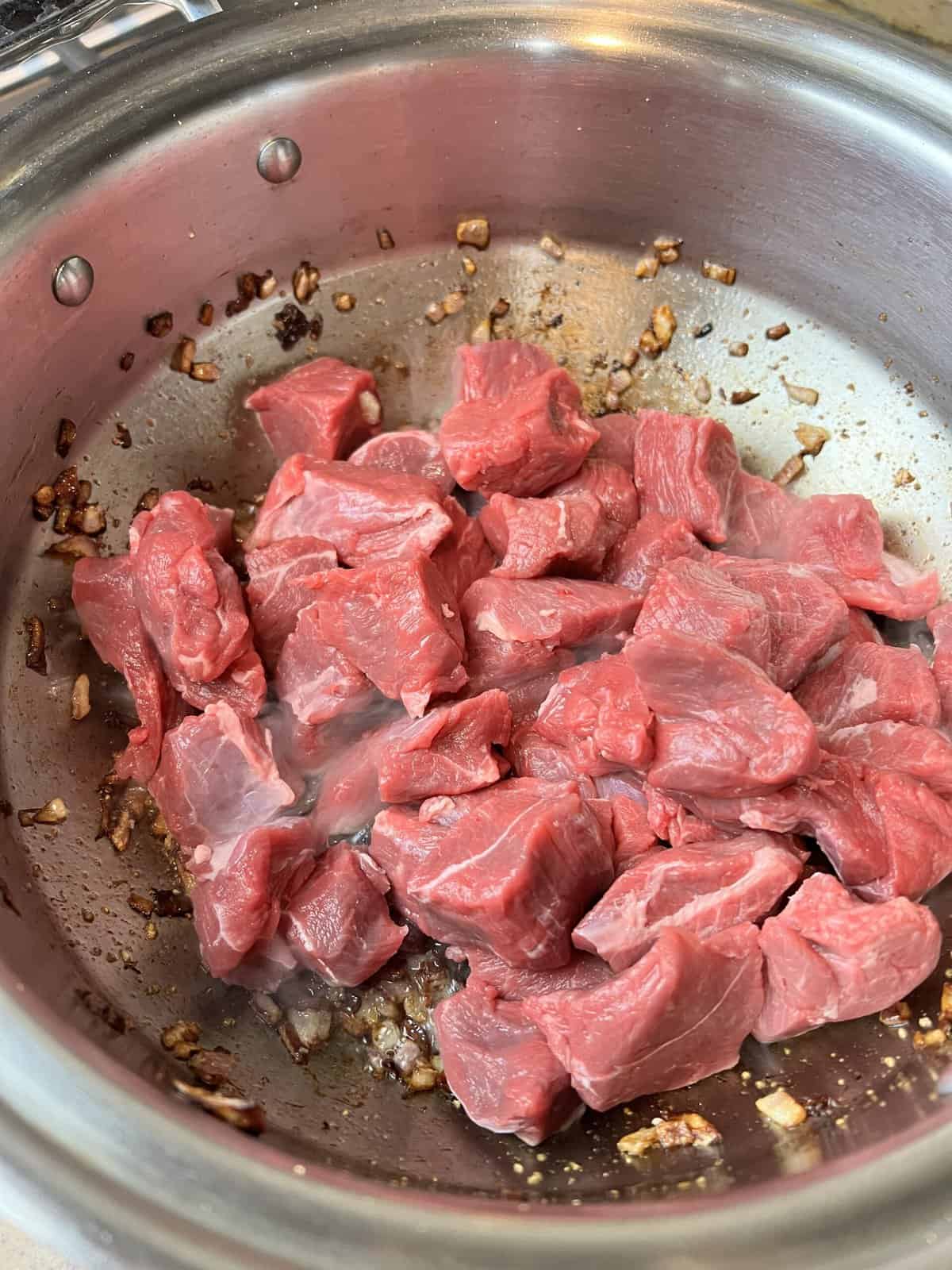 Add the meat and saute it on high heat, with the onions and garlic, to seal in the juices.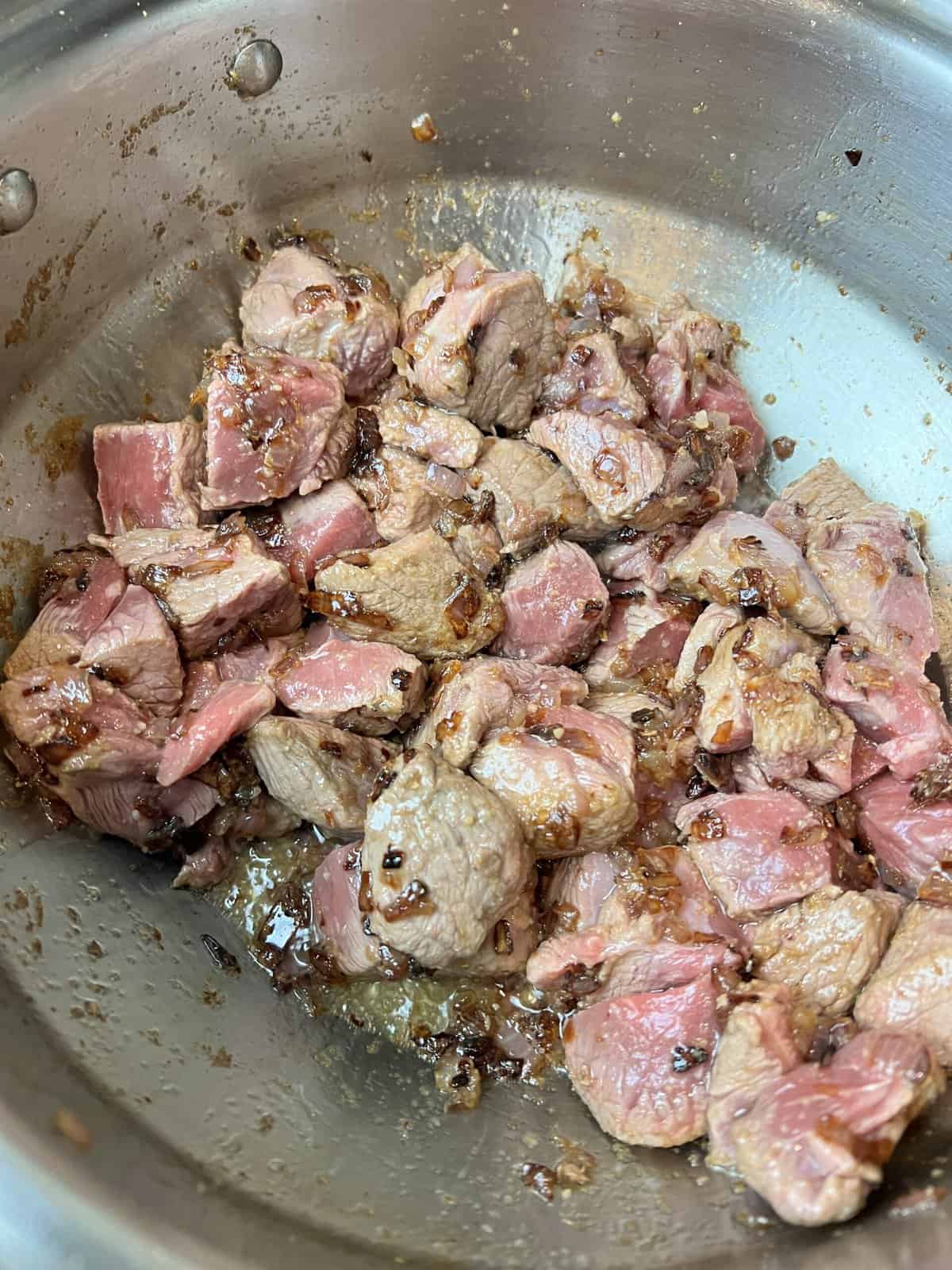 Continue to saute the meat till you can no longer see any pink.
The Tomatoes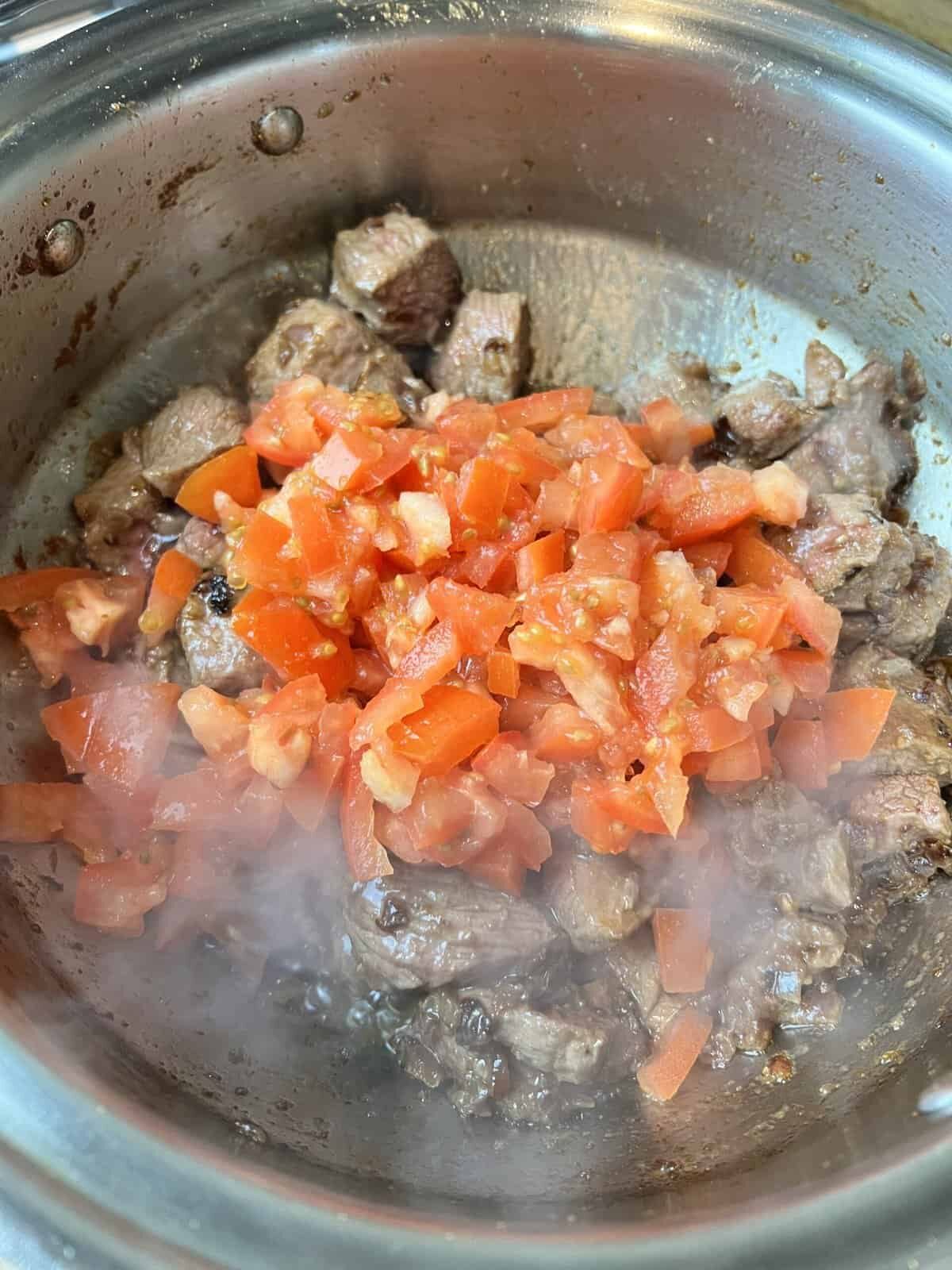 Add in the chopped tomatoes and don't worry about removing the tomato skins. Once everything is cooked down you won't see or taste them. Since they contain much more nutrients than the pulp or seeds I prefer to keep them in all my curries.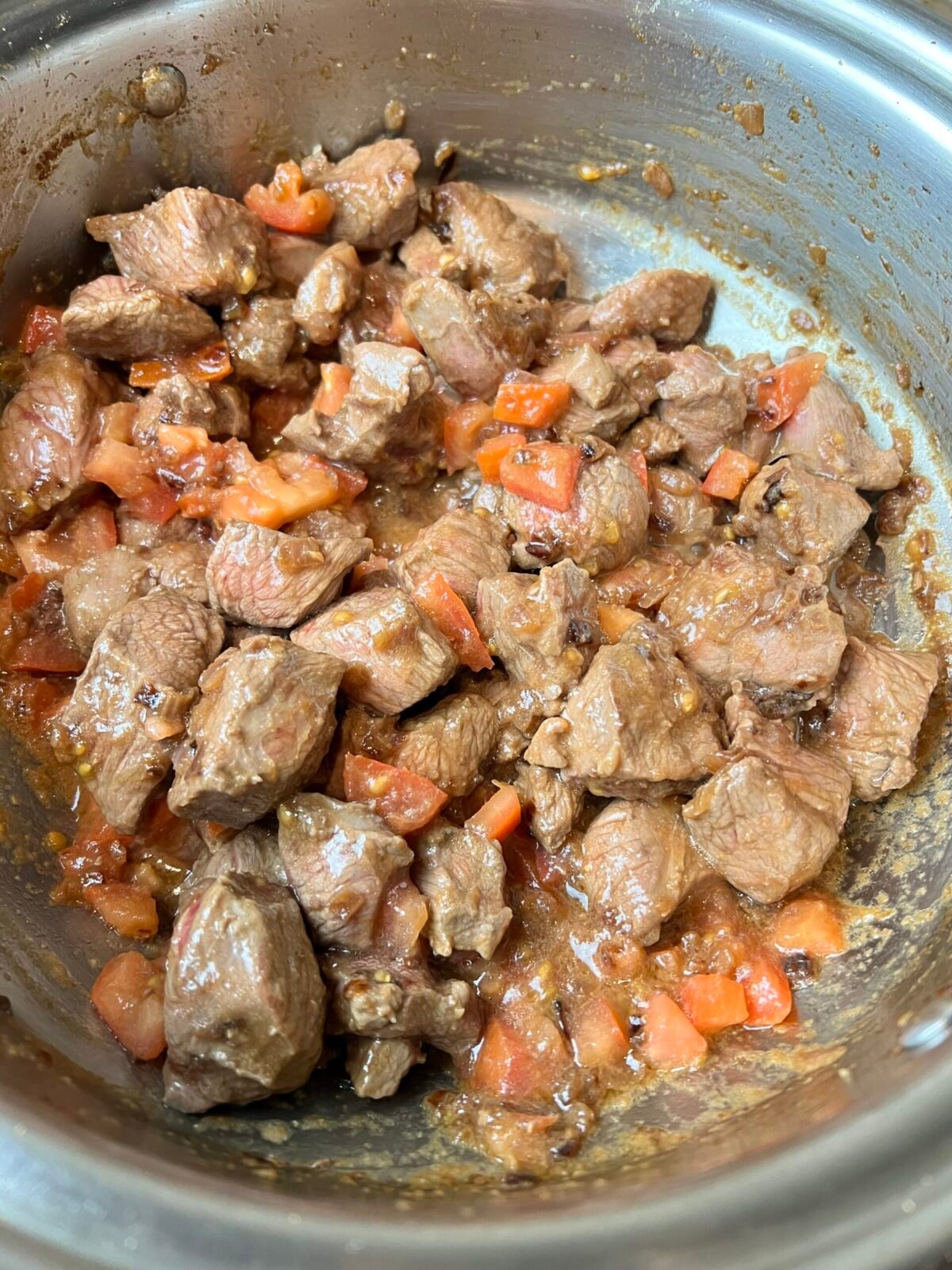 Cook on a high flame till the tomato melts a little bit and then add in 2 cups of water and cover the pot. Keep cooking the curry on low heat for about 30 minutes.
The Yogurt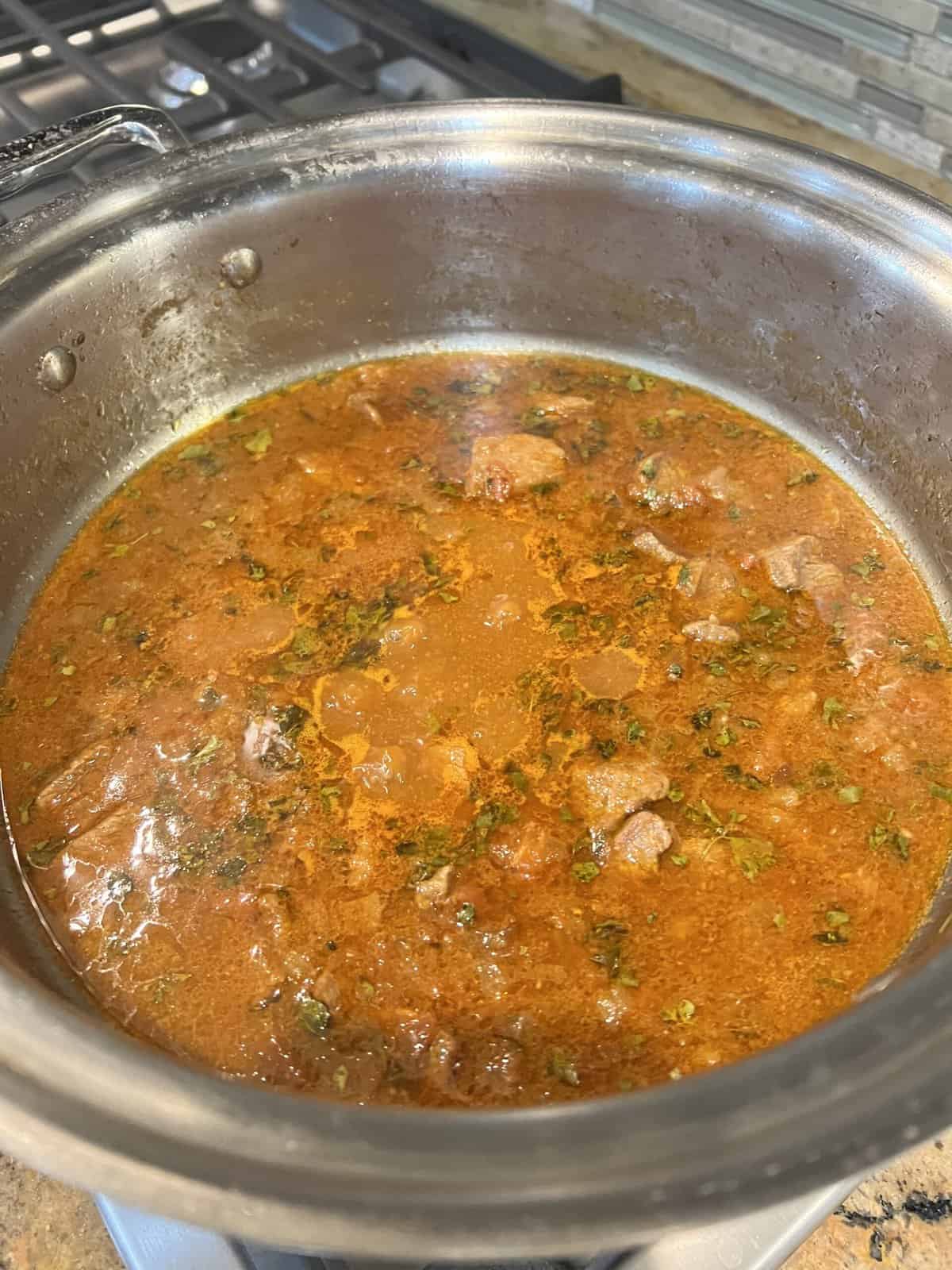 After 30 minutes, remove the lid, add in the karahi masala (all the dried spice powders and herbs) and stir. Cover the pot again and continue cooking the curry on a low flame for another 20 minutes.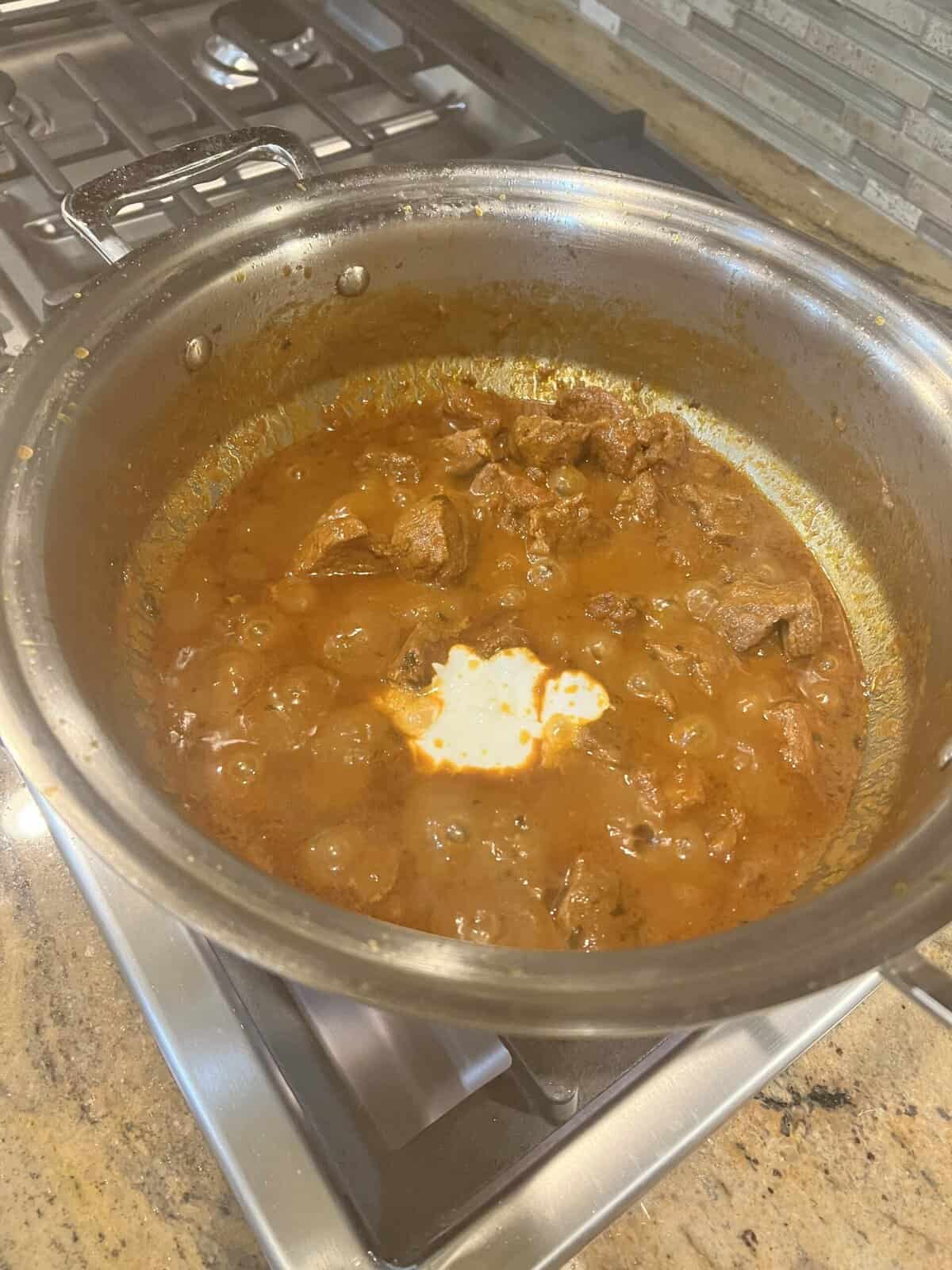 After 20 minutes, uncover the pot, turn the heat to high and start to dry out all the excess liquid. Once there is only a little water left, start adding in the yogurt, a little at a time. As the liquid continues to dry, continue to roast the meat.
The Karahi Recipe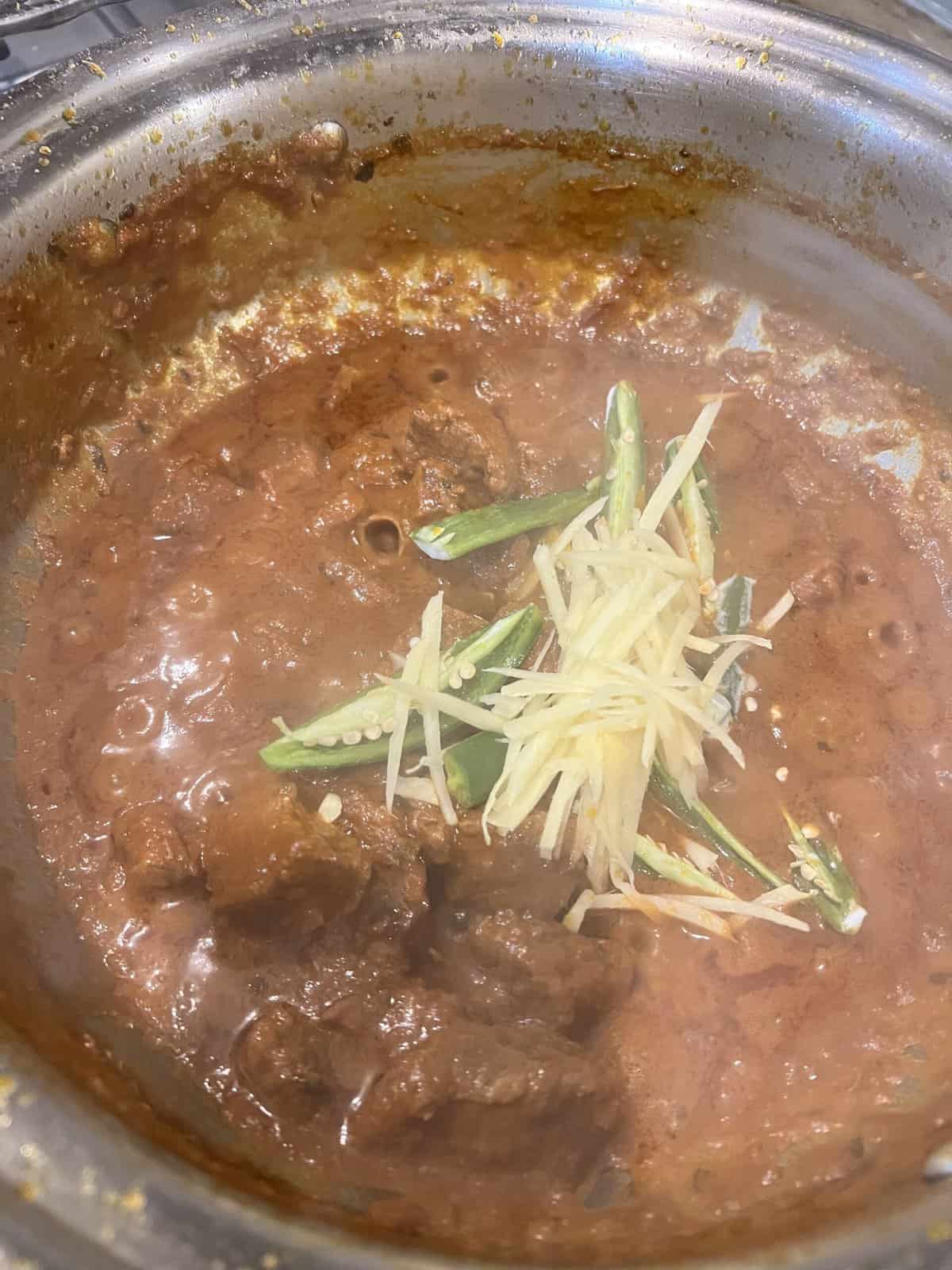 Once the curry is dry enough to be in the form of a thick paste, it's time to add in half the ginger and chopped green chilies. Cover the pot for 5 minutes for these ingredients to wilt a little bit and to let their flavors infuse the curry.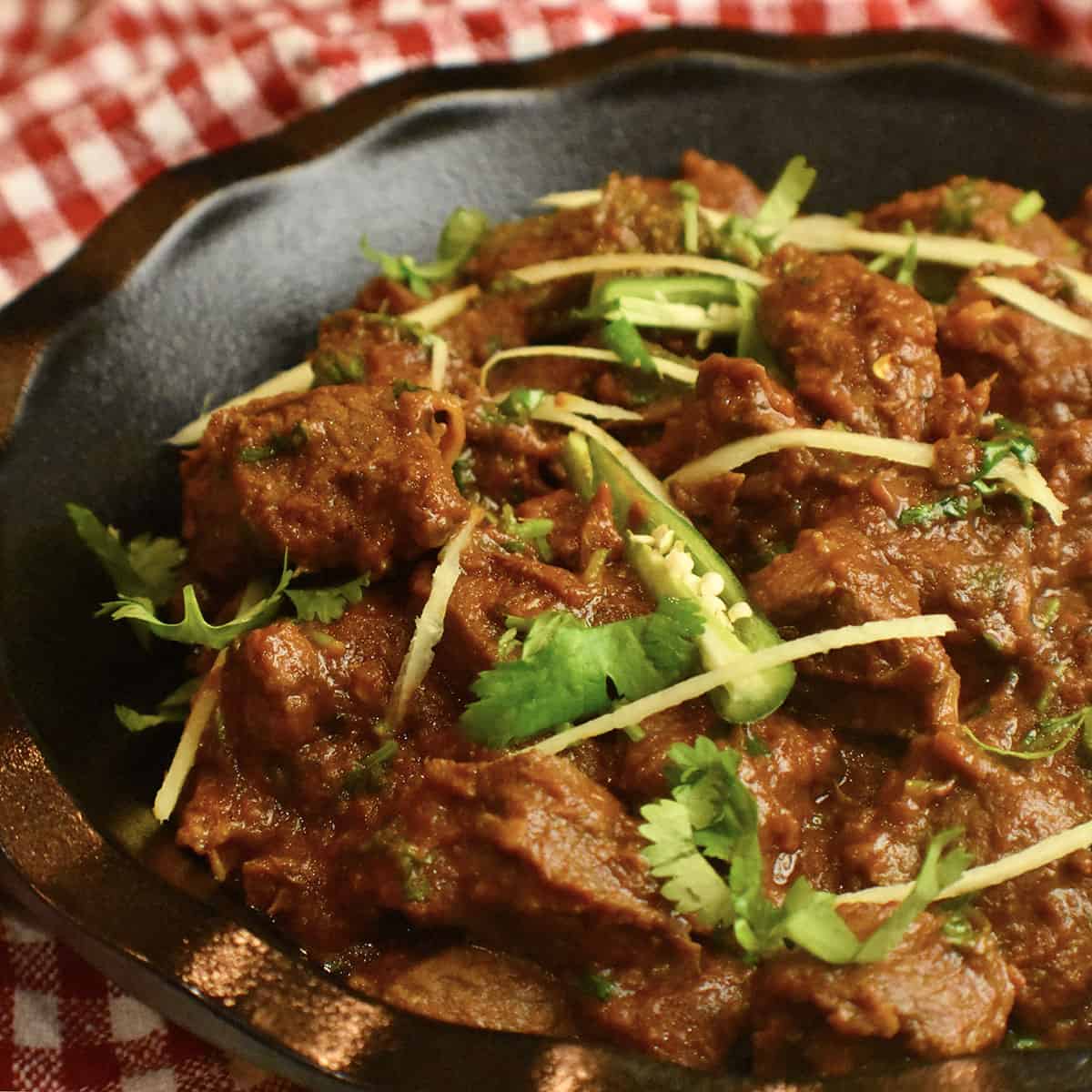 Just before serving the curry, stir in all but 2 tablespoons of the fresh coriander (cilantro). Plate the cooked mutton or lamb in a serving dish and garnish with the remaining ginger, green chilies and cilantro.
Hint: You will know that your curry is ready when the oil separates from the tomato base. This indicates that all the liquid has evaporated and the ingredients in the curry are fully blended.
Variations
As mentioned at the beginning of the post there are many different versions of making this Karahi recipe. Although Karahi Gosht, made with lamb or mutton and Chicken Karahi are amongst the most popular, here are some other versions that you may find more interesting.
Shrimp Karahi - I don't have a recipe up for this on my site yet but Shrimp Karahi is a delicious and easy recipe to make.
Fish Karahi - Similarly, Fish Karahi tastes delicious and is a great option for those trying to avoid red meat.
Vegetarian Karahi - Vegetarian? Not to worry, try this recipe with mixed vegetables such as potatoes, cauliflower, carrots, green beans, bell peppers or whatever else you fancy.
Tofu Karahi - Last but not least is a simple recipe, Tofu Karahi.
You can enjoy any of the above with the bread of your choice, such as plain naan, tandoori roti or garlic naan.
Equipment
The only special equipment I would recommend is a Karahi if you can source one. At a minimum try and use a Wok, which works in a similar manner. I also love using 360 Cookware products due to their vapor technology and they have an excellent Wok on their website if you want to check it out. Feel free to use my affiliate code Nosheen20 to get 20% off.
Expert Tip
Roasting the meat once all the liquid has evaporated is known as "bhun-na". This is the most essential step in making a perfect curry for the following reasons:
It helps completely eliminate any raw smell the meat may have.
It roasts all the spices and other ingredients, blending them into a perfect smooth paste, so that your curry is velvety smooth and doesn't have any bits floating in it.
Recipe FAQs
Is Mutton Sheep or Goat ?
In some parts of the world, mutton refers to the meat of an an older sheep, but in South Asia mutton refers to goat meat.
How Do You reduce The Smell In A Goat/Lamb Curry?
When cooking a goat or lamb curry, the best way to reduce the smell of the meat is to use the right spice blend and lots of fresh herbs. In addition to this, roasting the meat at the end, known as "bhun-na" also helps to eliminate the gamey odor.
What Does "Gosht" Mean?
The word "Gosht" literally means meat but is usually used in reference to red meat.
How long can I store Karahi Gosht in the fridge or freezer?
The Karahi Gosht can stay in the fridge in an airtight container for upto 4 days and in the freezer for upto 2 months. To reheat, make sure the leftovers are defrosted before putting them in the microwave.
Other related Curry Recipes
Please don't forget to leave a rating and comment below! If you take a picture then please tag me on instagram ! Thank You!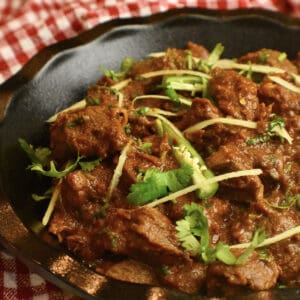 Mutton or Lamb Karahi Gosht
Mutton or Lamb Karahi Gosht is a succulent tomato based meat curry traditionally cooked in a Wok like utensil known as a "Karahi".
Ingredients
2

lb

lamb or mutton

¼

cup

cooking oil

1

onion

1

tbsp

garlic paste

4

Roma tomatoes

2

cups

water

½

tbsp

dried fenugreek leaves

1

tsp

salt

1

tsp

red chili powder

1

tsp

kashmiri chili powder

1

tsp

coriander powder

1

tsp

cumin powder

½

tsp

turmeric powder

½

cup

plain yogurt

2

serrano peppers

2

tbsp

julienned ginger

½

cup

cilantro
Instructions
Heat the oil and brown the onions.

Add the garlic and saute for about 30 seconds.

Add the meat and brown it.

Once the meat is nicely browned, add the chopped tomatoes along with the 2 cups of water.

Bring the mixture to a boil and then simmer on low for 30 minutes.

After the 30 minutes, uncover, add in all the spices and cook for another 20 minutes.

After 20 minutes uncover the pot and dry out all the excess water.

Once the water is almost gone, add in the green chillies and the yogurt, a little at a time and saute the meat.

Once the meat looks well roasted and the tomatoes, yogurt and spices are coating it in a smooth paste, turn the stove off.

Garnish the meat with the julienned ginger and cilantro and serve.
Nutrition
Serving:
1
person
Calories:
243
kcal
Carbohydrates:
5
g
Protein:
24
g
Fat:
14
g
Saturated Fat:
3
g
Polyunsaturated Fat:
3
g
Monounsaturated Fat:
7
g
Trans Fat:
0.03
g
Cholesterol:
76
mg
Sodium:
386
mg
Potassium:
485
mg
Fiber:
1
g
Sugar:
2
g
Vitamin A:
507
IU
Vitamin C:
7
mg
Calcium:
47
mg
Iron:
3
mg