This Gosht Aloo Bukhara is a unique family recipe passed down from my great-grandmother who was of Kashmiri origin. Kashmiri cuisine often incorporates local dried fruits and nuts in much of its cooking. As such, it's no surprise that their version of Korma contains local dried plums.
This Korma is always at my family's Eid table, especially on Eid ul Adha, along with Raisin & Pine Nut Pulao, Pakistani Chicken Steam Roast, Hyderabadi Bagara Baingan, and some Kachumber Salad.
Jump to:
Why you'll love this recipe
A delicious blend of flavors - This curry packs a ton of flavor and will definitely tickle your palate! The sweet, spicy, and sour curry cooks till the dried plums are plump and juicy and the meat is fork-tender. Perfectly paired with soft, warm naan, this recipe is always a treat!
Unique recipe - This is a unique recipe known only to a handful of people of Kashmiri lineage. Made especially at festivals and weddings, you'll want to try it for your next celebration.
Easy to make- The Gosht Aloo Bukhara recipe is very simple to follow, with no complex spices to source and no complex cooking technique involved.
Ingredient notes
Beef - Although traditionally, Gosht Aloo Bukhara is made with Goat meat, I like to make mine with boneless beef.
Tomatoes - Roma tomatoes work best for curries as they melt quickly and easily, resulting in a more blended curry.
Onions - Yellow onions are always my go-to due to their neutral taste. Red onions are the best alternative to this.
Dried Plums - The dried plums used in this curry are known as "Aloo Bukhara" and are of a specific variety. They are not the same as prunes, which are very sour and give the curry a unique taste. They are easily available at South Asian stores or at www.amazon.com via this link. I always have some in stock as I love using them in my Chana Dal Gosht and in my Best Mutton Biryani Recipe.
Green Chilies - Typically, I use 2 serrano chilies in my curry. These are sometimes difficult to source, so I substitute with 1 jalapeno.
Almonds - This is a type of Korma, so a garnish of slivered almonds is necessary.
Sugar - I use sugar in the raw for this recipe as that's what I use in my house but regular white granulated sugar works just as well.
Please see the recipe card at the bottom of this post for the complete list of ingredients with measurements plus recipe instructions.
Substitutions & variations
Try the recipe with different meat - You can try the recipe with goat meat, lamb, or veal. I don't personally recommend chicken, as I feel that the rich taste of the plums works better with red meat.
Switch up the spices - Try adding garam masala and cardamom, as in a traditional korma.
The recipe
Step 1 - Heat your cooking oil and saute thinly sliced onions in it.
Step 2 - Once the onions are a medium golden brown, add in the garlic paste and saute it to release its flavor.
Step 3 - Add your meat to the onion, garlic mixture and saute it till it's no longer pink.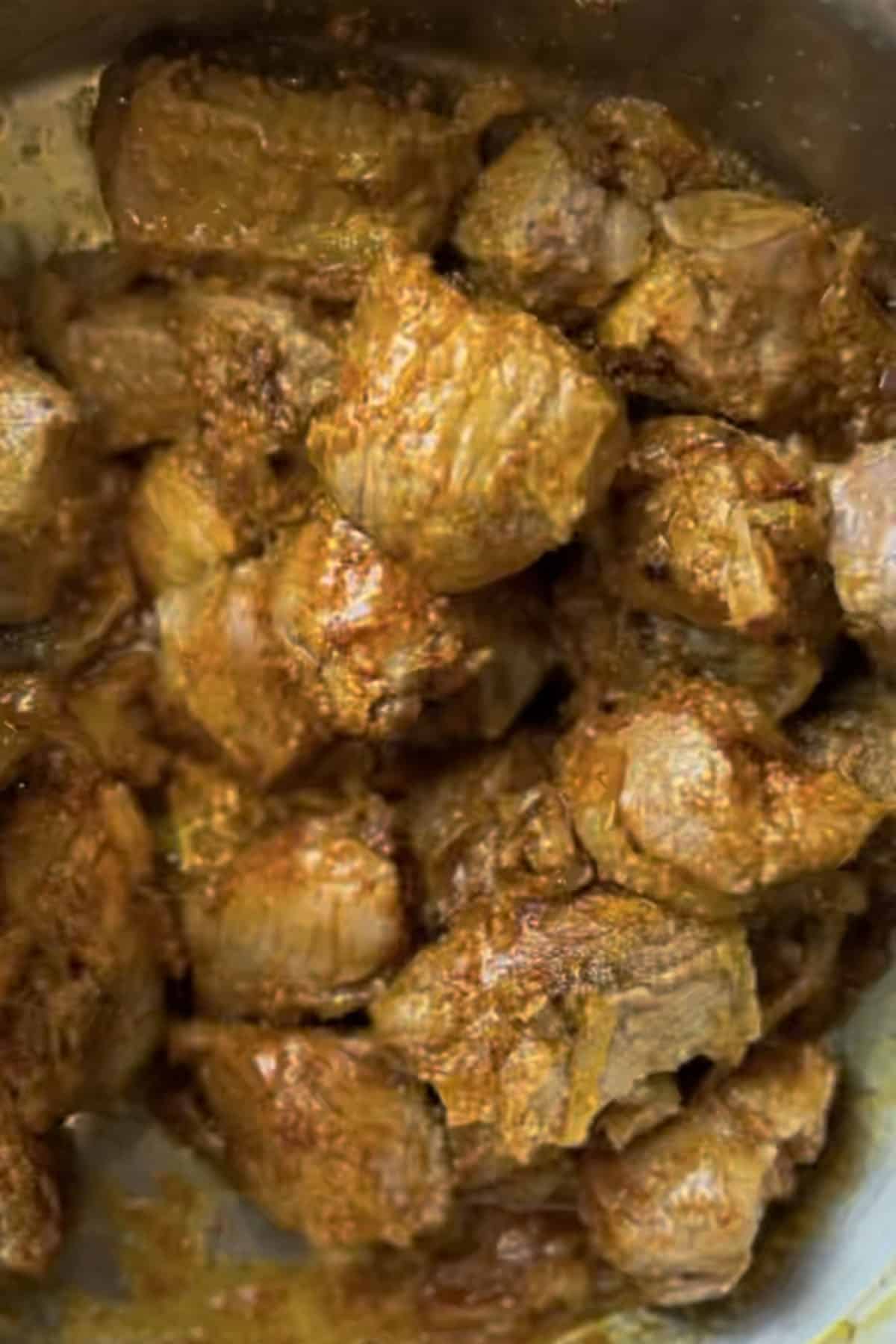 Step 4 - Add all the spices and saute for a little while to allow the spices to bloom.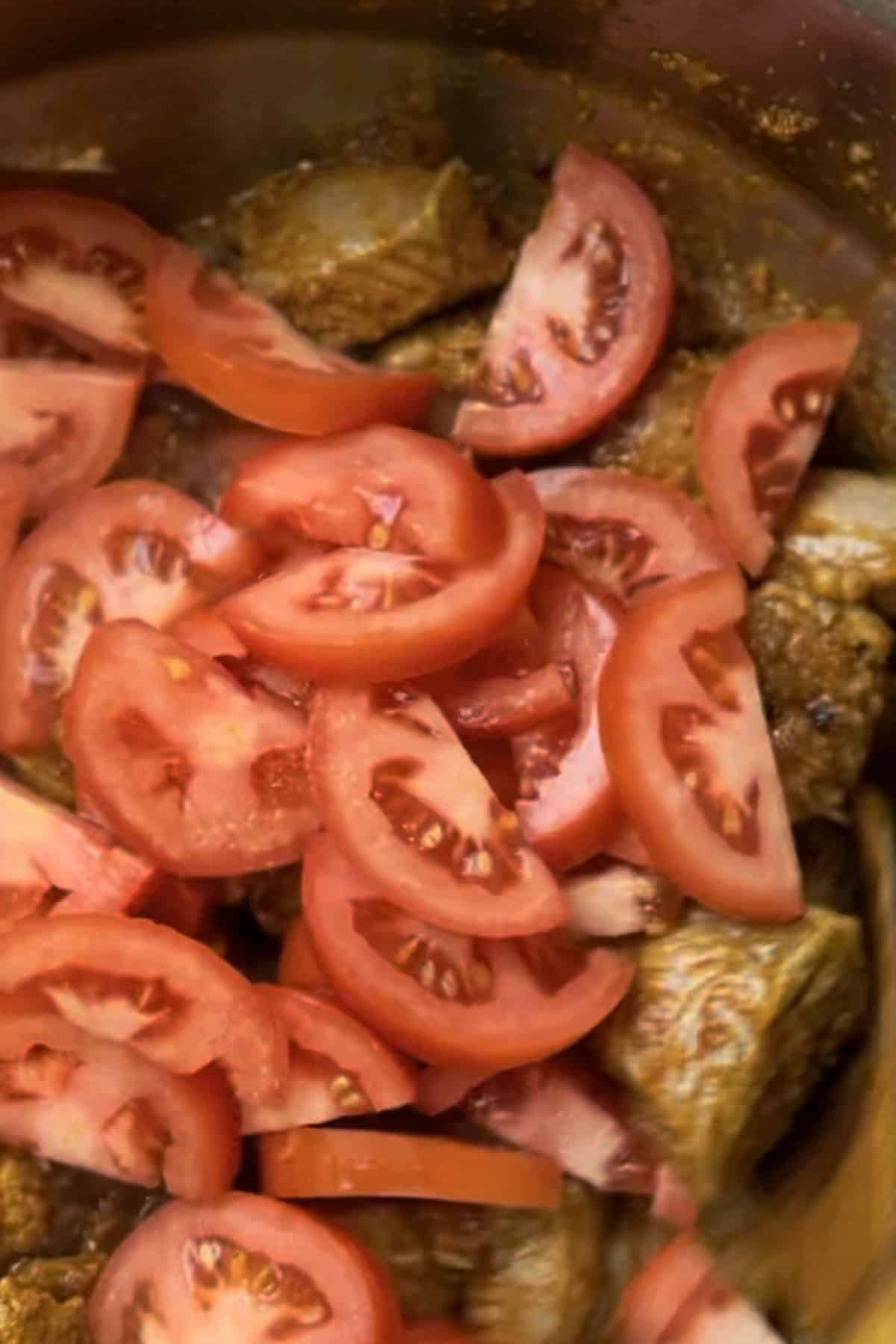 Step 5 - Add the sliced tomatoes, saute to mix, add 2 cups of water, cover, and cook for 30-45 minutes.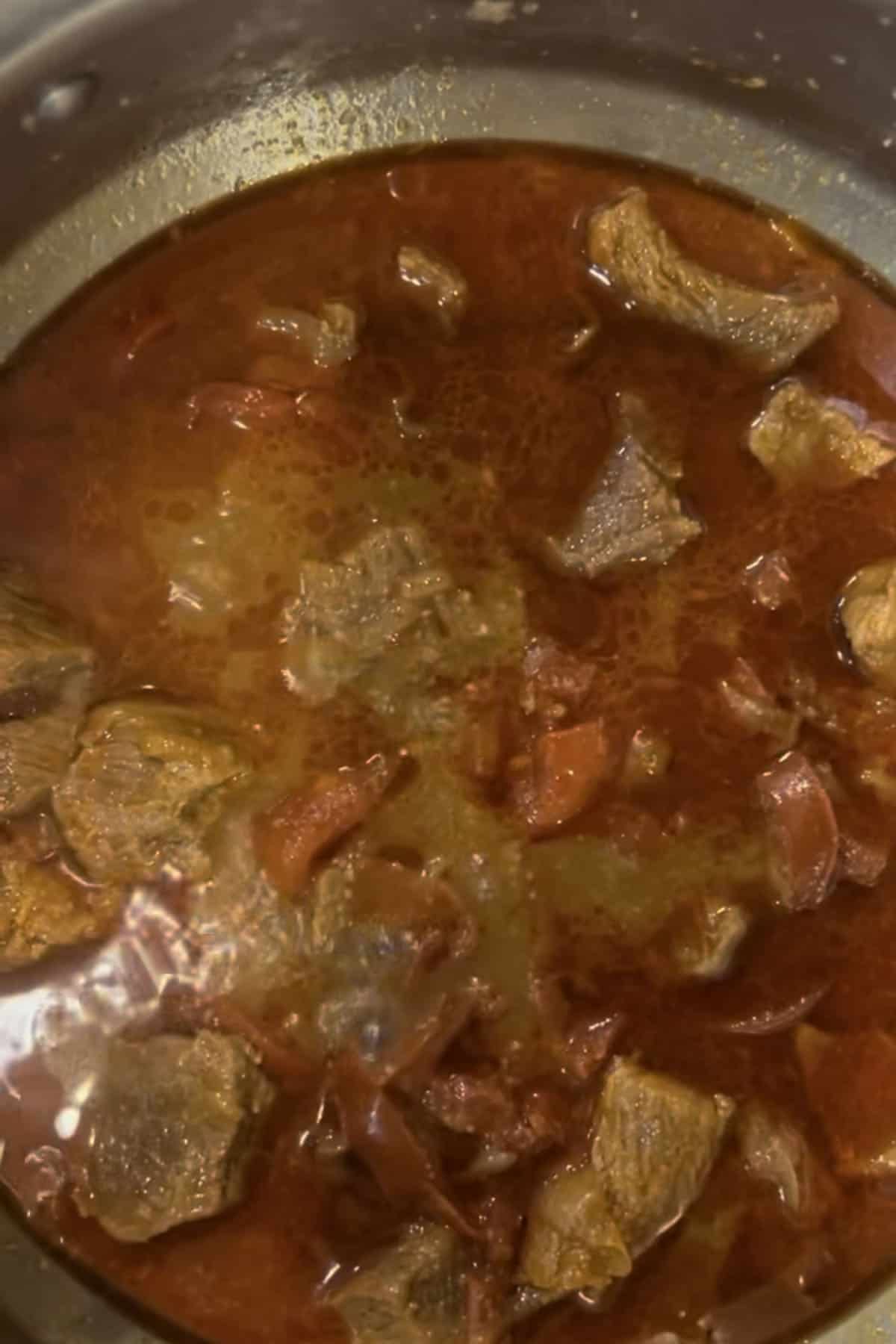 Step 6 - Uncover and check periodically to see if the meat is cooked through.
Step 7 - Add in the soaked plums, including the water they were soaking in, once the meat is 90% cooked. Continue to cook on medium heat for about 30 minutes.
Step 8 - Once the curry comes together and the oil separates, turn off the stove and garnish the curry with the almonds and serve.
Expert Tips
Soak the plums - Saoking the plums rehydrates them and releases their natural sugars. This is an essential step and results in a more delicious curry.
Use the right beef - If you choose to cook this curry with beef as I have, I would recommend using Tenderloin. This curry is something you cook for special occasions and warrants a really good cut of meat for it to taste its best.
Recipe FAQS
What does the name Aloo Bukhara mean?
The word "Aloo" means plum in Persian and the word "Bukhara" represents the region plums originated in.
What other recipes can I use Aloo Bukhara in?
I use dried plums in my chana daal gosht and Biryani. They also make delicious chutney and juice.
How do I store my Gosht Aloo Bukhara?
The curry will stay okay in the fridge for 2-3 days and in the freezer for up to 3 months in an airtight container.
Other curries you may like
Hope you decide to try this recipe! Please don't forget to leave a rating and comment below! If you take a picture then tag me on Instagram! Thank You!
Gosht Aloo Bukhara (Beef curry with Plums)
Sumptuous beef curry with plums, also known as Gosht Aloo Bukhara, is a sweet and sour Kashmiri version of Korma that's a family favorite!
Ingredients
2

lbs

beef

(see notes)

½

cup

oil

2

onions

2

tsps

garlic paste

4

roma tomatoes

2

tsps

salt

2

tsps

red chili powder

2

tsps

coriander powder

½

tsp

turmeric powder

2

green chilies

2

tbsps

sugar

(see notes)

7

oz

dried plums

(see notes)

2

tbsps

slivered almonds
Instructions
Soak the plums in hot water for 2 hours to rehydrate them.

Slice the onions and saute them in hot oil till they are a nice medium brown.

Add the garlic and saute for 30-60 seconds.

Add the meat and saute till the pink completely disappears.

Add in all of the spices and saute for a minute or two to allow the spices to bloom.

Add the tomatoes along with 2 cups of water, cover, and cook on medium-low till the meat is tender (see notes).

Add the chopped green chilies and cook uncovered on medium-high till the liquid starts to dry up (see notes).

When the oil starts to rise to the top and the curry is completely blended, add in the sugar and plums along with the soaking liquid.

Cover and cook on medium-low for 10-15 minutes.

Uncover, turn on high, and cook till your curry reaches the desired consistency (see notes).

Garnish with almonds, and serve the curry with fresh hot naan.
Video
Notes
The meat - Using the right quality of meat is important to the final results of this curry. I use tenderloin here in the US and my mother always used "undercut" in Pakistan. If you decide to use goat meat then meat from the hind leg or shoulder portion is the best choice.
Sugar - I use sugar in the raw for the curry as that's my preferred sugar and what I usually have on hand. White granulated sugar works just as well.
Dried plums - The dried plums used in this curry are known as "Aloo Bukhara" and are of a specific variety. They are not the same as prunes, being very sour, and give the curry its unique taste. I don't recommend substituting them as they are essential to the recipe. You can source them at any South Asian store or at www.amazon.com via this link.
Cooking the curry - The total cooking time for the curry is about 1 hour. This time can vary based on the equipment you're using as well as factors such as altitude, depending on your location. This is usually what my timeline looks like:
The initial roasting period to saute the meat and bloom the spices takes about 10 minutes.
A 30-minute cooking period follows and usually gets the meat about 80% cooked.
A second roast takes about 10 minutes and helps bind all the ingredients so the curry is smooth and velvety.
The final 10-minute cooking with the sugar and plums helps give a slightly glossy and caramelized finish to the curry.
Nutrition
Serving:
1
person
Calories:
522
kcal
Carbohydrates:
25
g
Protein:
21
g
Fat:
38
g
Saturated Fat:
10
g
Polyunsaturated Fat:
5
g
Monounsaturated Fat:
20
g
Trans Fat:
1
g
Cholesterol:
81
mg
Sodium:
707
mg
Potassium:
644
mg
Fiber:
4
g
Sugar:
15
g
Vitamin A:
601
IU
Vitamin C:
8
mg
Calcium:
55
mg
Iron:
3
mg