Aloo Gosht (Pakistani Meat & Potato Curry), also known as aloo gosht ka salan, or aloo gosht ka shorba, is a simple curry with two main ingredients leading the way. This recipe emphasizes soft succulent goat meat, delicious creamy potatoes, and a lightly spiced, soupy gravy.
Aloo gosht is not a curry you are likely to find on restaurant menus, but it is a staple favored by both North Indians and Pakistanis alike. This quintessential Pakistani dish reminds me of leisurely weekend family meals.
Aloo gosht originated around the 17th century, during the Mughal era in the Indian subcontinent. Kitchens of History aptly describes this meat and potato curry as a "meticulous pairing of potatoes and goat's meat that suspended time and cast a spell."
Try this authentic aloo gosht recipe for your next weekend lunch with family, and serve it with naan, basmati rice or a delicious raisin & pine nut pulao.
Why you'll love this recipe
One-pot recipe - Although aloo gosht requires some slow cooking, all the cooking is done in one pot. This makes cleaning up super easy.
Hearty meal - This is a hearty, filling meal. Perfect for a lazy Sunday afternoon when you can nap after enjoying it.
Ultimate comfort food - Aloo gosht is comfort food at its best. There's just something about a meat and potato pairing that makes one feel cozy and think of home and family.
Simple recipe - This meat & potato curry may take 2 hours to cook, but it is simmering on the stove for the bulk of that. This gives you time to catch up on other chores, read a book, or watch TV.
Dairy-free - There is no yogurt in this recipe, so if you're dairy-free, this is a perfect recipe for you to try!
Ingredient notes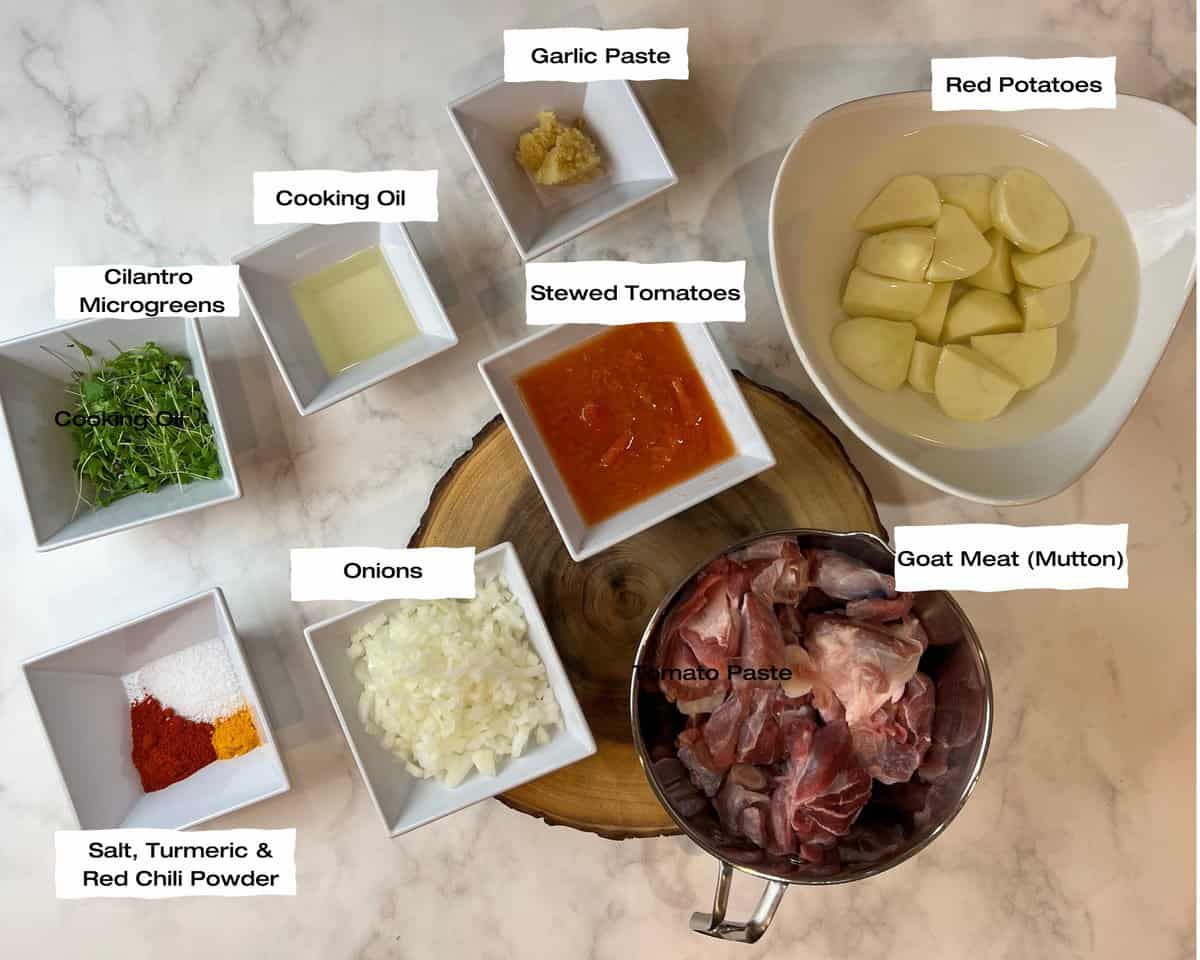 The meat - Traditional aloo gosht is made of mutton in a Pakistani household. Mutton refers to bone-in goat meat, which, when slow-cooked, lends an amazing taste to the curry. This type of soupy gravy is known as shorba or salan in South Asian cuisine.
The potatoes - Red potatoes work best in this recipe. They have less starch than russet potatoes, so they stay firm and hold their shape well. These are my go-to in most curries, such as aloo palak, easy aloo sabzi, and my aloo masala recipe. Less starch and a firm texture also mean they take slightly longer to cook, giving the oil time to separate for a perfect meat & potato curry.
My favorite tomatoes - Soft and juicy, Roma tomatoes are perfect for all sauces and curries.
The cooking oil - I use avocado oil, but any neutral oil with a high smoke point, such as canola, vegetable, or sunflower, will do for this recipe.
The onions - I like to use yellow onions in all my curries because they taste neutral.
Garlic paste - I like to make and freeze my garlic paste, but the store-bought one is always an option if you find it easier.
Dry spices - I keep my spice mix very simple when making aloo gosht; salt, turmeric powder, and red chili powder are the only ground spices, with some whole black peppercorns to add a nice aroma.
The garnish - Whole green chilies and fresh coriander add the perfect finishing touch to this meat and potato curry.
Please see the recipe card at the bottom of this post for the complete list of ingredients with measurements plus recipe instructions.
Substitutions & variations
Switch up the spices - I love this meat and potato curry recipe, but feel free to try it with some cumin powder, coriander powder, garam masala powder, and fenugreek leaves.
Use a different kind of meat - Lamb, beef, or veal are all great options for aloo gosht. Lamb or veal will work better than boneless beef in a curry due to their texture. I don't recommend chicken as the main flavor of the curry comes from bone-in red meat.
Add yogurt if you want - Some variations of the Pakistani aloo gosht recipe include yogurt and chopped tomatoes. Feel free to try the curry that way.
Make a vegetarian version - There is a lighter version of this curry with potatoes and boiled eggs that tastes delicious. Make the curry with all of the below ingredients, minus the meat. Once the shorba is ready, add and cook the potatoes, adding some pre-boiled eggs at the end.
Use pre-fried onions and canned tomatoes - Pre-fried onions and canned tomatoes shave off some prep and cooking time. The curry will taste slightly different from fresh ingredients, but this is a great option if you're craving aloo gosht on a busy day.
Step-by-step instructions
Preparing the curry base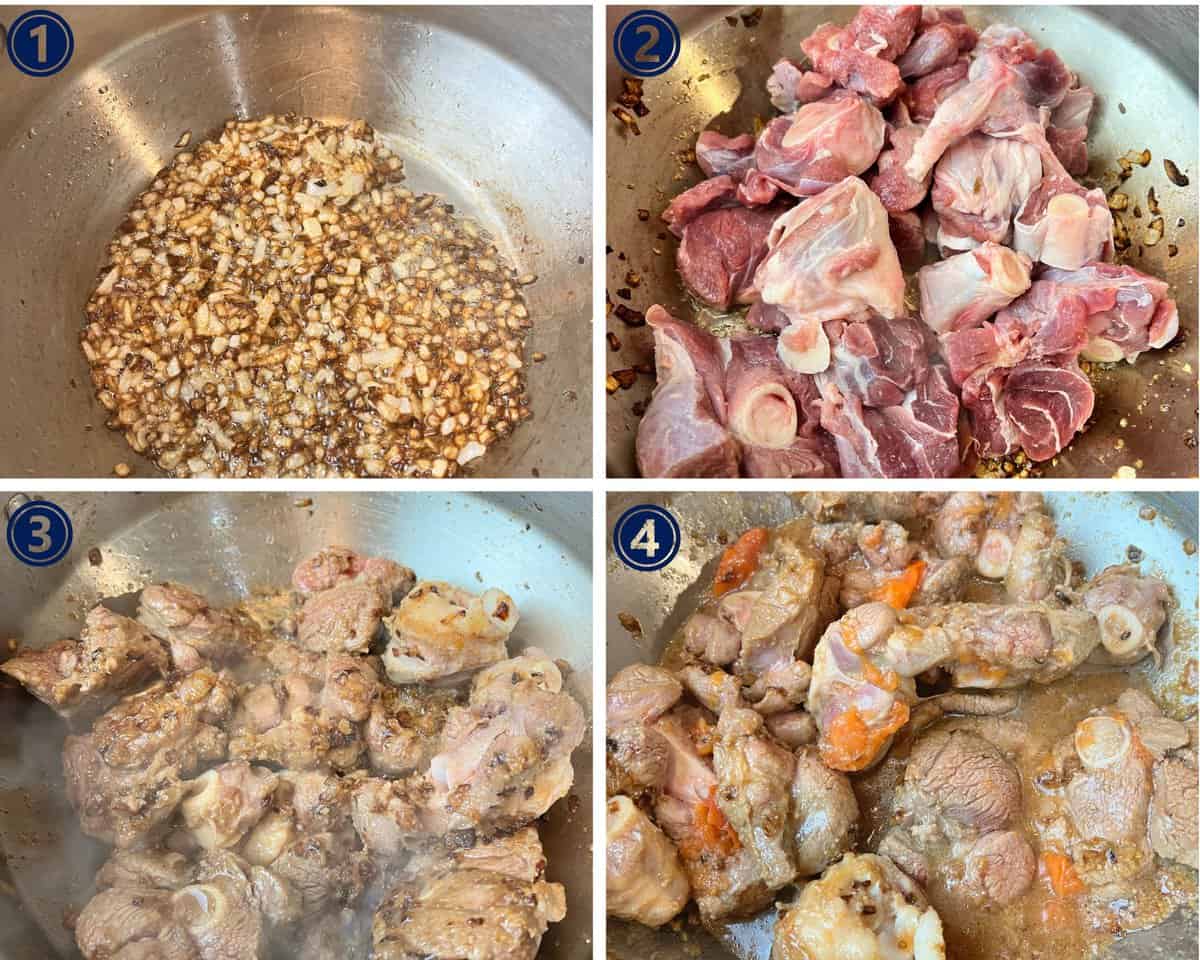 Step 1 - Heat the cooking oil and saute the raw onions until they are dark golden brown. This is essential to the meat and potato curry's color and taste.
Step 2 - As soon as the onions are light golden brown, add the garlic, saute until you smell its aroma, and add the meat to the pot.
Step 3 - Roast the meat till it is no longer pink. This step helps with the gamey smell of the meat and seals in all the juices.
Step 4 - Add the prepared steamed tomatoes (instructions in the TIPS section below) and enough water to cover the meat. If you use fresh chopped tomatoes for the curry, you may have extra liquid to dry out later.
Tenderizing the meat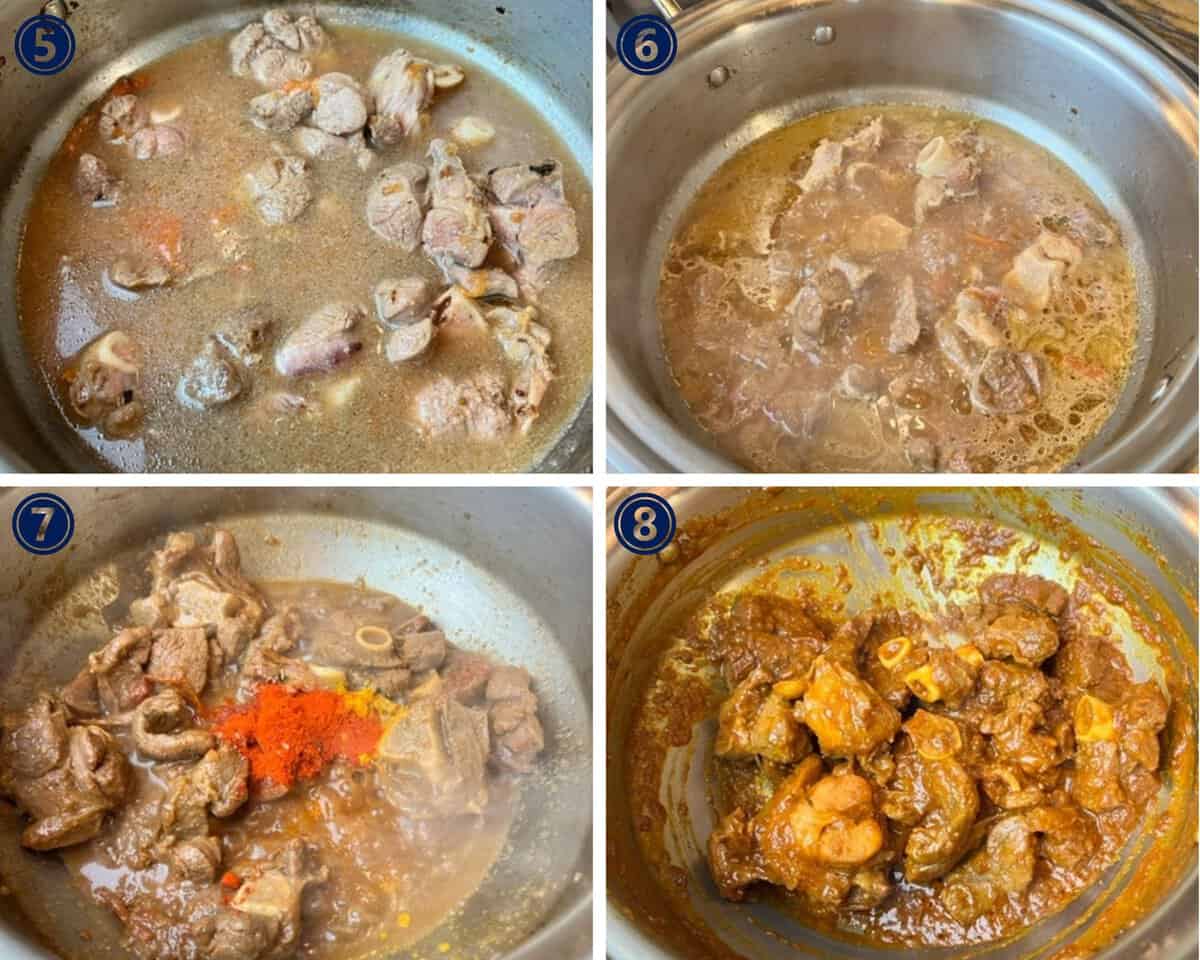 Step 5 - Cover and cook on medium-high heat until the liquid boils.
Step 6 - Continue to cook the meat on medium-low heat until tender, for about 1 hour.
Step 7 - Uncover, add the salt, turmeric powder, red chili powder, and black peppercorns, and cook on high until the water dries.
Step 8 - Roast the meat, spices, and other ingredients for a good 10-15 minutes. This step allows the spices to bloom and the bits and pieces of the onions and tomatoes to dissolve and become one completely, so you have an aloo gosht with a smooth curry.
Cooking the potatoes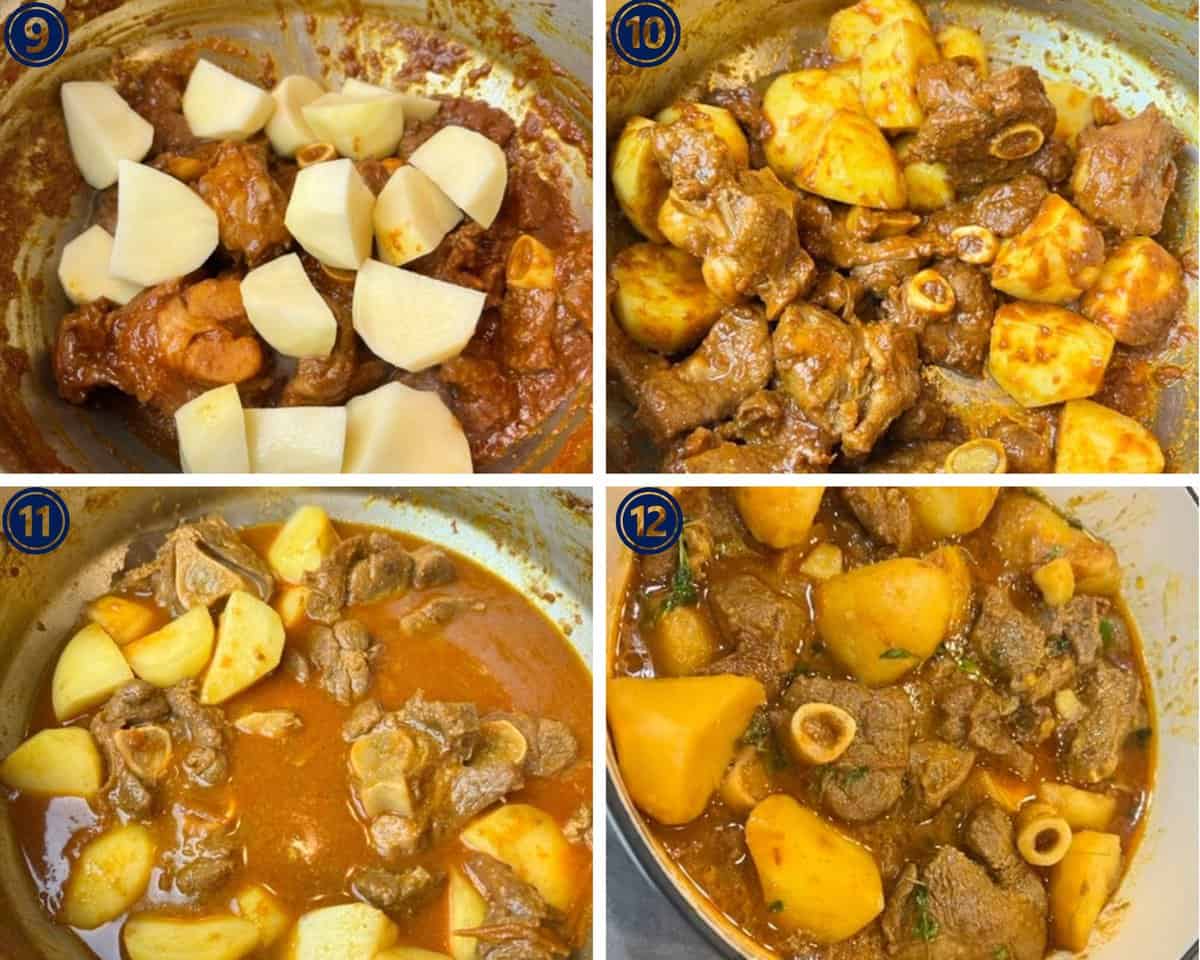 Step 9 - After roasting, add the potatoes and saute on medium heat for 3-5 minutes.
Step 10 - This coats the potatoes with the curry and further helps break down all the ingredients.
Step 11 - Add 1 cup of water and green chilies, cover, and turn the stove to high heat. Once the meat and potato mixture reaches a boil, reduce the heat and continue to cook until the potatoes are done (about 10-15 minutes).
Step 12 - If there is still plenty of water in the pot, continue cooking on a high flame until the oil separates. If the curry looks dry, add a cup of hot water and cook on a medium flame till the oil separates. Garnish the aloo gosht with fresh coriander (cilantro), and serve with some naan bread, tandoori roti, or plain white basmati rice.
Expert Tips
Source the best meat - I like to use meat from the thigh and leg portion of the goat, called 'Raan", or the shoulder portion of the lamb for aloo gosht. Both cuts have very tender bone-in meat and result in a delicious curry. For veal or beef, stew meat works best.
Make homemade tomato pulp - I make my own tomato pulp and freeze it to help me save time. It takes 15 minutes to make a large batch and, unlike canned tomatoes, has no preservatives. To make it, quarter the tomatoes, add them to a saucepan with a quarter cup of water, and cook covered for 10 minutes. Uncover the saucepan and mash the tomatoes using a potato masher. Cool completely and store in a half-cup Soupercubes tray in your freezer. Each half-cup-sized cube equals approximately two Roma tomatoes.
Keep some water on hand - When roasting all the ingredients to create a uniform mixture for the meat & potato curry, keep a little bit of water on hand. This bhunna, as the process is called, is crucial to a perfect and cohesive curry. To prevent the ingredients from sticking to the bottom of the pan, occasionally use a few tablespoons of water to deglaze the pan.
Don't overcook your potatoes - If the potatoes seem done, but the oil hasn't separated from the curry, gently remove them using a slotted spoon and set them aside. Cook the curry until ready; add the potatoes, garnish, and serve.
Brown the onions properly - Make sure the onions for the aloo gosht are a nice golden brown. This ensures that the meat and potato curry tastes delicious and is the perfect color.
Recipe FAQS
How do I get rid of the gamey smell of my meat?
To begin with, buy meat from a smaller, younger animal with very little fat. Then, when you start cooking the aloo gosht, pat the meat dry before adding it to the caramelized onion and garlic mixture. Saute it well (about 5-10 minutes) before adding the tomatoes and water. This sauteeing helps reduce the smell. After the meat is cooked, add your spices and aromatics and saute again for 10-15 minutes. Top the finished meat & potato curry with a generous amount of fresh cilantro as an aromatic. If the meat is well sourced and all these steps are adhered to, your meat shouldn't have any smell.
How can I make my curry thicker?
The best way to thicken a curry is to add more onions. For this recipe, add ½ cup additional chopped onions for a thicker gravy.
How do I store the aloo gosht?
The aloo gosht can stay in the refrigerator for up to 2 days. If you want to freeze it, do so before you add in the potatoes. When you're ready to eat it, defrost the curry on the stovetop and then cook the potatoes in it at that time.
Other potato recipes you may like
I hope you decide to try this recipe! Please don't forget to leave a rating and comment below! If you take a picture, then tag me on Instagram! Thank You!
Aloo Gosht (Pakistani Meat & Potato Curry)
Aloo Gosht (Pakistani Meat & Potato Curry), traditionally made with goat meat, is a slow cooked Pakistani meat and Potato Stew.
Ingredients
⅛

cup

cooking oil

1

cup

diced onion

(see notes)

1

tbsp

garlic paste

1 ¼

lbs

goat meat

(see notes)

½

cup

diced tomatoes

(see notes)

4

cups

water

½

tbsp

salt

(see notes)

½

tsp

turmeric powder

1

tbsp

red chili powder

(see notes)

10

peppercorns

2

medium potatoes

(see notes)

5

chillies

(see notes)

¼

cup

chopped cilantro
Instructions
Heat the cooking oil and add the diced onions to it.

Once the onions are medium brown add the garlic paste and saute for about 30 seconds.

Add the goat meat and saute till the meat is no longer pink.

Add the tomatoes and cook on high for a few minutes till they release water.

Add 2 cups of water, cover and bring the mixture to a boil. Then reduce the heat to medium low and cook for 1 hour to tenderize meat.

After 1 hour turn the flame back on high and add all the dry spices along with the peppercorns. Dry all the excess liquid and roast the meat for 10 minutes.

Add the potatoes and roast for 2-3 minutes and then add the remaining 2 cups of water and the green chillies. Check for salt and spice level at this point to adjust to your taste as necessary and bring the mixture to a boil.

After the curry is boiling, reduce the heat to medium and cook for about 10 minutes till potatoes are cooked through (see notes).

Uncover and reduce the liquid, or add some more according to your preference, and cook till the oil separates (see notes).

Garnish with cilantro and serve with hot naan or rice.
Video
Notes
Onion - 1 cup is approximately one large onion or two small onions.
Meat - I usually get the hind leg of a goat cut up into pieces by my butcher for this curry. This is extremely succulent meat and makes the best curry, in my opinion.
Tomatoes - I like to use Roma tomatoes for my curries. Half a cup is usually two medium-sized Romas, depending on the size of the tomatoes.
Spice Powders - I tend to eat less salt than most people, so you may feel the need to tweak the amount to suit your personal taste. Similarly, I keep the level of chilies in my recipe medium (based on Pakistani standards). It may seem too spicy to some and not spicy enough for others. If your palate is used to Pakistani food, you will probably want to keep the spices to the recommended amount or more. If you're experimenting with this type of cuisine and aren't used to a lot of heat, you may want to proceed cautiously.
Potatoes- My favorite potato to use in this curry is a red potato. The trick is to have aplump potato quarters that hold their shape but are completely cooked through and soft when broken into. After much trial and error, this potato variety allows me to get perfect results every time!
Chilis- Since I like spicy food, I often like to use Thai chilies. If you want to take it down a notch, use serrano peppers instead, and for even less heat, you can opt for jalapenos or deseed the chilies to reduce their potency.
The Curry- The key thing in this recipe is the consistency of the curry. Not too thick, not too thin, meat falling off the bones, and fully cooked potatoes that are holding their shape. The way to achieve this is to control the temperature, especially near the end, after you add the potatoes to the curry. Once you add the potatoes and the water, cover your pot and bring the curry to a full boil on high heat. Then reduce the heat to medium and cook for about 10 minutes till you can stick a knife through the potato. Uncover the pot, turn the heat on full, and reduce the water until the oil separates and the curry has the desired consistency. Turn the flame off, garnish with cilantro, and immediately remove the curry from the pot to stop the cooking process. This prevents the potatoes from becoming mushy.
Final Tip - If you feel your potatoes are cooked through, and your curry needs to thicken more, gently remove them with a slotted spoon and set them aside so they don't become mushy. Continue cooking the curry until you have it as thick as you like, and then gently add the potatoes.
Nutrition
Serving:
1
serving
Calories:
391
kcal
Carbohydrates:
29
g
Protein:
36
g
Fat:
15
g
Saturated Fat:
3
g
Polyunsaturated Fat:
3
g
Monounsaturated Fat:
7
g
Trans Fat:
0.03
g
Cholesterol:
88
mg
Sodium:
1022
mg
Potassium:
1330
mg
Fiber:
4
g
Sugar:
7
g
Vitamin A:
1240
IU
Vitamin C:
97
mg
Calcium:
83
mg
Iron:
5
mg