Aloo Palak (Pakistani Spinach & Potato Curry) is one of the most popular spinach recipes in both Pakistani and Indian Cuisine. Add to that the fact that it's very quick and easy to make and you have a winner on your hands!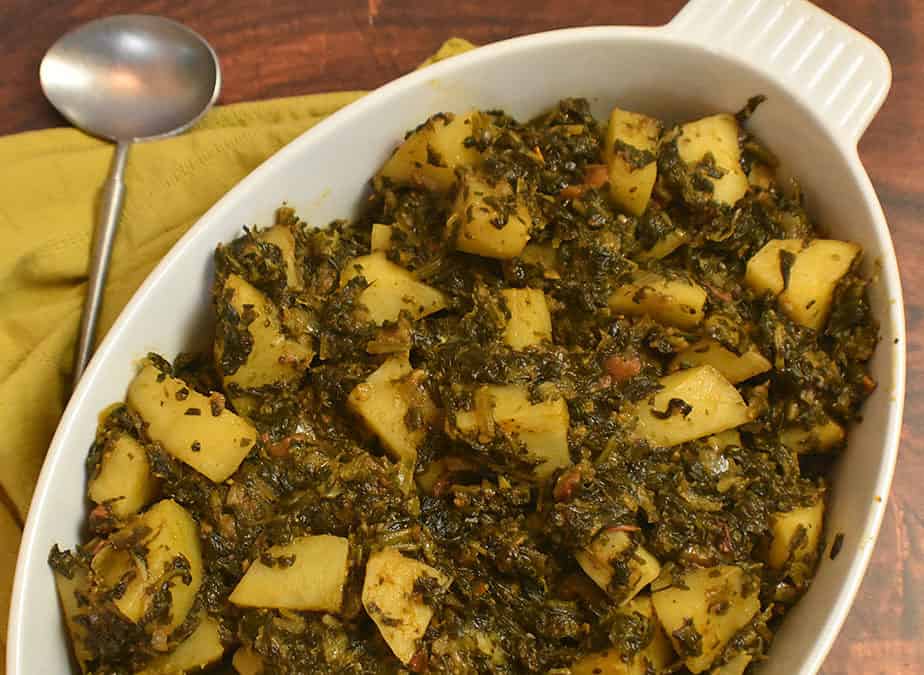 This delicious recipe reminds me of home and my mother's cooking; it's comfort food at its best. Of all the Palak recipes, such as Palak Paneer or Palak Gosht (spinach and meat curry) this dry aloo palak curry is my favorite.
There are many variations of this spinach & potato curry. The Dhaba-style aloo palak is the rich street food version. The aloo palak gravy, made with creamed spinach is the exact opposite of the dry version of aloo palak. I personally like and stick to this simple homemade version of aloo palak, also popularly(and erroneously) termed saag aloo.
This is a nice variation on my easy-aloo-sabzi-potato-curry when you're in the mood for a change and pairs well with this delicious kali-masoor-ki-daal-brown-lentils recipe.
Jump to:
Why you'll love this recipe
Easy to source ingredients - Apart from the fenugreek, which can easily be omitted, this aloo palak recipe uses standard spices that can be sourced easily from your local grocery store.
Gluten-free, vegetarian, and vegan - This recipe checks all the boxes as far as any diet restrictions are concerned. For the vegan version just substitute with a plant-based yogurt.
A delicious way to add spinach to your diet - This Pakistani spinach & potato curry is so full of flavor you won't even realize you're eating spinach!
Quick & easy recipe - There's minimal prep involved in this recipe and only 30 minutes of cooking time! That's hard to beat for a curry!
Who wouldn't want to eat potatoes - I think anything with potatoes is a win! Add to that some healthy spinach and an easy recipe and you will be making this on repeat!
The ingredients
I use simple spices in this recipe, relying heavily on fresh ingredients instead to add the necessary flavor to this Aloo Palak Recipe. Both potatoes and spinach tend to be bland vegetables on their own, so all the extra add-ins help boost the flavor of this delicious curry.
Frozen Chopped Spinach - I use frozen, chopped spinach for my Pakistani spinach & potato curry as it's the easiest, cheapest, and often more nutritious than the fresh variety.
Potatoes - Cubed potatoes, using red potatoes, are my go-to for this recipe. I like to use red potatoes as they hold their shape best. This allows me to stir and saute the curry as I cook without worrying about ending up with mashed potatoes.
Frozen Fenugreek Leaves - Frozen fenugreek leaves, also known as kasuri methi, pair beautifully with spinach cooked in any form. These can be sourced from your nearest South Asian Store.
Chopped Onion - I always use yellow onions in my curries, these being the most neutral variety, both in terms of flavor, color, and texture.
Garlic paste - I like to make my own from scratch but store-bought works just as well.
Tomatoes - Roma tomatoes are well known for being plump and juicy, making them the perfect pick for curries.
Yogurt - I always like to use full-fat plain yogurt in my curries for a rich and creamy texture.
Cumin Seeds - Fresh roasted cumin seeds always add a delicious earthy aroma to vegetables and I love using them in this recipe and others.
Turmeric Powder - A small pinch goes a long way with this staple spice which finds its way into almost every Pakistani curry.
Red Chili Powder - A definite add-in, this adds the necessary punch to an otherwise bland vegetable mix.
Salt - I use regular iodized salt for most of my cooking, but any type is okay.
For the complete list of ingredients with measurements plus recipe instructions, please see the recipe card at the bottom of this post.
Substitutions & variations
Spinach - instead of frozen spinach, you can use baby spinach or fresh spinach. Baby spinach is the quicker and easier substitute, but it's more expensive. Steam your spinach (whichever type you're using) and then run it through a food processor to make a spinach paste (it will absorb more flavor quicker this way).
Potatoes - You can use other waxy potatoes as an alternative. Golden potatoes make a good substitute in case you can't find red ones. Get a bag of baby potatoes (red or gold) that you can steam in a bag and prep them per instructions.
Fenugreek - If you can't make it to the store just buy and use dried fenugreek leaves instead. Make sure to use the leaves and not the fenugreek seeds though. These can be easily sourced through Amazon. Another option is to try and find fenugreek microgreens at your local farmers market or whole foods. As a last resort, omit this 1 ingredient. Your aloo palak curry will still taste fantastic!
Change the vegetable quantities - Change the ratio of vegetables per your preference. Add more spinach or double the potatoes! Your Pakistani Spinach & potato curry will still be fantastic!
Step-by-step instructions
As with all Pakistani recipes, such as my zucchini curry, start by sauteing the chopped onions on medium-high heat.
Add in the chopped tomatoes next and cook on high for 3-4 minutes till the tomatoes start to release water. Then cover and cook on medium heat.
Once the onions are a light golden brown, add in the garlic, saute for a minute, and then add in the cumin.
After about 10 minutes, when the tomatoes have melted, uncover, turn the flame back up to high, and add in all the powdered spices.
Saute the mixture till it's well blended and then start adding the yogurt, a few tablespoons at a time (adding in all of the yogurt at the same time causes it to curdle so it must be added in gradually).
Once all of the yogurt is incorporated, add in the fenugreek leaves. There's no need to defrost them as they defrost in seconds since the curry is so hot.
Next, add in the chopped, frozen spinach leaves. These too will defrost and wilt in a matter of minutes. Once the leafy greens have softened, turn the stove to low heat.
Cover your cooking pot and let the mixture cook for 10-15 minutes so the spinach can absorb all the flavor from the curry.
Once the spinach gravy looks cooked add in the potatoes and let them simmer in the gravy till they are cooked through.
If needed you can add a cup of water but it may not be necessary. Since the potatoes are chopped so tiny they cook very quickly.
My favorite way to eat this Aloo Palak Sabzi is with Naan bread or Tandoori Roti. However, some people like to eat it with basmati rice.
Expert Tips
Spinach is the star of this recipe! The question is which one should you use? Here's how I decided which spinach I would use in my curry!
Baby Spinach - Baby Spinach is great for salads and sandwiches due to its crisp, mild almost sweet taste. But in the case of curries, it doesn't hold up too well. Due to its delicate texture, it tends to get a little slimy when cooked. This added to the fact that it's more expensive made it a non-option for me.
Regular Fresh Spinach - Regular spinach is a cheaper option and its earthier and bolder taste is more suited to curries and cooked dishes. However, I would need a pound of fresh spinach for this recipe. The amount of time it would take to prep and clean that much spinach is tedious. Plus, the quality would have to be super fresh and well-sourced. This led me to the last and final option.
Frozen Spinach - Frozen spinach is affordable, it has the perfect taste for curries and is already prepped for use! In addition to this, vegetables picked to be frozen are usually harvested at peak ripeness. This makes them nutritionally dense! All wins in my book!
Recipe FAQS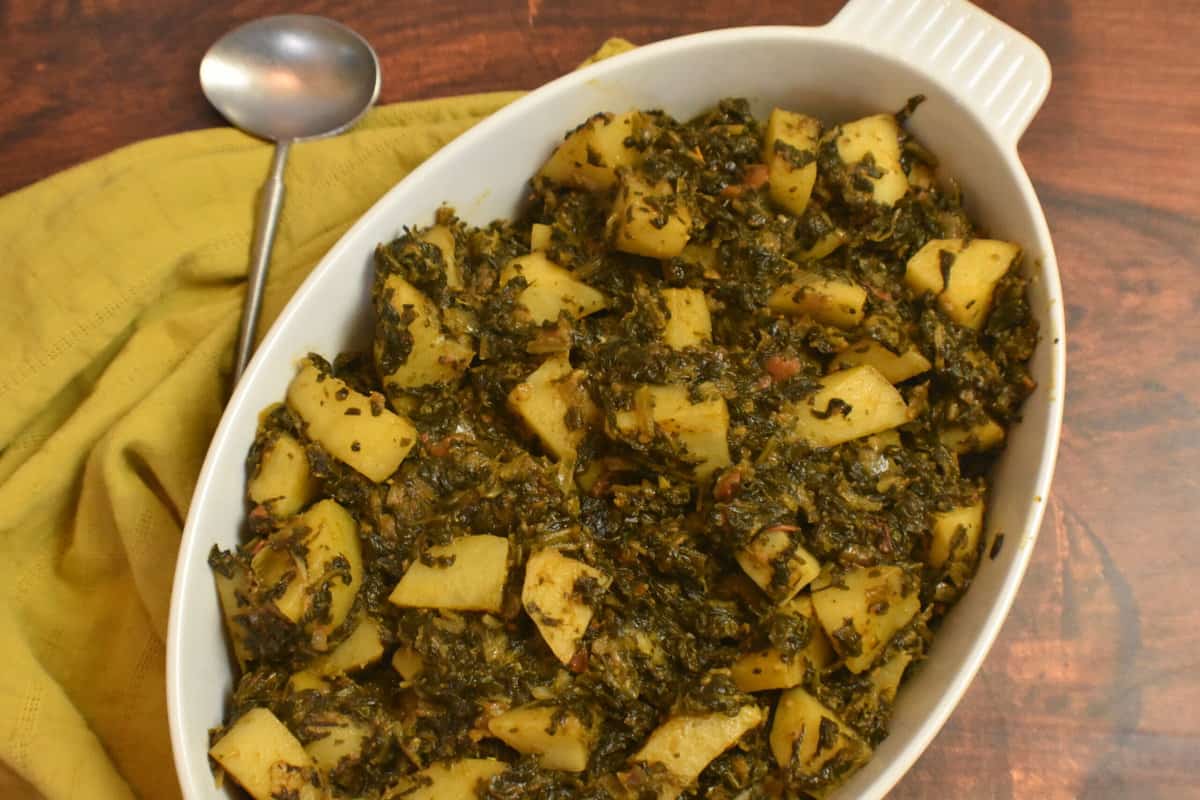 Other vegetable recipes you may like
Hope you decide to try this recipe! Please don't forget to leave a rating and comment below! If you take a picture then tag me on Instagram! Thank You!
Aloo Palak (Pakistani Spinach & Potato Curry)
Aloo Palak (Pakistani Spinach & Potato Curry) is a traditional dry vegetable curry made with cubed potatoes and sauteed spinach.
Ingredients
4

tbsp

cooking oil

1

onion

(see notes)

1

tsp

garlic paste

1

tsp

cumin seeds

2

tomatoes

(see notes)

1

tsp

salt

1

tsp

red chili powder

¼

tsp

turmeric powder

½

cup

yogurt

(see notes)

½

cup

frozen fenugreek leaves

(see notes)

12

oz

frozen spinach

(see notes)

2

potatoes

(see notes)
Instructions
Heat the oil and saute the onion till it's a light golden brown.

Add the garlic paste and saute for 30-60 seconds.

Add in the cumin seeds and saute for about 1 minute.

Add in the tomatoes and cook on high till the tomatoes start to melt.

Reduce the flame, cover and cook for 10 minutes.

Uncover, turn the flame on high, add in all the powdered spices and saute the mixture till you have a well blended paste.

Add in the yogurt a few tablespoons at a time and saute to complete the curry base.

Add in the frozen fenugreek leaves and let them soften with the heat.

Add in the frozen spinach, stir to mix in and coat with the gravy.

Cover and cook on low heat for 10 minutes till the spinach is cooked through.

Uncover, add in the potatoes along with some water if necessary and cook till tender.

Once the potatoes are cooked, uncover, turn the heat to high and let all the water evaporate.

Serve hot with fresh Naan.
Video
Notes
Onion - I like to use yellow onions for my curries. They make the perfect base due to their neutral taste and color. Tomatoes - Roma tomatoes are juicy and plump and are known to be the best for making sauces. I love them for curries as they dissolve easily and quickly, making for a smooth curry. Yogurt - I always recommend using full fat plain yogurt. This makes the curry creamier. Greek yogurt tends to curdle when cooked and low fat yogurt can be too watery. Remember to add in the yogurt a little at a time to let it adjust to the temperature. If all the yogurt is added at once to the hot mixture in the pot, it curdles immediately. Fenugreek Leaves - Fenugreek, known as methi in Pakistan and India is always paired with spinach. I like to use the frozen kind which I get from my local South Asian store. Fresh leaves are always an option but take a long time to wash and prep. I also keep dried fenugreek leaves in my pantry for when I don't have the frozen ones in stock. Spinach - My go to is frozen chopped spinach. I don't personally like the taste and texture of baby spinach in my curries and it's more expensive than the frozen option. Fresh spinach takes a long time to prep and adds on a good 20 minutes to the cooking time. You can go with whatever option you prefer; the conversion will be 1.25 pounds of raw spinach per 12 ounces of frozen spinach. Potatoes - Waxy potatoes, like red or golden are the best options for this curry. This is because they hold their shape well and withstand the stirring and roasting that a curry requires.
Nutrition
Serving:
1
person
Calories:
292
kcal
Carbohydrates:
31
g
Protein:
9
g
Fat:
16
g
Saturated Fat:
2
g
Polyunsaturated Fat:
4
g
Monounsaturated Fat:
9
g
Trans Fat:
0.1
g
Cholesterol:
4
mg
Sodium:
678
mg
Potassium:
1003
mg
Fiber:
7
g
Sugar:
6
g
Vitamin A:
10673
IU
Vitamin C:
37
mg
Calcium:
297
mg
Iron:
4
mg