Mildly spicy aromatic spices are combined with tomatoes and garlic to create the base for this delightful Acorn Squash Curry. Super quick and easy to make, this squash recipe has always been a crowd pleaser every time I've served it!
At the first sight of this seasonal veggie in the supermarket, it's on repeat in my weekly menus! We just can't get enough of this winter vegetable throughout its peak season (October through December).
This curry dish was inspired by the easy aloo sabzi recipe on this site and pairs well with this easy lentil curry.
Jump to:
Ingredients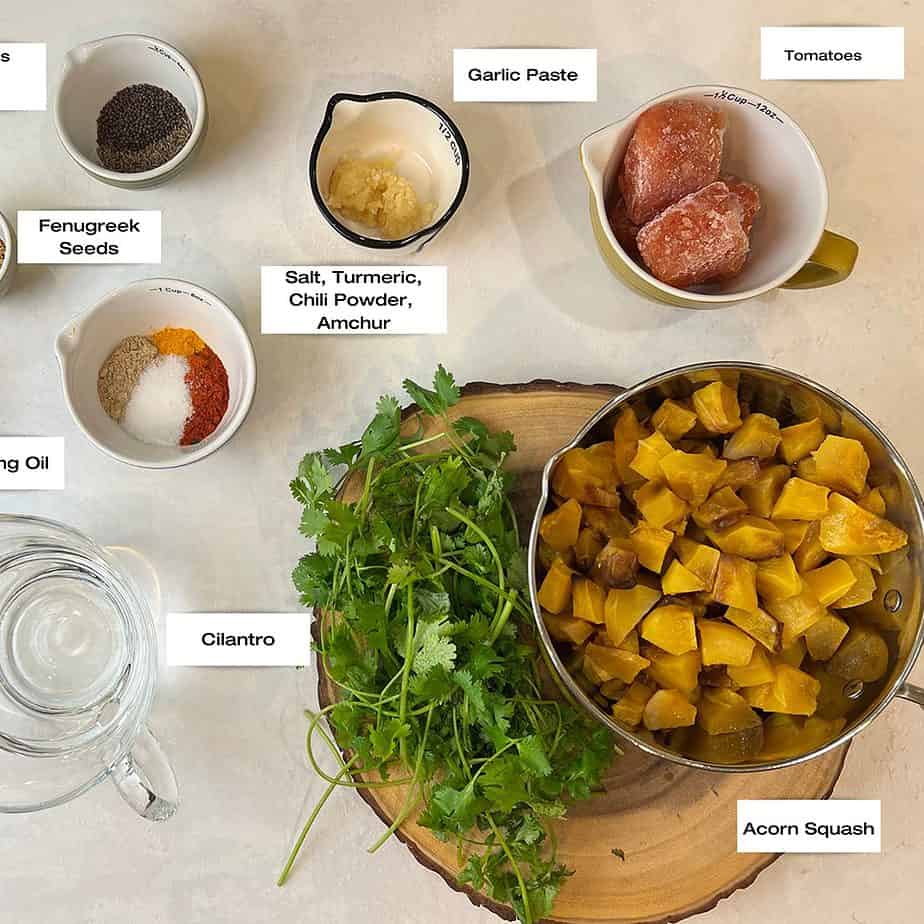 Acorn Squash
Cooking Oil
Garlic Paste
Fenugreek Seeds
Cumin Seeds
Black Mustard Seeds
Tomatoes
Red Chili Powder
Salt
Turmeric Powder
Amchur Powder (Mango Powder)
Cilantro
See recipe card for quantities and details.
Instructions
Cut the squash into cubes and toss them in a tablespoon of the olive oil (or whatever oil you're using).
Lay the cubed pieces in a single layer on your foil covered baking sheet for the oven or in your air fryer.
Note: Air Fryers are quicker but if you don't have one just oven bake the Squash till it's a nice golden brown.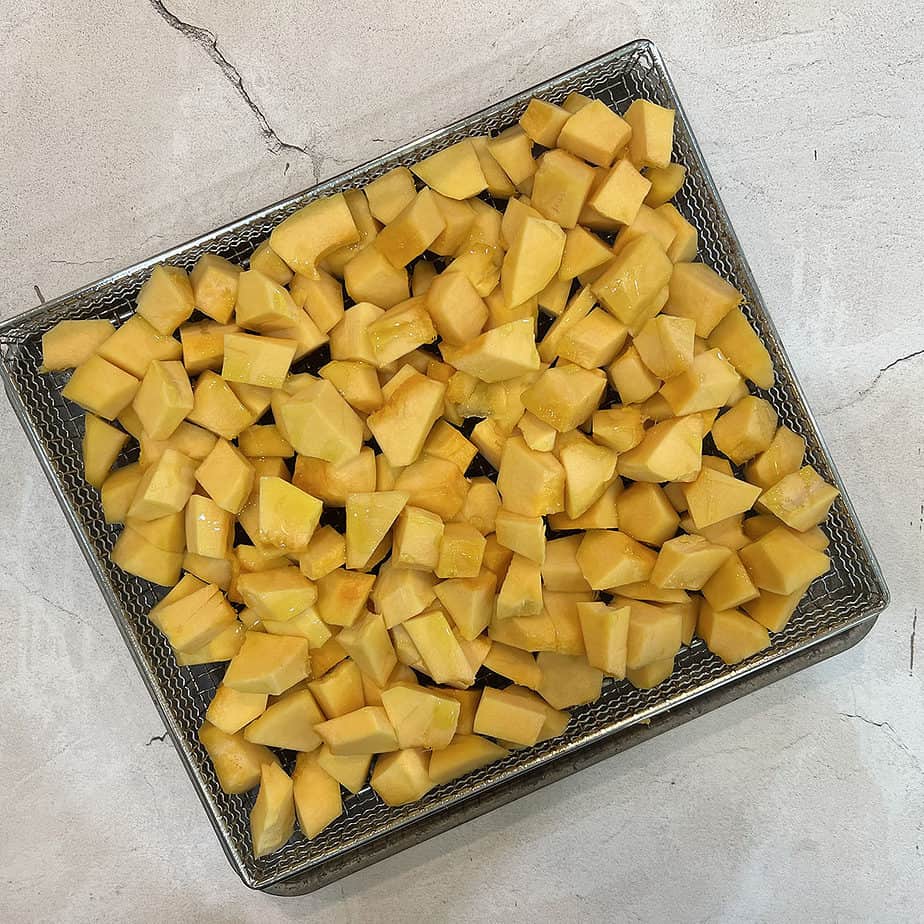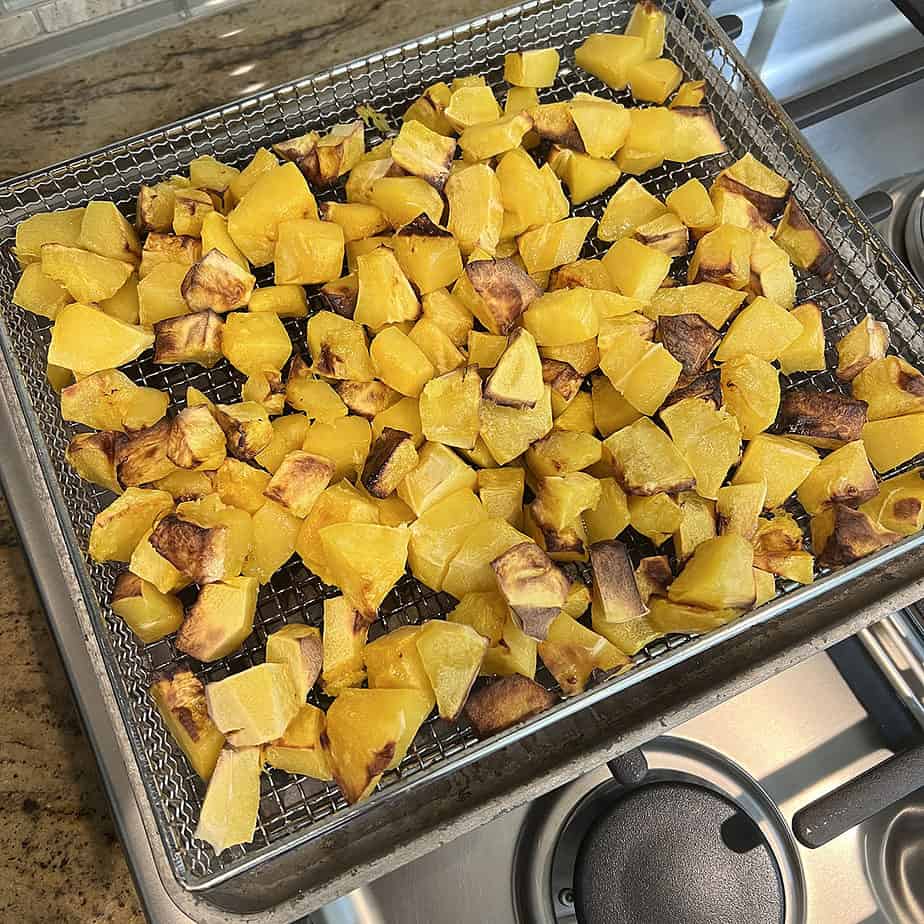 Once the squash is cooked, temper the garlic and whole spices in some hot oil.
Add the tomatoes (I pre steam and freeze my tomatoes as per my tiktok.com/@untoldrecipesbynosheen to speed up the curry making process), the teaspoon salt and all the rest of the curry powder mix except the amchur to make the acorn squash curry base
Note: Tempering releases the essential oils in the spices and makes them more aromatic.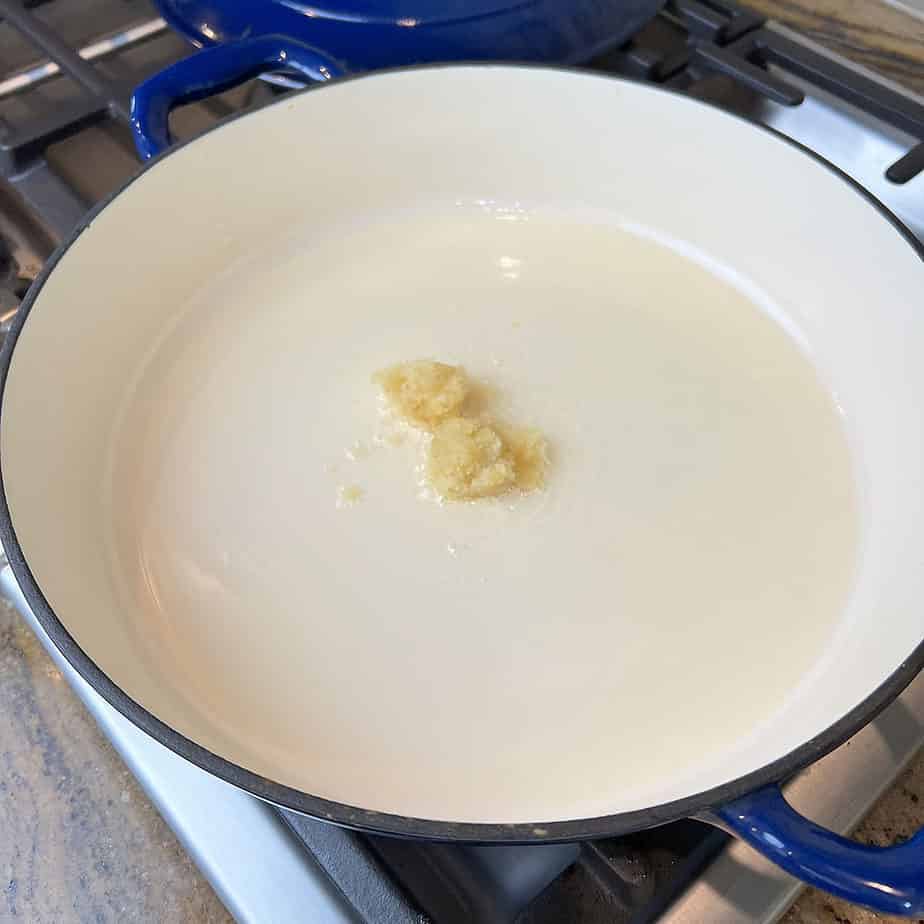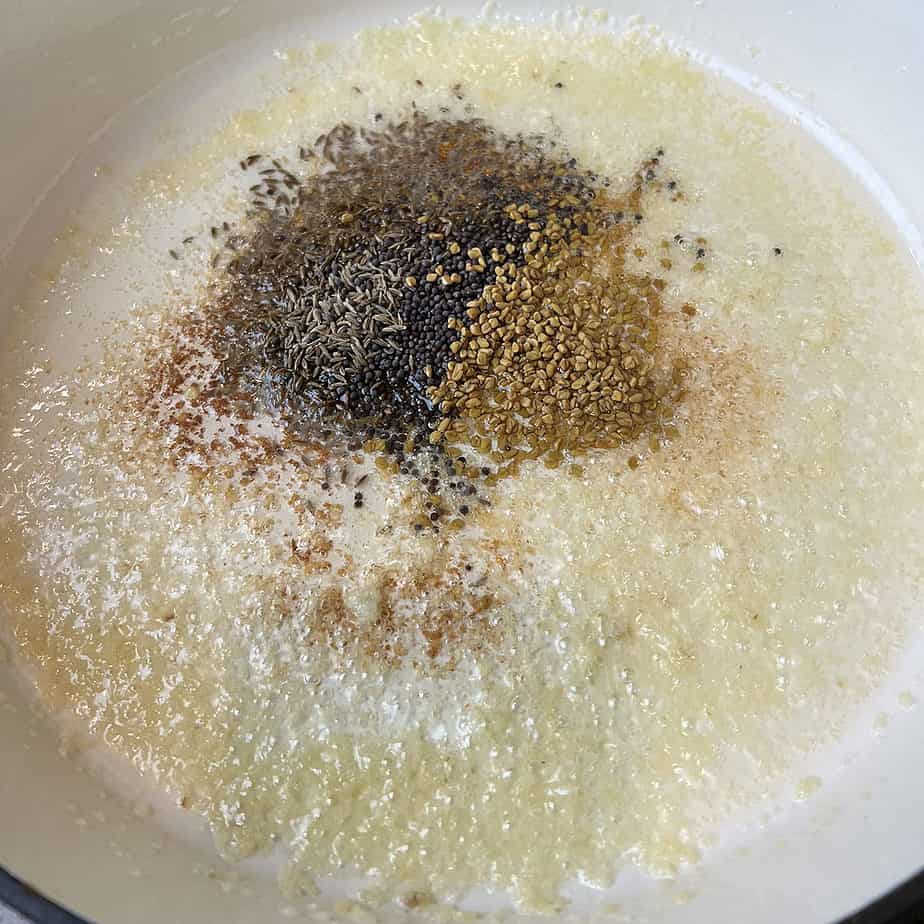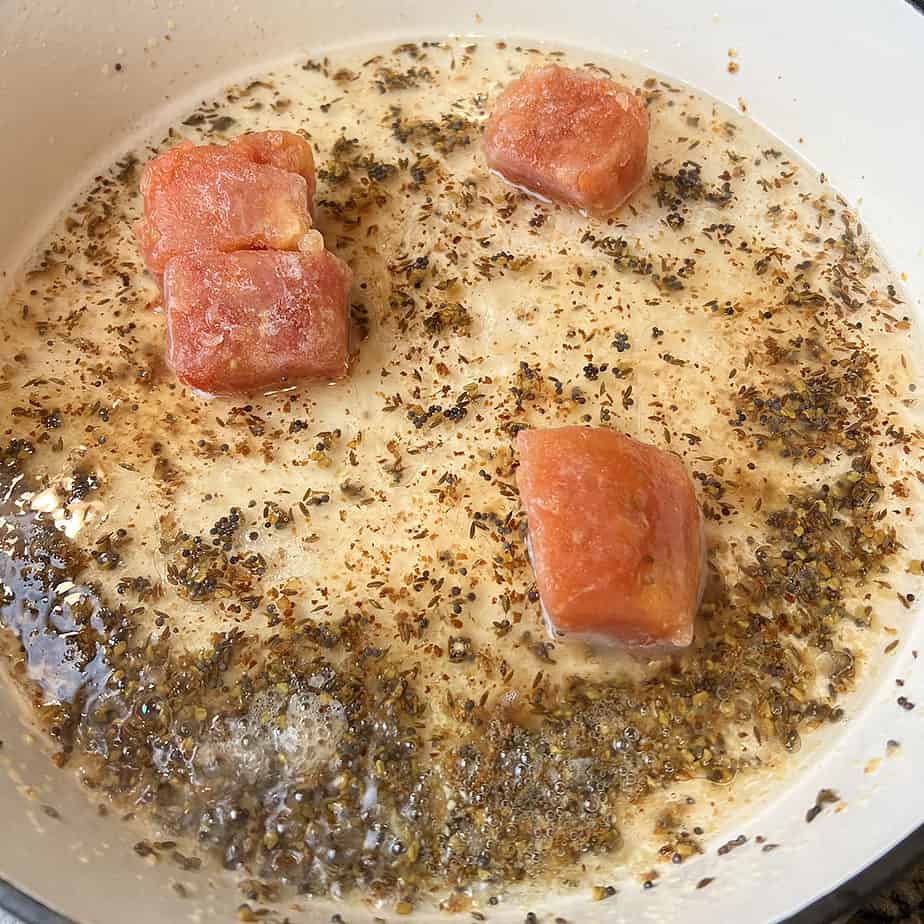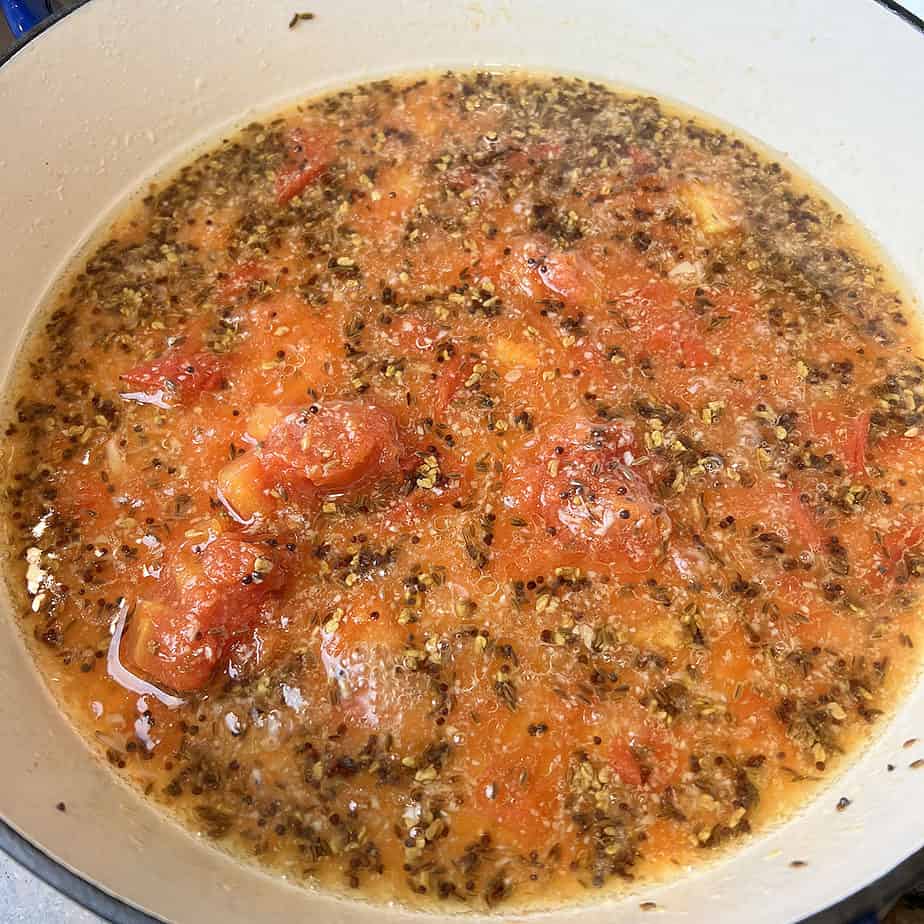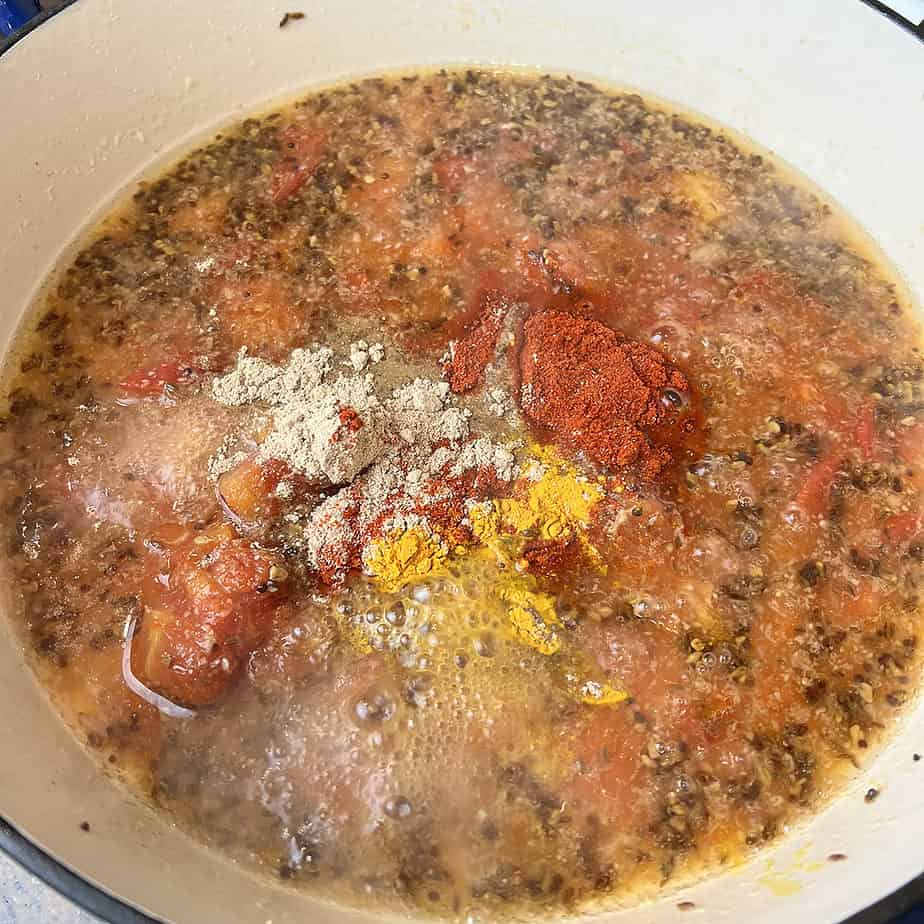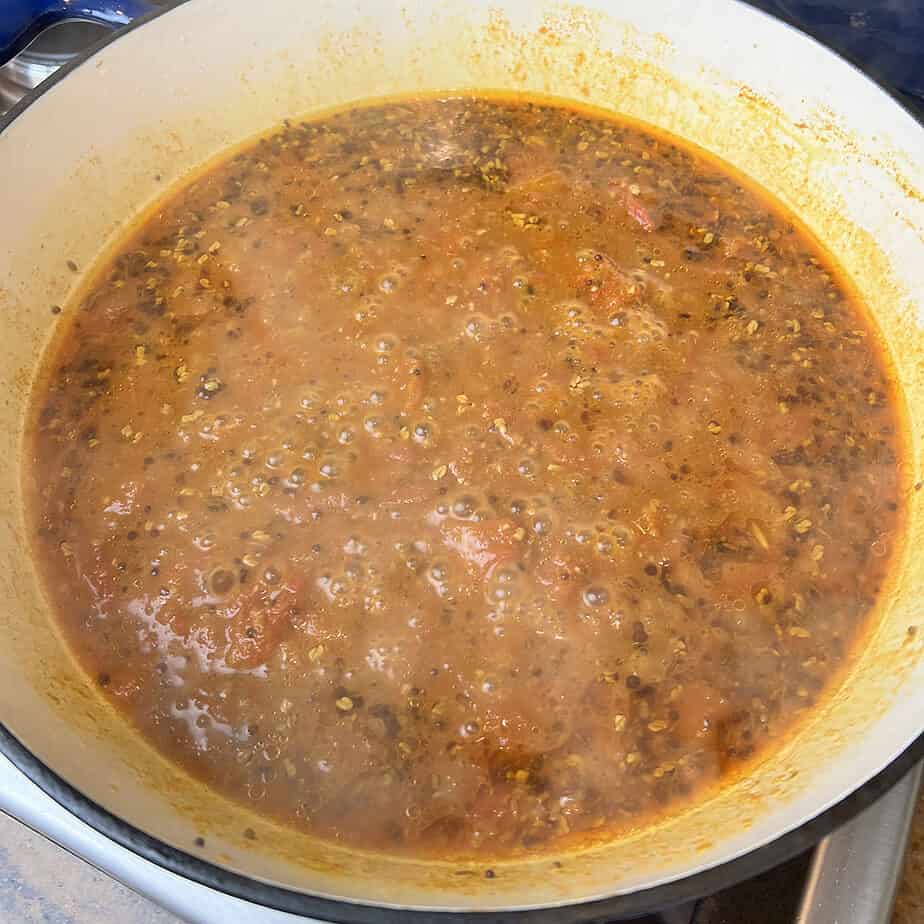 Add in the air fried/baked squash and cook it in the spicy tomato base.
Cook on medium heat to prevent the roasted acorn squash from sticking to the bottom of the pot.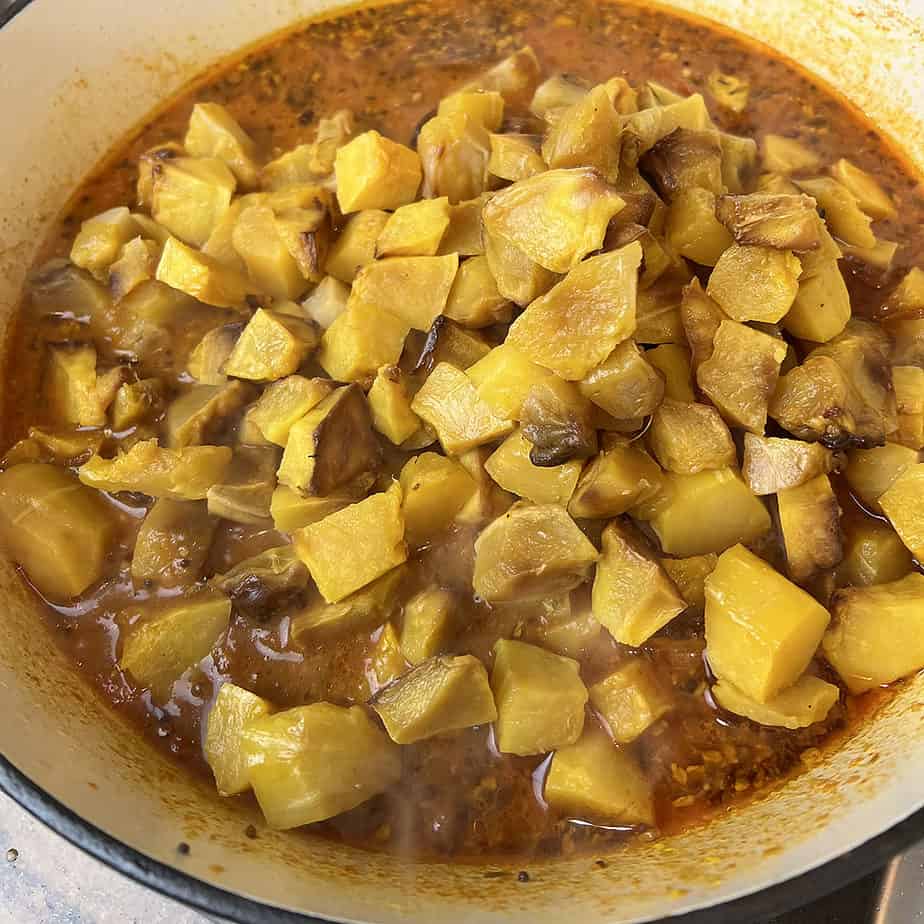 Add in the Amchur powder, garnish with cilantro and enjoy your delicious side dish or vegetarian main!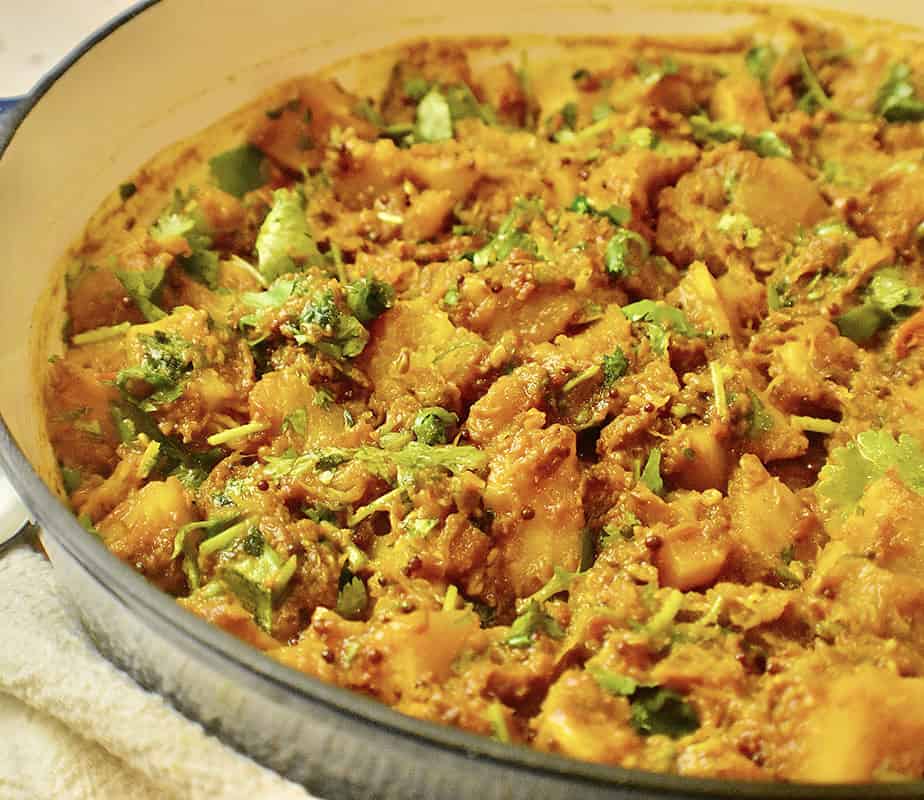 Substitutions
Acorn Squash - There are many delicious fall squashes, many with a similar flavor profile. Butternut, Pumpkin and Kabocha are the three that I would recommend as great substitutes for Acorn Squash in this recipe.
Fenugreek Seeds - I would highly recommend the actual seeds but if you can't source them then you can use the dried leaves instead.
Cumin Seeds - Cumin seeds are usually easy to find but cumin powder will work in a pinch.
Amchur Powder – Lime juice makes a great alternative to amchur powder but if you want to be more adventurous you can try dried pomegranate seeds instead!
Note: The combination of the three whole spices adds a delicious aroma to the acorn squash curry, but if you can't source all 3 then try and use at least 2 of them in a seed form.
A Quick & Easy Holiday Variation
If you want a simpler and less complicated version of this recipe for the holidays this is for you! A Slightly less spicy shortcut version of the butternut squash that's just as delicious and a feast for the eyes on top of that!
Air fry or oven bake - the squash as detailed above.
Toss in some mild spices - As soon as the squash is done, while it's still hot, toss it in ½ teaspoon salt, ⅛ teaspoon turmeric and ½ teaspoon paprika (per acorn squash)
Temper - ½ teaspoon cumin seeds and ½ teaspoon black mustard seeds in oil and drizzle on top.
Add some tang - Squeeze the juice of half a lemon on the squash.
Garnish for a pop of color - with seasonal pomegranate and cilantro microgreens (or regular cilantro leaves) and serve!
Equipment
Large Bowl - To toss the squash with the oil
Air Fryer or Oven - To pre cook the squash. While this step is not necessary it saves time. As I prep the curry base the squash bakes and then I simply combine the two and bring it all together at the end. It's also a great way to buy, bake and prep your vegetables and store them to cook later. Once baked, the shelf like of the vegetable increases as it can stay in your fridge or freezer for much longer than the raw version without losing its texture or flavor.
Baking Sheet - If you're using the oven method.
Aluminum Foil - To line your baking sheet.
Large Saucepan or Pot - Depending on the amount of vegetables you're cooking.
Storage
Fridge – The squash once cooked will stay good in the fridge for upto 4 days maximum. Reheat it in the microwave to serve and don't stir it too much to prevent the squash from becoming a mush!
Freezer – Although I don't recommend this method, you can freeze the acorn squash curry for upto 3 months. It is likely to become a bit mushy when defrosted due to the excess moisture. For best results, reheat it in an oven to dry it up a bit and don't stir it while heating.
Top Tip
How to Buy the Perfect Acorn Squash! For without the right vegetable your curry won't turn out perfect!
The ideal acorn squash is about 1-2 pounds in weight and 4-7 inches in length. The smaller the vegetable, the more likely it is to be sweeter and juicier.
A dark green color with a few flecks of orange on the skin is a fresh and ripe squash. Too much orange indicates an overripe vegetable and the likelihood of gray, moldy seeds on the inside of one is high.
The inside of the squash should be a nice golden yellow when you cut into it, similar to that of a pumpkin, as both belong to the same family.
FAQ
What Does Acorn squash Pair Well With? - Acorn Squash is a great side or main. With regard to Pakistani food I like it best with roast meats such as my pakistani-beef-roast-with-tandoori-masala, meet entrees like my easy-oven-baked-seekh-kebab or my kaali-masoor-ki-daal-brown-lentils for a totally vegetarian meal.
How Long Should Acorn Squash Cook? - This depends on the the cooking method, the equipment and the way the squash is cut. Based on this recipe, if the acorn squash is peeled and cubed it will cook fairly quickly. In my oven I cook it at 450 degrees for 30 minutes and in my airfryer I cook it at 350 degrees for 15 minutes. Everyones oven and air fryer is slightly different, so adjustments may need to be made.
Is Acorn Squash Good For Diabetics? - Acorn Squash has numerous health benefits, but the main ones are it's high fiber content and low glycemic index. This makes it a great option for someone on a diabetic diet.
Does Acorn Squash Count As A Carb Or A Veggie? - Botanically classified as a fruit, Acorn Squash is actually counted as a starchy vegetable when planning menus. A much healthier option than many others along with it's beautiful color and delicious taste make it a popular option.
Please don't forget to leave a rating and comment below! If you take a picture then please tag me on instagram ! Thank You!
Acorn Squash Curry
In this traditional Pakistani acorn squash curry, seasonal acorn squash is cooked in an aromatic blend of garlic, spices and tomatoes.
Equipment
Large Bowl

Air Fryer or Oven

baking sheet

Aluminum Foil

Large Saucepan or Pot
Ingredients
1

acorn squash

4

tbsp

cooking oil

2

tsp

garlic paste

1

tsp

fenugreek seeds

(SEE NOTES)

1

tsp

white cumin seeds

(SEE NOTES)

1

tsp

black mustard seeds

(SEE NOTES)

2

tomatoes

1

cup

water

1

tsp

red chili powder

1

tsp

salt

¼

tsp

turmeric powder

1

tsp

amchur powder

(SEE NOTES)

½

cup

cilantro
Instructions
Peel the squash, deseed it and cut it into small cubes.

Massage it with 1 tablespoon of oil and air fry it for 15 minutes at 350°(SEE NOTES)

Heat the remaining 3 tablespoons of oil in the saucepan or cooking pot and saute the garlic, fenugreek, cumin and mustard seeds for about 1 minute.

Add the diced tomatoes, red chili powder, salt and turmeric and saute for 30 seconds.

Add the 1 cup of water, cover and cook on medium for 10 minutes to cook the tomatoes.

Uncover and add the cooked squash and cook till liquid is dry (SEE NOTES)

Add the amchur powder, stir, add the cilantro and serve.
Notes
Fenugreek Seeds - It's best to use fenugreek seeds, but if you can't source them or they're not available you can use fenugreek leaves (methi) instead. Cumin Seeds - These are usually easy to source but in the event that you can't, substitute with some cumin powder instead. Black Mustard Seeds - If you can't source these feel free to omit them from the recipe but I highly recommend using them. They pair exceptionally well with the acorn squash. The Tempering Spices - Although I've given substitutions above, I would strongly advise adding at least 2 out of the 3 spices as is in the seed form if you can source them. Flavor wise there really is no comparison for the real thing and swapping them all out will change the taste of the curry a lot. Amchur Powder - This dried mango powder adds a nice tang to the recipe. It's best to add it right at the end to preserve it's full flavor. If you don't have any just add the juice of ½ a lime instead. Cooking The Squash - Preheat the air fryer for 5 minutes before cooking the squash. The time and temperature above are ideal for my air fryer but may vary slightly depending on the brand you have. If you don't have an air fryer, bake the squash in a preheated oven at 450 degrees for 30 minutes instead. Cooking The Curry - The purpose of adding the squash to the liquid is to infuse it with the flavor of the spices. Stirring the squash too much makes it mushy so it's best to let it simmer gently in the spices and give just one final stir once the liquid is almost dry.
Nutrition
Serving:
1
g
Calories:
197
kcal
Carbohydrates:
17
g
Protein:
2
g
Fat:
15
g
Saturated Fat:
1
g
Polyunsaturated Fat:
4
g
Monounsaturated Fat:
9
g
Trans Fat:
0.1
g
Sodium:
602
mg
Potassium:
575
mg
Fiber:
3
g
Sugar:
2
g
Vitamin A:
1198
IU
Vitamin C:
22
mg
Calcium:
60
mg
Iron:
2
mg