Ready in 10 minutes, this low-carb, gluten-free, vegetarian, and vegan recipe for green beans in the air fryer is going to be a new favorite snack. It also makes a great side dish for your Thanksgiving Turkey., that your whole family will love.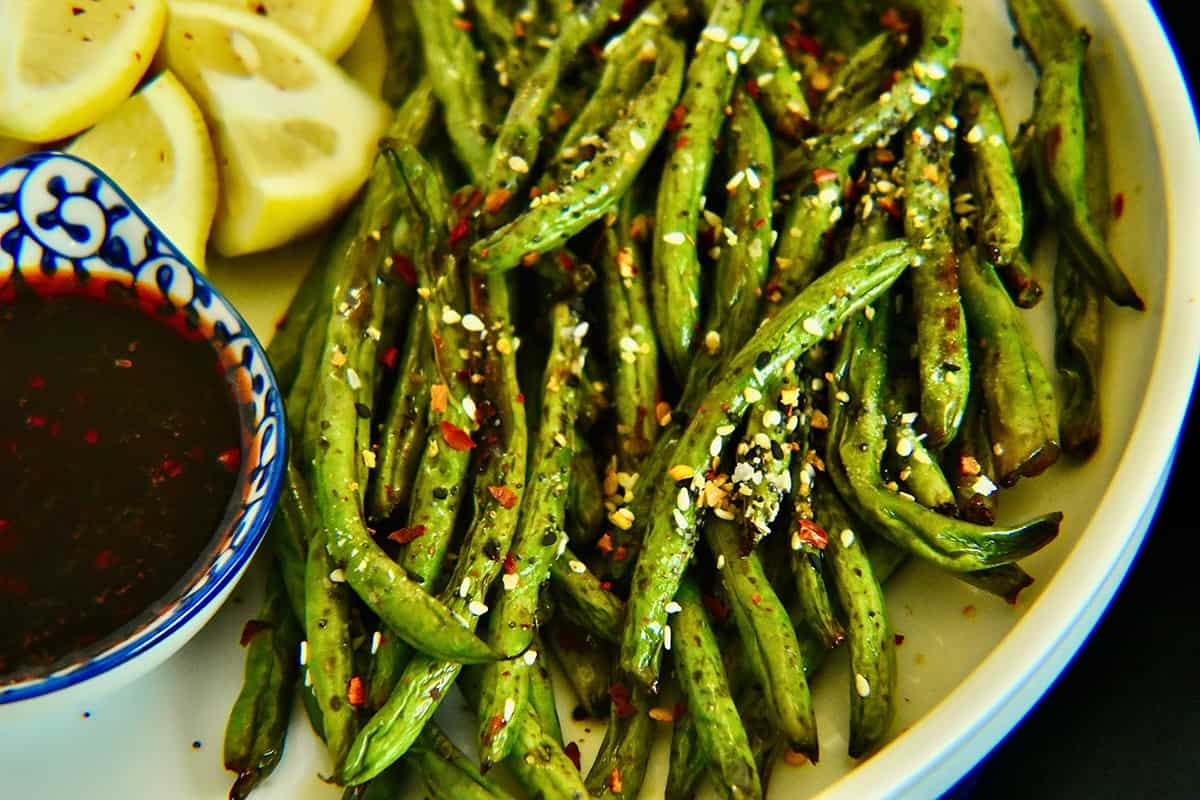 The best thing about this recipe is that it frees up my stove and oven for all my other cooking. This way, everything is ready at the same time and can be served fresh and hot.
I love to cook my chicken steam roast on the stovetop, my spicy masala smashed potatoes, or chili lime potato stacks in the oven, and these thin green beans in the air fryer basket for a Sunday dinner.
Jump to:
Why you'll love this recipe
Perfectly done greens every time - An air fryer cooks by circulating hot air, and this results in crispy green beans.
Quick and easy recipe - The quick cooking time and easy cleanup of making the snap beans, as they're also called, in the air fryer make this a perfect recipe.
Fried food without calories - You can enjoy air fryer green bean fries for a fraction of the calories of actual fried green beans.
Versatile recipe - This recipe makes a healthy snack or perfect side dish and fits almost all dietary restrictions.
Ingredient notes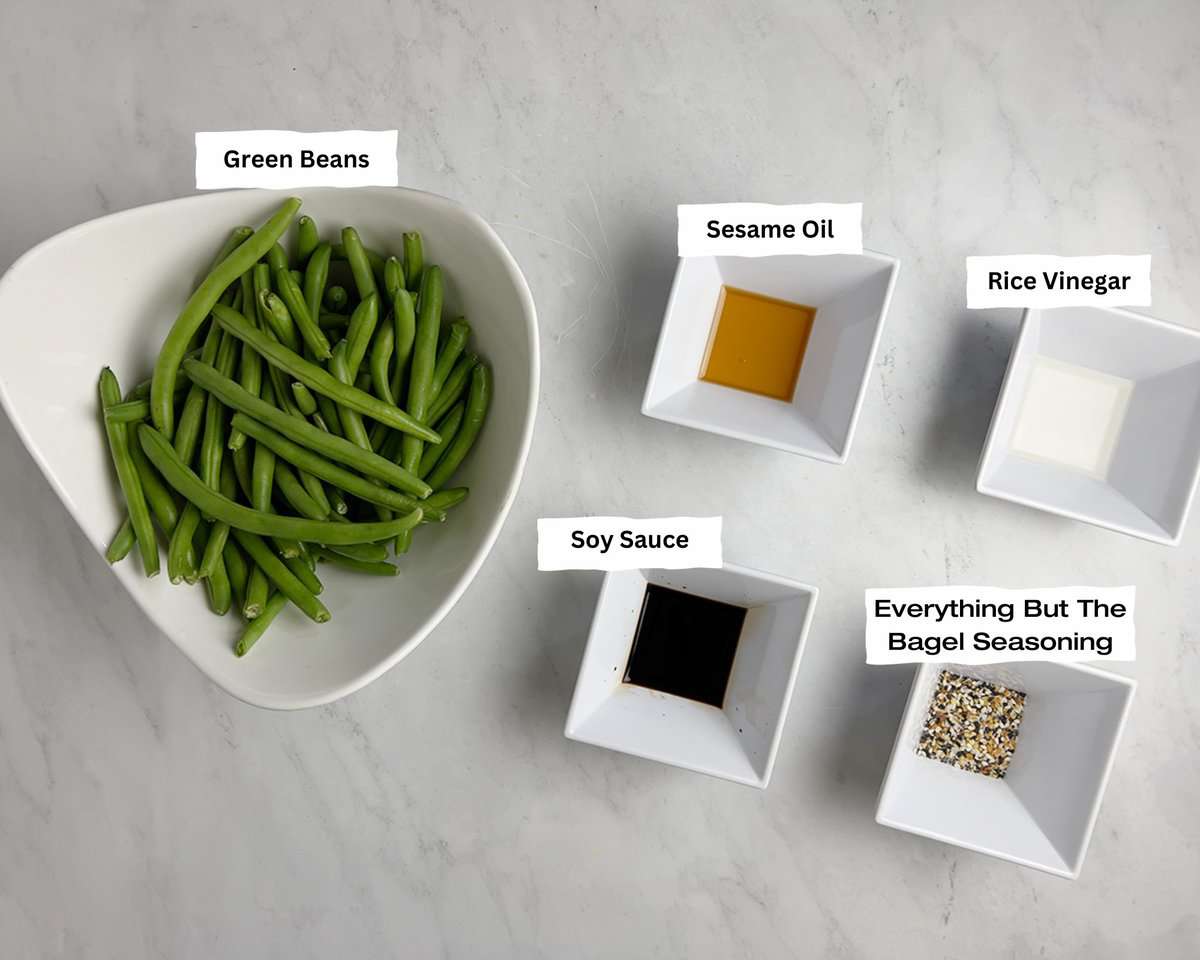 Green beans - I try to source French beans versus string (green) beans if I can. I find these have more flavor and get crisper in a shorter amount of time in the air fryer.
Sesame oil - Sesame oil has a very intense, nutty flavor that pairs well with the other ingredients in this recipe.
Rice Vinegar - Less acidic and milder in taste, this is perfect for snap beans.
Soy sauce - I prefer low-sodium soy sauce for health reasons, but regular is just as good.
Everything but the bagel seasoning - Buy this seasoning from Trader Joe's, or make the blend on your own per the instructions in the recipe card below.
Please see the recipe card at the bottom of this post for the complete list of ingredients with measurements plus recipe instructions.
Substitutions & variations
Balsamic drizzle finish - Toss the French beans in olive oil, salt, and black pepper. Once plated, add a balsamic vinegar or glaze, drizzle on top, and serve.
Italian-inspired green beans - For a different flavor profile, toss the string beans in olive oil, garlic powder, and fresh lemon juice. Finish with freshly grated parmesan cheese and some fresh lemon zest, and serve.
Panko-coated green beans - Another way of making these beans in the air fryer is to coat them in flour, dip them in some well-beaten eggs, and then add a final coating of panko breadcrumbs. Spray with nonstick spray and air fry as per instructions in the recipe card.
Air-fry a different vegetable - Some of my favorite air fryer recipes are broccoli, zucchini, french fries, sweet potatoes, or asparagus. All these make a great side dish for any of your favorite main dishes like tandoori pot roast.
Sesame seeds only - Sprinkle a combination of black and white sesame seeds as a topping to make things simpler.
Step-by-step instructions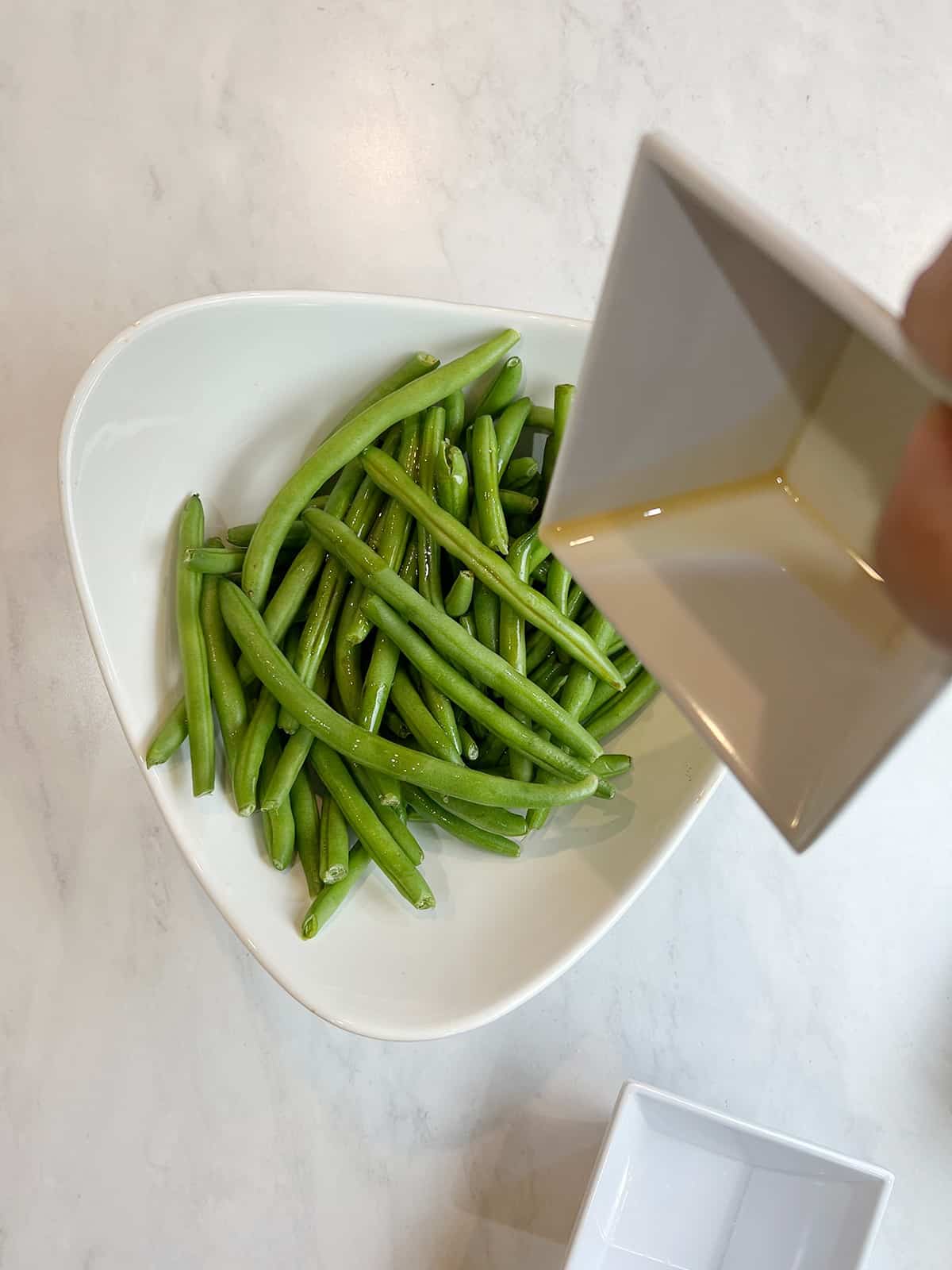 Step 1 - Once the greens are washed and prepped, pour the sesame oil over them.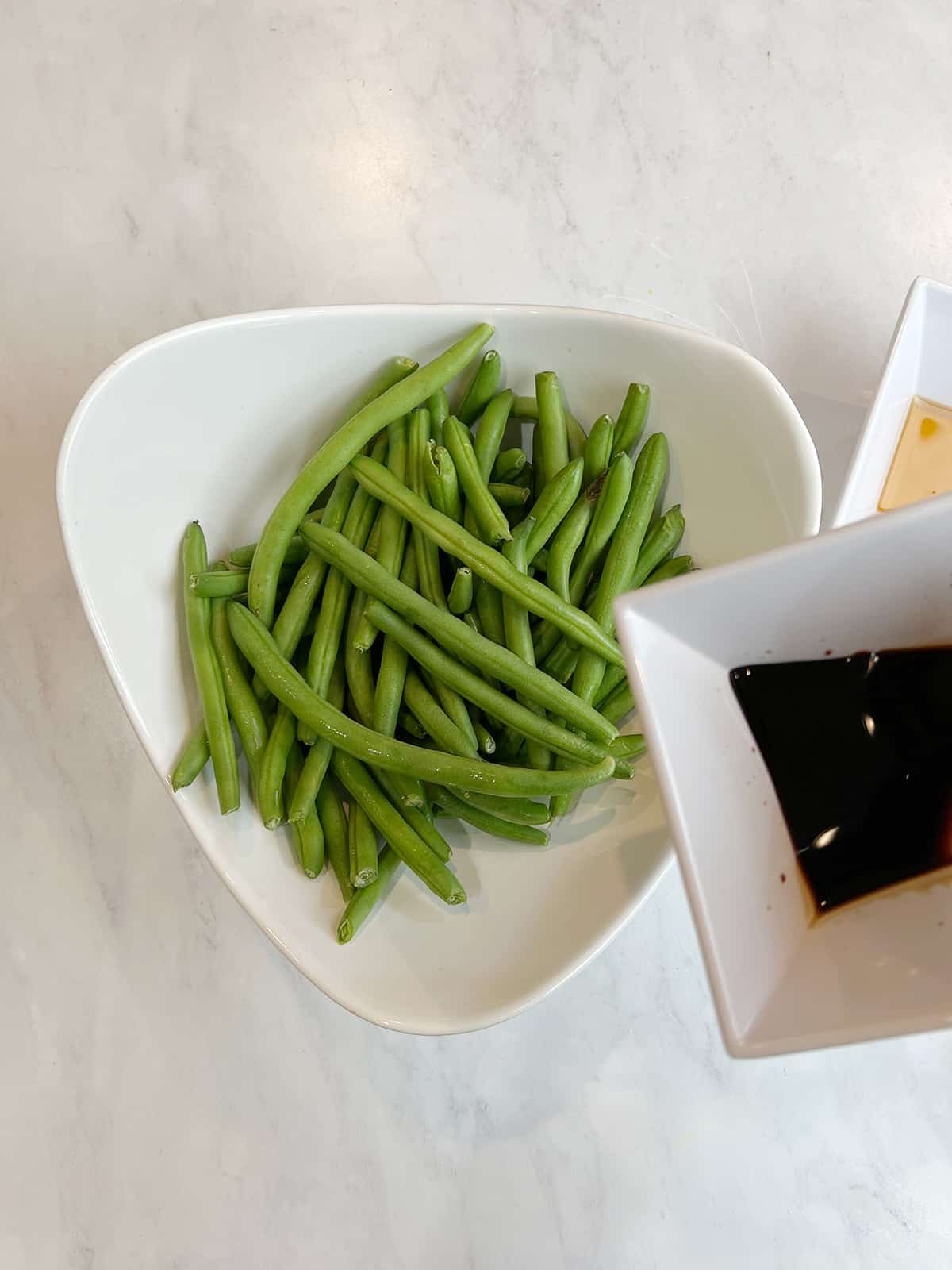 Step 2 - Follow with some soy sauce and rice vinegar and marinate for 30 minutes.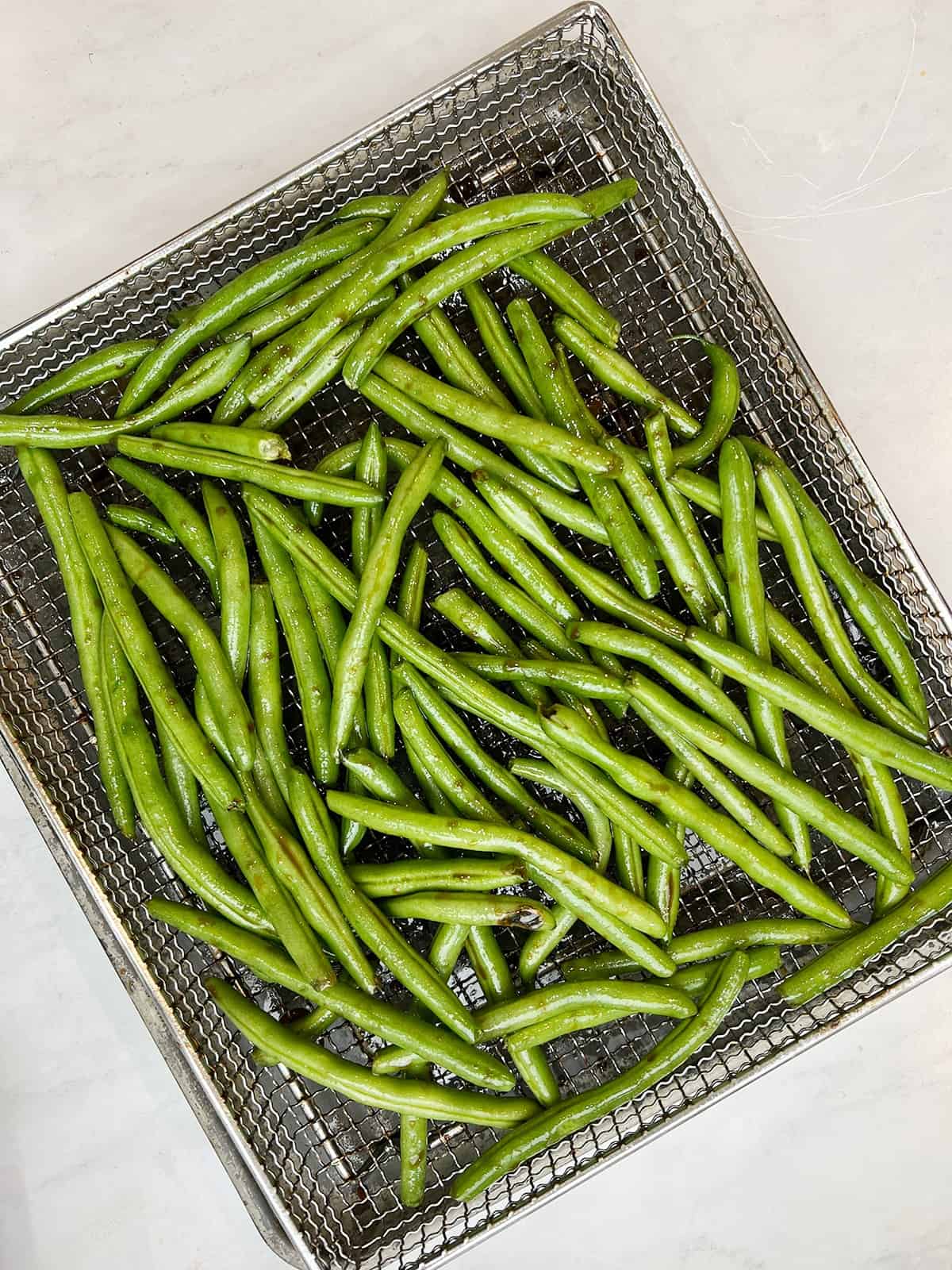 Step 3 - Place them in a pre-heated air fryer and cook at 350 degrees Fahrenheit for 8-10 minutes. The cooking time will depend on the type of air fryer.
Expert Tips
Use French beans if you can - French beans have a milder, sweeter taste. More tender than string beans, opt for these when possible.
Opt for fresh green beans if possible - Fresh green beans work best for this recipe. These should always be your first choice with a crisp texture and delicate flavor.
Cook packaged beans on the same day - If you are using pre-packaged beans, it's best to cook them on the same day.
How to cook crispy beans - To make sure the green beans are crisp, cook them in a single layer and flip them halfway through.
Recipe FAQS
What is the difference between a Haricot Vert and a green bean?
The Haricot Vert, also known as the French bean, is thinner, with a milder taste than a green bean.
How to store and re-heat the beans?
It's best to cook the string beans in small quantities and eat them immediately. They don't stay crispy for long after being cooked. Once refrigerated and reheated, the result is soggy green beans.
Can I use frozen green beans?
It's best not to use frozen beans. They don't crisp up in the air fryer due to the moisture on them.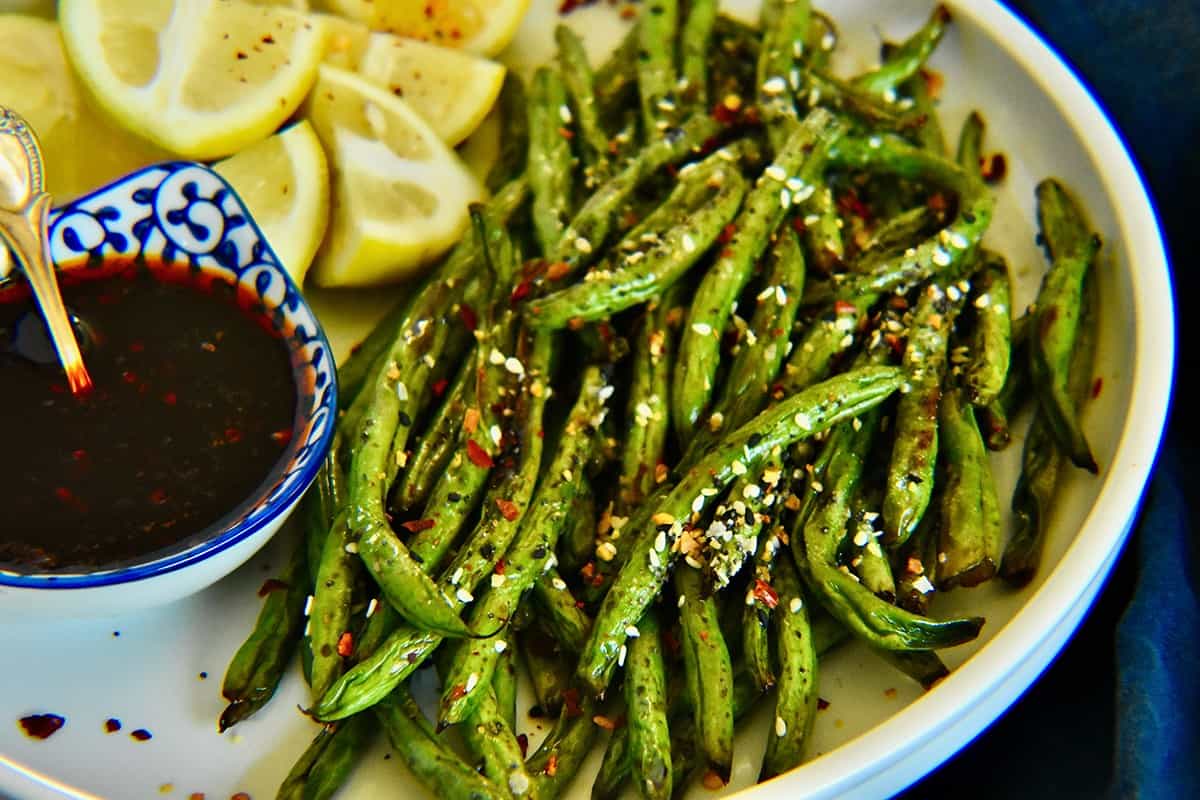 Other recipes you may like
Did you try the recipe? Please leave a rating below or take a picture and tag me on Instagram! Thank You!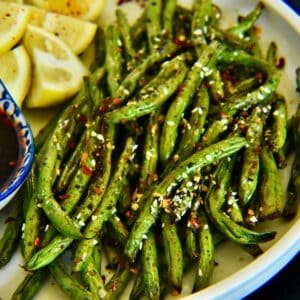 Green Beans In The Air Fryer
These green beans in the air fryer have a cooking time of just 10 minutes and are served with a sweet and spicy chili sauce on the side.
Ingredients
Green beans
1

lb

french beans

(see notes)

2

tbsp

sesame oil

(see notes)

2

tbsp

rice vinegar

(see notes)

2

tbsp

soy sauce

(see notes)

1

tbsp

everything but the bagel seasoning

(see notes)
Everything but the bagel seasoning blend
2

tsp

poppy seeds

2

tsp

white sesame seeds

2

tsp

black sesame seeds

1

tsp

dried garlic

1

tsp

dried onion

½

tsp

flaked sea salt
Sweet and spicy chili sauce
¼

cup

honey

2

tbsp

sambal oelek

(see notes)

2

tbsp

rice vinegar

2

tbsp

soy sauce

1

tsp

chili crisp oil

(see notes)
Instructions
Green beans
Mix the sesame oil, rice vinegar, and soy sauce and toss the green beans in it.

Marinate the beans for 30 minutes.

Preheat the air fryer to 350 degrees Fahrenheit.

Cook the beans in the air fryer for 10 minutes.

Plate the beans, sprinkle them with everything but the bagel seasoning and serve with lemon wedges and the sweet and spicy chili sauce.
Everything but the bagel seasoning
Mix all the ingredients in a small bowl and use as needed for the topping.
Sweet and spicy chili sauce
Add all of the ingredients to a small saucepan and cook.

Turn the stove off when the sauce reaches a boil and set aside to cool.
Notes
French beans - For best results, try and source fresh French beans. These are longer and thinner than green beans and have a delicious taste and texture. If you can't source these, use regular green beans, but make sure to use fresh and not frozen.
Sesame oil - This is easy to source and, with its nutty taste, adds a depth of flavor that a neutral oil couldn't provide. If you prefer, you can use any other oil you have on hand.
Rice vinegar - This mild-tasting vinegar pairs well with the sesame oil and is perfect for green beans. You can use regular white vinegar if you don't have this, but it will add a more acidic flavor to the beans.
Soy sauce - Use regular or low sodium, depending on how salty you like your food.
Everything but the bagel seasoning - This recipe makes 3 tbsp of the seasoning. You can store the extra in an air-tight container.
Sambal olek - An Indonesian chili paste; this can be purchased at Asian stores or on Amazon. Gochujang sauce or siracha make great substitutes if you can't source this.
Chili crisp oil - This has a different taste than the sambal olek sauce, and when both are combined, the results are delicious. Buy it at your local Asian market or on Amazon.
Air fryers - These are a little tricky to cook in if you're new to them, as each one is different. I would check the beans after 5 minutes and gauge how much longer you need to cook them. Mine is an air fryer and convection oven in 1.
Nutrition
Serving:
1
serving
Calories:
123
kcal
Carbohydrates:
17
g
Protein:
4
g
Fat:
6
g
Saturated Fat:
1
g
Polyunsaturated Fat:
2
g
Monounsaturated Fat:
2
g
Sodium:
844
mg
Potassium:
300
mg
Fiber:
4
g
Sugar:
11
g
Vitamin A:
783
IU
Vitamin C:
15
mg
Calcium:
69
mg
Iron:
2
mg