Nihari (Pakistani Beef Shank Stew) is a delicious and ancient one-pot recipe. After 15 minutes of prep, the shank stew is slow-cooked for 4 hours. The result is a delightful and aromatic stew with meat that melts in your mouth.
This slow-cooked Pakistani stew made with beef shank dates back to the late 17th or Early 18th Century. The word Nihari comes from the Arabic word Nihar which means morning. The name is apt as the shank stew was served to the Nawabs during the early morning prayer.
This Pakistani beef shank stew recipe continues to be a popular choice for breakfast and brunch today. A popular street food, Nihari is a special weekend breakfast treat like sooji halwa, aloo masala, and chana masala.
Jump to:
Why you'll love this recipe
The perfect recipe to feed a crowd - This hearty Pakistani beef shank stew is a stand-alone recipe that's always a crowd-pleaser. No complicated menus to plan for your guests and no extra time to double or even triple this recipe.
Delicious leftovers - Nihari freezes well and tastes better when reheated. Who doesn't like amazing leftovers?
Authentic Street Food Taste - This recipe's homemade blend of spices delivers a Nihari just like the one you would enjoy on the streets of Karachi.
No added preservatives - The Nihari will be completely organic since you'll be making your own spice blend from scratch.
The ingredients
The two things essential to an amazing pot of Nihari are the meat and the spice blend.
The meat
The Meat - Bone in Shank Meat cut into big pieces is what is traditionally used in this recipe. The bones and marrow are essential to the stew.
The Flour - A special wholemeal wheat flour known as Durum flour or Atta is used to thicken the Nihari. It is easily available on Amazon.
The Onions - I always use yellow onions for their neutral taste. In this recipe, I fry them and add them to the Nihari as a tadka, or tempering, at the end.
The spice blend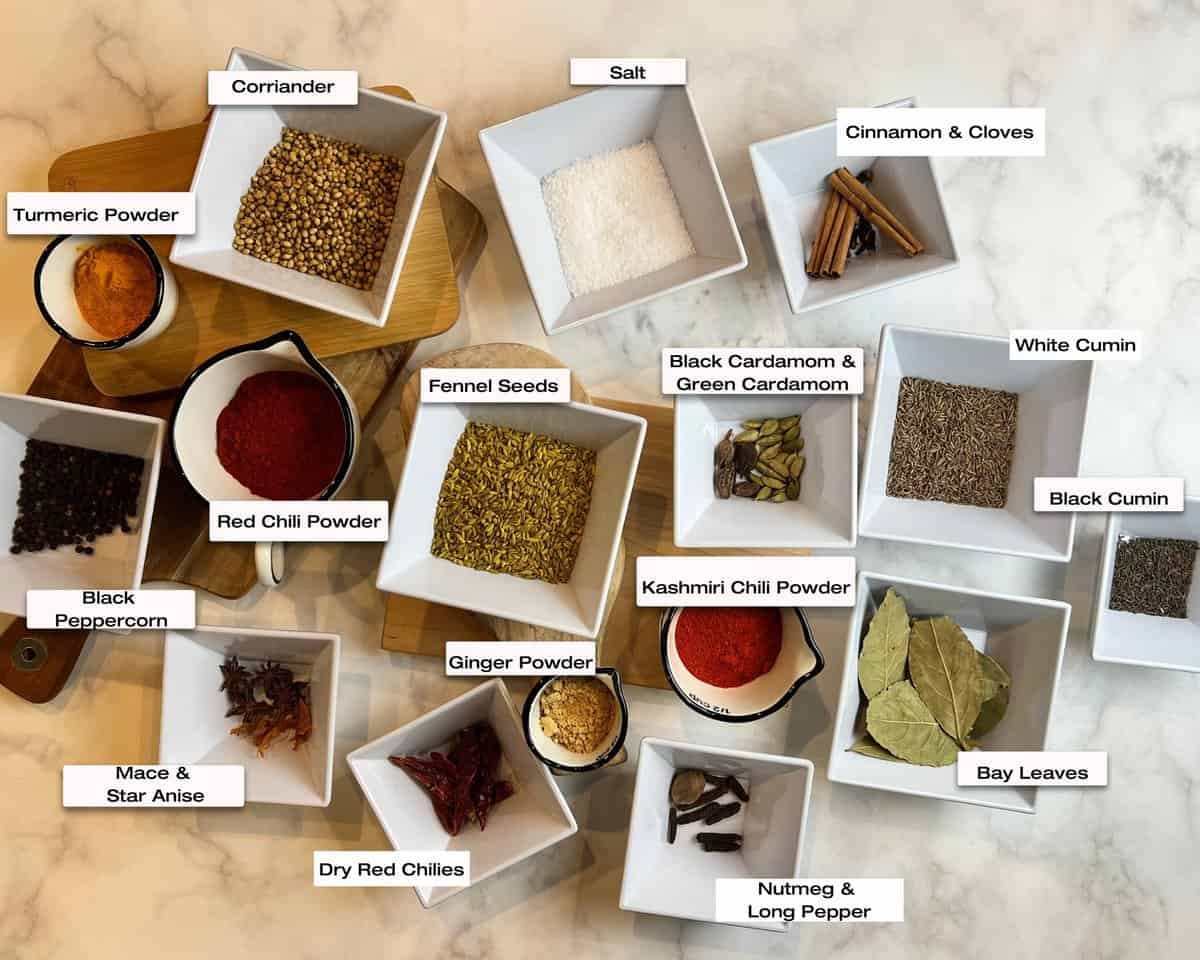 Long Pepper - Long pepper, also known as Piper Longum and Pippali is a relative of black pepper. It has a more complex taste and is almost like an entire spice blend in one tiny little capsule. Earthy, smoky, and floral, Pippali is an essential ingredient in the Nihari spice blend. It is available in all South Asian stores, on Amazon, and at specialty spice stores such as The Spice House or Curio Spice Co.
Black Cumin - Black cumin seeds are thinner and smaller than traditional brown cumin seeds and taste like caraway seeds. They are used in many savory Pakistan and Indian recipes, adding a delicious aroma to recipes like Chicken Pulao.
Black Cardamom - Black cardamom has a warm smoky taste and aroma, quite unlike the floral notes in green cardamom. Very strong on its own when used to make spice blends, such as Chicken Korma or Mutton Biryani the result is perfect.
Grinding your own spices in small batches to make your own Homemade Nihari Masala by far leads to a more flavorful dish. A bold homemade spice blend is what gives this Pakistani beef shank stew an authentic Old Delhi taste.
Any leftover spices can be reused to make spice blends for other recipes, such as Beef Pasanday and Pakistani Beef Haleem Recipe.
The garnishes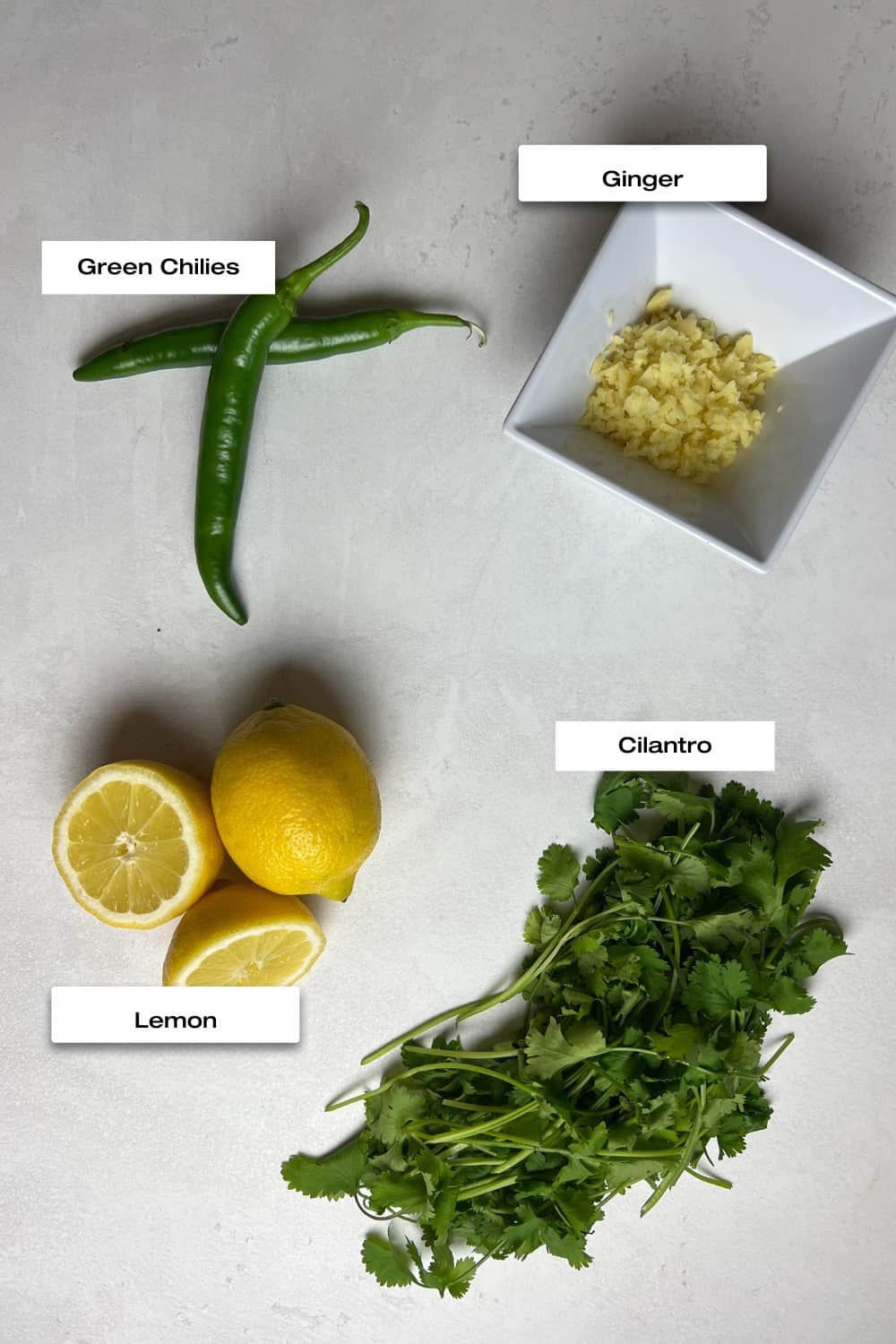 Green Chilies - I use serrano peppers since I like things spicy! If you want to tame things down, deseed the peppers.
Ginger - I usually julienne the ginger, but if I'm serving a large crowd, I simply peel it and run it through my food processor.
For the complete list of ingredients with measurements plus recipe instructions, please see the recipe card at the bottom of this post.
Substitutions & variations
Try different meat - If you have trouble sourcing bone-in beef shank, just use tender boneless beef such as chuck(front shoulder) or round(rear muscle) and buy some marrow bones separately to add to the shank stew.
Use a store-bought spice blend - If you want to save some time then I recommend using Nihari Masala by shanfoods.com or nfoodstore.com for your Nihari.
Make the stew gluten-free - To make the Nihari gluten-free, use brown rice flour instead of Atta (Durum whole wheat flour).
Pair the stew with crusty warm French bread - Switch things up and try some warm crusty French bread with your Pakistani beef shank stew instead of Naan.
Make delicious sandwiches with leftover meat - The leftover melt-in-your-mouth Nihari meat tastes amazing in sandwiches.
Step-by-step instructions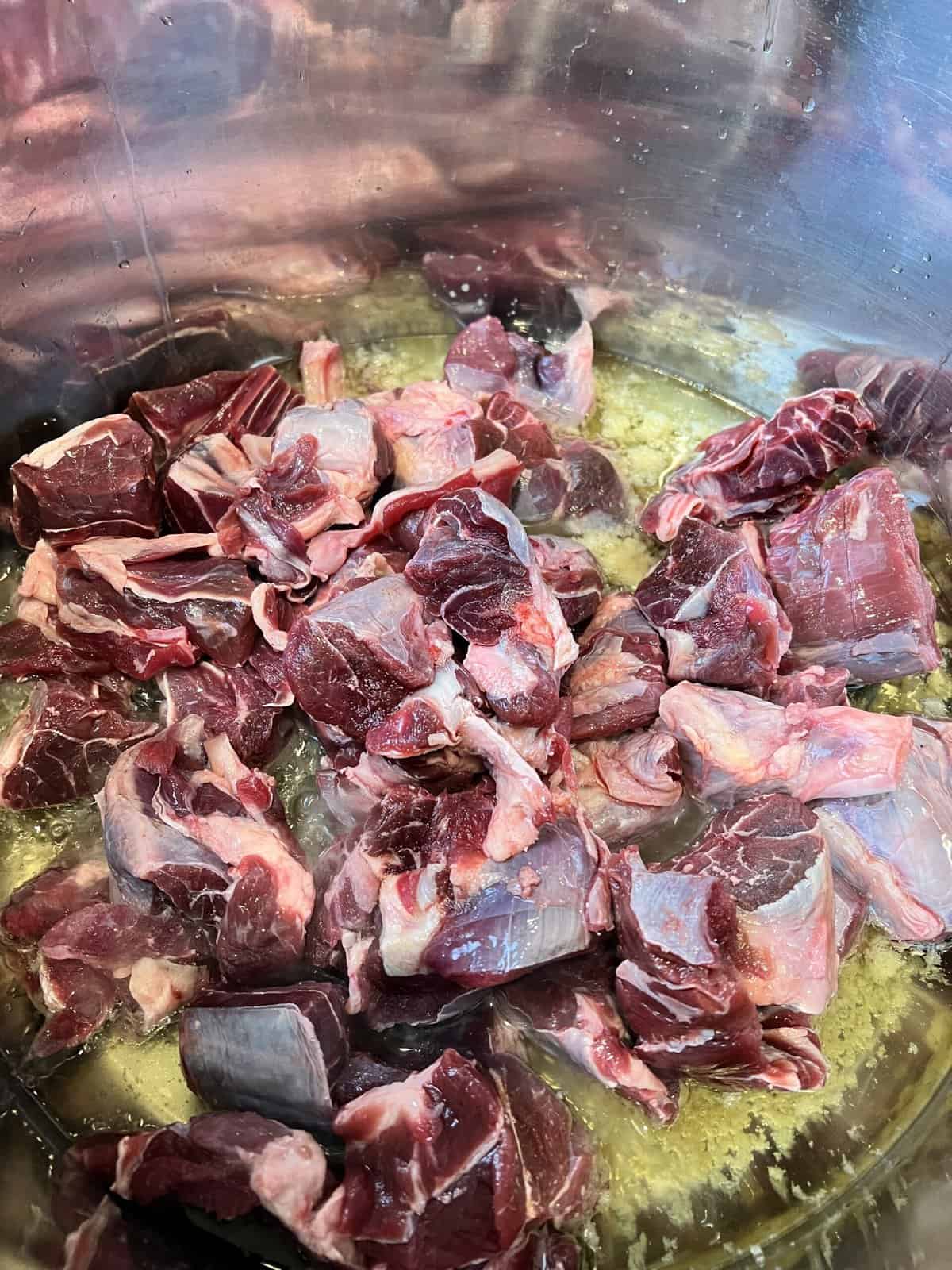 Step 1 - Heat the cooking oil, sauté the garlic paste for about 30 seconds, and then add the meat to it.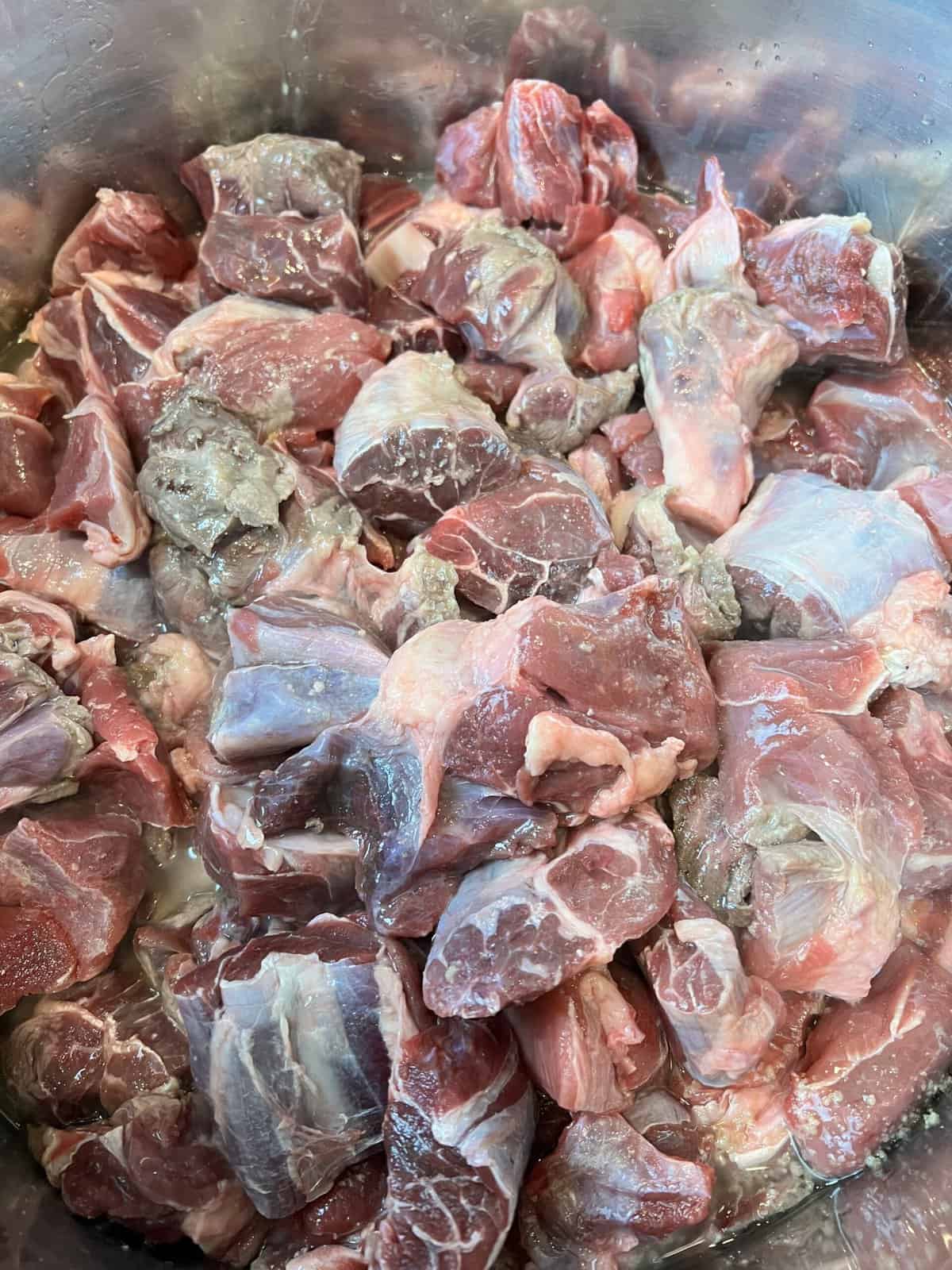 Step 2 - Cook the meat and sauté it till it just changes color and is no longer pink.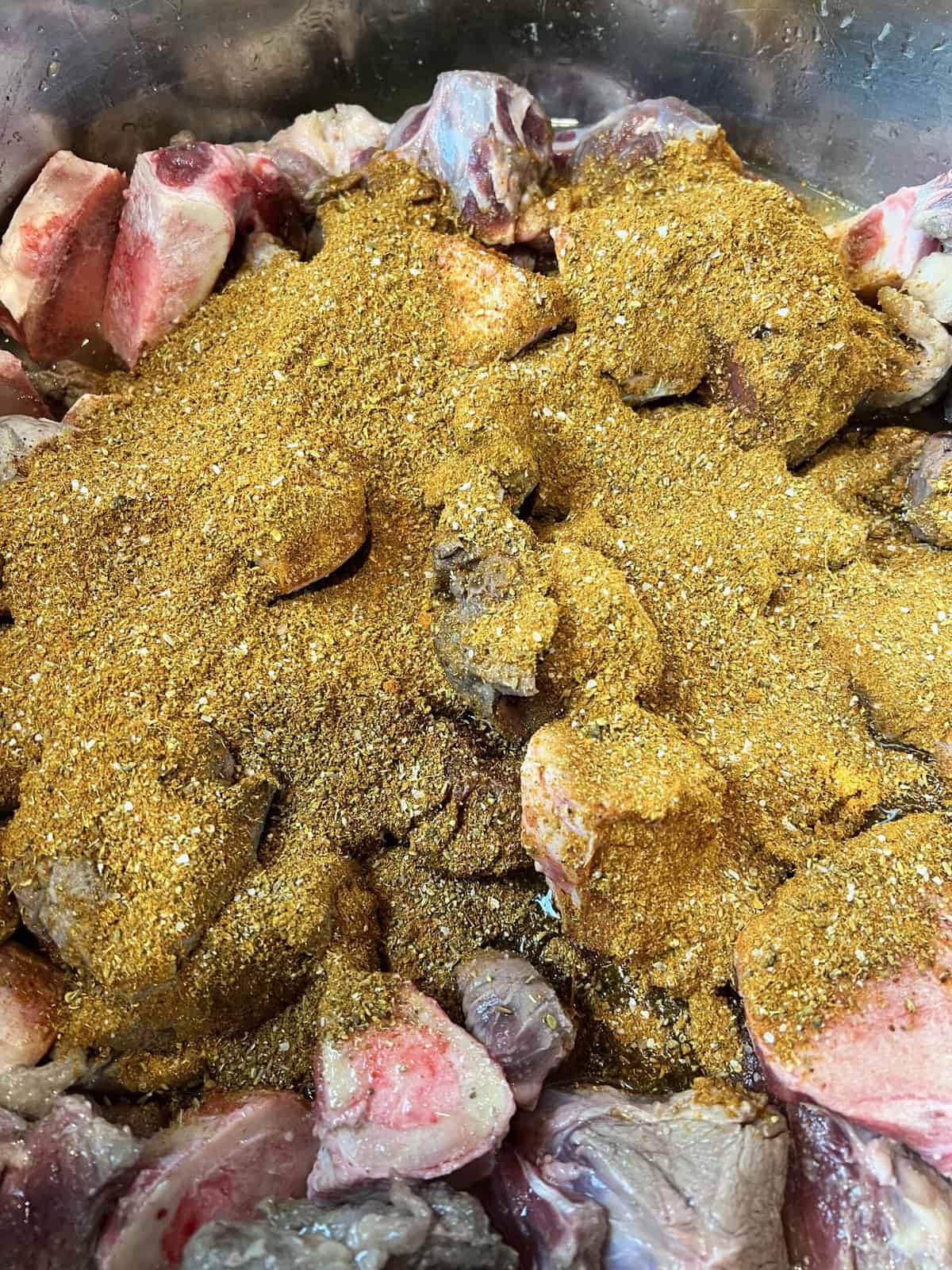 Step 3 - add in the prepared spice blend and stir fry for a few minutes to allow the spices to bloom or temper.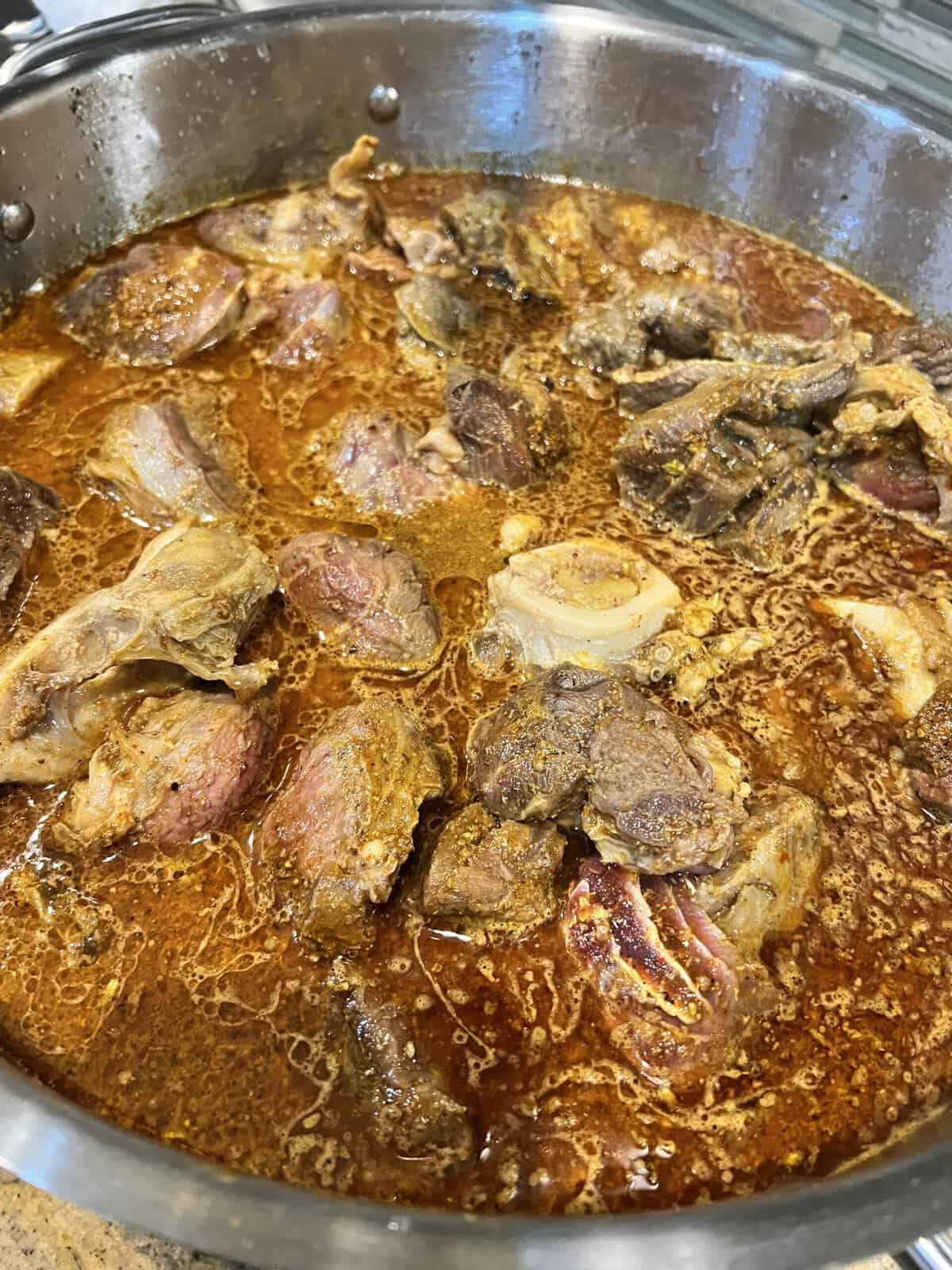 Step 4 - Add in enough water to just cover the meat and bones, and bring the mixture to a boil.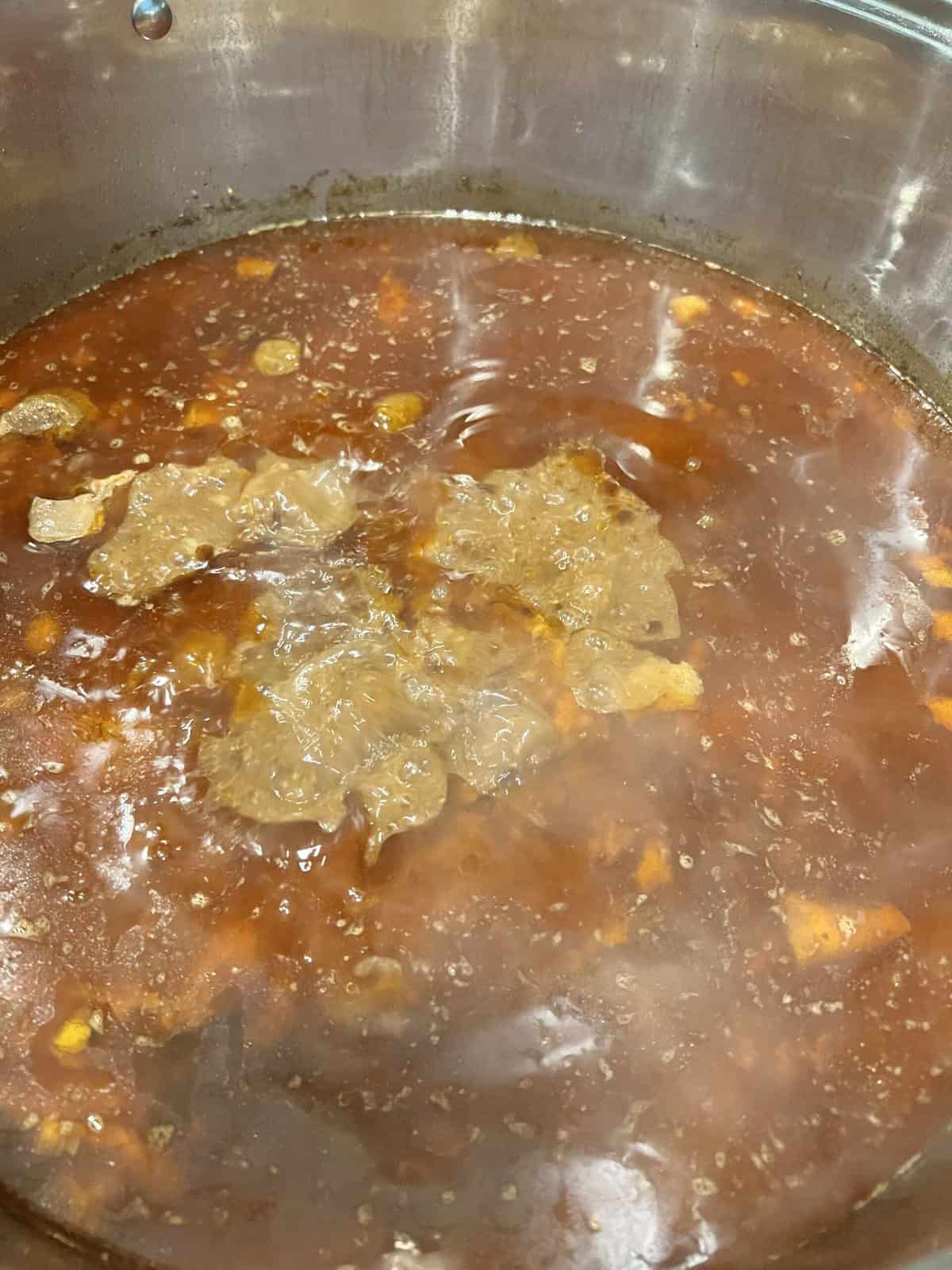 Step 5 - Then reduce the flame to low medium heat and cook the Nihari for around 3-4 hours.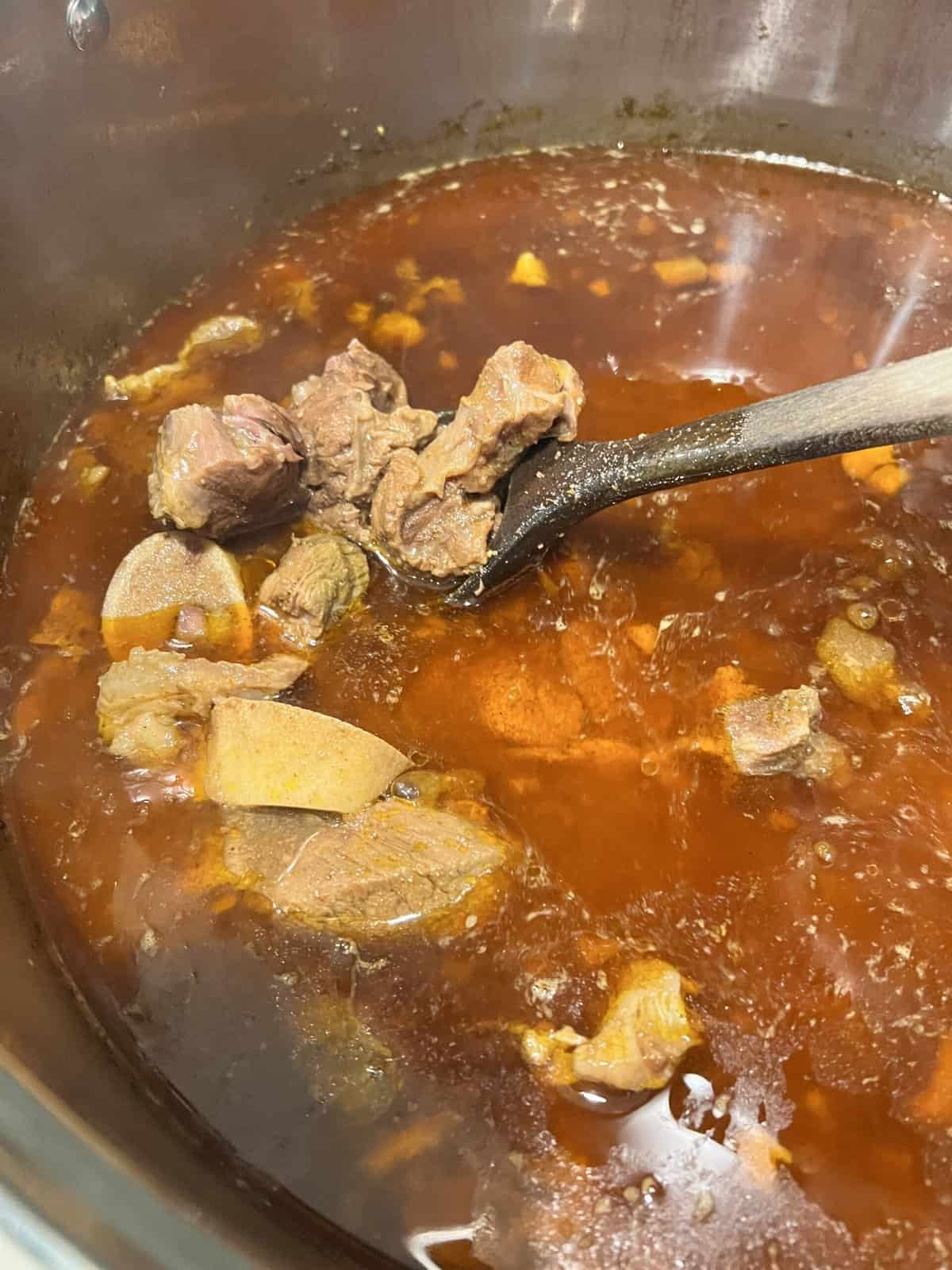 Step 6 - Once the meat is tender, I remove it using a slotted spoon. I wait for it to cool a little bit and then remove any excess fat and discard it along with the bones, adding the marrow back to my curry.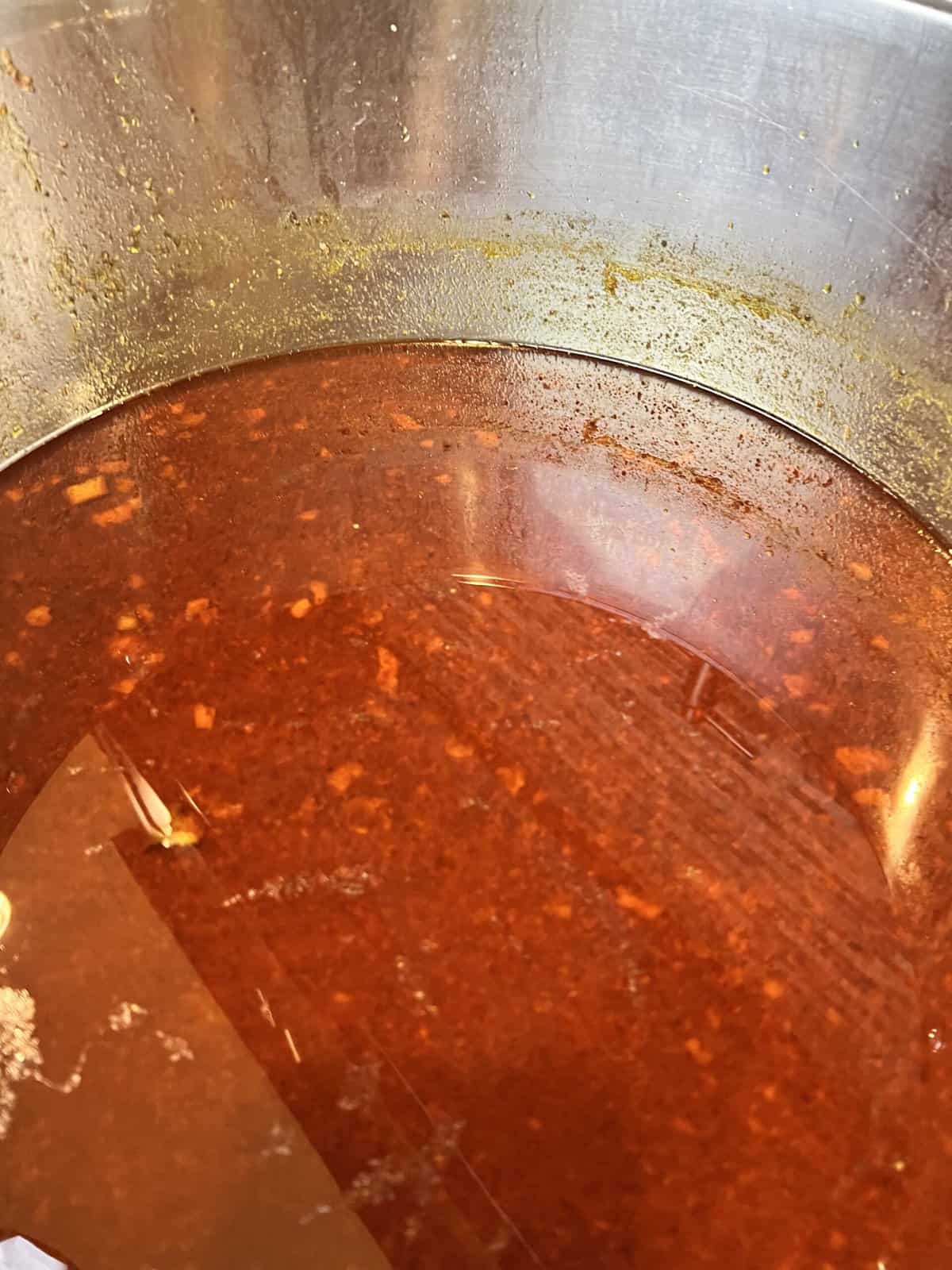 Step 7 - Make a smooth flour paste using 1 cup of atta and 2 cups of hot water. Add this slurry in slowly and stir constantly till the Nihari thickens. This will prevent lumps from forming.
Step 8 - Thinly slice a medium onion and fry it in some oil till it's crispy and dark brown. Then pour the fried onions along with the oil over your Nihari.
Expert tips
Remove the fat on the meat after it's cooked - I find that leaving the fat on the meat adds a lot of flavor to the shank stew. Plus, after 4 hours of cooking, it peels right off, making the whole process more efficient.
Make sure to add the marrow - Remove the bones from the mixture and discard them, but do add the marrow back to the stew as it really adds loads of flavor.
Always use hot water to make the slurry - This way there is no rapid change in temperature as you add the slurry, resulting in a smooth mixture without any clumps.
Keep some hot boiled water on hand - If the Nihari seems to be getting too thick too fast, add a cup of hot water to help thin it out.
Add some tempered Kashmiri chilies to your stew - As you fry the onions, add just 1 tablespoon of Kashmiri red chili powder to the oil at the end. This will give your Pakistani beef shank stew a restaurant finish.
Recipe FAQS
How should I store my Nihari?
Nihari is the perfect food to prepare in bulk and store as it always tastes better when reheated! In the fridge, it will stay okay in an airtight container for up to 3-5 days. In the freezer, it will last for up to 3 months!
I don't have Atta, what can I substitute with?
prepare a flour slurry using Atta, whole wheat flour made of Durum Wheat. You can substitute with Whole wheat flour if you don't have Atta. But this will alter the taste and texture of the Nihari.
Why do we add the onions at the end and not at the beginning?
The caramelized onions added at the end retain their full flavor, aroma, and color and the result is a richer stew.
What is Nalli Nihari?
Nalli refers to the bones that contain the marrow and gives the meat stew its amazing flavor. Nalli Nihari usually indicates that the Nihari was cooked with bone in shanks and that the stew contains marrow.
Other recipes you may like
Hope you decide to try this recipe! Please don't forget to leave a rating and comment below! If you take a picture then tag me on Instagram! Thank You!
Nihari Recipe (Pakistani Beef Shank Stew)
This Nihari (Pakistani Beef Shank Stew) is a traditional slow-cooked one-pot meal made with a beef shank in a rich, spicy gravy.
Ingredients
Nihari Masala Mix (For 5 pounds of meat)
10

whole

green cardamom

2

whole

black cardamom

3

whole

cinnamon sticks

2

whole

star anise

10

whole

cloves

3

tbsp

coriander seeds

1

tbsp

cumin seeds

3

tbsp

fennel seeds

1

tsp

black peppercorns

½

piece

nutmeg

1

piece

mace

4

whole

long black pepper (Piper Longum)

(see notes)

½

tsp

black cumin seeds

6

whole

bay leaves

4

whole

red dried chilies

1

tsp

ginger powder

3

tsp

salt

4

tsp

red chili powder

2

tsp

turmeric powder

2

tsp

kashmiri chili powder
The Ingredients
5

lb

beef shank

(see notes)

1

cup

cooking oil

5

tbsp

garlic paste

12

cups

water

1

cup

whole wheat flour

(see notes)

2

whole

onions
The Garnish
2

whole

lemons

½

cup

cilantro

2

whole

green chillies

(see notes)

2

inch

ginger piece
Instructions
Nihari Masala Mix (For 5 pounds of meat)
Dry roast all of the whole spices in a nonstick frying pan for 2-5 minutes. Constantly stir to prevent burning and remove them from the pan as soon as they release their aroma.

Grind all of these spices to a fine powder and then mix them with the powder spices (see notes).
Nihari
Heat ½ cup cooking oil in your pot.

Add and saute the garlic for 2-3 minutes.

Add the meat and the nalli (marrow bones) and roast till they are no longer red.

Add the ground spices and 10 cups of water and bring the mixture to a boil

Lower heat to medium and simmer for 4 hours.

Prepare a slurry with the remaining 2 cups of water and durum flour and add to the Nihari, constantly stirring to prevent any clumps forming. Cover and simmer for another 15 minutes (see notes)

Thinly slice and fry the onions in a ¼ cup of oil to a dark brown. Pour the onions and oil on the Nihari and simmer for another 15 minutes.
Garnish
Finely chop the cilantro.

Finely chop the green chilies.
Notes
Long Pepper - Also known as Piper Longum and Pippali, is an Indian Long Pepper that is the primary ingredient in Nihari. You just won't get that authentic taste without it in the mix so I highly recommend sourcing it from Amazon and using it.
Beef Shank - The best meat to use for the Nihari is bone-in Beef Shank. Make sure to buy and use marrow bones as well. This is what really gives the stew its rich flavor and a special trip to the butcher will be well worth your effort.
The flour - Use Durum wheat flour, known as "Atta" for this recipe. This is wholemeal wheat flour and has a distinctly nutty taste. The recipe will be better with this, but if you can't source it then use regular wheat flour.
Serrano Chilies - The closest to the Pakistani chilies I grew up eating, these are my go-to when cooking all of my curries. I find that other chili varieties just don't give that authenticity of flavor to my food. If you find them too spicy, you can deseed them.
Spice grinder - I use a coffee grinder as my spice grinder and find that it grinds all my spices quickly and efficiently.
Preparing the slurry - Make sure to prepare the flour slurry with hot water to prevent the flour from clumping.
Nutrition
Serving:
1
person
Calories:
459
kcal
Carbohydrates:
18
g
Protein:
33
g
Fat:
29
g
Saturated Fat:
4
g
Polyunsaturated Fat:
7
g
Monounsaturated Fat:
17
g
Trans Fat:
0.1
g
Cholesterol:
53
mg
Sodium:
827
mg
Potassium:
760
mg
Fiber:
5
g
Sugar:
1
g
Vitamin A:
575
IU
Vitamin C:
4
mg
Calcium:
123
mg
Iron:
6
mg