Sooji Ka Halwa (Pakistani Semolina Pudding) is a classic Pakistani and Indian dessert that comes together in under 30 minutes. Fluffy semolina is roasted in cardamom-infused oil and then cooked in yellow-colored sugar syrup till it's light and fluffy. A garnishing of nuts and rose petals completes the rich halwa that you'll find yourself making again and again.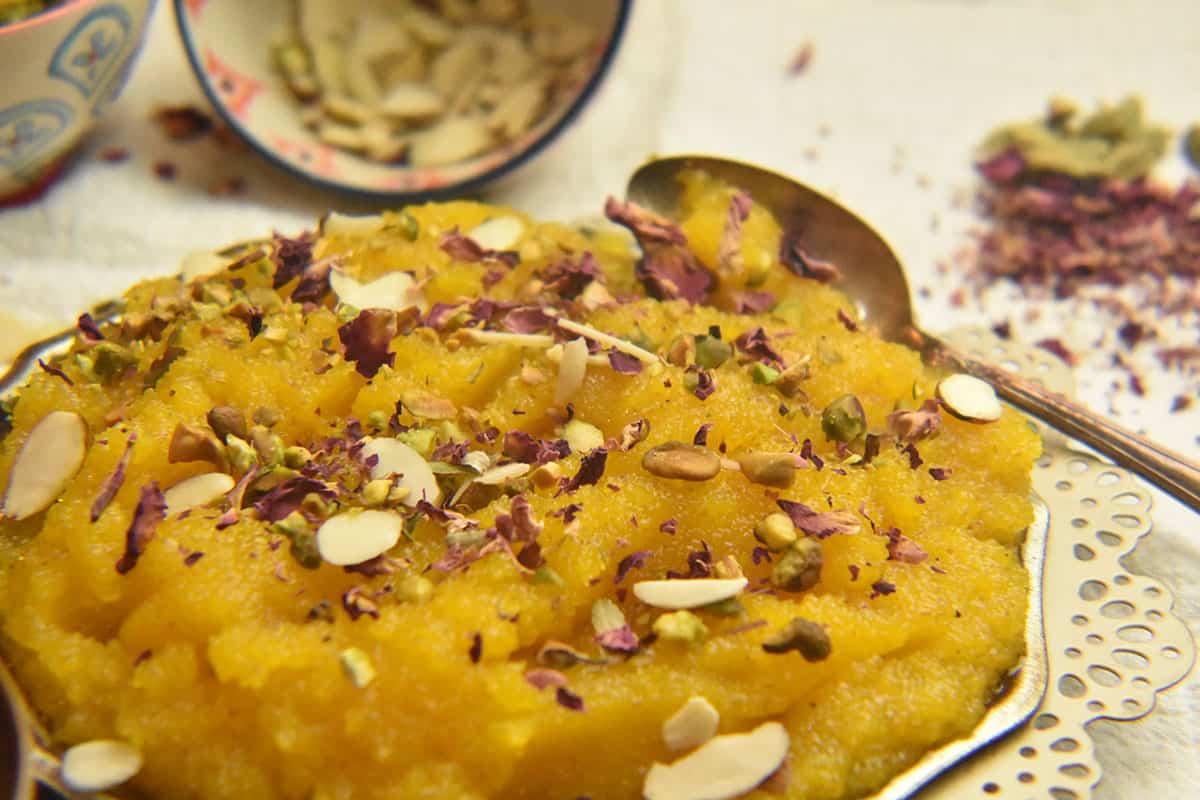 This Pakistani semolina pudding, is a delicious dessert and an easy recipe that's often served on special occasions such as Navratri Pooja and Ganesh Chaturthi in India and on Eid and weddings in Pakistan.
According to an article in 196flavors.com, the word Halwa originates from the Arabic word hulw, which means sweet. It's believed that the sweet pudding came to the subcontinent via the Middle East and Turkish traders.
I personally love to serve Semolina Halwa with Aloo Masala and Chickpea Curry for a sweet and savory brunch combination.
Jump to:
Why you'll love this recipe
Quick & easy - This halwa is so quick and easy that it's perfect when you have to put together a dessert for unexpected guests or to satisfy a sudden dessert craving.
Delicious - I haven't met anyone who doesn't love this halwa. It's a dessert and comfort food all rolled into one!
Popular recipe - This halwa is amongst the most popular Pakistani desserts you will come across. It's enjoyed as a quick weeknight dessert, part of Sunday brunch and is even served as a specialty dessert at weddings.
The ingredients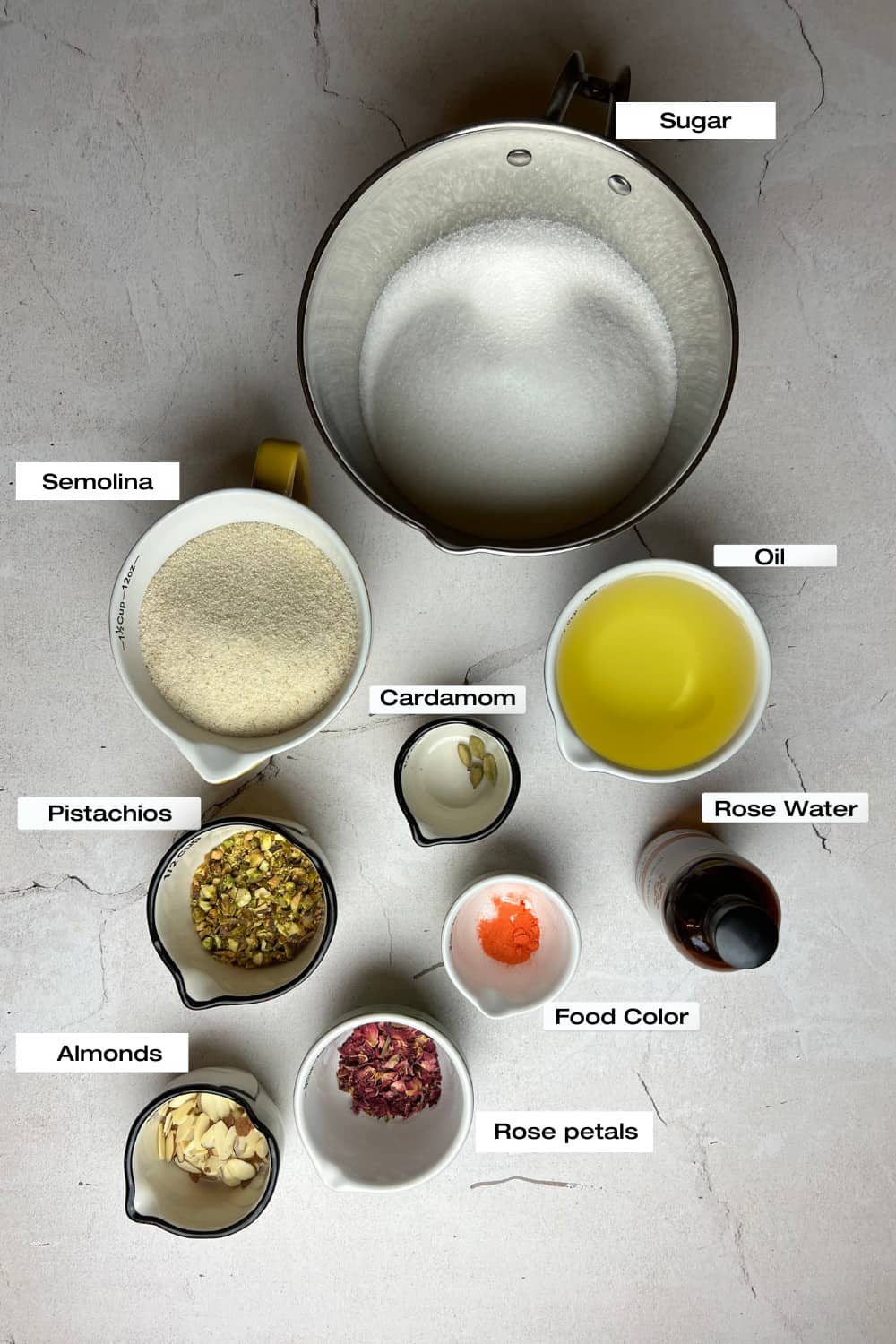 Cooking oil - Use any high smoke point oil such as avocado, canola, or sunflower.
Green cardamom pods - It's best to use whole pods and crush them, but if you can't source them then either purchase just the seeds and crush them or use cardamom powder.
Semolina - This comes in 2 varieties, coarse and fine. I prefer the coarse one as I find that it gives the halwa a fluffier texture.
Sugar - Regular granulated white sugar is what I use for my halwa.
Yellow or orange food color - I often make the halwa without food coloring, but when I make it for a special occasion then I add yellow or orange food color for better presentation.
For the complete list of ingredients with measurements plus recipe instructions, please see the recipe card at the bottom of this post.
Substitutions & variations
Cream of wheat - If you want to make this Halwa and can't source Semolina, Cream of Wheat is a great substitute! I've used it many times myself and the results are perfect!
Ghee or butter - You can use unsalted butter or ghee in place of cooking oil. I would recommend substituting one cup of melted ghee for 1 cup of oil. In the liquid form, you can substitute it in a 1:1 ratio. Similarly, melt the butter if you're using that, and also apply the 1:1 ratio.
garnishes - Feel free to play with the garnishes of your dish with fun substitutions or swaps. Some great ones to try are dry fruit, raisins, or cashew nuts; or you can reach for whatever you have in your pantry.
Milk - If you want a creamier halwa, you can add ½ a cup of milk of your choice. Stir the milk into the halwa right as it thickens and then turn the stove off and let it sit for 5 minutes.
Step-by-step instructions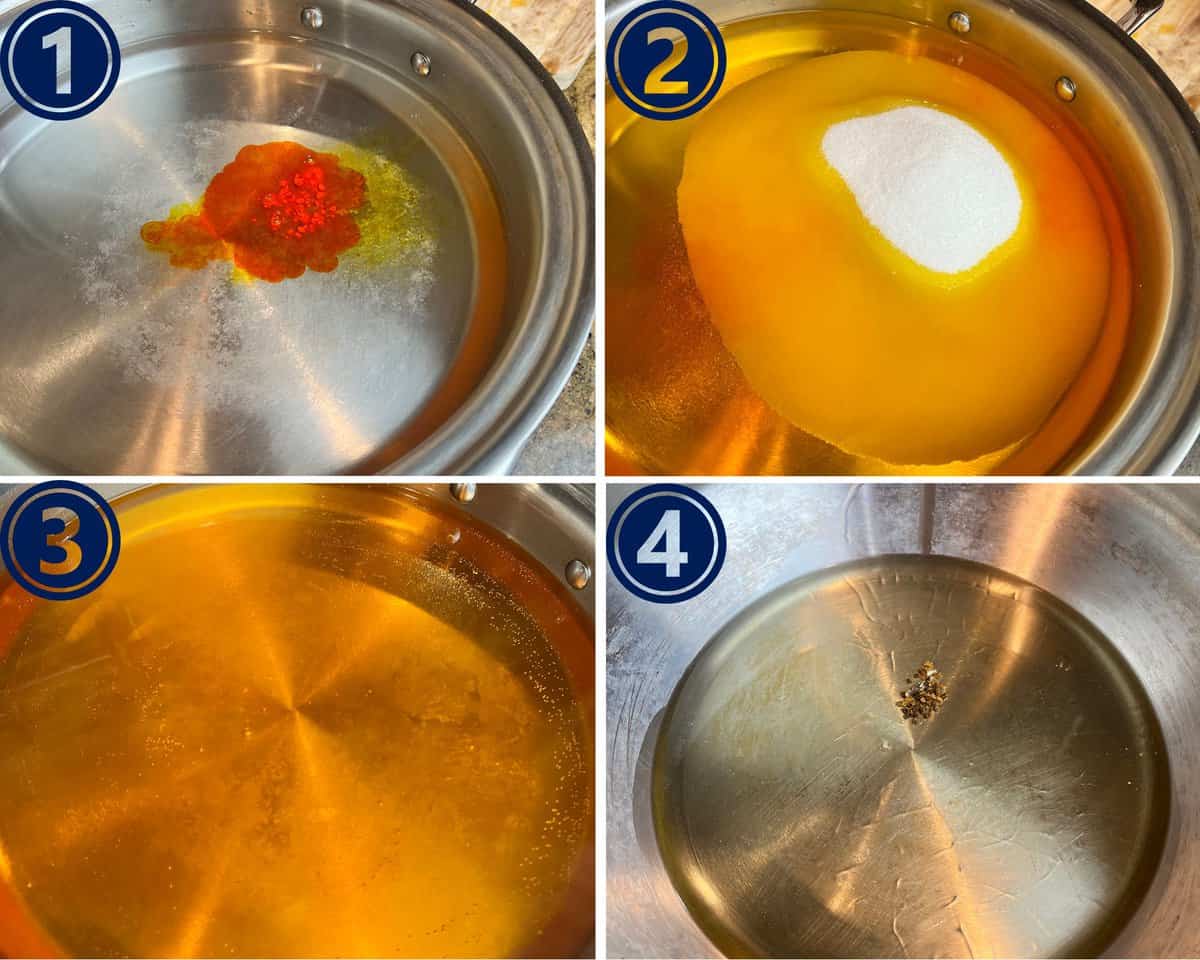 Step 1 - Mix the water and food coloring in a saucepan and set the mixture on the stovetop.
Step 2 - Add in the white sugar and heat on medium-high till the sugar is totally dissolved.
Step 3 - Once the sugar is fully dissolved set the sugar syrup aside.
Step 4 - Heat the cooking oil and sauté the crushed cardamom for a minute.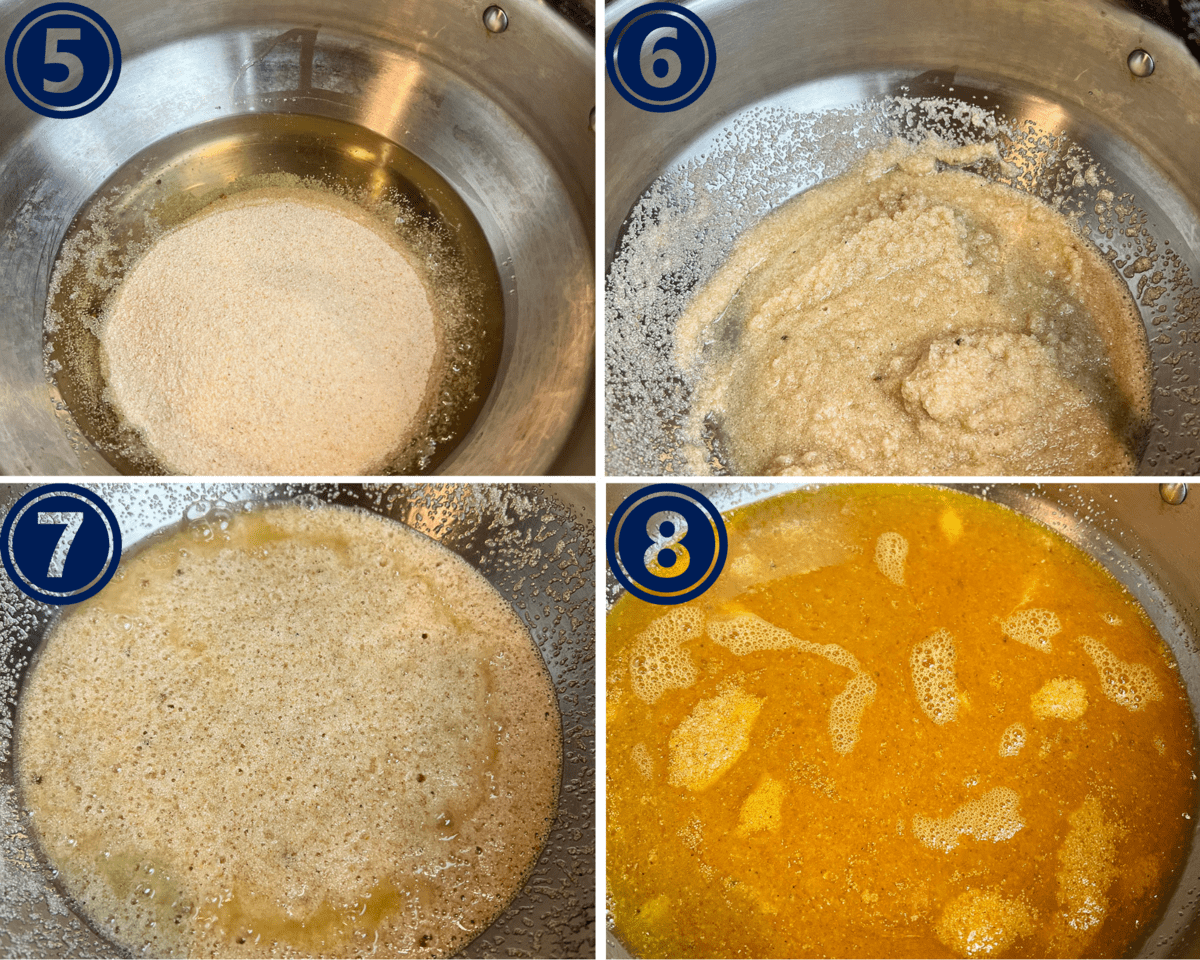 Step 5 - Add the semolina to the cardamom-infused oil.
Step 6 - Sauté the Semolina, stirring constantly to roast it evenly.
Step 7 - Stop roasting once it's medium brown.
Step 8 - Add the sugar syrup to the roasted Semolina.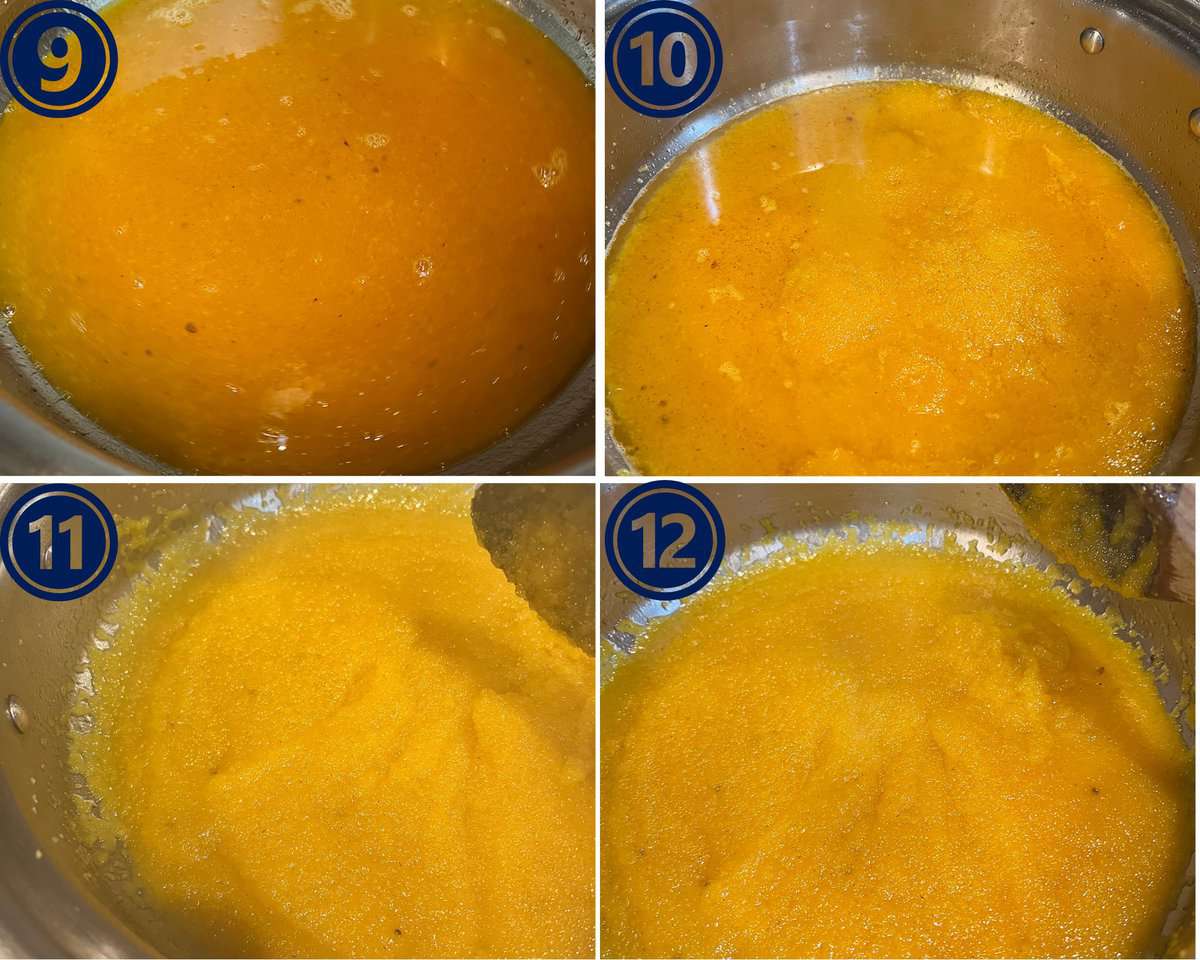 Step 9: Add in the syrup a little bit at a time.
Step 10: Cook the mixture till it's bubbling.
Step 11: Once the water has been absorbed turn the stove off and cover the pan for 5 minutes.
Step 12: The semolina continues to cook even after the stove has been turned off and it shouldn't be too thick.
Expert Tips
Sautéing the cardamom in the oil releases its essential oils and as such adds a delicious aroma to the halwa. This step is essential and I always start my pumpkin halwa and my carrot halwa the same way.
Always use a wide, heavy-bottomed pot to insure slow, even heat. Your semolina will have less chance of burning this way and will get a perfect even roast.
Recipe FAQS
Is this Sooji Ka Halwa recipe gluten-free?
Unfortunately, Sooji Ka Halwa is not naturally gluten-free. However, you can substitute the cream of wheat for other ingredients to modify the recipe. Cream of rice or almond flour are basic ingredients that are easy to work with. But using these ingredients will change the texture of the Halwa.
Can Sooji Ka Halwa be made in larger quantities?
I love to whip up Sooji Ka Halwa when I'm entertaining on short notice because the simple dessert is so easy to serve in larger quantities. If you'd like to scale this dessert recipe up, simply add the additional ingredients, but follow the same instructions.
Can I make Sooji Ka Halwa in an instant pot?
Absolutely! This sweet dish is also an easy instant pot recipe. Turn on saute mode, heat the oil, and saute the cardamom followed by the semolina. Once the semolina is roasted, turn the instant pot off. Add in the water, followed by the sugar and food coloring. Seal the instant pot and cook on high for 3 minutes, with a slow release of 10 minutes. Open the instant pot, fluff the halwa, garnish, and serve.

How do I store the halwa?
store it in an airtight container in the fridge for up to four days. Sooji ka halwa can also be frozen and stored for up to a month. First, defrost the sooji ka halwa until it comes to room temperature. Then heat it in the microwave for 2-3 minutes, as mentioned above.
Other desserts you may like
Hope you decide to try this recipe! Please don't forget to leave a rating and comment below! If you take a picture then tag me on Instagram! Thank You!
Sooji Ka Halwa (Pakistani Semolina Pudding)
Sooji Ka Halwa (Pakistani Semolina Pudding) is an easy to make sweet treat that's popular both as a dessert and for Sunday brunch
Ingredients
1

cup

cooking oil

4

whole pods crushed cardamom

1

cup

semolina

see notes

2

cups

sugar

4

cups

water

4

drops ½ yellow or orange food color

¼

cup

slivered almonds

¼

cup

chopped pistachios

2

tbsp

dried rose petals
Instructions
Mix the sugar, water and food color in a saucepan and heat till the sugar is totally dissolved.

Heat the cooking oil in a pan and saute the crushed cardamom for a minute.

Add the semolina to the cardamom infused oil and saute till its a medium brown color (see notes)

Add the water sugar mixture and cook just till the mixture thickens. (see notes)

Turn the stove off and leave in covered pan for 5 minutes as the semolina continues to cook even after the stove has been turned off.

Uncover, garnish with the nuts and rose petals and serve.
Notes
Semolina - I like to use coarse semolina as I find my halwa is fluffier with it. Many people prefer the fine one. Feel free to experiment and find your own favorite.
Roasting the semolina - At this stage you need to stir constantly in order to get an even brown roast and prevent the semolina from burning in spots.
Adding the water - Add 1 cup of the sugar syrup first as the roasted semolina is very hot and will splutter a lot. Then add the next cup and stir and finally add all of it.
Covering The Pan - As soon as the semolina absorbs all the syrup, turn the heat off (you should have a thick liquid mixture at this point). The semolina will keep cooking and absorbing water even after you turn the stove off. If you let the mixture become too thick before this step your halwa will be hard and clumpy rather than light and fluffy.
Nutrition
Serving:
1
person
Calories:
559
kcal
Carbohydrates:
67
g
Protein:
4
g
Fat:
32
g
Saturated Fat:
2
g
Polyunsaturated Fat:
9
g
Monounsaturated Fat:
20
g
Trans Fat:
0.1
g
Sodium:
7
mg
Potassium:
116
mg
Fiber:
2
g
Sugar:
50
g
Vitamin A:
27
IU
Vitamin C:
0.4
mg
Calcium:
25
mg
Iron:
1
mg