This Authentic Chana Masala recipe is a great one to have in your back pocket for hectic weekday meals since it involves no planning, minimal prep, and staple ingredients that are likely already lurking in your fridge and pantry.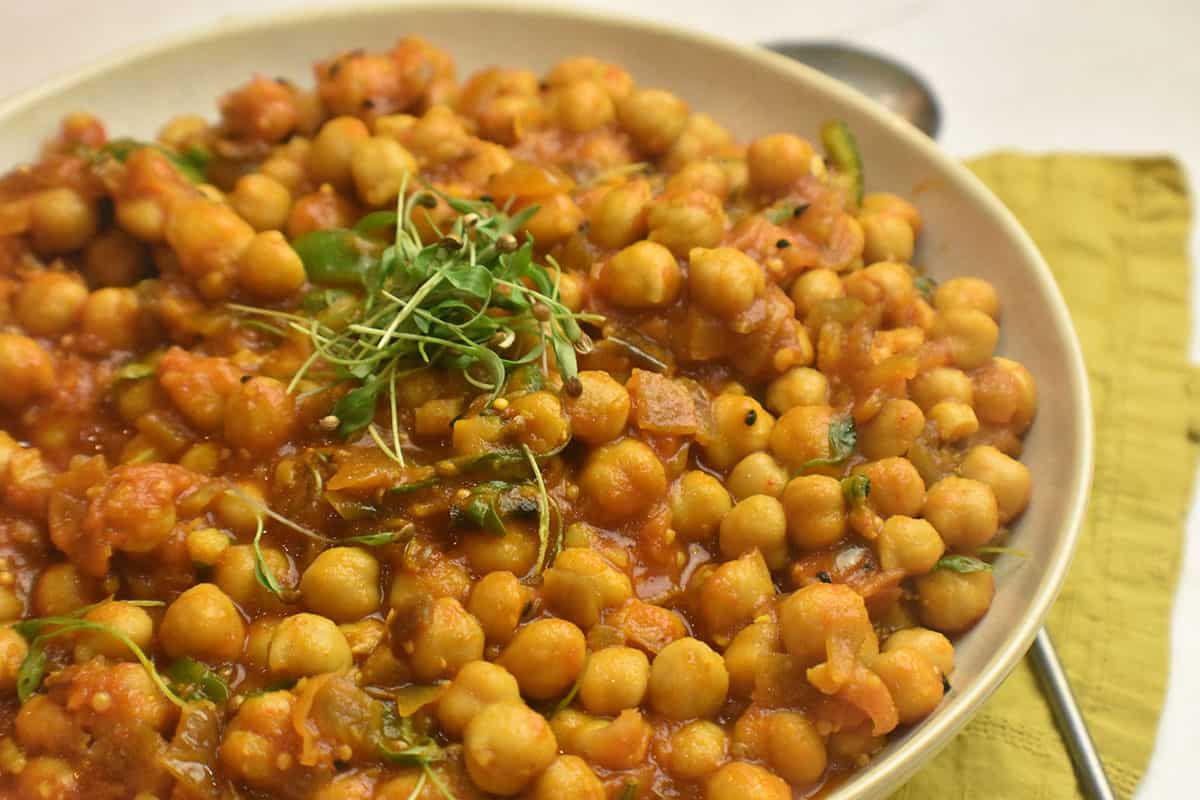 My favorite part about this delicious one pot chana masala curry is it's versatility. My personal favorite way to eat it is for breakfast or brunch, along with Aloo Masala and Sooji Ka Halwa. But it makes a great vegetarian lunch when paired with some Basmati Rice. For dinner it makes a wonderful side with some Keema or some Seekh Kebab.
Jump to:
Why You'll Love This Recipe
It's a very quick and easy recipe - Minimal prep and quick cooking time makes this a perfect recipe for those busy weeknights.
On a budget? This is the recipe for you - With today's rising food prices this is a great recipe to have on hand. Nutritious, quick and delicious!
Trying to cook for a group with different dietary needs? This recipe is it - Vegan, vegetarian and gluten-free, this chickpea curry recipe is perfect if you're feeding a group that has a lot of dietary restrictions.
This is a great recipe for weight loss - High in fibre and protein, this chana masala recipe provides prolonged satiety according to Cleveland Clinic. This makes it perfect for someone trying to lose weight.
Chickpeas are excellent for helping control cholesterol - Medical News Today goes on to say that due to their high fibre content, chickpeas are great when it comes to controlling cholesterol.
It's packed with nutrition - High in iron, potassium and vitamin B, along with all the other health benefits already mentioned, this is one nutritious curry!
The Ingredients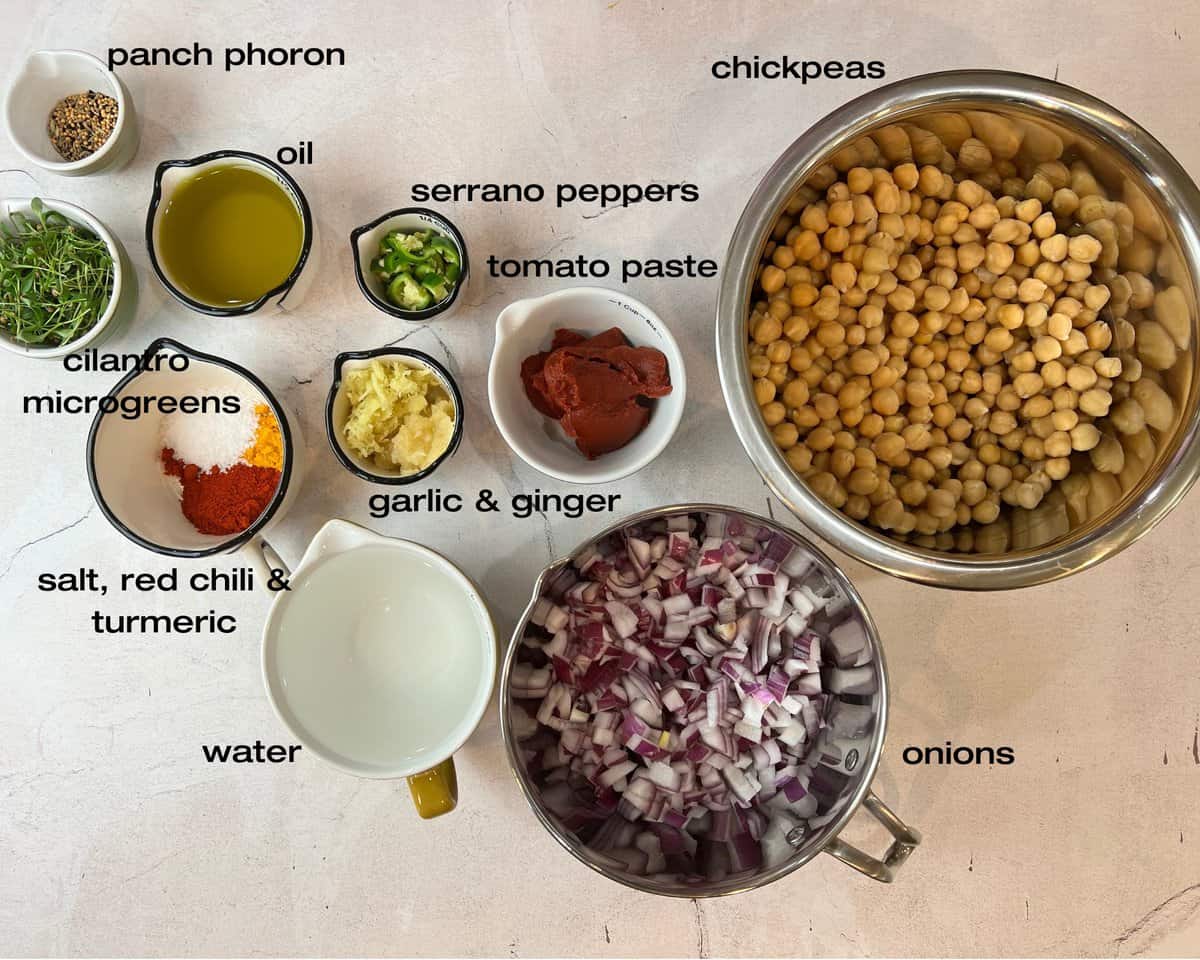 Canned chickpeas - These are also sold under the name garbanzo beans. Source whichever variety you can find. The brand doesn't matter.
Cooking oil - Neutral oil such as canola, avocado or sunflower are the best 3 options to choose from.
Green Chili - I like to use serrano chilies but these can be a little on the spicy side. A less spicy substitute is jalapenos for those that like a little less heat.
Panch Phoron spice blend - This is a popular 5 spice blend that provide a unique flavor and aroma in South Asian cooking.
Ginger - Always use fresh ginger, crushed using a mortar and pestle, for best flavor.
Garlic - I prefer homemade garlic paste, but you can use store bought paste if you are short of time.
Onion - I usually use yellow onions but for this recipe I opted for a red onion, to add some extra color to the curry.
Tomato paste -Tomato paste has a strong acidic flavor, which is needed to add some flavor to the chickpeas, which are inherently bland.
Red chili powder - Always remember to use pure red chili powder and not chili powder which has additives in it.
Turmeric powder - A small amount of turmeric powder is always necessary, but too much can taste bitter, so the measurement must be precise.
Salt - My favorite salt to use is kosher salt as it's coarse nature helps season food uniformly
Water - I use this to help create a perfectly smooth curry and help deglaze the pan as I cook.
Cilantro - The perfect finishing touch on any curry, both in terms of color, aroma and flavor!
For the complete list of ingredients with measurements plus recipe instructions, please see the recipe card at the bottom of this post.
Substitutes & Variations
Use ghee instead of the cooking oil - Many diets nowadays support the use of ghee vs cooking oil due its health benefits. It helps improve gut and heart health while adding a delicious nutty aroma to whatever dish you are preparing.
Swap out the Green Chilies - Serrano peppers are perfectly suited to South Asian cuisine but they tend to be a bit spicy. Feel free to exchange them for a milder variety such as jalapenos.
Make your own panch phoron blend - Can't source Panch phoron spice blend? Make your own! It's simply, fenugreek seed, nigella seed, cumin seed, black mustard seed and fennel seed in equal parts. Some people also like to make their own blend so they can use less fenugreek seeds since they taste a little bitter.
Add some vegetables to the curry - A very popular version of this authentic chana masala recipe, known as aloo cholay, is traditionally made with potatoes added to the chickpeas. I've also tried and enjoyed variations that have spinach and eggplant mixed in and they were both delicious!
Add some chicken to the chickpeas - Another traditional favorite, known as chikar cholay, is cooked with chicken added to the chickpea curry and it's finger licking good!
Step By Step Instructions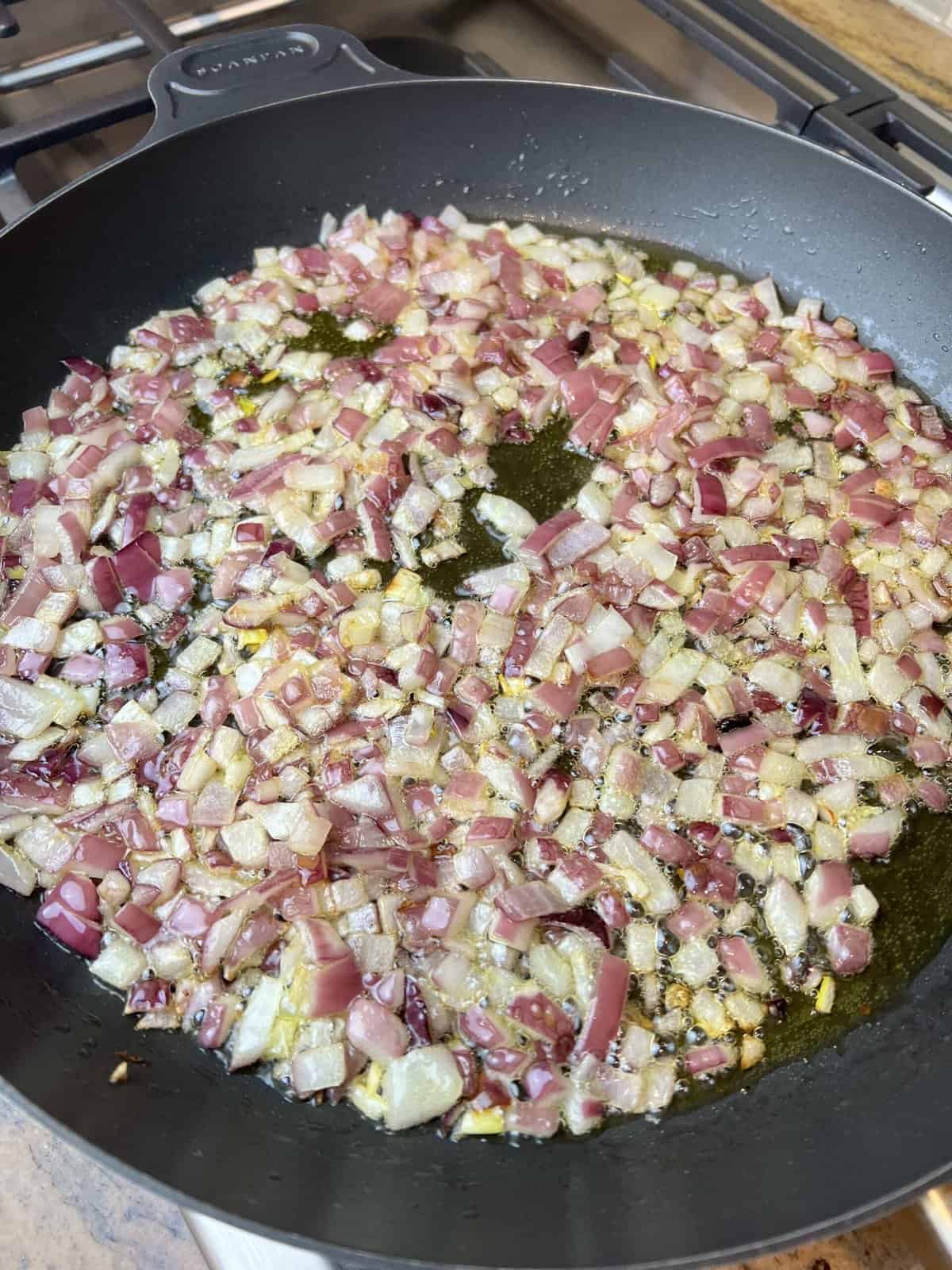 Heat the cooking oil on medium heat and sauté the green chilies and onion in it for 30 seconds.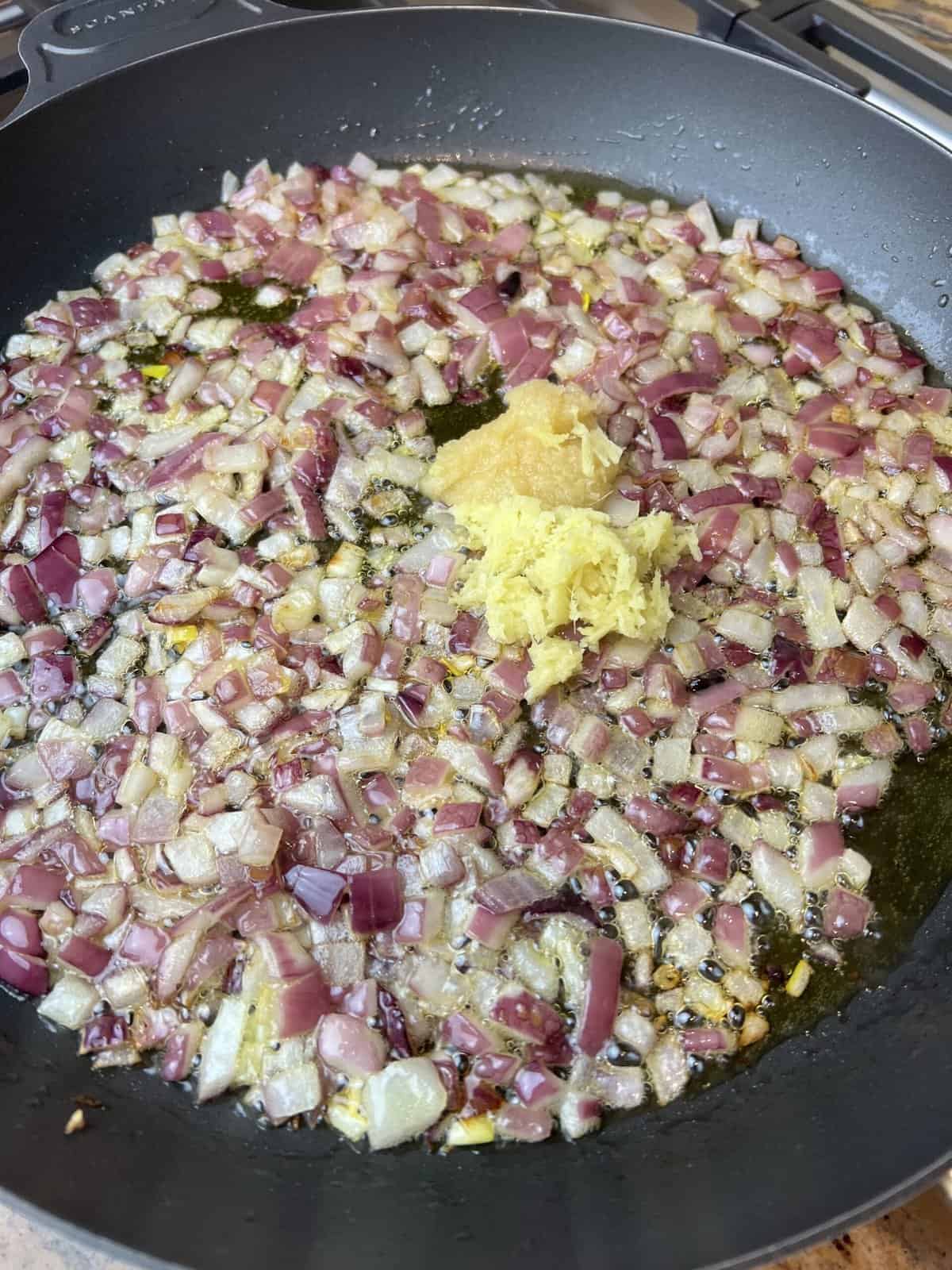 Add the fresh ginger garlic paste and sauté for 30 seconds till you can smell the aroma.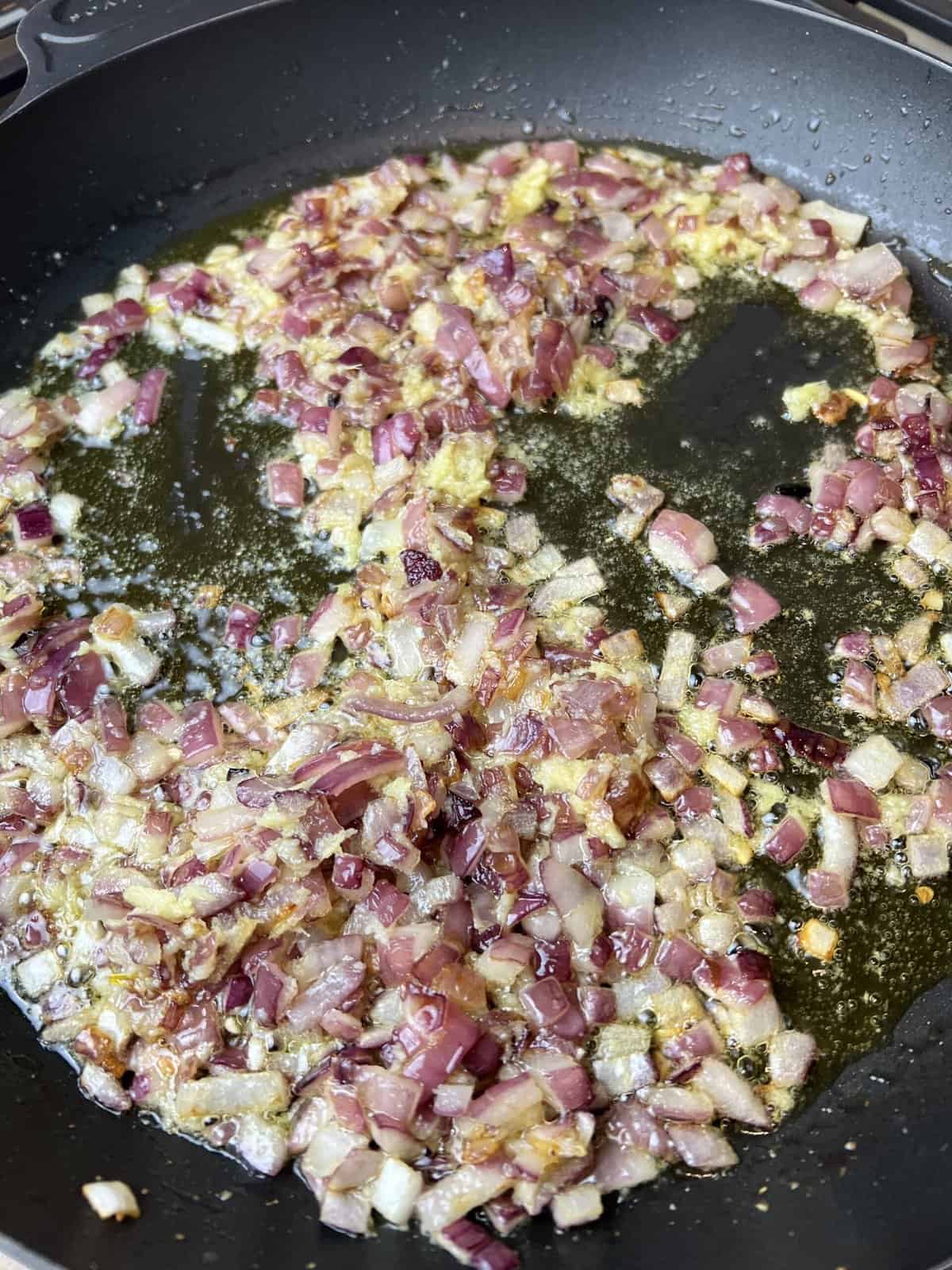 Add the Panch Phoron spices and sauté for 30 seconds.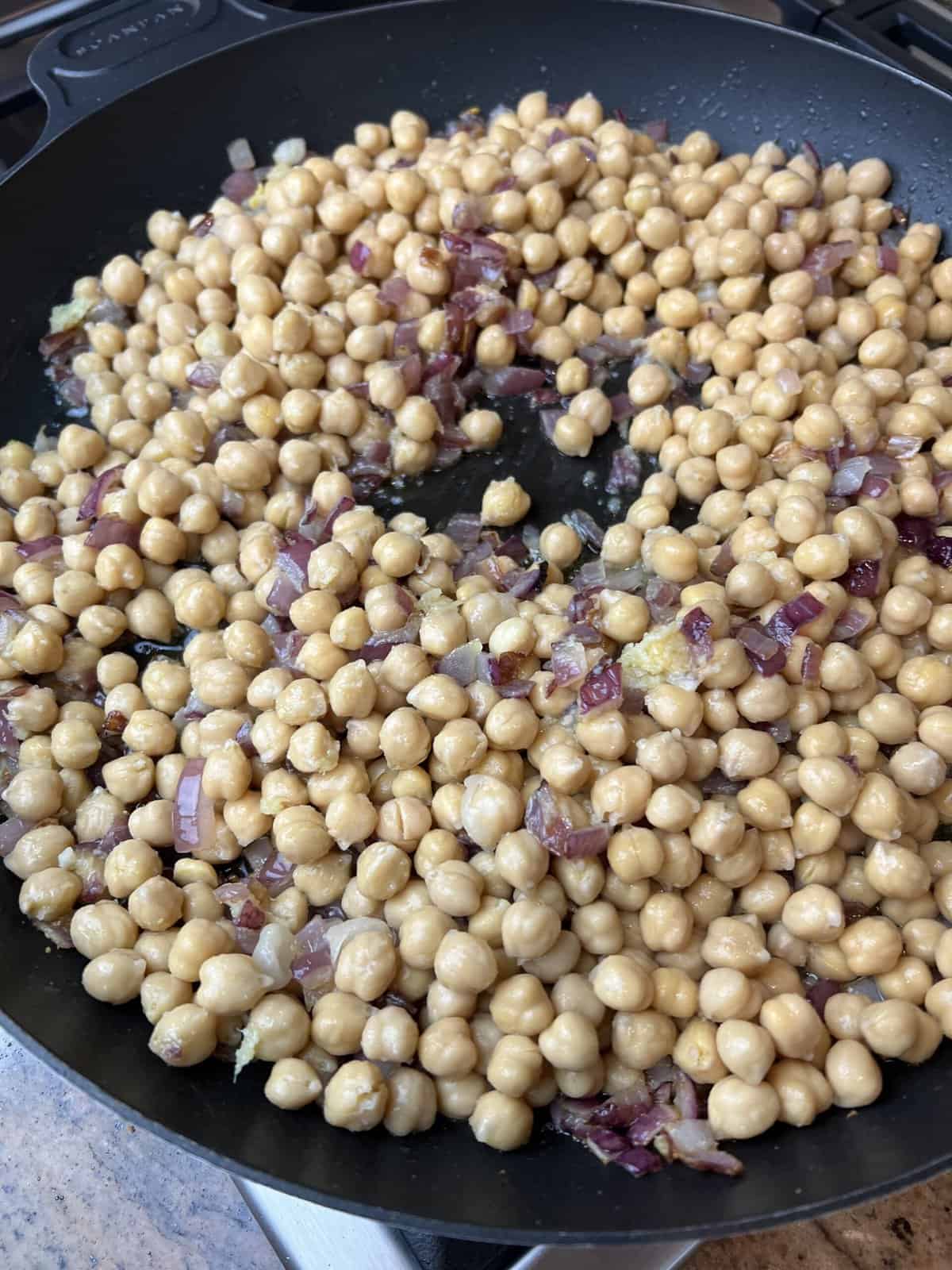 By now the onion should be slightly translucent. Drain and rinse the canned chickpeas and add them to the pan over medium heat.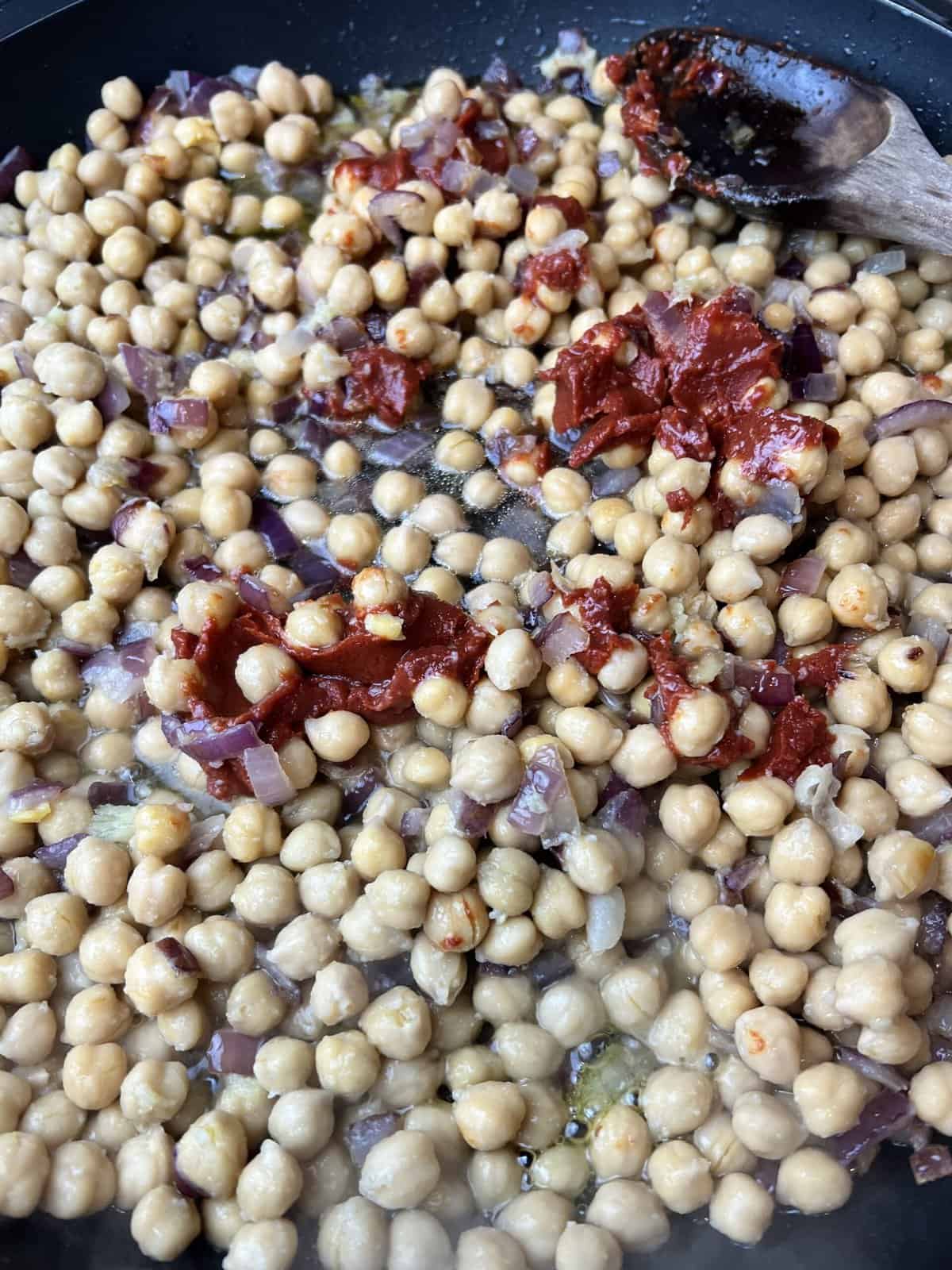 Add in the tomato paste, along with ¼ cup of the water to help blend it in and stir well.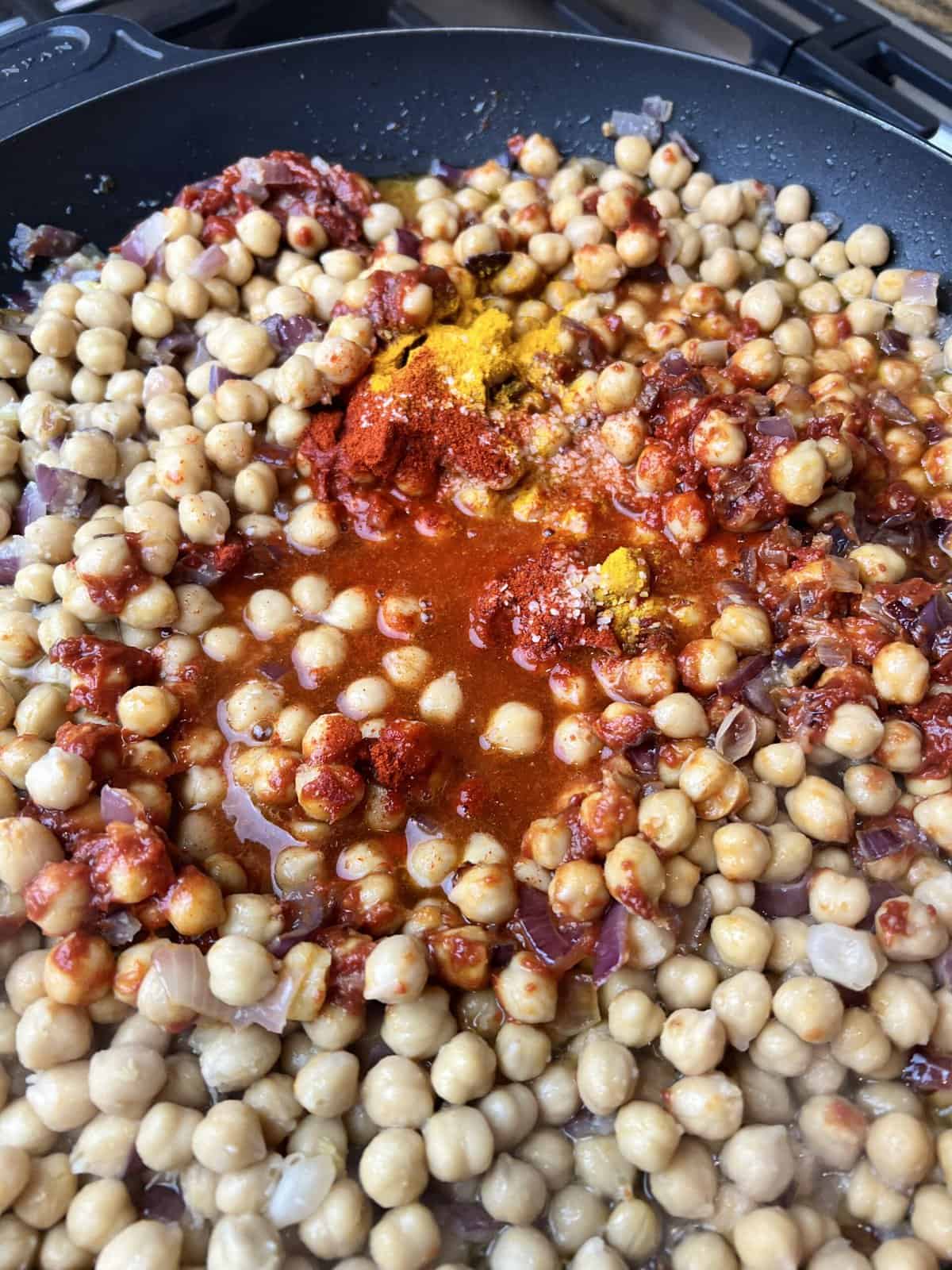 Add all of the ground spices, mix well and add the remaining water.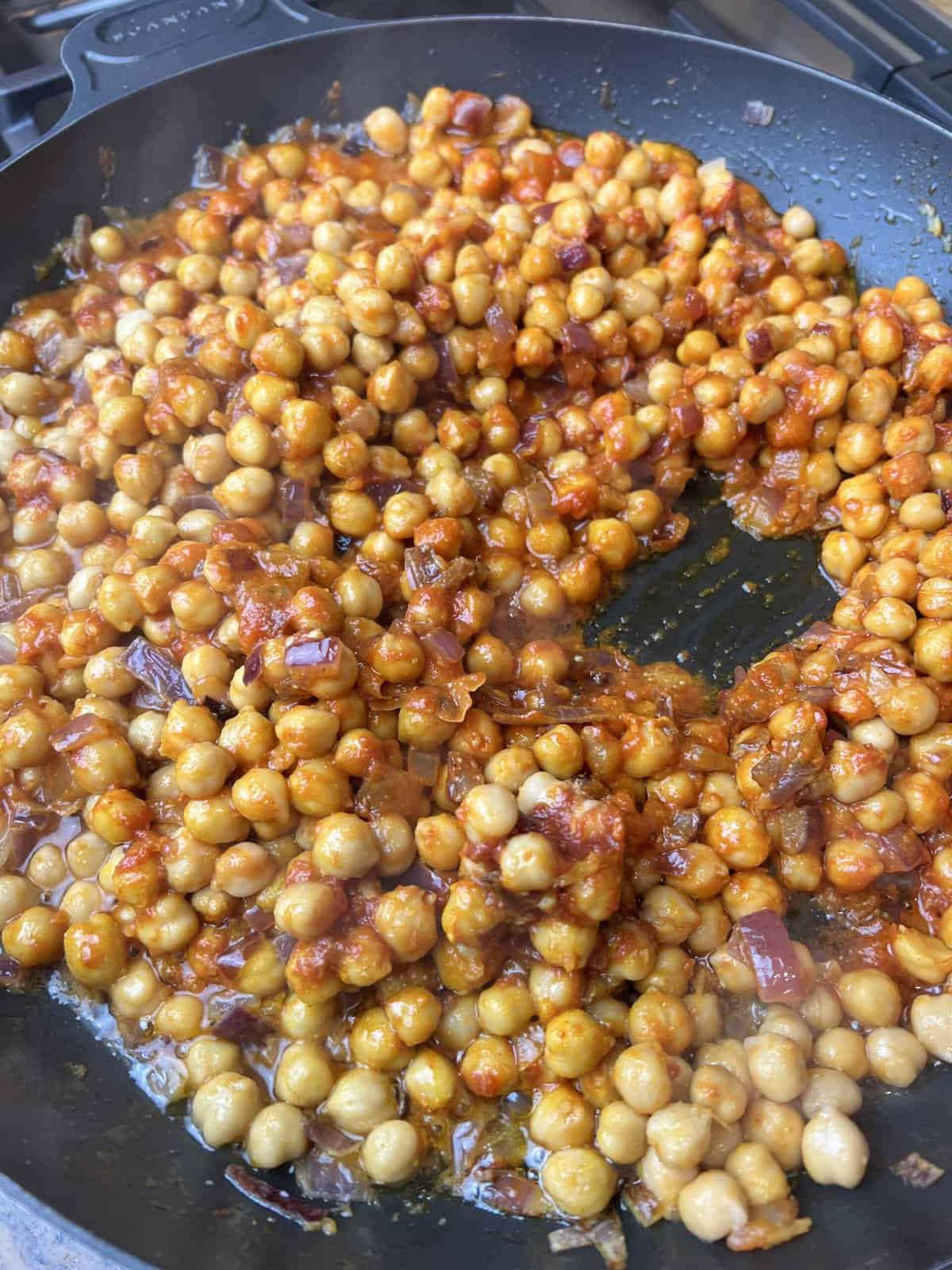 Stir well to combine, turn the flame on low, cover and cook for 10 minutes.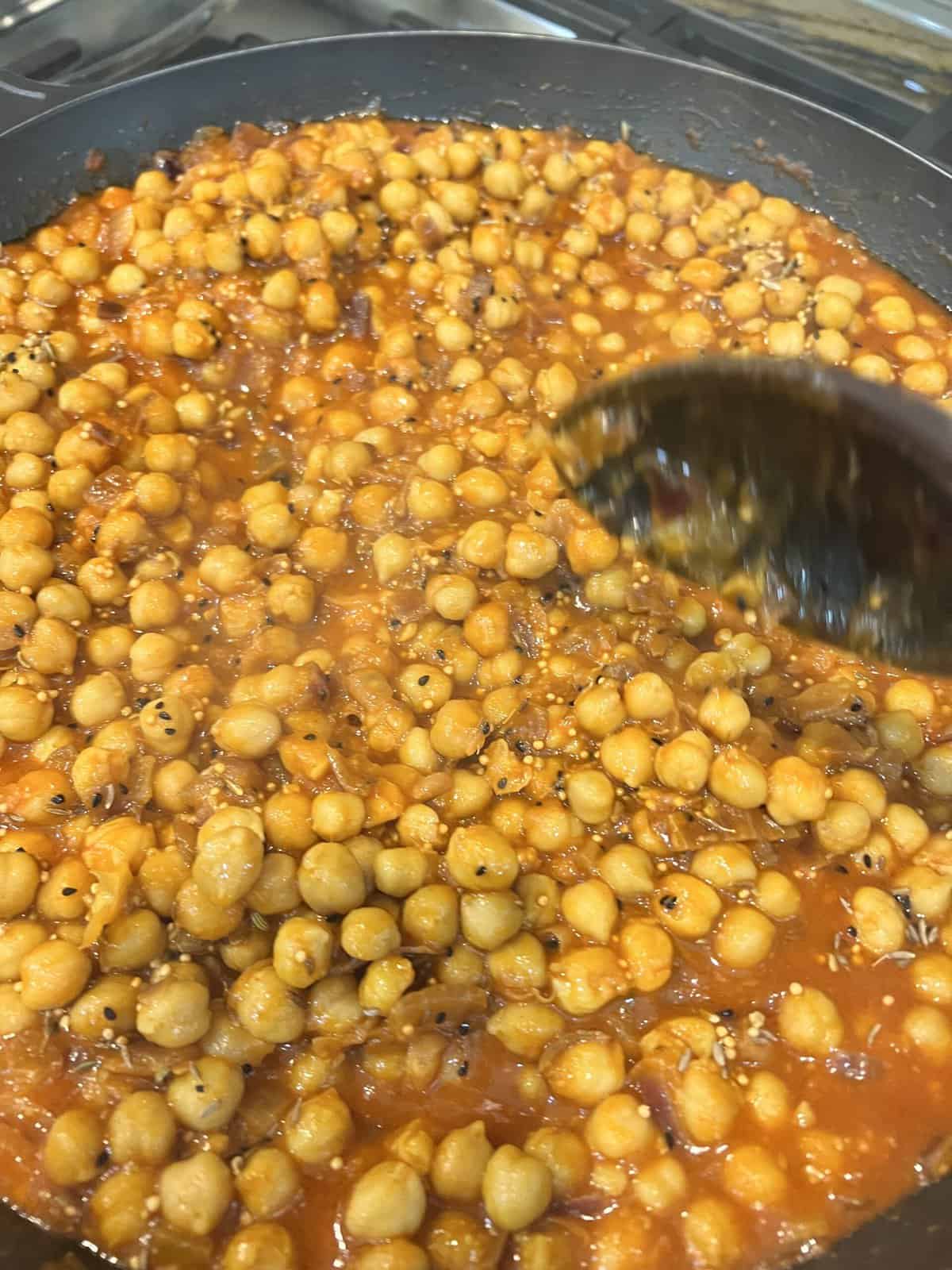 Then uncover and mash the chickpeas a little bit to blend them in with the chana masala gravy, cover and simmer for another 10 minutes.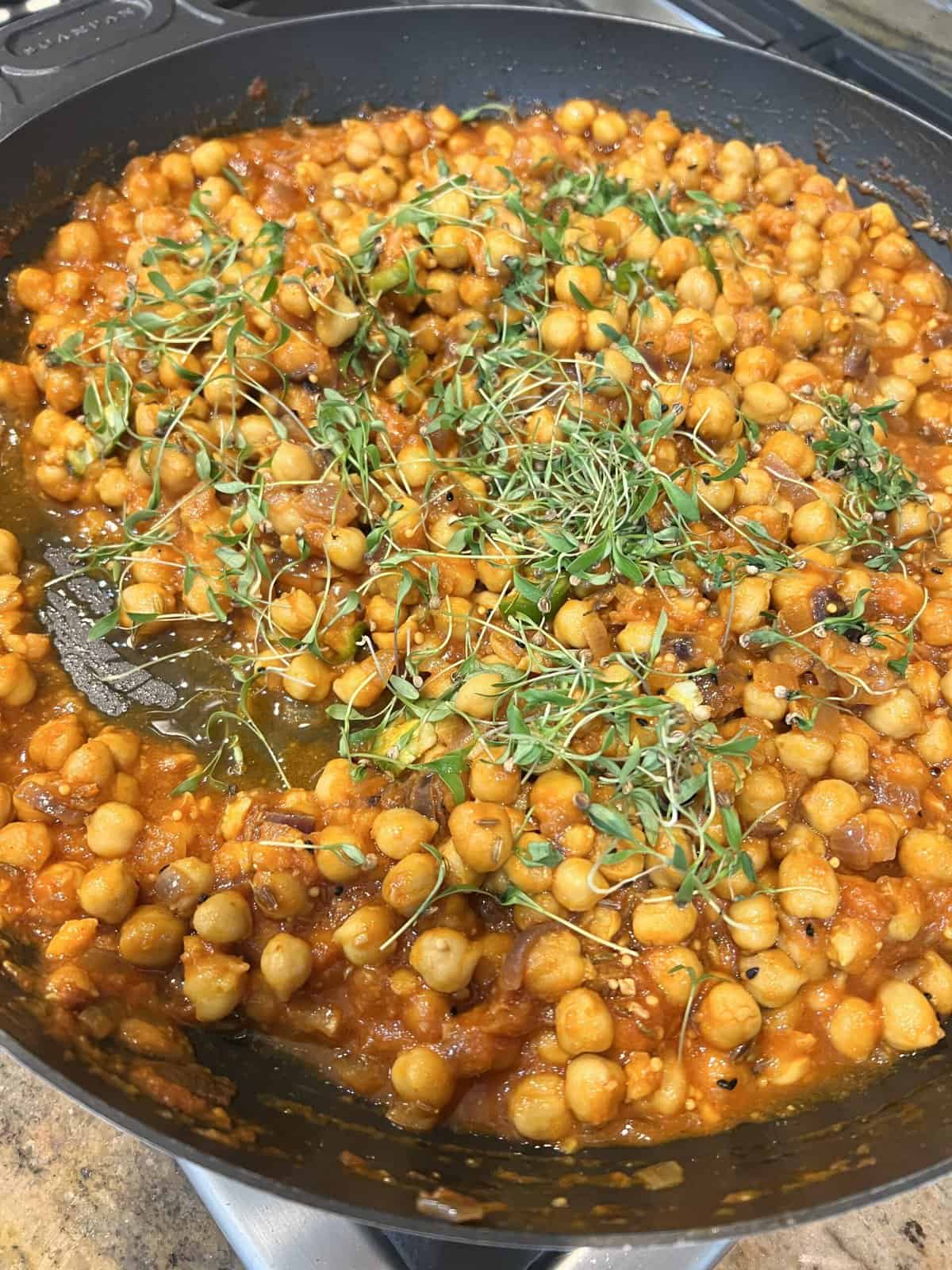 Once the chickpea curry is done, garnish it with fresh chopped cilantro or cilantro microgreens and serve!
Expert Tip
Mashing the chickpeas is an important step as it releases starch which helps to thicken the gravy, just as we do in my black-eyed peas recipe (Punjabi lobia). This gives the curry a nice velvety texture and blended consistency. Just keep a glass of water on hand to use if you need it. If you feel the curry getting too thick then you can use a small amount (a little at a time) to help deglaze the pan.
RECIPE FAQS
How do I store my cooked chana masala?
You can store your cooked chana masala in an airtight container in the fridge for 1-2 days and in the freezer for upto 2 months.
Are chickpeas and lentils part of the same family?
Both lentils and chickpeas are Legumes that fall under the category of pulses. A legume is a plant that grows in a pod and a pulse is the dry edible seed inside the pod.
Are chickpeas considered a diet friendly food?
Chickpeas are excellent if you're trying to watch your weight. There are 2.4 grams of protein and 2.2 grams of fibre in 1 tbsp of chickpeas. This helps you control your appetite and stay fuller for longer.
Are chickpeas carbs or proteins?
Although chickpeas are very nutritious, they are not allowed as part of a low carb diet. This is because, 67% of the calories in a cup of chickpeas are carbohydrates.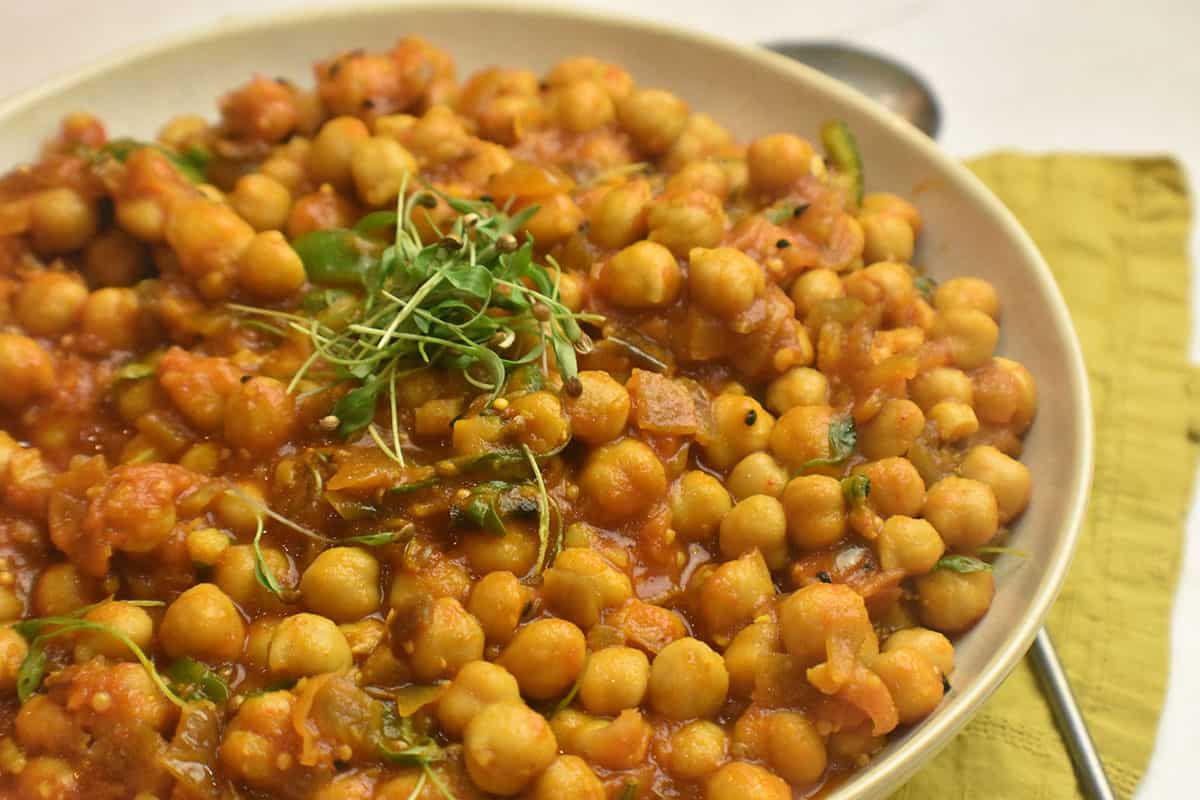 Other Breakfast Recipes You'll Love
Please don't forget to leave a rating and comment below! If you take a picture then tag me on instagram ! Thank You!
Authentic Chana Masala Recipe (Chickpea Curry)
Warm spices, a rich sauce, and tender chickpeas all blend together in this flavorful, one-pot Authentic Chana Masala Recipe (Chickpea Curry)
Ingredients
2

cans chickpeas

¼

cup

cooking oil

(SEE NOTES)

2

serrano chilies

(SEE NOTES)

2

tsp

panch phoron spice blend

1

tsp

crushed ginger

1

tsp

minced garlic

1

onion

(SEE NOTES)

2

tbsp

tomato paste

(SEE NOTES)

2

tsp

red chili powder

½

tsp

turmeric

1

tsp

salt

1

cup

water

¼

cup

cilantro
Instructions
Dice the onions and chop the serrano chillies.

Heat the cooking oil and sauté the onions and chilies in it for 30 seconds.

Add the ginger and garlic and sauté for 30 seconds.

Add the panch phoron and sauté it for 30 seconds.

Once the onion is translucent, drain and rinse the chick peas and add them to the pan.

Add in the tomato paste and ¼ cup of water and stir to mix well.

Add all of the remaining spices along with the remaining water, stir and cover.

Cook on low for 10 minutes.

Uncover, mash the chickpeas slightly to blend with all of the other ingredients, cover and simmer for another 10 minutes (SEE NOTES)

Uncover and garnish with chopped cilantro or cilantro microgreens and serve.
Notes
The Cooking Oil - Use any neutral oil of your choice. I like both avocado and canola best but sunflower and grapeseed are great choices as well. The Serrano Chillies - I like to use serrano chillies but they are on the spicy side. You can swap them out for jalapenos or deseed them if you like your curry less spicy. The Onion - I would recommend a medium yellow onion for the curry. I use these for most of my cooking as they are mild in taste and not too sweet. The Tomato Paste - while I like to use fresh tomatoes in most curries , the tomato paste here adds a rich taste and helps cook the curry quickly. Mashing The Chickpeas - This step is important in order for the curry to be smooth and rich. Just use the back of your spoon to slightly smash the chickpeas, stir and cook some more. The starch that is released thickens the curry and helps dry out the excess moisture. In the event that the curry gets too thick, keep some water on hand and just splash a little bit at a time (as necessary). This will help keep the pan deglazed and the tomato sauce and spices from sticking to the bottom.
Nutrition
Serving:
1
person
Calories:
155
kcal
Carbohydrates:
7
g
Protein:
1
g
Fat:
14
g
Saturated Fat:
1
g
Polyunsaturated Fat:
4
g
Monounsaturated Fat:
9
g
Trans Fat:
0.1
g
Sodium:
667
mg
Potassium:
196
mg
Fiber:
2
g
Sugar:
2
g
Vitamin A:
557
IU
Vitamin C:
6
mg
Calcium:
56
mg
Iron:
2
mg