This Black-Eyed Peas (Punjabi Lobia) is a quick and easy one-pot meal that is delicious and healthy. A popular curry, because it takes only 30 minutes of active cooking time, this recipe makes a great protein-rich meal for Vegans and, when eaten with rice, for anyone who is gluten-free.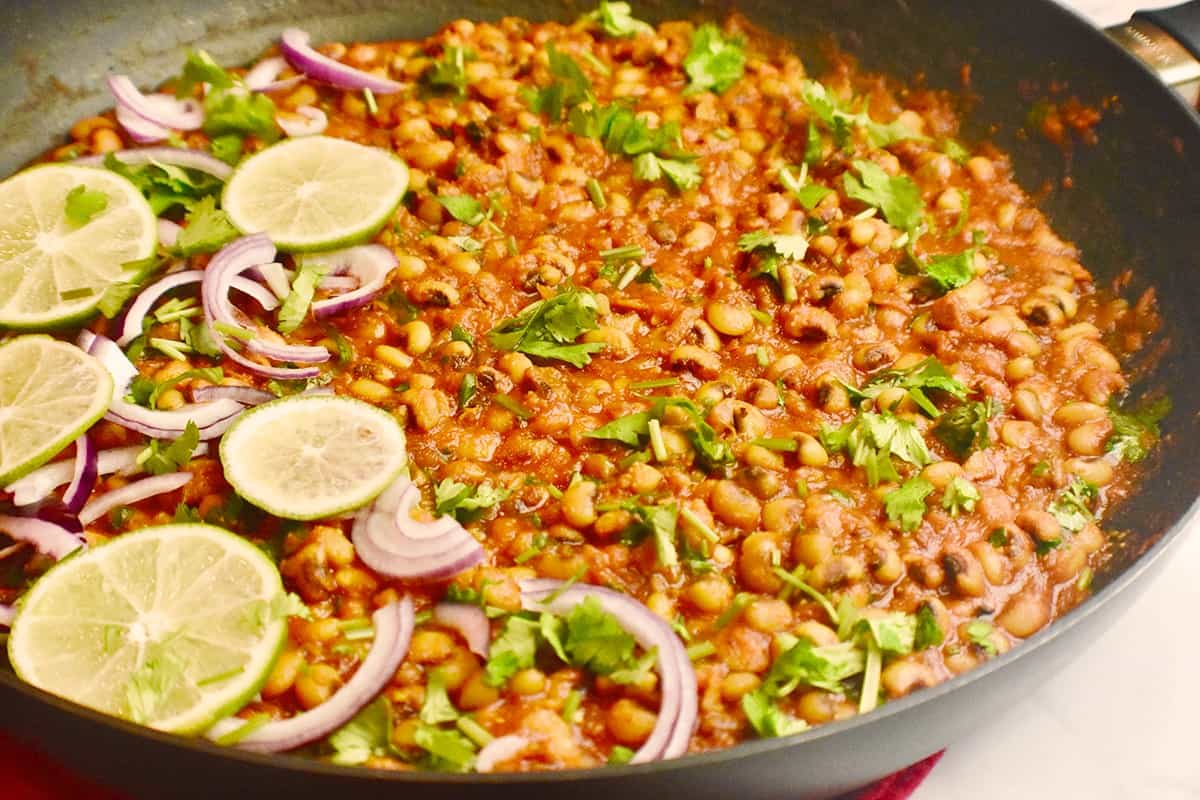 Like my authentic chana masala recipe, these black-eyed peas are cooked in aromatic onion tomato gravy with some basic spices. If you're vegan, you can eat this Punjabi lobia masala as a main or pair it with a vegetable curry like bhindi masala and some raita made from vegan yogurt. This punjabi lobia recipe pairs perfectly with shami kebab or tawa fry beef keema if you're a meat eater.
Different regions in South Asia have variations of this Punjabi lobia masala. Tamarind, curry leaves, coconut, and potatoes are all common ingredients in these versions of the recipe. On a global level, the delicious Jamaican black-eyed peas curry contains coconut milk, curry powder, thyme, and potatoes.
In Mississippi, the beans are cooked with meat bones (usually ham), celery, onions, and seasoning such as cayenne pepper and herbs to create a hearty stew. At times, seasonal vegetables such as collard greens and okra are also added to the recipe. This southern version of the stew is traditionally eaten with cornbread.
Jump to:
Why you'll love this recipe
Vegan & gluten-free option - This Punjabi lobia curry is delicious and perfect for gluten-free and vegans.
Quick and easy one-pot recipe - Quick and easy to cook, since this black-eyed peas recipe is prepared in one pot from start to finish, clean up is easy as well. This makes it a perfect meal for busy weeknights!
Budget-friendly pantry staple - Black-eyed peas are an affordable family meal option, whether fresh, dried, canned, or frozen.
Healthy recipe - Lobia has numerous health benefits. It's good for weight loss, satiety, and regularity since the beans are fiber-rich. Loaded with essential vitamins and minerals, these tiny beans with a black spot are also great for the eyes and skin, in addition to the many other health benefits mentioned in Medical News Today.
Freezer-friendly meal - This lobia curry freezes and reheats very well. I often make a big batch of this recipe to save for busy days when I know I won't have time to cook.
Ingredient notes
The ingredients for this Punjabi lobia curry recipe are simple. The base consists of onions, tomatoes, and garlic paste. I use three basic powdered spices for the flavor and whole cumin seeds for the aroma. A garnish of cilantro (coriander leaves) finishes the dish, and a side of red onions, lemons, and chilies make the Punjabi lobia masala complete.
Black-Eyed Peas - Frozen black-eyed beans work best in this recipe.
Onion - Yellow onions are best when cooking curries because they taste neutral.
Tomato Paste - Since black-eyed peas are fairly bland, I use tomato paste instead of fresh or canned tomatoes to add bold flavor to the curry. The paste adds a rich pungency due to its caramelized and acidic flavor and vibrant red color. It also helps thicken the lobia curry.
Spices - Cumin seeds add a delicious earthy and smoky aroma to the Punjabi lobia, while salt, turmeric powder, and red chili powder add just the right amount of flavor.
Cooking Oil - Any neutral cooking oil that has a high smoking point, such as canola oil, avocado oil, or sunflower oil, to name a few, works well for this recipe.
The chili peppers - Serrano chilies are my favorite, but occasionally I like to use Thai chilies, habaneros, or scotch peppers for a pop of color. Deseed the chili pepper to make the lobia curry less spicy if you prefer.
Please see the recipe card at the bottom of this post for the complete list of ingredients with measurements plus recipe instructions.
Substitutions & variations
Add some meat to your curry - Black-eyed peas taste great with goat meat and ground beef for a heartier one-pot meal.
Use different beans - This recipe can be made with dry beans, canned beans, or different beans altogether, such as kidney beans, black beans, or garbanzo beans.
Add potatoes to the curry - Some people add small diced potatoes to their Punjabi lobia curry, and it's a delicious combination.
Add lemon juice, lime juice, or amchur powder - Adding a little bit of one of these ingredients to the curry at the end adds a nice layer of flavor.
Cook the peas curry in an Instant Pot - Many people cook this curry using an Instant Pot, especially if they use dried beans. If you want to use the Instant Pot for this recipe, prepare your curry base in the IP using the saute mode. Add the black-eyed beans, seal and set the IP to 5 minutes on high pressure, and do a natural release. You can adjust the consistency of the curry based on personal preference at the end by either adding a little bit of water to thin it or cooking it uncovered in saute mode to dry out any excess water.
Step-by-step instructions
Step 1 - Heat oil and saute the onions till they're golden brown. The onions continue to cook as the garlic and cumin seeds are added and sauteed. If you brown them any more than this, they will make the curry bitter.
Step 2 - As soon as the aroma of the garlic and cumin seeds is released, I add the frozen black-eyed peas to the pan and saute them till they slightly defrost.
Step 3 - Next, add the tomato paste and saute until it's well distributed with the bean mixture. Add a few tablespoons of water, as needed, to help with this.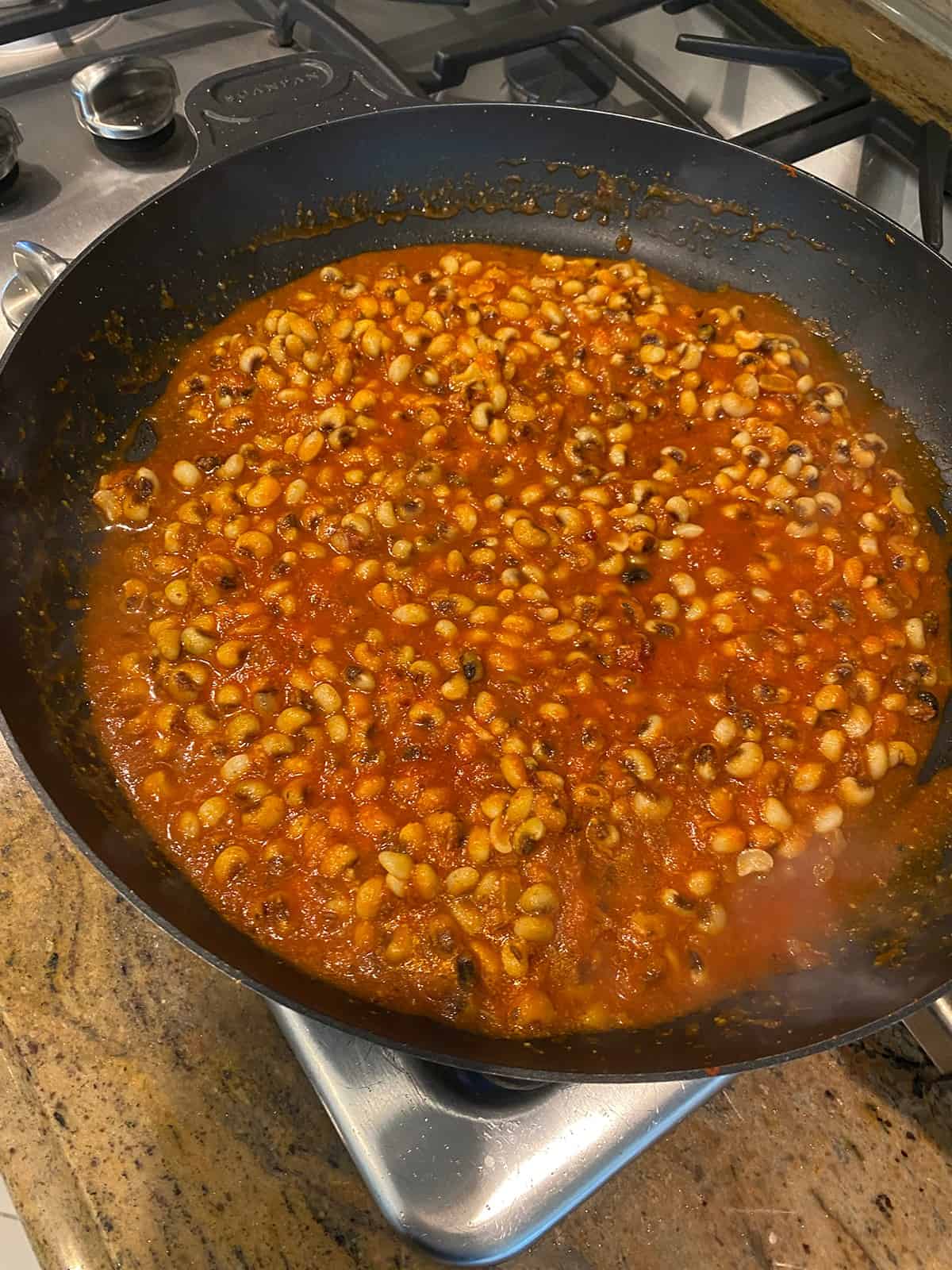 Step 4 - Add all the powdered spices, roast for a few minutes, and add 2 cups water. Cover, boil, and then simmer on medium heat for about 20 minutes or until the beans are cooked.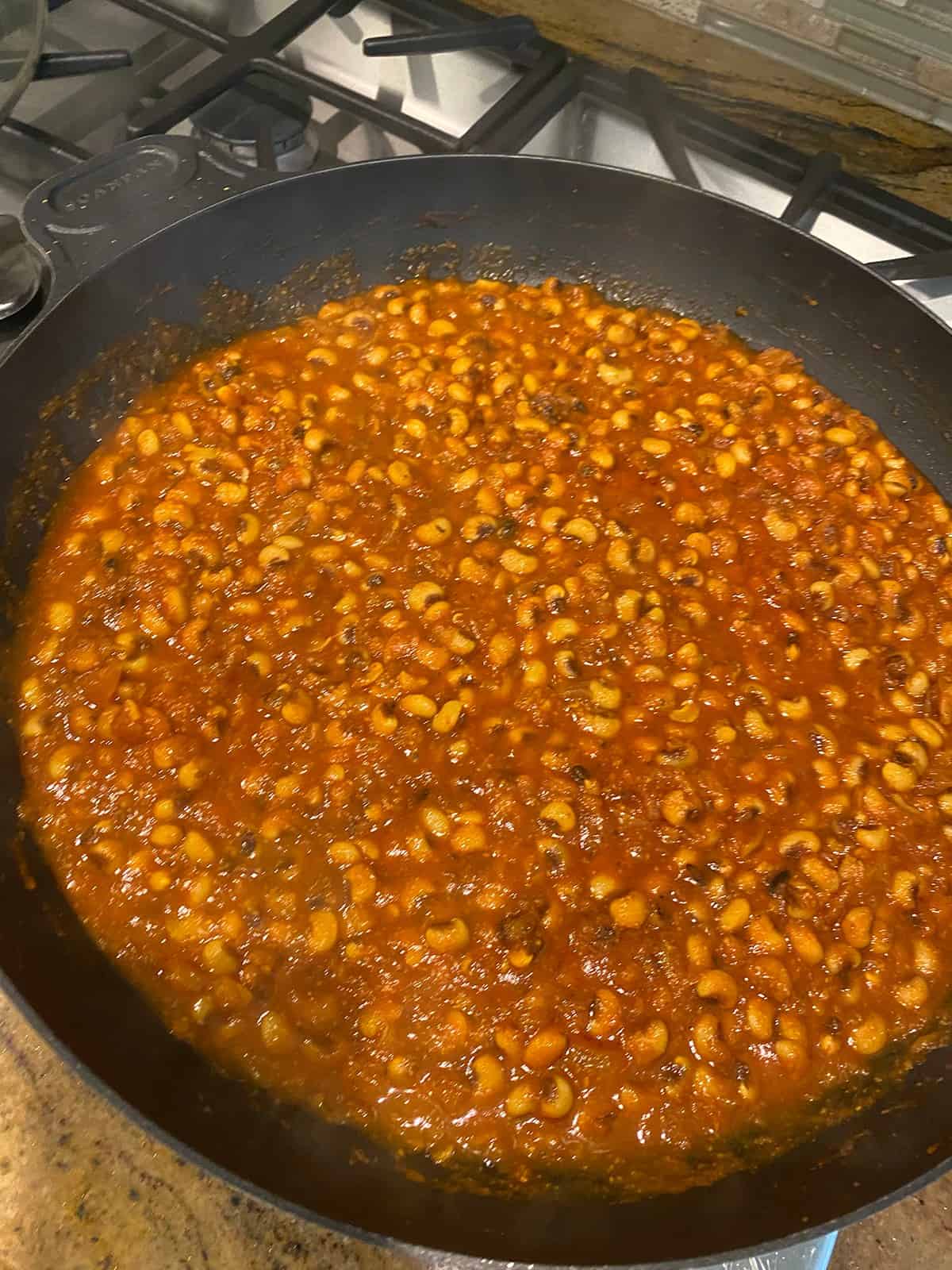 Step 5 - Check the lobia as it cooks, and add more water if needed. Once the peas are cooked through, reduce the gravy if needed. I like my curry to have a thick gravy, but some people like their lobia to be dry.
Expert Tips
When reheating the curry - I always add a little water to the beans. They absorb whatever liquid is in the dish and dry up without a little extra water.
Frozen black-eyed peas - These cook quickly as they are blanched and par-cooked. This shortens the cooking time by half when compared to cooking dry peas. I'm not a fan of the canned variety for two reasons. They contain preservatives which I like to avoid when possible, and they're fully cooked. This can make the bean curry mushy and also leave it tasting bland. Since the black-eyed peas don't have time to absorb all the flavors of the spices, aromatics, and onion tomato gravy, the flavor of all these doesn't really come through.
Soak your dry beans - If you use dry black-eyed peas, soak them. A long overnight soak is best, but if you don't have enough time, a short soak in hot water for 2-4 hours will help shorten the cooking time. Soaking helps reduce flatulence when eating beans and lentils and shortens cooking time.
Mash some of the beans - If you want to thicken your curry, take a spoon or two of the cooked lobia and mash them up. This will release the starch and thicken the curry without waiting for the water to evaporate.
Recipe FAQS
How do you store the curry?
The curry can be stored in the fridge, in an airtight container, for 2-3 days or frozen for up to 6 weeks.
Why do people in the Southern United States eat black-eyed peas on New Year's Eve?
The predominant belief in the Southern United States is that eating Black-eyed Peas on New Year's Eve brings good luck, health, and prosperity on New Year's Day and beyond. There are many different stories surrounding this popular ritual. My personal favorite is a story from modernfarmer.com, which states that freed slaves ate black-eyed peas as a celebration at the signing of the Emancipation Proclamation, which led to the tiny black-eyed bean becoming a symbol of hope and prosperity.
What can I eat the black-eyed peas with?
I like eating my lobia with roti, a whole wheat flatbread similar to a tortilla. Other delicious options include a paratha, any naan such as Roghni, kulcha, butter, a tandoori roti, or some basmati-rice.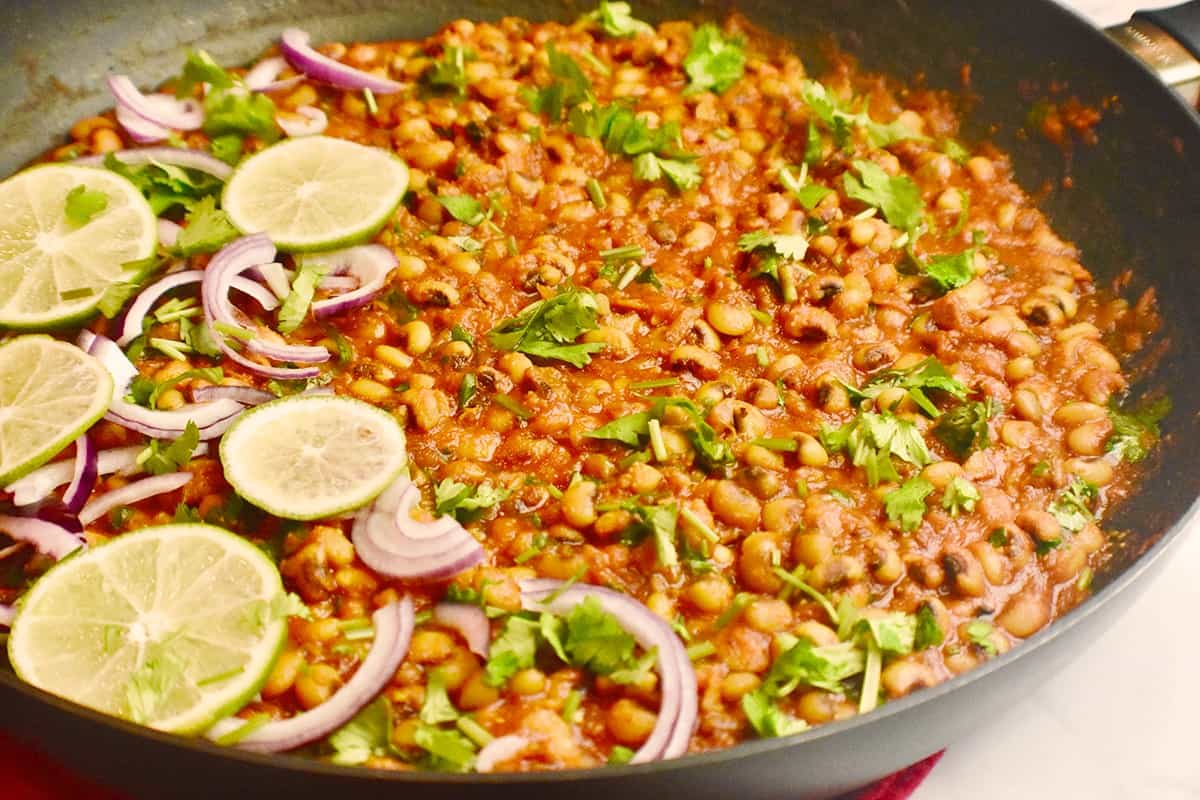 Other recipes you may like
I hope you decide to try this recipe! Please don't forget to leave a star rating and comment below! If you take a picture, then tag me on Instagram! Thank You!
Black Eyed Peas Recipe(Punjabi Lobia)
Black Eyed Peas Recipe(Punjabi Lobia) is a spicy and tangy curry prepared with black-eyed peas cooked in a delicious onion and tomato gravy.
Ingredients
12

oz

black eyed peas

(see notes)

¼

cup

avocado oil

(see notes)

1

onion

2

tsp

garlic paste

1

tsp

white cumin seeds

3

oz

tomato paste

(see notes

2

tsp

salt

(see notes)

2

tsp

red chilli powder

(see notes)

½

tsp

turmeric powder

2

cups

water

(see notes)

½

cup

cilantro
Instructions
Heat the cooking oil in a wide pan

Add diced onion to it and saute till medium brown

Add the garlic paste and saute for 30 seconds

Add the white cumin seeds and saute till you can smell the aroma

Add the frozen peas directly from the bag and mix well

Add the tomato paste 2 Tbsps at a time and stir to mix and dissolve

Add all of the remaining spices, saute for 30 seconds and then add the water

Stir, cover, reduce the flame to low and cook for about 20-30 minutes (see notes)

Once cooked, remove lid, stir and garnish with cilantro.
Notes
The Black-Eyed Peas - For best results, use frozen black-eyed peas. The dried ones take too long to cook, and the canned ones contain preservatives and tend to get mushy and overcooked. The Oil - I like to cook with avocado or canola oil as both have a high smoke point and work well when making curries. Sunflower and Peanut oil are also good options. Tomato Paste - I use tomato paste for this curry as it lends a depth of flavor to the otherwise bland beans due to their caramelized, smoky, and acidic taste. The spices - Feel free to adjust the salt and red chili powder. It's best to start with half the recommended amount and add more as desired. The water - Adjust the water as needed for a dry or soupy consistency. Cooking Time - Cooking times are variable as we all have different appliances, utensils and often cook at different altitudes. After 20 minutes, check to see if your beans are done or if you need to add more water and cook a bit longer.
Nutrition
Serving:
1
person
Calories:
257
kcal
Carbohydrates:
26
g
Protein:
8
g
Fat:
15
g
Saturated Fat:
2
g
Polyunsaturated Fat:
2
g
Monounsaturated Fat:
10
g
Sodium:
1360
mg
Potassium:
548
mg
Fiber:
7
g
Sugar:
7
g
Vitamin A:
776
IU
Vitamin C:
8
mg
Calcium:
53
mg
Iron:
4
mg