The Perfect Shami Kabab Recipe is just that! Perfectly delicious and perfectly easy to make! This is my favorite childhood recipe and for a change does not come from my own family's kitchen! Well...kind of! I don't want to spoil the surprise, so I'll let you read the detailed story of this recipe below. Full recipe credits have been shared and I hope you enjoy both the story and the recipe! Bon Appetit !
The History
The history of this recipe is as unique as the actual recipe itself. Covered in various texts, there is some confusion about what the name of this dish means, how the recipe came into being and who actually created it.
Another Kabab?
The first question that probably comes to your mind is...another kabab? You've probably heard me mention quite a few in this blog alone by now. There's Seekh Kabab, Chapli Kabab, Gola Kabab, Bihari Kabab and oh so many more. Although traditionally a kebab is something that is put on a skewer and grilled, the shami kabab is a little different.
In this type of kebab, the meat is first cooked, ground to a paste, shaped into patties and then shallow fried to perfection!
The World's Softest Kabab?
As per a story in www.dawn.com the shami kabab was specifically created for a Nawab in Lucknow. Overweight and without teeth, he desired a kebab that he could chew easily. However, other sources refute that story and state that the kebab created for him was actually the galouti kabab and that the shami kabab gets its name for different reasons.
Many say the shami kabab is named after the country Syria, known as Sham, since the recipe was created by Syrian cooks working in the Mughal court. Yet another tale has the kebab named after the village of "Sham Chaurasi" where the recipe apparently originated.
The only fact that's a definite is that it was created around the time of the Mughal Era, due to which it is widely popular in both Pakistan and India, due to the shared culinary history of the two countries.
I for one am just happy it was created as I'm a huge fan!
My Story About Rehana Aunty's Kabab
I have always loved Shami Kabab and once you try one you'll know why! But not everyone is really good at making them. Infact, this is the one recipe I've struggled with almost my entire life, until recently.
My kebabs just wouldn't turn out right. They were too dry or too soft and I eventually just gave up on making them. This was terribly sad since both my husband and I love them as do my kids.
Now I can unequivocally say that the best kebabs I've ever eaten in my life were at my friend Saima's house. Saima was that one friend we all have, the one who's house is your second home and who's family is your adopted family.
Last year I asked her if she would part with her mothers recipe and not only did she share it but has generously let me put it on the blog.
I named this recipe The Perfect Shami Kabab Recipe because it truly is that! Not too dry, silky on the inside, crispy on the outside, the kebabs bound together and not falling apart.
There are many fond memories of eating the original version, cooked by Rehana Aunty, in their family kitchen in Karachi. I'm sure I haven't done real justice to her recipe but have tried my best to come as close to it as possible.
My entire family is eternally grateful for this fabulous recipe share and you will be too once you try it!
How To Make The Kababs?
I've tweaked the recipe a little bit as it's in my nature to do so. Part of the tweaking was accidental, due a missing ingredient or two and part of it was in an effort to slightly simplify the cooking process and preparation.
The recipe below is for 2 pounds of meat, which makes about 15 kebabs, depending on the size of each one. I personally make a much larger quantity, usually tripling the amount as pictured below.
It takes more or less the same amount of cooking time to do so and these are great as a snack, meal, side and for lunch sandwiches. You can never truly make enough!
What Meat Should I Use?
I personally like my kebabs with boneless beef best. I find that chicken kebabs are too dry and although lamb has historically been used I find it too fatty a meat for my taste. Although many people use ground beef for their shami kababs, I find that those are usually too crumbly and don't have that silky, reshaydaar, texture.
But by all means, feel free to experiment if you wish to do so.
Why Are My Kabab Breaking?
There are a couple of reasons why your kabab might break:
The ratio of beef to lentils must be just right. Too many lentils and the kebab will be over dry. This can cause cracking and breakage during frying. Most people add the lentils to help with the binding, but keeping the amount of lentils to a minimum and adding a potato instead prevents an overdry texture.
Excess Water in the mixture can lead to the mixture not binding properly. This is why you must insure that all water is dry before grinding the meat. The slice of bread also helps to absorb any excess moisture.
Adding too many green herbs and chillies or not chopping them fine enough can also cause the patties to crack and break. The greens must be chopped very fine and mixed in well to prevent breakage.
Pakistani Burger?
Many people refer to a Shami Kabab on a bun as the Pakistani version of a burger. Add some ketchup, or better still some Maggi-Sweet-Tomato-Chilli-Sauce and you will remember it as one of the best meals you've ever had!
Perfect Meal Prep Lunch Option
The kebabs are a bit of an effort to make but once you get the hang of it they get easier! They have a great freezer life and I usually make a big batch every month or two and then we have the most amazing school and/or office lunches for weeks.
Try them with a paratha for brunch or lunch, or at dinner as a side with some easy-aloo-sabzi-potato-curry, easy-eggplant-curry or some hyderabadi-khatti-daal to name a few options!
However you choose to eat it, don't forget to rate the recipe!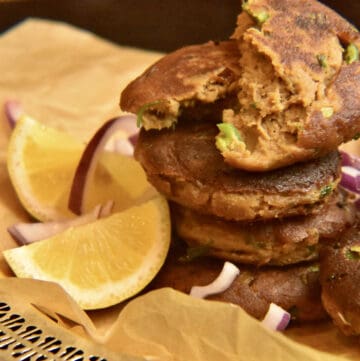 The Perfect Shami Kabab Recipe
This Perfect Shami Kabab Recipe makes the most delicious beef and lentil patties that are crispy on the outside and silky on the inside!
Ingredients
2

lb

beef cubes

¼

cup

chana daal (split bengal gram)

(SEE NOTES)

1

medium

onion

1

inch

piece ginger

5

cloves

garlic

2

tsp

salt

2

tsp

red chilies

1

small

boiled potato

1

slice

bread

2

eggs

3

green onions

1

cup

cilantro

2

serrano chillies
Instructions
Add the beef, chana daal, roughly diced onion, peeled and sliced ginger, garlic cloves, salt and red chilies along with 2 cups of water to a pot and bring to a boil (SEE NOTES).

Cover and cook on medium heat for about 45 minutes till the beef is tender.

Uncover and turn on high so that all the water can evaporate.

In a separate saucepan, boil the potato till it's soft enough to be mashed (SEE NOTES) .

Grind the slice of bread in a food processor to make bread crumbs (SEE NOTES) .

Beat the eggs and set aside.

Finely chop the whole green onions, the serrano chilies and the cilantro and set aside (SEE NOTES).

Peel and mash the potato till there are no lumps in it .

Once the water in the beef mixture is dry, let it cool a bit till it is warm and then grind it in the food processor till it's well blended (SEE NOTES) .

Add in the bread crumbs, potato and eggs and pulse till everything is mixed (SEE NOTES).

Remove the mixture from the food processor into a mixing bowl and knead in the chopped greens.

Shape the prepared mixture into 15 equal sized patties (SEE NOTES) .

Preheat some oil in a frying pan and fry the patties till they are a nice and crisp dark brown on both sides (SEE NOTES) .
Notes
CHANA DAAL - Chana daal is a lentil variety that is known most commonly as split Bengal Gram, but also as split chickpea lentils or yellow split peas
BEEF - The trick is to make sure the meat is cooked through and tender enough for the food processor to shred it to a fine silky texture. Once I can poke a knife through the meat easily, I usually uncover the pot and start drying all the excess liquid.
Adding 2 cups of water is usually enough as all the ingredients also release their juices and add to the liquid. Adding too much water can lead to a soggy mixture.
This is key to the kababs turning out perfect! The final mixture must be completely dry! Even after sauteeing and drying out any residual water, leave the pot uncovered. This helps the mixture continue to dry and cool down a bit, making it easier to grind in the food processor.
POTATO - The potatoes must be cooked and mashed into a creamy consistency, with no lumps. Their purpose in this recipe is solely as a binding agent, but you should not be able to taste them at all. I find that yukon gold potatoes are best for this purpose .
BREAD - The bread needs to be pulsed in the food processor to make crumbs. These crumbs help absorb moisture and also act as a binding agent. With these in the mixture, trust me, your kebab won't break!
GREENS - The finer the green onions, chilies and cilantro are chopped, the better they will mix with the meat mixture. If there are large pieces of any of these ingredients in the mix it will be difficult to form the patties.
GRINDING THE MIXTURE - First grind the beef mixture so the lentils, beef, onions, ginger and garlic are well blended. This requires a bit of time, but the remaining ingredients just need a few pulses to be incorporated. I add the breadcrumbs, eggs and potatoes in that order. Mixing the potatoes for too long in the food processor can make them slightly slimy so it's best to add them last. They're already mashed so don't need long to blend in.
MAKING THE PATTIES - Once the greens are mixed in, it's time to make the patties. I usually make 15 from this quantity of beef, but the number you make depends on the size of each one. The smaller they are, the easier they are to handle when frying, so do keep that in mind.
FRYING THE PATTIES - Some people whip up an egg and dip the patties in that before frying to help make them crispier and prevent them from breaking during the frying. I don't feel the need to do that in this recipe but you're more than welcome to try it if you'd like.
Nutrition
Serving:
1
g
Calories:
127
kcal
Carbohydrates:
7
g
Protein:
15
g
Fat:
4
g
Saturated Fat:
1
g
Polyunsaturated Fat:
1
g
Monounsaturated Fat:
1
g
Trans Fat:
1
g
Cholesterol:
59
mg
Sodium:
384
mg
Potassium:
309
mg
Fiber:
2
g
Sugar:
1
g
Vitamin A:
134
IU
Vitamin C:
6
mg
Calcium:
31
mg
Iron:
2
mg