Mutton Yakhni Pulao (Rice Pilaf) is a delicious rice and meat pairing that competes neck to neck with Biryani in my books. Aged basmati rice is cooked in a bone-in mutton broth, caramelized onions, garlic, ginger, and fragrant spices. The result is a rare dish that uses spices to create a heady aroma without adding any heat to the final dish.
Yakhni Pulao is often enjoyed with shami kabab (meat and lentil patties), raita (a yogurt dip), and kachumber (a pico de gallo style salad).
Yakhni Pulao is a unique meal. Often served as a luxurious main on a special occasion, it's also comfort food at its best. It's something you prepare for the family's Sunday lunch and also the meal you want to come home to after a long vacation.
For many Pakistanis, it's also what we feed toddlers and young children. A nutritious meal that isn't spicy, it was a childhood favorite for all three of my kids!
Jump to:
Why you'll love this recipe
Perfect use of spices - This mutton yakhni pulao is aromatic and has an intense flavor with zero heat. Everyone always falls in love with it at first bite due to its unique taste.
One-pot recipe - This one-pot rice pilaf recipe may not use an authentic technique but delivers an authentic taste with much less effort. This is how I have made my pulao for the past 20 years, making prepping, cooking, and cleaning up much easier.
Great to serve a large crowd - It's so easy to double, triple, or even quadruple this yakhni pulao recipe. It's a perfect stand-alone main dish with a simple cilantro-mint-chutney or green coconut chutney and an easy seasonal salad.
Ingredient notes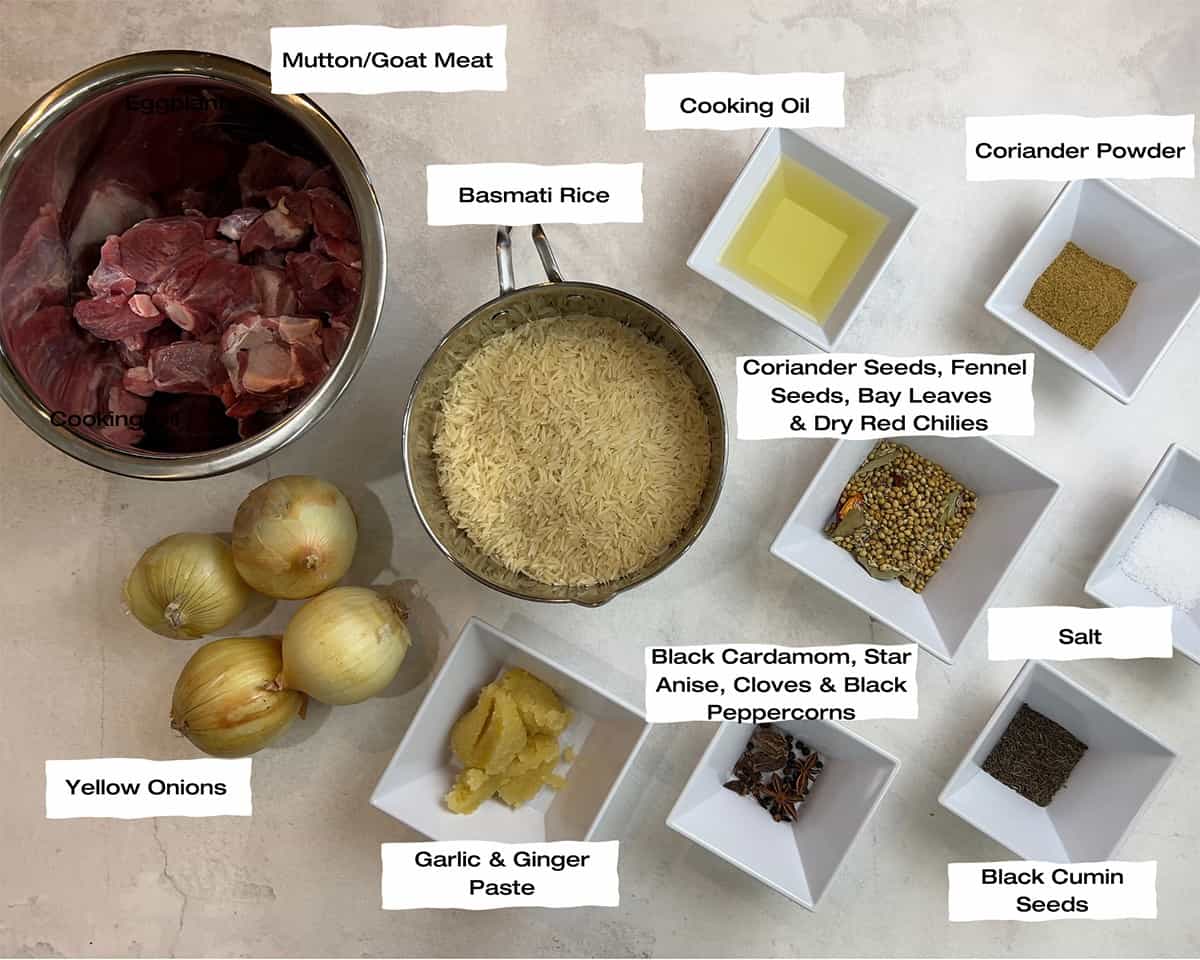 Meat - I use meat from the leg portion of the goat for my yakhni pulao. It's bone-in, lean, and very succulent. The shoulder portion is another good option, but I personally find it too fatty. Make sure always to use fresh meat for best results.
Rice - Aged basmati rice is the best option for an aromatic pulao. It has a lower water content, so each grain stays completely separate and releases a delicious nutty aroma once cooked.
Cooking oil - I always alternate between canola oil and avocado oil for my cooking. For recipes that require a larger quantity of oil, Canola is the more affordable option, and if I need a small quantity, then avocado oil is my go-to.
Spices for the stock - All the flavor in a yakhni pulao comes from the mix of aromatic whole spices. I chose to add in my spices at different stages. Woody coriander, sweet fennel, floral bay leaves, and smoky dry red chilies infuse the stock as it cooks. This blend ensures that there is no gamey smell from the mutton in your final dish.
Spices for the Rice - The second group of aromatic spices is more intense. Black cardamom pods, star anise, cloves, and black peppercorns are all added in whole and add a second layer of delicious aroma directly to the rice pilaf.
Black cumin seeds - Black cumin seeds have a potent smoky aroma that I always associate with yakhni pulao. As the last thing added to the rice pilaf, this is the first thing you smell when you uncover that pot.
Please see the recipe card at the bottom of this post for the complete list of ingredients with measurements plus recipe instructions.
Substitutions & variations
Use different meat - Try a chicken or beef yakhni pulao for a change. I make the chicken version often. It takes half the time and is a nice change occasionally. A beef rice pilaf will take longer, and the meat will be a little tougher than mutton or chicken, but it's a good option if you're not a fan of goat meat.
Top with fried onions - Try a popular variation of mutton pulao and top your plated mutton yakhni pulao with crispy fried onions known as birista.
Try Ghee - Try cooking the rice pilaf with Ghee, or use ½ ghee and ½ cooking oil.
Add tomatoes - Try a variation of this mutton recipe with tomatoes. Simply add two diced tomatoes to the meat when you saute it after the stock is ready.
Add yogurt - My recipe doesn't have yogurt, but you can try adding 1 cup to your pilaf for a Kashmiri yakhni pulao version. Add it in, like the tomatoes mentioned above, when you're sauteeing the meat for the last time before adding in the water and rice.
Step-by-step instructions
Preparing the stock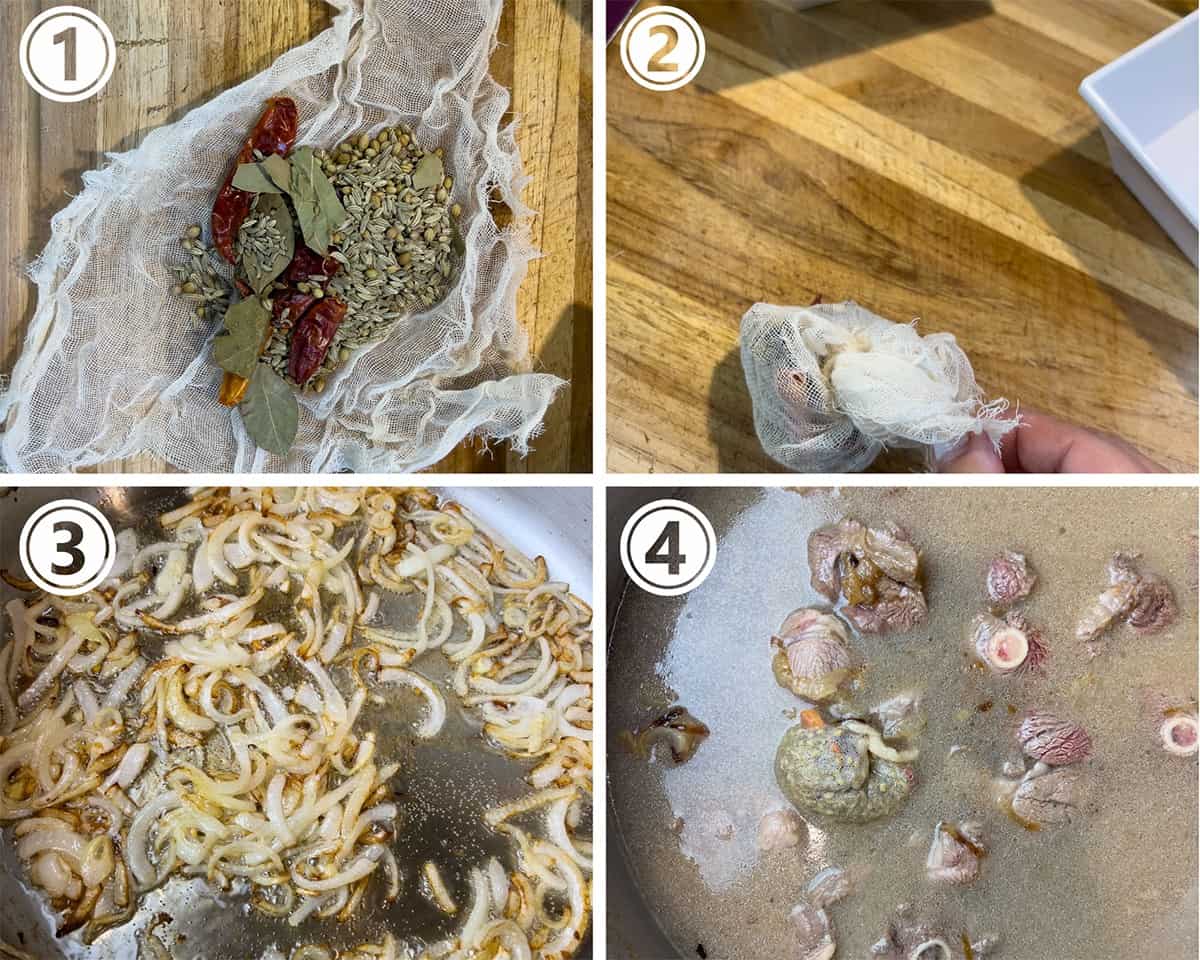 Step 1 - Prepare a bouquet garni (bundle of herbs, spices, and aromatics) of coriander seeds, white cumin seeds, fennel seeds, bay leaves, and dry red chilies using a small piece of muslin cloth.
Step 2 - Add this to the mutton yakhni (stock) to add flavor and once the mutton broth is ready, remove and discard it.
Step 3 - Heat the oil in a cooking pot and add the sliced onions to it. Once golden brown, add the ginger and garlic paste and saute just enough to allow them to bloom. Add the mutton, saute until it turns brown, and then add about 8 cups of water.
Step 4 - Add the spice bag and two teaspoons of salt and bring the meat stock to a boil. Once you have a rolling boil, reduce the heat, cover, and let the yakhni simmer on a low flame for one hour before uncovering.
Roasting the mutton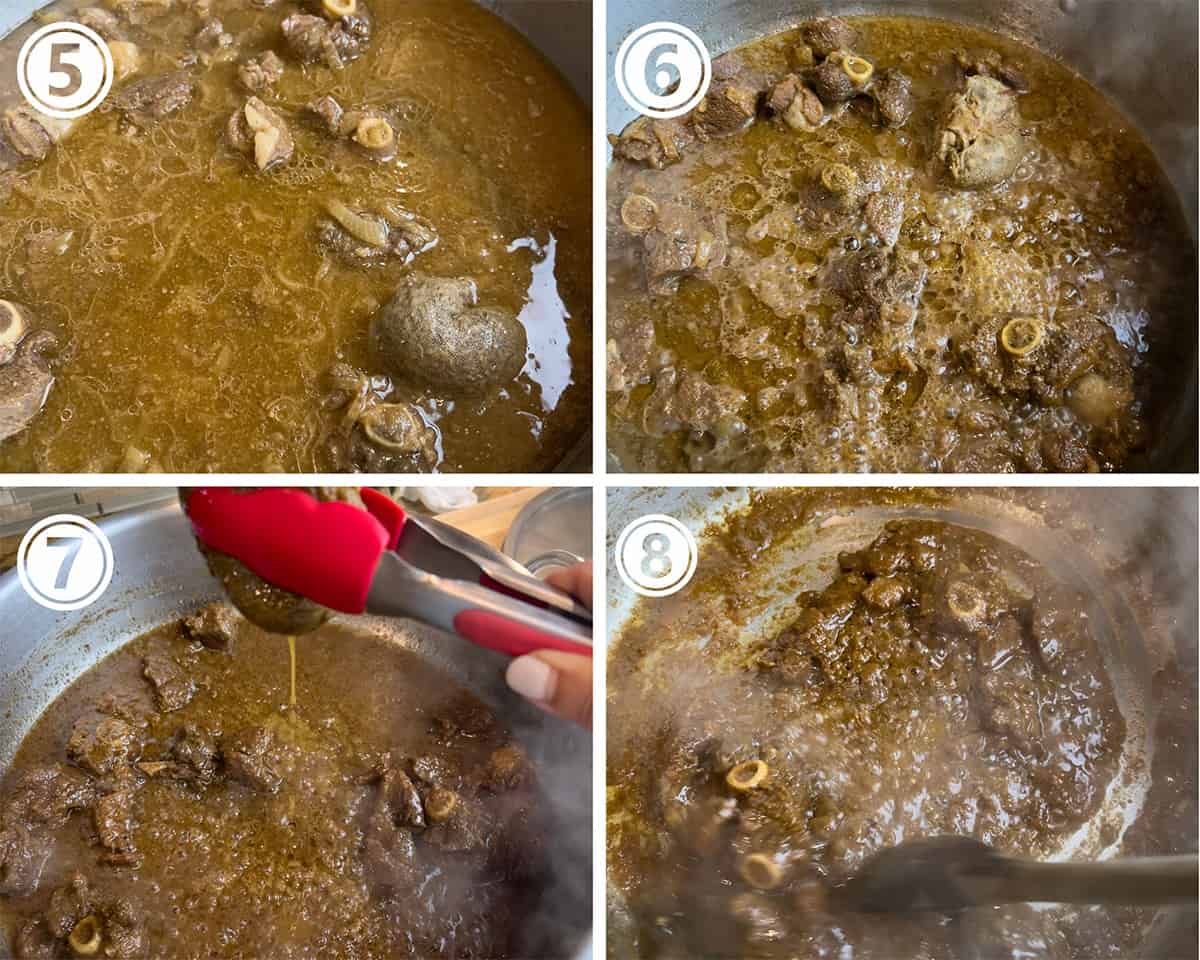 Step 5 - After the hour is over, uncover and cook the yakhni on high heat to reduce it.
Step 6 - By the time you turn the heat up, the mutton pieces should be about 75% cooked.
Step 7 - Cook on high till you have about 2 cups of mutton stock left over. Remove the spice sachet and squeeze it using a pair of tongs. This helps to extract all the flavor from the spices.
Step 8 - Once you have 1 cup of water left, add the coriander powder and adjust the salt as needed (the mixture must be uncomfortably salty at this point). Start to saute the mutton, a process called bhuna in South Asian Cuisine.
Cooking the rice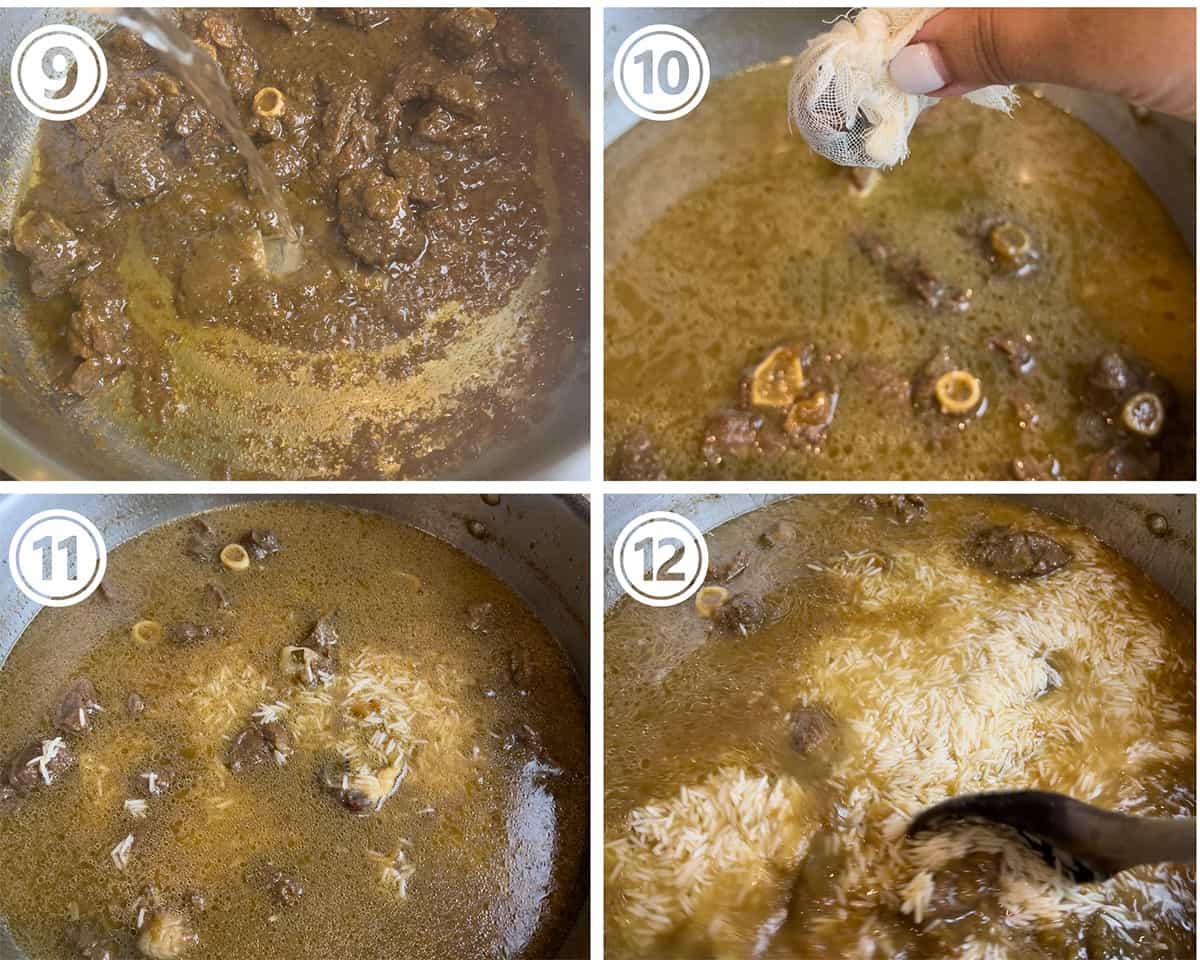 Step 9 - This constant stirring helps to roast the meat in the oil and also helps mash the cooked-down onions, so you have a puree-like consistency. Once you have a homogenized mixture that has separated from the oil, your base for the yakhni pulao is done.
Step 10 - The mutton should be 90% cooked by now and fall apart when pressed with the back of your cooking spoon. Add the required amount of water, based on how much meat and rice you have, along with the second bouquet garni with black cardamom, cloves, star anise, and whole peppercorn.
Step 11 - Drain the pre-washed and soaked fragrant basmati and add it to this stock. Check for salt once more and turn the heat to high.
Step 12 - Stir the rice just once and then wait for it to absorb all of the stock.
Finishing the rice -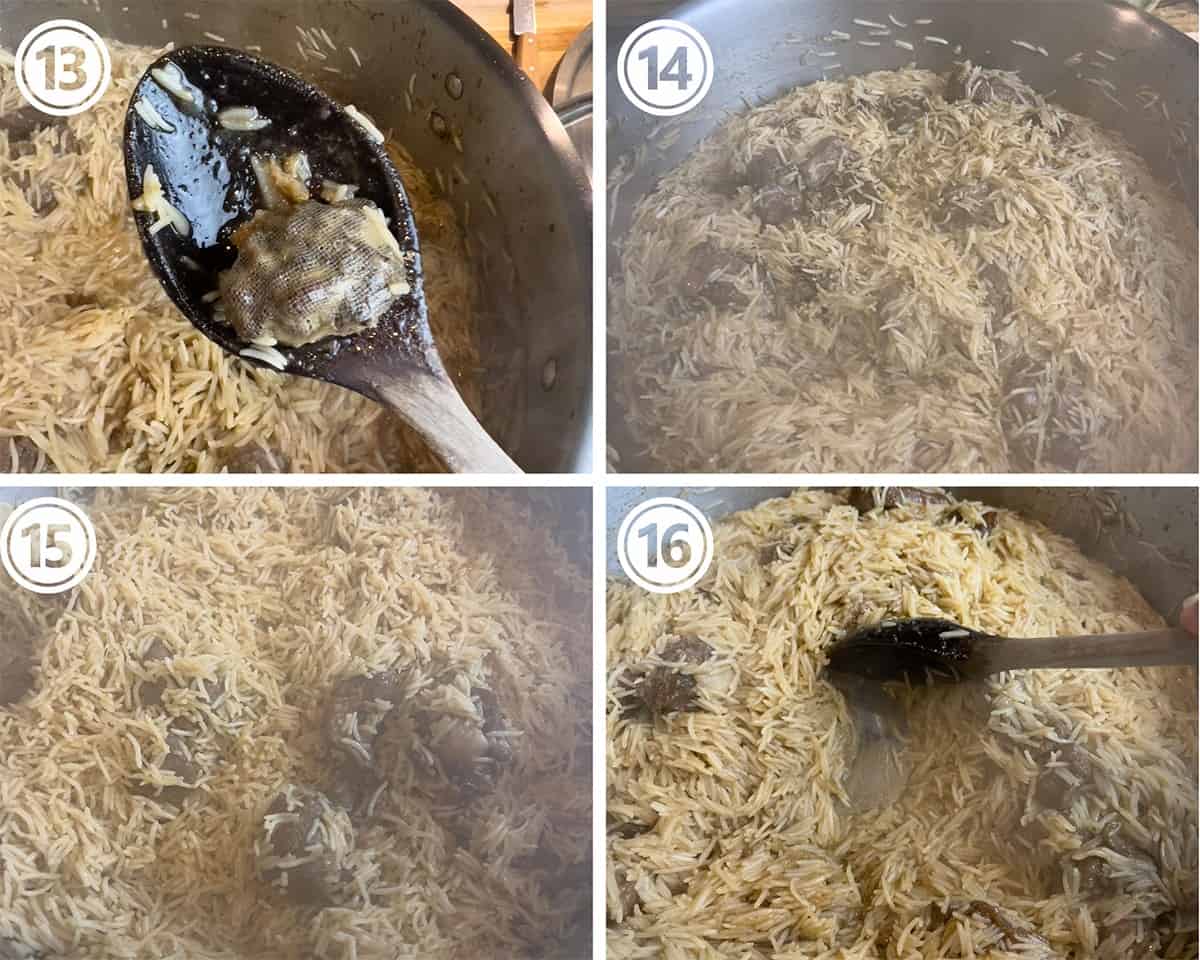 Step 13 - Pull out the spice bundle, squeeze, and discard once the rice has absorbed most of the liquid.
Step 14 - As the rice cooks, tear some sheets of foil so that you can immediately cover the pot and trap all the steam.
Step 15 -Once you can no longer see any liquid at the bottom of the pot, sprinkle the black cumin seeds and cover the top with foil to seal tightly. Place the lid on top and turn the flame on low to steam cook the rice to a finish.
Step 16 - After 15-20 minutes, remove the lid and gently peel away one corner of the foil to check if the yakhni pulao is ready by tasting a grain of rice. Once you're sure the pilaf is ready to serve, uncover the entire pot and gently fluff the rice. Always use a wooden spoon (never use utensils with sharp edges as this will break the beautiful long grains of rice).
Expert Tips
Add rib pieces to your stock - My mother always purchased an entire goat and used the various cuts for different recipes. She always separated the small bony rib pieces with very little meat for her pulao yakhni. The bones add tons of flavor, and if you can access some and add them to your broth, you'll see a difference in flavor.
Use Sela Rice - My go-to is zebra-basmati-rice-parboiled-extra-long-grain. Parboiled rice, known as Sela rice, is partially cooked while still inside the husk. This method helps preserve its nutrients and also makes it less sticky. It is ideal for and the most widely used rice for making pulao and biryani.
Don't skimp on the oil or the salt - A good pilaf needs just the right amount of oil and salt. You should be able to see a little bit of oil floating on the surface of your broth, and it should taste almost too salty. The final result will be perfectly salted and separate grains of rice.
Use the right pot to cook your pulao - Use a wide, shallow pot for best results. This facilitates the evaporation of water and allows the rice enough room to expand so it won't get soggy.
Don't stir the rice while cooking - I stir it only once after adding it to the stock. Too much stirring will cause the rice kernels to break and ruin the final finish of your pulao.
Recipe FAQS
What is the ideal meat-to-rice ratio for a perfect mutton yakhni pulao?
One pound of meat to 1 pound of rice is the ideal ratio for yakhni pulao or biryani. In cups, 1 pound of rice is approximately 2 cups.
Is there a way to fix an overcooked mutton pilaf?
Immediately remove the pilaf and spread it in a thin layer in a foil container. This allows the steam to evaporate and immediately stop the cooking process. As moisture is removed from the rice, it helps it regain some of that perfect structure.
Is there a way to fix an undercooked mutton yakhni pulao?
Put the cooked pilaf in an oven-proof dish, add ½ a cup of hot water, cover loosely, and steam in 2-minute increments until cooked.
Note: The ½ cup of water is for the 2 cups of rice per this recipe. If you're fixing a smaller amount, then please adjust the quantity.
I didn't add enough salt, is there a way to fix this?
Check your salt by tasting a grain of the cooked rice just before you steam the rice. If it seems like you need to add more, dissolve 1-2 teaspoons of salt (depending on how much you feel you need to add) in ½ a cup of hot water and drizzle this over the pilaf before you steam it. Once the pulao is ready, gently fluff it to mix, and you should be ready!
How do I store and reheat my pilaf?
Per the USA Rice Federation, cooked rice can be stored in the fridge for 3-5 days. I personally don't recommend freezing cooked rice, as the rice breaks, and the texture changes when it's frozen, defrosted, and reheated.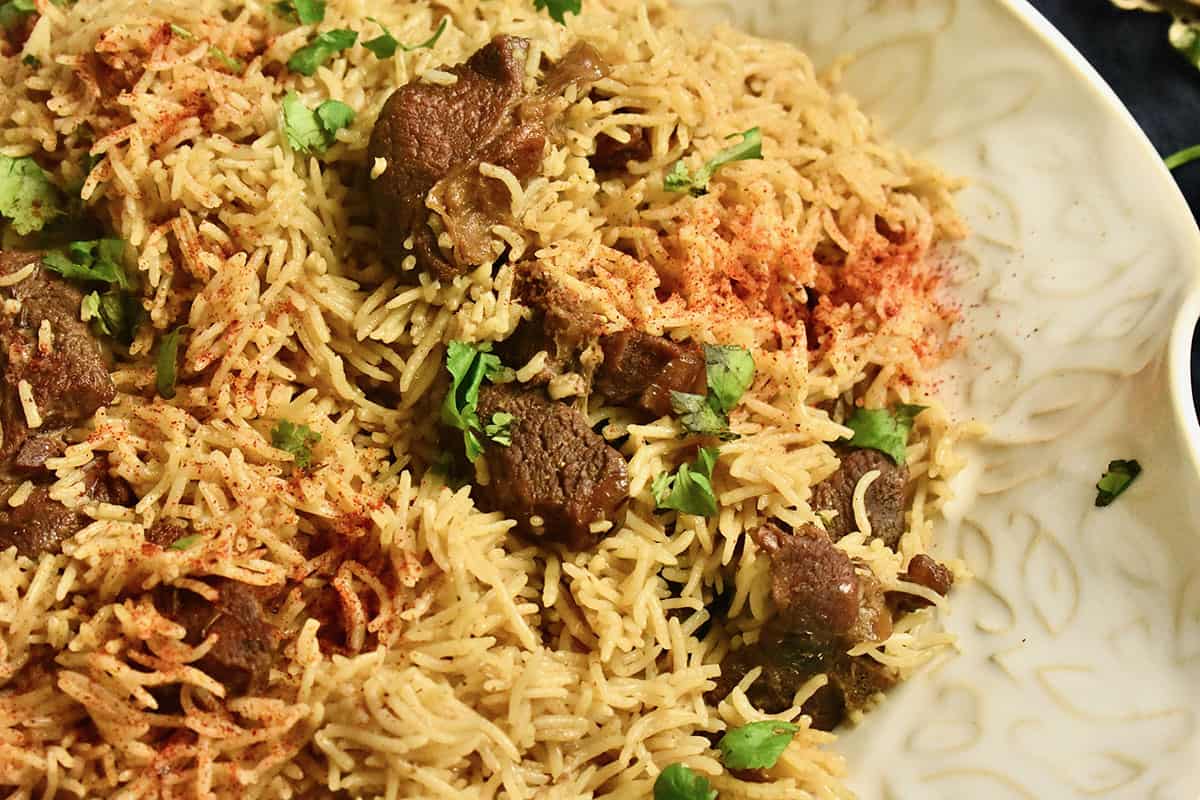 Other recipes you may like
I hope you decide to try this recipe! Please don't forget to leave a rating and comment below! If you take a picture, then tag me on Instagram! Thank You!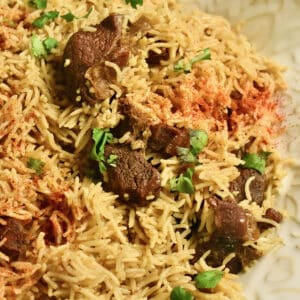 Mutton Yakhni Pulao (Rice Pilaf)
Mutton Yakhni Pulao (Rice Pilaf) is prepared by cooking aged basmati rice in a lightly spiced aromatic broth prepared with bone-in goat meat.
Ingredients
2

lb

goat meat

(see notes)

4

cups

basmati rice

(see notes)

1

cup

cooking oil

(see notes)

4

yellow onions

(see notes)

2

tbsp

garlic paste

(see notes)

2

tbsp

ginger paste

(see notes)

4

tsp

coriander powder

(see notes)

4

tsp

salt

(see notes)

2

tsp

black cumin seeds

(see notes)
Bouquet Garni For Stock (see notes)
2

tsp

coriander seeds

2

tsp

white cumin seeds

2

tsp

fennel seeds

4

dry red chilies

4

bay leaves
Bouquet Garni For Rice (see notes)
2

black cardamom seeds

2

star anise

8

cloves

8

black peppercorns

1

inch

stick cinnamon
Instructions
Prepare the stock
Heat the cooking oil and saute the onions in it till they're a medium golden brown.

Add in the garlic and ginger paste and saute for about 30 seconds.

Add in the goat meat and saute till the meat is no longer pink.

Add 8 cups of water, the salt, and the bouquet garni for the stock.

Cover, bring to a boil, and then simmer on medium-low heat for 1 hour.
Prepare the base for the rice
Uncover, turn the heat up and cook the stock until you have only 1 cup of water left.

Remove the bouquet garni and squeeze it with tongs to extract all the flavor, and discard the spice bundle.

Add the coriander powder and start to saute the meat, stirring continuously on high heat until all the water evaporates.

By this time, the onions should be in a pureed form and the oil should have separated.
Cook the rice
At this point, add 6 cups of water along with the second bouquet garni to this mixture.

Strain your washed and pre-soaked rice to this mix, check the salt, and boil everything at high heat.

Once all the water has evaporated, sprinkle the black cumin seeds on top of the rice, cover with foil, seal tightly, and place the lid on top.

Reduce the flame to the lowest setting and steam the rice for 15-20 minutes.

Uncover a small corner of the foil after 15 minutes and check a rice grain to see if it is cooked through.

Once the rice is done, uncover, remove the foil, fluff the rice gently, and serve.
Notes
Meat - I use a cut-up, bone-in goat leg for best results. I find the lean and succulent meat perfect for this recipe. If you prefer a slightly fattier cut, a goat shoulder works well.
Rice - Long-grain aged basmati rice is a must for a perfect pulao. I use a variety called Sela basmati rice, which is known for all of the above and has a higher nutritional value than regular.
Oil - Traditionally, South Asian cooking is prepared with the use of Ghee. I use canola or avocado oil on a regular basis and save Ghee for special occasions and a more authentic flavor. You can choose either option or use ½ oil and ½ ghee for a happy medium.
Onions - Properly caramelized onions create the base for this recipe and are the main source of flavor for any pilaf. All the other ingredients are added to and layered with these onions to create the taste that pulao is famous for. I use two onions per cup of rice for all my pulao recipes.
Garlic/Ginger Paste - Please take the time to use freshly prepared garlic and ginger paste if possible. It's so easy with the use of a Mortar and Pestle and will considerably improve the flavor of your pulao. Add 20 cloves of garlic and a 2-inch piece of peeled and sliced ginger to your mortar and pestle for the two tablespoons needed for this recipe.
Coriander Powder - I add this to my meat and onions as I saute them at the last stage to add color and flavor to my pulao.
Salt - The right quantity of salt is very important, so while four teaspoons may sound like a lot, the starch in the rice will pull all that flavor and needs it to taste delicious.
The aromatics - Separating the whole spices into groups and adding them at different intervals allows for a depth of aroma that would be otherwise missing. You'll note that the scent of spices added to any food diminishes with time as it cooks. Thus, adding the spices at intervals during the cooking process allows for a stronger aroma throughout the finished dish.
Nutrition
Serving:
1
person
Calories:
797
kcal
Carbohydrates:
85
g
Protein:
34
g
Fat:
35
g
Saturated Fat:
4
g
Polyunsaturated Fat:
8
g
Monounsaturated Fat:
21
g
Trans Fat:
0.1
g
Cholesterol:
70
mg
Sodium:
1240
mg
Potassium:
720
mg
Fiber:
4
g
Sugar:
4
g
Vitamin A:
234
IU
Vitamin C:
38
mg
Calcium:
104
mg
Iron:
5
mg