Typically a special dish reserved for special occasions, the Kabuli Pulao is as much a feast for the eyes as it is for the palate. The traditional Afghani version has some form of meat. Goat, lamb or chicken is added in addition to nuts, raisins, chickpeas and carrots. My family Kabuli Pulao Recipe is a vegetarian one as it's often served with a meat curry, but is no less delicious because of it. Read on to learn more about the variations and how to make my version or to adapt it to the one you like!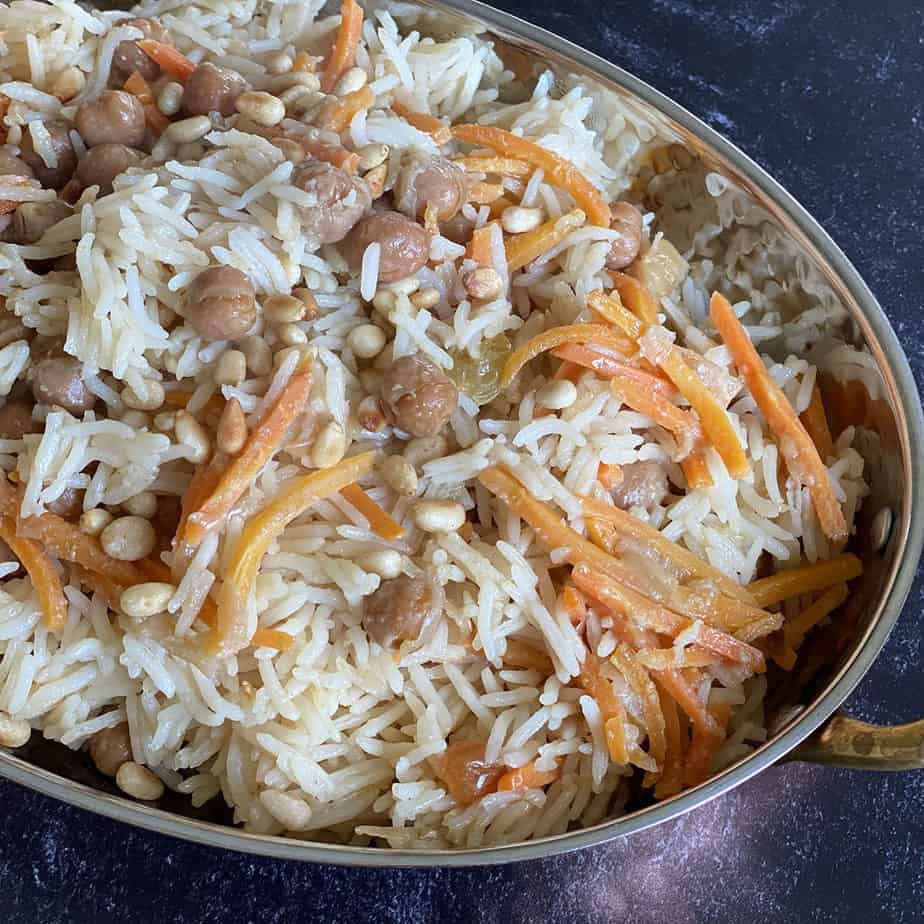 The History
Traditional Kabuli Pulao has some form of meat, chickpeas, carrots, raisins and nuts. Humaira Ghilzai in her article in afghancultureunveiled.com explains how this pulao was originally created by upper class families. They were the only ones who could afford the expensive ingredients such as raisins, nuts and meat.
Carrots, grapes (and hence raisins) and nuts were all indigenous to Afghanistan over a 5000 year period so their use in the local cuisine made sense.
With the passage of time, the famous pulao has become something eaten by the masses not only in Afghanistan but in Pakistan as well. Since some Northern regions of Pakistan border Afghanistan it's only natural that travel back and forth has led to an exchange and adaptation of some of our neighbors recipes.
My Story of Kabuli Pulao
My maternal grandparents grew up in Peshawar, which is in the North West Frontier Province of Pakistan. As such our family recipes contain many such as this pulao that are native to that region. As is often the case, recipes are often changed from the original to adapt to a family's personal taste.
In our house we always made a very simple vegetarian version of the pulao. The traditional version my mother and grandmother cooked had nothing more than chickpeas and raisins. I later added the carrots and nuts as a homage to the more authentic Afghani version.
While I love Meat Pulaos I often like to cook a vegetarian one that I can pair with a meat curry. I like to make this particular pulao when I make my pakistani-beef-kofta-meatball-curry or my easy chicken korma . Add to that my raita and kachumber salad and you have a feast fit for kings!
The Kabuli Pulao Recipe
Ever since I got my Instant Pot I cook my rice in it as it's fool proof and quicker but incase you don't have one here's my original stove top method that I've used for years.
Stove Top Method
Soak the Rice:
In this method, you soak the rice before cooking it. If you're using regular Basmati rice soak it for 20 minutes. If you're using Sela rice then soak it for one hour.
Cooking the Rice:
Prepare the Chickpeas as directed in the recipe card below and then follow the directions below:
Add 4 cups of the soaked rice (after draining it) to the gravy.
Pour in 6 cups of water.
Prepare and add in the spice pouch.
Sprinkle the carrots.
Toss in the Raisins.
Turn the stove on high and bring the water to a boil.
Once the liquid has evaporated turn the flame on the lowest setting, cover the pot with foil, sealing to insure all the steam will stay inside, cover and let the rice steam for 15 minutes.
Uncover the pot and remove the foil gently, fluff, plate, sprinkle with the toasted nuts and serve.
To avoid any confusion, the images below are for the Instant Pot Method.
Kabuli Pulao Recipe
A sweet and savory Kabuli Pulao Recipe that is of Afghani origin and has made its way to Pakistan. A very popular and old family recipe.
Ingredients
¼

cup

oil

2

onions

2

tsp

crushed ginger

2

tsp

garlic paste

2

cans

chickpeas

1

cup

water

2

tsp

salt

(SEE NOTES)

2

tsp

coriander powder

¼

cup

pine nuts

(SEE NOTES)

10

peppercorns

5

cloves

1

cinnamon stick

(1 inch piece)

1

tsp

black cumin seeds

4

cups

rice

(SEE NOTES)

½

cups

shredded carrots

½

cup

golden raisins

(SEE NOTES)
Instructions
Slice the onions into thin semi circles and cook until they're a deep medium brown.

Add the garlic paste and crushed ginger paste and saute for 30 seconds to 1 minute.

Add the rinsed and drained chickpeas along with the salt, coriander powder and water and cook on high for about 10 minutes to make a thick gravy.

Dry roast the pine nuts in a nonstick pan and set aside to use later.

Take the peppercorns, cloves, cinnamon stick and black cumin seeds and tie in a small piece of cheesecloth to make a spice pouch (SEE NOTES)

Add the chickpea gravy, 5 cups of water, 4 cups of rinsed and drained Sela Basmati rice, the spice pouch, ½ cup shredded carrots and ½ cup of raisins to your Instant pot.

Seal and cook on High Pressure for 4 minutes with a 15 minute release.

Open the lid carefully, fluff the rice, plate it and sprinkle with the toasted nuts and serve!
Video
Notes
SALT: Once you add the water to the Instant pot check the salt and adjust if necessary. Remember that the rice will absorb a lot of the salt so your stock should taste very salty. If it doesn't you probably need to add more. Since everyone has different tastes I usually suggest a median amount and leave some room for adjustment.
PINE NUTS: I like Pine Nuts as they have a very mild taste that perfectly balances the flavors in this pulao but Many people use Cashew Nuts, Almonds and even Pistachios so feel free to use what you have on hand or prefer.
RICE: I like the long grain of Sela Basmati Rice but plain Basmati is also a good choice. I wouldn't go with a grain that's shorter than basmati, it won't work well for this recipe. If using regular Basmati then 4 cups of water for 4 cups of rice is plenty in the Instant pot. Sela absorbs more water so needs that extra cup, but Basmati will become soggy with that extra amount.
GOLDEN RAISINS: Traditionally Afghani Pulao contains Golden Raisins but the darker variety can easily be swapped depending on preferences and availability.
SPICE POUCH: I don't like to accidentally get the whole spices in my mouth so use a spice pouch. This way I get that infusion of taste but I can pull the pouch out before serving and not worry about biting into a peppercorn or a clove.
Nutrition
Serving:
1
g
Calories:
476
kcal
Carbohydrates:
86
g
Protein:
8
g
Fat:
11
g
Saturated Fat:
1
g
Trans Fat:
1
g
Sodium:
596
mg
Potassium:
286
mg
Fiber:
3
g
Sugar:
7
g
Vitamin A:
1344
IU
Vitamin C:
3
mg
Calcium:
55
mg
Iron:
2
mg