Pakistani Zucchini (Courgette) Curry, also known as Turai ki Sabzi, is a popular vegetarian meal option in Pakistan during spring and summer. My use of an air fryer in this recipe, makes this already easy and healthy meal even easier and healthier, without compromising on taste!
Often craving the homegrown Turai from my Grandmother's garden, I strived for years to develop the perfect Pakistani zucchini curry recipe. One that would bring back fond childhood memories of summertime Pakistani meals such as bhindi masala with raita and kachumber.
Jump to:
Why you'll love this recipe
Zucchini never tasted so good - Zucchini is a very bland vegetable and since it contains more than 90% water, it's very tricky to cook. This Indian and Pakistani zucchini curry recipe is delicious both in terms of flavor and texture...try it and see!
Quick, easy and healthy recipe - This is a quick and easy to follow recipe, with or without an air fryer. Unknown to many people, Zucchini contains many nutrients, while also being low in fat and sugar!
Perfect Vegan Meal - Vegan? Or need to cook for a guest who is? This courgette curry is a great option!
Great side dish - Not a vegan or vegetarian? In that case this curried zucchini is a perfect side!
The ingredients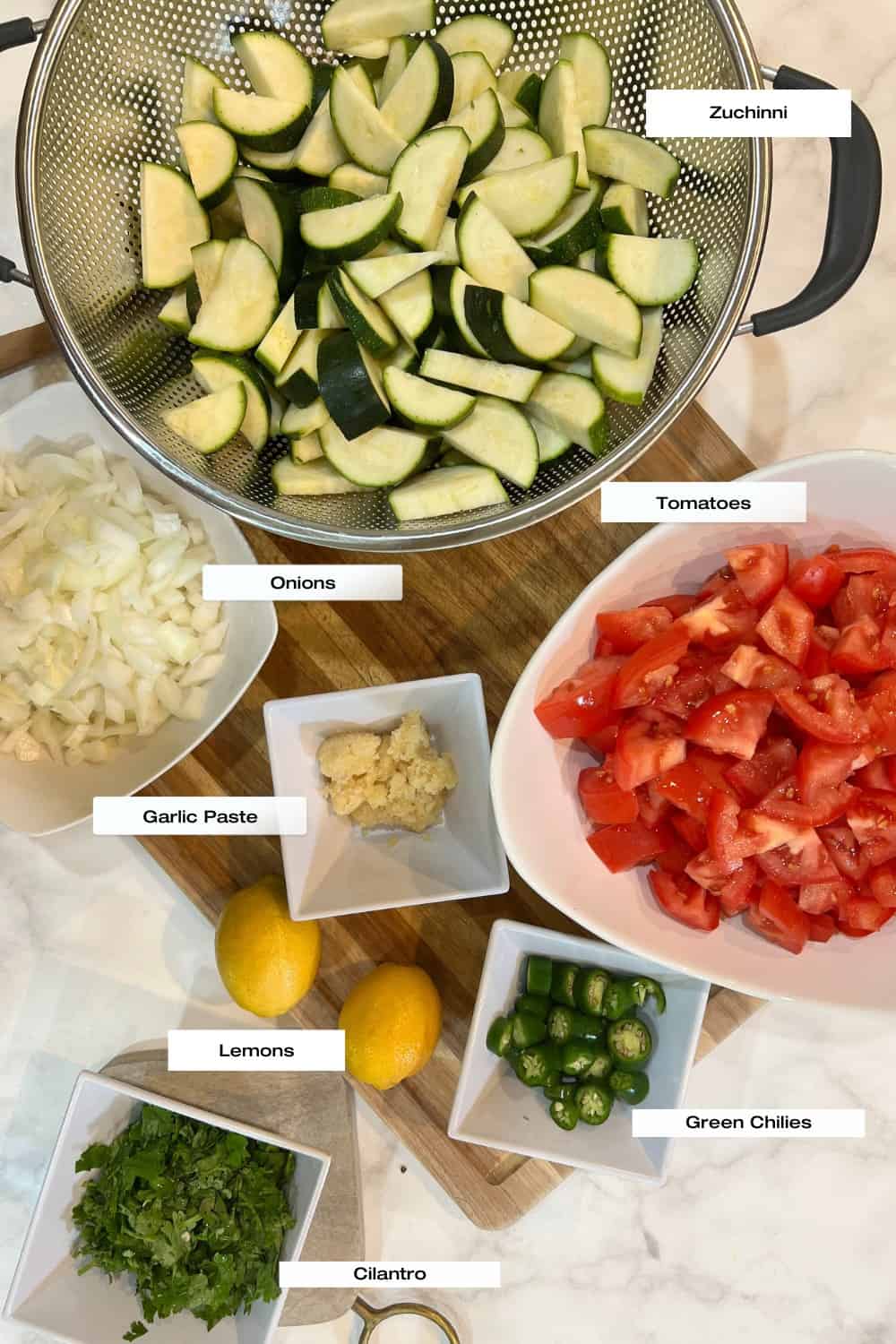 Zucchini - Try to find small sized zucchini for the best flavor.
Onions - I use yellow onions for all of my cooking. If these are not available for some reason then red onions are a good alternative.
Tomatoes - Roma tomatoes are my favorite for curries, with any other plum variety being a good second option.
Green chilies - I always use serrano chilies for all my cooking. If you want to add more spice to your pakistani zucchini (courgette) curry, try thai chilies. If you want this curry less spicy, use jalapenos.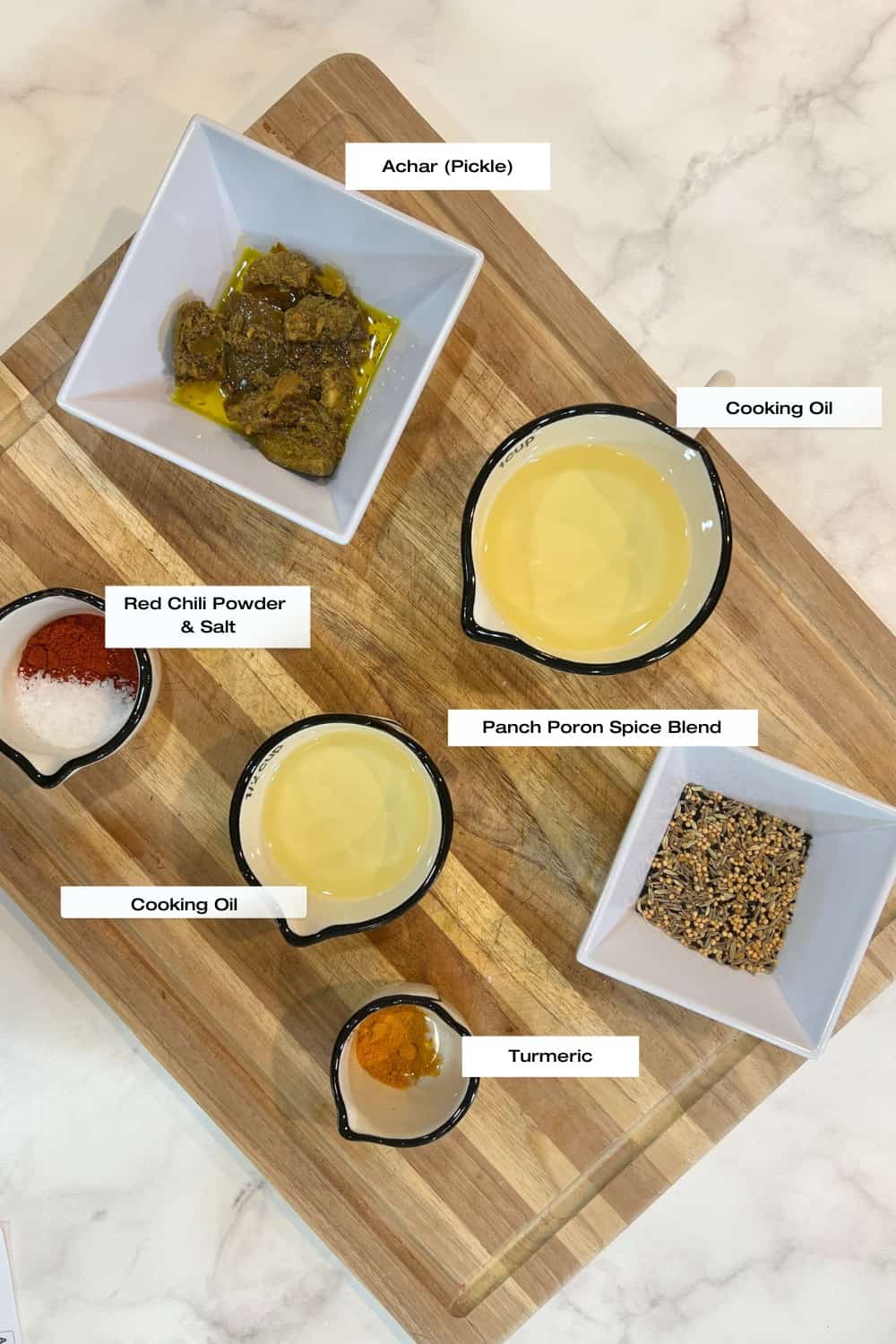 Cooking Oil - Any cooking oil that has a high smoke point is good to use. Some options are avocado, grapeseed, canola, peanut or sunflower.
Red chili powder - I use Pakistani red chili powder. If you are buying this from a local US grocery store, make sure to use red chili powder and not another alternative for the most authentic flavor.
Panch Phoron (five spice blend) - As the name indicates, Panch Phoron is a blend of the following five spices: Cumin Seeds, Mustard Seeds, Nigella , Fenugreek Seeds, Fennel Seeds. As a little goes a long way, this mix must be used sparingly. Often available as a premixed blend, it's also possible to make your own mix and store it in an airtight jar. For the home made version, mix ¼ teaspoon of fenugreek seeds with ½ teaspoon of the other 4 ingredients.
Achar (pickle) - Pickles are universally popular and South Asians in particular are uniquely fond of this condiment. A ready made variety is available in most stores and although achaar is primarily eaten as a condiment, I like to add it to some of my recipes due to its unique richness of flavor.
For the complete list of ingredients with measurements plus recipe instructions, please see the recipe card at the bottom of this post.
Substitutions & variations
Used canned tomatoes - Canned plum tomatoes are a great substitute if you can't find fresh ones or if you just want to save some time.
Use amchur powder - Amchur powder is a good substitute for fresh lemon juice. Just add 1 teaspoon to the zucchini curry at the end of the cooking process, just like in this easy eggplant curry.
Bake the zucchini - If you don't have an air fryer just bake your courgettes for the curry. Preheat the oven at 400?, toss the zucchini in cooking oil, spread them on a baking sheet and bake for 30-40 minutes, stirring and flipping the pieces halfway through.
Cook the curry in one-pot - For a one pot version, prepare the curry base with all of the ingredients as per the instructions and then add the cut and prepped zucchini. Stir and cook on medium high heat, uncovered, as the zucchini will release a lot of water. Stop cooking when the courgette is tender and all the water has evaporated.
Step by step instructions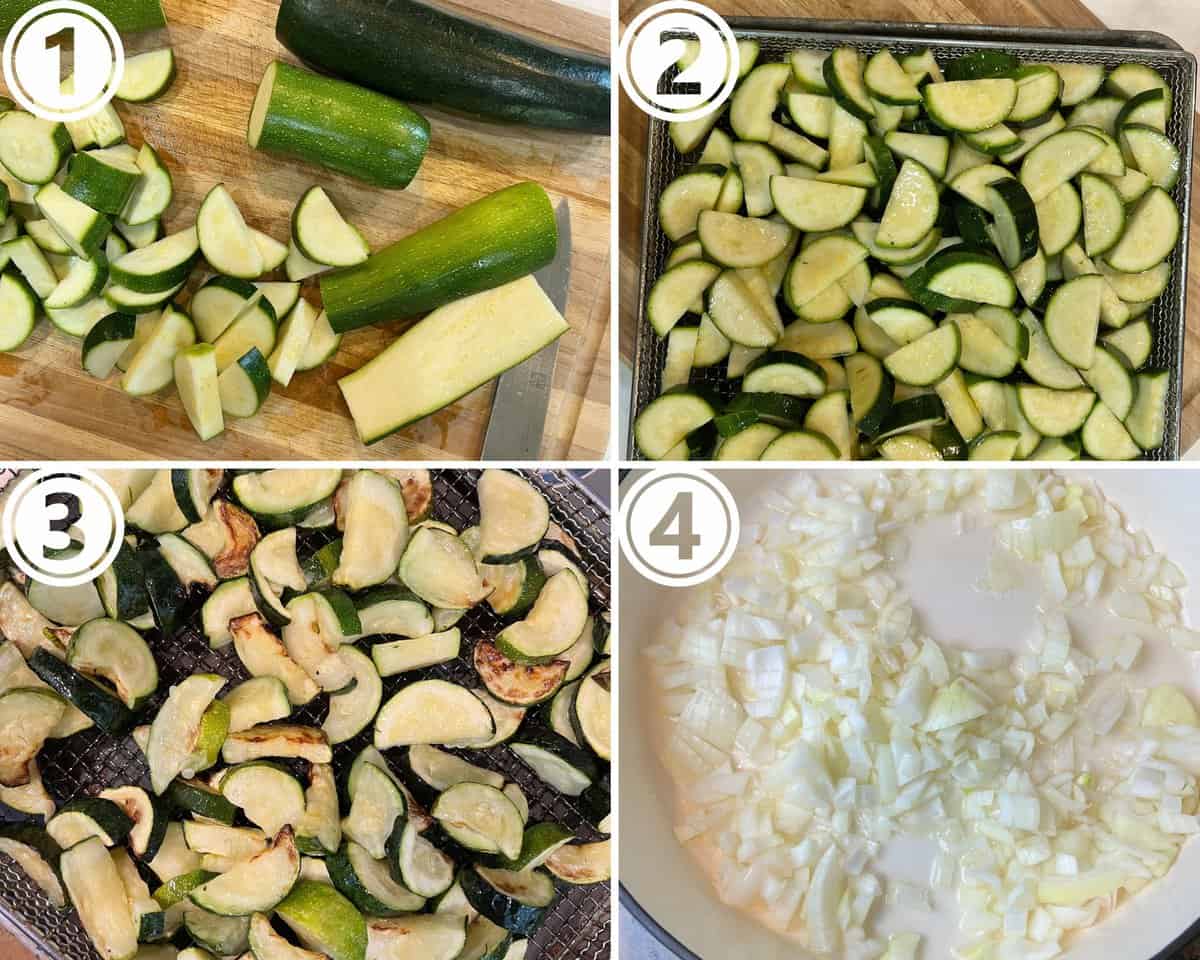 1. Wash the zucchini, chop off the top and bottom and slice the zucchini into half moon shapes.
2. Toss the chopped zucchini with 3 tablespoons of cooking oil and cook it in a preheated air fryer at 400? for 20 minutes, similar to my acorn squash curry.
3. Toss the vegetable once in between to insure even cooking.
4. Start cooking the curry, beginning with the chopped onions.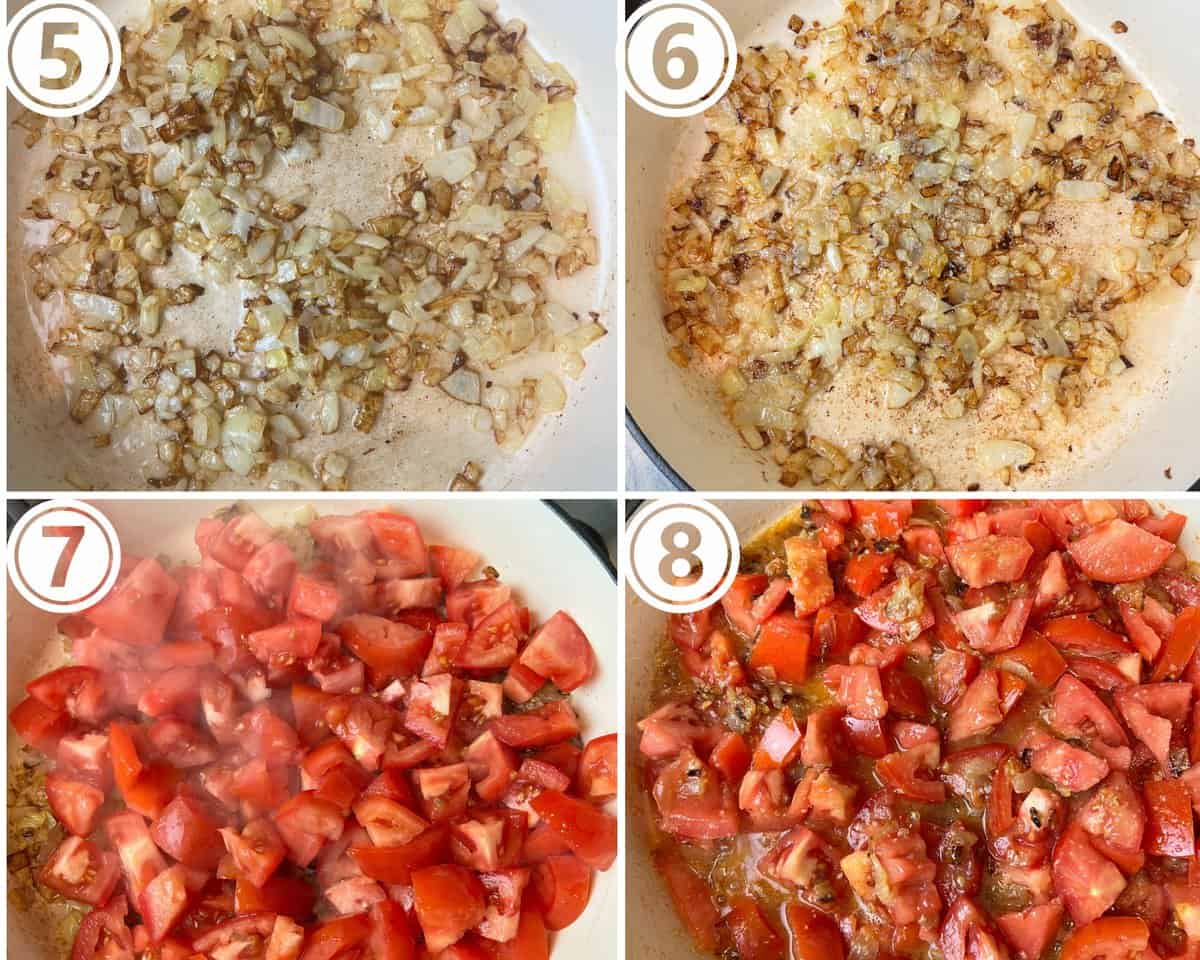 5. Cook till the onions are a medium brown.
6. Add the garlic paste and saute for 30 seconds.
7. Add in the tomatoes.
8. Stir and cook on medium heat with a lid on.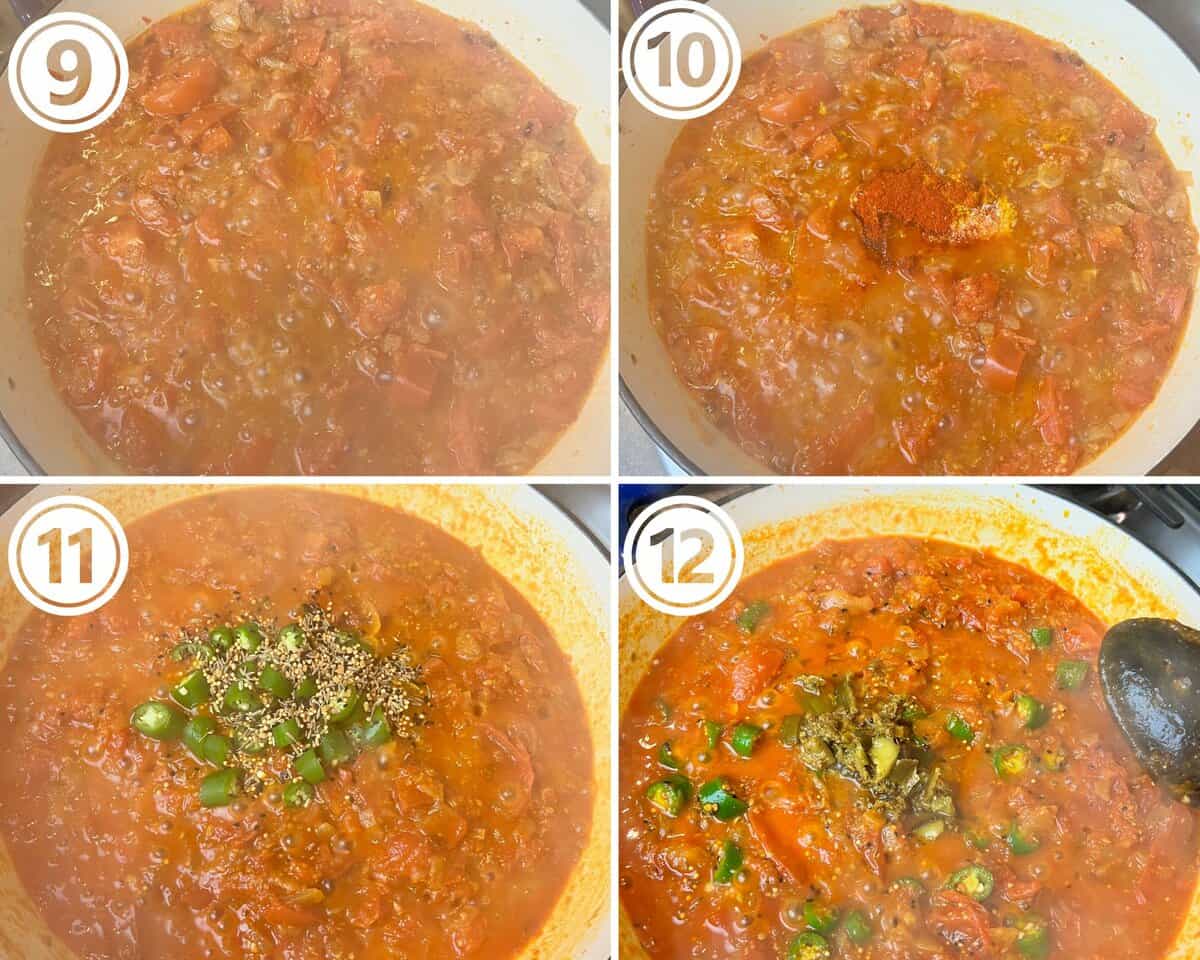 9. Uncover after 10 minutes, turn up the heat and use your spoon to mash the onions and tomatoes.
10. Add in all the spice powders and stir to mix.
11. Add come chopped serrano chilies and the panch poron spice blend.
12. Remove the pits from the mango pieces in the pickle, chop the flesh into small pieces and mix with the curry.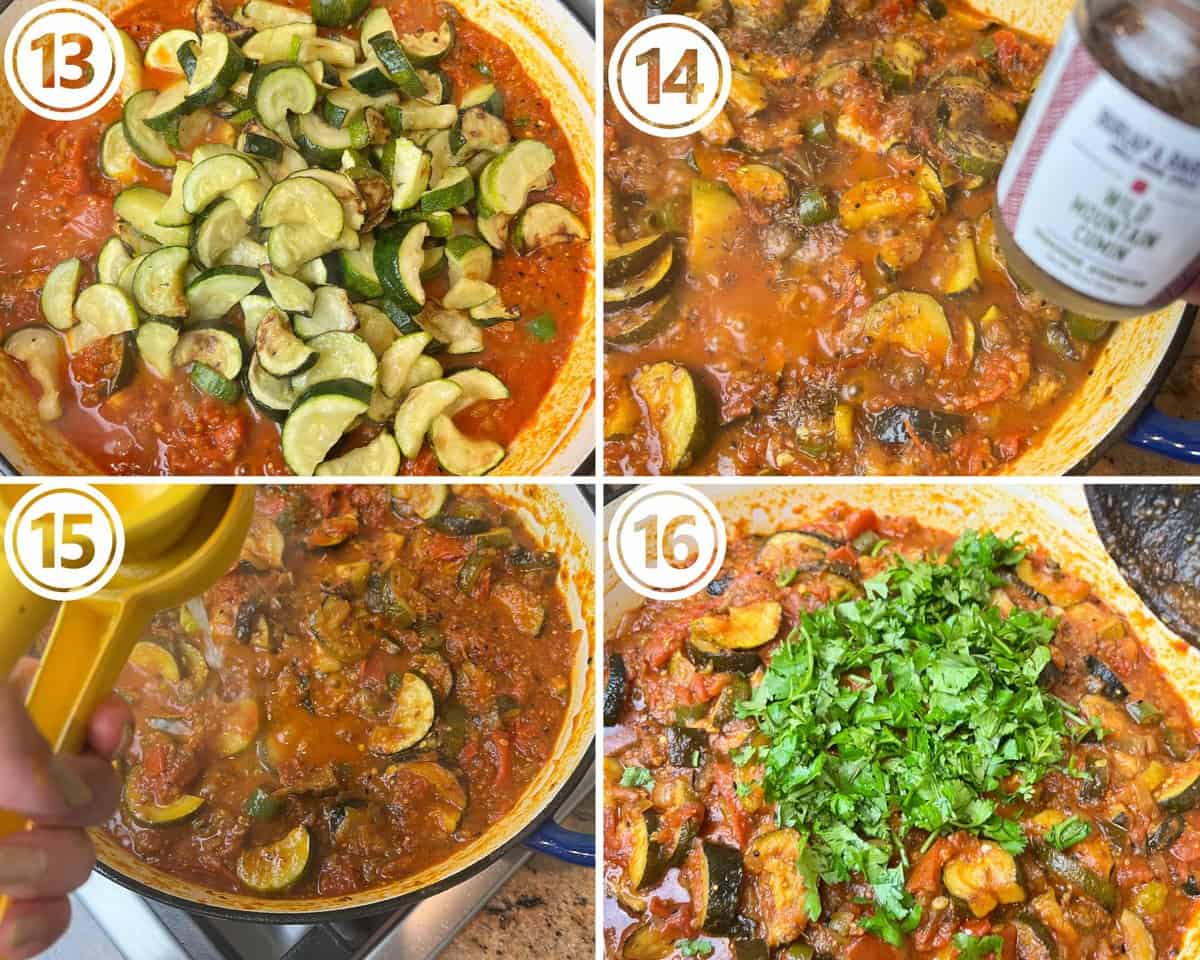 13. Add the air fried zucchini, cover and cook on medium for 10 minutes till it wilts and is tender.
14. Uncover and add the cumin seeds and stir.
15. Turn the stove off and squeeze the lemon directly into the curry.
16. Top with chopped cilantro, mix and serve.
Expert tips
Whether or not you air fry and bake the vegetables or just add them directly to the pot, remember not to add any water. Courgettes have a high water content and adding any extra will make the vegetables mushy and compromise the flavor of the curry.
Recipe FAQS
What do Pakistanis and Indians call zucchini?
In Urdu and Hindi, zucchini is called tauri, tori or turai. It's also referred to as ridge gourd, being slightly thinner, with a ridged surface.
Is it better to peel the zucchini or leave the skin on?
Traditionally, this zucchini curry is prepared without any skin but I like to cook it with the skin on as it makes the curry more nutritious that way.
Can I make this recipe without an air fryer?
Absolutely! It can be baked or cooked directly in the pot. Details on how to use the alternate methods are provided above in the blog post.
What do I eat the zucchini with?
Zucchini pairs wonderfully with this lentil curry for a vegetarian or vegan meal or with this mutton or lamb karahi gosht as a delicious courgette curry side dish.
How do I store my zucchini curry?
The curry, once cooked, stays good in the fridge for upto 3 days and in the freezer for upto 3 months in an airtight container.
Other vegetable recipes you may like
Hope you decide to try this recipe! Please don't forget to leave a rating and comment below! If you take a picture then tag me on Instagram ! Thank You!
Pakistani Zucchini (Courgette) Curry
This Pakistani Zucchini (Courgette) Curry is made with air fried zucchini tossed in a tomato based curry and seasoned with pickling spices.
Ingredients
4

cups

zuchinni

¼

cup

cooking oil

(see notes)

3

tbsp

cooking oil

2

serrano chillies

(see notes)

1

tbsp

panch phoran spice blend

(see notes)

1

yellow onion

2

tsp

garlic paste

4

roma tomatoes

1

tsp

red chilli powder

1

tsp

salt

¼

tsp

turmeric powder

2

tsp

mango pickle

(see notes)

1

lemon

¼

cup

cilantro
Instructions
Peel and cut the zucchini into half moon shapes and toss it with the 3 tablespoons extra virgin olive oil. (see notes)

Preheat the airfryer for 5 minutes at 350 degrees. (see notes)

Cook the courgette in the air fryer for 20 minutes, flipping the pieces halfway through.

Heat the ¼ cup oil in a cooking pot and add the chopped onions.

Saute till they're medium brown and then add in the garlic.

After about 30 seconds, add the tomatoes, cover and cook the mixture on medium heat till the tomatoes start sweating and releasing water.

Uncover, turn flame on high and add the salt, red chilli powder and turmeric.

Cook the mixture for 10 minutes and then add in the chopped green chilies, followed by the panch phoron.

Add in the mango pickle and mix well.

Stir in the zucchini, the cumin seeds, cover and cook for 10 minutes. (see notes)

Add in the lemon juice and stir to mix. (see notes)

Uncover, stir in the Cilantro and serve with hot fresh Naan.
Notes
Cooking oil - Use a high smoke point oil such as avocado, canola, peanut, grapeseed or sunflower.
Serrano chilies - I like to use serrano chilies, but you can use jalapenos for milder heat or thai chilies if you like things super hot.
Panch phoran spice blend - A blend of 5 (panch) spices; Cumin, Brown Mustard, Fenugreek, Nigella and Fennel. This is primarily used for pickling in South Asian cuisine and adds delicious flavor to this and many other curries!
Mango pickle - Pickles, known as achaar come in many varieties and can be purchased at specialty stores and amazon. Combined with the 5 spice blend this adds loads of flavor to an otherwise bland vegetable.
Cutting the zucchini - The zucchini is always cut in a half moon shape for the curry. Don't make the slices too thin so that the vegetable can retain some of its shape. I leave the peel on as it's highly nutritious but you're welcome to remove it if that's what you prefer.
Preheat the air fryer - Preheating the air fryer means that your courgette starts cooking as soon as you put it in. This means a shorter cooking time and crispier vegetables.
The cumin seeds - Normally I add cumin seeds first in my curries, to temper them slightly. But based on a recommendation from my friend Eric at eatlikenooneelse I recently tried this wild mountain cumin and can honestly say that the aroma is superb and this can be added directly. If you use a milder variety then I suggest tempering it first.
The lemon juice - Add the lemon juice to the curry at the end, after you turn the stove off. If you add it to very hot food it loses it's pungency.
Nutrition
Serving:
1
person
Calories:
192
kcal
Carbohydrates:
11
g
Protein:
2
g
Fat:
17
g
Saturated Fat:
1
g
Polyunsaturated Fat:
5
g
Monounsaturated Fat:
10
g
Trans Fat:
0.1
g
Sodium:
482
mg
Potassium:
412
mg
Fiber:
4
g
Sugar:
5
g
Vitamin A:
728
IU
Vitamin C:
34
mg
Calcium:
68
mg
Iron:
2
mg