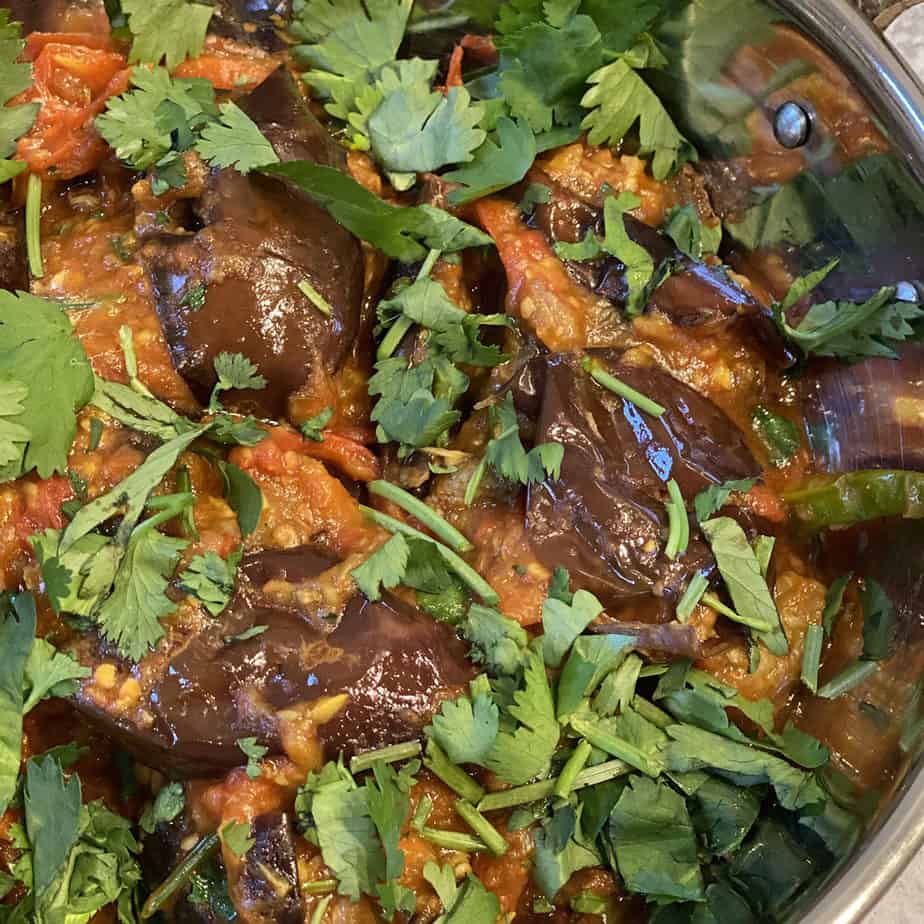 Every time I go to my local Asian market and find Indian Eggplants I have to make my Easy Eggplant Curry! I probably already have you curious! What are Indian Eggplants and how are they different from other eggplants? First a little history and then the recipe!
The History
What are Indian Eggplants?
Indian Eggplants are small and oval, per specialtyproduce.com they are about 5cm-7cm in size and are mild in taste. India is the worlds second largest eggplant producer and this particular type of eggplant is indigenous to the country. The eggplant spread to europe around the 13th Century and then here to the USA much later.
Why Are Eggplants So Popular?
The mild taste and tender texture makes this vegetable perfect for curries. High in fibre, vitamin B6, vitamin K and potassium its a popular choice for vegetarians. Cooked in many different ways by all South Asians, Bhagare Baingan, Baingan Bharta and Aloo Baingan are amongst some of the most popular curries in the region.
The peak season for this eggplant is spring and here in the US it's only available in specialty stores. Once you've tried this particular variety of eggplant you'll never want to eat any other type! For me its well worth the drive to go get them!
My Story
Baingan Love !
I've always loved Baingan as we call eggplants back home. I especially love to make Hyderabadi Bagara Baingan and this easy eggplant curry! Cooking the larger eggplants that are primarily available here in the US was a little tricky initially. These are tougher in texture than the smaller ones and while they are perfect for Eggplant parmesan or a Greek stew, curries prefer the smaller more tender variety.
Affordable
However, I never realized how fortunate I was to find them here in such proliferous quantity till my sister visited me from England. Aubergines as they're called in Europe are apparently very expensive and finding them more affordable here we feasted on them during her visit.
Easy Recipe
Finding these smaller ones reminds me so much of Pakistan that I have to buy and cook them whenever I see them! Most of the other recipes for baingan are delicious but a little time consuming to prepare. I came up with this Easy Eggplant Curry to satisfy my cravings! In all honesty these tiny little vegetables pack a punch as far as flavor is concerned.
About The Recipe
Most vegetable curries require a fair amount of oil to be used which really defeats the purpose if you're cooking them for health reasons. My air fryer has been the best investment I've made as far as my health and ease of cooking is concerned. If you've tried some of my other recipes such as my acorn squash curry or my achari pickled turai zuchinni you'll know I love air frying my veggies!
This way I use far less oil and the vegetables are cooked in much less time. While the eggplant is cooking in the air fryer I prep the curry base and simply put it all together at the end.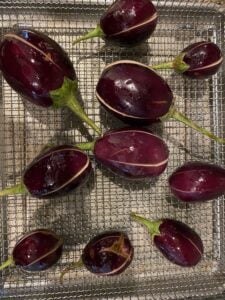 The eggplants have so much flavor of their own that I use very few ingredients in this curry. The purpose of the few add ins is to simply enhance the natural taste of the eggplant.
A little bit of garlic and a few Thai chillies make the aromatic base. The chilies add some pretty color and I leave them whole so the curry isn't too spicy.
The slightly sour and acidic taste of the tomatoes is a nice contrast to the mild and slightly sweet taste of these tiny eggplants. They gently coat the eggplant and with the addition of a few spices the whole dish comes together!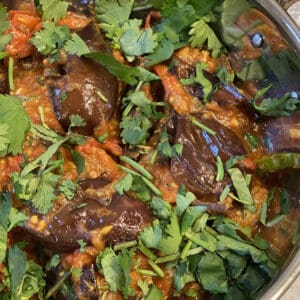 Easy Eggplant Curry
Tender Indian eggplants air fried and then added to a tomato based curry spiced with thai chillies and garnished with cilantro.
Ingredients
1

lb

Indian eggplant

¼

cup

cooking oil

(SEE NOTES)

4

Roma tomatoes

2

tsp

Garlic paste

6

Thai chilies

1

tsp

Salt

1

tsp

Red chili powder

½

tsp

Turmeric powder

2

tsp

Amchur powder

2

tbsp

Tamarind

(OPTIONAL)
Instructions
Preheat your air fryer at 350° for 5 minutes

Make two diagonal slits like an X (pictured above) in each eggplant (SEE NOTES)

Rub a generous amount of olive oil on the eggplants, getting it inside all the crevices

Air fry for 20 minutes, turning them around every 5-10 minutes(SEE NOTES)

While the eggplant is cooking, heat the cooking oil and saute the garlic in it for about 30 seconds

Add the Thai chillies and saute them for 10-15 seconds

Slice the tomatoes and saute them just till they start wilting

Add the salt, red chilies and turmeric and stir

Add the air fried egg plants, cover and cook on the lowest setting of your stove for 5 minutes

Uncover and turn the flame on high to dry any residual liquid (SEE NOTES)

Turn your stove off, sprinkle the amchur powder (and stir in the tamarind if adding) and cilantro, gently stir and serve
Notes
COOKING OIL
I alternate between avocado oil and olive oil for most of my cooking. Avocado oil has a higher smoke point so is better to use when cooking a curry as the prolonged cooking time makes it a better option. But feel free to use anything you prefer.
CUTTING THE EGGPLANT
Indian eggplants are tiny so I like to make these diagonal cuts and preserve the whole eggplant as it makes for beautiful presentation. If you're using a large eggplant then I would cut large semicircular slices, about ½ inch in thickness, with the skin on.
AIR FRYING YOUR EGGPLANT
Air Fryers vary from one to another, I own a Cuisinart Air Fryer Toaster Oven. If yours is different you may need to adjust cooking times or temperature a little bit. If you don't have an air fryer I would bake my eggplant in the oven at 400 degrees for 25-30 minutes.
DON'T STIR
Avoid stirring too much after the air fried eggplants are added to the curry. This will cause them to dissolve and get mushy, ruining the consistency of the curry.
AMCHUR POWDER
Always add the Amchur powder at the end. This is a dried mango powder and great for flavor but if it's cooked it loses its pungency.
TAMARIND Although I don't always find it necessary in this recipe, about 2 tablespoons of tamarind at the end are an add in option that you may like.
Nutrition
Serving:
1
g
Calories:
204
kcal
Carbohydrates:
18
g
Protein:
3
g
Fat:
15
g
Saturated Fat:
1
g
Trans Fat:
1
g
Sodium:
602
mg
Potassium:
650
mg
Fiber:
5
g
Sugar:
10
g
Vitamin A:
1334
IU
Vitamin C:
109
mg
Calcium:
33
mg
Iron:
1
mg