Hyderabadi Bagara Baingan (Eggplant Curry), known as Nune Vankaya Kura in Telegu of Andhra Pradesh, is a popular vegetarian dish made with baby eggplants. Unlike my easy-eggplant-curry, this particular recipe is layered with complex flavors. In keeping with other popular Hyderabadi recipes, such as Hyderabadi-style chicken curry and Hyderabadi-khatti-daal, tangy and aromatic ingredients lead the way.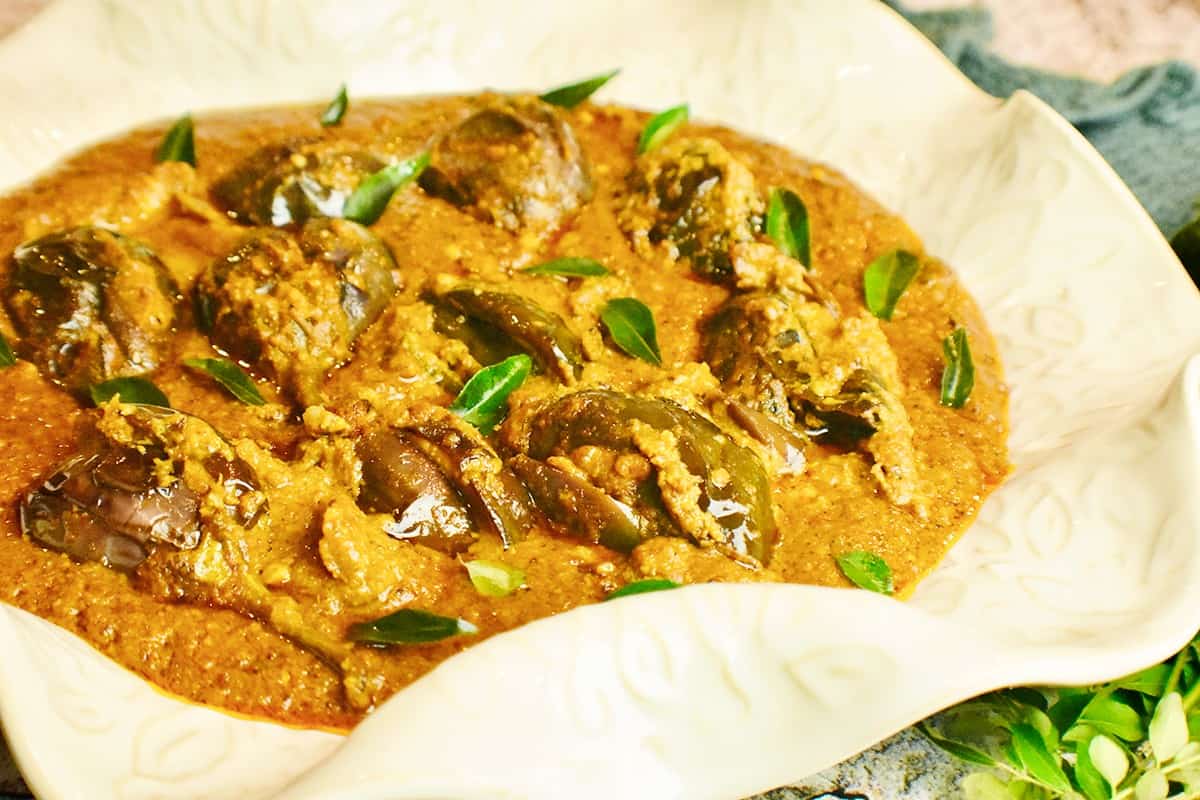 The most apt description I've ever read of this Indian eggplant curry is in an article, which refers to them as an amalgam of Nizami and Andhara Cuisine.
Traditionally served as a side dish with Hyderabadi biryani, in Pakistan, we typically serve bagara baingan with Naan or basmati rice in Pakistan. This popular dish is guaranteed to convert you into becoming an eggplant lover.
Jump to:
Why you'll love this recipe
Layered with flavor - Hyderabadi bagara baingan recipe is famous in Pakistani and Indian cuisine for its unique taste. Baby eggplants are cooked in a nutty, tangy, and aromatic gravy till they become creamy in texture.
Vegan & gluten-free - This Hyderabadi eggplant curry is perfect for vegans and becomes a delicious gluten-free meal when eaten with plain rice.
Can be prepped ahead of time - The different steps associated with making Hyderabadi bagara baingan can be done ahead of time, with the final assembly carried out on the day you want to eat the baingan.
Freezer friendly - With a freezer life of 3 months, this Hyderabadi bagara baingan recipe is a great one to have on hand.
Ingredient notes
Eggplant - The secret to delicious Hyderabadi Bagare baingan is using baby eggplants. They have a melt-in-your-mouth texture that is ideal for this baingan recipe.
The oil - I use canola oil for my Hyderabadi bagara baingan. Canola oil has a high heat index and is affordable. Since frying the eggplants requires a large quantity, the cost is a factor to consider.
The spices - I only use salt, red chili powder, and turmeric for this baingan recipe. The remaining flavor comes from the roasted and ground ingredients.
Curry leaves - For best results, purchase fresh curry leaves from a South Asian store. These are more aromatic than the dry variety.
Cumin & Coriander seeds - Dry roasted and freshly ground cumin and coriander seeds are vital to Hyderabadi bagara baingan. This is where the eggplants get all their taste and aroma. Powdered spices will alter the taste and texture of the curry.
Raw peanuts - These are usually easy to source and taste better when freshly roasted and ground.
Desiccated coconut - The traditional Hyderabadi bagara baingan recipe calls for fresh coconut, but I use desiccated coconut instead. It's easier to source and has a long shelf life, so storing it is easy.
White sesame seeds - These are a key ingredient in Hyderabadi cuisine. The sweet and nutty flavor works beautifully with the other ingredients in the eggplant curry.
Tamarind paste - I use homemade tamarind paste made from fresh tamarind pulp. A store-bought tamarind paste can work as a substitute in this baingan recipe.
Please see the recipe card at the bottom of this post for the complete list of ingredients with measurements plus recipe instructions.
Substitutions & variations
Use different eggplants - Although baby eggplants work best for Hyderabadi bagara baingan, thin, long ones are a good substitute due to their thin skin and tender texture.
Try fresh coconut - If you can access fresh coconut, try it as a substitute for the dry coconut powder for an authentic Hyderabadi taste in your baingan. You may need to adjust the amount of water you use to accommodate for the moisture in the fruit.
Use crispy fried onions - Use store-bought crispy fried onions as a shortcut instead of chopping and frying fresh onions. The substitution ratio is three tablespoons for each onion in the recipe.
Use peanut oil - Peanut oil is another affordable option you can use, based on your preferences.
Step-by-step instructions
Despite the many steps involved in preparing this Hyderabadi bagara baingan, the recipe is fairly simple.
Prepping the eggplants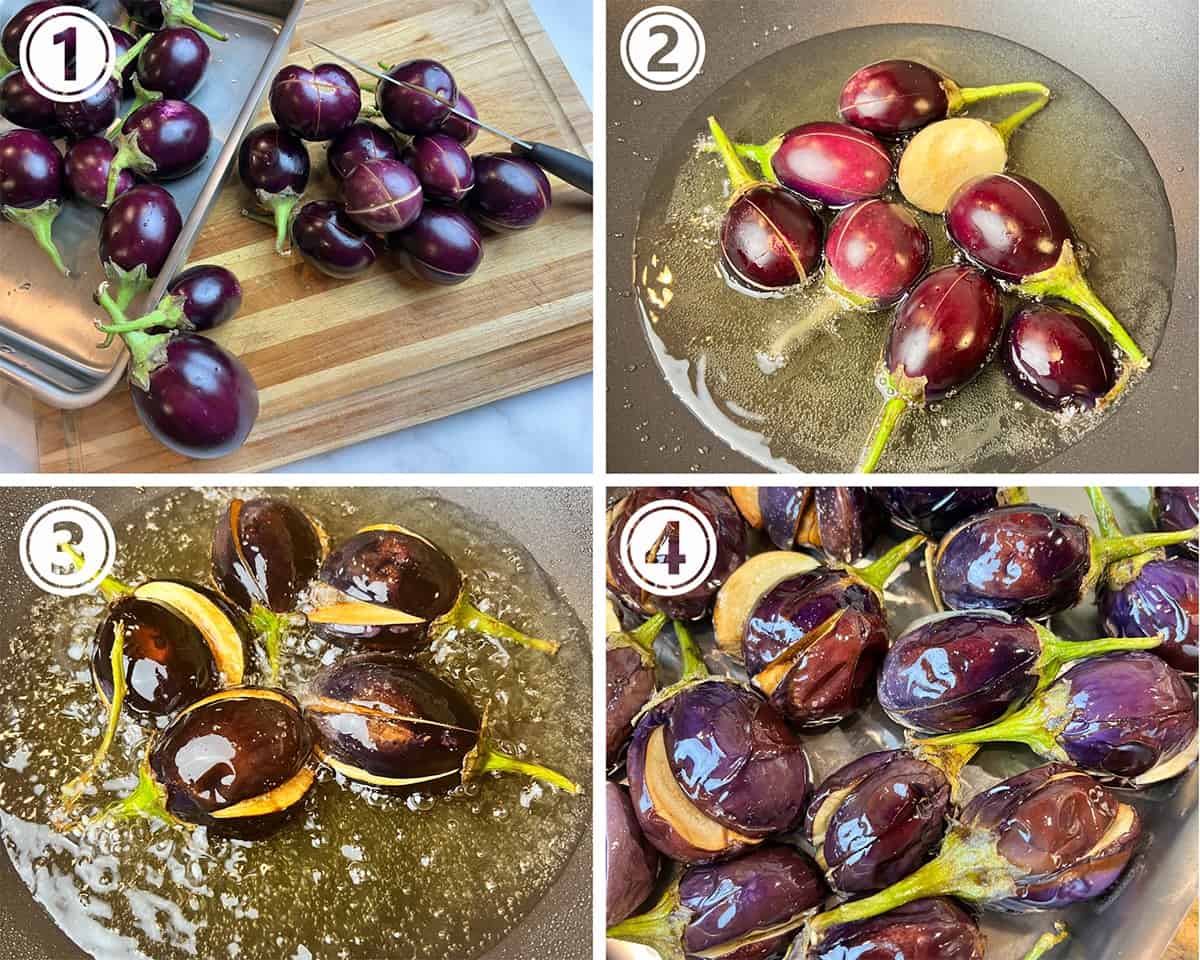 Step 1 - Score the eggplants at the base, making diagonal slits. This helps them cook faster and absorb all the flavor of the curry.
Step 2 - Preheat one cup of oil in a wok or frying pan and fry the baingan in the hot oil, a few at a time.
Step 3 - The eggplants are ready once the skin turns translucent and the flesh starts to brown.
Step 4 - Once done, remove the fried brinjal (another name for eggplants) and set them aside while you prepare the curry.
Prepping the ground spices and ingredients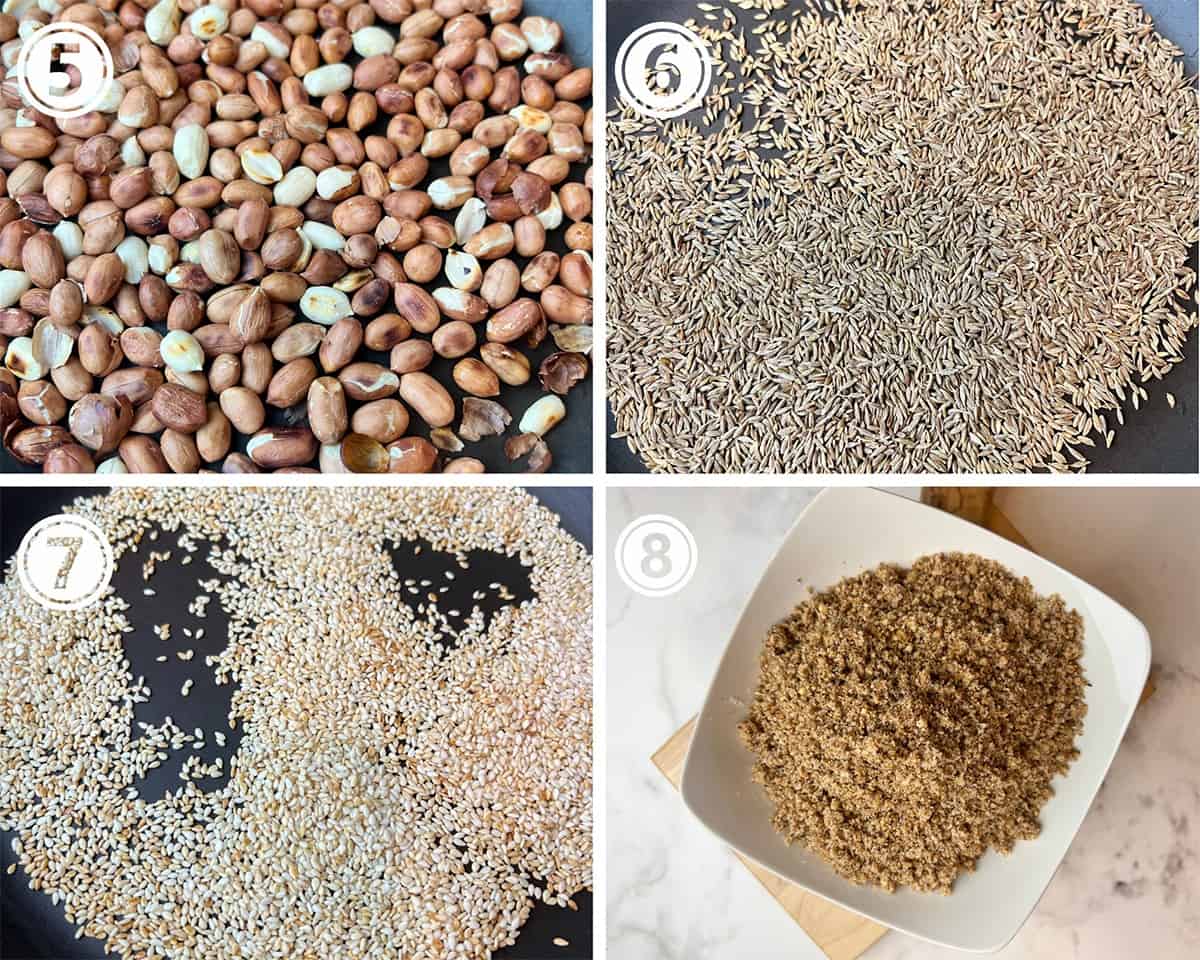 Step 5 - Dry roast the raw peanuts on a medium flame and set them aside to cool. If your peanuts have skin on them, you can try to remove it by rubbing them between the folds of a towel. However, it's ok to grind the nuts with the skin on if that is more convenient.
Step 6 - Roast the cumin and coriander seeds on a low flame as they can burn easily, and grind them to a powder.
Step 7 - Roast and grind the sesame seeds and coconut on low heat.
Step 8 - Mix all of the above ingredients and set the powdered mixture of whole spices aside while you move on to the next and final step in preparing
Preparing the curry base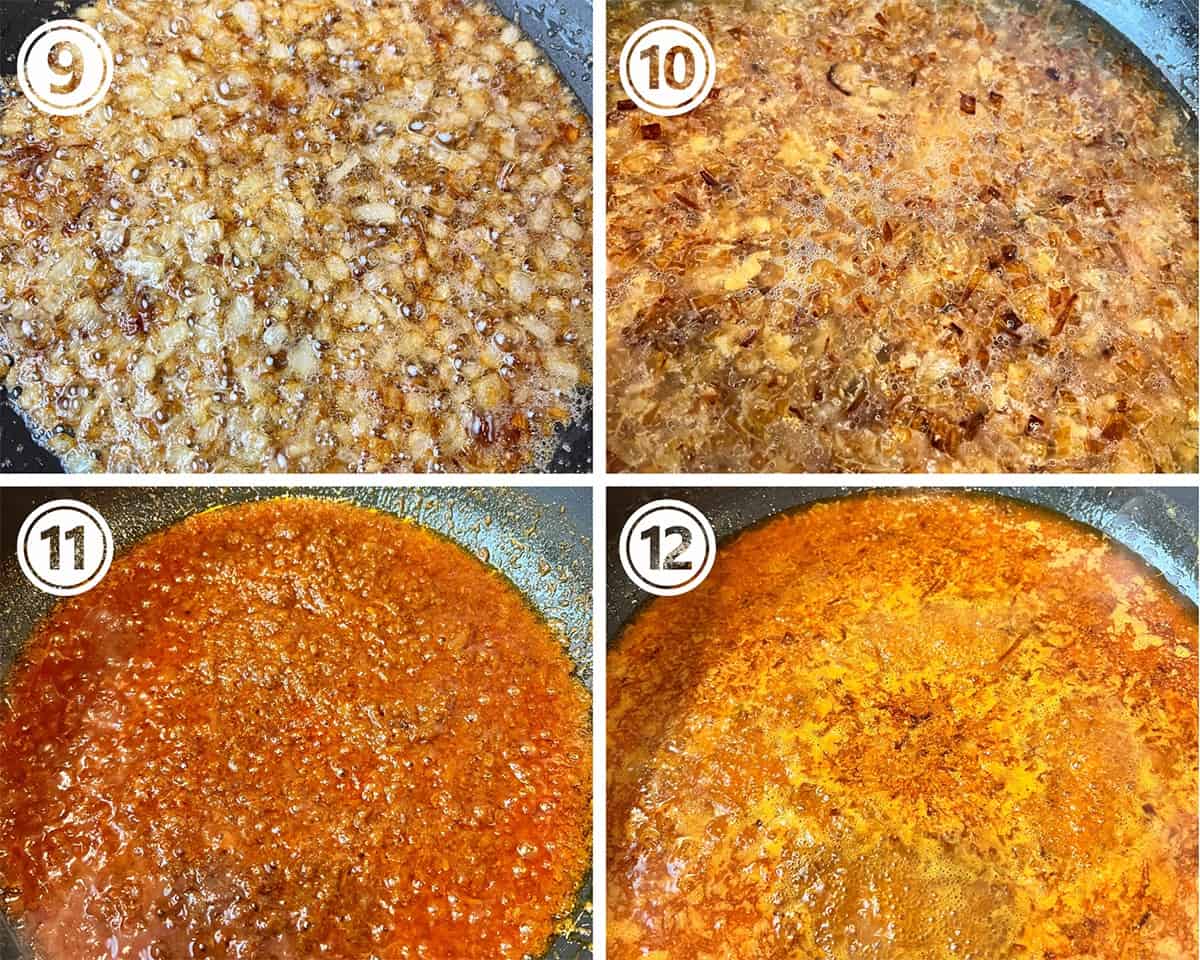 Step 9 - Dice a medium onion (about one cup) and sauté it in ¼ cup of oil until it's a nice golden brown.
Step 10 - Add and saute the ginger garlic paste for 30 seconds, and then add 1 cup water to the mixture. Cover the pot, and cook on low heat for about 10 minutes. This will soften the onion and ensure a smooth curry.
Step 11 - Next, turn up the flame to medium heat and add the salt, red chili powder, and turmeric. Saute for 1 minute to allow the spices to bloom.
Step 12 - Add the ground powder mixture you prepped earlier and two cups of water.
The final curry
Step 13 - Turn the stove on high and cook until the curry boils. Cover and cook for 10 minutes.
Step 14 - Uncover and add in the tamarind water or concentrate. If needed, add another cup of warm water, as the ground coconut and peanut powders tend to absorb a lot of liquid. The texture you're looking for is a thick smooth paste.
Step 15 - Add the curry leaves next, cover, and cook for 10 minutes so that they can release their aroma.
Step 16 - Next, uncover and layer the fried eggplant in this prepared curry, cover, and cook for a final 10 minutes. This will allow all the flavors to blend and the eggplant to fully cook.
Expert Tips
Soak the eggplants in salted water - Once you slit the eggplant, soak it in some salt water for a little while. This keeps your main ingredient from browning and helps the ultimate flavor of your
Roast each ingredient separately - All the dry ingredients in this eggplant recipe have a different burn point, so it's best to roast each separately. Start with the coconut, then the sesame seeds, cumin, coriander, and peanuts (in that order). This order is based on each ingredient's natural oil and moisture content.
Use hot water - I keep some hot water on hand to add to the bagara baingan curry as needed. Adding room-temperature water stops the cooking process and adds to your cooking time.
Stuff the eggplants - Many people prepare the powdered mixture, add the spice powders, and stuff some of it inside the slit eggplant to give it more flavor.
Prepare the curry in stages - I usually prepare and keep some frozen tamarind paste on hand to use as needed. Prep and store the dry powdered mix in the fridge, in an airtight container, a week in advance and fry the eggplants a day ahead. Once all the Hyderabadi bagara baingan curry components are ready, the final steps will take very little time.
Recipe FAQS
What does bagara baingan mean?
The word 'bagar' means tempering, and 'baingan' means eggplants. So bagara baingan literally means tempered eggplants.
Is this a spicy curry?
Bagara baingan is not at all spicy. All the flavor comes from the caramelized onions, other ground ingredients, the tamarind water, and the curry leaves.
How do I store and reheat the curry?
Store your cooked Hyderabadi baingan in the fridge for up to three days and in the freezer for up to 3 months. To reheat the curry, use a microwave. If the curry is in the freezer, defrost it in the fridge overnight.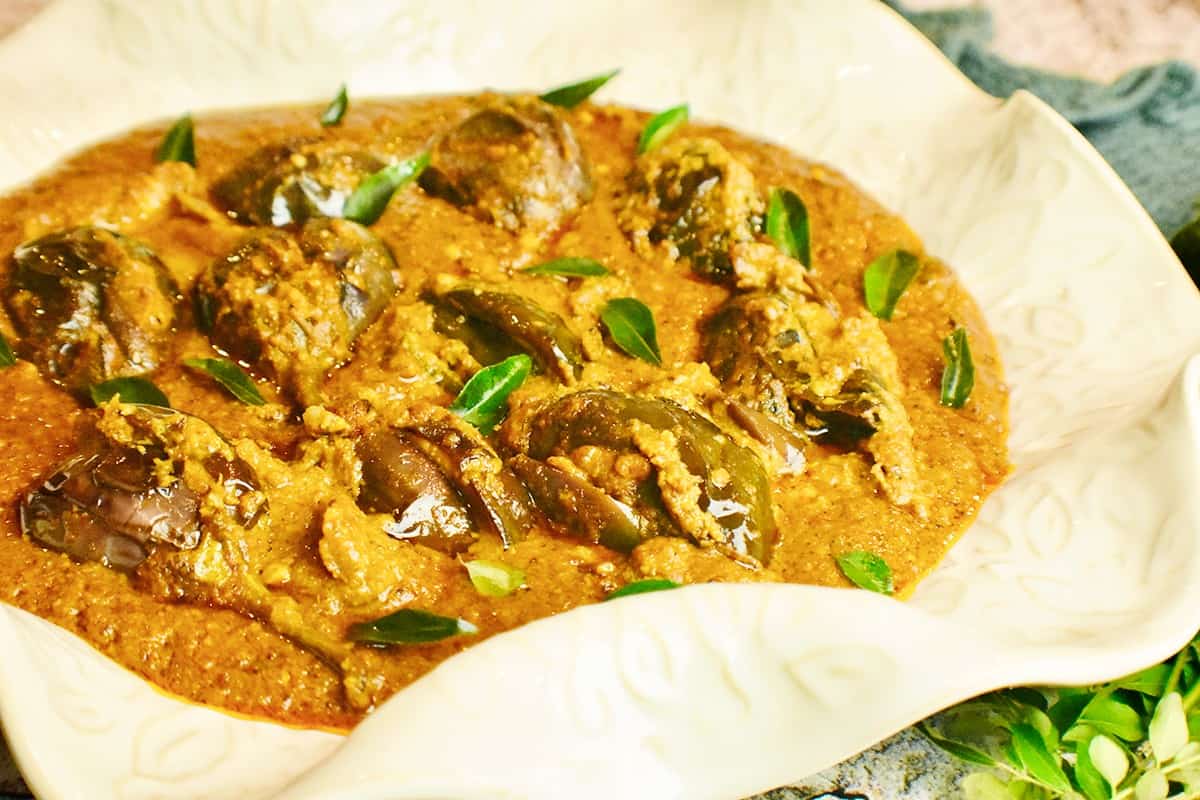 Other recipes you may like
I hope you decide to try this recipe! Please don't forget to leave a rating and comment below! If you take a picture, then tag me on Instagram! Thank You!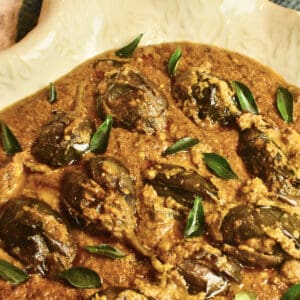 Hyderabadi Bagara Baingan (Eggplant Curry)
Hyderabadi Bagara Baingan (Eggplant Curry) is made with tender baby eggplants cooked in peanut and coconut-flavored gravy.
Ingredients
6

baby

eggplants

(see notes)

1 ¼

cup

cooking oil

(see notes)

½

cup

tamarind water

(see notes)

1

onion

(see notes)

1

tbsp

garlic paste

1

tbsp

ginger paste

3

cups

water

(see notes)

1

tsp

salt

1

tsp

red chili powder

¼

tsp

turmeric powder

12

curry leaves
Dry Ingredients To Roast And Grind
½

cup

dessicated coconut

(see notes)

¼

cup

raw unsalted peanuts

(see notes)

2

tsp

sesame seeds

2

tsp

white cumin seeds

2

tbsp

coriander seeds
Instructions
Wash and dry the eggplants and cut slits at the base to make a cross.

Fry the eggplants in the cooking oil till the skin softens slightly and then set them aside. (see notes)

Soak the tamarind in hot water and set it aside.

Dry roast the peanuts, place them on a clean dish towel and rub between the folds to remove as much of the skin as you can and then grind them to a powder. (see notes)

Dry roast and grind the remaining ingredients on the list, one at a time, till they are lightly toasted, mix them with the ground peanuts and set the mixture aside.

Dice the onions and brown them till they are a medium brown.

Once the onions are brown, add and saute the garlic and ginger paste for about 30 seconds.

Then add 1 cup of water, reduce the heat cover and cook for 10 minutes so the onions can soften more.

After the 10 minutes, uncover, add in the salt, red chili powder and turmeric, along with the roasted and ground ingredients.

Add 2 cups of water, bring the mixture to a boil, reduce the heat, cover and cook for 10 minutes.

Uncover, add in the tamarind water and curry leaves. Add more water and adjust the spices, if necessary, cover and cook another 10 minutes (see notes)

Next, layer the eggplants on top of the curry and cook on low heat for 10 minutes to allow the eggplants to fully cook.
Notes
Eggplants - For best results, use baby eggplants. If you can't access them, the next best variety to use is the long thin variety available at Asian markets. If all else fails, just cut a regular large eggplant into small pieces and fry them until the skin softens and the white flesh turns brown. The skin on the smaller eggplants softens very easily, but the larger varieties have thicker skin so that you may get different results. Steam them for longer at the later stage rather than overfrying them. Cooking Oil - I use Canola oil due to its high heat index and affordable price. Other options are Peanut oil, sunflower oil, and avocado oil. Tamarind Water - I make my tamarind water by soaking some tamarind pulp. If you want a shortcut, substitute with ready-made tamarind paste or concentrate. Onion - Browning the onions is the most important part of any curry. They must be a medium golden brown for the caramelized taste, color, and texture in the curry to be perfect. As a substitute, if you're short on time, you can use pre-fried crispy onions. Use three tablespoons in place of 1 medium onion. Adding In Water - The desiccated coconut and ground nuts are dry, absorbing much water. The three cups mentioned above may need to be adjusted as you cook the curry. I like my curry on the thicker side, but if you like yours to be thinner, then feel free to adjust the water accordingly. Desiccated Coconut - The traditional curry is made with fresh coconut, but I find sourcing and using desiccated coconut much easier for this recipe. Raw unsalted peanuts - Peanuts without skin are preferred, but if you can't source those, leave the skin on. Adjust Spices - This curry is not usually very spicy, instead relying on its taste from the coconut, nuts, tamarind, and other aromatic spices. Adjust the red chili powder according to taste if you prefer your curry spicier.
Nutrition
Serving:
1
person
Calories:
286
kcal
Carbohydrates:
10
g
Protein:
3
g
Fat:
27
g
Saturated Fat:
6
g
Polyunsaturated Fat:
6
g
Monounsaturated Fat:
14
g
Trans Fat:
0.1
g
Sodium:
403
mg
Potassium:
167
mg
Fiber:
3
g
Sugar:
4
g
Vitamin A:
184
IU
Vitamin C:
44
mg
Calcium:
52
mg
Iron:
1
mg