This Hyderabadi Chicken Curry Recipe is my easy take on the original, more complex version. A one-pot recipe that requires minimal chopping and cutting has a cooking time of only 30 minutes and is packed with flavor; this makes a great weeknight meal for a family.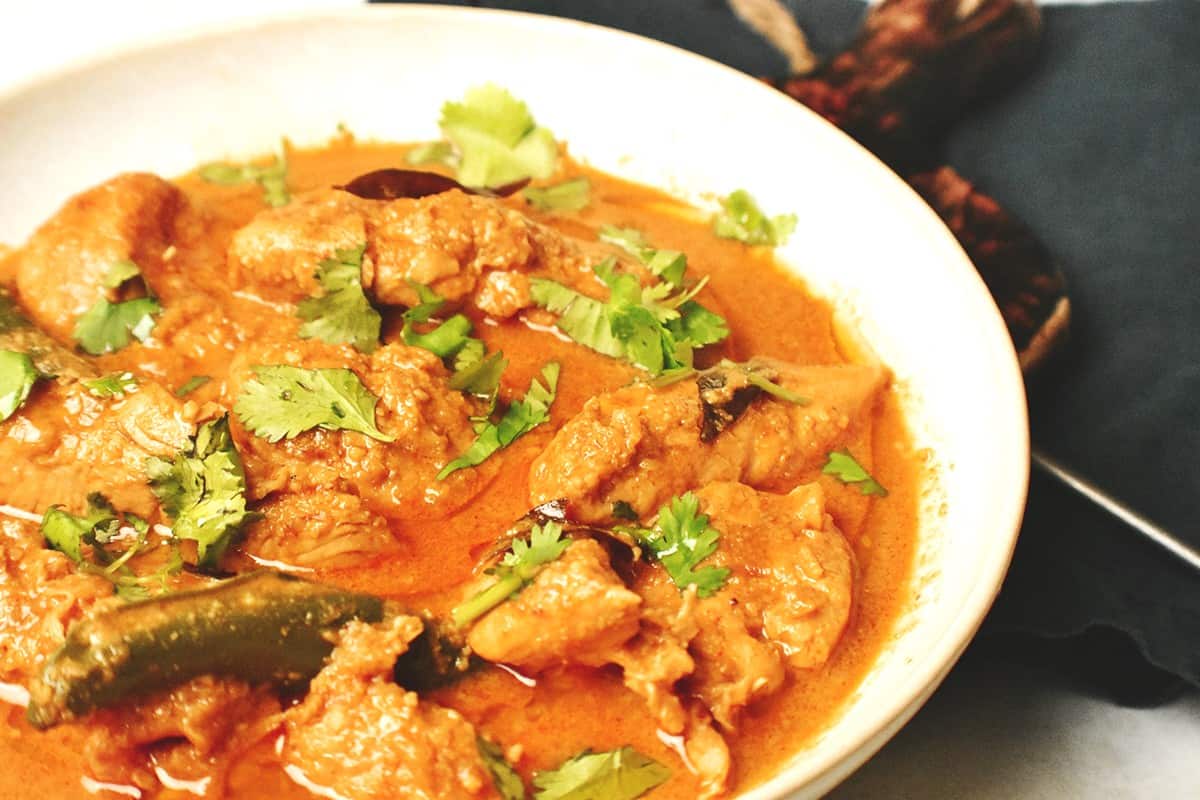 A regional variation of traditional chicken korma, this aromatic chicken curry is prepared with coconut, peanuts, tamarind paste, and curry leaves. With a flavor profile similar to Hyderabadi Bagara Baingan and Hyderabadi-khatti-daal, this Hyderabadi chicken pairs perfectly with Basmati Rice.
Jump to:
Why you'll love this recipe
Easy recipe - This Hyderabadi chicken curry requires straightforward, easy-to-source ingredients, and since everything is cooked primarily in one pot, cleaning up is also effortless.
Very little prep required - This chicken Hyderabadi recipe requires minimal chopping and cutting, with most cooking hands-off.
Unique Flavor - Hyderabadi cuisine is well known for its cooking techniques and unusual spice blends. This simple chicken curry promises all that and more.
Great recipe for a large crowd - Cooking this recipe in bulk is easy, making it perfect for a special occasion when you're feeding a large group.
Ingredient notes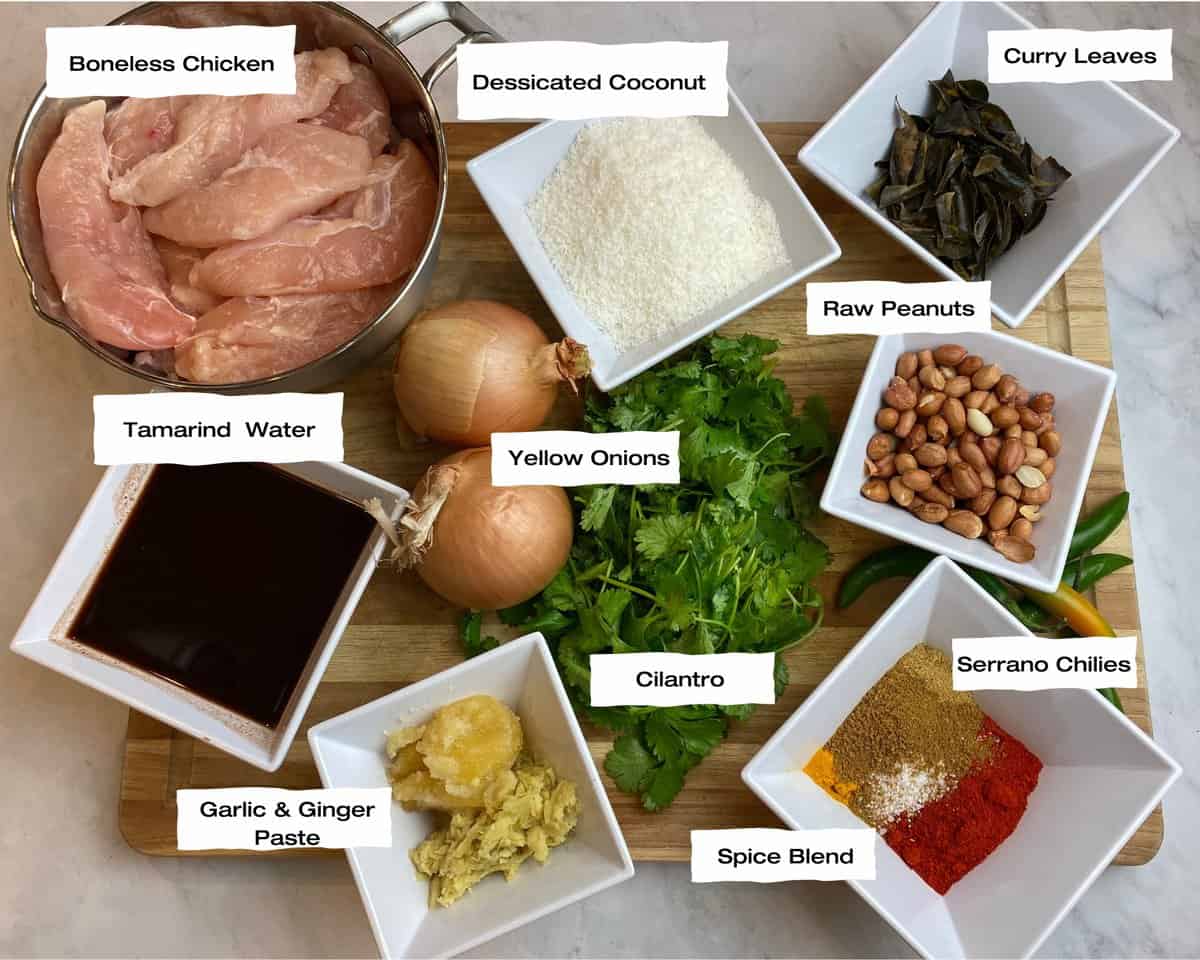 Chicken tenderloins - I use chicken tenderloins for all my boneless chicken dishes. Chicken breast tends to be dry and would require more chopping and cutting.
Desiccated Coconut - This unsweetened, dry powdered coconut contains no moisture and is a common ingredient in South Asian cooking. Unlike shredded coconut, it often needs to be sourced from a specialty store or Amazon.
Raw Peanuts - These can be used with the skin on or off. Once roasted and ground, the difference is minimal.
Tamarind Water - This is prepared by soaking about ¼ cup of tamarind pulp in ½ cup of hot water for an hour or two. After the water has cooled down and you can see that the pulp has separated from the seeds, remove the seeds and use the water for this Hyderabadi chicken.
Curry Leaves - I highly recommend sourcing these through a specialty store or Amazon if you can. They have a unique aroma and truly complete this chicken curry.
Please see the recipe card at the bottom of this post for the complete list of ingredients with measurements plus recipe instructions.
Substitutions & variations
Eliminate the peanuts - There are many versions of this chicken curry without peanuts, so if you have an allergy or want to simplify the recipe further, you can eliminate the nuts.
Use bone-in chicken - The original version of this Hyderabadi curry is made with bone-in chicken. It makes the chicken curry more flavorful but also takes longer to cook. Try the authentic version if you're ever in the mood to invest a little extra time.
Swap the Kashmiri Chilies - Paprika makes a great substitute for Kashmiri Chilies. However, don't use a smoked version, as that can alter the flavor of the curry.
Go with pre-fried onions - If you want to save time, you can purchase pre-fried onions to use in this Hyderabadi chicken.
Try Tamarind Concentrate - Combine 2.5 tablespoons of concentrate with ½ a cup of water for this Hyderabadi chicken. The fresh pulp tastes better, but using the concentrate saves time.
Step-by-step instructions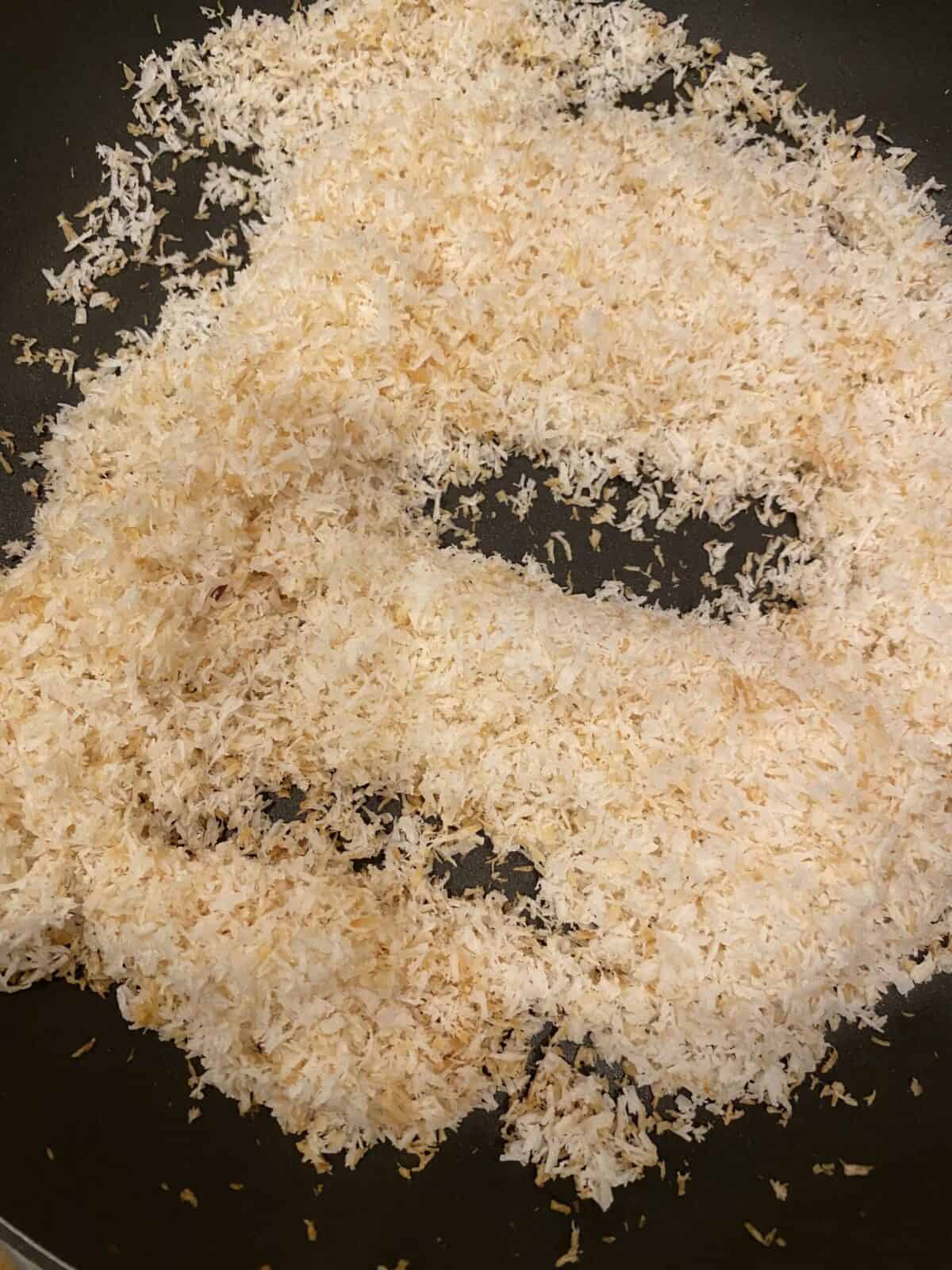 Step 1 - Preheat a non-stick frying pan on high flame and dry roast the coconut for about 1 minute. Stir constantly to get a nice, even brown, making sure not to burn the coconut as it will affect the taste of the final curry recipe.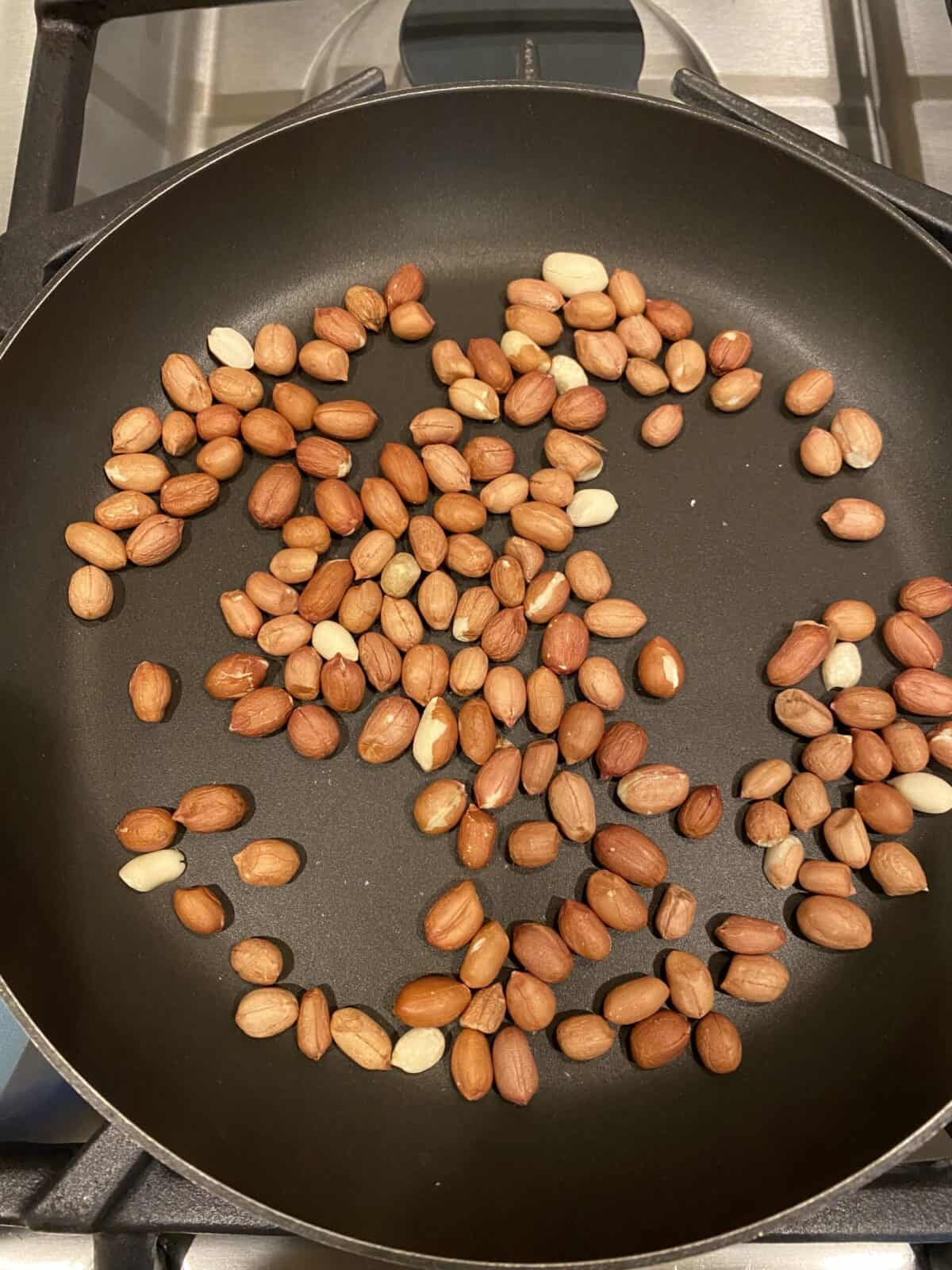 Step 2 - Next, dry roast the peanuts on medium-high heat for about 5 minutes. Let them cool, and then, if you want to, remove the skin by rubbing them between your hands. Grind them to a powder using a spice grinder and set them aside to use later.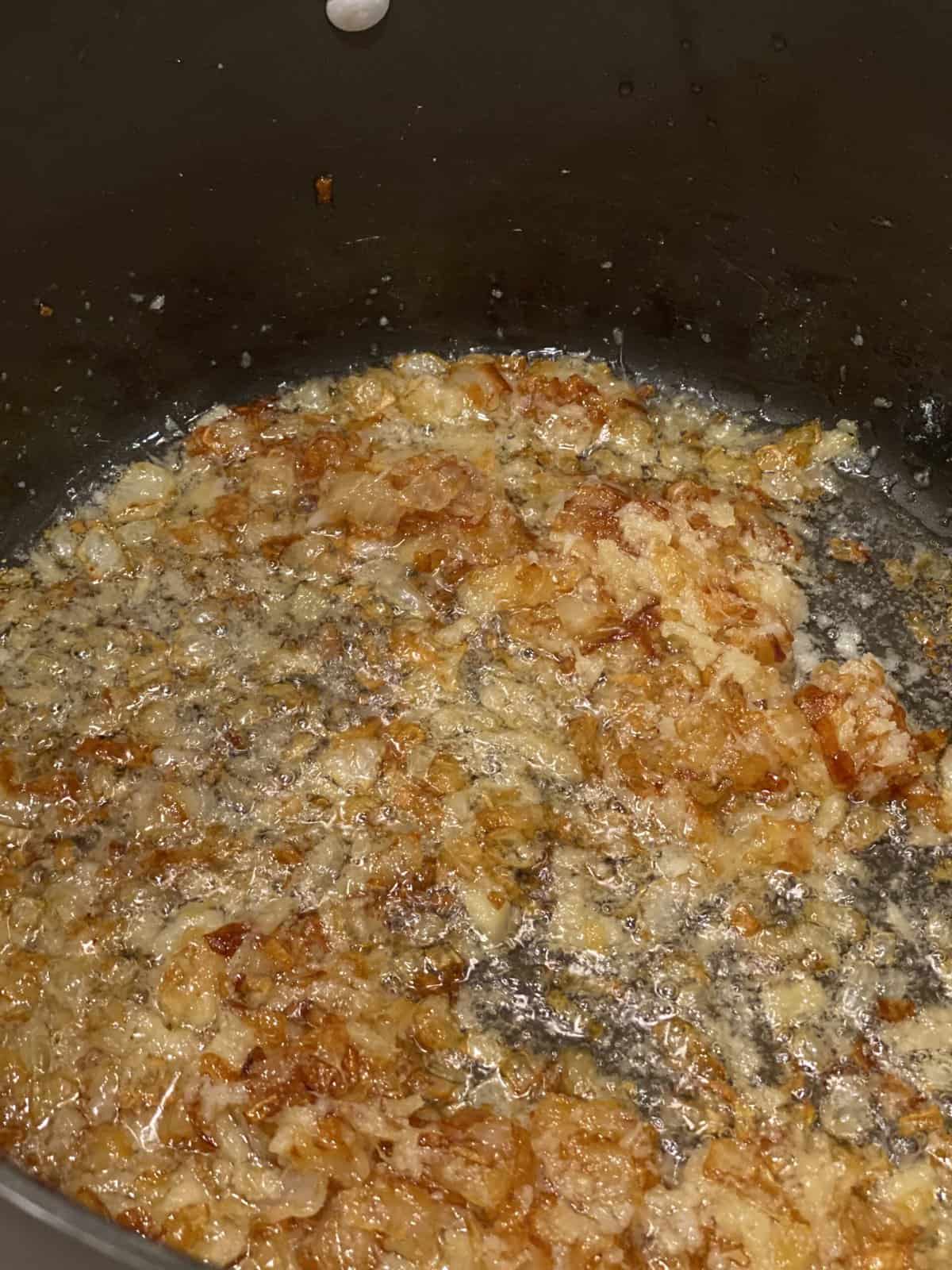 Step 3 - Brown the onions in pre-heated cooking oil until they're medium golden brown. This step is crucial to the final Hyderabadi chicken curry taste, consistency, and final finish.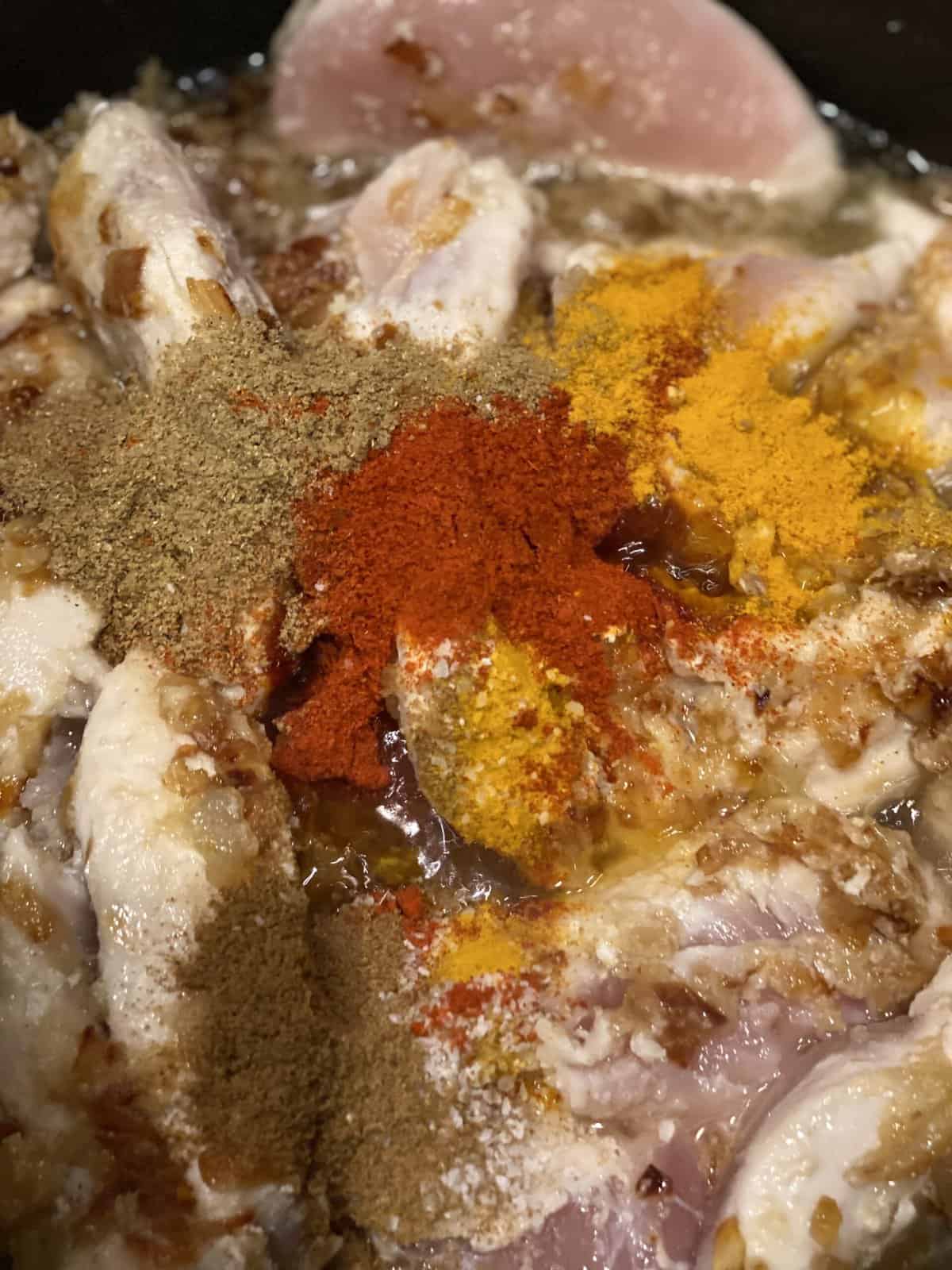 Step 4 - Add the garlic, ginger, boneless chicken pieces, and dry spices. Roast everything till the chicken turns white and opaque.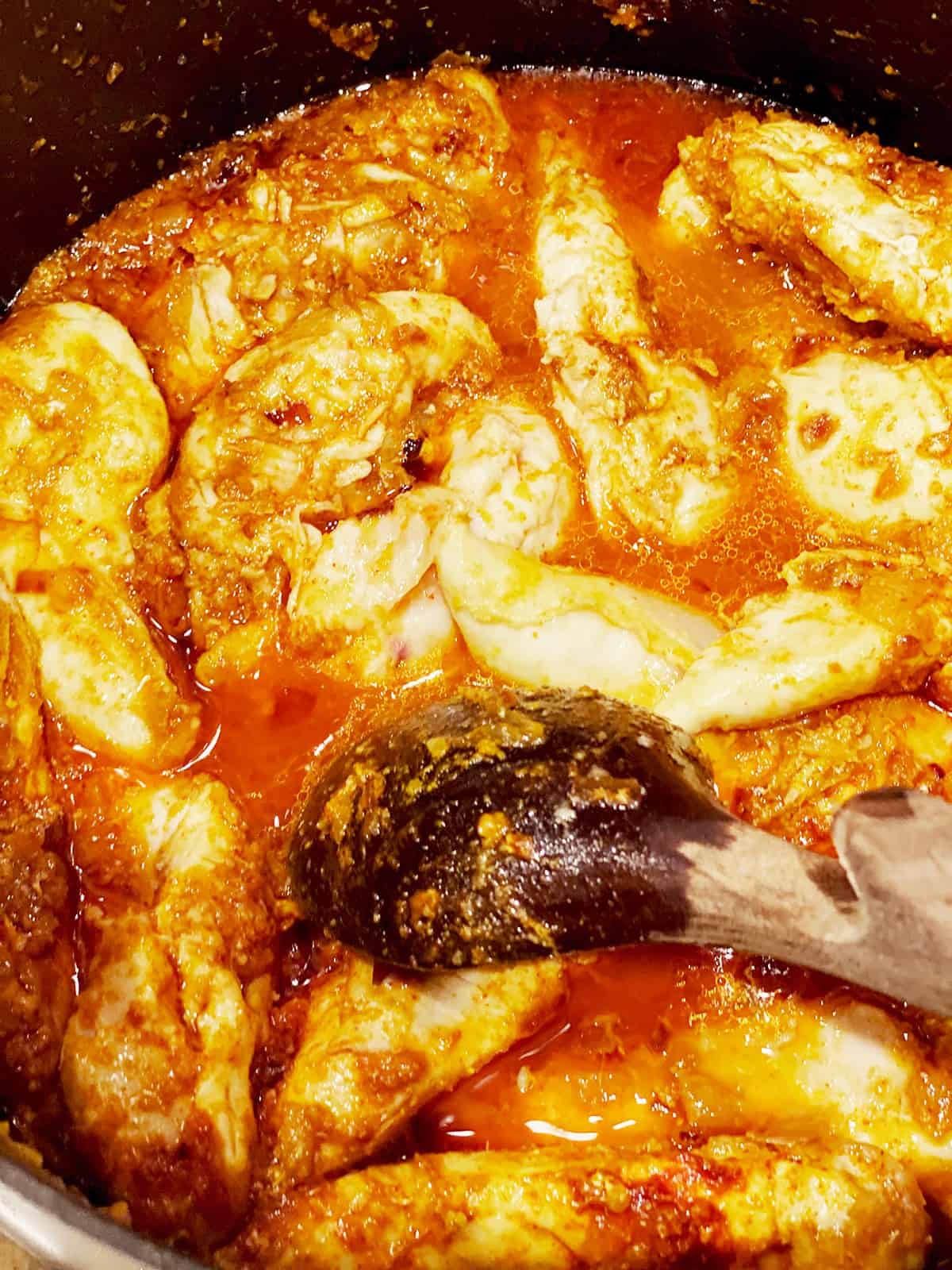 Step 5 - Add water, cover, and cook for 10 minutes on a low flame until you have tender chicken.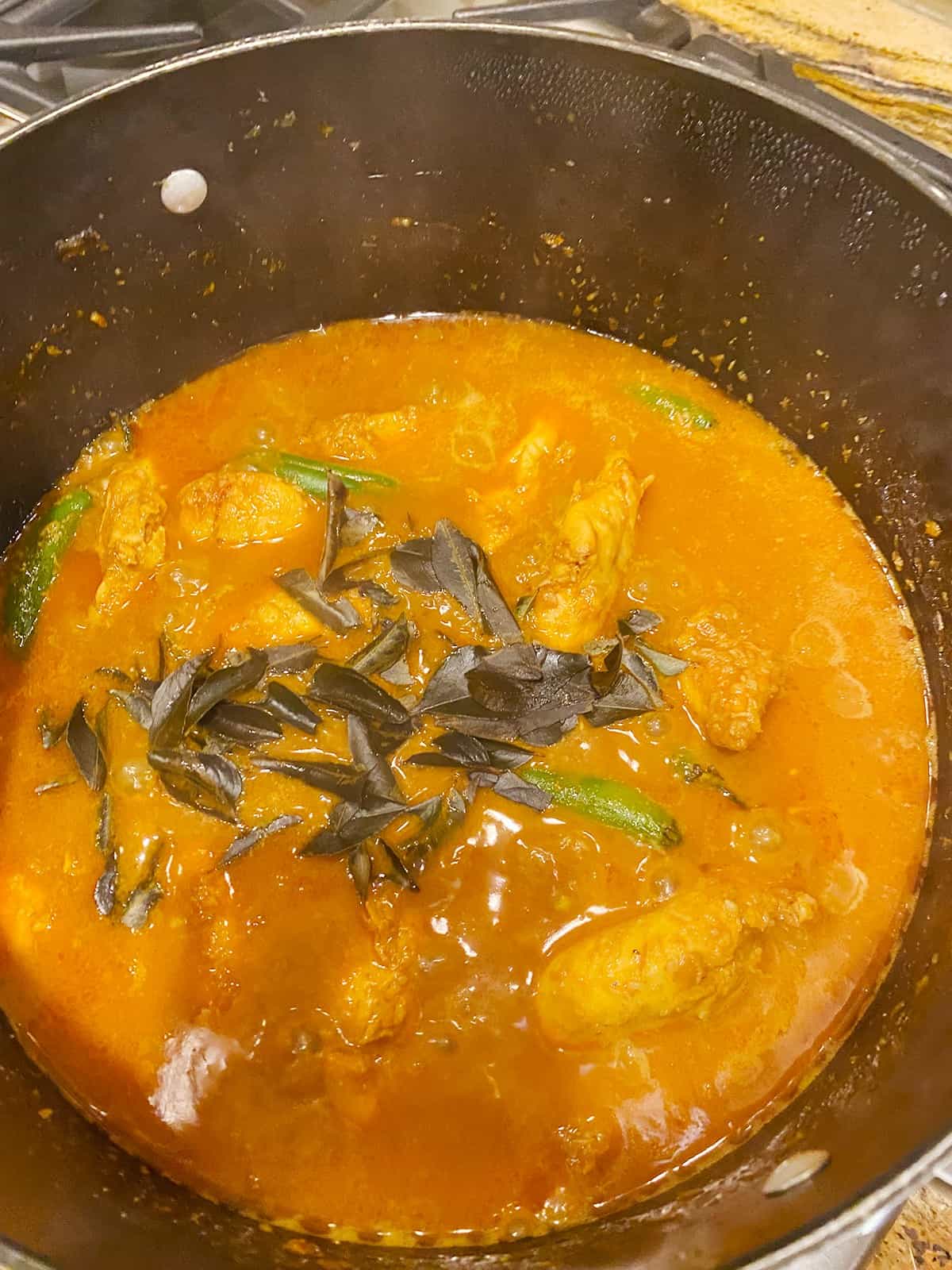 Step 6 - Add the ground peanuts, coconut, green chilies, and curry leaves and cook for another 10 minutes on low heat. Add more water as needed, as the peanuts and coconut absorb much liquid.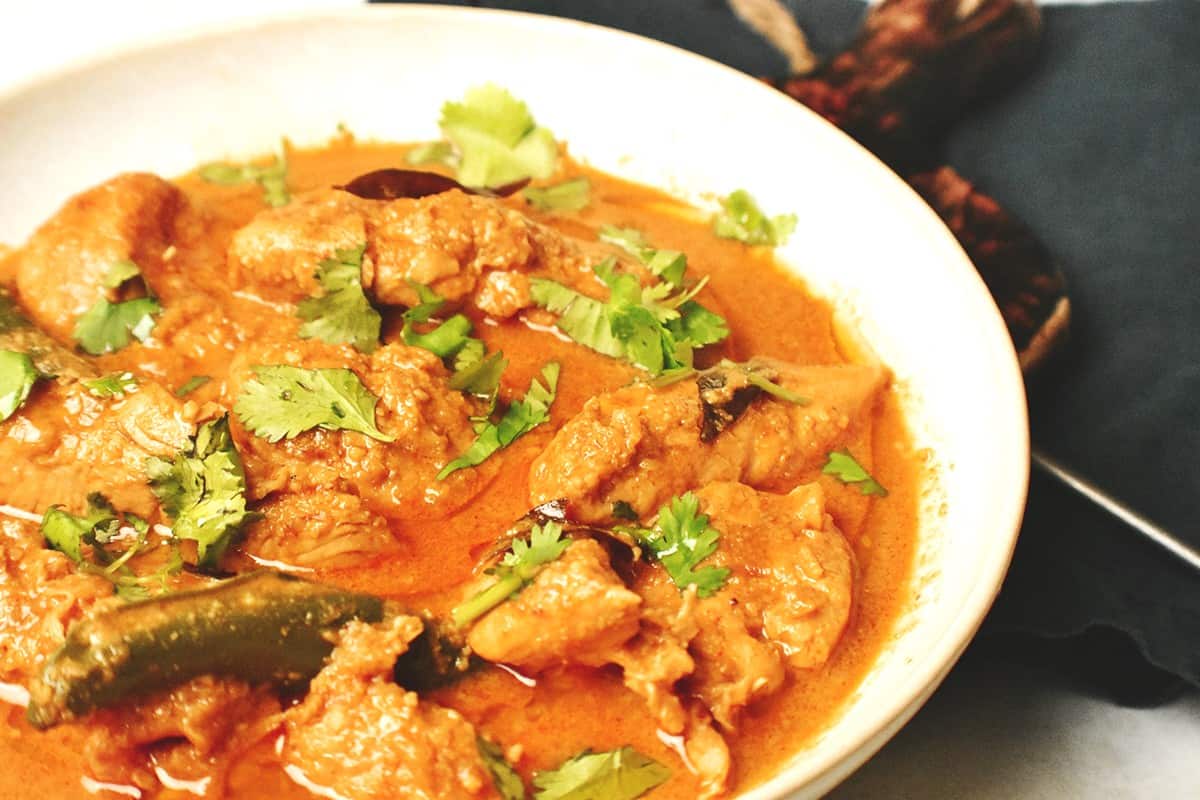 Step 7 - Turn off the stove and add the tamarind water to the cooked chicken. Stir, cover, and let the curry sit for 5 minutes to blend the ingredients and flavors. The oil should have risen to the top by this point, which indicates that the chicken curry is a perfect consistency. Plate the Hyderabadi chicken curry, garnish with coriander leaves (cilantro), and serve with fresh hot naan or a steaming bowl of basmati rice.
Expert Tips
Dry roast the coconut first - Powdered coconut can burn very easily, so it's always best to roast it before the pan gets too hot.
Fry the onions yourself - Store-bought fried onions work in a pinch, but for a good chicken gravy, it's best to fry them yourself.
Roast & grind the spices - I've used powdered spices in this recipe to keep it simple, but if you have the time, use whole spices, especially the cumin seeds and coriander seeds. Dry roast them first to bloom and then grind them to a powder. It makes for a more rich sauce in this curry recipe.
Recipe FAQS
How can I make this curry recipe less spicy?
If you want the spice level to be milder, reduce the red chili powder by half and deseed the serrano chilies. It's best to leave the Kashmiri chili powder quantity untouched as it adds color and depth to the curry without adding too much spice.
How do I store and reheat the Hyderabadi chicken curry?
I usually keep any leftover chicken curry in my fridge for 2-3 days and freezer for six weeks maximum. To reheat it, the microwave works best. If the curry is frozen, it's best to defrost it overnight in the fridge.
What pairs well with the curry?
This curry tastes delicious with a side dish like Moong Masoor Dal or Chana Masala, rice, and your favorite flatbread.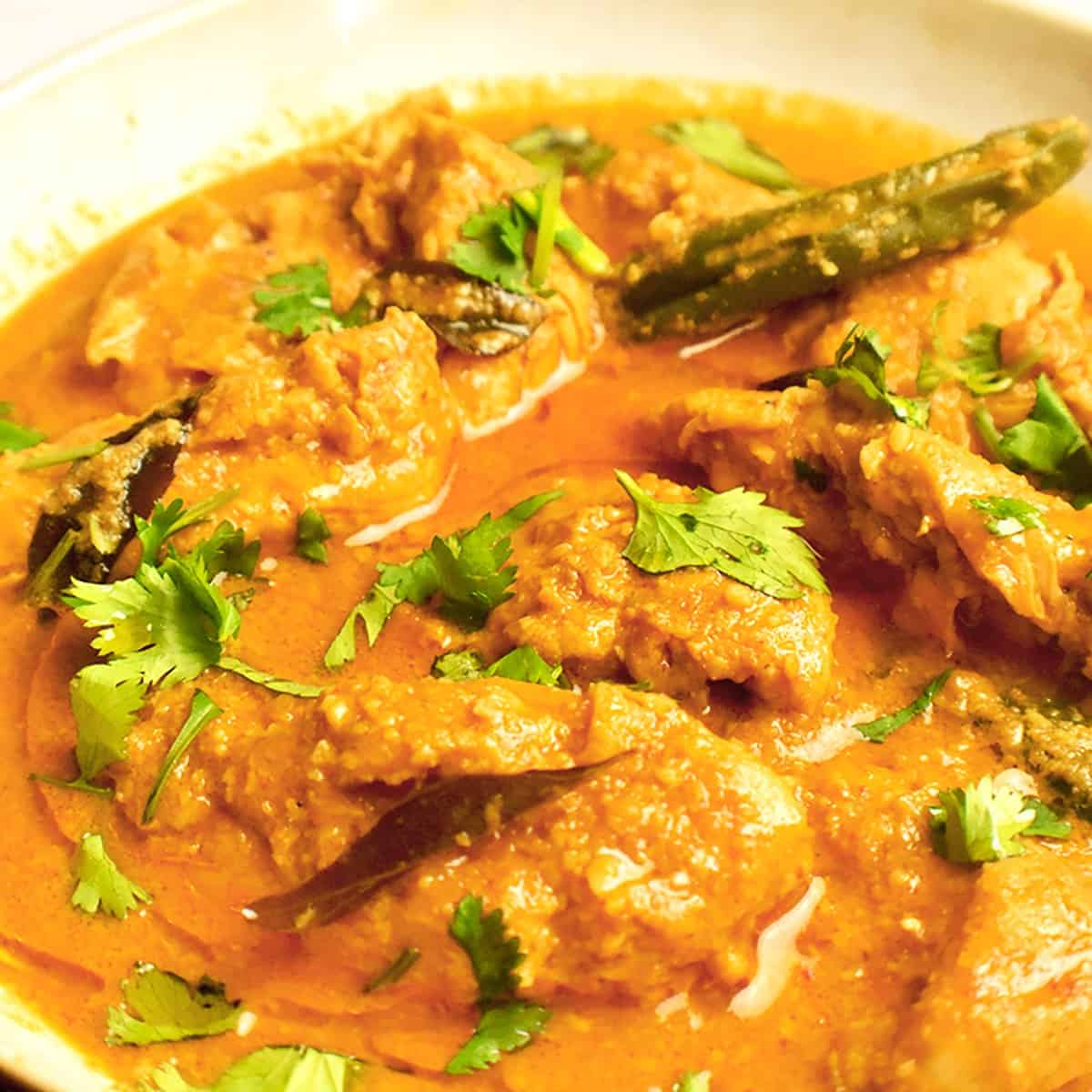 Other recipes you may like
I hope you decide to try this recipe! Please don't forget to leave a rating and comment below! If you take a picture, then tag me on Instagram! Thank You!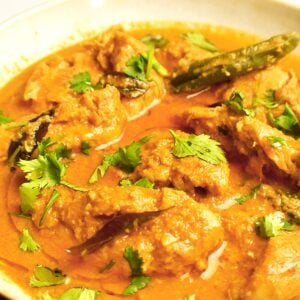 Hyderabadi Chicken Curry Recipe
This spicy and aromatic Hyderabadi Chicken Curry Recipe is made with boneless chicken, coconut, tamarind, peanuts, and curry leaves.
Ingredients
1 ½

lb

chicken tenderloins

(see notes)

½

cup

desiccated coconut

(see notes)

¼

cup

raw peanuts

(see notes)

⅓

cup

cooking oil

(see notes)

1

medium onion

(see notes)

1 ½

tbsp

ginger paste

1

tbsp

garlic paste

1

tsp

salt

1

tsp

red chilli powder

(see notes)

1

tsp

Kashmiri chili powder

(see notes)

½

tsp

turmeric powder

1

tsp

coriander powder

1

tsp

cumin powder

2

serrano chillies

(see notes)

20

curry leaves

½

cup

tamarind water

¼

cup

cilantro
Instructions
Dry roast the coconut and peanuts until you can smell the roasted aroma and set them aside to cool (see notes)

Once cool, grind the peanuts and set them aside.

Dice the onion and saute it till it's medium brown.

Next, add the ginger and garlic paste and saute for 30-45 seconds.

Add the Chicken and stir for 30 seconds.

Add all the dry spices, stir to mix, add ½ cup water, and cover to cook the chicken.

After 10 minutes, uncover and add the coconut, peanuts, serrano chilies, and curry leaves.

Add a little more water if necessary to maintain a gravy of 2 cups, cover, and cook for 10 minutes.

Uncover and check to see if the oil has separated and risen to the top.

If it has, turn the stove off, add the tamarind water, cover, and wait 5 minutes before serving. (see notes)

After 5 minutes, uncover, garnish with cilantro and serve
Notes
Chicken - Chicken tenderloins are my go-to for all my boneless chicken recipes. Much juicier than the breast and less fatty than the thighs, they work perfectly in this recipe. Authentic Hyderabadi chicken curry is made with bone-in chicken. While that adds to the flavor, it takes longer to cook. I use this quick version for a weeknight option and the more complex version for special occasions. You pick which one you want to cook. Peanuts - Traditionally, most South Asian curries are made with raw peanuts that have the skin removed. However, if all I can source are the ones with the skin on, I roast and grind them as is. Coconut - Desiccated coconut is not the same as shredded coconut. It is unsweetened and has had all the moisture stripped from it. You can identify it by its consistency, which is that of a powder. Oil - I use a high heat index oil such as avocado, canola, sunflower, or peanut. The amount of oil I use in this curry is slightly more than in my other recipes. This is because boneless chicken is lean and releases little natural oil. In addition, the ground peanuts and coconut are very dry and absorb oil easily. Any less than ⅓ of a cup will result in a very dry curry. Onions - Two medium onions are equal to 2 cups of diced onions. If you're using pre-fried store-bought onions, use ¼ cup for each cup of fresh chopped onions. The chilies - Serrano chilies work best with Pakistani food. If you find them too spicy, half them and remove the seeds. The tamarind - I use so much tamarind in my cooking that I make my own tamarind water. If you want an easier route, buy tamarind concentrate or puree and mix 2.5 tablespoons with ½ cup of water to make the water.
Nutrition
Serving:
1
person
Calories:
357
kcal
Carbohydrates:
10
g
Protein:
27
g
Fat:
23
g
Saturated Fat:
6
g
Polyunsaturated Fat:
5
g
Monounsaturated Fat:
10
g
Trans Fat:
0.1
g
Cholesterol:
73
mg
Sodium:
589
mg
Potassium:
577
mg
Fiber:
3
g
Sugar:
5
g
Vitamin A:
407
IU
Vitamin C:
74
mg
Calcium:
47
mg
Iron:
2
mg