Tawa fry beef keema, once a popular breakfast in Awadhi Cuisine per ndtv.com, is often enjoyed as a popular street food today. A quick and easy recipe, this keema is absolutely mouth watering and finger licking good!
The History Of Tawa Fry Keema
You will never see Keema, or ground meat, featured on the menu at fine dining restaurants in Pakistan. However, it's very popular as part of street food. Cooked on big Tawas in the true style of Awadhi cuisine, the tawa fry keema is essentially a type of stir fry.
The cheaper cuts used for the ground meat to make it affordable also make it fatty. That fat melts during the frying process and lends this keema it's delectable flavor.
Unlike mughlai cuisine which used exotic spices, nuts and dried fruits, awadhi or Lucknow cuisine uses simpler ingredients. Relying more on the natural flavor of the meat and less on any additional ingredients, the cuisine is famous for its delicious taste.
Keema And My Story
Growing up, keema was a frequent meal in my house. Cooked in the typical Punjabi way, as a curry with seasonal vegetables added in. Some of my favorite add ins are potatoes, peas, bell peppers and bitter melon.
Although a vast majority in Pakistan like and eat ground mutton or chicken, I grew up eating beef keema. That's my preferred option when cooking this recipe but it can be cooked with any type of ground meat. In my house we enjoyed this tawa fry beef keema with parathas for breakfast, brunch and in Ramadan for sehri.
With Ramadan about to descend on us I thought I would share my family recipe. I know I'll be cooking for sehri often and once you taste it I'm sure you will too.
Tawa Fry Beef Keema Recipe
In the absence of a tawa big enough for this quantity of meat I used my cast iron skillet. A cast iron skillet heats evenly and well so is perfect for this stir fry. If you have neither, a large frying pan will do, but the cooking timings given below may vary.
This recipe is similar in some ways to my beef karahi gosht recipe and my best-karahi-chicken-recipe except for the use of onions. In this recipe we start with lots of onions. As these cook and melt into the keema they help give it tons of flavor and help to tenderize the ground meat.
Onions
For the first step, saute the onions to a light brown, then add the garlic and ground beef and fry lightly. I first sear the meat and seal in all the juices, applying the same concept that I would with any other meat .
The onions also help prevent the meat from smelling. Since ground meat is often the product of cheaper cuts of meat it can smell a bit unless cooked properly.
Tomatoes
The tomatoes are added at two stages. The first 4 are added as soon as the onions and meat are a light brown. As they release water they will completely cook the beef. I prefer not to add any water and let the meat cook in it's own juices and the tomatoes.
After covering for 10-15 minutes to cook all these ingredients through, uncover, dry any excess liquid and fry for a few minutes.
The Finished Product
Once the Keema is a nice golden brown, add the crushed ginger and the remaining two tomatoes, frying just till the tomatoes are slightly tender.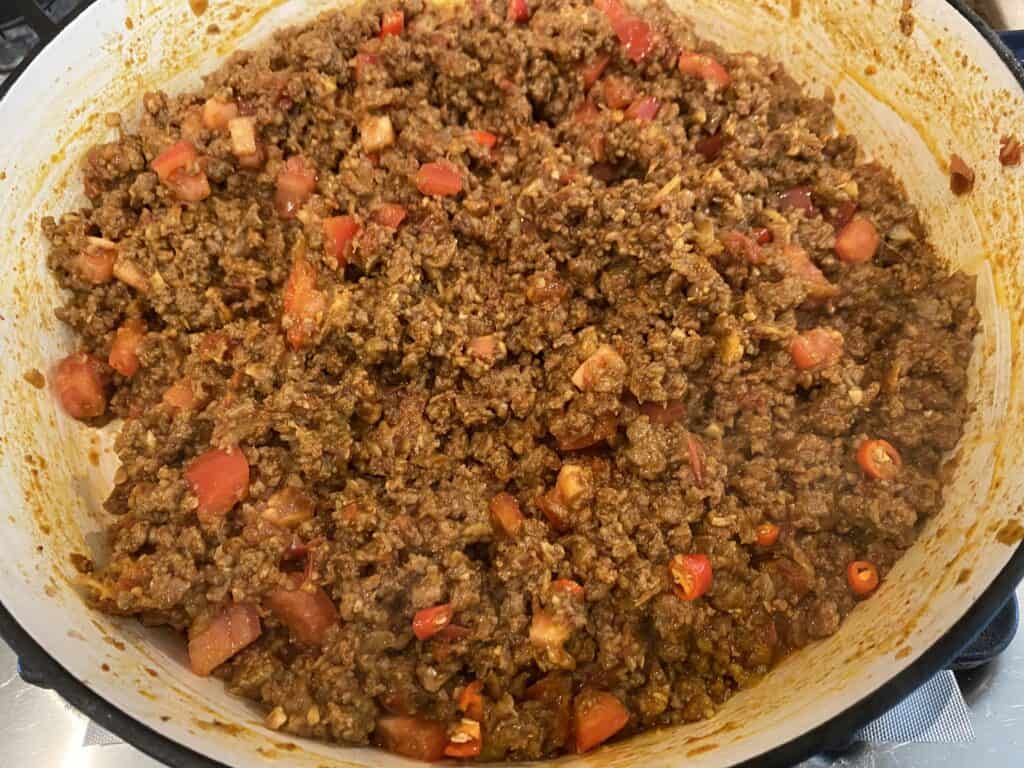 Add the spices which are few and simple. Most of the taste of this dish comes from the quality of the meat and the fresh ingredients used.
Finish roasting, squeeze the lemon juice on top, garnish with the ginger, green chillies, cilantro and serve with parathas or hot naan.
Tawa Fry Beef Keema
Enjoy this quick and easy, finger licking good, Tawa Fry Beef Keema recipe. Ready in minutes, each bite will leave you wanting more!
Equipment
Knife

Cutting Board

mortar and pestle, food processor or grater

wok or skillet

Cooking Spoon
Ingredients
½

cup

cooking oil

(SEE NOTE)

3

onions

2

tsp

garlic paste

2

lbs

ground beef

(SEE NOTE)

6

roma tomatoes

(SEE NOTE)

2

tsp

red chili powder

½

tsp

turmeric

1

tsp

cumin powder

1

tsp

dhania powder

2

tsp

salt

1

tsp

garam masala

(optional)

2

tbsp

kasuri methi

(fenugreek)

2

tbsp

crushed ginger

(SEE NOTE)

4

green chilies

2

tbsp

slivered ginger

(SEE NOTE)

½

cup

cilantro

1

lemon
Instructions
Saute the onions till they are a medium brown

Add the garlic paste and saute for 1 minute

Add the ground beef and saute till it's no longer pink

Add 4 chopped tomatoes, cover and cook for 10 minutes on medium heat till the tomatoes have melted (the other 2 tomatoes are added at the end)

Uncover and turn the flame to high

Add the salt, red chili powder, turmeric, cumin, dhania and garam masala (if using)

Fry till all the water evaporates

Add the remaining 2 tomatoes, crushed ginger and kasuri methi and fry for 3-5 minutes

Turn the stove off and add the lemon juice, green chillies, cilantro and stir

Garnish with the slivered ginger and serve with parathas or hot naan
Notes
NOTES:
If you want a richer flavor add 2 tablespoons of butter.
Ground mutton or chicken can be substituted for the beef.
Roma tomatoes are best for curries but if not available other tomatoes can be used. If using larger tomatoes, use 3 instead of 6.
I don't use garam masala in my recipe but if you like the fragrance then use it.
I like to crush my ginger with a mortar and pestle but if you don't own one you can use a food processor or even a grater to crush or grate the ginger.
Thinly slice about 2 tablespoons of ginger to use as a garnish. This is about a 1 inch piece of ginger.
Nutrition
Serving:
4
oz
Calories:
454
kcal
Carbohydrates:
10
g
Protein:
21
g
Fat:
37
g
Saturated Fat:
10
g
Trans Fat:
1
g
Cholesterol:
81
mg
Sodium:
746
mg
Potassium:
530
mg
Fiber:
3
g
Sugar:
4
g
Vitamin A:
615
IU
Vitamin C:
20
mg
Calcium:
49
mg
Iron:
3
mg