Pakistani cuisine is full of a variety of flatbreads and this aloo paratha (potato stuffed flatbread) is perhaps the most popular one in the Nation. A paratha is simply a whole wheat, unleavened, flatbread that is shallow fried.
An aloo (potato) paratha is a version of the flatbread that is stuffed with a spicy potato filling. Delicious on it's own, all that's needed as an accompaniment is some easy raita, or green coconut chutney.
Jump to:
Why you'll love this recipe
Easy to source ingredients - How often can you say that about a Pakistani recipe? You won't need a visit to the specialty store for this recipe!
The perfect combo - Shallow fried bread filled with potatoes...can it get any better than this?
affordable meal option - This is a very budget friendly meal. With today's inflated grocery prices that's a win for sure!
Easy recipe - This is a very easy recipe to follow. Plus, since some of the prep can be done ahead of time, dinner can be on the table in record time.
Versatile - This can be on the menu for brunch, lunch or dinner and you can switch up the filling for variety!
The ingredients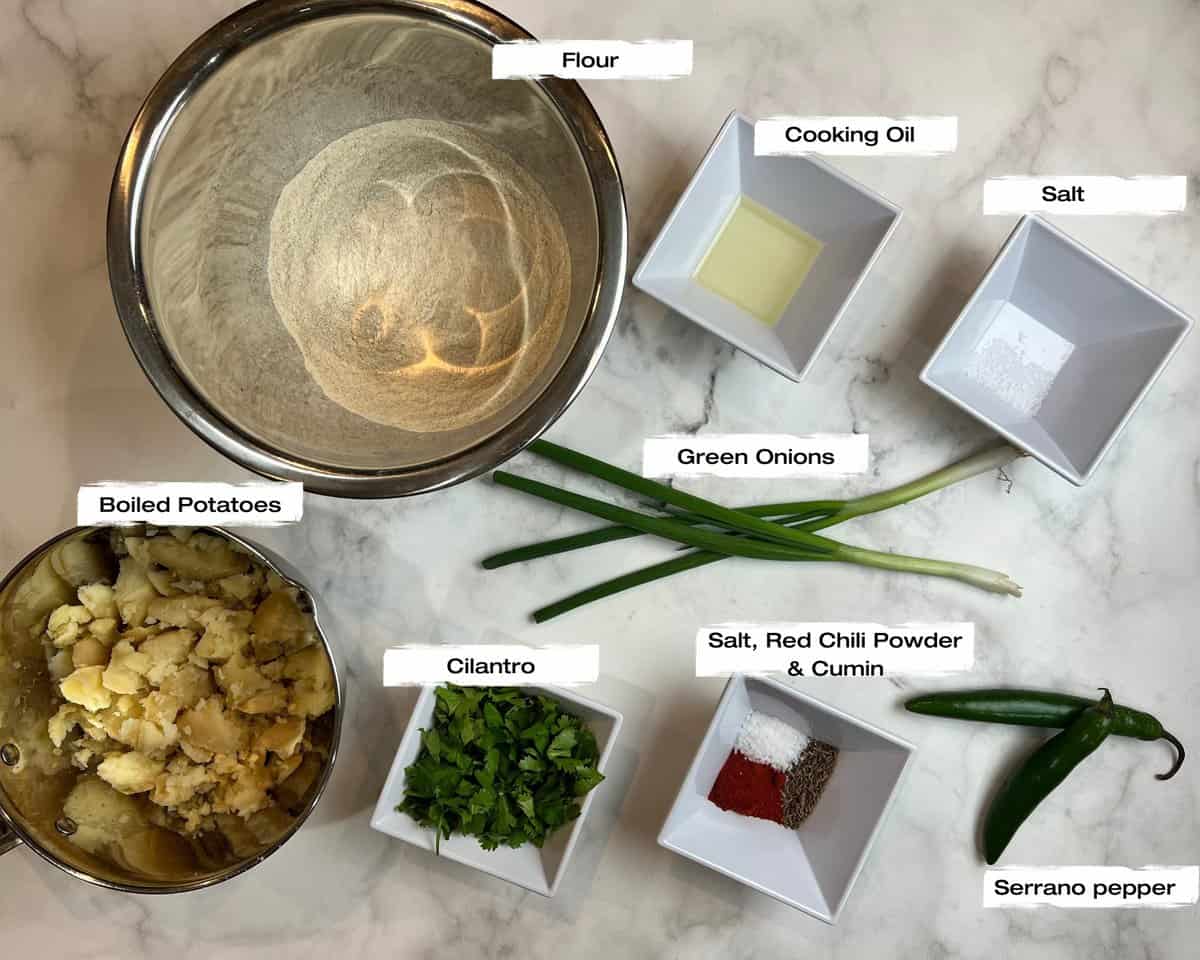 Flour - Most Pakistani flatbreads are made with a South Asian flour called Atta. This is a type of a whole wheat flour, but is finer in texture and milder in taste due to the way in which it's milled. You can source this at any South Asian store or on Amazon.
Oil - Traditional aloo parathas are made with ghee. I use Avocado oil or Canola oil as a healthier alternative, but any high smoke point oil is ok to use.
Potatoes - My go to are usually Yukon gold, which are considered the best for any type of mashed potatoes. Some people prefer a Russet but I find them too soft and fluffy for my aloo parathas.
Green onions - I prefer the milder taste and lighter texture of green onions but regular yellow or purple onions can also be used.
Serrano chilies - These are my favorite chillies to use for all my Pakistani cooking, but a different variety can easily be substituted.
Cilantro - Fresh chopped cilantro is always a welcome addition to potato stuffed flatbread.
Cumin seeds - Whole cumin seeds add a nice smoky taste to the potato stuffing.
Red chilli powder - No aloo paratha is complete without a dash (or more) of this spice.
For the complete list of ingredients with measurements plus recipe instructions, please see the recipe card at the bottom of this post.
Substitutions & variations
The flour - Can't source Atta? You can substitute with white wheat flour or combine half white and half wheat flour to get something close to the traditional South Asian flour.
Daikon radish - Known as "mooli ka paratha" this is another popular choice for stuffed flatbread.
Keema (ground beef) - Instead of potatoes, you can add some ground beef as a filling.
Leftovers - Adding leftovers to a paratha is a creative and delicious way of using them. I often use up my vegetables and lentils this way.
Step by step instructions
While this potato stuffed flatbread recipe may seem complex, it's actually fairly simple to make. The flatbread dough is just 3 ingredients ... flour, salt and water ... and takes only 5 minutes to make if you use a kitchenaid, a hand mixer or a food processor with a dough hook.
1. Knead the dough, boil and mash the potatoes and mix in all the spices.
2. Split the dough into 8 equal portions and roll each one into a ball.
3. Roll out each ball into a thin flatbread, 3 inches wide.
4. Add the prepared potatoes on 4 of the rolled out discs, in a thin even layer, leaving some space around the edges.
5. Cover each potato filled disc with another layer of dough and press the edges together.
6. Roll the prepped, aloo stuffed paratha, with a rolling pin, making sure there are no holes in the surface.
7. Place the rolled out aloo paratha on the preheated pan and let it cook for about 30 second. Flip it over and let the other side cook for 30 seconds.
8. Add 2 teaspoons of oil or ghee on the par cooked side and spread evenly on the surface.
9. After 30 seconds, flip over and add oil or ghee to the other side.
10. Continue to cook and flip as needed till both sides are a nice even brown.
11. Once the paratha starts forming brown blisters in spots it is cooked through.
Set the cooked aloo paratha on a plate and let it cool for a few minutes before you serve it with some delicious cilantro mint chutney. To finish off this amazing meal, enjoy a crispy, crunchy sugar paratha for dessert!
Expert tips
The Potatoes - Make sure to prepare the filling ahead of time so that It's at room temperature when stuffing the dough. If the filling is too hot, it can crack the dough. A great tip by
A great tip by indianhealthyrecipes.com that's worth a mention is to grate the potatoes versus mashing them. This helps prevent the potatoes from getting pasty as you won't accidentally over handle them.
The Dough - Gluten formation is what helps achieve the perfect elasticity in the dough. Allow your dough to rest for a minimum of 20 minutes to help the gluten to continue forming after you knead it. Make sure to cover the ball of dough with a damp cloth while it's resting as this prevents it from drying out.
Recipe FAQS
How can I store my parathas?
If you have any leftovers, they can be stored in the refrigerator for upto 2 days. Beyond 2 days, I would recommend freezing them. If you want to cook a large batch and freeze them, aloo parathas can last upto 2 months in the freezer.
What is the best way to reheat my parathas?
Paratha's reheat beautifully on the frying pan or tawa. If they're frozen,
Just defrost them! Preheat the pan and heat the paratha for 1 minute on each side and serve!
I have leftover potato stuffing...how can I use it?
Mashed and spiced aloo are perfect for samosa filling or aloo cutlets (Pakistani style potato pancakes).
My paratha is cracking, how can I fix this?
Make sure that your potatoes are mashed to a smooth consistency and don't have any lumps in them. Also, make sure you don't overstuff the dough or else it will crack.
How can I make my parathas crispy on the outside and soft on the inside?
Make sure your pan or tawa is preheated very well before you start cooking the flatbread. The bread needs to cook quickly on high heat to be crispy on the outside and soft on the inside.
Other Related Recipes You May Like
Making potato stuffed flatbread can seem challenging at first, but with a little bit of perseverance and practice anyone can master this recipe! Trust me, all your efforts will be well worth it!
Hope you decide to try this recipe! Please don't forget to leave a rating and comment below! If you take a picture then tag me on Instagram ! Thank You!
Aloo Paratha (potato stuffed flatbread)
Aloo Paratha (potato stuffed flatbread) is a shallow fried, unleavened flatbread, stuffed with a spicy potato filling.
Equipment
kitchenaid mixer (see notes)

Rolling Pin

tawa (see notes)
Ingredients
The Dough
3

cups

flour

1 ½

cups

water

1 ½

tsp

oil

pinch

salt
The Potato Filling
4

medium

yellow potatoes

2

green onions

2

serrano chilies

½

cup

cilantro

2

tsp

white cumin seeds

2

tsp

salt

(see notes)

2

tsp

red chilli powder

(see notes)
Aloo Parathas
½

cup

oil

dough

potato filling

½

cup

flour
Instructions
The Dough
Put all of the flour in your kitchenaid bowl

If you are adding salt add it in at this point (see notes)

Use the dough hook on your kitchenaid and add half of the water and the oil and start mixing on low

Once the dough starts to come together, add the remaining water and turn up the speed just one level

Mix till all of the ingredients are well incorporated

Scrape the sides of the mixing bowl, mix again and shape the dough into a ball

Cover the dough with a damp cloth and set it aside for 20 minutes
The Potato Filling
Boil the potatoes (see notes)

Cool slightly, peel and mash till there are no lumps (see notes)

Chop and add the green onions (stalk and green), cilantro and chilies

Add the cumin, salt and chilli powder and mix well (see notes)

Set the mixture aside to cool completely
Aloo Parathas
Shape the dough into 8 even balls

lightly dust two of the balls with some flour and roll them out into round discs, about 3 inches wide

Add the potato mixture in a thin even layer on one of the discs, stopping ¼ - ½ inch from the edge

Lay the other disc on top and press down gently, sealing the edges

Using your rolling pin, lightly roll the paratha out till you have a 4-5 inch wide disc. Stop rolling before the potatoes poke a hole through the dough

Preheat your Tawa (flat griddle) well (see notes)

Brush any flour off the surface off your stuffed paratha and place on the preheated pan

After about 30 seconds, gently flip the paratha over

While the other side is cooking, spoon about 2 tbsp oil onto the par cooked surface and spread it around.

Flip the paratha again after 30 seconds and repeat with the oil on the other side.

Cook an additional minute on each side (after adding the oil) till light brown spots appear on the surface of the stuffed bread (see notes)

Remove the paratha from the heat and serve while fresh and hot

Repeat this entire process 3 more times with the remaining balls of dough
Notes
Kitchenaid Mixer - I use my kitchenaid mixer to knead my dough as it shaves off a lot of time and makes the task much easier. A food processor or a hand mixer with a dough blade are also great options. If you don't have either, mix the dough by hand, kneading for 5-10 minutes. Tawa - A tawa is a traditional flat griddle used to make all Pakistani and Indian flatbreads. If you don't have one you can use a wide frying pan instead. Adding Salt To Your Dough - Salt is often added to flatbread dough when making a plain paratha. However, in this case, since your potatoes will also be seasoned, you may or may not want your dough to have salt in it. If you do add any salt, no more than a pinch or two is suggested. Seasoning The Potatoes - Since the filling is essentially sandwiched between 2 flatbreads, they need to be well seasoned. However, if you want to be a bit cautious and tend to use less salt and spices, add half the salt and chilli powder recommended and taste the mixture before adding the rest. Boiling The Potatoes - The potatoes should be cooked through just right or else they can get pasty when mashed. I use yellow potatoes for my parathas as they are creamy and dense, providing a perfect stuffing. Some experts use and swear by Russet potatoes instead. But I find them a little too soft and dry for my parathas. Feel free to experiment and go with your personal prefer. Preheating The Tawa - The Paratha needs to cook quickly at high heat in order to stay soft. If the Tawa or frying pan is not preheated well, the cooking process will slow down and result in a hard and chewy flatbread. Cooking Time For The Paratha - As mentioned, the Paratha should cook quickly, approximately 3 minutes is an average time. However, since everyone's cooking utensils and stoves vary, it's possible to be off by a 30 seconds or so (but not too much).
Nutrition
Serving:
1
paratha
Calories:
818
kcal
Carbohydrates:
119
g
Protein:
16
g
Fat:
31
g
Saturated Fat:
2
g
Polyunsaturated Fat:
9
g
Monounsaturated Fat:
19
g
Trans Fat:
1
g
Sodium:
1228
mg
Potassium:
1160
mg
Fiber:
7
g
Sugar:
3
g
Vitamin A:
547
IU
Vitamin C:
21
mg
Calcium:
60
mg
Iron:
8
mg