The Paratha of everyone's dreams, this Sugar Paratha (Meetha Paratha) is a delightful treat. Crispy on the outside, it's edges get crunchy with the caramelized sugar. Yet, if made properly, it remains soft, buttery and flaky in the center.
All stuffed breads are a special treat, but this one is pure decadence! Great with a cup of tea for breakfast it's also a delicious tea time snack for many. Basically a dessert paratha, it's also something often fed to fussy kids who won't eat anything else.
A Special Wheat Flour
While that may seem surprising, the paratha, even with the added sugar and oil, isn't totally unhealthy.The flour used for all Pakistani and Indian flatbreads is known as Atta and is made from a durum wheat. This is a very hard wheat that is high in protein and gluten, making it ideal for bread making.
Some of the health benefits of Durum Wheat, according to blogger tarladalal.com are:
High Fibre & Protein
Rich in ZInc & Magnesium
High in Vitamin B1, B2 & B9
Rich in Phosphorus
High levels of Iron & Niacin
This makes it good for the body (literally) from top to bottom. From the brain, to the skin, eyes and bones, all of the above vitamins and minerals provide much needed nourishment.
In addition, these vitamins and minerals aid in fighting diabetes, boosting the metabolism, preventing anaemia and providing the body with much needed energy.
So, plenty of good reasons to feed this to your kids and I promise you, they will love you for it!
Ghee (Clarified Butter) or Oil?
Traditionally, parathas were made with ghee, as that was the preferred fat in most South Asian cooking. Ofcourse, now a days, most of us, myself included, use alternatives, such as canola oil, avocado oil or any other oil of choice.
However, that being said, unless you're vegan and on a low calorie diet, ghee has many health benefits that make a strong case for using it. Full of many vitamins, insulin resistance and cancer fighting properties (based on research) it's a good choice when feeding those fussy kids.
As for those calories, 2-3 teaspoons of ghee go a long way when making a paratha and kids can usually handle those calories. Especially the fussy ones, who don't eat much else all day long!
The Recipe
The recipe for the sugar paratha (meetha paratha) is slightly different than that of the other stuffed parathas. In the easy-aloo-paratha-recipe, the spicy potato filling is added in between two parathas and then shallow fried. In the sugar paratha, the sugar and oil/ghee are rolled and twisted into a ball, to form flaky soft layers.
The purpose here is to prevent the sugar from oozing out as it melts. This can actually make your Tawa (griddle) sticky and ruin the paratha as you try and flip it. As such, the fat and sugar are spread and rolled into the layers.
As the sugar melts and spreads to the sides, it doesn't ooze out but instead, creates a crispy, caramelized edge, leaving a soft, flaky center.
The dough is shaped into 4 balls and then rolled into 4-5 inch discs. The ghee/oil is spread evenly on the surface of the disc. This is then layered with the sugar and rolled into a long stretchy, thin roll.
This roll is then twisted into a ball, flattened and rolled out with a rolling pin. This process is what helps create the flaky layers.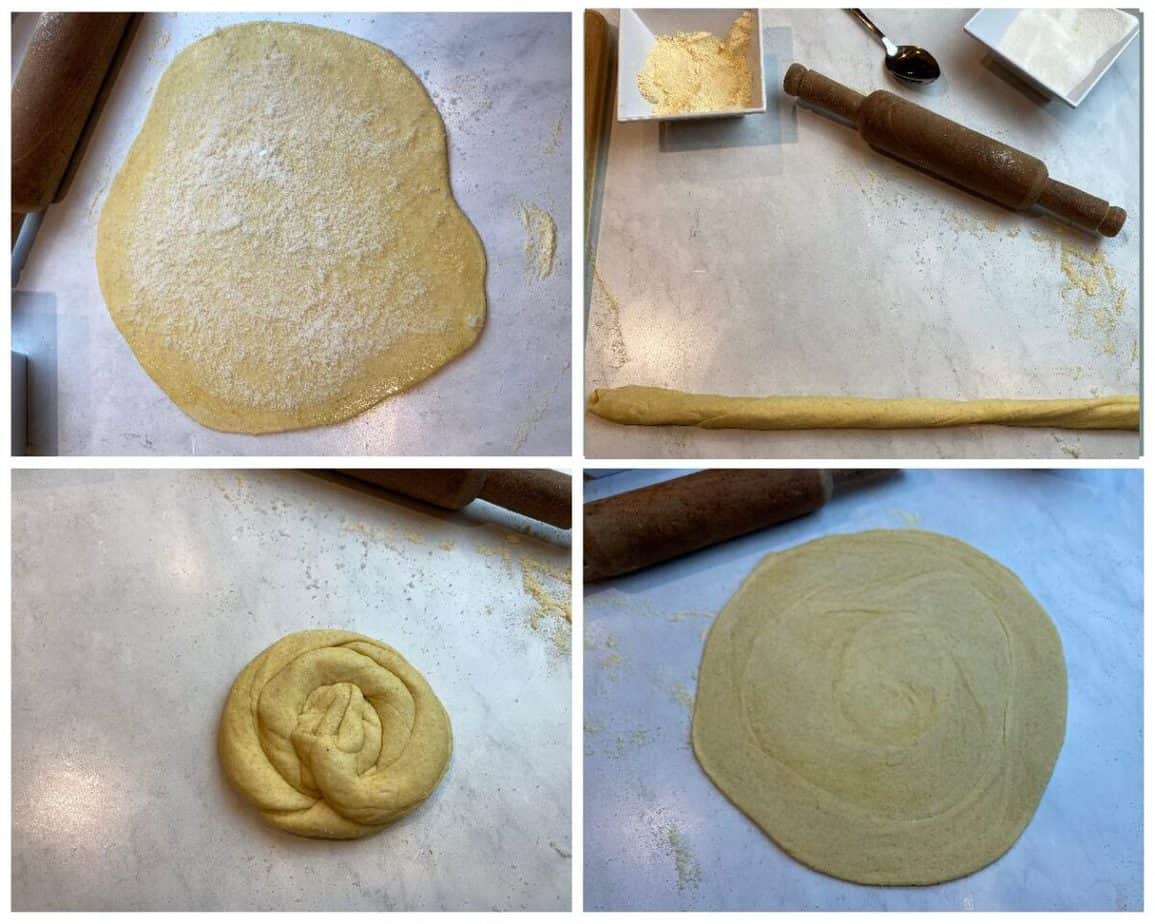 Once shallow fried, the result is a soft, gooey center and crisp, chewy sides. Sweet and delicious, you won't be able to stop eating these parathas!
There are different ways of making the sugar filled paratha but this is my favorite and preferred method. Better a sweet and sticky paratha than griddle I say!
A little tedious to make? Yes! Well worth the effort? 10 times Yes!!! So go try your hand at this recipe before you miss out!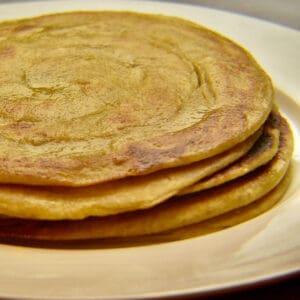 Sugar Paratha (Meetha Paratha)
A Sugar Paratha (Meetha Paratha) is a layered, unleavened flatbread made with whole wheat flour and stuffed with sugar
Equipment
kitchenaid mixer

(SEE NOTES)

Rolling Pin
Ingredients
The Dough
3

cups

flour

1 ½

cups

water

1 ½

tsp

oil

pinch

salt

(optional)
Sugar Parathas
½

cup

canola oil

dough

8

tbsp

granulated white sugar

½

cup

flour
Instructions
The Dough
Put all of the flour in your kitchenaid bowl

If you are adding salt add it in at this point (SEE NOTES)

Use the dough hook on your kitchenaid and add half of the water and the oil and start mixing on low

Once the dough starts to come together, add the remaining water and turn up the speed just one level

Mix till all of the ingredients are well incorporated

Scrape the sides of the mixing bowl, mix again and shape the dough into a ball

Cover the dough with a damp cloth and set it aside for 20 minutes
Sugar Parathas
Shape the dough into 4 even ball

Slightly dust the balls with some flour and roll them out into round discs, about 4-5 inches wide

Spread about 1 tbsp oil on the dough, making sure it's evenly spread

Add the 2 tbsp sugar on top, spreading it evenly

Start rolling the dough away from you into a long cylindrical shape

Gently lengthen the roll with your hands and then twist it

Twirl the twist into a round shape and pat it down into a disc (SEE NOTES)

Sprinkle with some flour and roll it out into a 5-6 inch paratha

Preheat your Tawa (flat griddle) well (SEE NOTES)

Brush any flour off the surface off your stuffed paratha and place on the preheated pan

After about 30 seconds, gently flip the paratha over

While the other side is cooking, spoon about 2 tbsp oil onto the par cooked surface and spread it around.

Flip the paratha again after 30 seconds and repeat with the oil on the other side.

Cook an additional minute on each side (after adding the oil) till light brown spots appear on the surface of the stuffed bread (SEE NOTES)

Remove the paratha from the heat and serve while fresh and hot

Repeat this entire process 3 more times with the remaining balls of dough
Notes
Kitchenaid Mixer - I use my kitchenaid mixer to knead my dough as it shaves off a lot of time and makes the task much easier. A food processor, especially one with a dough blade is also a great option. But if you don't have either, a traditional hand mixed dough will suffice. Details for how to prepare the dough using these other 2 options are given in the blog post above. Tawa - A tawa is a traditional flat griddle used to make all Pakistani and Indian flatbreads. If you don't have one you can use a wide frying pan instead, but you may need to adjust cooking times a little bit in this case. Adding Salt To Your Dough - Salt is often added to flatbread dough when making a plain bread. However, in this case, since your potatoes will also be seasoned, you may or may not want your dough to have salt in it (I don't add any to my aloo paratha dough). If you do add any salt, no more than a pinch or two is suggested. Rolling & Twisting the Dough - This is the technique that helps to create soft, flaky layers. Often used even when making a plain paratha, in the sugar paratha it's essential. Preheating The Tawa - The Paratha needs to cook quickly at high heat in order to stay soft. If the Tawa or frying pan is not preheated well, the cooking process will slow down and result in a hard and chewy flatbread. Cooking Time For The Paratha - As mentioned, the Paratha should cook quickly, approximately 3 minutes is an average time. However, since everyone's cooking utensils and stoves vary, it's possible to be off by a minute or two (but not too much)
Nutrition
Serving:
1
paratha
Calories:
752
kcal
Carbohydrates:
107
g
Protein:
11
g
Fat:
31
g
Saturated Fat:
2
g
Polyunsaturated Fat:
9
g
Monounsaturated Fat:
19
g
Trans Fat:
1
g
Sodium:
7
mg
Potassium:
118
mg
Fiber:
3
g
Sugar:
24
g
Calcium:
19
mg
Iron:
5
mg