This (Pakistani Style) Spicy Cranberry Chutney is the perfect condiment for the upcoming holidays! The vibrant color, fragrant spices and delicious blend of flavors and textures will enhance any meal or appetizer at your table!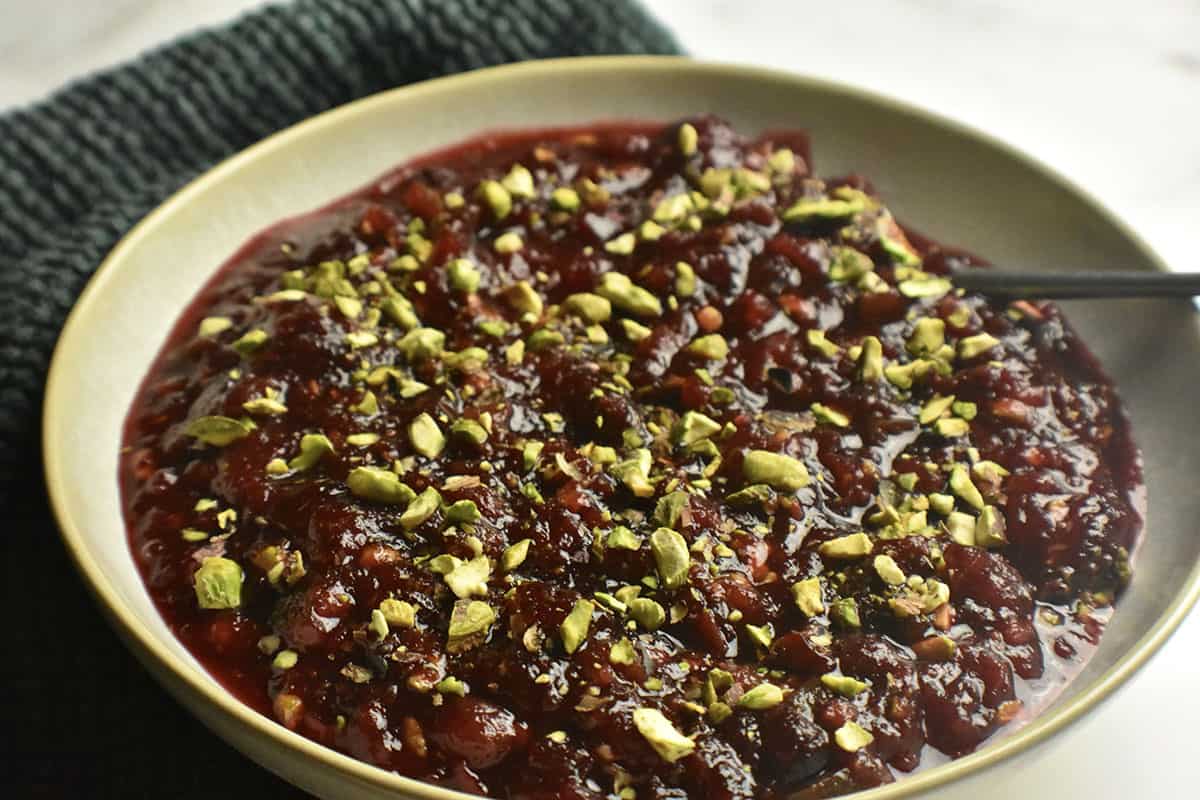 I developed this cranberry chutney recipe specifically to pair with my pakistani-beef-roast-with-tandoori-masala and this easy homemade Crostini for an easy make ahead holiday appetizer! Any leftovers work great as part of a charcuterie board or on a sandwich!
Bottled jars of this tangy cranberry chutney also make great holiday gifts! Easy, affordable and so much more personal than a store bought gift! Your friends will love this chutney with a Pakistani-Indian twist!
Jump to:
Ingredients
Fresh Cranberries
Granny Smith Apples
Granulated Sugar
Jaggery
Salt
Red Chilli Powder
Cumin Powder
Garam Masala
Mustard Seeds
Cardamom
Ginger
Serrano Peppers
White Wine Vinegar
Water
Pistachios
Instructions
This (Pakistani Style) Spicy Cranberry Chutney is a super easy recipe to have on hand for the holiday season and makes a nice break from the more traditional cranberry sauce or cranberry relish.
The only prep needed for this recipe is:
Wash the cranberries
Dice the granny smith apples
Peel and grate some fresh ginger
Deseed the cardamom and crush the seeds to release the flavor
Chop the Serrano Pepper
Chop the pistachios
Once all the ingredients are prepped, just dump them in a cooking pot with the liquids, salt and spices and cook on medium heat till the mixture comes to a boil.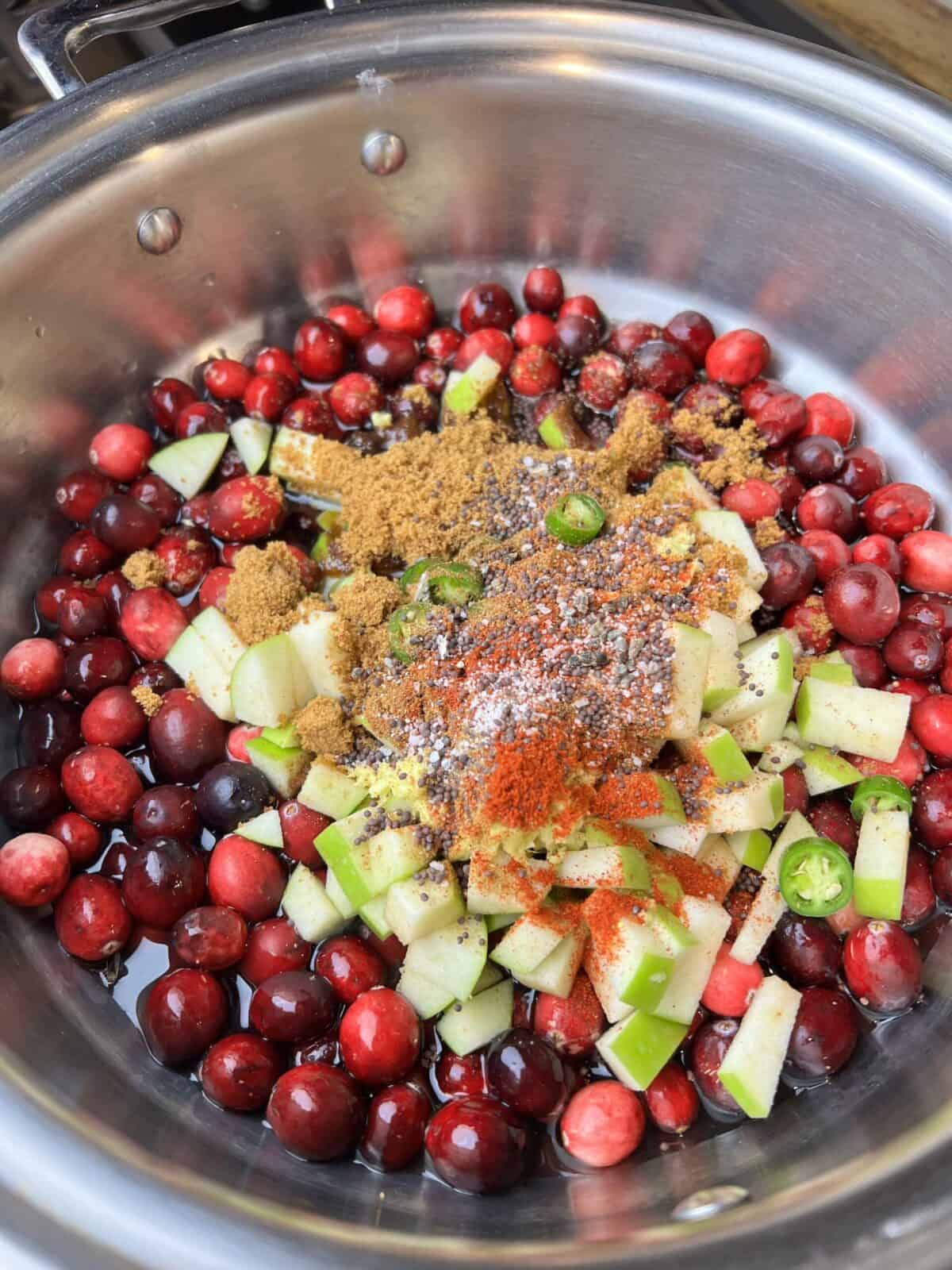 Continue to simmer on low heat for about 30 minutes, stirring every 10 minutes or so till the mixture turns glossy and begins to coat the spoon.
Hint: Don't add any more liquid than is suggested. The berries and apples will release water as they cook and this will be more than enough to thicken the mixture. Too much water will mean more cooking time and this will alter the texture of the chutney.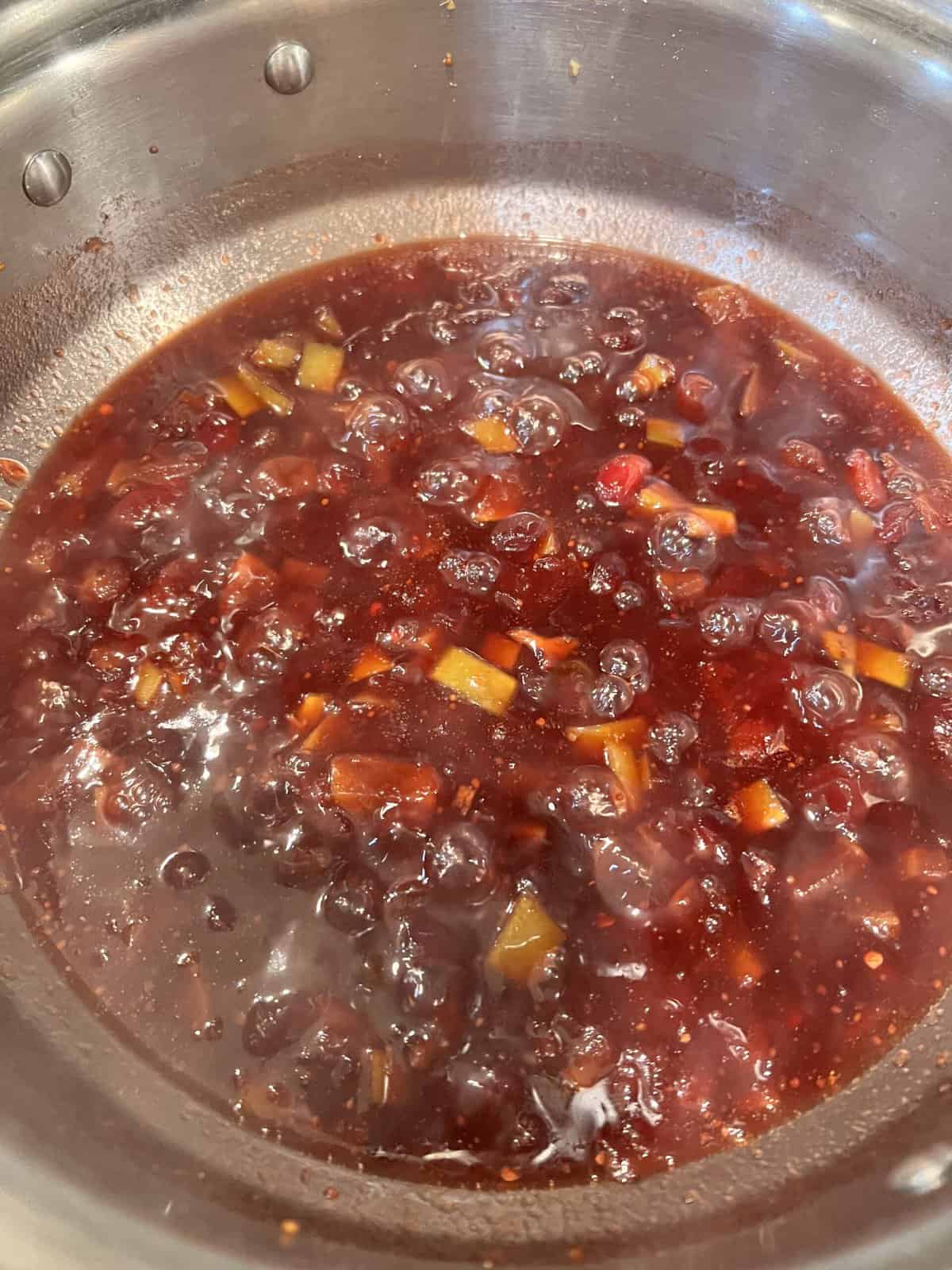 Turn the stove off, cool completely, plate and garnish with pistachios.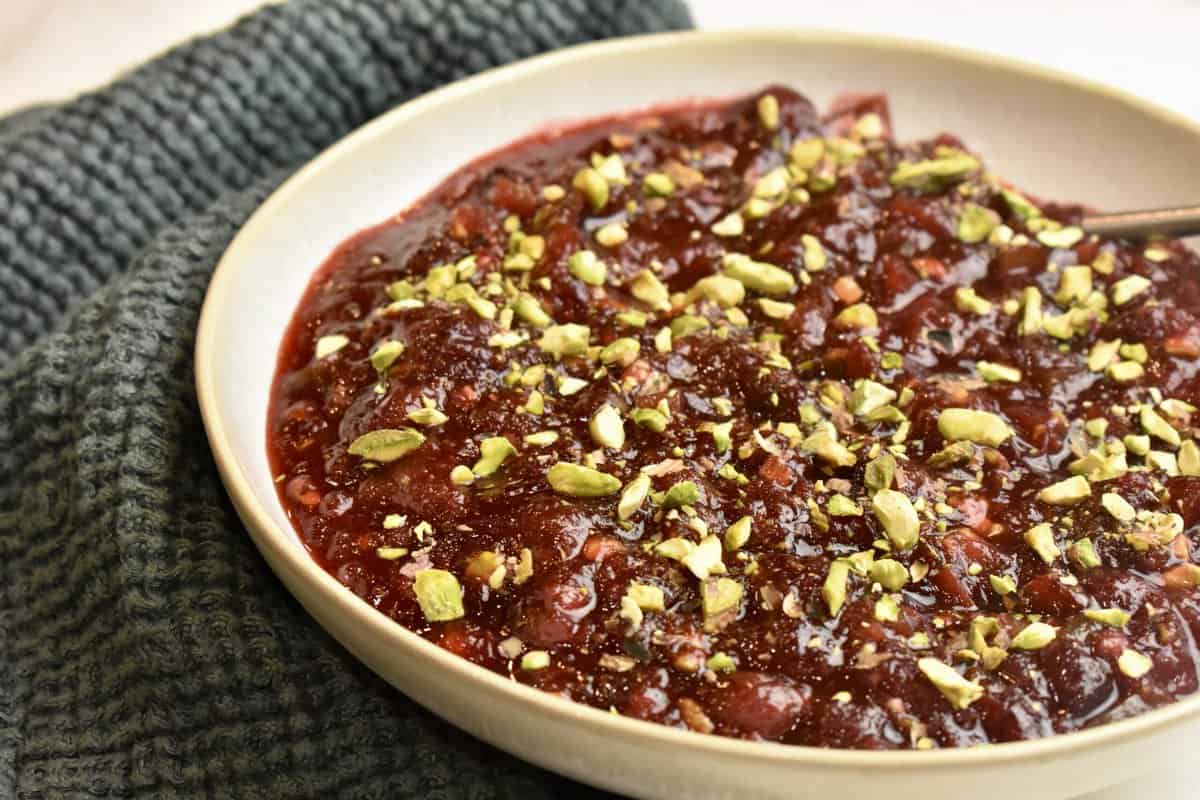 Substitutions
Can't find an ingredient for your spicy cranberry chutney? Or on a special diet? Here are some easy substitutions!
Jaggery- Jaggery is an unrefined sugar used in South Asian cooking, similar to molasses or brown sugar. Despite the similar taste, jaggery is much healthier, due to the many vitamins and minerals it contains as well as its low sugar content. However, if you can't source it use dark brown sugar instead (1 cup jaggery = ¾ cup of dark brown sugar).
Sugar - Trying to watch the sweets? Swap the granulated sugar for Monk Fruit Sweetener (1 cup sugar = 1 cup monk fruit sweetener) and the brown sugar with Swerve Brown Sugar Substitute (1 cup brown sugar = 1 cup swerve brown sugar substitute).
Cardamom - Not a fan of cardamom or don't have any on hand? Just add a pinch (no more than a ¼ teaspoon) of Allspice.
Mustard Seeds - The mustard seeds give a real Pakistani/Indian twist to the recipe. While there is no specific substitute for this ingredient, some alternates are yellow mustard seeds or kalonji (Nigella-onion seeds). If you can't source any of these ingredients just make the chutney without this one ingredient! It will still taste great!
Serrano Pepper - This adds just a teeny amount of heat to the chutney. One pepper isn't much! But if you're not a fan of spices you can deseed the serrano peppers, go with milder green chillies like jalapenos, or just leave these out altogether!
Pistachios - Allergic to nuts? Try some roasted melon seeds, sunflower seeds or pumpkin seeds as a topping!
Variations
Change The Fruit - Cranberries not in season? Try the recipe with raspberries, cherries or plums instead! Swap the granny smith apples for a different variety for a different flavor!
Change The Vinegar - Want to switch up the flavor just a bit? Try Rice or Champagne Vinegar instead. Stick to the white family as red vinegars can be a bit overpowering in this recipe.
Change The Nuts - Try almonds, walnuts or whatever else you fancy to switch up the flavors a bit!
Equipment
Mesh Strainer
Knife
Chopping Board
Mortar & Pestle
Hand Held Grater
Measuring Cups
Measuring Spoons
Nut Grinder
Stainless Steel Cooking Pot
Spoon To Stir
Sterilized Jars
Funnel
Storage
Making this Spicy Cranberry Chutney is a piece of cake but storing it, or any homemade chutney is an art form!
The first step is to sterilize the jars. I always use the method outlined here and then proceed to store the chutney in a cool dark place for upto a month before consuming it.
According to English Food Writer nigella.com this helps reduce the acidic taste of the vinegar. The result is a more balanced taste.
Any home cooked Chutney can stay in a cool dark place, away from sunlight for a long time, upto a year, even two years per some food experts. Once the jar is opened, the chutney must be refrigerated and consumed within a month.
Top Tip
It's very important to use stainless steel or pans that have an enamel coating to cook your chutney. Pans that are made of untreated cast iron or have a copper or aluminum coating can react with the vinegar and cause the chutney to have a metallic taste.
FAQ's
What is the difference between a jam and a chutney?
A jam is sweeter as it has only sugar as a preservative, while a chutney has a more tangy flavor due to the addition of vinegar.
What is the difference between a cranberry sauce and a chutney?
Cranberry sauce is usually made with whole berries, sugar and at most some cinnamon and orange zest and has a simple flavor.
Cranberry chutney on the other hand is made with a combination of berries, at least one other fresh fruit, sugar, vinegar, assorted spices and often even some dried fruit. The result is an explosion of complex flavors that Pakistani and Indian cooking is famous for.
How do you thicken a chutney?
Apples are often added to chutneys as they have lots of pectin and this helps naturally thicken the chutney. If the chutney still seems too thin, the addition of artificial pectin OR cornflour can be used to help reach the right consistency.
What do you eat cranberry chutney with?
The possibilities are limitless. The chutney can be part of a cheeseboard, used in sandwiches, served alongside your holiday meats and even added as a glaze to chicken! I even like to eat mine in place of tamarind chutney sometimes! This chutney is a great way to add some flavor to any meal.
Please don't forget to leave a rating and comment below! If you take a picture then please tag me on instagram ! Thank You!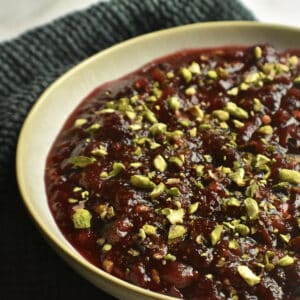 (Pakistani Style) Spicy Cranberry Chutney
This Pakistani Style Spicy Cranberry Chutney; sweet, sour and mildly spiced is my more traditional take on an American holiday classic!
Ingredients
3

cups

cranberries

1

cup

granny smith apples

½

cup

sugar

½

cup

jaggery

½

tsp

salt

½

tsp

red chili powder

½

tsp

cumin powder

¼

tsp

garam masala

1

tsp

mustard seeds

2

pods

cardamom

½

tbsp

grated ginger

1

serrano pepper

½

cup

white wine vinegar

¾

cup

water

¼

cup

pistachios
Instructions
Chop the apples (leave the peel on)

Deseed the cardamom and crush the seeds, discarding the husk

Chop your pistachios (I use a hand held nut chopper)

Toss everything but the pistachios in a pot and cook on full heat till the mixture comes to a boil.

Reduce the heat and cook on medium heat for about 30 minutes.

Stir every 10 minutes to check consistency and turn the heat off just when the chutney starts to coat the spoon.

Cool completely, plate and garnish with the pistachios.
Nutrition
Serving:
1
tbsp
Calories:
39
kcal
Carbohydrates:
8
g
Protein:
0.3
g
Fat:
1
g
Saturated Fat:
0.1
g
Polyunsaturated Fat:
0.2
g
Monounsaturated Fat:
0.3
g
Sodium:
38
mg
Potassium:
27
mg
Fiber:
1
g
Sugar:
7
g
Vitamin A:
23
IU
Vitamin C:
2
mg
Calcium:
4
mg
Iron:
0.2
mg