This Easy Chicken Tikka Sandwich Recipe is a game changer! The easy marinade comes together in just a few minutes, with simple ingredients you're likely to have on hand. Plus, with the short cooking time, you can have a fresh, hot and delicious sandwich on the table in just 20 minutes!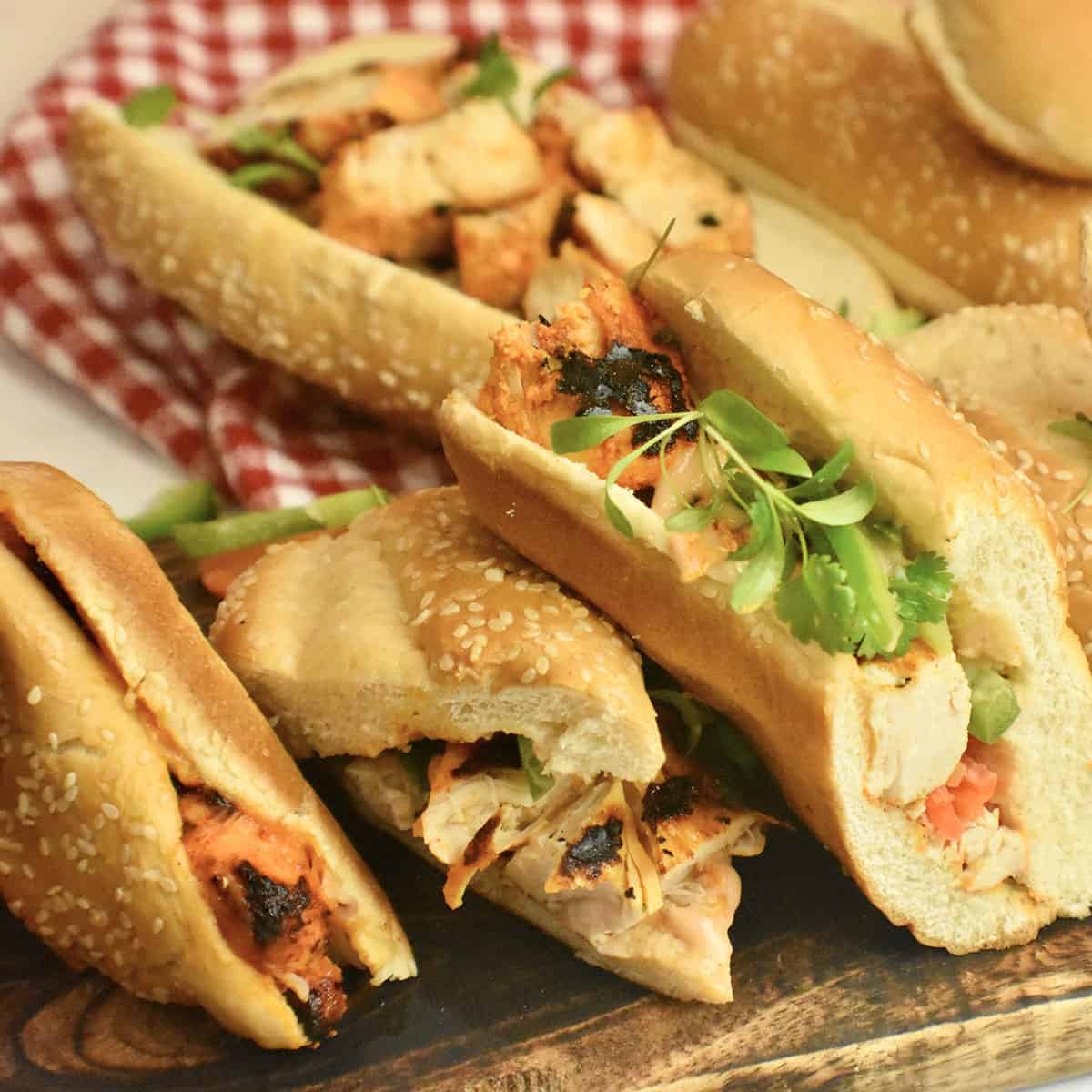 There are so many different ways to enjoy these sandwiches that each time I prepare them it seems like I'm enjoying a totally new recipe! Sometimes I add some leftover Kachumber as my veggie filling and at times I use a chutney instead of a mayonnaise based dressing.
If it's close to the holidays, I love to use use up my leftover cranberry chutney as a flavor enhancer. For an easy dinner I add this delicious spicy mango salad and authentic chinese chicken corn soup to my chicken tikka sandwich recipe and it becomes a full and satisfying meal!
Jump to:
Why you'll love the recipe
Great Flavor - It takes the "boring" out of something as basic as a sandwich.
Easy Recipe -It's a super simple recipe that can easily fit into a weekly meal prep routine.
Accommodates Lots of Dietary Needs - There are a lot of different ways to serve the sandwiches,allowing for easy adaptation for assorted dietary needs.
Versatile Recipe - It works just as well for a school or work lunch as it does for a formal event you may be hosting.
Ingredient notes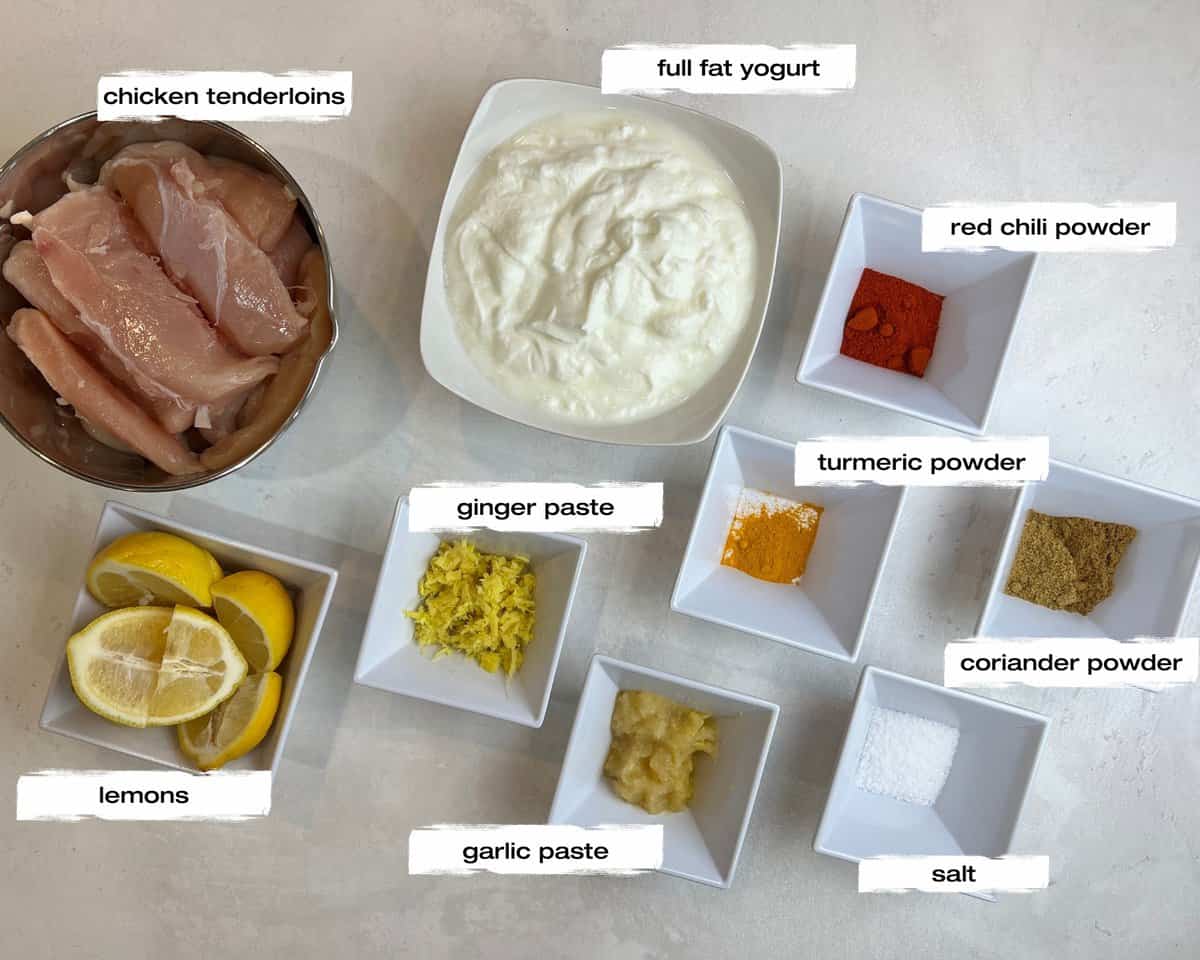 The Chicken & Marinade
Chicken - I like to use tenderloins as they're perfectly sized, juicy and require no cleaning. Boneless thighs would be a good alternate.
Yogurt - Use full fat plain yogurt for a creamy texture. Avoid Greek yogurt as it tends to curdle.
Cooking oil - I like to use Avocado or Canola for most of my cooking. However, Sunflower oil, Peanut oil or any other neutral oil that can tolerate high heat will work just as well.
Lemon - I personally like to use a fresh squeezed lemon for my recipe, but some good alternatives are, a fresh lime or some bottled lemon juice.
Garlic paste - Homemade garlic paste is always my preferred option, but store bought garlic paste is a great alternative if you don't have time to make your own.
Ginger paste - I always suggest using fresh ginger if you have the time to prep some because the taste is amazing compared to a store bought paste. But, if you are pushed for time by all means feel free to use the store bought one.
Spices - The spices are all listed below in the recipe card and are very easy to source at any local grocery store. The cumin is optional, I've made this recipe with and without it and the results have been excellent both times.
Food coloring - This is purely optional and is only necessary to give that restaurant color to your chicken tikka. If you want a healthy alternative to traditional food coloring, beet root powder works really well.
The Sandwiches
Dressing - I like to mix mayonnaise and ketchup to make a spread for my bread. It's a quick and simple way to add moisture and flavor to the sandwich.
Steak rolls - I like to use steak rolls for my sandwiches, liking the crusty outside and soft inside.
Vegetables - I love to use red onions, green bell peppers, shredded carrots and cilantro microgreens as my fill ins.
Cheese - Some shredded mozzarella melted on top adds the perfect finishing touch to this sandwich !
For the complete list of ingredients with measurements plus recipe instructions, please see the recipe card at the bottom of this post.
Substitutes and Variations
Try this recipe as a wrap - Use your favorite flatbread and try the chicken as a wrap instead of a sandwich! It won't disappoint!
Switch up the condiments - The same chicken with different add-ins tastes like a whole new sandwich! Use some chutney instead of the mayonnaise spread or add sriracha instead of ketchup with the mayo. Change the vegetables and try a different mix in your sandwich every time!
Make yourself a carb free version - Make a lettuce wrap or simply use the chicken tenderloins as a salad topper for a carb free meal option!
The easy vegetarian version - Ever tried a Paneer Tikka sandwich? Just marinate some Paneer or Tofu in the marinade below, cook and add to your sandwich or salad!
Step by step recipe instructions
Here's how to make these Easy Chicken Tikka Sandwiches!
Step 1 - Marinate the chicken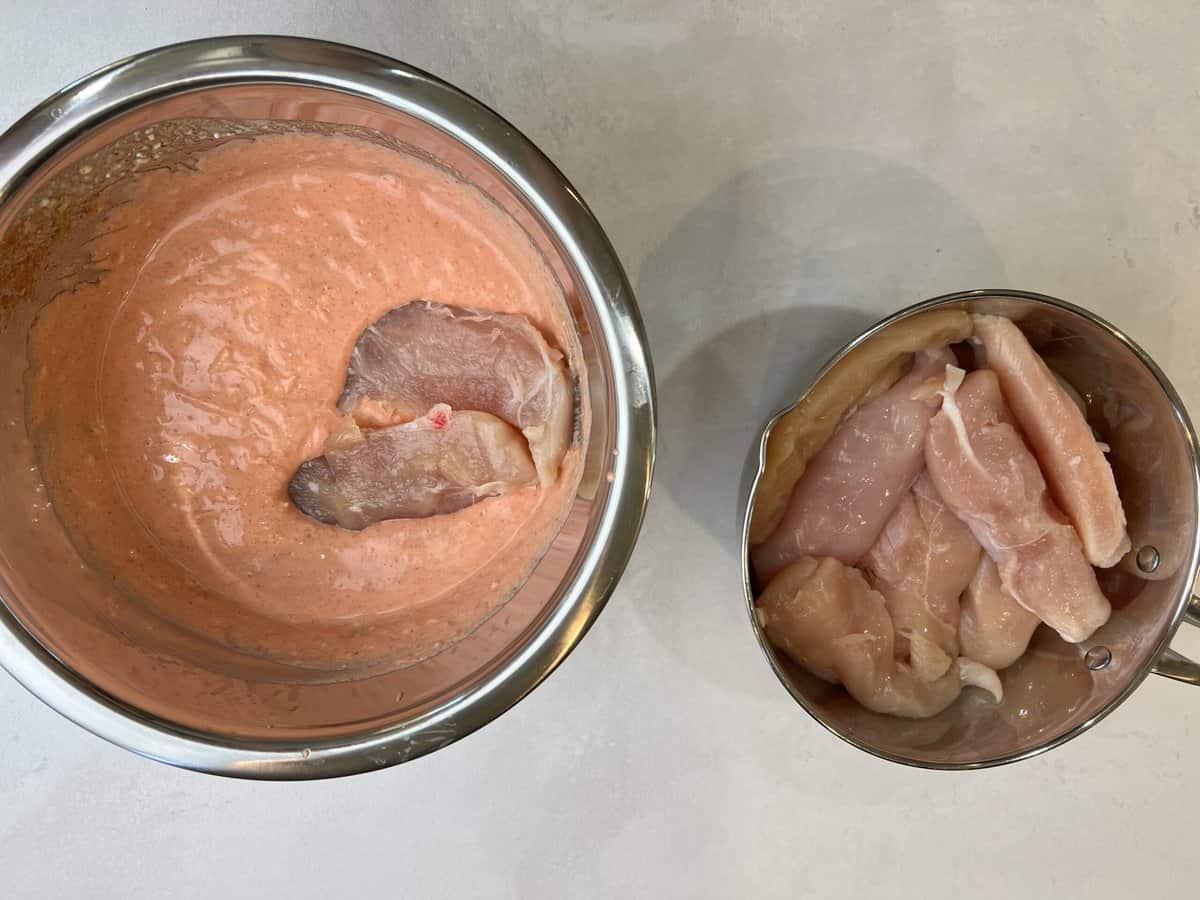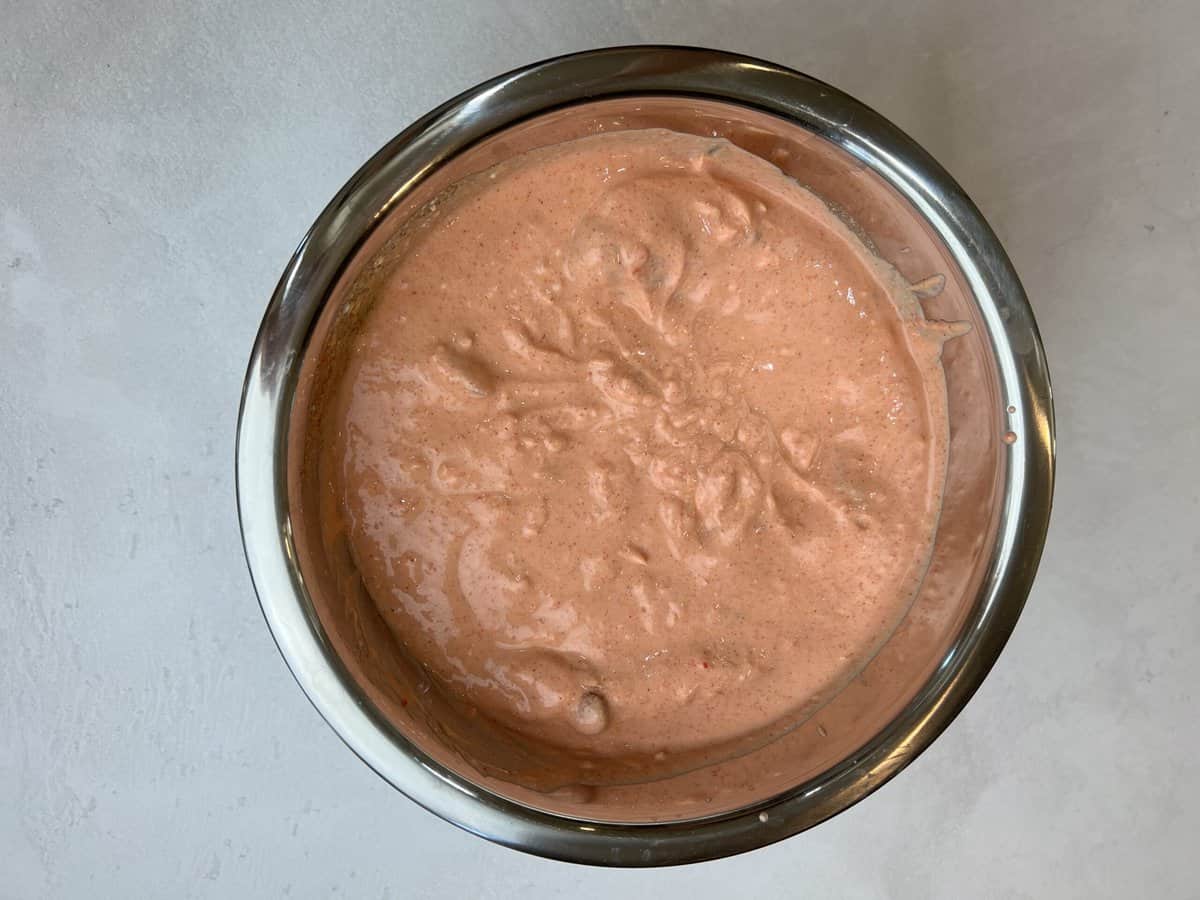 Mix the yogurt, cooking oil, lemon, garlic paste, ginger paste and all the spices and make a smooth paste.
If you want to add in the food coloring or beetroot powder, mix that in at this time as well.
Add all the chicken tenderloins to the marinade, cover and place in the fridge.
Step 2 - Cook the chicken
Choose one of the following 3 options to cook the chicken.
Option A - grill pan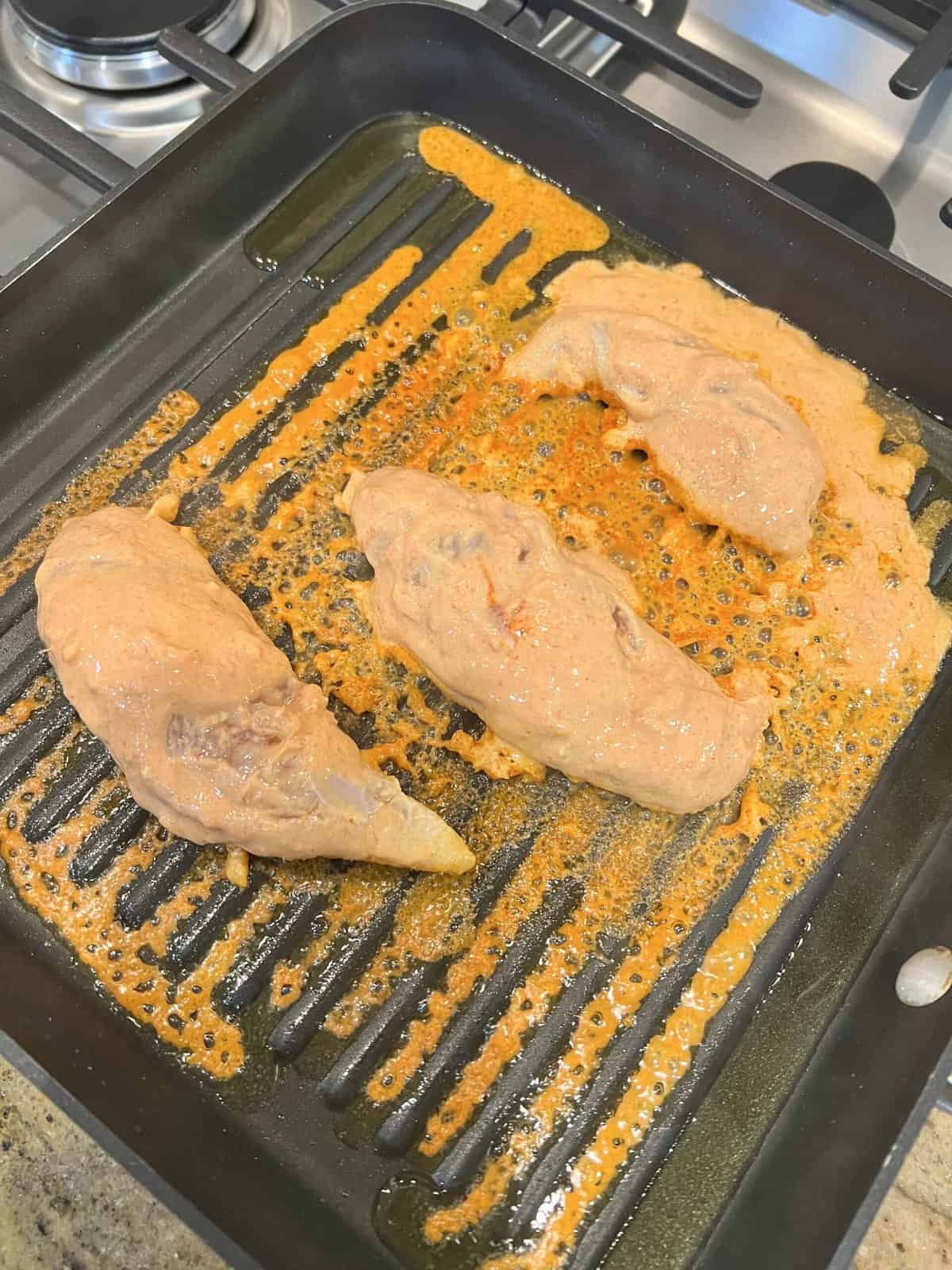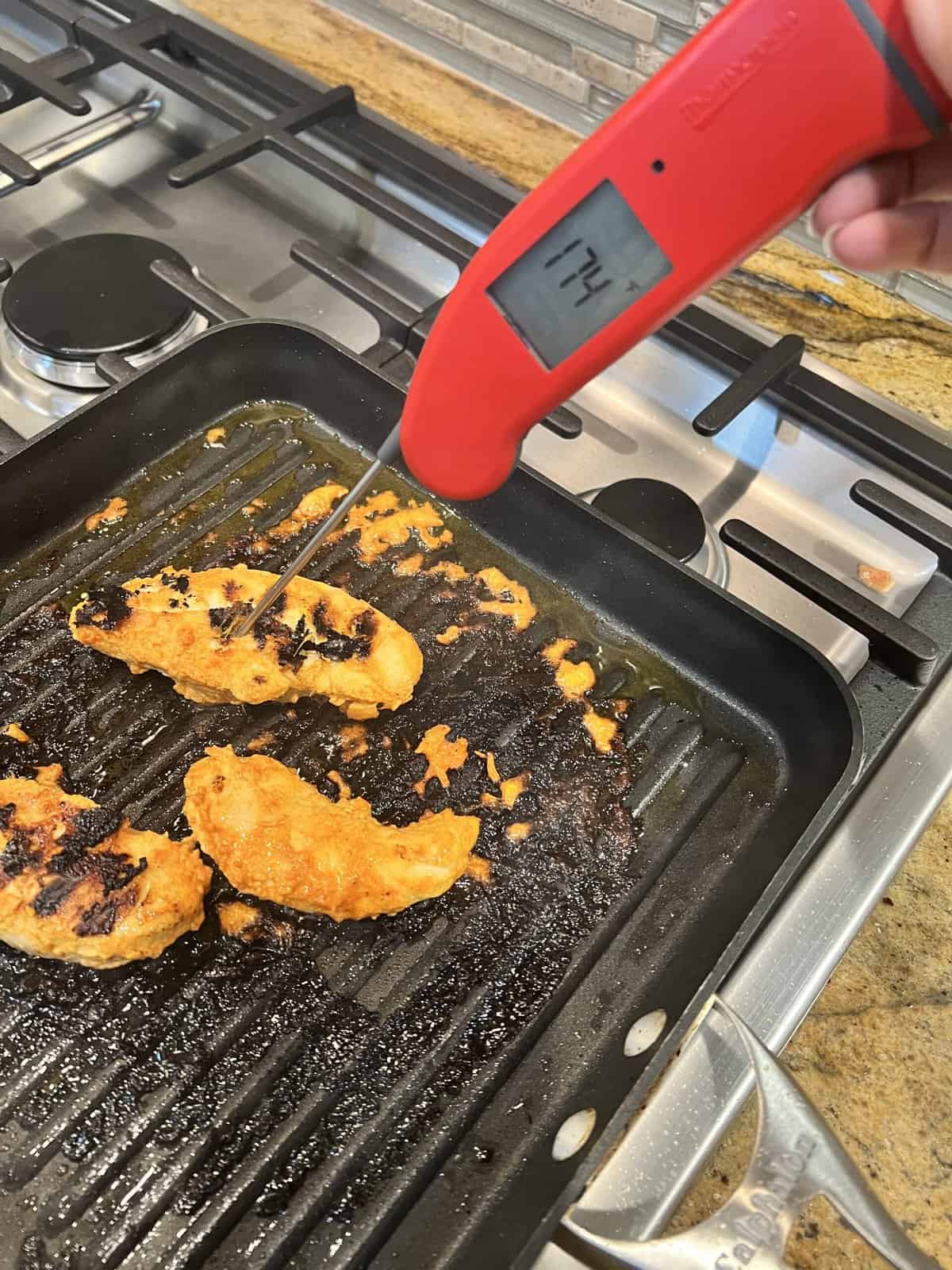 To cook the chicken in your grill pan, drizzle some cooking oil and set the pan on the stove to preheat.
Once the pan is hot, place 3-4 tenderloins on it and sear them at full heat.
Then reduce the heat and cook for 2-3 minutes so they can cook through.
Flip them over and sear the other side.
Check the internal temperature with a thermometer and cook until it is 165?.
Option B - air fryer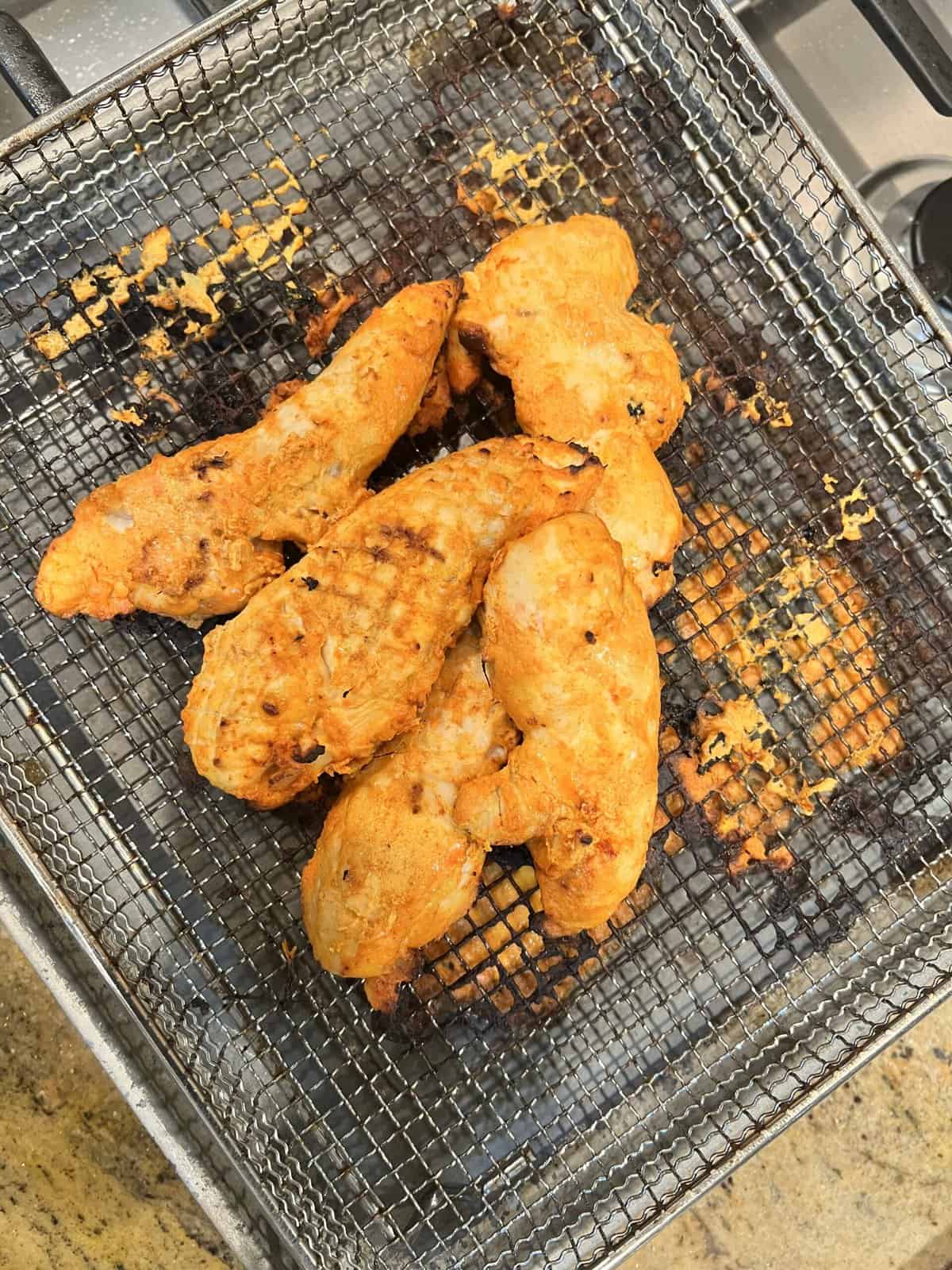 Set your air fryer to 350? and preheat it for 5 minutes.
Then put the chicken in the basket and cook for 15 minutes.
Flip the chicken halfway through to evenly brown both sides.
Check it with a thermometer to insure that it's cooked to an internal temperature of 165?.
Option C - the oven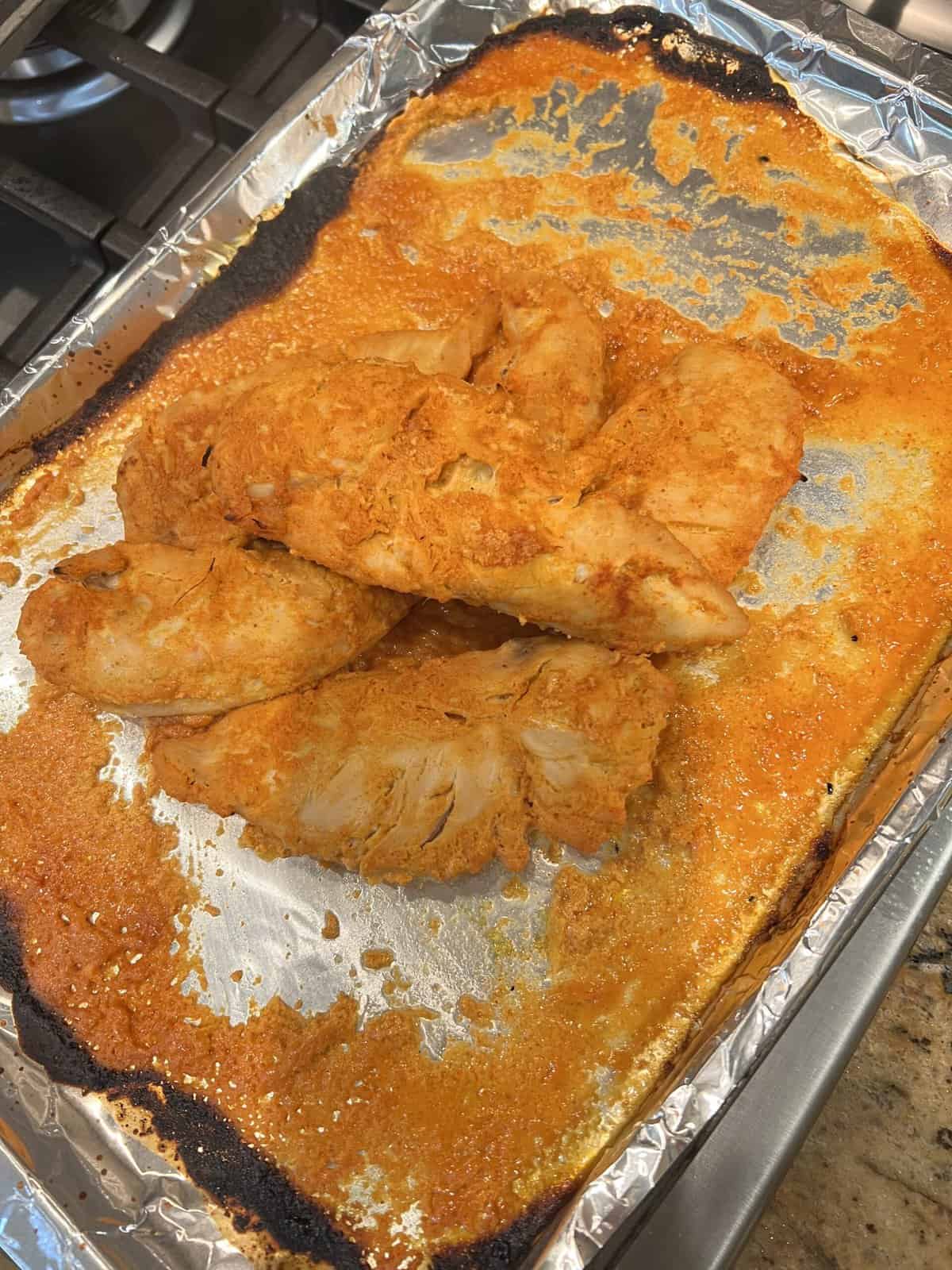 Preheat your oven to 400?.
Place the chicken on a baking sheet lined with foil.
Bake in the oven for 20-25 minutes.
Flip the chicken halfway through to insure it will cook evenly on both sides.
Check with your thermometer to make sure the chicken is cooked through to 165?.
Step 3 - Assemble the sandwich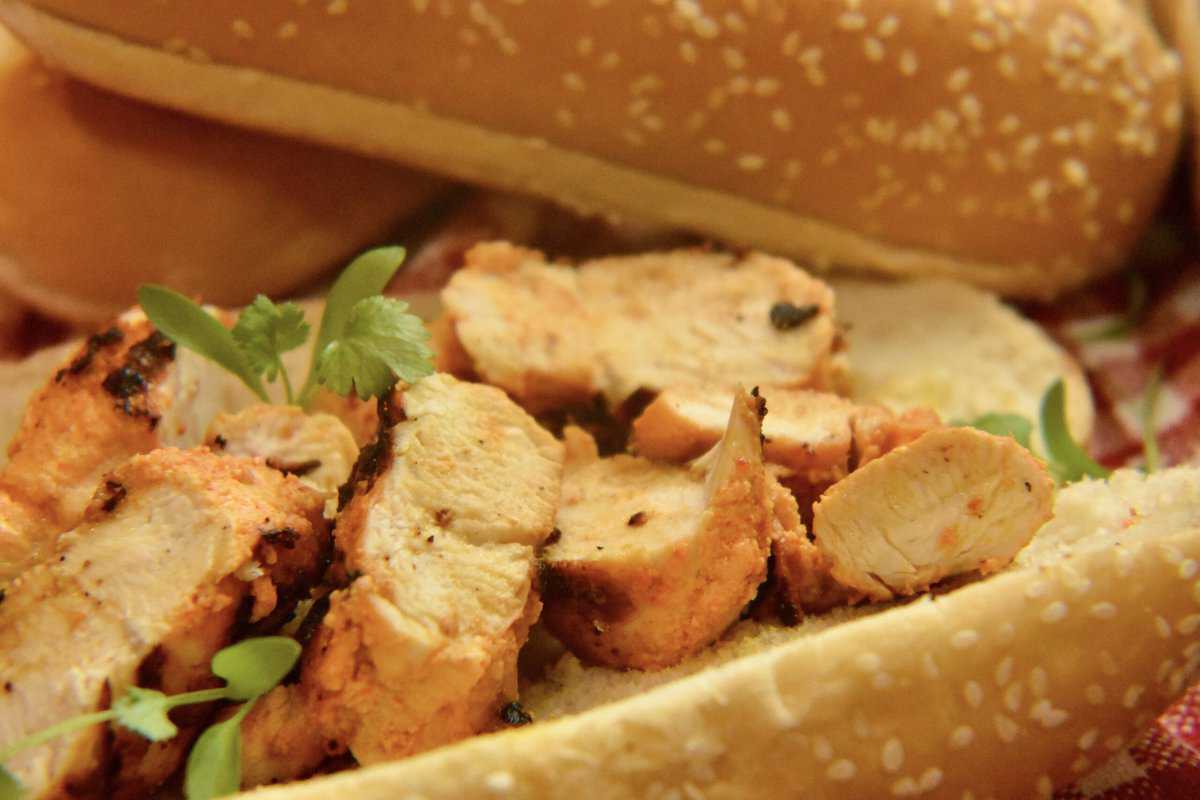 Let the chicken rest for a minute before slicing it.
Use that time to warm up your bread and mix your mayo and ketchup.
Once everything is ready, spread the dressing on the bread and add the sliced chicken.
Add the cheese and toast it just till it melts, add your sliced veggies and microgreens and enjoy!
Expert tips
To save time, marinate a large batch of chicken at one time and freeze it in portions. Next time you're in the mood for the a Chicken Tikka Sandwich, just defrost as much meat as you need and cook it using your preferred method!
If you find that the chicken is drying too much while you're cooking it, keep the marinade close by and use it to baste the meat periodically.
Recipe FAQS
Why is chicken tikka called "tikka"?
The word "tikka" is derived from Persian and means bits and pieces. Chicken Tikka refers to marinated pieces of chicken cooked on a skewer over hot coals.
Why is my chicken tikka not red ?
The red color in most restaurant chicken tikka and store bought chicken tikka spice blends come from food coloring. If the lack of red bothers you a healthier option is to use beetroot powder in your marinade.
Can I cook my chicken on a grill ?
Yes! The chicken will taste amazing if cooked on a grill. Crank up the grill to 400?, and place the meat on skewers. Cook the meat for 6 minutes on each side, let it rest, slice and make your sandwiches!
How long can I store my chicken tikka once cooked ?
Cooked chicken tikka can be stored in the fridge for 2-3 days and in the freezer for upto 3 months.
What is the best way to reheat leftover chicken tikka ?
Reheat your chicken tikka in the microwave. Defrost completely, sprinkle 1 teaspoon of water over the tenderloins, cover and heat. The water keeps the meat juicy and prevents it from drying out.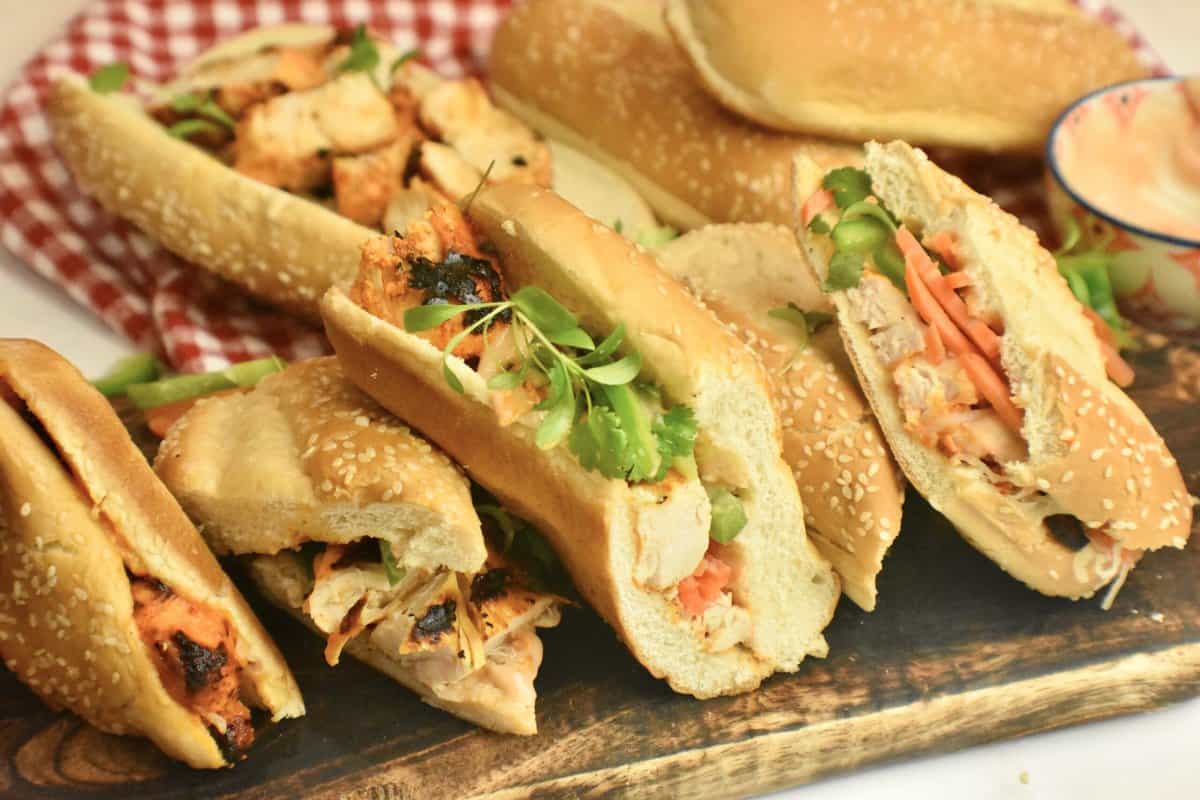 Other recipes you may enjoy with these sandwiches
Please don't forget to leave a rating and comment below! If you cook the recipe, please take a picture, post it and tag me on instagram ! Thank You!
Easy Chicken Tikka Sandwich Recipe
This easy chicken tikka sandwich recipe makes for a delicious and healthy lunch that can be ready in 20 minutes! You can't beat that!
Ingredients
Chicken Tikka
1

lb

chicken breast tenderloins

¼

cup

coking oil

(see notes)

1

cup

full fat yogurt

(see notes)

1

lemon

½

tbsp

garlic paste

1

tbsp

ginger paste

1

tsp

salt

1

tsp

coriander powder

½

tsp

turmeric powder

½

tsp

cumin powder

(optional)

2

tsp

red chili powder

(see notes)

4

drops

red food coloring

(see notes)
Mayonnaise Dressing
1

cup

mayonnaise

¼

cup

ketchup
Sandwiches
6

steak rolls

(see notes)

½

green bell pepper

½

red onion

½

cup

shredded carrots

¼

cup

microgreens

(optional)

1

cup

shredded mozzarella

(see notes)
Instructions
Chicken Tikka
Mix together the yogurt, cooking oil, lemon, garlic, ginger and all of the spices.

Marinate the chicken in the mixture for 30 minutes (see notes)

For the grill pan, drizzle some oil and preheat the pan.

Sear the chicken on full heat and then cook on low heat for a few minutes.

Then flip over and sear on the other side.

Reduce the heat if necessary and cook till done.

For air frying, preheat your air fryer at 350° for 5 minutes

Air fry the chicken for 15 minutes, turing halfway through

For the oven, preheat the oven to 400°

Bake the chicken for 20-25 minutes, turning halfway through.

Let the chicken rest for a few minutes whichever method you use to cook it.
Mayonnaise Dressing
Mix the mayonnaise and ketchup to make the dressing
Sandwiches
Spread the dressing on both sides on the bread

Put cut up pieces of chicken on one side of the bread

Add the cheese on top of the chicken and broil in the oven to melt it

Remove from the oven and layer with the veggies and enjoy
Notes
The Yogurt -I use full fat yogurt as it makes the chicken creamier.
The Cooking Oil -Use any neutral cooking oil, such as avocado, canola, sunflower or peanut that can tolerate high heat.
The Chili Powder - I use 2 teaspoons of red chilli powder as I like things a little on the spicier side. feel free to adjust the spices to your personal taste.
The Red Food Coloring - This is purely optional but if you want your chicken tikka to look like what you eat at a restaurant then you may need a few drops of the food coloring. A healthier alternative is red beetroot powder.
The Bread - My supermarket has what they call steak rolls, which are similar in texture to crusty french bread. These are my favorite but feel free to switch it up.
The Cheese - I like to use mozzarella, but any cheese will do. Provolone or smoked gouda would be good options to consider.
Marinating the chicken - 30 minutes is a minimum, but I often leave my chicken in the fridge overnight or marinate it and freeze it for when I need it. A longer marinade will make your chicken more tender.
Nutrition
Serving:
1
sandwich
Calories:
572
kcal
Carbohydrates:
32
g
Protein:
27
g
Fat:
38
g
Saturated Fat:
9
g
Polyunsaturated Fat:
18
g
Monounsaturated Fat:
9
g
Trans Fat:
0.1
g
Cholesterol:
84
mg
Sodium:
1206
mg
Potassium:
562
mg
Fiber:
3
g
Sugar:
6
g
Vitamin A:
2290
IU
Vitamin C:
21
mg
Calcium:
210
mg
Iron:
2
mg