A dish so simple, you wonder why one even needs a recipe for it, it's just seasoned and mashed boiled potatoes, how complicated can it be?
Well, I don't know about you but I've eaten GREAT mashed potatoes and some not so great ones in the course of my life. There are a few tips and pointers that can take this simple and classic side dish to a whole new level!
Especially if it's going to feature on your Thanksgiving table! Believe it or not at one time no one would even have considered eating this bland root vegetable let alone letting it grace their holiday table.
The History
Before the 18th Century, potatoes were mainly used to feed animals and the French thought that eating them could cause leprosy. It wasn't until a French Pharmacist named Antoine-Augustin Parmentier discovered the value of these tubers.
A prisoner of War, he was fed little else by his Prussian captors and upon his release, as living proof that potatoes didn't cause leprosy, he slowly introduced the French to the delightful vegetable that was so affordable and easy to grow.
Of course, in today's world potatoes are perhaps the most universally loved vegetable that exists. Their inherently bland taste makes them a very easy ingredient to work with.
Known as Mashed Potatoes in the United States of America, Pomme Puree by the French or simply Mash in the United Kingdom, they can be served absolutely plain with a sprinkle of salt and pepper or made smooth and creamy with the addition of butter and milk or cream.
The more adventurous amongst us go so far as to make them a meal in themselves with the addition of assorted toppings such as cheese, sour cream, herbs, bacon and honestly, whatever you're craving.
Cooking The Perfect Potatoes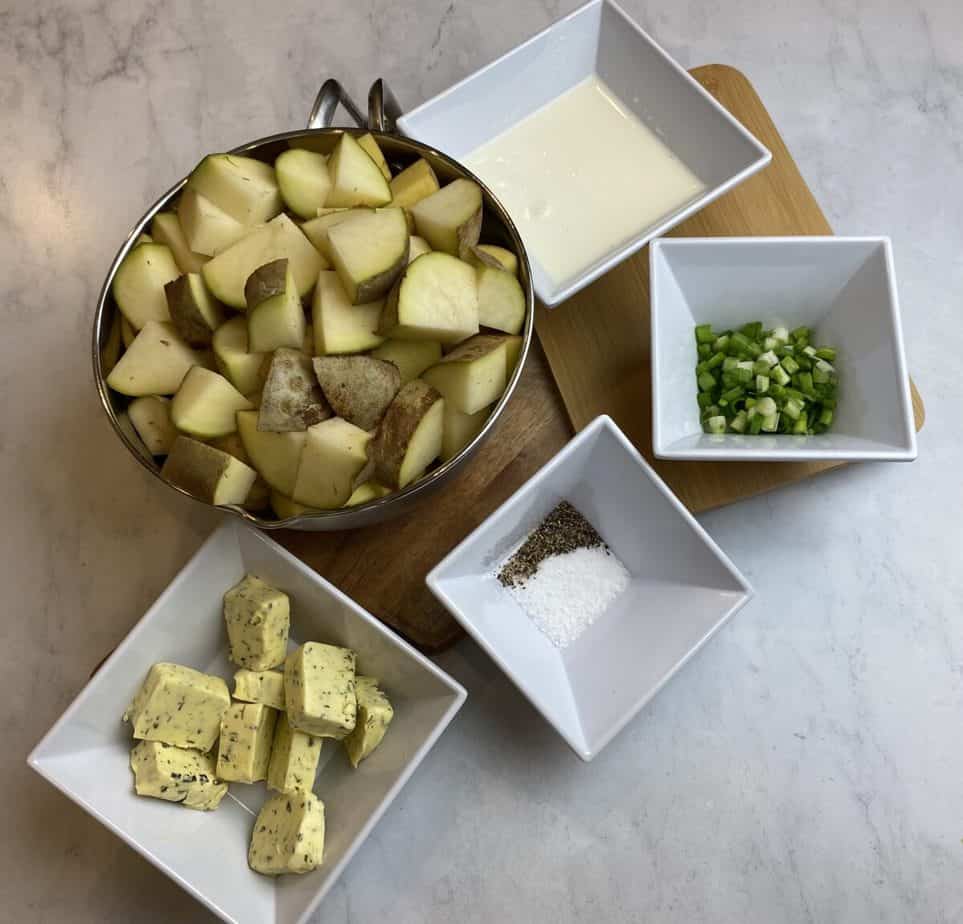 When picking which potatoes to use, a combination of 50 % Russet and 50% Gold is best. The Russet or Idaho are more starchy, whereas the Gold or Yukon are more creamy, so the blend will result in just the right taste and texture.
Add to this the right amount of liquid and fat and they'll melt in your mouth! The more fat you have the smoother and creamier the taste and the easier the potatoes will be to reheat.
As such, I use heavy whipping cream and butter and often, when reheating leftovers or if I freeze mine (yes you can easily freeze mashed potatoes) and reheat in the oven, I add a bit more liquid at the time of reheating.
Boiling The Potatoes
I personally like my mashed potatoes smooth and creamy and lightly seasoned with garlic, salt and pepper. As easy as it sounds, getting the texture right is the trickiest part. Over cooked and handled potatoes can easily become gummy and if not evenly boiled they will be lumpy no matter how hard you try to mash them.
After practicing and researching over the years, by virtue of some great articles and blogs I've come across (NYT Cooking , Gimme some oven.com, The Kitchn, to name a few) I discovered that the best way to boil potatoes is to cut them in cubes as they cook more evenly and are easier to mash, leading to the perfect consistency.
For years I boiled them whole, peeled them and mashed them but trust me, the results of boiling them this way are short of miraculous so please give it a shot!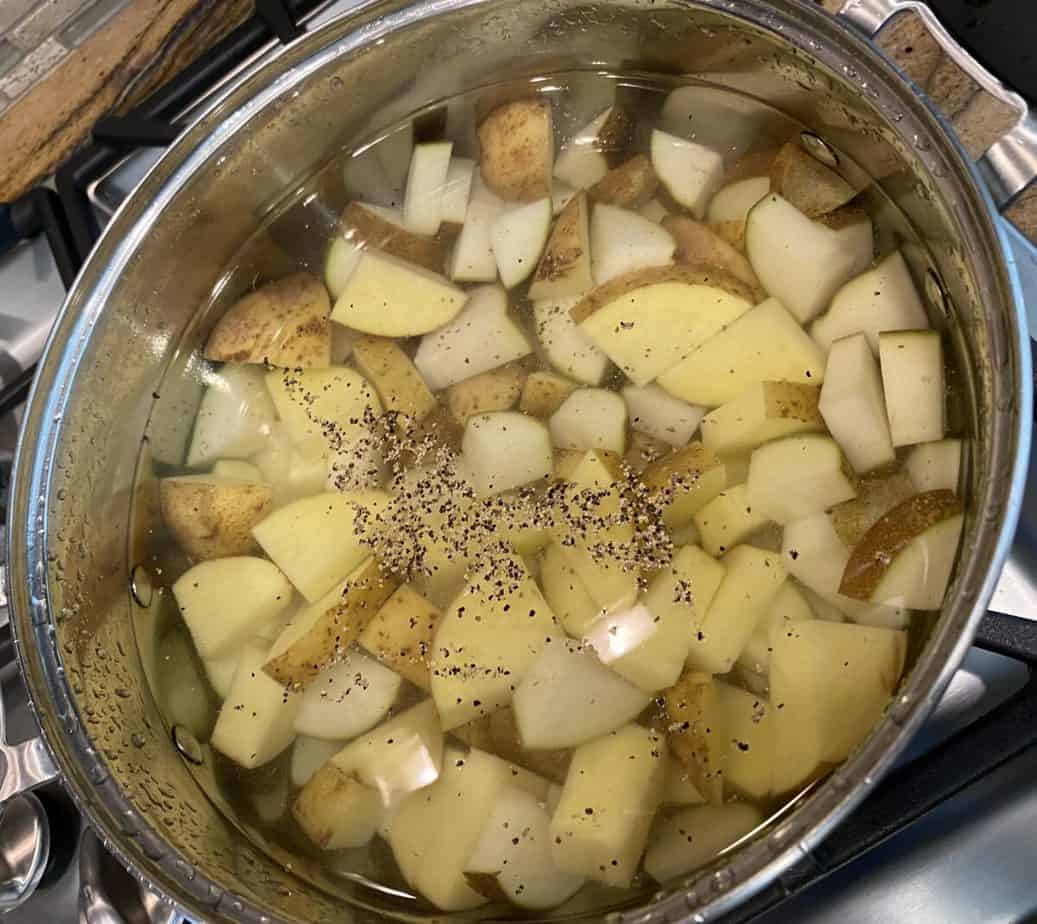 Similarly, another thing to always remember is to start out with tap water and never hot water when boiling your potatoes. When you add potatoes to hot water, the outside cooks quicker than the inside, once again resulting in uneven cooking and a possibly gummy or lumpy appearance.
Now that we've settled that debate, the next big decision is always, peel the potatoes or leave the skin on? I'm in the skin on camp for 2 reasons, the nutritional value of the skin as well as the time it saves. Potato peels are so rich in fibre, protein and antioxidants that I always opt to eat them when I can, but please feel free to go whichever way you like.
Seasoning, Liquid & Fat
Another important factor that plays a role in the perfect mashed potato is the seasoning. Although just salt and pepper, too little makes the potatoes taste bland and too much can of course make them taste unpleasant.
The amount and type of fat and liquid used plays an important role in this balance as well. Are you using salted butter or unsalted? Plain milk, Half and half or Heavy Whipping Cream? The latter two tend to be a bit sweeter than just milk so you may need more salt if that's your go to.
Final Tips
The last and final tip I have for you before I give you my recipe is to drain the potatoes well before mashing them (I let them sit in my strainer for about 5 minutes) and never to use a food processor or blender, but to mash them by hand, unless you want a gooey mess!
Hope you try and enjoy this recipe! Don't forget to rate it when you do!
Perfect Creamy Mashed Potatoes
These perfect creamy mashed potatoes, made with herb and garlic butter and topped with chives are the perfect side for any meal!
Print Recipe
Ingredients
1.5

Pounds

Russet Potatoes

1.5

Pounds

Golden Potatoes

½

Cup

Garlic and Herb Butter

½

Cup

Heavy Whipping Cream

1.5

Teaspoons

Salt*

½

Teaspoon

Pepper*

2

tablespoons

Chives
Instructions
Wash and cut all the potatoes into cubes (Peel if desired).

Fill Pot with cold tap water till potatoes are well covered

Add salt and pepper to the pot and boil on high till a knife slides in easily.

Strain Potatoes and let them sit in strainer for 5 minutes so all liquid evaporates

Slice the butter into thin slices and add to the potatoes

Mash just until they are smooth and no lumps can be seen.

Add the heavy whipping cream and mash some more.

Check the seasoning and adjust as necessary.

Chop ¼ cup Chives and mix in.

Top with a little more butter and serve.
Nutrition
Serving:
1
g
Calories:
191
kcal
Carbohydrates:
21
g
Protein:
3
g
Fat:
11
g
Saturated Fat:
7
g
Polyunsaturated Fat:
1
g
Monounsaturated Fat:
3
g
Trans Fat:
1
g
Cholesterol:
34
mg
Sodium:
368
mg
Potassium:
487
mg
Fiber:
2
g
Sugar:
1
g
Vitamin A:
406
IU
Vitamin C:
15
mg
Calcium:
24
mg
Iron:
1
mg