Give me a Chewy Chocolate Chip Cookie Bar and I'll be your friend forever! This is one of my favorite desserts to make and eat. It's quick, easy and so versatile! You can eat it on it's own or warm it up and top it with a scoop of my no-churn-vanilla-bean-ice-cream.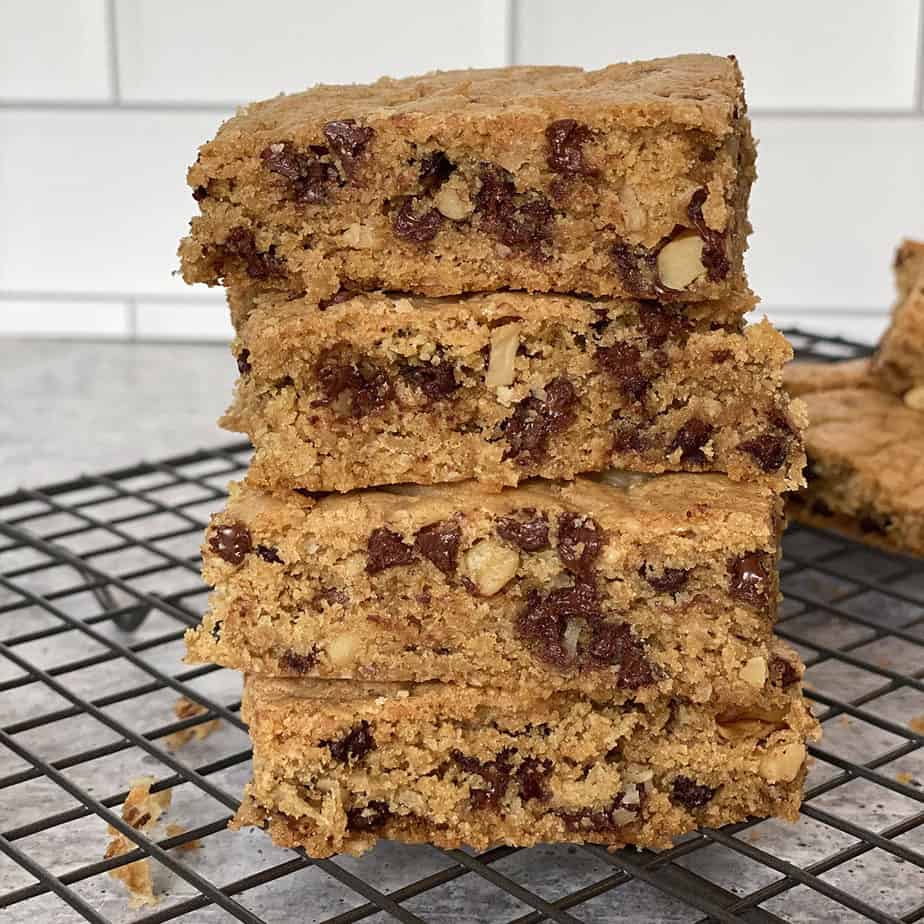 Add coconut and walnuts to it like I have in this recipe or change it up and experiment with your own ad ins! The options are limitless and you can personalize these to suit your personal taste. With holiday season around the corner this is the perfect easy recipe for you to hold on to.
Make a batch or two to share with friends and family without having to spend hours in the kitchen!
The History
The Nation's most popular cookie was in reality an accidental creation. In the 1930's, Ruth Wakefield, owner of the Toll House Inn in Whitman, Massachusetts decided to add chocolate pieces to some cookies she was baking.
She thought they would melt into the dough and create chocolate cookies. Instead, the pieces remained intact and the Toll House chocolate chip cookies were born. This recipe was later published by Mrs wakefield in a book of recipes from her Inn in 1936.
According to epicurious.com these first chocolate chip cookies were tiny and crisp. Far removed from the generous sized, chewy chocolate chip cookies of today!
My Story
Ooey, Gooey and Chewy is my favorite type of chocolate chip cookie bar! I've been a fan of chocolate chip cookies since childhood! Back then I always bought and baked the original Nestle Toll House variety.
This was between the ages of 7-12 when my family lived in Manhattan, NYC. After moving back to Pakistan, I craved these chocolate chip cookies. Unfortunately, Nestle Toll House was not available in Pakistan back then.
Many an afternoon was spent experimenting with various recipes in an attempt to recreate my favorite classic. Over the years, as cookie bars became more popular and the experimentations continued I decided that I preferred Chewy Chocolate Chip Cookie Bars made from scratch versus chocolate chip cookies.
As I've progressed into adulthood, the recipe has matured with me and the additions of ground oats, coconut and walnuts has made this recipe my secret pleasure.
The only problem with the recipe, in my opinion, is that it's so quick and simple, you may end up making it too often!
The Recipe
The recipe for these Chewy Chocolate Chip Cookie Bars is as easy as 1 2 3! The only extra step involved is to grind the oats to the consistency of flour. These must be old fashioned oats and not Instant Oats. Instant oats are usually cut too fine and are too processed to give the best results.
The oats along with the sweetened coconut flakes help add to the density and thus chewiness of these bars.
A little bit of cornstarch added to the mixture is a tip I learned a while back from one of my favorite blogs sallysbakingaddiction.com. It helps add to the soft, chewy consistency and is always in my cookie bars since I learnt about it!
I love adding coconut and nuts to my bars but there's a variety of add ins that you can consider, depending on what pleases your palate. There are all kinds of toffee bits and chips out there as well as a variety of nuts that can be added and experimented with. As I always say, take a recipe and make it your own!
A sprinkle of salt flakes is my final touch for these bars. It enhances the other flavors and in my opinion adds some depth to the bars.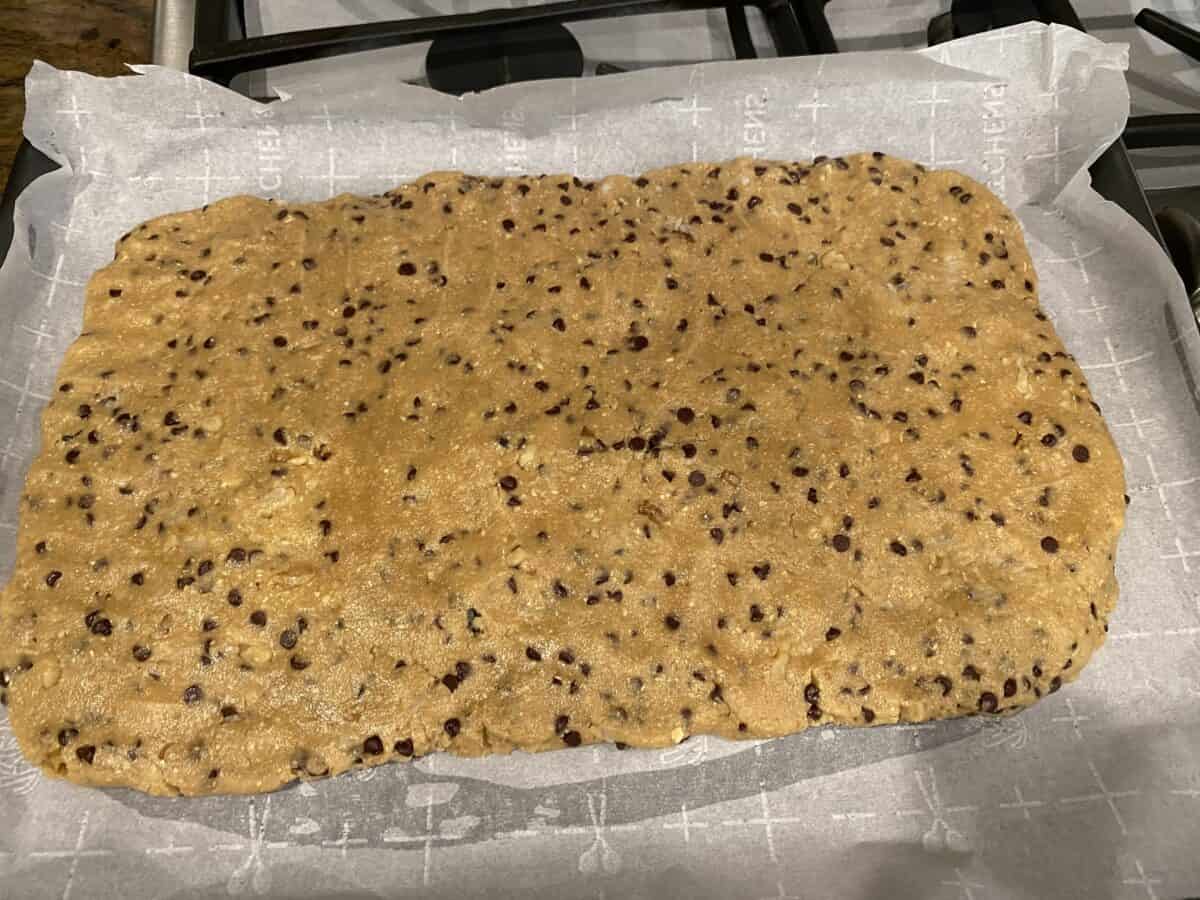 The trick to a perfectly done cookie bar is to bake it till the top is just a light golden color. The edges shouldn't be dark, as that's an indicator that the bars are getting too crisp.
As you can see below, the top is just gently cracked, hinting at that chewy center. Test the middle with a toothpick or cake tester to make sure it comes out clean. Cool, cut and enjoy!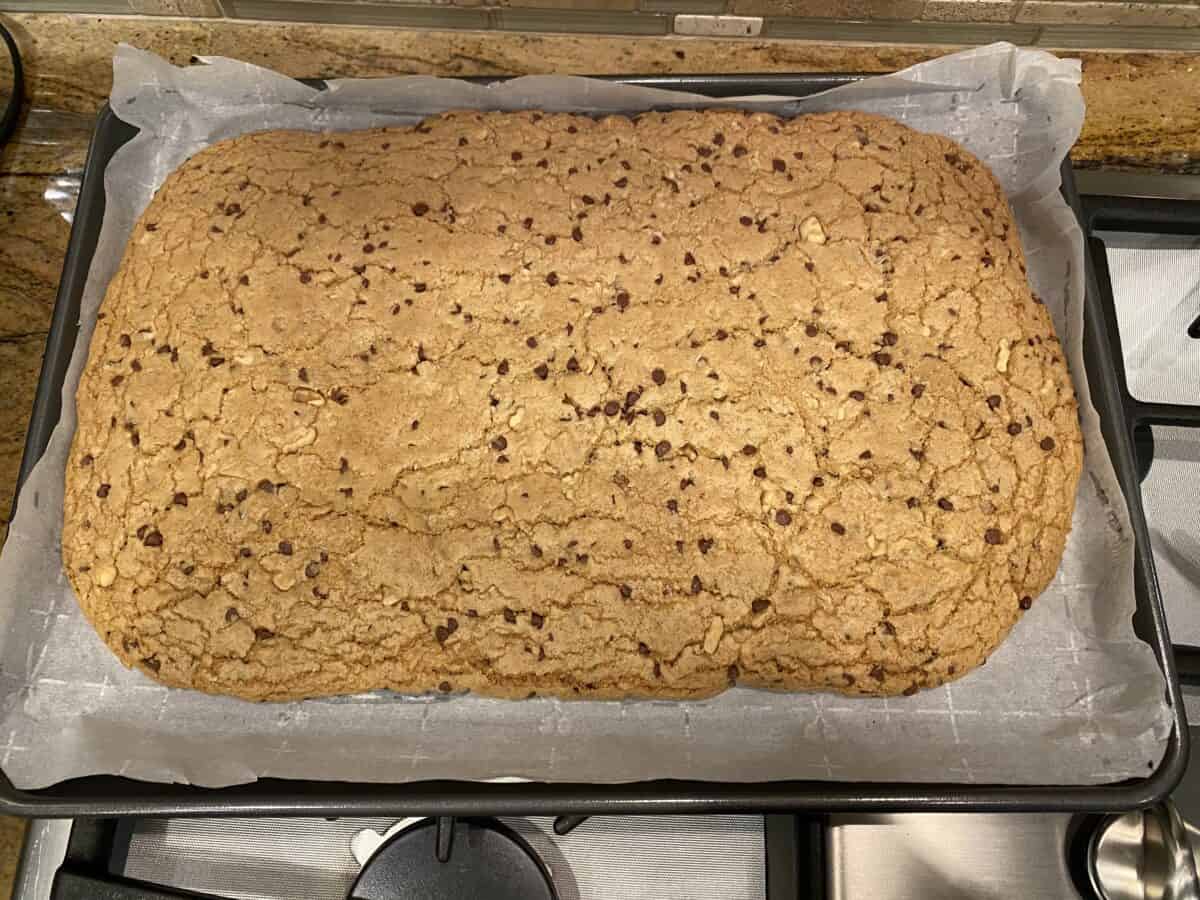 Storing The Cookies
These cookie bars can be stored at Room Temperature for 3 days or Frozen for upto 3 months. When freezing them, use parchment to prevent them from getting stuck together. Place in an airtight container or ziploc bag and freeze!
Brand Suggestions
People always want to know which brands I like to use so I thought I'd share a few of my favorites as related to this recipe:
Chocolate Chips - Ghirardelli semi sweet chocolate chips
Butter - Kerrygold unsalted butter
Flour - King Arthur, bobsredmill or Arrowhead Mills are all good brands. Just make sure to use all purpose or pastry flour for the bars.
Now to the fun part! Baking! Hope you like this recipe! Remember to drop a comment and rating!
Chewy Chocolate Chip Cookie Bars
These easy Chewy Chocolate Chip Cookie Bars are easy to make and as easy to finish! They're so good you won't be able to stop eating them!
Ingredients
1

cup

butter

(2 sticks)

1

cup

dark brown sugar

1

cup

sugar

2

eggs

2

tsp

vanilla essence

2

tbsp

milk

2

tsp

cornstarch

2

cups

all purpose flour

2

cups

oats

½

tsp

salt

1

tsp

baking powder

1

tsp

baking soda

2

cups

semi sweet chocolate chips

1

cup

chopped walnuts

½

cup

sweetened coconut flakes

salt flakes
Instructions
Line a cookie sheet with slightly raised sides (or a swiss roll pan) with parchment

Preheat your oven to 325°

Make sure the butter is at room temperature before you start.

Cream the butter and both the sugars in a mixer.

Add in the milk, eggs and vanilla.

Grind the oats in a food processor till they are a fine texture.

Add the cornstarch, flour, oats, salt, baking powder and soda to the creamed mixture and mix well.

Stir in the chocolate chips, nuts and coconut.

Spread the mixture evenly in the lined cookie sheet and sprinkle with the salt flakes (just a pinch or two)

Bake for 20-25 minutes (cooking time varies from oven to oven so it's best to check on the bars at 20 minutes)

As soon as the top is lightly brown and your tester comes out clean when inserted in the center remove the cookie bars from the oven

Once completely cool, cut into 24 even squares and enjoy!
Notes
ROOM TEMPERATURE - For best results, when baking, it's always best to have your ingredients at room temperature. I usually take my butter and eggs out of the fridge about an hour before I plan to start baking. BAKING SHEET - You can use a standard 9x13 baking tin and spread the cookie mixture evenly in it but I prefer using my swiss roll pan or a cookie sheet with raised sides. Though the batter doesn't go all the way to the edge of the sheet, the heat circulates better as the sides aren't raised and the result is a better more evenly baked cookie.
Nutrition
Serving:
1
g
Calories:
360
kcal
Carbohydrates:
42
g
Protein:
5
g
Fat:
20
g
Saturated Fat:
10
g
Polyunsaturated Fat:
3
g
Monounsaturated Fat:
5
g
Trans Fat:
1
g
Cholesterol:
35
mg
Sodium:
195
mg
Potassium:
197
mg
Fiber:
3
g
Sugar:
25
g
Vitamin A:
268
IU
Vitamin C:
1
mg
Calcium:
46
mg
Iron:
2
mg