This Sweet Corn Masala Chaat is delicious, beautiful and takes only 30 minutes or less to prepare! A delightful combination of sweet, sour, and spicy, this is a delicious afternoon or evening snack to enjoy with friends and family. Some of my greatest memories involve sharing a tasty chaat with loved ones on the bustling streets of Pakistan. Now I can whip up this recipe whenever the craving strikes!
Chaat is a street food that dates back to the 17th century per author Jasmine Kaur in her article on the history of chaat. The word chaat literally means, "finger licking" good and that's exactly what it is! A well made bowl of the snack typically includes a carbohydrates, some type of vegetable or fruit, a chutney and a crunchy topping.
Some of my personal favorites are Aloo Chana Chaat With Yogurt, Khatti Meethi Aloo Chaat and Easy Baked Taco Chaat Cups. Some of my favorite chutneys to use as toppings are Cilantro Mint Chutney and Tamarind Dipping Sauce.
Jump to:
Why you'll love this recipe
Quick & easy to prepare - This sweet corn masala chaat barely takes any time to get on the table, since there's very little cooking involved.
Perfect side for those summer BBQs - You can't beat a side with sweet corn as its main ingredient at a BBQ. With summer around the corner, you're going to want to save this one!
It's a fun twist on regular Chaat - The majority of popular chaat recipes involve ingredients like chickpeas, potatoes and fried lentil fritters. This is a much lighter and refreshing version of the old classic.
Easy to make the day before - All of the ingredients can be chopped, cooked and prepared the day before any large event as none of the main ingredients tend to wilt.
Ingredient notes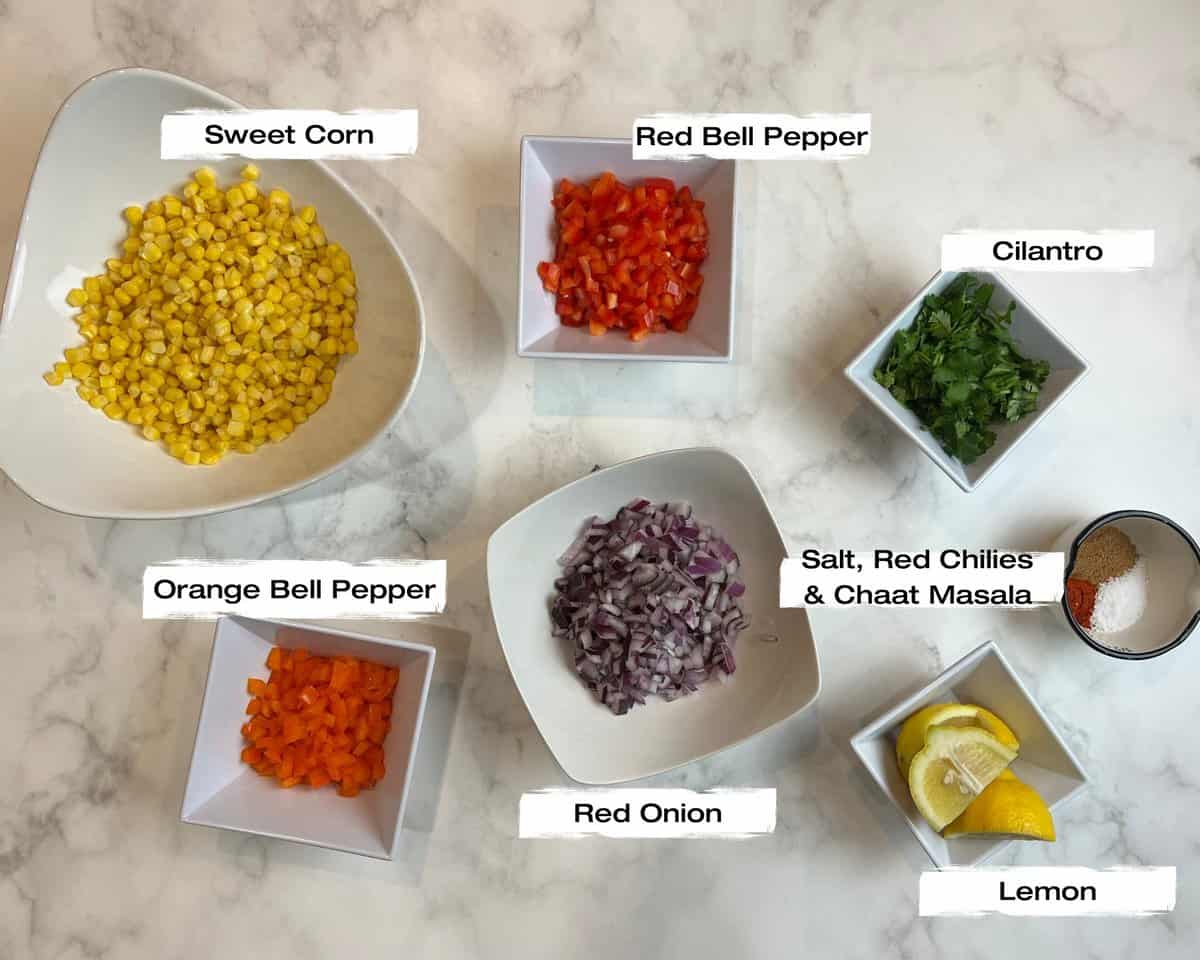 Sweet Corn - Use frozen sweet corn for best results in this recipe. Canned corn has a lot of preservatives and also tends to be a bit softer than what this recipe requires.
Orange Bell Pepper - Green bell peppers are too strong in taste for this recipe so a mix of orange and red peppers is perfect, both in taste and color.
Red Onion - The red onion has a slightly sharp taste but it's crisp texture and vibrant color makes it the obvious pick for this recipe. It's bold flavor actually helps balance the flavor of the other, sweeter, ingredients.
Chaat Masala - Chaat isn't chaat without this blend. A mixture of assorted spices, along with Black Rock Salt and Citric Acid, the delicious taste of this masala makes you forget the slightly funky smell of this popular spice.
Lemon - Since we're not using any chutney in this recipe, the lemon juice mixed with the masala is necessary to add some much needed pungency to the mix.
See my recipe card below for a complete list of the ingredients with measurements.
Substitutions and variations
Fry the corn - This would make the recipe slightly more complex but there is a variation where you can coat the cooked sweet corn kernels in a mixture of ¼ cup cornflour and ¼ cup rice flour and deep fry them for a few minutes for a slightly crunchier version of the chaat.
Use grilled corn - For a smoky taste and flavor, roast some whole corn on the cob and then remove the kernels to use in the chaat.
Add crunchy toppings - Chaat often has papdi or sev as a crunchy topping. This could add some nice texture to my original version of the recipe.
Use chutneys - Of course, I usually don't feel the need for a chutney in this recipe, but you could always add some to change things up a little bit.
Step by step recipe instructions
This recipe is so easy that there are just 4 simple steps.
Start off by steaming the corn. This is literally all the cooking there is in the recipe! In fact I usually buy a steamable bag of frozen sweet corn and just dump it straight in the microwave. No extra dishes to wash!
2. Chop all the fresh ingredients, add the peppers and onion to the corn and stir to mix them.
3. Add in the lemon juice and mix well.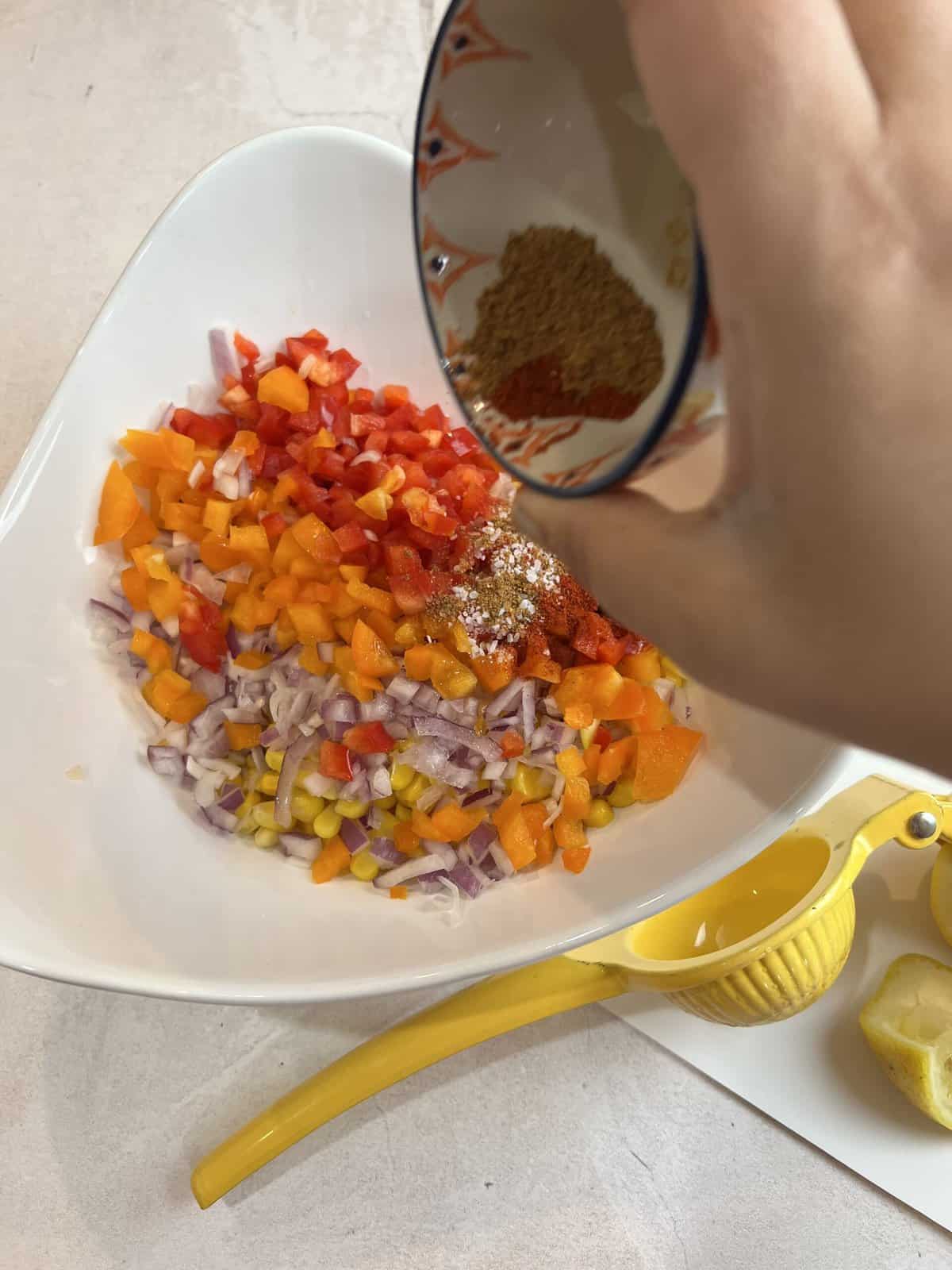 4. Add in all the salt, red chilli powder and chaat masala and mix.
5. Add in all the chopped cilantro.
6. Stir well and then enjoy! It's that simple!
Expert tips
Don't overcook the corn when steaming it. If the bag says 4 minutes, I'll usually halve the time. This keeps the corn a little crisp and tastes better.
Make sure to drain the corn after cooking it to remove any excess water and cool it completely. If this step isn't followed, the hot corn will sweat and result in a limp and soggy bowl of sweet corn masala chaat.
Last but not least, the spices! These tend to make the ingredients water a little bit so it's best to add them just before serving.
Recipe FAQS
How do I store the chaat?
You can store the chaat in an airtight container in your fridge for up to three days. Since cilantro can quickly wilt, add it in fresh on the day you eat the chaat.
Is this recipe vegan ?
This recipe is perfect for vegetarians and vegans so you can safely add it to your menu if that is a dietary concern.
Can I cook my corn on the stove?
Absolutely! Just boil some water in a saucepan, add in the frozen corn and boil for 1 minute. Remember that we want to cook the corn for ½ the recommended time for ideal taste.
Can I make my own chaat masala?
I personally use a store bought blend but fresh homemade masala is always better!
What other food does chat masala taste good with?
I like chaat masala on my fruit (yes! It tastes amazing), sprinkled on a lot of my fried foods like pakoras and even on popcorn! These are just a few suggestions but it will taste good with most savory food.
Other recipes you may enjoy with this chaat
Please don't forget to leave a rating and comment below! If you take a picture then please tag me on instagram ! Thank You!
Sweet Corn Masala Chaat
Sweet corn, crunchy vegetables, lemon juice and spices make this delicious and healthy corn masala chaat a favorite with everyone!
Ingredients
1 ½

cups

sweet corn

(see notes)

½

red bell pepper

½

orange bell pepper

½

purple onion

¼

cup

cilantro

1

lemon

½

tsp

red chili powder

½

tsp

chaat masala

(see notes)

1

tsp

salt
Instructions
Steam the corn. (see notes)

Finely dice the peppers and onion and mix well with the corn.

Add the lemon juice and the spices. (see notes)

Garnish with the cilantro and serve.
Notes
Sweet corn - I usually buy a 12 oz bag of frozen corn, place it in a microwave safe bowl with ¼ cup of water, cover it and then cook it in the microwave for 2 minutes. Remove the bowl, drain any excess liquid and let the corn cool down completely before mixing in the other ingredients.
Chaat masala - This is a special spice blend that is sprinkled on all kinds of Pakistani snacks and especially on chaat. It's a mix of assorted spices, the predominant one being black salt, well known for its funky smell. The blend is sold at all South Asian stores and on Amazon under many different brand names. My 2 favorites are Shan and National.
The lemon & spices - Feel free to adjust the spices to suit your palate. Chaat in any form is typically supposed to be tangy and spicy, but you can be the judge of how spicy you like it to be.
Nutrition
Serving:
1
g
Calories:
78
kcal
Carbohydrates:
18
g
Protein:
3
g
Fat:
1
g
Saturated Fat:
0.2
g
Polyunsaturated Fat:
0.4
g
Monounsaturated Fat:
0.2
g
Sodium:
589
mg
Potassium:
256
mg
Fiber:
3
g
Sugar:
5
g
Vitamin A:
1231
IU
Vitamin C:
57
mg
Calcium:
16
mg
Iron:
1
mg