South Indian Tomato Rasam Recipe is a delicious Indian version of tomato soup. With a 15-minute prep and 30-minute cooking time, this nutritious and delicious tomato rasam is on the table for a perfect vegetarian, vegan, and gluten-free meal.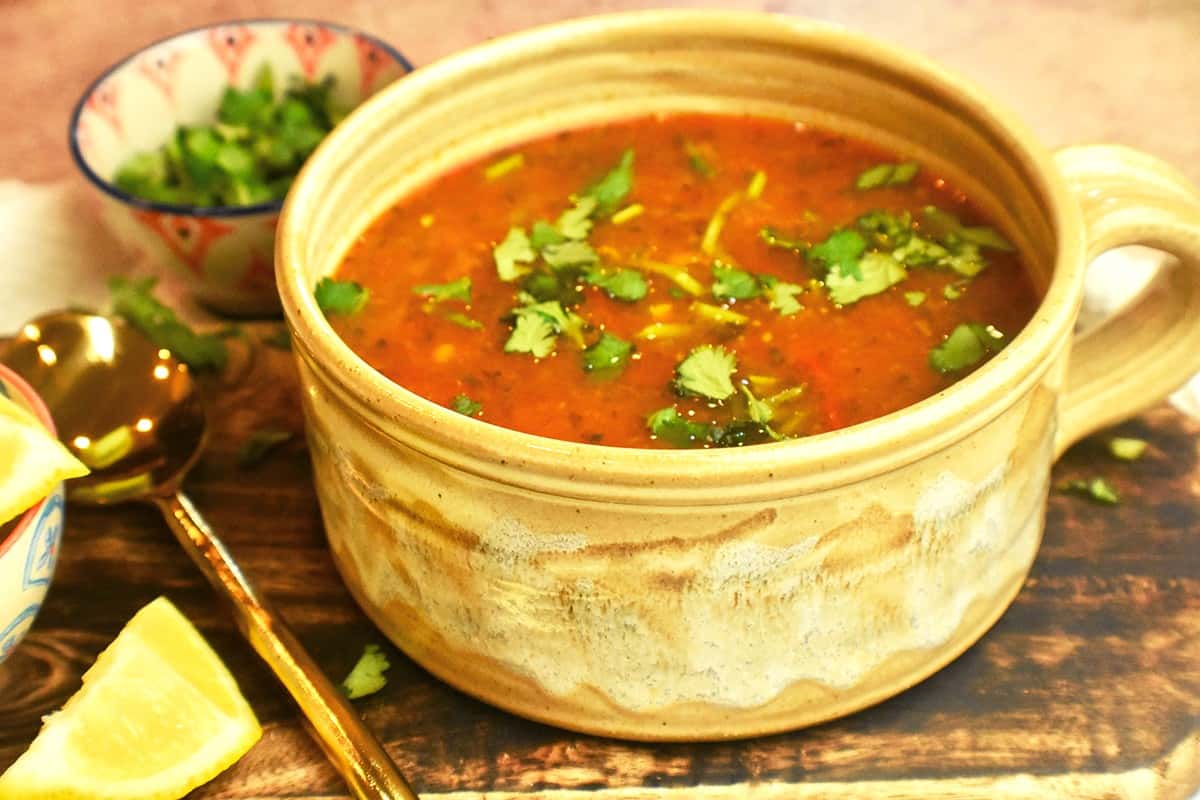 Based on an ayurvedic diet, the tomato rasam contains six required tastes: Sour, spicy, sweet, bitter, pungent, and astringent. Known for its health benefits, www.kcrw.com rightly calls it India's version of "comforting, cure-all chicken soup".
The delicious tomato rasam became even more popular after COVID-19, thanks to Chef Arun Rajadurani, and even has a write-up in the NIH National Library of Medicine.
Amongst one of the most popular recipes in South Indian Cuisine, Rasam is a delicious dish often referred to as Tomato Charu or Thakkali Rasam recipe. Although this is not a traditional Pakistani recipe, I love it enough to learn how to make it.
It features frequently in my house during winter, along with mulligatawny-soup, hot and sour soup, and Chinese chicken and corn soup.
Jump to:
Why you'll love this recipe
Healthy - This easy tomato rasam is perfect to ward off flu, COVID-19, and all other fall and winter-related ailments.
Easy, quick, and one-pot - This basic tomato rasam recipe is cooked in one pot and takes little time.
Lots of variations - Tomato rasam is my favorite. Still, there are so many other variations, such as traditional rasam (without tomatoes), ginger-lemon rasam, pepper rasam, and tomato garlic rasam, to name a few.
Vegetarian, vegan, and gluten-free - Serve this South Indian version of tomato soup with some basmati rice and a vegetable side for the perfect vegan, vegetarian, and gluten-free meal.
Great appetizer - Serve this instant tomato rasam recipe in small shot glasses as an appetizer at your next party for a mouthwatering and healthy appetizer.
Ingredient notes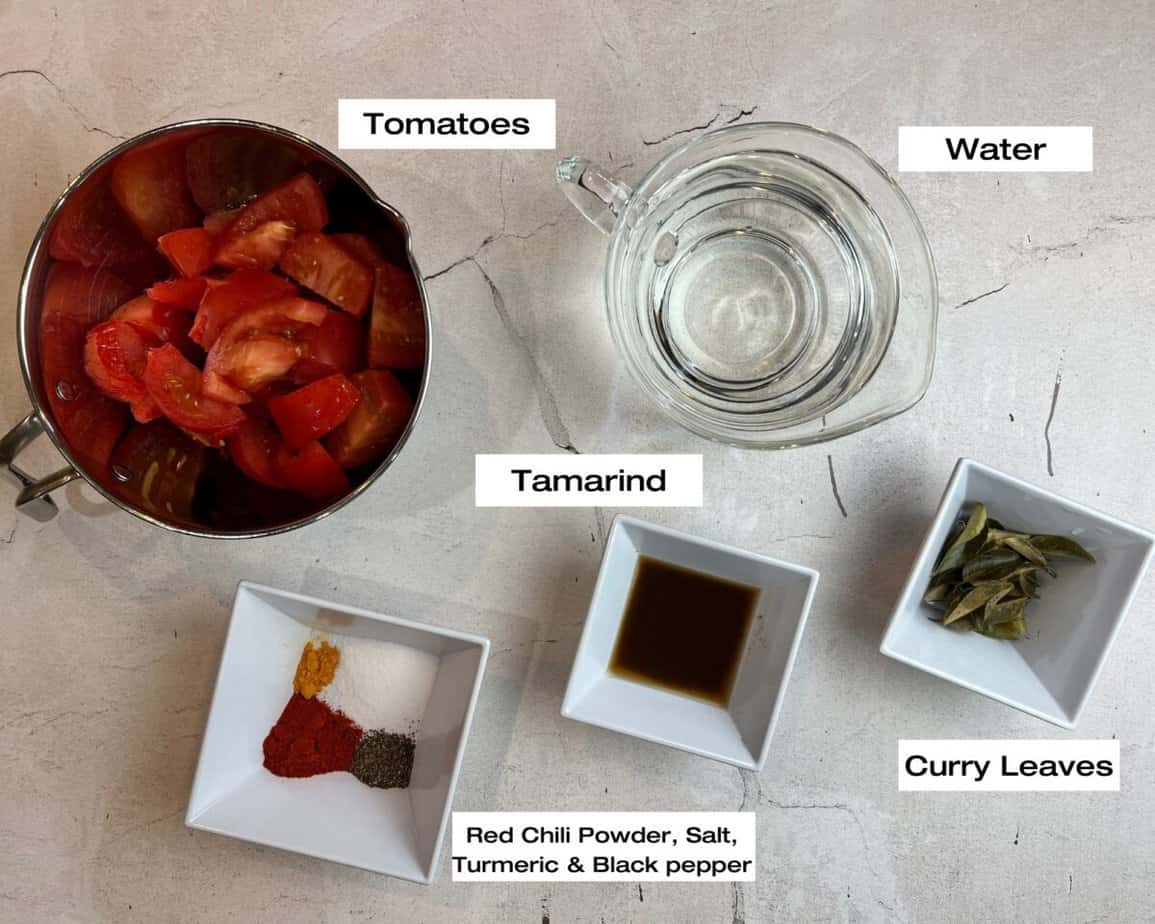 Tomatoes - Ripe tomatoes work best for this South Indian recipe. The most juicy tomatoes are Roma, and they're my go-to for this and most of my other recipes.
Curry leaves - These are essential for this tomato soup, and I highly recommend sourcing them. They are available at any South Asian store or through Amazon. There's no good substitute for these, so make your tomato rasam without them if you can't source any.
Tamarind - This recipe requires a small piece of seedless tamarind dissolved in ½ a cup of hot water or two teaspoon tamarind paste.
Spice powders - Salt, turmeric powder, red chili powder, and ground black pepper are the only powdered spices needed for this South Indian recipe.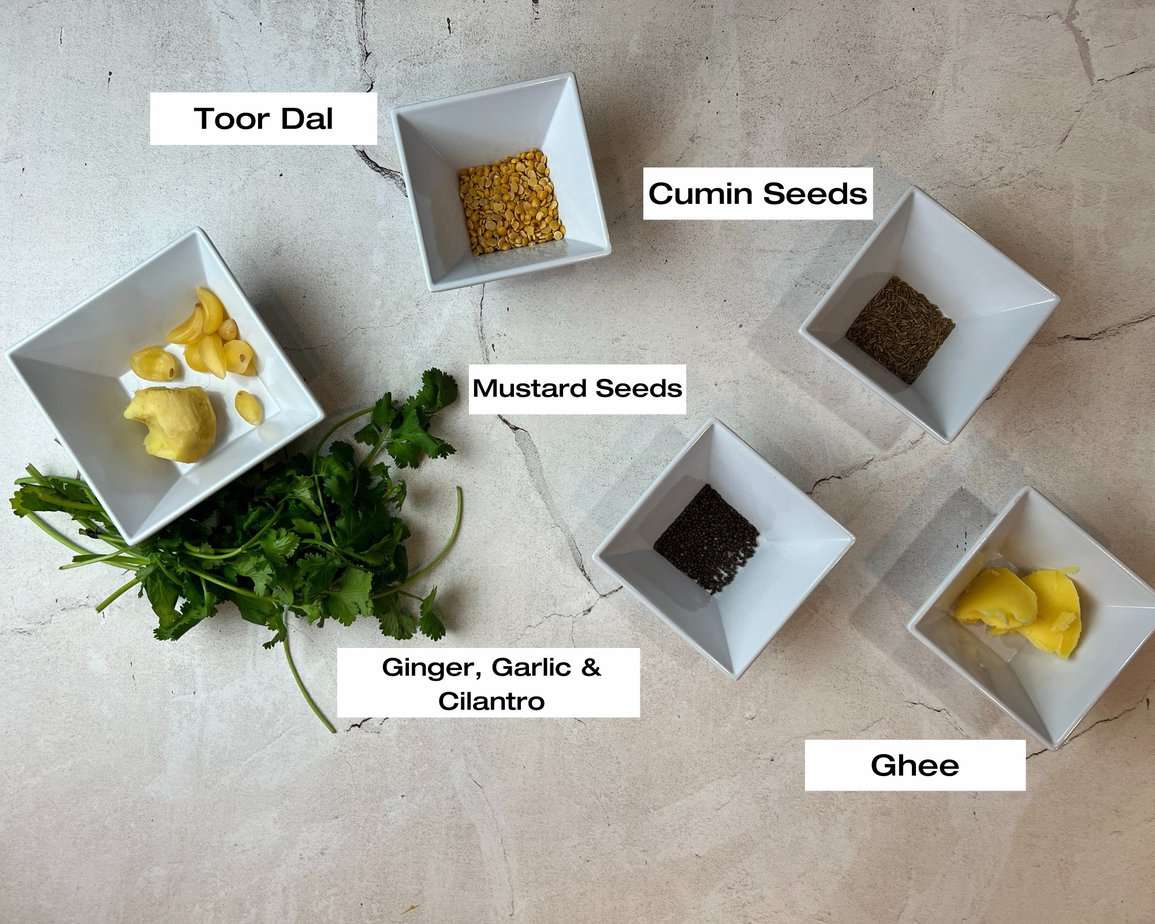 Ghee - I like to use ghee for this recipe as it gives the rasam a delicious, nutty taste. Feel free to use your preferred cooking oil as a substitute.
Toor dal - Otherwise known as Pigeon peas, toor dal helps give the otherwise watery soup a little texture.
Ginger & garlic - Ginger and garlic are used in this recipe for flavor and health benefits.
Cumin seeds - Earthy cumin seeds, tempered and added to the tomato soup, are aromatic and great for digestion.
Mustard seeds - Black mustard seeds add a pungency to the South Indian soup and are an important ingredient in Rasam. These can often be found in a supermarket. But if that doesn't work and there's no South Asian store near you, Amazon is your best bet.
Please see the recipe card at the bottom of this post for the complete list of ingredients with measurements plus recipe instructions.
Substitutions & variations
Tamarind rasam recipe - Make an easier version of this tomato soup with no tomatoes.
Omit the lentils - Some variations of the South Indian soup don't have any lentils, which shortens the cooking time.
Source a store-bought spice blend - Buy a ready-made Rasam spice blend and eliminate a lot of the prep.
Use different lentils - I like to use toor dal, but the recipe can be made with masoor (red lentils), moong (yellow lentils), or chana dal.
Step-by-step instructions
The list of ingredients for the South Indian Tomato Rasam Recipe is long, but it's a simple recipe. In order to get the best of all the health benefits, it's best to try and source everything listed.
Starting the soup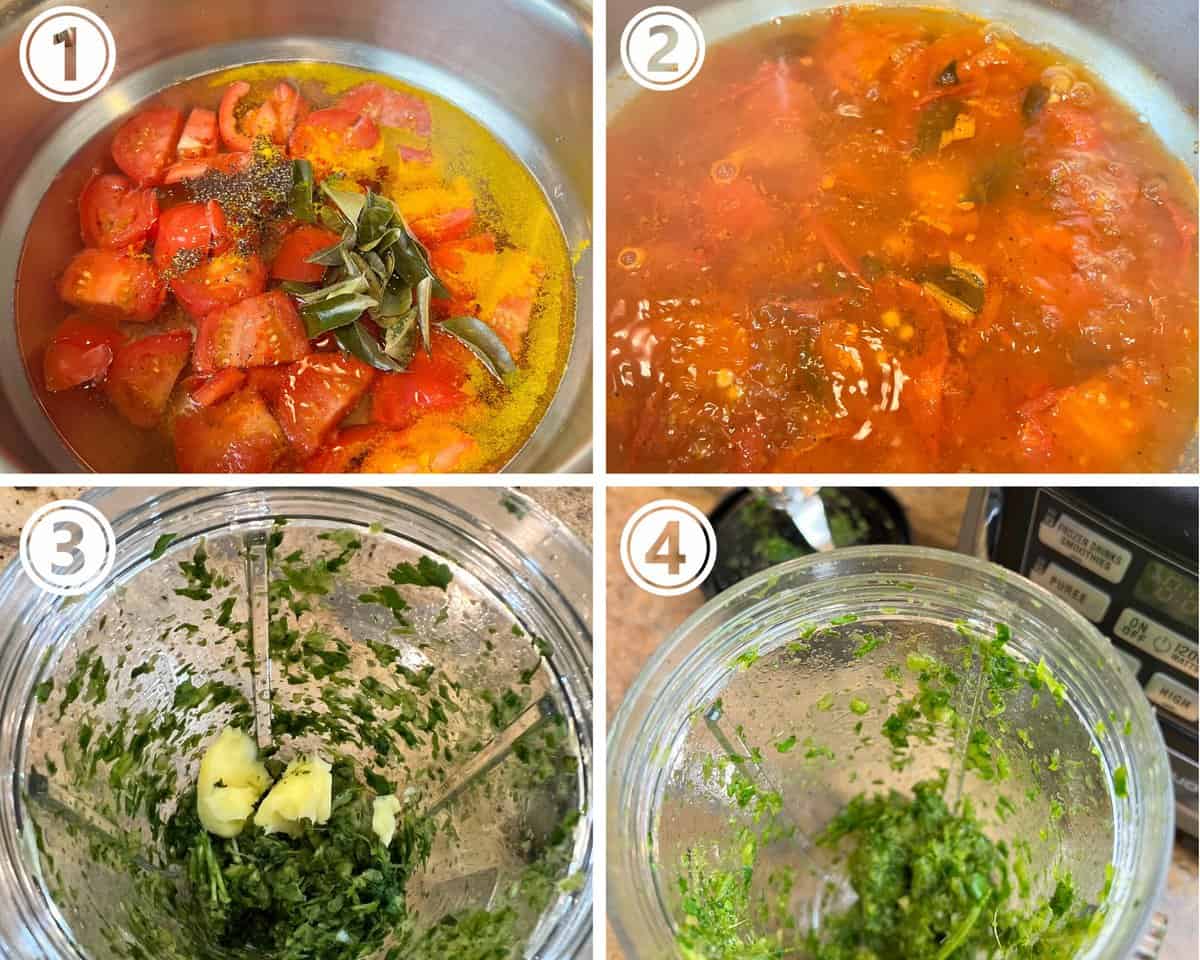 Step 1 - Some Rasam recipes call for a tomato puree, but I quarter them and throw them in the pot along with 6 cups of water. As the tomato broth slowly cooks, the ingredients release their flavor. Add in the turmeric powder, red chili powder, black pepper, salt, and curry leaves. The curry leaves will release a delicious aroma as everything cooks.
Step 2 - As the tomato soup starts to simmer, rinse and add in the lentils so they can begin to cook.
Step 3 - Start prepping the other ingredients as you wait, grinding the garlic cloves, ginger, and fresh coriander leaves (cilantro).
Step 4 - Make a coarse paste with a wet grinder or blender.
Preparing the tempering
Step 5 - Heat the two tablespoon ghee or cooking oil in a frying pan and saute 1 ½ teaspoon cumin seeds for 30 seconds.
Step 6 - Add 1 teaspoon mustard seeds and saute for 30 seconds.
Step 7 - Add the prepared garlic, ginger, and coriander leaf paste and saute for 30 seconds.
Step 8 - Add everything to the simmering tomatoes once the aroma hits you.
Finishing the soup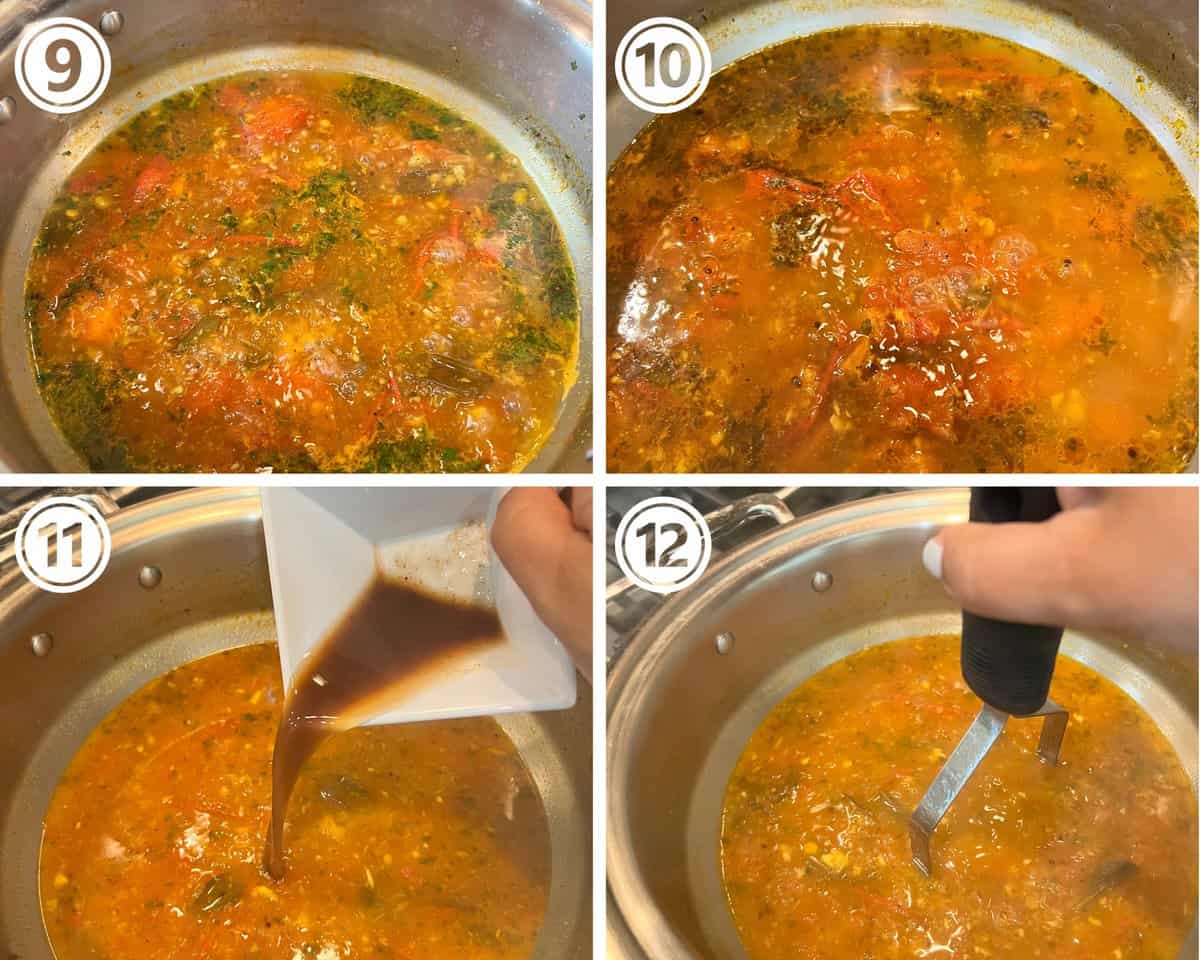 Step 9 - Continue to cook the mixture on low heat for another 10 minutes.
Step 10 - The final consistency of the tomato soup is watery, and while most of the tomatoes should have dissolved, some bits can be seen.
Step 11 - The tamarind water, made from tamarind pulp or paste, will go in last. If it's added too early, the cooking process causes it to lose some of its acidity. We want that slightly tangy flavor to dominate in the soup.
Step 12 - Cook for no more than 5 minutes after you add the tamarind, and then let the South Indian soup rest covered for another 5 before you serve it.
Expert Tips
Leave slight chunks of tomatoes - I find the rasam too watery unless there are some chunks of tomato. I highly recommend not pureeing them.
Don't overcook the spices - Overcooking the spices takes away from the aromatics and can lead to a bitter taste; for best results, adhere to the cooking timings provided here.
Rest for 10 minutes before serving - Once you turn the stove off, let the rasam rest for 10 minutes before serving it. This allows all the ingredients to release their full flavor, making for a better dining experience.
Make the rasam powder ahead of time and store it - A time-saving trick is to prepare the spice blend and have it ready for when you want to cook the soup. I usually have one jar labeled with the spice powders and another with the tempering.
Prepare and freeze tamarind water to use - I get an entire block of seedless tamarind and soak it in 6 cups of hot water. I freeze this in small ½ cup batches in my freezer to use as needed for all my recipes.
Recipe FAQS
What does tomato rasam taste like?
Tomato rasam is an aromatic and spicy broth with a tangy flavor. I don't add it, but most recipes call for one tablespoon of jaggery, an Indian brown sugar. If you want to add some, it will give the soup a hint of sweetness.
How do you eat the soup?
There are numerous ways to enjoy my soup. On its own as an appetizer, with a bowl of hot steamed rice and some accompanying vegetables as a main course. Adding a little bit of boiled rice and some vegetables to the soup takes some of the edge off the spicy and makes the meal more filling.
How do you store the soup?
The soup will stay okay in the fridge for 2-3 days in an airtight container. If you want to store it for longer, it can be frozen for up to 1 month.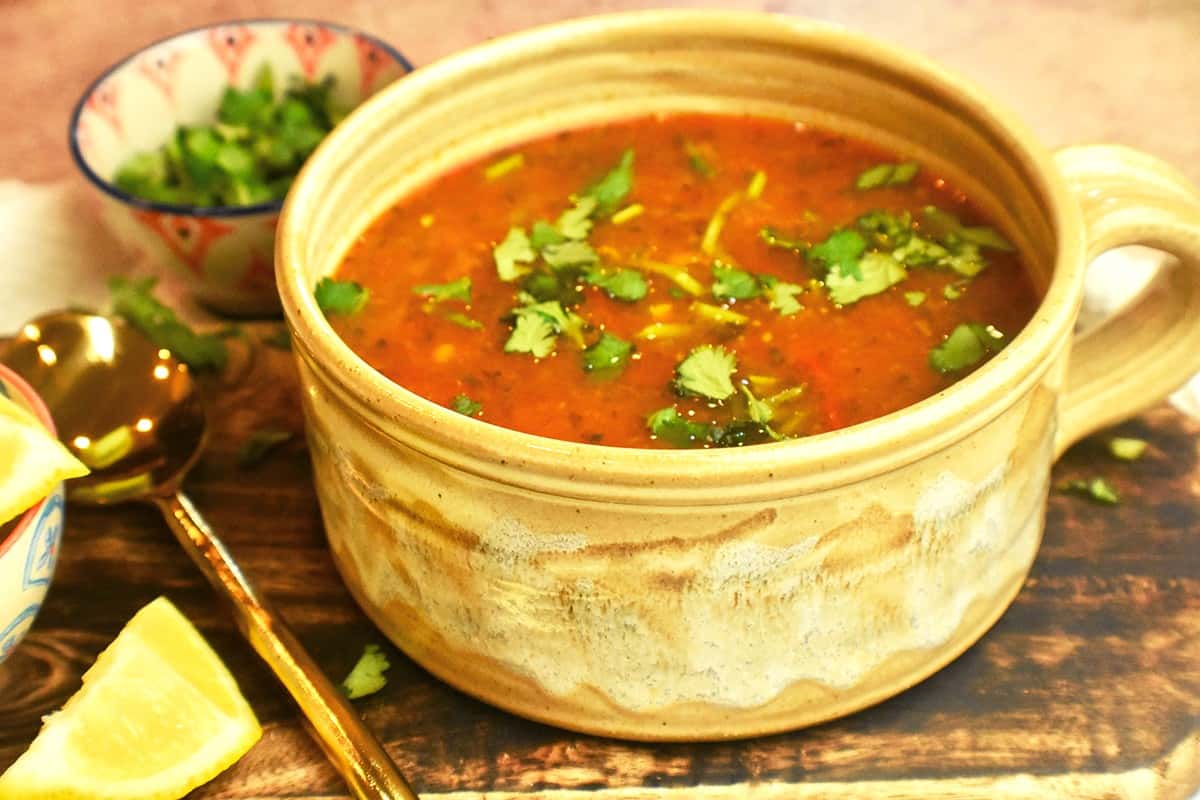 Other recipes you may like
I hope you decide to try this recipe! Please don't forget to leave a rating and comment below! If you take a picture, then tag me on Instagram! Thank You!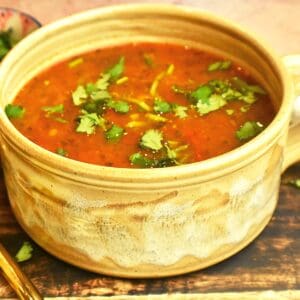 South Indian Tomato Rasam Recipe
South Indian Tomato Rasam Recipe is a delicious, easy, and healthy soup made with tomatoes, lentils, tamarind, and aromatic spices.
Ingredients
2

cups

tomatoes

(see notes)

6

cups

water

1 ½

tsp

salt

1 ½

tsp

red chili powder

¼

tsp

turmeric powder

½

tsp

black pepper

20

curry leaves

(see notes)

2

tbsp

lentils (Pigeon Peas/Toor Dal)

(see notes)

10

cloves

garlic

1

inch

piece ginger

10

stalks

cilantro

2

tbsp

ghee

(see notes)

1 ½

tsp

white cumin seeds

1

tsp

black mustard seeds

½

cup

tamarind water

(see notes)
Instructions
Chop the tops off the tomatoes and quarter them.

Place them in a pot with the salt, red chili powder, turmeric, and black pepper.

Add in the water and the curry leaves turn the stove on and bring the soup to a boil.

Wash and rinse the lentils and add them to the pot, cover, and let the mixture simmer.

Use a small wet grinder or blender to make a green-colored paste of the garlic, ginger, and cilantro.

Heat the Ghee and saute the cumin and mustard seeds, in that order, for 30 seconds each.

Add the prepared green paste and saute everything for 1 minute before adding all the ingredients to the tomato mixture.

Cook for 10 minutes, uncover the pot, and use a masher to blend all the ngredients slightly.

Add in the tamarind and cook for an additional 5 minutes.

Let the soup rest covered for 10 minutes before serving.
Video
Notes
Tomatoes - I like Roma tomatoes for their juicy and plump texture. About eight medium-sized tomatoes are 2 cups worth. Curry Leaves - Curry leaves are available at South Asian stores and add delicious taste and aroma to the soup. But if you can't source them, make the soup without them. Ghee - You can swap the Ghee for any other cooking oil you choose, but I highly recommend sticking to it. It gives a delicious nutty taste to the soup and is very easy to source, available at most supermarkets nowadays. Lentils - I like to add the lentils for a little texture, but these aren't essential. Many people make the soup without them, while others add more than two tablespoons to make it thick and hearty. While I like to use Toor Dal (Pigeon Peas), some people use Chana Dal (split chickpeas), masoor dal (red lentils), or moong dal (yellow lentils) instead. So you can experiment a little here, depending on your availability and preference. Soaking the lentils is optional. Tamarind Water - I'm in the habit of taking a block of tamarind and making tamarind water for various recipes. If you don't have any, use one tablespoon of store-bought tamarind paste instead. Since the paste is highly concentrated, one tablespoon is enough!
Nutrition
Serving:
1
serving
Calories:
144
kcal
Carbohydrates:
16
g
Protein:
3
g
Fat:
8
g
Saturated Fat:
5
g
Polyunsaturated Fat:
1
g
Monounsaturated Fat:
3
g
Cholesterol:
19
mg
Sodium:
913
mg
Potassium:
333
mg
Fiber:
4
g
Sugar:
6
g
Vitamin A:
1215
IU
Vitamin C:
116
mg
Calcium:
74
mg
Iron:
2
mg