This Hot and Sour Soup Recipe (Pakistani) is reminiscent of one of the most popular soups in Indo-Chinese cuisine. The perfect meal for this chilly weather, this soup takes just 30 minutes of active cooking time to prepare.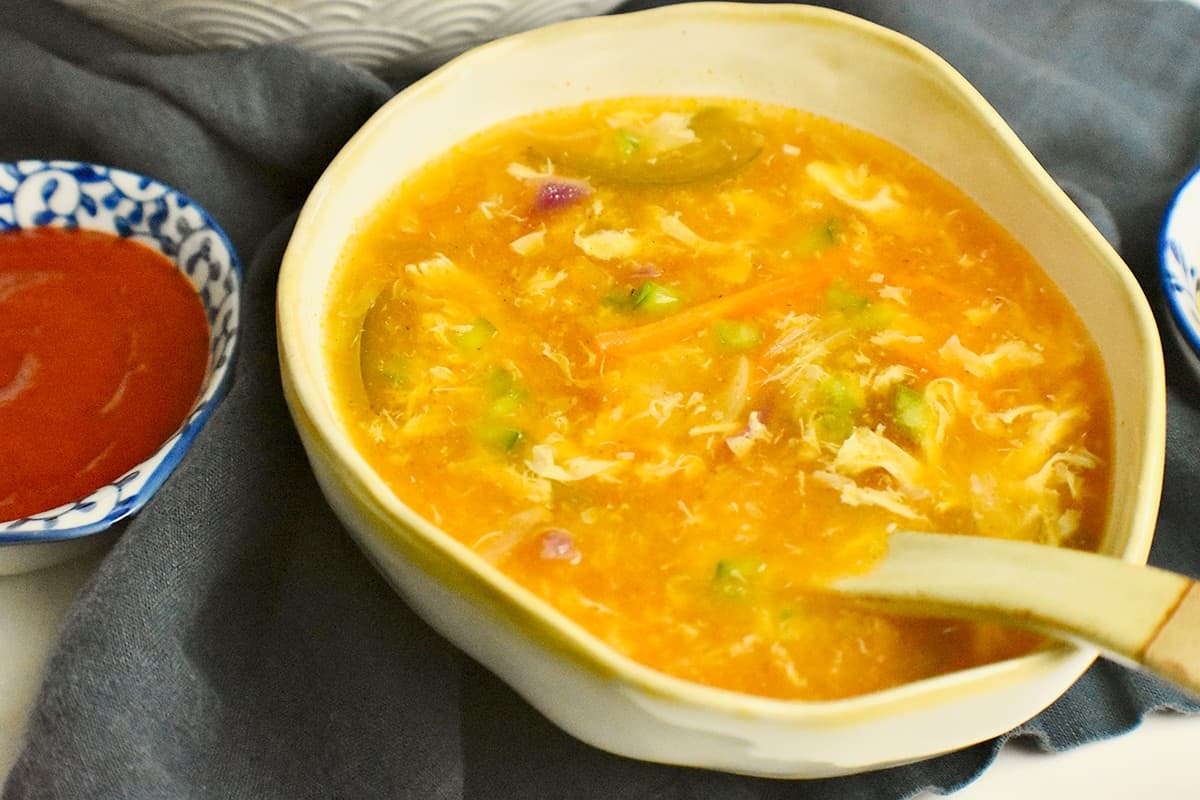 Spicy and sour, the secret ingredient in this Pakistani version of the soup is Ketchup! Ketchup features prominently in Indo-Chinese cooking as many recipes, such as this one on tastyden.com, as well as my Indo-Chinese Chili Chicken, illustrate.
Jump to:
Why you'll love this recipe
Tastes authentic - This hot & sour soup recipe has gotten so much love for its authentic Pakistani taste from everyone who's tried it.
Healthy winter meal - At only 238 calories a serving, this is a perfect guilt-free meal to enjoy during the cold weather.
Quick & Easy - With minimal chopping and cutting and lots of shortcuts provided, you'll be amazed at how quickly this hot & sour soup recipe comes together.
Ingredient notes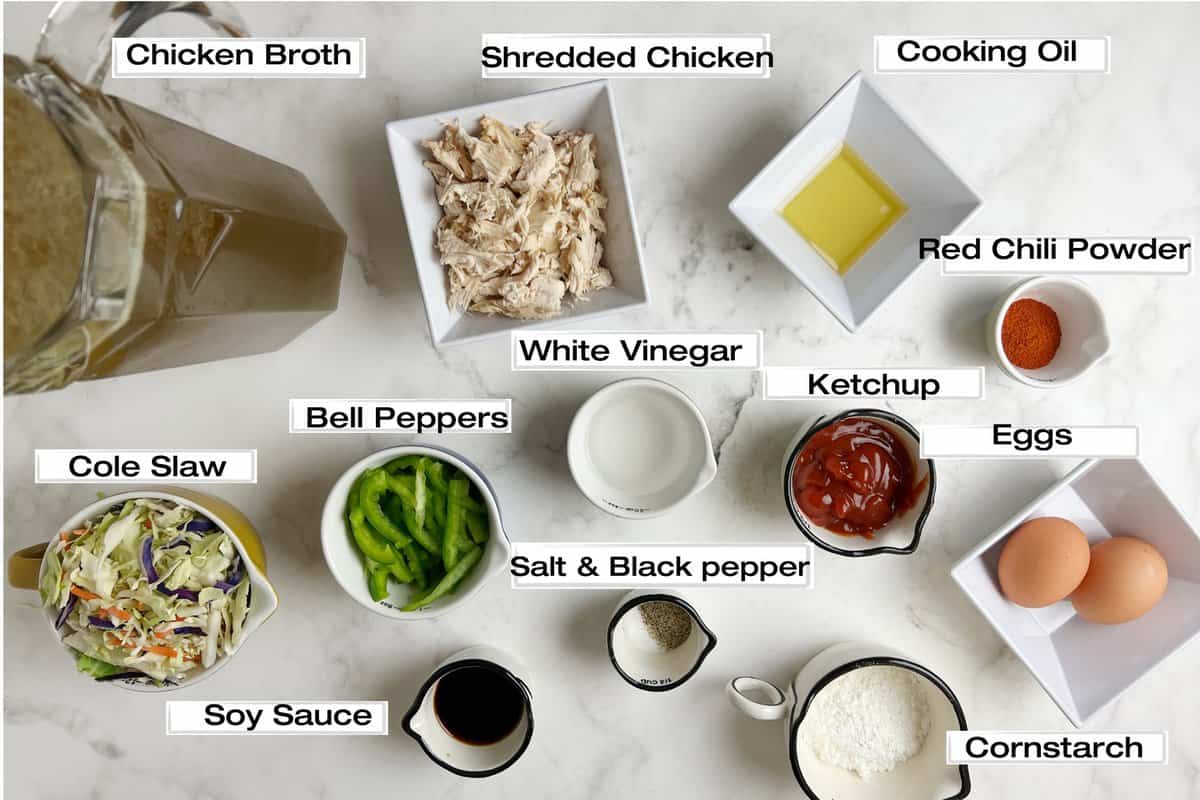 Chicken broth - I prefer to cook my own broth using my homemade easy chicken broth recipe. I find that the hot & sour soup tastes fresher and more flavorful this way. However, I would hate for you to miss out on this delicious soup just because you don't have the time to make your broth. So please feel free to use store-bought broth if that's easier for you.
Chicken - By the time the broth is ready, so is the chicken I'll need for the soup. Any extra can be used to make some bakery-style chicken patties or sandwiches. If you're using store-bought broth, you can use shredded rotisserie chicken to save time.
Coleslaw mix - Indo-Chinese food typically uses a lot of carrots and cabbage, as these vegetables are easy to source in Pakistan. I use a storebought cabbage and carrot coleslaw mix to help save tons of time chopping and cutting.
Bell Peppers - These are an integral part of Pakistani-Chinese food, so I love to slice and add some to my hot & sour soup for an authentic flavor.
Ketchup - If you've tried other Indo-Chinese recipes, you know Ketchup is essential to Pakistani Chinese cuisine. It provides the base for the chili sauce in this soup and gives the Pakistani version of hot and sour soup its characteristic red hue.
Please see the recipe card at the bottom of this post for the complete list of ingredients with measurements plus recipe instructions.
Substitutions & variations
Level up the spices - A minor adjustment in the level of chilies helps adapt the hot & sour soup to individual tastes, making this the perfect recipe.
Adjust the amount of sourness - Add a tablespoon of more or less vinegar, and the soup will be the perfect sourness level to suit your palate.
Try a vegetarian version - Use vegetarian broth and sub tofu for the chicken for a delicious meatless meal.
Make it thicker or thinner - Adjust the amount of cornstarch to make the hot & sour soup thinner or thicker, depending on how you like it.
Add some mushrooms - Although the Pakistani version doesn't have mushrooms, you can always add some if you're a fan.
Step-by-step instructions
First Step - Add the broth, the shredded chicken, all the vegetables, salt, and black pepper to a cooking pot and bring everything to a boil. Let the soup simmer on medium-low heat for 10 minutes.
Second Step - Mix the chili sauce by heating up the oil first; this fat will help bind the other ingredients together. Next, add the Ketchup and let it fuse with the oil to make a smooth and glossy base for the chili powder, which goes in next.
Third Step - Adding the chilies to a liquid base prevents them from burning, so always add them last. Let them simmer for a few minutes to blend in with the oil and ketchup.
Fourth Step - Add this mixture to the simmering broth and vegetable mixture, along with the soy sauce and vinegar. Continue to simmer the hot & sour soup on medium-low heat for another 10 minutes.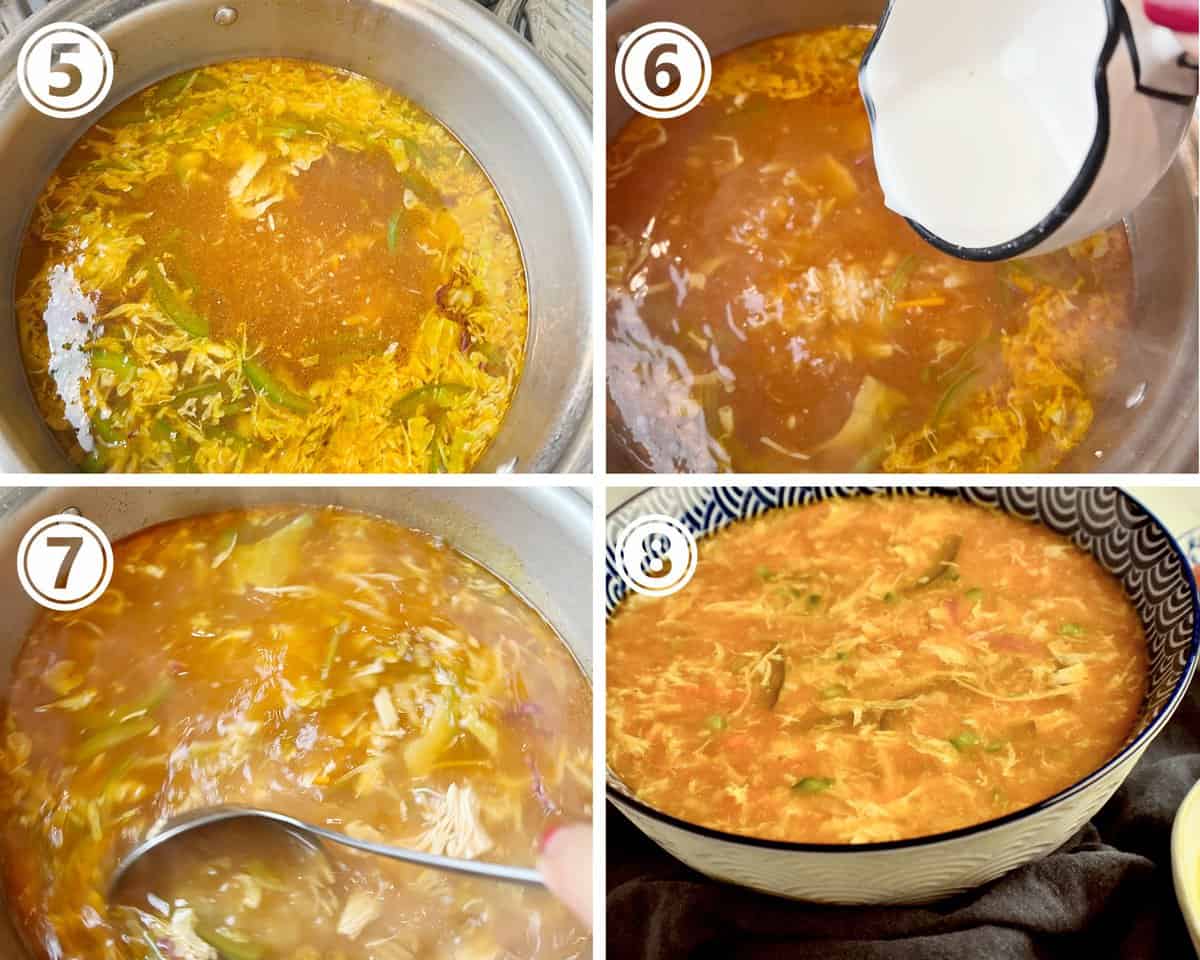 Fifth Step - The soup will be a little red after you add the sauce. However, once the cornstarch slurry is added, the color will lighten and become more muted.
Sixth Step - Add in the cornstarch slurry and stir constantly till the soup thickens.
Seventh Step - Drizzle in the beaten eggs slowly and swirl around gently with your spoon to create the egg ribbons.
Eighth Step - Garnish the soup with some spring onions and serve!
Expert Tips
How to fix a soup that is too sour - Add a pinch of baking soda to neutralize your soup's sour taste if you've accidentally added too much vinegar.
How to fix a soup that's too spicy - Add a tablespoon or two more of the vinegar to reduce the heat in a soup that's too spicy.
Saute the meat and veggies to add flavor - Doing this instead of adding just raw vegetables and plain boiled and shredded chicken adds more flavor to the soup.
How to fix a soup that's too thick - Add 1-2 ice cubes to reduce the temperature of the soup and whisk vigorously to smooth and thin out the soup to the desired consistency.
Recipe FAQS
What is Indo-Chinese cuisine?
A combination of Indian spices and vegetables are combined with traditional Chinese flavors like soy sauce, vinegar, and Sichuan to create a fusion cuisine called Indo-Chinese.
How do I store my soup?
Hot & sour soup is best eaten fresh, but if needed, it can be stored for up to 3 days in the fridge and 3 months in the freezer.
Can you reheat hot & sour soup?
For best results, reheat your hot & sour soup in a saucepan on the stovetop. Stir at intervals to make sure the soup heats evenly.
Other recipes you may like
I hope you decide to try this recipe! Please don't forget to leave a rating and comment below! If you take a picture, then tag me on Instagram! Thank You!
Hot and Sour Soup Recipe (Pakistani)
This Hot and Sour Soup Recipe (Pakistani), made with chicken, vegetables, and egg ribbons, is perfect for a cold winter day.
Ingredients
6

cups

chicken broth

(see note)

1

cup

shredded chicken

(see note)

1

cup

cole slaw mix

(see note)

½

green bell pepper

1

tsp

salt

(see note)

½

tsp

black pepper

¼

cup

corn starch

¼

cup

water

2

eggs

2

tbsp

oil

4

tbsp

ketchup

2

tsp

red chili powder

4

tbsp

white vinegar

2

tbsp

soy sauce

¼

cup

green onions
Instructions
Pour the broth, shredded chicken, cole slaw mix, bell pepper, salt, and pepper into a cooking pot.

Heat the mixture until it bubbles, then reduce the flame to medium.

Heat the oil in a separate saucepan, and then add the ketchup, red chili powder, soy sauce, and vinegar (in that order) to the oil and cook until you have a well-blended mixture.

Add this Chili sauce to the soup and simmer for 5-10 minutes.

make a slurry of the corn flour and water and add to the soup, stirring constantly to thicken.

Once the soup has reached the desired consistency, beat the eggs and drizzle slowly into the hot soup, stirring gently to make ribbons.

garnish with the spring onions and serve.
Notes
Broth - I prefer to cook and use homemade chicken broth, but if you're short on time, you can use store-bought broth.
Chicken - Shredded chicken from the homemade broth or rotisserie chicken as a shortcut are both great options for the soup.
Cole Slaw Mix - Traditional Indo-Chinese Hot and Sour soup has shredded cabbage and carrots. Cole slaw mix is much easier than chopping and cutting, so I prefer to use it, adding some finely sliced bell pepper to the mix.
Salt - If you're using store-bought broth, buy the unsalted version and adjust the seasoning as needed. On the other hand, if you're using home cooked broth and it has salt, you may need to adjust the amounts suggested in this recipe.
Nutrition
Serving:
1.5
cups
Calories:
237
kcal
Carbohydrates:
16
g
Protein:
15
g
Fat:
12
g
Saturated Fat:
2
g
Polyunsaturated Fat:
3
g
Monounsaturated Fat:
6
g
Trans Fat:
0.04
g
Cholesterol:
115
mg
Sodium:
2357
mg
Potassium:
322
mg
Fiber:
1
g
Sugar:
6
g
Vitamin A:
650
IU
Vitamin C:
20
mg
Calcium:
53
mg
Iron:
2
mg