This Lemon Swiss Roll is a delightful dessert! Vanilla sponge, filled with mango lemon curd and topped with ganache, it's heaven in each bite!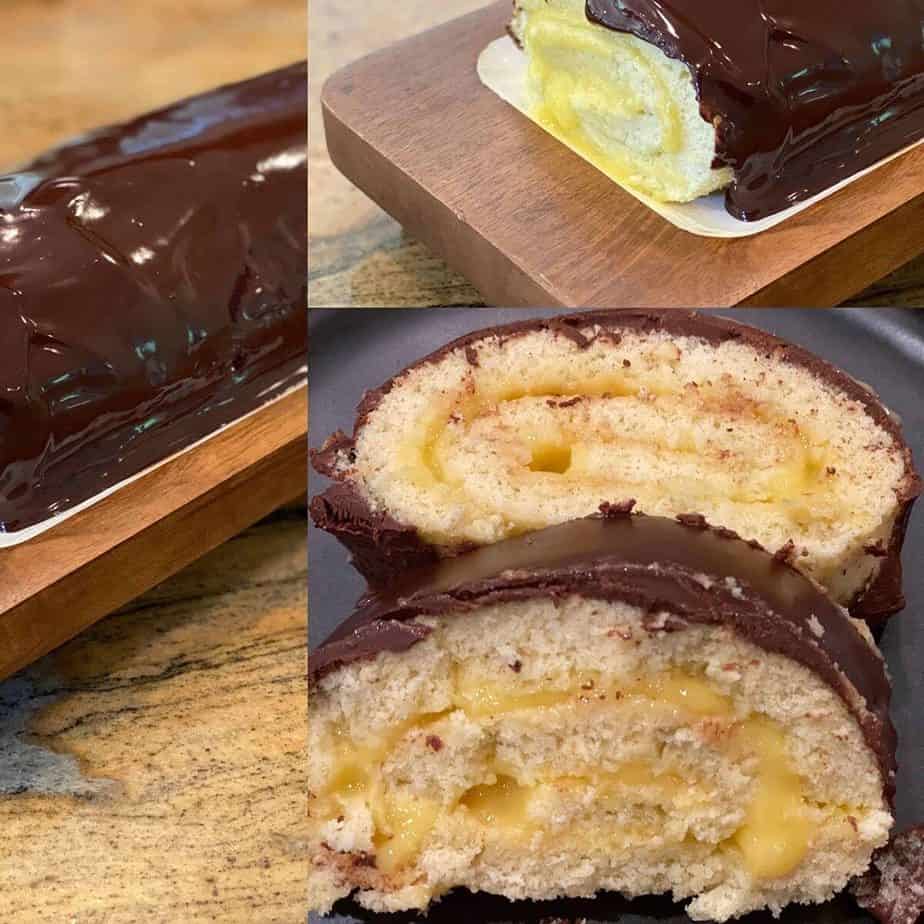 The History
The Vanilla Sponge
The Swiss Roll, contrary to its name, did not originate in Switzerland, but most likely in Austria. Whomsoever created it I've always been a big fan! What I love most about it is that It allows for a lot of creative license. One can play around with various combinations of flavor by changing just one element.
Spain gets the credit for the original sponge cake, although it's the popular Victorian Sponge that we're most familiar with. The fillings for the sponge come in many varieties. From creams to jams and fruit purees, the possibilities are limitless.
The Mango Lemon Curd
As per barkers.com.au, the original lemon curd of early 19th century England was essentially a lemon flavored custard. Eaten as a spread on toast with afternoon tea it was very different from what we are familiar with today. The recipes we use and prepare today don't have any milk or cream and have a much stronger lemon flavor.
THE CHOCOLATE GANACHE
So far we've traveled through Austria and England in creating this recipe; our last and final leg takes us to Paris, where the ever popular Ganache originated. The first known record of this recipe is from 1862. Made by confectioner Maison Siraudin and named after a popular vaudeville comedy "Les Ganaches".
Butter, oil and corn syrup are often used to add more shine to a ganache. If you plan to use it as a glaze then this may be the best option for you. Various flavors of alcohol are also commonly used to accentuate the taste as needed for a particular recipe.
The key thing to remember is to have the ideal ratio of chocolate to cream depending on how you plan to use the Ganache.
For a standard ganache the ideal ratio is 1 part cream to 1 part chocolate, for the purpose of pouring 1 part chocolate and 2 parts cream and for a thicker fudge like consistency, as icing on a cake, for example, 2 parts chocolate and 1 part cream is ideal.
MY STORY
My husband loves everything lemon and for his birthday I wanted to bake a cake that had lemon in it in some form or other. A light sponge layered with lemon curd sounded amazing! Of course, being from Pakistan where we spend the entire summer eating mangoes I couldn't resist adding my favorite fruit to this curd. Since a birthday warrants a truly special cake I thought a rich glossy Ganache would be perfect.
Voila! This Mango Lemon Swiss Roll was born! This is definitely a recipe I'll be using again! If you're not comfortable making a Swiss roll follow the recipe and bake the sponge in a regular cake tin, slice into thin layers, sandwich with the mango lemon filling and top with ganache. You'll get all of the flavor with a lot less effort!
THE RECIPE
The Key to a good Swiss Roll is having the right tools and materials and following the recipe and technique very precisely. I recommend investing in a good Swiss Roll tin, one that is raised ¾ -1 Inches on all four sides. Although this may look like a cookie tray, the raised sides allow for the sponge to rise and bake perfectly, which is critical to it being rolled out without any cracks.
The next key step is not to spread the filling too close to the edges as it will ooze out the sides and make a mess (Leave about an Inch on all four sides). Chilling the filling properly helps fill and roll the sponge. I often make the curd a day ahead of time for this reason.
In this recipe I've used a very basic version of the Ganache which is Heavy Whipping Cream and Dark Chocolate Chips. There are many variations to this basic recipe so feel free to use a favorite that you've already worked with before.
TIP:
I often end up with extra mango lemon curd and chocolate ganache. Fortunately, both store well in jars in the fridge and can be used for other desserts, like my easy-lemon-icebox-pie
Lemon Swiss Roll
Vanilla Sponge Swiss Roll Filled with Mango Lemon Curd And Topped With Chocolate Ganache! That says it all! Check out the recipe!
Equipment
Dusting Towel

Swiss Roll Tin

parchment paper

Measuring Cups and Spoons

Electric Mixer

Whisk

Double Saucepan
Ingredients
2

whole eggs

3

egg yolks

3

egg whites

1

cup

sugar

⅓

cup

water

1

tsp

vanilla extract

1

cup

all purpose flour

1

tsp

baking powder

¼

tsp

salt

2

tbsp

powdered sugar
Mango lemon Curd Filling
1

cup

chopped and peeled mango

½

cup

lemon juice

½

tsp

salt

¾

cup

sugar

1

vanilla bean

3

egg yolks

1

egg

½

cup

butter
Chocolate Ganache
1½

cup

chocolate chips

1

cup

heavy whipping cream
Instructions
Vanilla Sponge
Line a cake roll pan with parchment paper and grease

Carefully separate 3 eggs making sure there is not a drop of yolk in the egg whites

Mix the 2 eggs, 3 egg yolks, ¾ cup sugar, water and vanilla and beat well

Once the mixture is well blended add the sifted flour, baking powder and salt. Mix and set aside

Take the 3 egg whites and beat with an electric mixer until frothy. Gradually add the remaining ¼ cup of sugar and keep beating till stiff peaks form (you should be able to turn the bowl upside down and the eggs should remain stiff inside the bowl and not fall)

Gently fold the egg whites into the other egg mixture. Do not stir or mix vigorously but gently fold in. This will insure that the sponge rises

Spread onto the prepared tray and bake for 10 minutes. After 7 minutes watch the sponge carefully to make sure it doesn't over cook. The test is to gently press on the center and make sure it springs up

While the sponge is baking spread the powdered sugar on the clean dusting towel. As soon as the sponge is removed from the oven flip it onto the towel. Remove the greasy parchment paper and replace it with a clean and dry sheet of parchment.Gently roll the sponge along with the towel and parchment, handling carefully so as not to cause any cracks

Leave the roll on the counter and allow to cool completely

Once cooled, unroll, fill with the filling below and roll again.
Mango Lemon Curd Filling
Puree and strain the mango

Add the lemon juice, salt and ½ cup sugar to the mango mixture

Scrape the vanilla bean and add the scrapings to the above mixture and cook in a double saucepan until it reaches a slow simmer

Beat the egg, yolks and remaining sugar for about 2 minutes till no longer grainy

Add to the simmering liquid and cook for 7-10 minutes, constantly whisking so the eggs don't curdle

Once thickened remove the mixture from the heat and stir in the butter that should be sliced into small pieces and slowly added till fully incorporated

Cover and chill in the fridge for a minimum of 2 hours
Chocolate Ganache
Measure the chocolate chips in a bowl

Heat the whipping cream to a simmer (not a boil)

Pour over the chocolate chips and let sit for 5 minutes

After 5 minutes, stir with a whisk till you have a smooth glossy mixture

Cool for 15 minutes before pouring over your cake
Notes
Making your curd and sponge a day ahead of time is a good way to plan ahead. I do this often and it saves me a lot of time on the day of a social event. This method helps insure that everything is at the right temperature and working with the sponge and filling is much easier this way.
I prefer to use fresh mangoes but you can substitute frozen mangoes if you prefer. Avoid using canned mango puree as it often has sugar added to it and will alter the taste of the filling.
Ghirardelli bittersweet chocolate chips are my personal favorite, however if you prefer a sweeter taste, semi sweet chocolate chips would be a better option.
Nutrition
Serving:
1
g
Calories:
530
kcal
Carbohydrates:
64
g
Protein:
8
g
Fat:
28
g
Saturated Fat:
16
g
Trans Fat:
1
g
Cholesterol:
279
mg
Sodium:
434
mg
Potassium:
150
mg
Fiber:
1
g
Sugar:
49
g
Vitamin A:
1300
IU
Vitamin C:
14
mg
Calcium:
86
mg
Iron:
2
mg