About 18 years ago, soon after moving to South Mississippi, I first tried blackened fish and have been smitten ever since. Blackening refers to a method of cooking that was first made famous by Chef Paul Prudhomme of New Orleans. Today the seasoning mix he developed and used in his original recipe is commonly sold in supermarkets across the country and one of the most famous brands " Magic Seasoning Blends" actually features his picture on every container. The blend is a fusion of Creole and Cajun cooking and falls somewhere in the middle of the two as far as spiciness is concerned. While Creole cooking mainly involves the use of herbs, Cajun cooking is heavier on the use of assorted peppers in their mix. Blackened seasoning falls somewhere in the middle of these two techniques in terms of spiciness and uses a blend of herbs , peppers and other fragrant spices.
The fish is dipped in melted butter, coated with the seasoning and then cooked in a hot cast iron skillet. As the fish cooks a blackened crust forms, with the paprika in the mix giving it a nice smoky aroma. Traditionally, Blackened fish was made with Red Fish, however the seasoning has become so popular over the years it is now used with a variety of seafood as well as chicken and occasionally other meats. Whereas this particular recipe is for Tilapia, I often use my blackened seasoning on Shrimp as well, applying the same technique, dip in butter (or fat of your choice), sprinkle with seasoning and sauté or put on skewers and grill.
Of course butter tastes delicious and is part of the original recipe, but I usually save that for special occasions or when eating out and use Extra Virgin Olive oil or Avocado Oil when cooking at home. As you will see in the directions that follow, I've simply patted the fish to dry any excess moisture, sprinkled the spices on and sautéed in a bit of avocado oil to reduce the fat content even more. You are welcome to choose any one of these methods depending on your personal preference. As for the spice blend, I'll be the first one to admit that I often use a store bought spice blend, be it Magic Seasoning, Zatarain or whatever I can find easily at the store, but whenever I have a little time I prepare my own mix. It's very easy to make and if you like it as much as I do you can make a bigger batch and store it in an airtight jar for future use.
If you do opt for butter, melt one stick (for 2 pounds of Tilapia) and brush on the fish, followed by a generous coating of the spice mix and sauté in a hot pan (make sure the pan is preheated well so you get that nice blackened crust on the surface). Also remember that fish cooks very quickly and Tilapia in particular is very delicate, so try and flip only once to prevent it from breaking.
INGREDIENTS:
2 Pounds Tilapia (About 5-7 Filets)
¼ Cup Cooking Oil
Blackened Spice Mix as below

BLACKENED SPICE MIX:*
1 Tablespoons Paprika
1 Teaspoon Red Chilli Powder
1 Teaspoon Cayenne Peppe
1 Tablespoon White Pepper
1 Tablespoon Black Pepper
1 Tablespoon Garlic Powder
1 Tablespoon Onion Powder
1 Tablespoon Dried Oregano
1 Tablespoon Mustard Powder
½ Tablespoon Dried Thyme
1 Teaspoon Crushed Corriander Seeds
1 Teaspoon Cumin Powder
1 Teaspoon Salt
*This is very spicy as it's been made to suit my personal taste, half the quantity of all 5 peppers if you want it medium hot.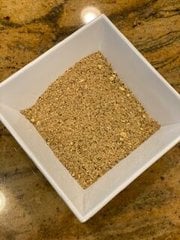 DIRECTIONS:
Place Tilapia on a cooking tray and pat dry to remove any excess moisture:
2. Sprinkle Spice Mix on both sides liberally, patting it to make it stick on the fish:
3. Heat Oil
4. Shallow Fry the Tilapia 2-3 minuets on each side, flipping only once to prevent the fish from breaking.
5. The seasoning should turn dark brown/black and form a crust but not burn.