A recent visit to Arizona inspired this Healthy Southwest Style Chicken. A quick and easy marinade, where the star ingredients is prickly pear marmalade, comes together in 5 minutes. After 30 minutes in the fridge and 15 minutes in the air fryer these juicy tenderloins are ready for your table!
Pair these with some black-bean-and-mango-salsa and sliced avocados for a true and healthy Southwestern experience.
The Marinade
Prickly Pear Marmalade
The marinade is made of just a few ingredients, the main one being Prickly-Pear-Marmalade. Prickly Pear is a vibrant pink fruit that grows on a shrub sized cactus. It's candy sweet taste is perfect for cocktails, jams and jellies. Visit the Southwest when the fruit is in season and you'll find all sorts of gastronomic delights prepared with it.
These are as delightful to look at as they are to eat ! Add to that the fact that the fruit is rich in vitamins, antioxidants, potassium and anti-inflammatory properties and you have all the more reason to eat it.
The Spices
Southwestern cuisine is a fusion of Colonial Spanish, Aztecan and Native American culture. The recipes incorporate ingredients such as corn, squash, lime, avocado, beans, sweet peppers and chilies.
The chilies used can vary from sweet to hot and from raw to smoky. In this recipe I opted for Chipotle and Chilli Guallio Spice Powder for a mild and smoky flavor to help balance the sweet marmalade.
A little bit of white wine vinegar along with some chili lime salt added a little acidity and helped fuse the sweet and smoky flavors to create a delightful blend.
Cooking The Tenderloins
Time to cook the Healthy Southwest Style Chicken tenderloins! My preferred method of cooking is the air fryer. You can't find an easier, healthier or quicker way of cooking your meats and vegetables. If you haven't jumped on the bandwagon yet then now is a perfect time to do so! Hit those black friday sales and add this to your holiday shopping list!
Of course I won't deprive you of this delicious meal even if you don't have an air fryer. You can prep it in the oven or in a grill pan as well. It will just take a bit longer. Check out all three cooking methods in the recipe card below.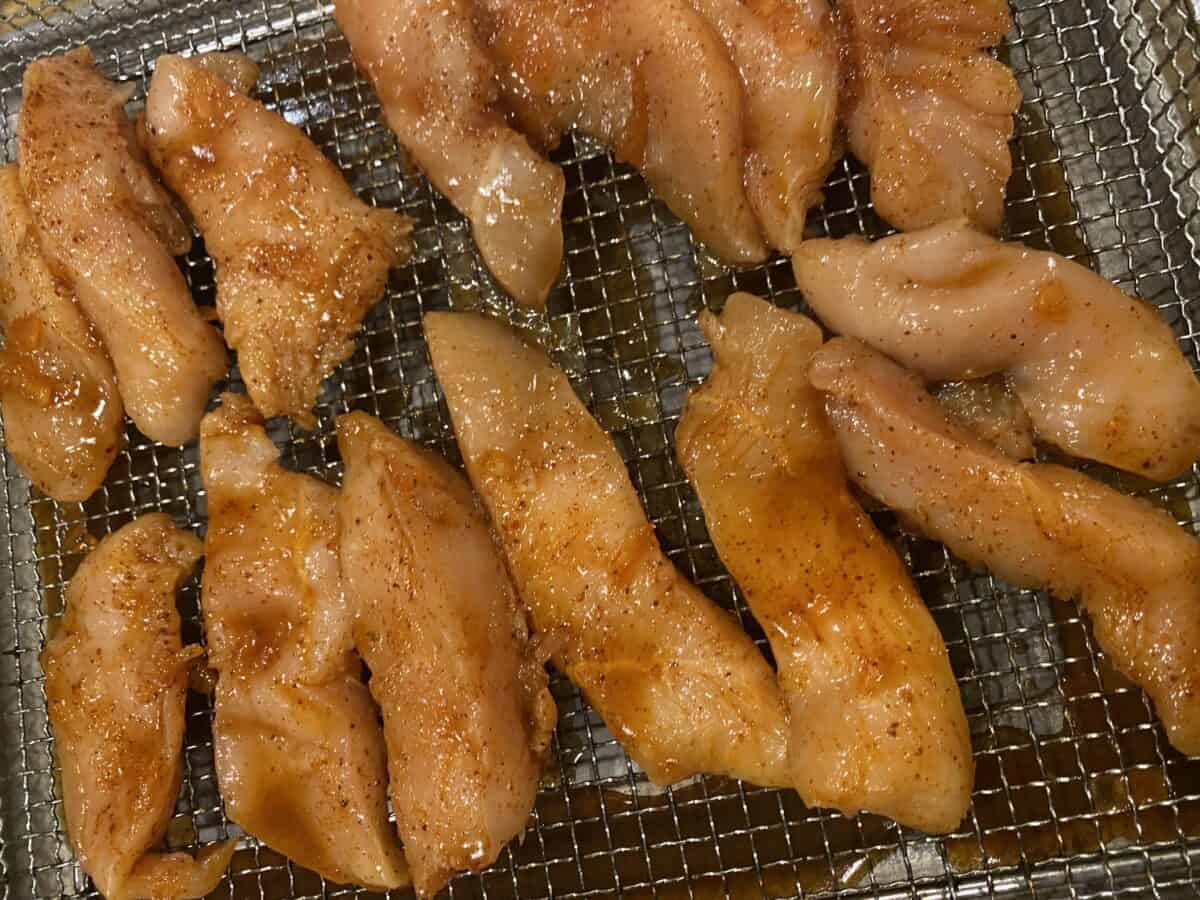 Please don't forget to rate, comment and tag on social media if you try the recipe!
Healthy Southwest Style Chicken
Healthy Southwest Style Chicken tenderloins are marinated in a blend of prickly pear marmalade and spices and air fried to perfection
Ingredients
1

lb

chicken tenderloins

⅓

cup

prickly pear marmalade

(SEE NOTES)

1

tsp

salt

1

tsp

chili lime salt

(SEE NOTES)

1

tsp

chipotle chili

1

tsp

guajillo chilli

(SEE NOTES)

⅛

cup

white wine vinegar

⅛

cup

avocado oil

(SEE NOTE)
Instructions
Air Fryer Method
Preheat the air fryer for 5 minutes at 350 degrees

Place the tenderloins in the air fryer tray and cook for 10-15 minutes till they reach an internal temperature of 165° (SEE NOTES)
Oven Method
Preheat your oven to 350 degrees

Place the tenderloins in an oven safe dish or sheet pan and cook for about 20-30 minutes (SEE NOTES)

Cook till they reach an internal temperature of 165°
Grill Pan Method
Preheat your grill pan on your stove for 5 minutes

Place the tenderloins on the pan and cook for a minimum of 5 minutes before flipping them (SEE NOTES)

Flip to the other side and cook for another 5 minutes

The tenderloins will be done in about 10-15 minutes, when the internal temperature is 165°. (SEE NOTES)
Notes
Prickly Pear Marmalade - This can be purchased on amazon if you wish to try it. However, you can substitute any other marmalade in its place as well. Chili Lime Salt - I use the Chili Lime Salt from Trader Joes but Tajin works just as well. If you don't have access to either mix ¼ tsp salt, ½ tsp chili powder and ¼ tsp lime zest to make the required 1 tsp for this recipe. Guajillo Chili - If you can't find this, you can use Ancho chili powder, New Mexico Chili Powder or just double up on the the Chipotle. Avocado Oil - You can use Avocado oil or any other oil that has a high smoke point, such as Canola or Peanut. Cooking Times - Cooking Times given above are approximate as equipment, utensils and at times altitude variations play a role in the final result. To err on the cautious side, check your meat at the earlier time given in the range above. For complete accuracy I always recommend using a thermometer. Grill Pan - To insure a perfect sear and good grill marks, a minimum of 5 minutes is necessary before flipping the tenderloins. I personally like using a grill pan but if you don't have one a regular frying pan will do.
Nutrition
Serving:
1
g
Calories:
266
kcal
Carbohydrates:
20
g
Protein:
24
g
Fat:
10
g
Saturated Fat:
1
g
Polyunsaturated Fat:
1
g
Monounsaturated Fat:
6
g
Trans Fat:
1
g
Cholesterol:
73
mg
Sodium:
731
mg
Potassium:
467
mg
Fiber:
1
g
Sugar:
17
g
Vitamin A:
623
IU
Vitamin C:
3
mg
Calcium:
18
mg
Iron:
1
mg