This Instant Pot Mexican Shredded Beef is a mouth watering modern day version of the more traditional and ancient Barbacoa. The traditional and ancient recipe is delicious but requires several hours of cooking on an open outdoor fire. Fortunately, the Instant Pot allows for us to get the same results in just a fraction of the time !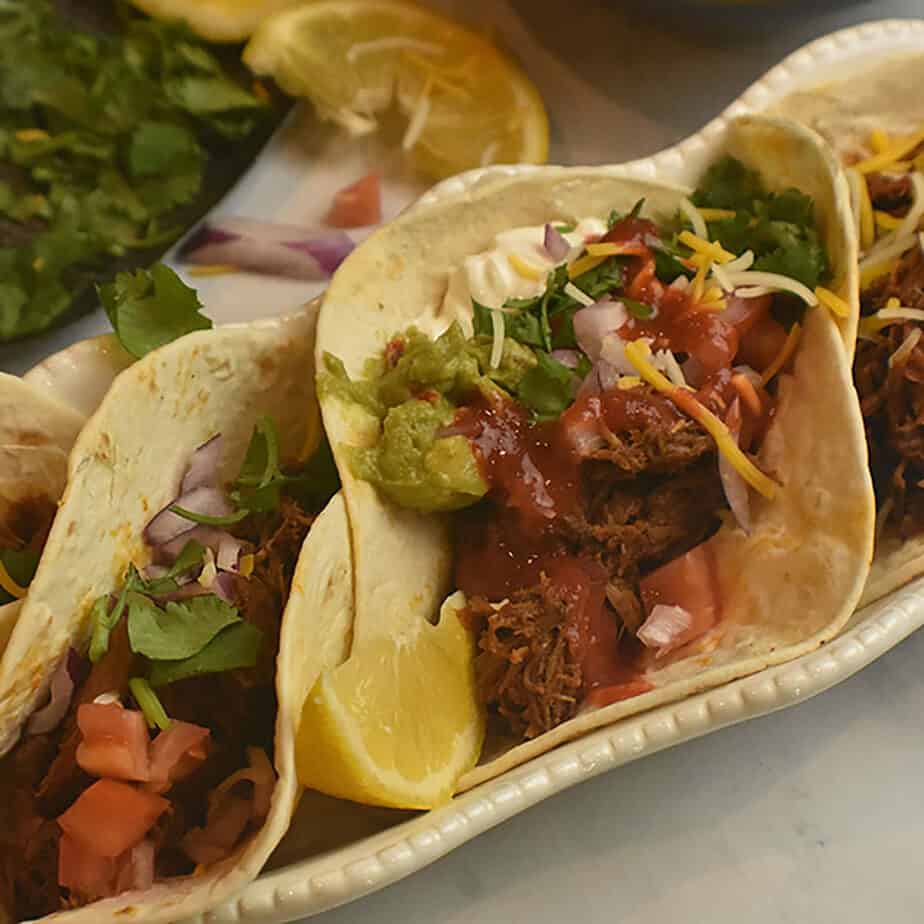 The History
Although the English word barbecue originated from the Caribbean barbacoa, per thespruceeats.com the two cooking processes have nothing in common. When we barbecue we cook on a grill, but when preparing barbacoa we steam or bake.
Per whatscookingamerica.net Spanish explorers first encountered this method of slow cooked meat when they discovered the Islands of the Caribbean. The West Indians were in the habit of preserving meat in the sun. Then, in order to prevent it from spoiling, they would build small fires and slow cook it on racks placed atop the fire.
This cooking method eventually found its way to Mexico and the modified version of it that we're familiar with today evolved. Salted meat, wrapped in agave leaves, was placed on top of hot volcanic rocks and cooked in a pit dug in the ground.
Why Instant Pot Mexican Shredded Beef
Barbacoa is traditionally slow cooked for several hours in an outdoor fire, until the meat falls off the bones. Due to this long cooking process it is usually something that's cooked on special occasions or enjoyed at restaurants. However, thanks to modern day inventions like the oven and the slow cooker, it has become easier and easier to prepare such dishes at home.
My personal favorite method of cooking it is in my Instant Pot! This one gadget has been a game changer in my kitchen and here's why!
The best part is that you only need one pot! You braise, cook and finish cooking in just one pot!
Less dishes to wash is definitely a perk!
The lid seals tightly for most of the cooking and then, during the saute stage, the pot is so deep that that there are very few splatters (as with traditional stove top cooking). Less kitchen clean Up is another huge perk!
Less cooking time! The Instant Pot takes a fraction of the time compared to other cooking methods and yields fantastic results!
If you don't own an Instant Pot I would seriously think about investing in one. But, in the meantime, if you want to try this recipe, don't fear! I've given times and method for a slow cooker and stove top method in the recipe card below!
Other Instant Pot Recipes To Try
The Recipe
The recipe for this Mexican Shredded Beef is very simple, whichever cooking method you use. The marinade comes together in under 10 minutes. Made with few and simple ingredients, the meat still has a deep and rich flavor.
The key item that helps achieve this is the tomato paste. It adds that deep, rich and complex flavor that this recipe needs. Not only does it help to thicken the sauce but it's acidity lends the perfect balance to the flavor of the meat and the smoky spices.
The quality of the meat you use is the other thing that's going to be the star of the show. My favorite for this recipe is Eye round Roast Beef. It's a lean cut, with loads of beefy flavor, very little fat and is perfect for slow cooking. Other good alternatives are:
Chuck Roast
Beef Brisket
Rump Roast
Brown the meat well on saute mode to seal in the juices. I choose to cook the whole round for 2 hours versus cutting it into 4 smaller pieces and cooking for 1 hour. I feel that I get longer shreds of meat this way and personally prefer that. However, if you're short on time, you can go for the shortcut version.
Add the entire marinade and set the Instant Pot on High Pressure for the time you've chosen (2 hours in my case).
After a natural release (It took about 20 minutes for my size roast) open the pot and see if the meat breaks apart easily. If it does, turn the pot on saute mode and start drying out the liquid.
As you stir to dry the liquid the meat shreds and ends up looking like this. I like my meat on the drier side as I find that any sauce left in drips and makes my tacos soggy. This is a personal preference and you can leave as much moisture as desired at this stage.
To balance the dryness I serve an assortment of sauces and accompaniments such as shredded cheese, guacamole, salsa, pico de gallo and sour cream on the side. My family usually loves this beef with tacos but you can use lettuce wraps or make bowls with rice as well if you prefer.
Hope you try the recipe and like it. Don't forget to drop a comment and rating below!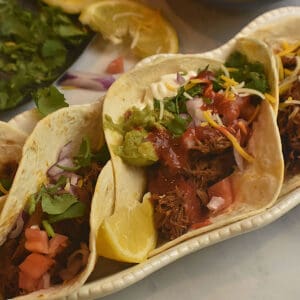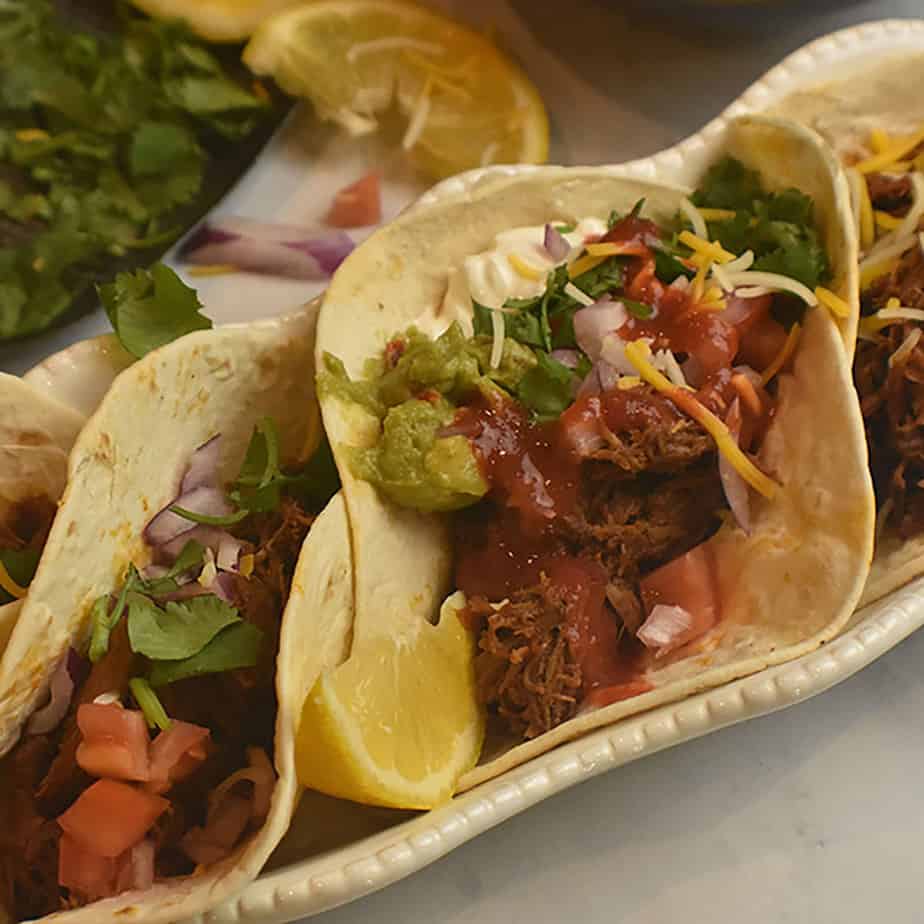 Instant Pot Mexican Shredded Beef
This tender, juicy, fall apart Instant Pot Mexican Shredded Beef has a deep rich flavor and is a great and easy make ahead meal prep option!
Print Recipe
Ingredients
3

lbs

eye of round roast

2

tbsp

extra virgin olive oil

1

yellow onion

3

tsp

garlic paste

SEE NOTES

1

can

tomato paste

6 oz

1

can

beef broth

10.5 oz

2

serrano chilies

3

tsp

salt

SEE NOTES

3

tsp

cumin

3

tsp

paprika

3

tsp

chili powder

SEE NOTES
Instructions
Dice the onion and set aside

Finely chop the chili and set aside

In a bowl, whisk together the garlic paste, tomato paste, beef broth, salt, paprika, cumin and chili powder

Add the onion and chilies to this mixture and mix well

Turn the Instant Pot on Saute Mode and heat the olive oil (SEE NOTES FOR STOVETOP AND SLOW COOKER METHOD)

Once the oil is hot, brown the beef well on all four sides (SEE NOTES)

Once the meat is browned, turn off saute mode, add in the marinade Seal the lid and cook on High Pressure for 2 Hours if your beef is in 1 big piece or for 1 hour if you've cut it into smaller pieces.

Do a natural release once the cooking time is up, uncover the Instant pot and turn on saute mode to dry all excess liquid.

While the liquid dries, break up the meat into shreds with the help of a fork.

Once the liquid is dry your meat is ready to enjoy!
Notes
Garlic Paste - I usually prep and store garlic paste in my freezer, but if you don't have any on hand, you can toss in 15 whole garlic cloves. They will dissolve during the cooking process and flavor the meat just as well. I usually estimate 1 teaspoon or 5 garlic cloves per pound of meat, so if your roast is less than 3 pounds adjust the quantity accordingly.
Salt, Chili Powder - The salt and chili powder may need to be adjusted to taste. I try to keep both at a medium level in my recipes in order to leave some margin for personal adaptation.
Stovetop - If you don't have an Instant Pot, you can easily cook this on the stove. Saute the Beef in a pot on high heat. Once it's nicely browned on all sides, add the marinade and cover with foil to seal the pot tightly before placing the lid on top. Cook on medium high for 30 minutes to create steam and then cook on low for an additional 3 ½ hours.  Once the meat is cooked through, dry all the excess liquid on high heat and then pull it apart with a fork to shred it.
Slow Cooker - Prefer the traditional slow cooker method? First sear the beef on high heat in a pan on the stove. Once it's nicely browned, transfer it to your slow cooker and add the marinade. Set to cook for 4 hours on the high setting or 8 hours on a low setting. Once cooked, shred the beef with a fork and if needed cook the residual marinade in a saucepan on the stove to reduce it.
Browning The Beef - There are two ways to brown and cook the meat. One method is to sear the entire 3 pound roast and cook it for 2 hours (In the Instant Pot). However, if you want to cut down on the cooking time, a second method is to cut the roast into 4 big pieces, sear them and cook for 1 hour. I don't recommend cutting the beef into smaller pieces as you won't get nice long shreds unless you have large chunks of meat.
Nutrition
Serving:
1
g
Calories:
101
kcal
Carbohydrates:
2
g
Protein:
13
g
Fat:
4
g
Saturated Fat:
1
g
Polyunsaturated Fat:
1
g
Monounsaturated Fat:
2
g
Cholesterol:
35
mg
Sodium:
450
mg
Potassium:
292
mg
Fiber:
1
g
Sugar:
1
g
Vitamin A:
206
IU
Vitamin C:
3
mg
Calcium:
18
mg
Iron:
1
mg