Yogurt Custard Toast, the new Viral Tik Tok trend, is definitely a keeper! I know many of you are skeptical about it, but this is simply an easy, healthy version of french-toast. How can you go wrong with that? Infact, it's almost like having dessert for breakfast, without all the extra calories!
I decided to bring in an element of my Pakistani roots to the recipe by adding some saffron, cardamom and pistachios to my yogurt custard toast. This gives the toast a flavor similar to one of my favorite desserts, Shahi Tukray and pairs perfectly with the blood red oranges that are in season.
Although most yogurt toast recipes call for soft bread, I decided to keep it healthy by using whole grain raisin bread. Lower in calories and nutritionally dense, it makes for a great start to the day. Plus, the raisins add a bit more depth of flavor to the already delicious recipe.
The Recipe
The basic yogurt toast recipe is simple and requires only a few ingredients. However, this recipe is an easy one to play around with and create some fun variations! Check out fedandfit.com for some great sweet and savory ideas!
The Ingredients
The Bread
I've chosen to use a whole grain raisin bread for my yogurt toast, despite the fact that most recipes suggest a softer bread. Everything from soft brioche, sour dough, plain white and even gluten free bread can be used.
The Egg
The egg is the most essential ingredient in this recipe. The custard will not set without one and will be too firm with the use of too many. The perfect ratio is 1 egg to 3 slices of bread. For those who avoid eggs, just use a substitute, such as a flax egg.
The Yogurt
I like to use plain Greek Yogurt and flavor it myself. However, regular yogurt as well as flavored yogurt are all options depending on your preferences.
The Sweetener
I love honey and it marries well with the other flavors in this recipe. Other options are maple syrup, agave, stevia, regular or brown sugar or nothing at all! Especially if you are using flavored yogurt, which tends to be presweetened.
The Flavorings
Here the options are limitless. Vanilla, cinnamon, lemon zest are just amongst some of the more popular options used in this recipe. Of course, it depends largely on the type of bread, yogurt and fruit you're using. Just use whatever pairs together best.
The Toppings
I like to go with what's seasonal as in this case. In fact, in this recipe I worked in reverse and let my seasonal fruit define my other ingredient selections.
Have fun with this super easy recipe and share all your creative pictures on social media! A rating and comment below would also be appreciated. Thank You and happy baking!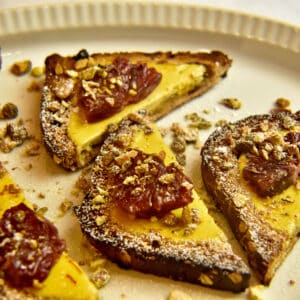 Custard Yogurt Toast
Yogurt custard toast, based on the viral TikTok trend is a healthy, baked version of french toast, topped with seasonal fruit.
Ingredients
1

egg

4

pods

cardamom

(or ¼ tsp cardamom powder)

¼

tsp

saffron

3

tsp

honey

3

tbsp

plain greek yogurt

3

slices

raisin bread

2

blood red oranges

1

tbsp

pistachios

1

tbsp

powdered sugar
Instructions
Preheat your oven to 400°.

Break open the egg and whip it well.

Crush the cardamom, discard the husk and grind the seeds to a powder.

Add the crushed cardamom seeds and saffron to the egg and mix well.

Add in the honey and mix it in.

Add in the yogurt and beat it till the mixture resembles a thick custard.

Place your toast on a non stick tray lined with parchment paper.

Depress the center using the back of your spoon to make a shallow cavity.

Gently pour some custard in the cavity.

Bake the toast in the oven for 10-12 minutes, just until the custard sets.

Remove the toast and slice them into triangles.

Place the oranges in the center of each triangle.

Garnish with a sprinkle of pistachios.

Dust with some powdered sugar and serve.
Air Fryer Instructions
Preheat your air fryer at 350° for 5 minutes.

Follow all of the instructions until it's time to bake your toast.

Air Fry your toast for 5 minutes, remove and follow all the steps to garnish.
Nutrition
Serving:
1
slice
Calories:
145
kcal
Carbohydrates:
23
g
Protein:
6
g
Fat:
4
g
Saturated Fat:
1
g
Polyunsaturated Fat:
1
g
Monounsaturated Fat:
2
g
Trans Fat:
1
g
Cholesterol:
55
mg
Sodium:
117
mg
Potassium:
160
mg
Fiber:
2
g
Sugar:
9
g
Vitamin A:
110
IU
Vitamin C:
5
mg
Calcium:
54
mg
Iron:
1
mg