These homemade brownies from scratch are so worth the effort! The best part about this recipe is the ease with which it can be adapted to suit your personal preferences! You can go from ooey gooey fudgy brownies to light, airy and cakey brownies by changing the ratios of just a few ingredients!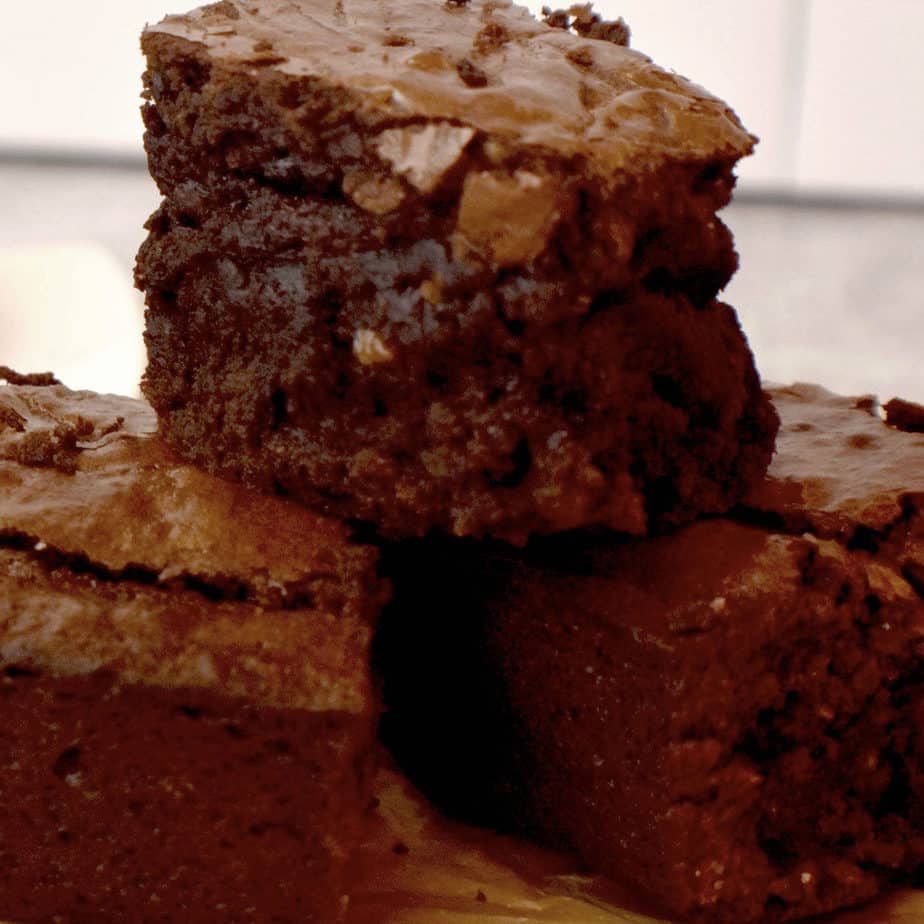 The History Of Brownies
The original brownie was a chocolaty concoction, chock 'full o nuts' and with a delicious apricot glaze. Created for an exposition in 1893 in Chicago per mentalfloss.com the Palmer House Hotel still sells it's famous dessert.
There are conflicting stories about the true origin of the brownie. Where many sources tell the above story, some write of a homemade brownie from scratch that was more of a blondie. Baked by Fanny Farmer in 1896 as an adaptation of a cookie recipe, this is the first written recipe of a brownie in a cookbook.
Then there was the chocolate brownie that showed up in "Machias Cookbook" in 1899 and the much talked about "Bangor Brownies" recipe that was published in 1904.
Whichever one of the people above actually developed the recipe, they've definitely made millions of people across the world happy!
The Story Of My Homemade Brownies
I'll be the first one to admit that I often resort to using a boxed brownie mix when the craving hits! You get perfect results with minimal efforts and you can't beat that! Once in a while though you want a brownie that delivers more than the packaged variety can.
This recipe was actually born because there's a clear divide in my family when it comes to what type of brownies we like. I like mine fudgy and with nuts but my daughters like theirs cakey with no nuts.
Their favorite cakey brownies are the ones they eat at their aunt's house on their summer visits to Pakistan. There's always a freshly baked batch waiting for us on our arrival.
Since our trip this past summer got cancelled (Thank You Covid) and this coming summers trip doesn't seem possible either we absolutely had to come up with a replica of "Chachi's Brownies" as the girls call them.
After much experimentation I'm happy to present both my favorite fudgy brownie recipe and "chachi's brownie" as the cakey one shall be dubbed from here on.
The Recipe For Homemade Brownies From Scratch
The Ingredients
I always measure all of my ingredients and set them out so they reach room temperature before I begin the mixing process. This insures a smoother workflow as some of the steps are time sensitive.
The Cakey Batter
These few key ingredients make the brownies cakey. If this is your desired texture follow the measurements closely!
Less butter means less density and thus cakier brownies.
Using a little less chocolate reduces the density and makes the brownies cakier in texture.
Adding extra flour makes the brownies less dense and coupled with a bit more leavening than you would use in the fudgy variety it will keep them a little light and airy.
The Fudgy Batter
Of course the reverse is in effect when we want fudgier brownies; more fat, less flour and less leavening. However, the one key thing to that ideal chewy texture is some brown sugar.
Brown sugar contains molasses and speeds gluten formation, resulting in a fudgier texture! However white sugar helps hold the brownies together and create that beautiful shiny cracked top so a combination of the two makes them perfect!
Homemade Brownies From Scratch
These Homemade Brownies From Scratch are so easy to make and a simple modification in the recipe allows you to get cakey or fudgy brownies!
Ingredients
Fudgy Brownies
½

cup

butter

4

tbsp

cooking oil

1

cup

granulated sugar

½

cup

brown sugar

3

eggs

6

oz

bittersweet chocolate

SEE NOTES

1

tsp

vanilla essence

¼

cup

coffee

SEE NOTES

½

cup

dutch process cocoa

¾

tsp

salt

1

cup

flour

¾

tsp

baking powder

¾

cup

walnuts
Cakey Brownies
¼

cup

butter

4

tbsp

cooking oil

1 ½

cups

granulated sugar

3

eggs

4

oz

bittersweet chocolate

1

tsp

vanilla essence

¼

cup

coffee

½

cup

dutch process cocoa

¾

tsp

salt

1.5

tsp

baking powder

1 ½

cups

flour
Instructions
Fudgy Brownies
Grease your baking pan (I used an 8x8)

Chop the walnuts and set aside

Add the cooking oil and sugar to the melted butter and stir

Add the eggs, melted bittersweet chocolate, vanilla essence, coffee and mix well

Add the salt, baking powder, flour and dutch process cocoa and mix well

Stir in the chopped nuts, pour into your baking tin and bake for 30-40 minutes (SEE NOTE)
Cakey Brownies
Grease your baking pan (I used an 9x9) (SEE NOTE)

Add the cooking oil and sugar to the melted butter and stir

Add the eggs, melted bittersweet chocolate, vanilla essence, coffee and mix well

Add the salt, baking powder, flour and dutch process cocoa and mix well

Pour into your baking tin and bake for 30 minutes (SEE NOTE)
Notes
Bittersweet Chocolate - Chop the chocolate into small pieces and melt slowly over a double boiler to insure the chocolate melts evenly and does not burn. If you don't have a double boiler you can melt the chocolate at 10 second increments in your microwave. Remember that slow is better when handling chocolate.
Coffee - You can use ¼ cup of leftover brewed coffee or mix 1 teaspoon of instant coffee with ¼ cup of water to get the desired quantity. Coffee really helps enhance the flavor of chocolate and it's an old hack my mother taught me that I religiously use.
Baking Times - Since there is variation in ovens and bakeware, I always start checking my baked goods about 5-10 minutes before the time stipulated in a recipe. This insures perfect results.
Servings and Calories - The Number of brownies in the servings and the calorie count reflect two batches of cooked brownies, cakey and fudgy, so if you opt to make only one type these numbers will vary.
Nutrition
Serving:
1
piece
Calories:
266
kcal
Carbohydrates:
33
g
Protein:
4
g
Fat:
14
g
Saturated Fat:
6
g
Trans Fat:
1
g
Cholesterol:
43
mg
Sodium:
191
mg
Potassium:
134
mg
Fiber:
2
g
Sugar:
22
g
Vitamin A:
182
IU
Vitamin C:
1
mg
Calcium:
39
mg
Iron:
2
mg
Tips For The Best Brownies From Scratch
The Chocolate
This is the one recipe where I don't compromise on the quality of chocolate I use. My go to is always Ghirardelli, but there are plenty of good options to pick from. A brownie is nothing if it's not chocolatey enough! Most brownie recipes call for a combination of bittersweet melted chocolate and dutch process cocoa. This particular type of cocoa is less acidic and yields much better flavor so I highly recommend using it.
The Fat
Ideally a butter and oil combination is best for brownies. The butter brings all the flavor and structure and the oil is what gives the brownies the moisture they need.
The Bakeware
I used a dark nonstick baking pan for my recipe and all cooking timings in this recipe are based on this. If you choose a different type of bakeware, aluminum or pyrex, you may need to adjust the timings. A good rule of thumb is to check the brownies 5-10 minutes before the prescribed time to prevent overbaking.
The Cake Test
Checking your brownies for doneness with a toothpick or cake tester doesn't always work. Due to their fudgy texture the testers will always come out coated with chocolate. Once the top is glossy and slight cracks appear on the surface you can assume the brownies are done.
The Parchment paper
Parchment paper helps the brownies cook more evenly and prevents the bottom from getting too brown. Add to that easy cleanup and using it is a no brainer for me!
The Mixing
Overmixing is a complete no for any baked goods. As I mentioned in my mardi gras orange pound cake it leads to gluten formation and a leady texture versus a fudgy density. For brownies it's best to mix the ingredients with a spoon rather than using a mixer.
The Baking
I always bake on the center rack of my oven as this is the most even heat your baked goods will get. If you're baking two batches, bake them on the center rack turn by turn.
The Cooling
Always cool for an hour as difficult as that may be! The flavor develops more during this time and you'll be able to cut more even squares this way.
The Storage
As far as storage is concerned, keep the brownies in an airtight container. If you want to try a great hack add a slice of bread to the container to prevent your brownies from drying out. The shelf life of the brownies is 3 days on the counter and 5 days in the fridge.
Serving Options
Of course these brownies taste amazing on their own, but if you want to take this recipe to the next level here are some additional ideas!
Serve them warm with a scoop of ice cream.
Break them into pieces and make a brownie sundae.
Ice them with this chocolate ganache recipe!
This recipe for homemade brownies can take care of any cravings and can also be turned into a great Valentine's Day Dessert! Hope you decide to try this recipe and please don't forget to leave a comment and rate it when you do!