This Homemade Deli Roast Beef recipe is another treasure from my friend Saima's family. I gave a brief introduction to that chapter in my life through my perfect-shami-kabab-recipe last week. I thought I'd introduce you to another stellar recipe by her mother, Rehana aunty this week again. Another perfect recipe for school and work lunches, this is amazingly easy and loved by my family.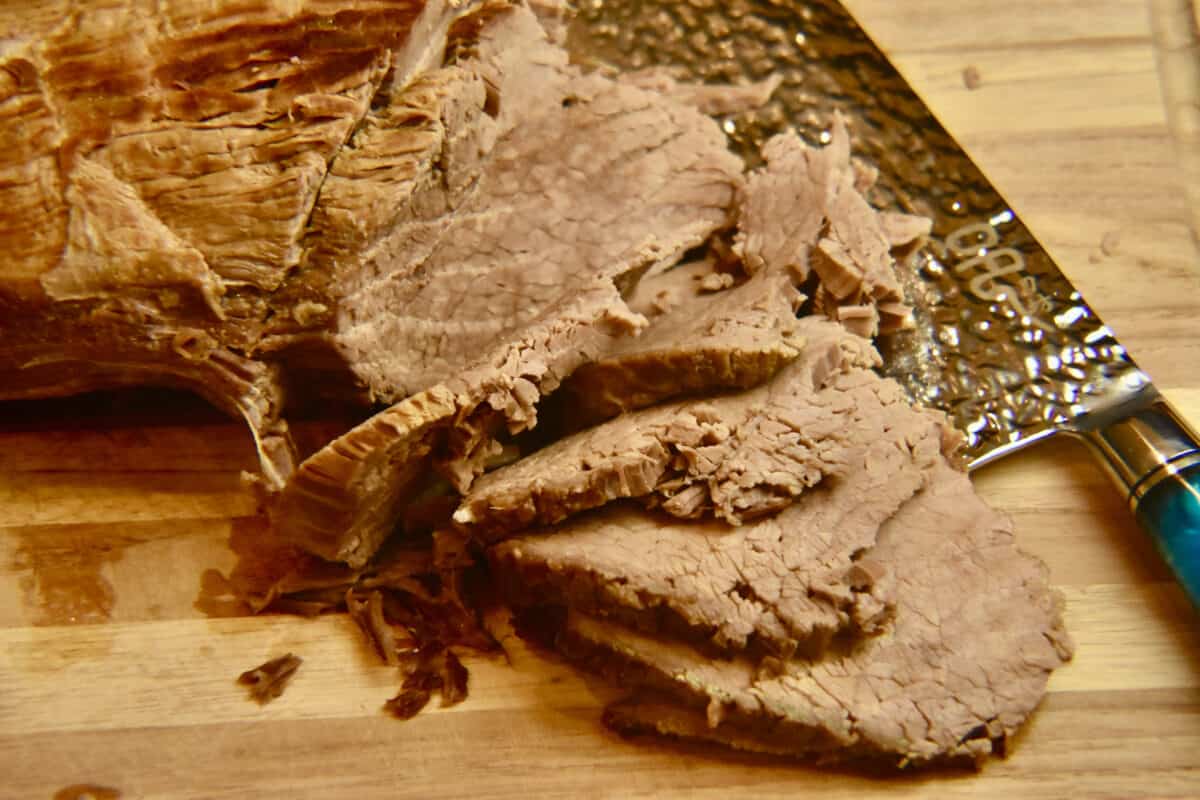 The History
First came the "Sunday Roast", a British Tradition that, in a manner, arose from the 15th Century court of King HenryVII. As per thespruceeats.com roasting meat on an open spitfire was common practice around this time. The leftover meat was then often eaten cold at the next meal or the following day.
Those who did not have a big fireplace dropped off a piece of meat at the bakers on their way to church. SInce bread was not baked on the Lord's day, the meat was placed in the cooling ovens and slow cooked.Once church was over, the meat was cooked and ready to be picked up. Hence the term, "Sunday Roast". As in King Henry's court, the leftover cold meat was consumed at later meals and the concept of "cold cuts" was born.
In the 1870's, the concept of cold sliced meats became even more popular as New York saw the birth of Jewish Delicatessens. Originally these operated as Kosher butcher shops, but eventually they evolved into the famous sandwich shops we know and are familiar with today. Deli Roast Beef features prominently in the lineup of a delicious variety of meats at these famous eateries.
My Story
Roast beef or deli meat is not a typical Pakistani food and neither are hearty deli style sandwiches. However, Hunter Beef, a cross between salted dried meat and corned beef has been popular in Pakistan since the time of the British Invasion.
Potassium Nitrate along with some spices, sugar and vinegar is applied to a large piece of meat. This is then set aside in a refrigerator for upto a week to be preserved and then boiled till it is tender. Pink in color, dry in texture and salty to taste, it was a treat when we got to enjoy some.
Due to the long preparation process, hunter beef was not easy to make at home and the job of preparing it was left to a few select bakeries. Not easily available, it was a luxury when we got to enjoy some. Until I discovered Rehana aunty's super easy and delicious recipe that is!
Rehana aunty's recipe is the perfect cross between a traditional American deli style roast beef and the Pakistani Hunter Beef. With only 3 ingredients in the marinade and a much shorter marination time, it's a great recipe to have on hand!
Once again, it's the perfect go to for those weekday school and office lunches!
The Homemade Deli Roast Beef Recipe
What Cut Of Beef To Use
For this type of roast it's best to use a lean and dense cut of beef. Something that has a lot of muscle so you can cut full slices in an even shape. My two top picks are:
How To Marinate The Meat
You can see below that the only ingredients used here for the marinade are water, white distilled vinegar and some plain salt.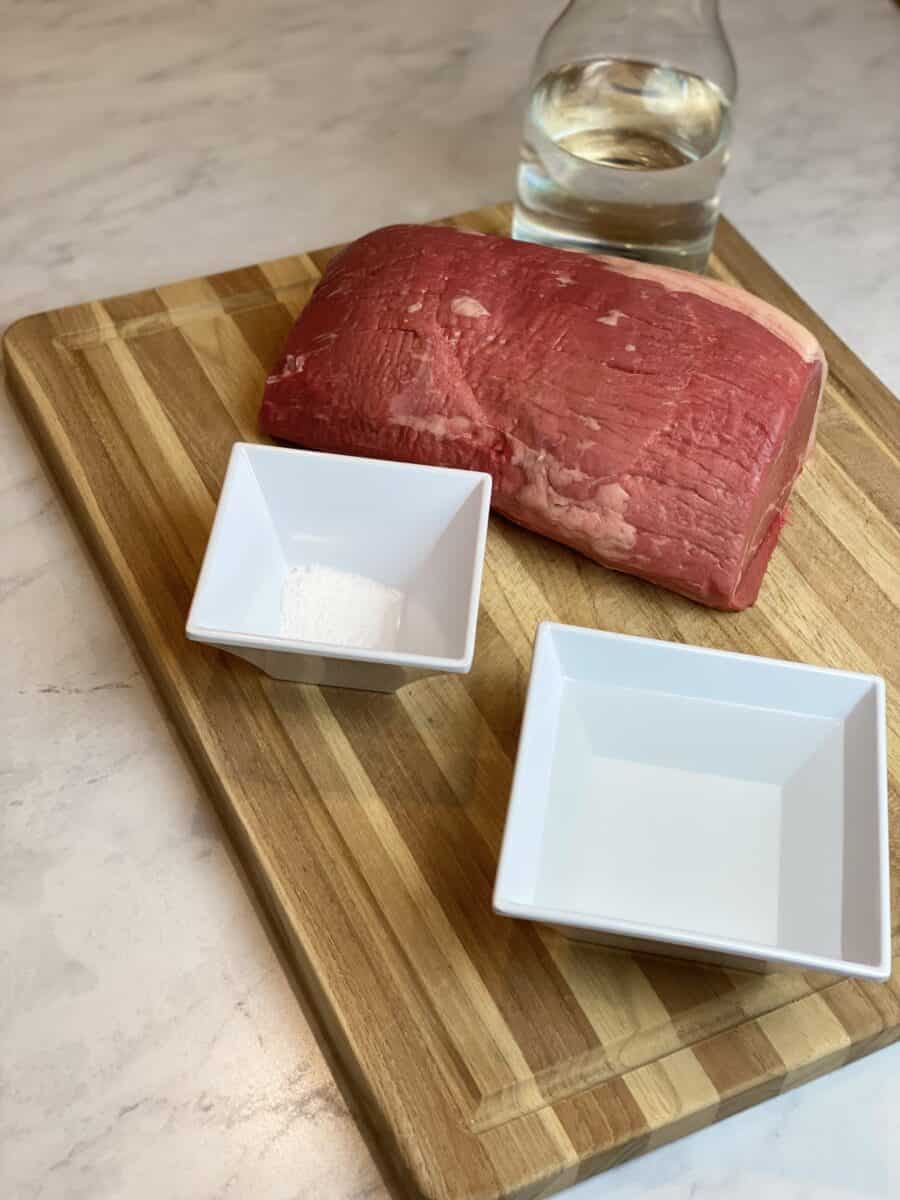 The acid in the vinegar helps to weaken the collagen and protein in the meat. As one lose protein bonds with another, liquid is trapped, making the meat juicy.
When using a dense meat, an overnight marination is a good idea. However, in order to avoid an overly acidic taste the ratio used should be no more than ⅓ cup vinegar to 2 cups of water and 1 teaspoon salt per pound of beef
Cooking Method and Times
Hunter beef is traditionally boiled and that's the cooking method used in this recipe. Once it's time to cook the roast, you rinse off the marinade and pat it dry.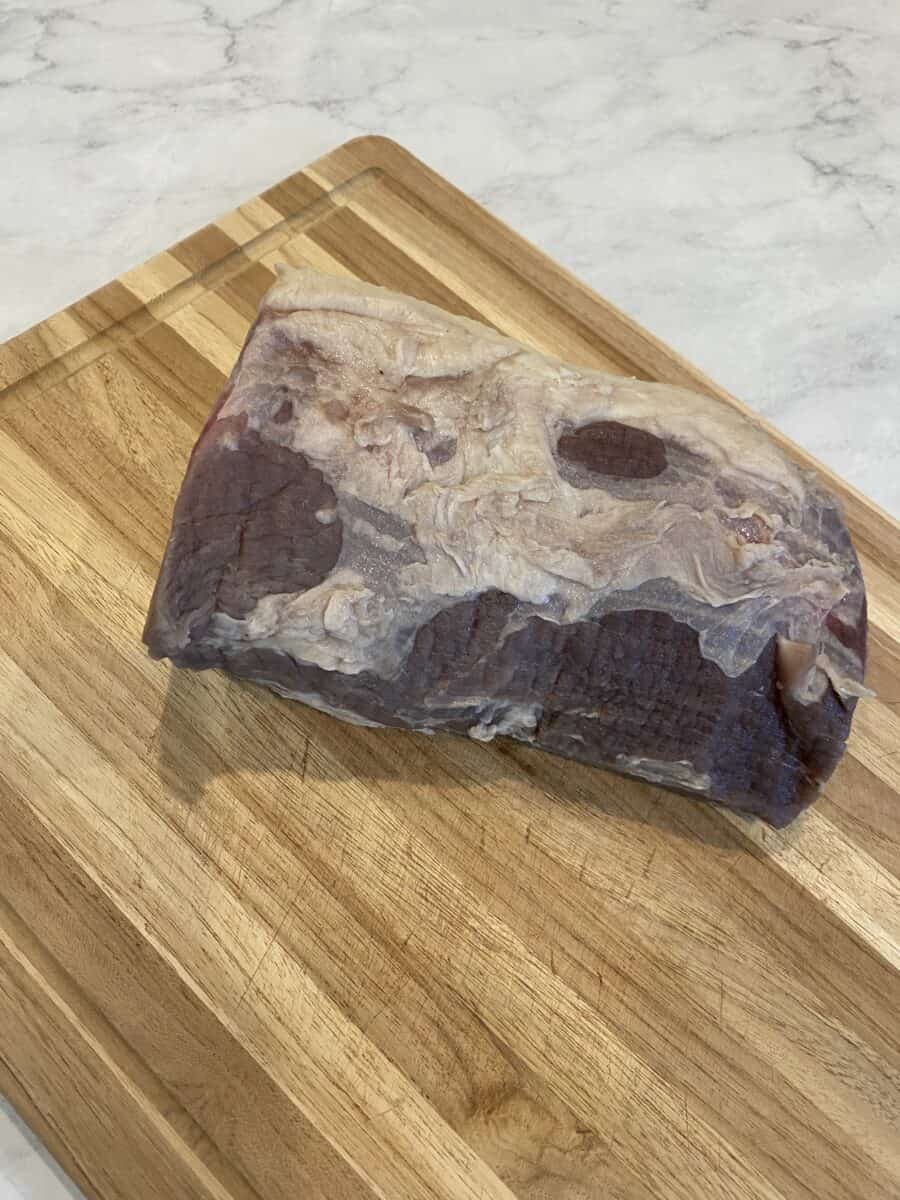 Then heat some oil and sear it well to seal in the juices as pictured below.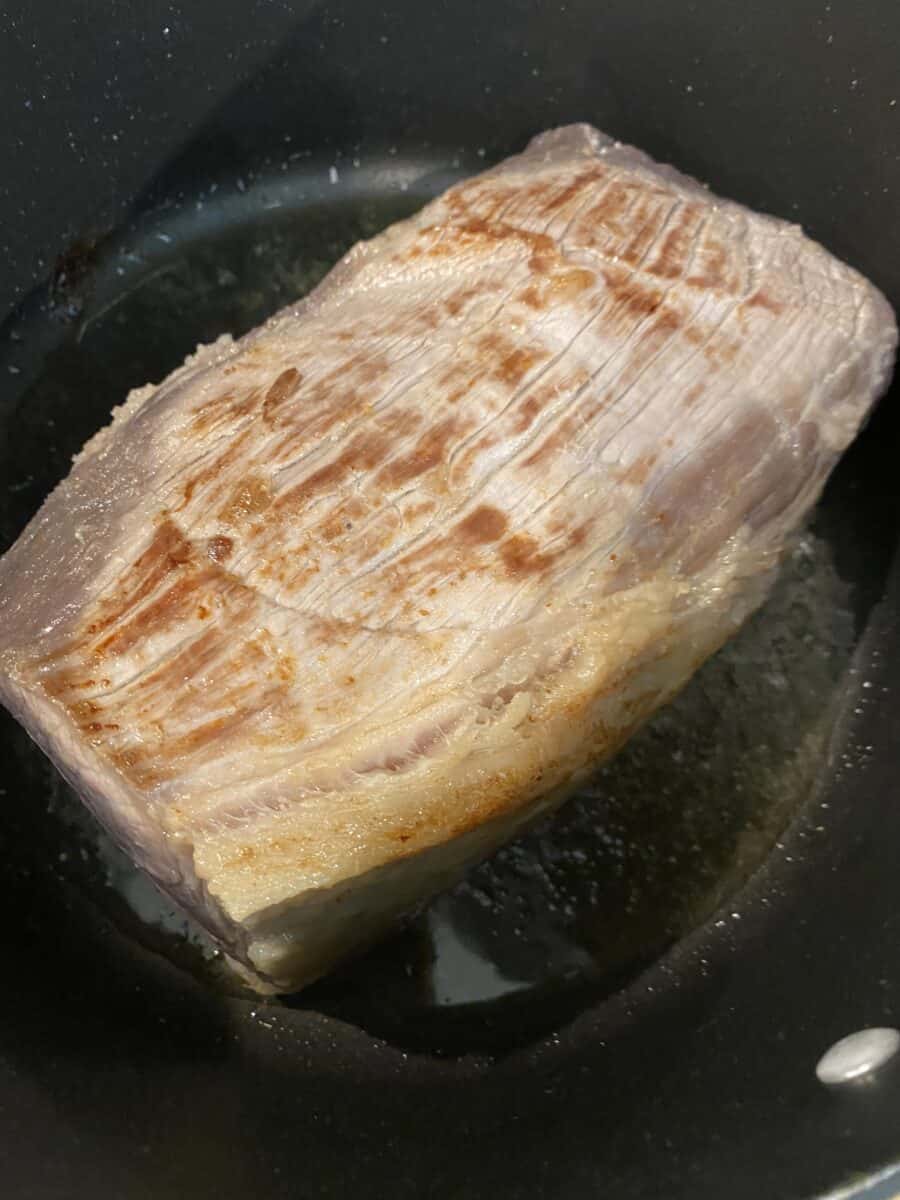 Once the meat is seared, fill the pot with water till the meat is fully immersed in water. Cover and bring to a boil. Once the water is boiling, uncover and cook on medium high for about 3-4 hours, until the internal temperature of the roast is 160 degrees which is well done.
Well done is my preferred way of cooking this roast. If you prefer it cooked to a different temperature, you can use this excellent guide at beefitswhatsfordinner.com. As always, my preferred thermometer is the Thermapen® Mk4 from thermoworks.com due to it's precision but feel free to use your favorite.
Usually, the water is almost dried out (as shown below) by the time the roast is ready.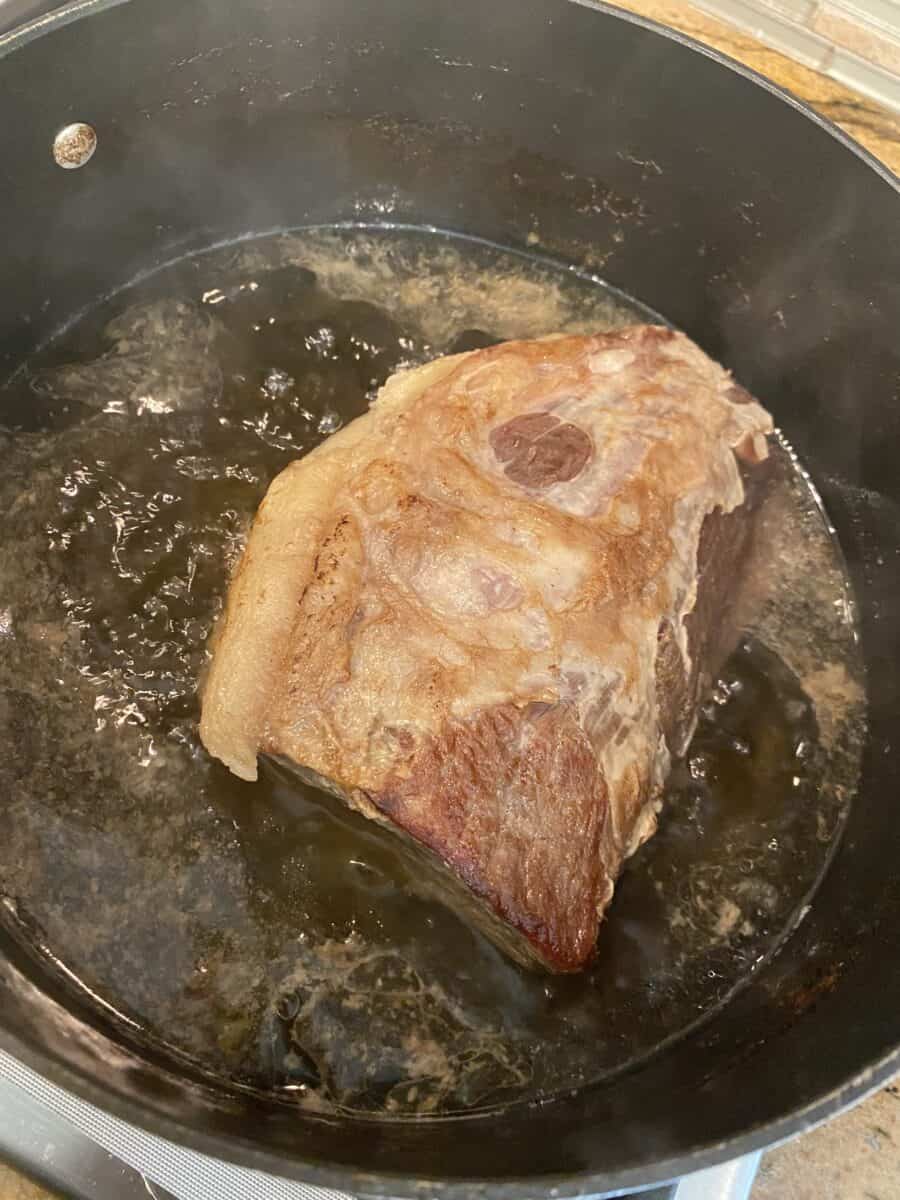 Slicing The Meat
Drain all the water, and let the meat rest on the cutting board with a tented foil for about 20-30 minutes. This helps the juices settle and makes it easier to cut the beef. After the meat has rested, remove all the fat and start slicing the meat. Make sure to cut against the grain to make the slices easier to eat.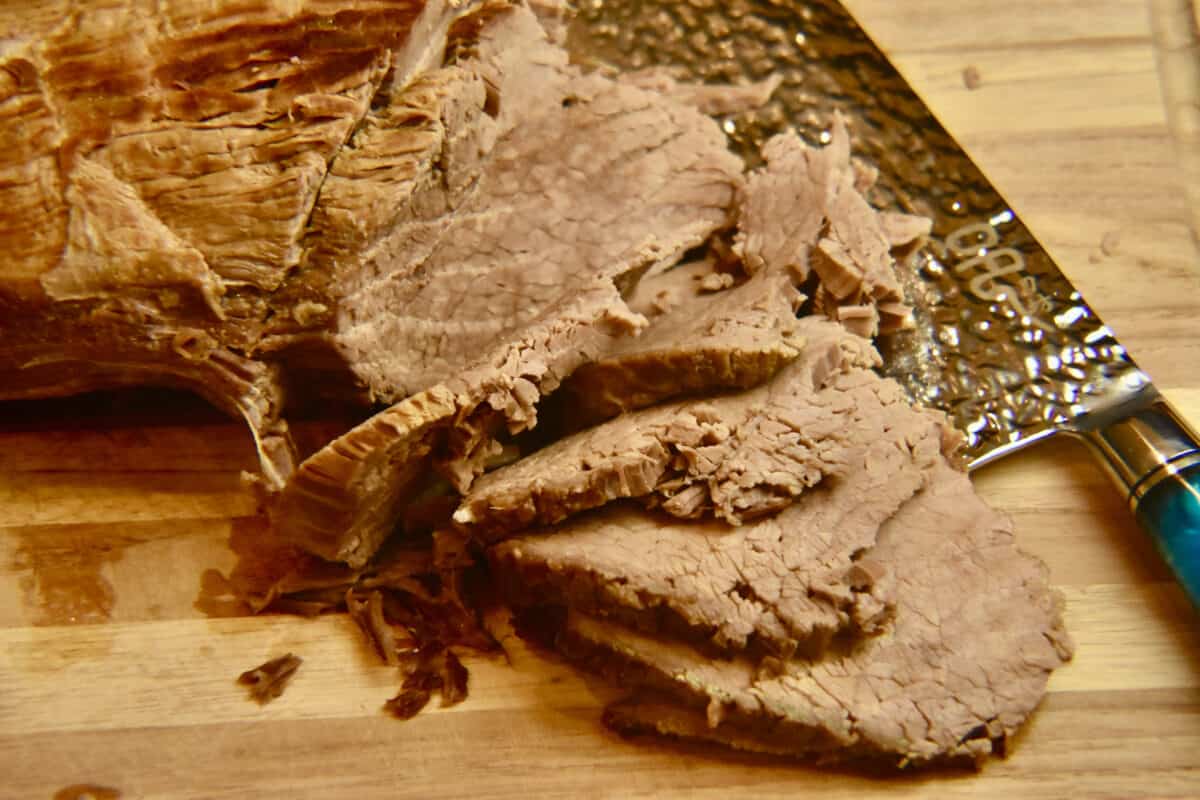 Storing The Meat
I usually slice the meat and store it in an airtight container in the fridge. The fridge life is usually 3-5 days. The deli slices don't usually last longer than this but in the event that I make extra, I store it in small portions in ziploc bags in my freezer.
I find that the beef stays fresh for about 6 weeks in the freezer. When I need to use it I remove a bag, open loosely and microwave for 1 minute. The steam that's released in the bag helps to keep the meat moist.
Making The Sandwiches
To make the sandwiches the Pakistani way I usually use thin sandwich bread. Apply a thin layer of mayonnaise and mustard, sprinkle a dash of salt and pepper and place the thinly sliced meat on top. If you're feeling adventurous you can add some melted cheese or toppings but I usually don't feel the need to!
Fixing an Undercooked or Overcooked Roast
No matter how good a cook or how perfect a recipe we all have off days! Once you've gone to all the trouble of marinating and cooking the meat you don't want to waste it. Here's how to fix it if it's under or over cooked!
Undercooked - Add more liquid and continue cooking. Use your thermometer to check the internal temperature to make sure the roast is fully cooked.
Overcooked - An overcooked roast tends to be crumbly and dry. This makes it difficult to slice it. In the event that you can slice it, try and moisten it with residual drippings. If it completely shreds however, you may need to mix it with some BBQ sauce or mayonnaise and turn it into a different form of sandwich filling altogether.
I do hope you try this super easy and delicious recipe! Please rate it if you do!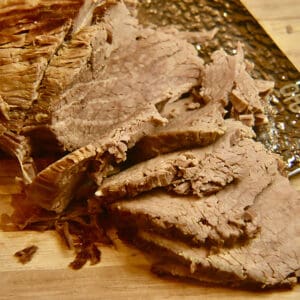 Homemade Deli Roast Beef
This homemade deli roast beef is a cross between an American classic and a Pakistani favorite known as hunter beef. Perfect for weekday lunch sandwiches!
Ingredients
3

lb

eye of round

1

cup

distilled white vinegar

6

cups

water

3

tsp

salt

3

tbsp

extra virgin olive oil
Instructions
Mix the vinegar, water and salt and soak the meat in it overnight.

Remove the meat from the marinade, rinse it and pat it dry.

Heat the 3 tablespoons of olive oil and braise the beef.

Add about 12 cups of water (enough to cover the meat), cover and bring to a full boil.

Uncover the pot once the water is boiling and cook the roast on medium high for about 3-4 hours till the internal thermometer shows a temperature of 160 degrees (for well done).

Remove the roast from the water and let sit under tented foil for 20-30 minutes
Nutrition
Serving:
1
g
Calories:
194
kcal
Carbohydrates:
1
g
Protein:
25
g
Fat:
9
g
Saturated Fat:
2
g
Polyunsaturated Fat:
1
g
Monounsaturated Fat:
5
g
Cholesterol:
70
mg
Sodium:
651
mg
Potassium:
387
mg
Sugar:
1
g
Calcium:
27
mg
Iron:
2
mg