Pakistani style traditional lemonade, known as "nimbu pani" or "limoo pani", meaning lemon water, is a South Asian favorite. Second only to water, it's perfect for the hot temperatures of the region and is consumed by the jug full all summer long. My Lemonade Recipe With Mint includes the refreshing herb due to its fresh taste and numerous health benefits.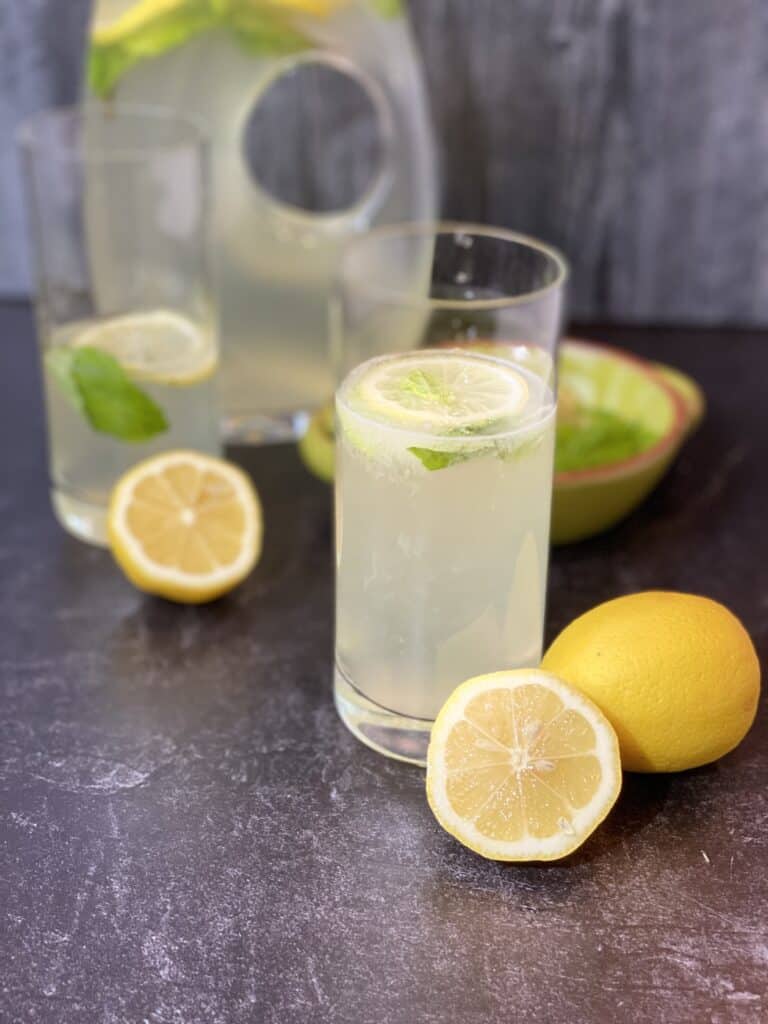 My Story
"Nimbu Pani" holds many special memories for me. I grew up drinking it often to quench my thirst and fight the oppressive heat of pakistan. A freshly prepared jug was always at hand to welcome all visitors. During the month of Ramadan it was what I and my family would open our fast with.
My fondest memories of summer are visiting my grandparents and seeing their garden full of lemon bushes laden with fruit. My grandfather was an avid gardener and as soon as the bushes bore fruit my grandmother would make this lemonade and her famous lemon pickle.
I've carried on the tradition and make the slightly salted Pakistani "nimbu pani" throughout summer and Ramadan to this day.
The Lemonade Recipe With Mint
The basic recipe for this lemonade is like any other; lemons, water and sugar. The only different ingredients are the addition of salt and mint leaves. The Nimbu Pani recipe, in its entirety, is based on the health benefits of each of its components.
The Health Benefits
As explained in specialtyproduce.com, lemons have long been purported by Ayurvedic medicine for their health benefits. Full of Vitamin C, potassium, calcium, phosphorus and magnesium,a few of the key benefits of lemons are listed below:
Helps replenish body salts
Aids in flushing toxins
Assists with digestion
Helps burn fat
Builds immunity
Improves the skin
Fights hunger
The salt is added to help keep dehydration at bay and the mint acts as a wonderful mouth freshener.
There are a few additional ingredients I sometimes add to this Lemonade Recipe With Mint for extra flavor to switch things up:
Black Salt (SEE NOTES)
Ginger(SEE NOTES)
Soda Water
Lemonade Recipe With Mint
This refreshing Pakistani style Lemonade Recipe With Mint is consumed all summer long and especially in Ramadan by all South Asians.
Ingredients
1

cup

lemon juice

8

cups

water

2

cups

sugar

1

tsp

salt

¼

cup

mint leaves
Instructions
Heat 2 cups water with the 2 cups of sugar to make a simple syrup and bring to room temperature

Squeeze enough lemons to extract 1 cup of lemon juice

Mix the simple syrup, lemon juice, remaining 6 cups of water and 1 teaspoon of salt

Add the mint to this mixture and put in the fridge to chill
Nutrition
Serving:
1
g
Calories:
201
kcal
Carbohydrates:
52
g
Protein:
1
g
Fat:
1
g
Saturated Fat:
1
g
Sodium:
304
mg
Potassium:
40
mg
Fiber:
1
g
Sugar:
51
g
Vitamin A:
62
IU
Vitamin C:
12
mg
Calcium:
13
mg
Iron:
1
mg
NOTES
Black Salt is a rock salt from the Himalayas and is a favorite addition to beverages in Pakistan and India. The main reason for its use is to replenish salt lost through perspiration.
Add the ginger to the lemonade in the same manner as the mint. I usually peel and thinly slice a ½ inch piece of ginger and add them to the lemonade along with the mint. Whereas the ginger adds a nice pungent flavor to the drink, its a strong taste and not for everyone . However, it's anti inflammatory and antioxidant properties make it a worthwhile addition.
The one downfall of Nimbu Pani is its high sugar content. An easy way to counter this is to Substitute the simple syrup with agave syrup. Since the latter is 25% sweeter than regular sugar and saves the hassle of making the simple syrup its a great substitute.
Ramadan Tip
During Ramadan I make a weekly batch of the simple syrup and store it in my fridge. I also buy a large bag of lemons, juice them in my citrus juicer and store the juice in the fridge. This way it takes just a few minutes to put the lemonade together for Iftar.
I do hope you decide to try this Lemonade Recipe With Mint! It will be perfect with some potato samosas! I would love to hear from you in the comments below and while you're at it don't forget to rate the recipe!