This Quick Turkey Gravy comes together in 5 minutes with nothing more than the delicious drippings of your turkey. In my house we eat it with my easy-no-fuss-thanksgiving-turkey, my perfect-creamy-mashed-potatoes and just about anything we can get our hands on!
Why Do We Need Gravy ?
The importance of Gravy at the Thanksgiving table is often overlooked in our scramble to get everything else just perfect. The popular condiment that gently adds some needed moisture to the turkey and a little extra flavor to the slightly bland mashed potatoes is the quintessential comfort food that we all absolutely must have at our holiday feast. Made with the delicious fatty drippings of slow roasted meat, seasonings and herbs, a perfectly made gravy is like liquid silk.
Gravy Across The World
The word Gravy has different connotations for different people; for Pakistanis and Indians it's used to refer to the liquid part of a curry. Where I live in Southeast America, gravy is eaten with biscuits and can be tomato based or white with sausage and/or mushrooms in it. But, without a doubt, the most common and well known gravy is the one we all eat at Thanksgiving.
The History
The earliest known recipe for gravy seems to be in a book of British cookery written by a Mrs Beeton in 1861. Originally, gravy was a treat reserved to be eaten with the Sunday family Pot Roast or on a special occasion. Then there came a point in time in the history of the South that gravy became poor-man's food.
No matter how impoverished a family, most had the resources to make and eat biscuits and often used leftover fat drippings, along with water and flour to make some gravy as a side. Seasonal meats and vegetables were often added if they were available. Everything from Okra to Oysters has been known to enhance the taste of gravy.
Eventually biscuits and gravy gained popularity and began to be featured in diner menus in the Southern States. Today they are served all across the United States of America at casual dining and fine dining establishments alike.
I've tried and like all varieties mentioned above but this quick turkey gravy is my all time favorite. Lucky for me that it's so easy to make! Many people make their gravy fresh, as soon as the Turkey comes out of the oven. However, if you like to prep things ahead of time, check out the storage guide below!
The Recipe
The Liquid Base

Your liquid base should ideally have some drippings in it. If you decide to make the gravy ahead of time this may not be possible. In that case, you will have to rely primarily on stock. I usually make this easy-chicken-broth a few days before Thanksgiving and use it in all my recipes.
You can easily use a store bought one if you prefer. Whichever one you use, when you reheat the gravy you can add some strained drippings to get a more authentic flavor.
Which Stock Is Best ?
When deciding what type of stock to buy I simply stick to the food group I'm working with. So for any poultry I stick to chicken stock and for any red meat I use beef stock.
Thickening The Gravy
The easiest way to thicken a gravy is to use a water and cornflour slurry. The other way to thicken a sauce or gravy is to prepare a Roux.
There are pros and cons to using both methods. It all depends on what results you're aiming for. The Roux adds a depth of flavor, but is a slower more complex technique. On the other hand, cornstarch is quick, easy and gives your mixture a nice, glossy finish.
For more information on both methods, myrecipes.com is a great source! I of course choose the quick and easy route with my gravy and save my time and energy for some of the more complex dishes at my Thanksgiving table.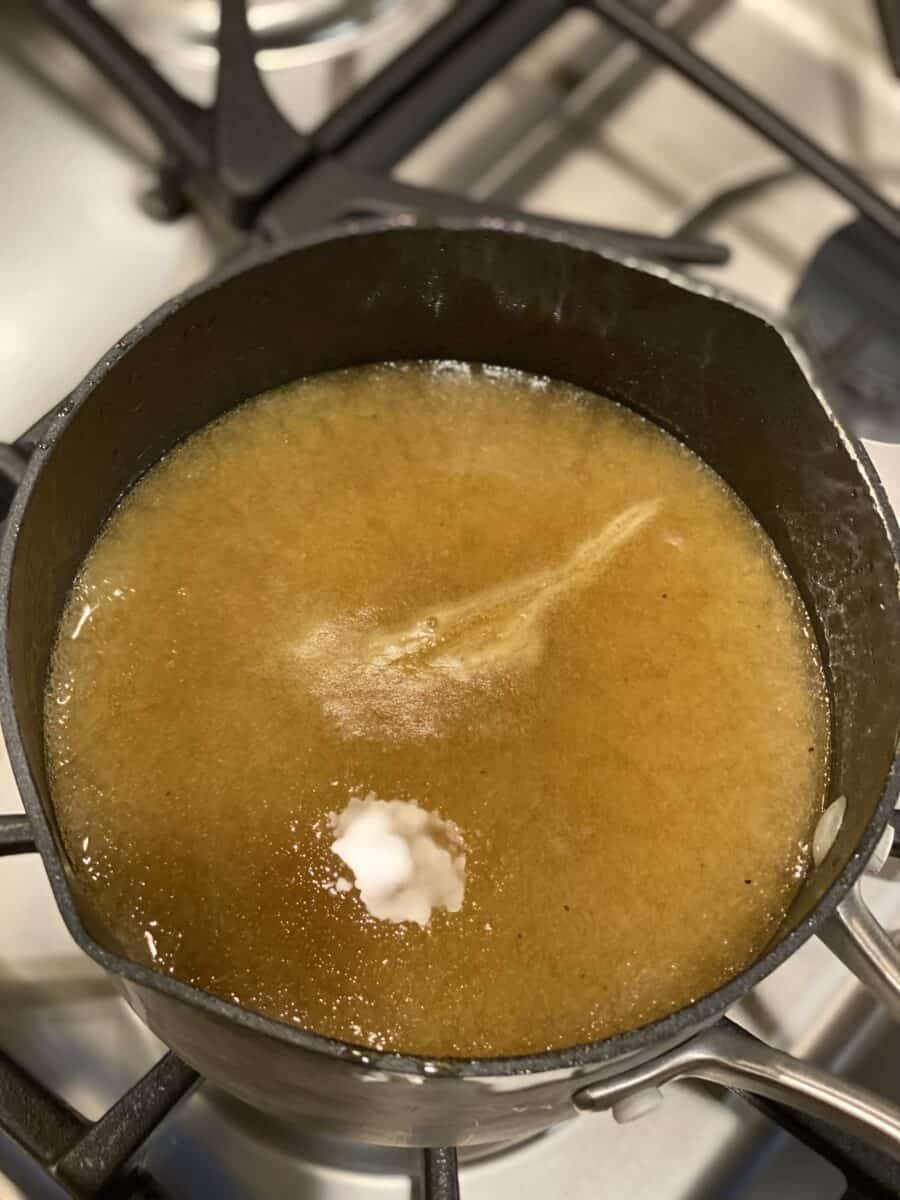 Storing The Gravy
Pre made gravy can be stored in the fridge for up to two days and in the freezer for up to three months and reheated before serving.You may need to reconstitute it a bit with more liquid, thickening agent and seasoning if you're defrosting it from the freezer.
Adding A Little Flavor To The Gravy
Once the gravy thickens you may find it looks too pale and tastes a little bland. In this case, some soy sauce, Worcestershire sauce or a bouillon cube can be added to help with both the color and taste.
Please rate, comment and tag on social media when you try this recipe!
Quick Turkey Gravy
Made with the delicious fatty drippings of your cooked Turkey, seasonings and herbs, this Quick Turkey Gravy is just perfect!
Print Recipe
Ingredients
4

cups

strained turkey drippings

4

tbsp

cornstarch

1

cup

water

salt and pepper to taste

(If Needed)

dried or fresh herbs

(Optional)
Instructions
Remove your Turkey from the roasting pan and pour all the drippings through a strainer.

Let the liquid cool so the fat rises to the top

Make a slurry of the cornstarch and water

Heat the drippings till they reach a boil

Add the slurry at this point, constantly stirring till the gravy thickens

Taste and adjust seasoning as needed and add any herbs at this point
Nutrition
Serving:
1
g
Calories:
538
kcal
Carbohydrates:
2
g
Protein:
1
g
Fat:
59
g
Saturated Fat:
23
g
Polyunsaturated Fat:
7
g
Monounsaturated Fat:
27
g
Cholesterol:
56
mg
Sodium:
90
mg
Potassium:
1
mg
Fiber:
1
g
Calcium:
1
mg
Iron:
1
mg