This Easy Raspberry Sauce recipe was born out of necessity in a manner of speaking but oh what a discovery! I love raspberries, but the problem is they have a very limited shelf (or should I say fridge) life. Tired of buying them and then having to discard them after a day if left uneaten, I decided to cook up a sauce!
I love making sauces, jams and jellies at home as a way of preserving seasonal fruits. It's a great way of using up leftover produce that no one is eating. Plus it allows me to store and enjoy summer flavors in fall, winter flavors in spring and so forth.
Easy Raspberry Sauce Vs Coulis
This is a very simple and rustic sauce, far removed from the fancier versions served in restaurants known as Coulis. In my personal opinion, it packs a punch in terms of flavor and you can't beat the simple and quick preparation. If you're interested in the fancier version, there's a great recipe at thecafesucrefarine.com but if I were you I would go with this easy one first! You just dump all the ingredients in a saucepan as pictured below, cook for 15 minutes, thicken with a cornstarch slurry and voila! Done!
What To Eat The Raspberry Sauce With
This raspberry sauce is a great accompaniment with so many things, you'll finish it before you can blink! Some of my favorite ways to eat it are with:
Yogurt
Cottage Cheese
Pancakes
Cheesecake
Ice Cream
Cake Filling
Scones
In fact my favorite pairing for the sauce is with my very own recipe for no-churn-vanilla-bean-ice-cream! Sometimes I just drizzle it on top as shown in the picture above and sometimes I create a layered tropical ice cream sundae using some of my perfect-lemon-curd. That detailed recipe coming soon!
How To Store The Raspberry Sauce
The raspberry sauce has no preservatives and very little sugar. As such, it can only be stored for a short while. Upto two weeks in the fridge is the maximum time I would suggest storing it. However, it can be frozen for upto 3 months if desired.
A good idea is to freeze it in an ice cube tray and then defrost the cubes in the quantity desired. Thaw in the refrigerator for 24 hours and then use as needed.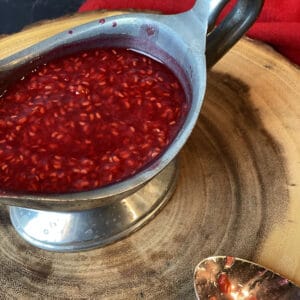 Easy Raspberry Sauce
This easy raspberry sauce is just the sweet treat you want to make while raspberries are in season! It pairs perfectly with so many things!
Print Recipe
Ingredients
2

cups

raspberries

½

cup

sugar

½

cup

water

½

tbsp

cornstarch

⅛

cup

water

(For Cornstarch Slurry)

1

tbsp

butter

(Optional-See Note)

1

tsp

lemon juice

(Optional-See Note)
Instructions
Put the raspberries, water and sugar in a saucepan

Bring to a boil and then reduce to a simmer, cooking uncovered to reduce and thicken the mixture

Prepare a slurry of the cornstarch and water

After 15 minutes add the slurry to the reduced mixture and stir constantly to thicken

The sauce is ready when it coats the spoon and you can run a finger through the center, leaving a clear line

Turn the stove off, pour the sauce in a serving dish or canning jar and leave loosely covered to cool

Once the sauce is at room temperature, seal the container or jar tightly and refrigerate it
Notes
The butter - This is not essential but will help add a richness to the sauce. It will also help make the sauce a bit thicker and creamier as it cools. The lemon - This is also not essential but will help accentuate the flavor of the raspberries and also help act as a preservative if used.
Nutrition
Serving:
1
g
Calories:
79
kcal
Carbohydrates:
17
g
Protein:
1
g
Fat:
2
g
Saturated Fat:
1
g
Polyunsaturated Fat:
1
g
Monounsaturated Fat:
1
g
Trans Fat:
1
g
Cholesterol:
4
mg
Sodium:
14
mg
Potassium:
47
mg
Fiber:
2
g
Sugar:
14
g
Vitamin A:
54
IU
Vitamin C:
8
mg
Calcium:
9
mg
Iron:
1
mg